Disney World food can be expensive. You can look at those menus and second guess your decision to eat at this restaurant or that snack cart. One solution is to share food! I've gathered a list of meals and snacks that can be shared with someone else.
Sharing Food at Disney World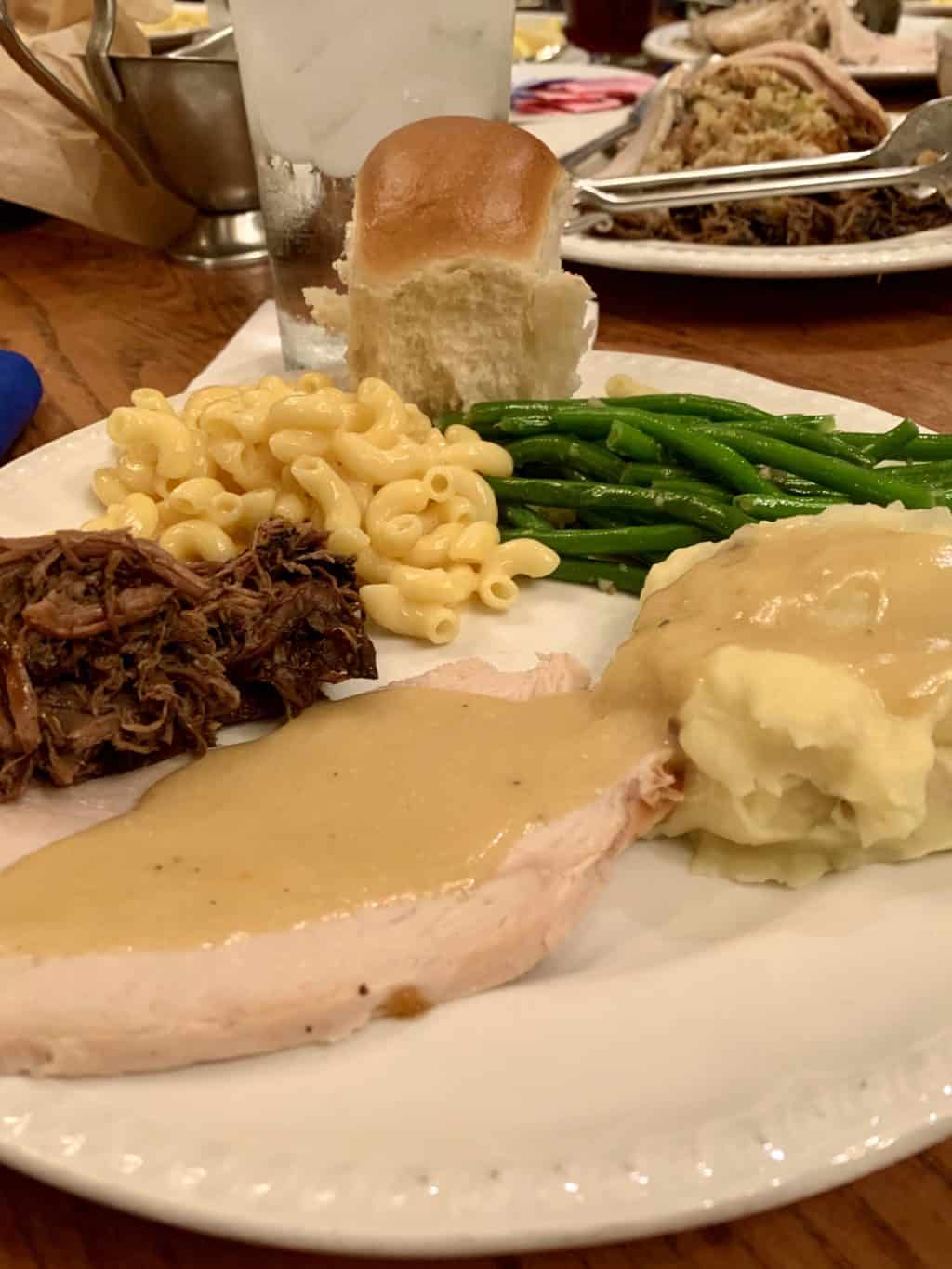 With the dining plan suspended and the cost of food increasing, it can be daunting to plan what meals you want to eat while on vacation. Disney food just seems to cost more than it does at home.
If you are anything like me, I stress the most over the food budget. Resort, tickets, and transportation costs are all known well in advance. But, food costs are unpredictable because there are so many variables. Will you book a last-minute character meal the day before you go? Does your family like to go all "YOLO" while on vacation? My husband does, and it can be hard to predict what to prepare for.
But, with a little prep work you can have a pretty good idea of what the menus at Disney World restaurants offer and if your family will share any meals. This is particularly helpful for families with young children or big families.
Table Service Restaurants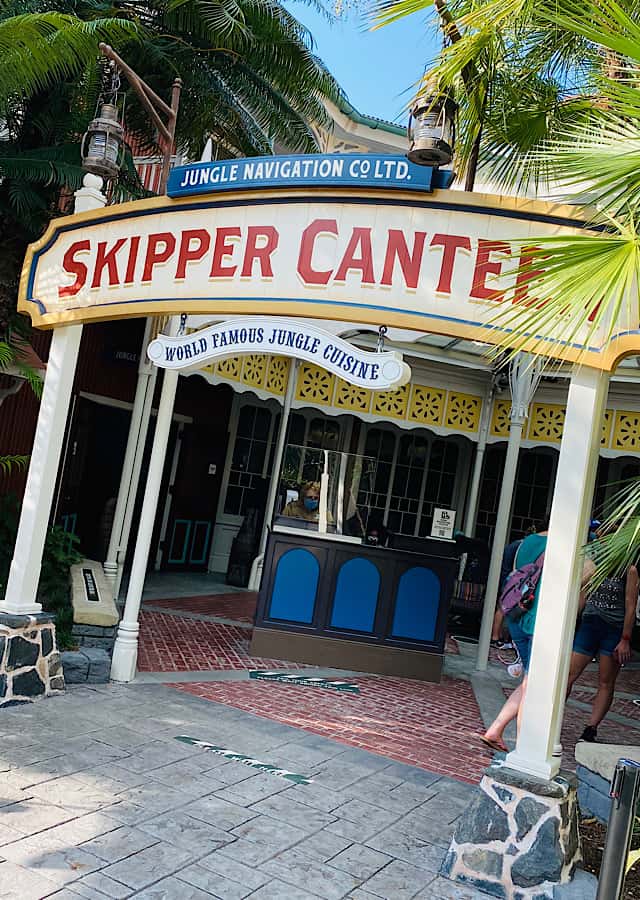 Any table service meal that is not prix fixe (total fixed price for each person) or family-style (several food items all come out on one platter) can essentially be shared. If you are looking to save quite a bit of money but still want to eat a variety of food, reserving table-service restaurants that have individually-priced entrees is a great way to do that.
To help, I've broken down each restaurant at the theme parks and resorts where you cannot share entrees along with a few options in which you can share.
Magic Kingdom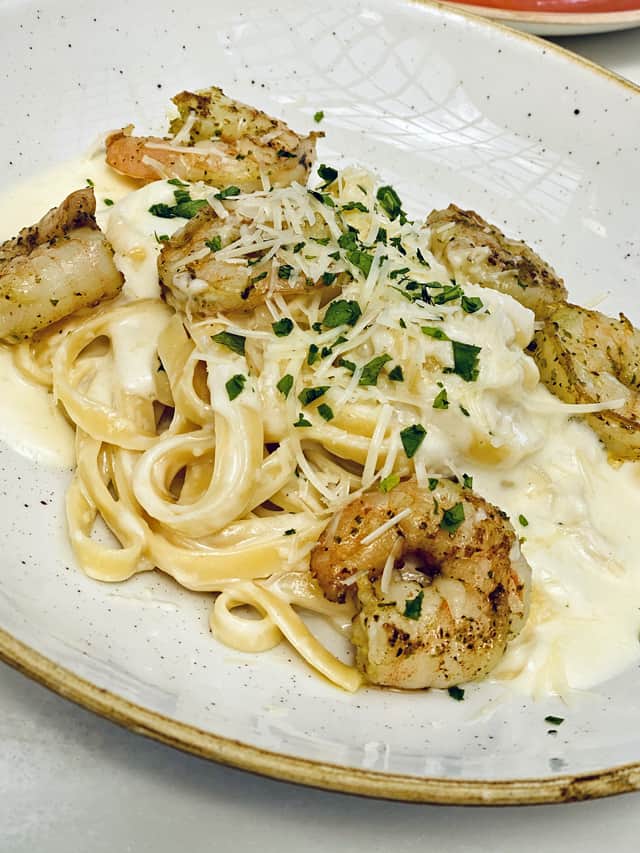 Be Our Guest and Cinderella's Royal Table are both prix fixe. Liberty Tree Tavern and The Crystal Palace are served family-style. You will pay a set price for each person at all of these restaurants. Food can still be shared, but you will still pay for each person.
Alternatively, Skipper Canteen, The Plaza, and Tony's Town Square Restaurant allow Guests to share meals. I recommend sharing the chicken parmesan at Tony's. That portion is huge! Smaller kids could easily share a plate of spaghetti and meatballs!
EPCOT
Garden Grill and Biergarten meals are family style so everyone in your party is charged regardless of what they eat. Do note that Chefs de France does have a prix fixe meal option, but individual entrees can also be ordered.
Beyond those restaurants, however, the possibilities are endless! There are so many amazing restaurants in the World Showcase. Le Cellier and San Angel Inn would be great options to share entrees. Via Napoli has large portions of pizza and would be a great option for a family to fill up!
I do want to say that the Candlelight Processional package pricing is based per person and offers advanced seating so you would not be able to share entrees at the restaurants you can normally share meals at during other times of the year.
Hopefully we will see Candlelight Processional return for 2021!
Hollywood Studios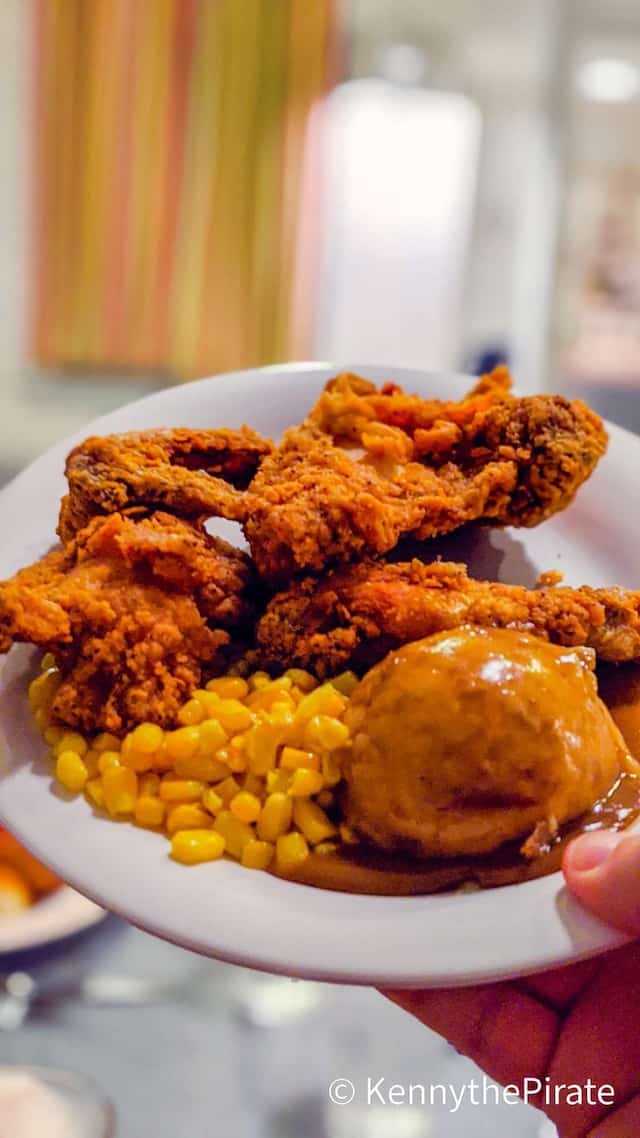 Hollywood and Vine at Disney's Hollywood Studios offers breakfast, lunch, and dinner, but they are all prix fixe.
If you are looking to share a meal at a table-service restaurant, I recommend 50's Prime Time Cafe! Entrees like A Sampling of Mom's Favorite Recipes include several meats and sides. The fried chicken entree also has several pieces of chicken so it can be shared as well. Don't forget the milkshake!
Animal Kingdom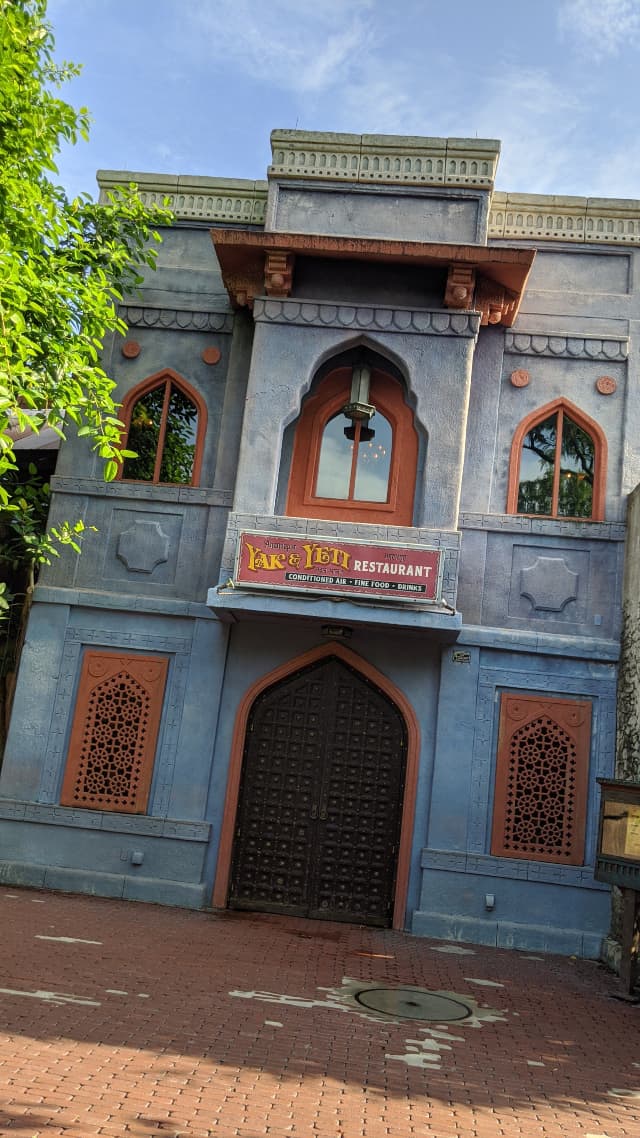 Tiffins, Yak and Yeti, and Rainforest Cafe are the only table-service restaurants currently open at Animal Kingdom. And fortunately for you, the entrees at each restaurant can be shared.
There is a ribs, steak, and shrimp platter at Rainforest Cafe that would satisfy a few people in your group. You can also add enhancements, like shrimp or ribs, to any entree to "beef" it up a bit.
Resorts and Disney Springs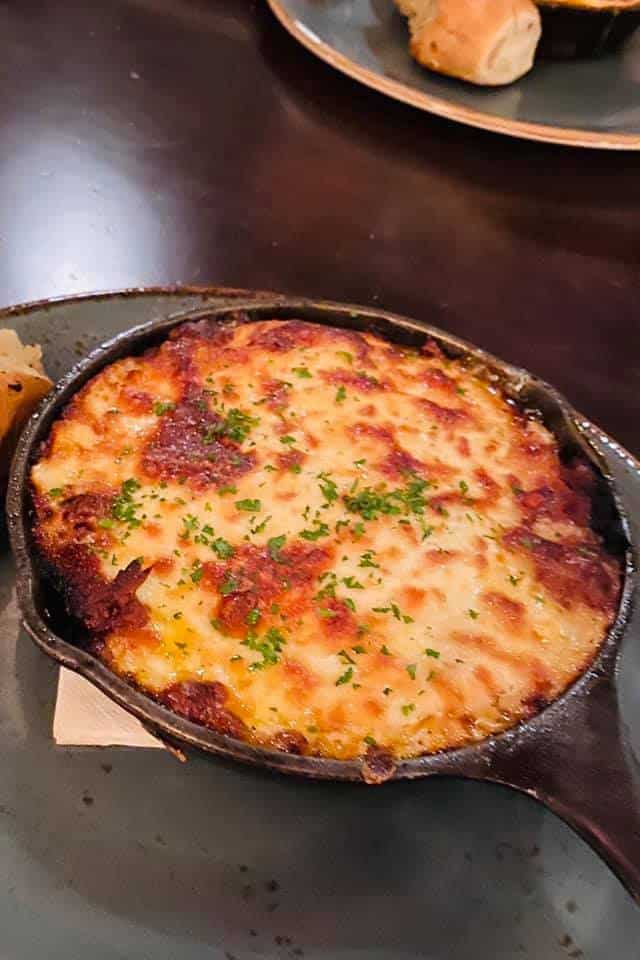 There are endless restaurants at the resorts and in Disney Springs, and it would be impossible for me to rattle them all off to you. Most notably, Chef Mickey's at Disney's Contemporary Resort and Topolino's Terrace at Disney's Riviera Resort are both character breakfast meals where everyone is charged the same price regardless of what they order.
Trattoria al Forno at Disney's Boardwalk offers larger portions of food for dinner that could be shared. Two children could easily split the lasagna skillet.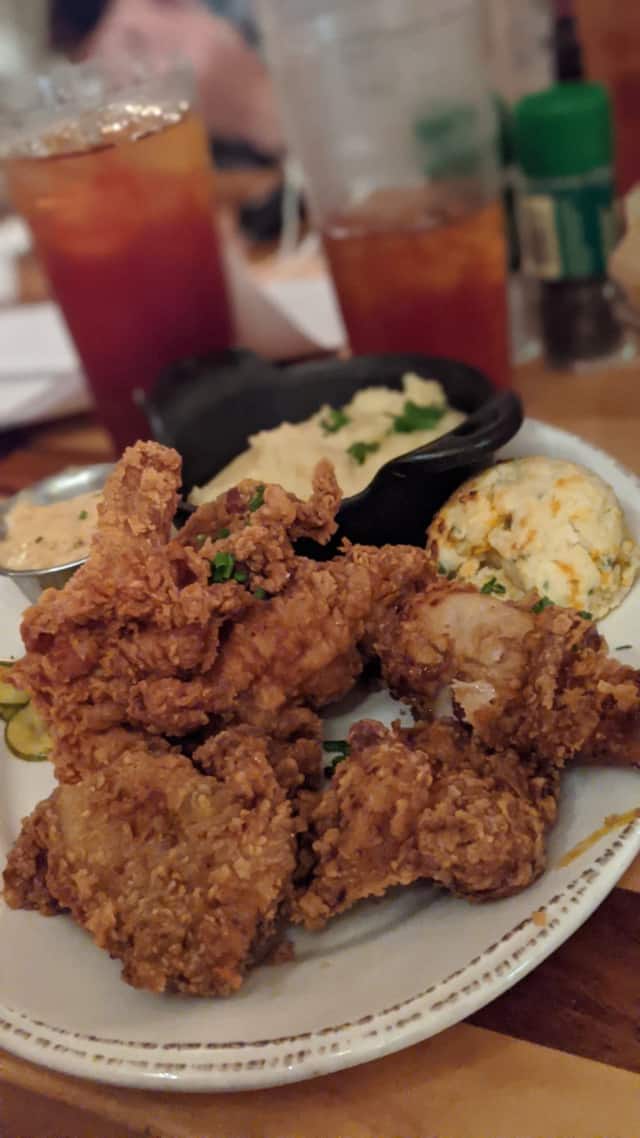 I do want to share a favorite restaurant of mine at Disney Springs. I've eaten at Chef Art's Homecomin' a few times and have enjoyed each experience. The adult portions are so huge that I have eaten off the children's menu so I wouldn't waste any food. The entrees at Chef Art's could easily be shared.
Sharing entrees allows you to sample more of the menu offerings like appetizers and desserts!
Quick Service Restaurants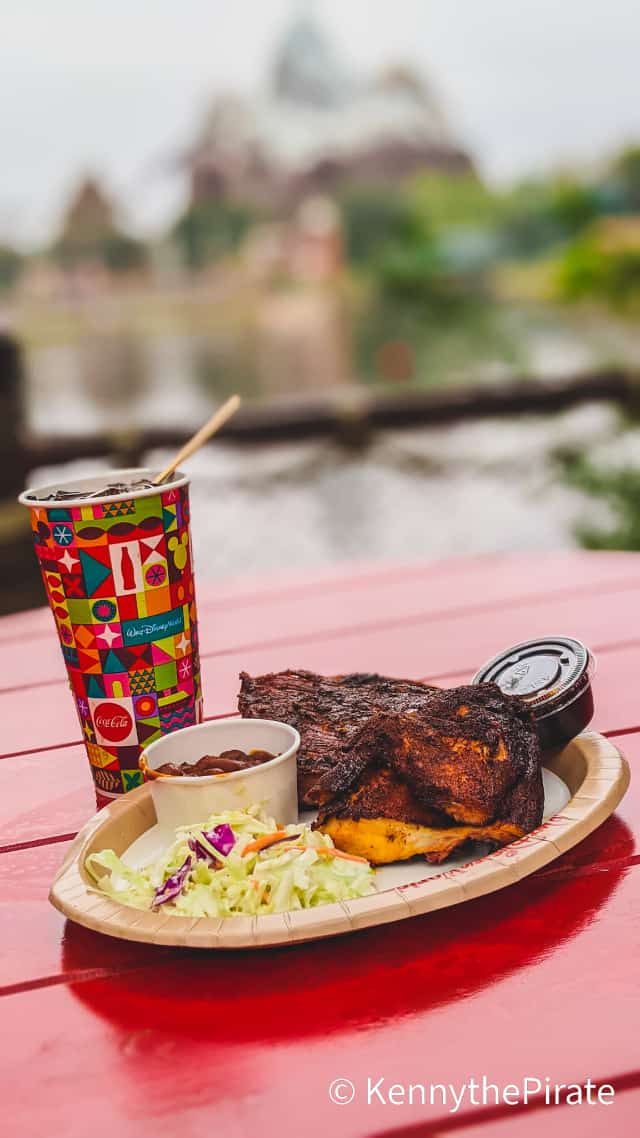 You can share food at any quick-service restaurant. It does get a bit tricky though because the portions at quick-service restaurants are a bit smaller than table-service locations.
Adults can order off the kids menu, and children can order off the adults menu. If you have two younger kids, you could order one adult entree and split it in half. With mobile ordering, it's easier than ever to order food.
Magic Kingdom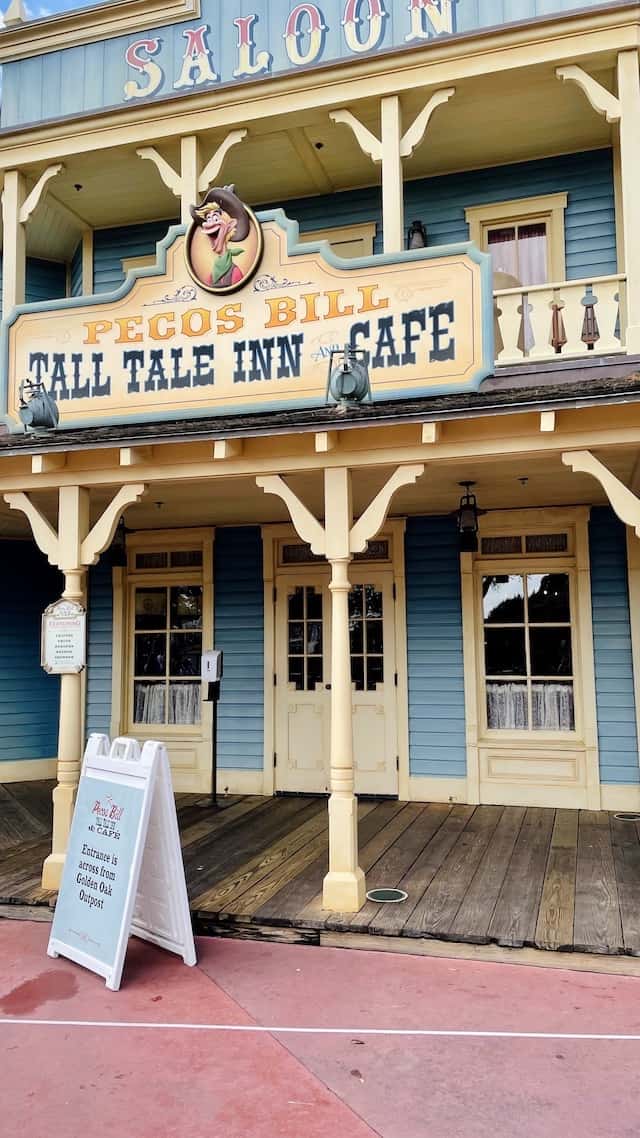 There are a few quick-service restaurants in the Magic Kingdom right now. A good restaurant to split food would be at Pecos Bill Tall Tale Inn & Cafe. There is a platter of 3 tacos that could be shared between younger children. Adults could share the fajita platter and maybe a side of chips and guacamole.
Tomorrowland Terrace also offers a few combo platters with multiple meats. The Trio Platter has fried shrimp, fried fish, and chicken nuggets. There's also the chicken and shrimp platter as well as the chicken and fish platter. These are all reasonably priced at $13.99 and $12.49.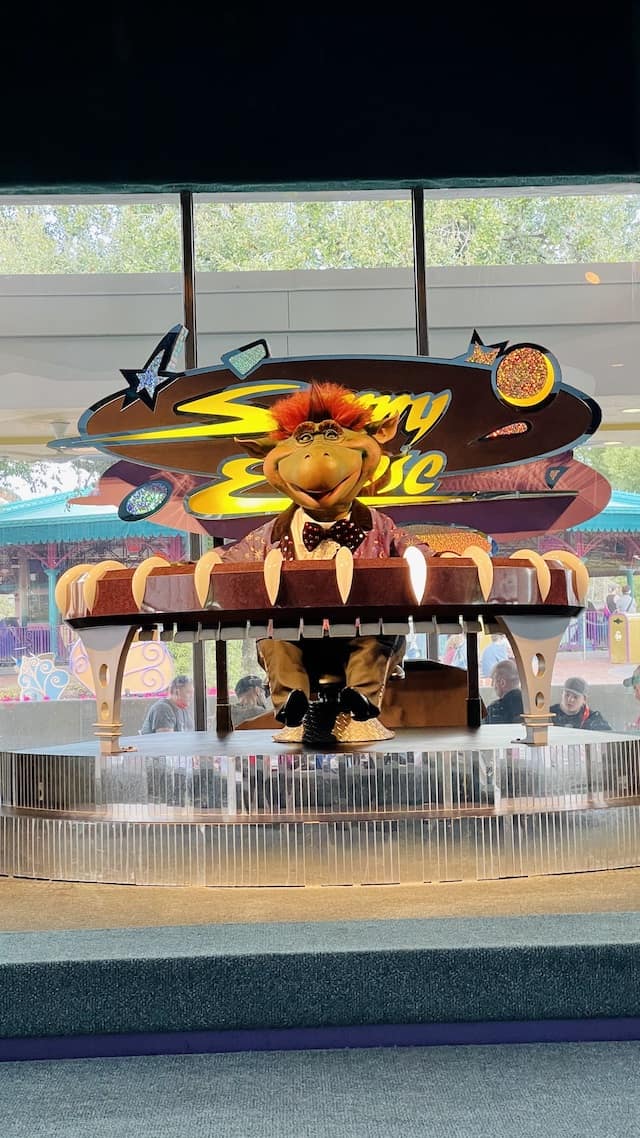 I would not recommend Cosmic Ray's Starlight Cafe for sharing entrees. The portions there are pretty average unless you have two young kids who would split a cheeseburger.
EPCOT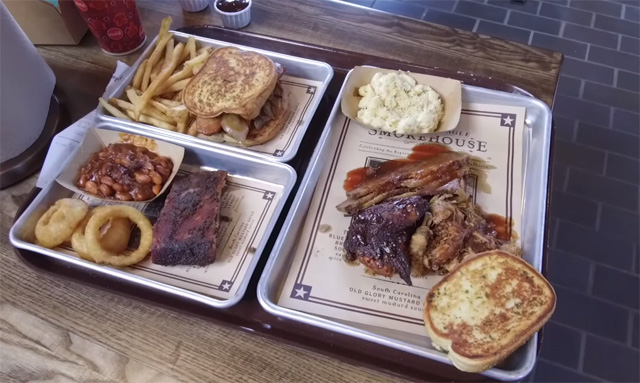 There are so many quick-service options at EPCOT, it is hard to even think about where to begin! Sunshine Seasons has some shareable options like the rotisserie chicken or the flatbreads. Regal Eagle is located in The America Adventure, and it's a decent place to share a meal.
Since there are so many diverse food experiences at EPCOT, I recommend eating your way around the world. By splitting counter-service entrees or snacks from the kiosks, you can save room for more food! Who doesn't love eating tacos, teriyaki chicken, and fish and chips all in one day!?
This is also a great option for picky eaters. If mom and dad are craving Japanese but the kids want barbecue, eating food as you explore the World Showcase will satisfy all those cravings. You don't have to sacrifice your own desires for the rest of your group.
Hollywood Studios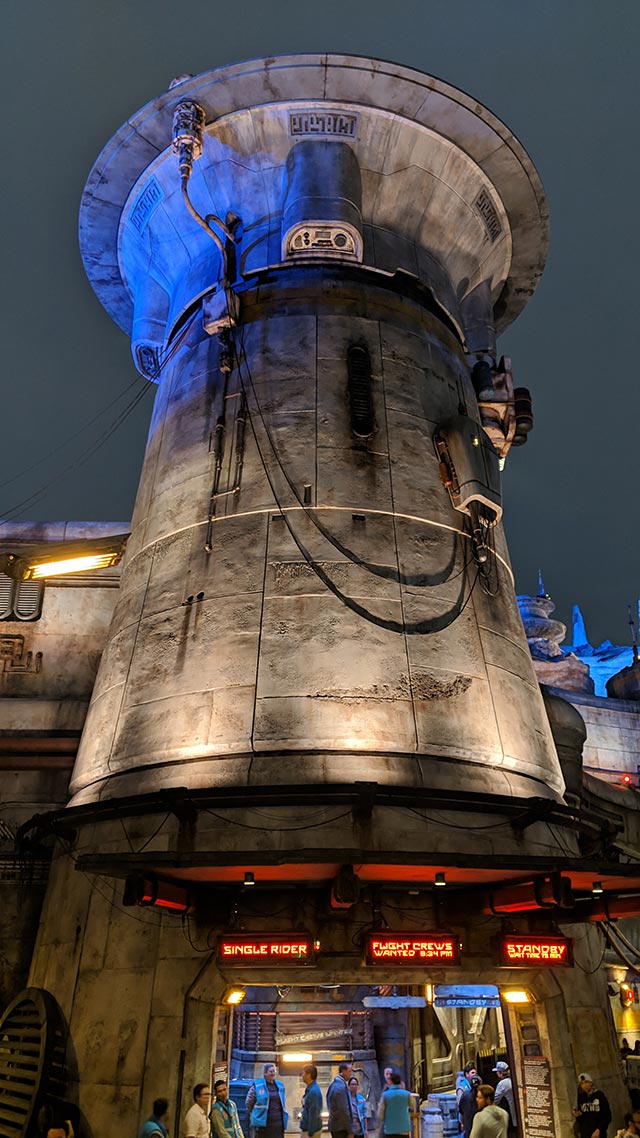 The shrimp or pork carnitas tacos would be an excellent choice if you are looking to share an entree at ABC Commissary. Also, the grilled chicken salad is a generous portion. They recently rolled out a new menu, which is much different than what was there before.
Kids can split an adult pizza at PizzeRizzo or the burgers and fries at Backlot Express.
The Batuuan pot roast at Docking Bay 7 Food and Cargo has both pot roast and pasta so if you are looking to share a meal in Galaxy's Edge, I would start there.
Animal Kingdom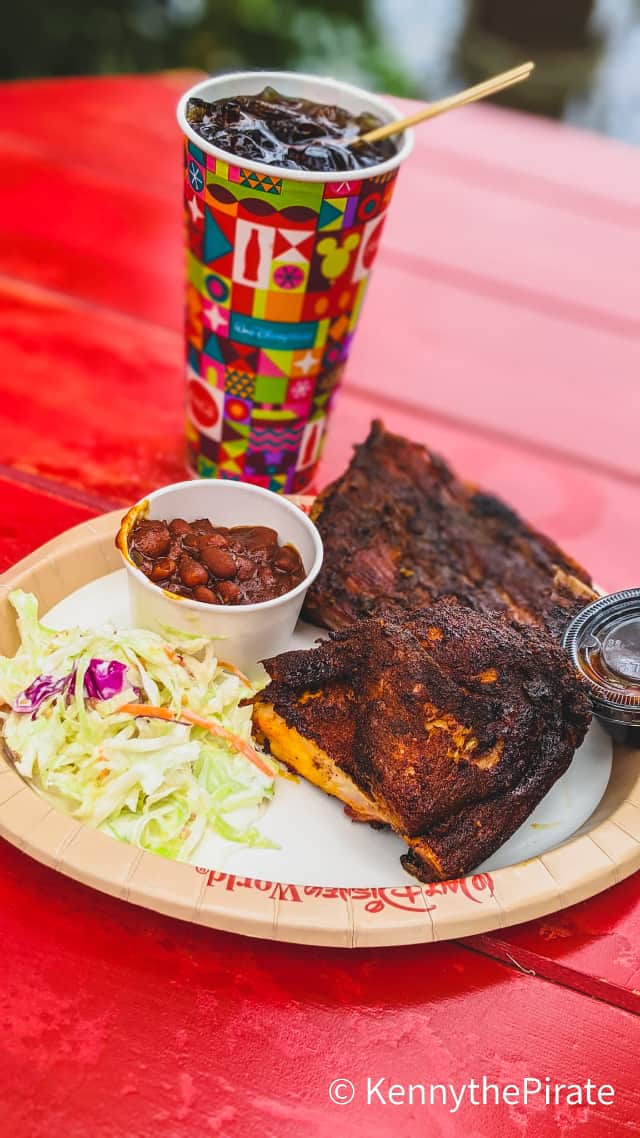 The BBQ ribs and chicken platter from Flame Tree BBQ is, hands down, the best entree to share at Animal Kingdom. Add a side of onion rings or fries and you've got a filling meal for two people. Plus, it is very reasonably priced at $15.49.
Snacks
Sometimes you just need to snack your way through Disney World. I don't blame you for one second. Or, maybe you have a lot of kids who want to eat, eat, eat all day long. Depending on what your food goals are for the day, virtually any snack can be shared at Disney! Here are a few of my favorites.
Magic Kingdom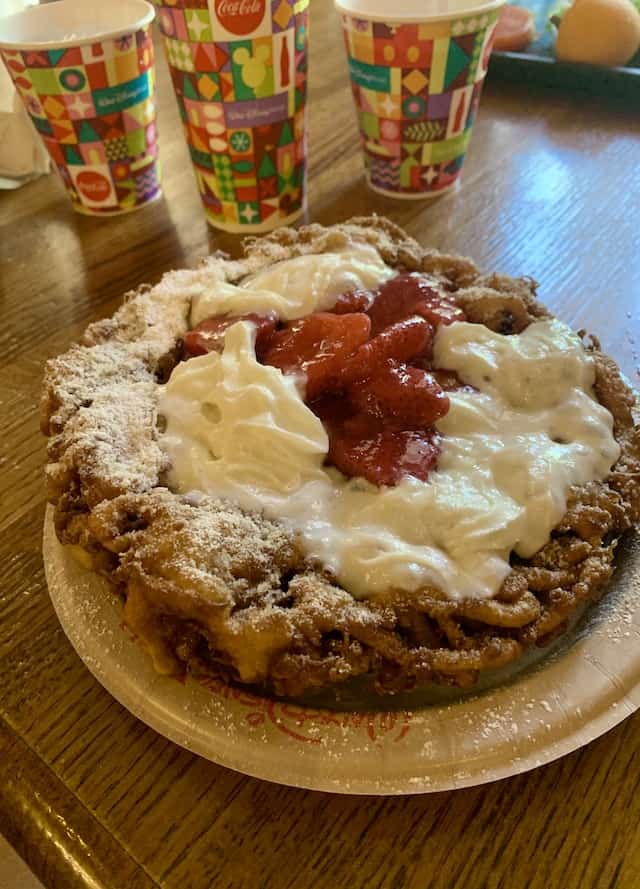 The Cinnamon Rolls from Gaston's Tavern are so big! They are the perfect breakfast or snack to share. Plus, it's just fun to sit there and admire all of Gaston's trophies.
The egg rolls at the Adventureland cart have increased in price, but they are still a great option to share. There are two in a serving – one for you and one for your loved one!
The funnel cakes from Sleepy Hollow are massive. Add Nutella, fruit, whipped cream, or all of the above to make that funnel cake go even further.
EPCOT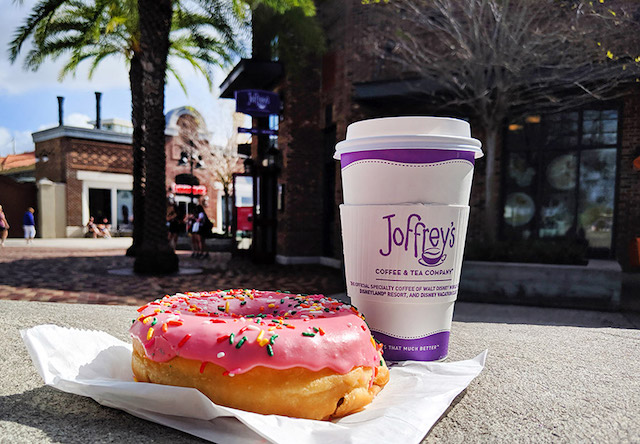 Over at EPCOT, you can also grab a decent-sized funnel cake from the American Adventure.
The pretzels in Germany are bigger than the average Mickey pretzels, and our family usually splits one to share.
The donuts from Joffrey's (at any of the parks, really) are bigger than your average donut. If you have two little ones and are worried about feeding them too much sugar, splitting a donut will still fill their tummies. If your kids are like mine though, they don't like to share their donuts…
Hollywood Studios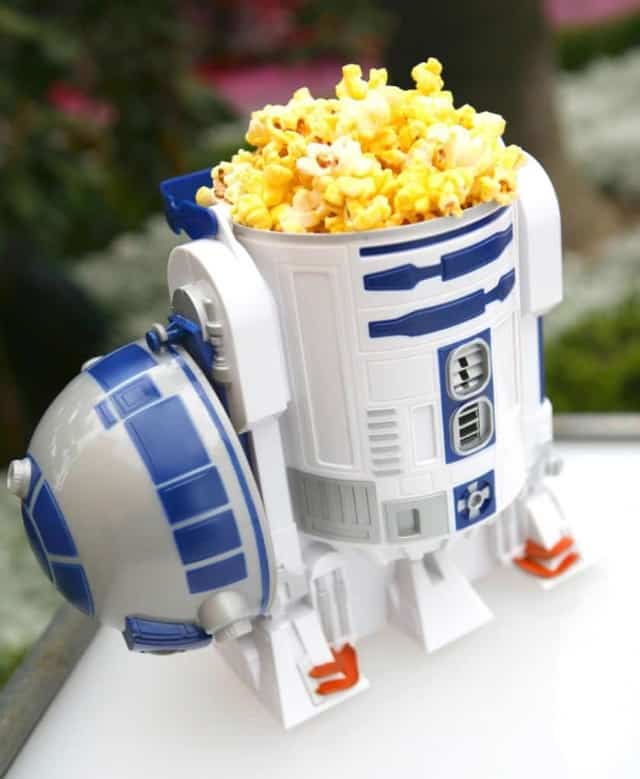 Num Num cookies at Hollywood Studios definitely require at least two people to consume! Or not, if you think you can finish the entire thing by yourself.
And last, but certainly not least, popcorn is probably the ultimate snack to share at Disney! If you get the refillable buckets, you can refill them for $2 for the entire length of your stay. Who doesn't love popcorn? We get a new bucket every trip, and then we take it home!
Animal Kingdom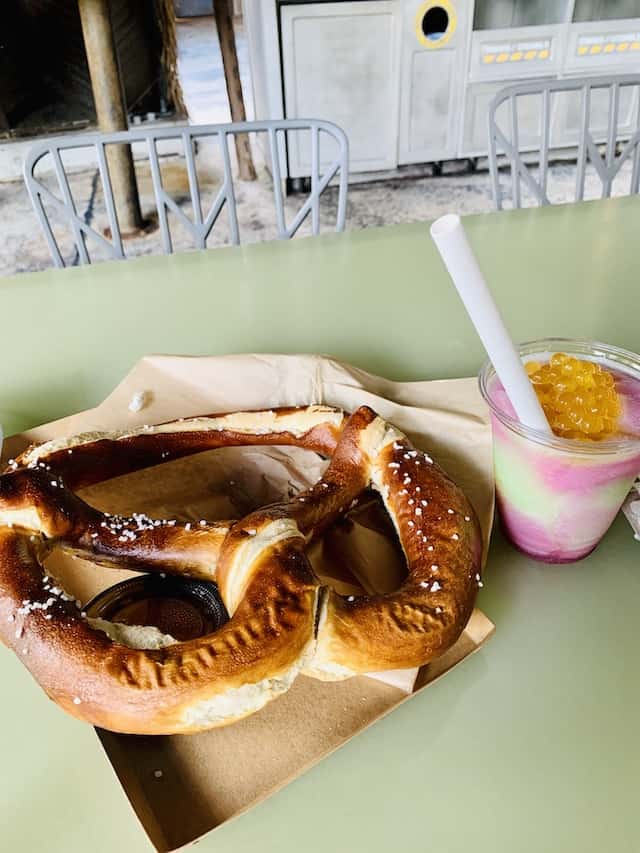 I think the biggest pretzel in all of Disney World resides in Animal Kingdom at Pongu Pongu. There, you can get the colossal pretzel with a side of beer cheese sauce.
Grab a Night Blossom drink to go with your pretzel and take in the beauty of Pandora!
Additional Help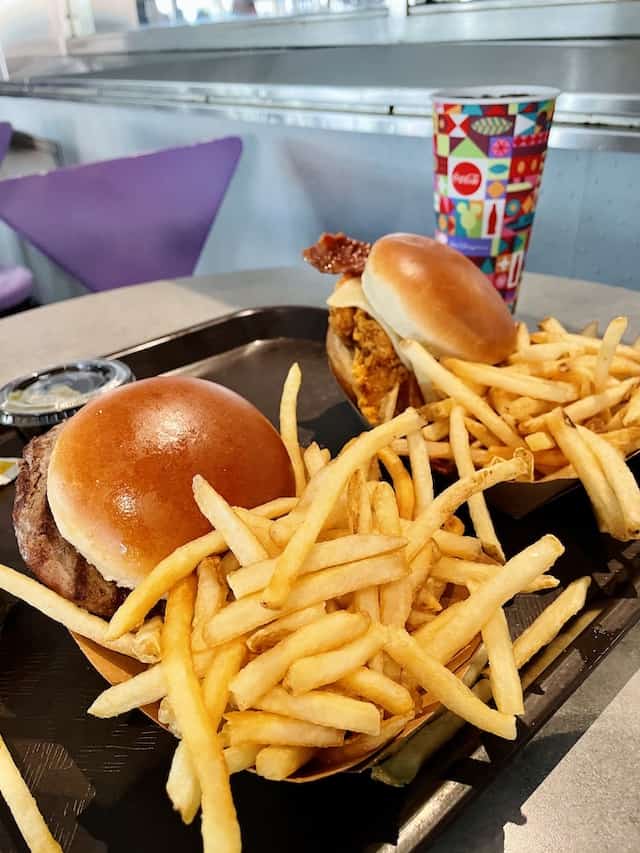 Now you know what meals you may want to try! If you're needing help figuring out how to budget without the dining plan, be sure to check out my tips HERE.
What is your favorite meal or snack to share at Disney World? Let other readers know by commenting below or adding your thoughts in the comments on this post on Facebook.