The Bon Voyage Adventure character breakfast at Trattoria al Forno may not be happening at the moment, but I think this restaurant is still one of the best on property. Check out my review of the food at both breakfast and dinner!
Trattoria al Forno
Trattoria al Forno is an Italian restaurant located at Disney's BoardWalk Resort. Trattoria means "casual Italian eatery" and al Forno means "food that has been baked in an oven."
Enjoy breakfast or dinner Old-World style in a cozy atmosphere on the Boardwalk. I had the pleasure of eating both breakfast and dinner during my recent stay at the resort, and I am so glad I was able to try both.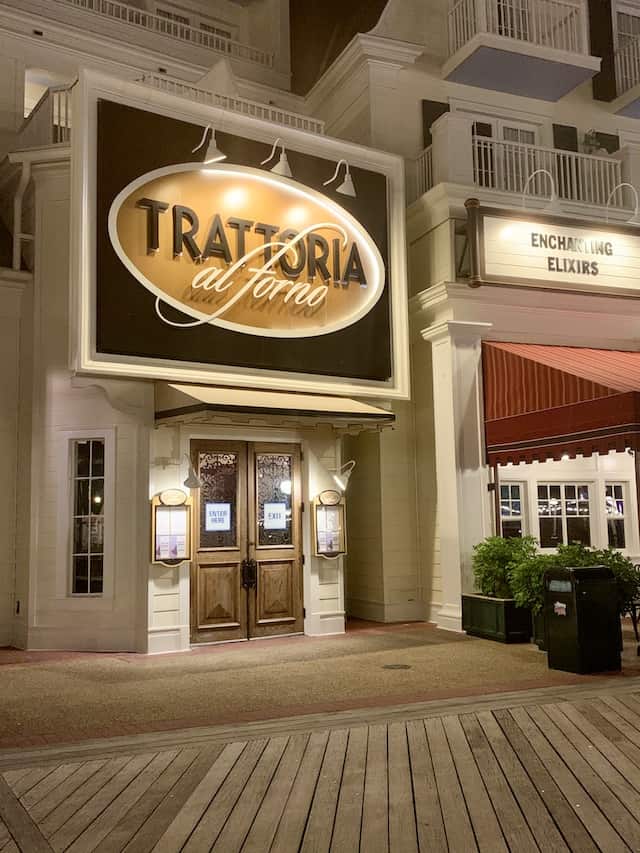 Before we start, it's important to note that the Bon Voyage Adventure character breakfast is not currently taking place. You can find a full list of the character meals currently available HERE.
If you would like to see what the Bon Voyage Adventure Breakfast was like, you can read Jamie's thoughts on it HERE. Hopefully it will return soon with the rest of the character meals we know and love!
Atmosphere and Physical Distancing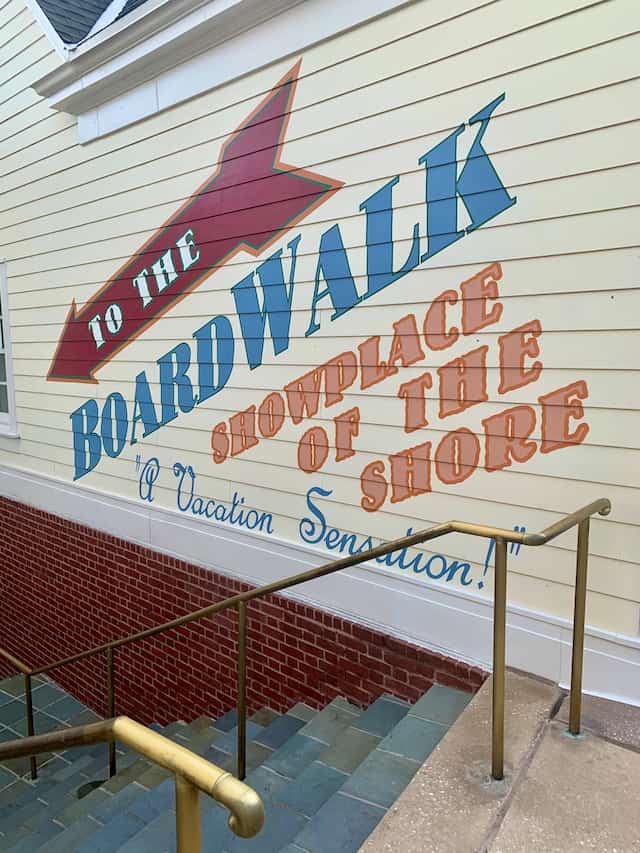 I first enjoyed the Bon Voyage character breakfast back in 2018. It was also the first time I experienced the BoardWalk, and I absolutely loved it. I told myself I would come back one day to stay. That's exactly what I did!
Staying at a resort that has great dining is a major perk for me. Oftentimes I travel to other resorts to take advantage of their dining options, but I did not need to do that at BoardWalk. I personally do not like to eat at the food courts at many of the value and moderate resorts so the table-service restaurants are extra appealing to me.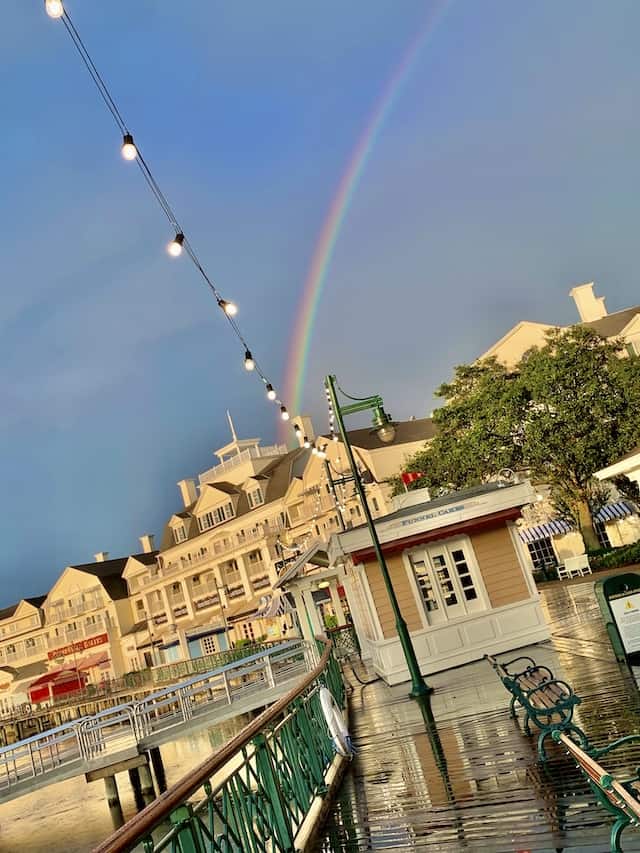 The atmosphere at the BoardWalk is just really fun. It's a really unique place on Disney property. You can read my full guide HERE.
The restaurant itself is very cozy and intimate. It has an open kitchen so you can see everything being made. Children would love to watch the chefs creating Italian masterpieces on the brick oven! Just remember to maintain physical distancing!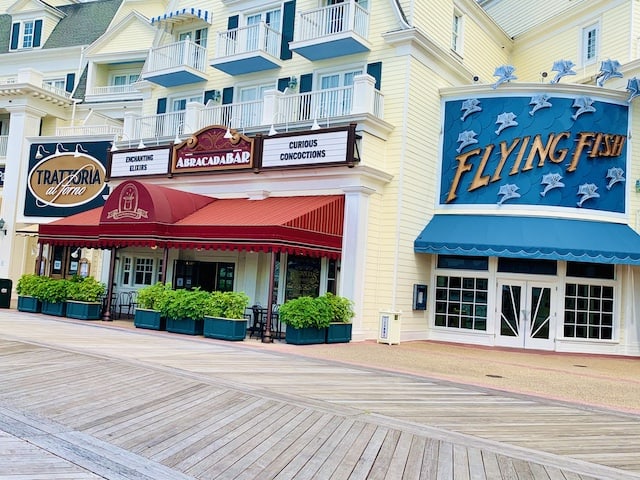 The restaurant is also located right next to the Abracadabar, which is the bar and lounge at the BoardWalk. In fact, you don't even have to walk outside to get to the other – they are connected and share a restroom!
As far as safety measures go, no tables or chairs were taken out of Trattoria al Forno, but there were signs marking which tables were not to be used. I felt completely safe while eating at Trattoria al Forno.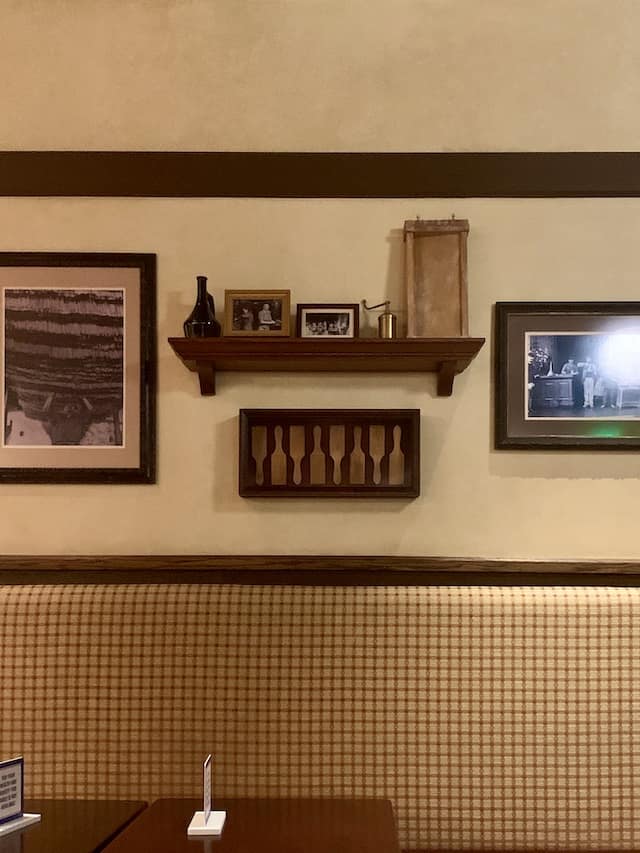 QR codes are currently being used in place of traditional menus. However, the code takes you to the Disney World website menu so if you look on there ahead of time you won't miss anything extra that would otherwise be on the menu at the restaurant.
Breakfast at Trattoria al Forno
I was really hoping to enjoy some of the menu items that can be enjoyed at the Bon Voyage breakfast like the themed pastries, but the restaurant had a different menu.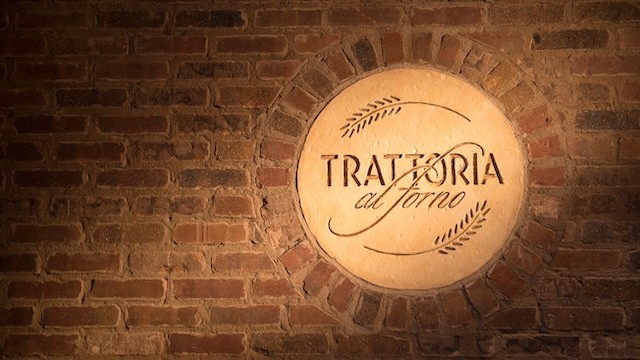 Currently, adult entrees include:
Steak and eggs
Open-faced Italian omelet
Fresh fruit platter
Avocado toast
Poached eggs
Two eggs your way
Buttermilk pancakes
You can see the full menu on Character Locator!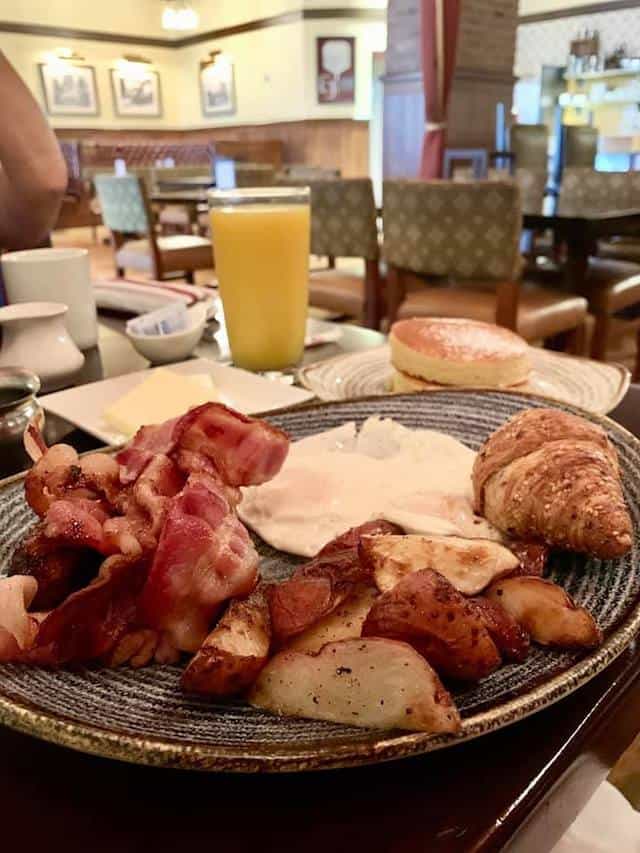 I ordered the two eggs your way, and I also asked for a side of buttermilk pancakes. I really enjoyed the variety of meat offered with the eggs – ham, bacon, and sausage is a great way to get that protein before a full day of park touring!
The bacon was a little chewy for my liking as I prefer crunchy bacon. I focused on the sausage and ham. The croissant was flaky and warm, but I enjoyed the more hearty options on my plate.
The buttermilk pancakes were so big and fluffy! These are very similar to the ones that were served at the Bon Voyage breakfast – just without the filling and fun powdered sugar Corona's Crest featured in Tangled.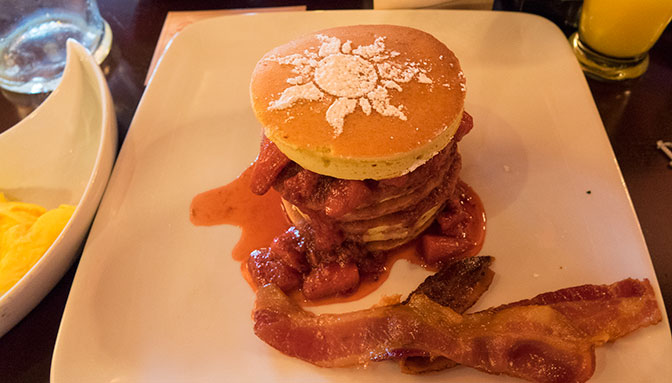 I thought this breakfast was hearty and had enough variation that it would satisfy any palate. I was charged an extra $5.00 for the side of pancakes, but they were big enough that it was worth it.
For $20, I thought this was a big and delicious breakfast!
Fellow KtP Writer, Susan, ordered the steak and eggs. Here is what she had to say: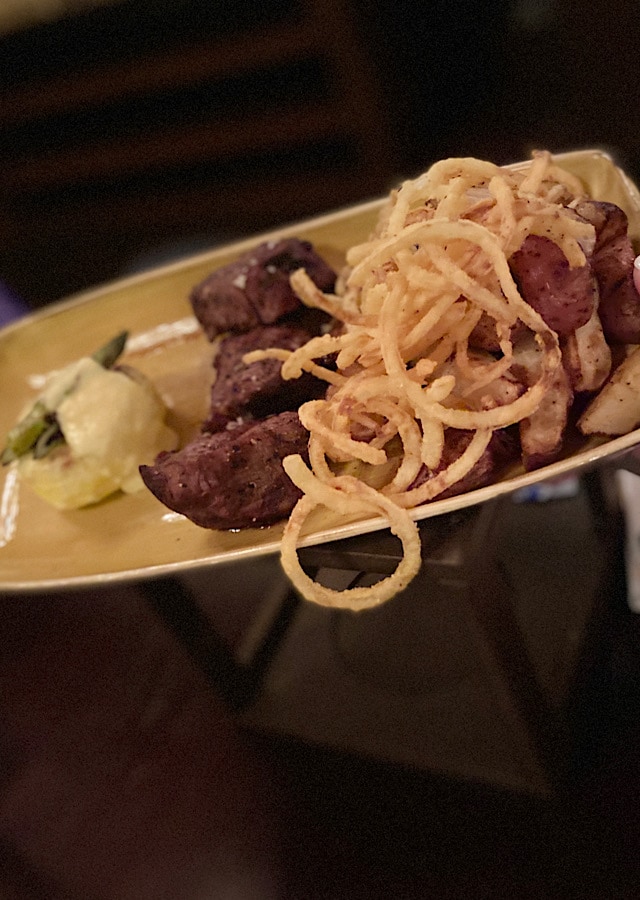 Having had breakfast during the Bon Voyage Breakfast meal, I ordered the steak and eggs dish. I remember it being one of the best dishes at Disney, and I was thrilled when I spotted it on their limited menu.
The dish had three generous pieces of juicy steak. It was so tender you could cut it with a butter knife, and it had a mild smoky flavor from being cooked on the kitchen's open fire grill.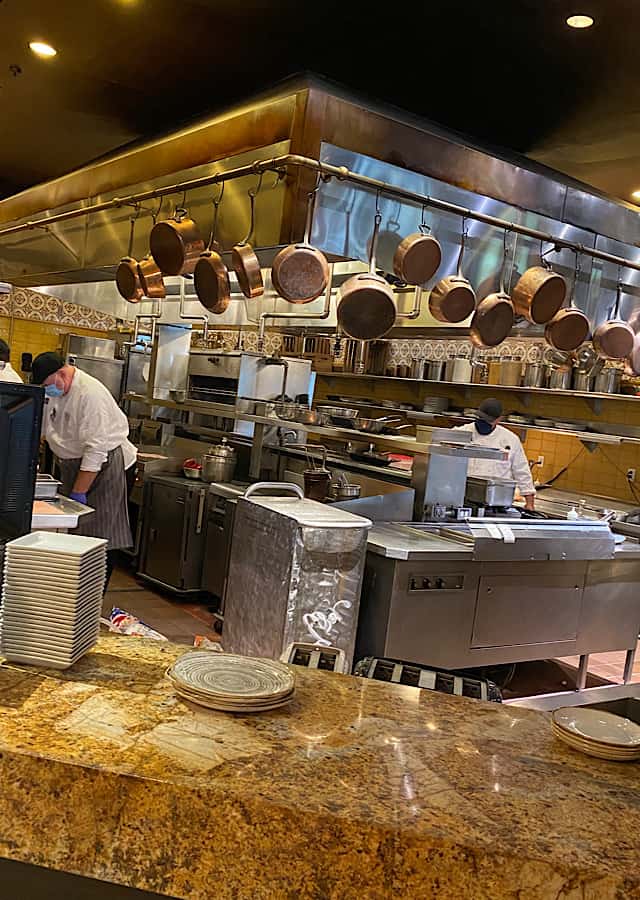 The cheesy-egg torte topped with asparagus is the next part of the breakfast dish. It was similar to an egg soufflé – light and fluffy. The potatoes were typical restaurant fried potatoes. The crispy onions were lightly breaded and were the perfect accompaniment to the steak.
This is a hearty dish that will satisfy most appetites. Overall, the dish was as delicious as I remember and recommend them wholeheartedly!
Dinner at Trattoria al Forno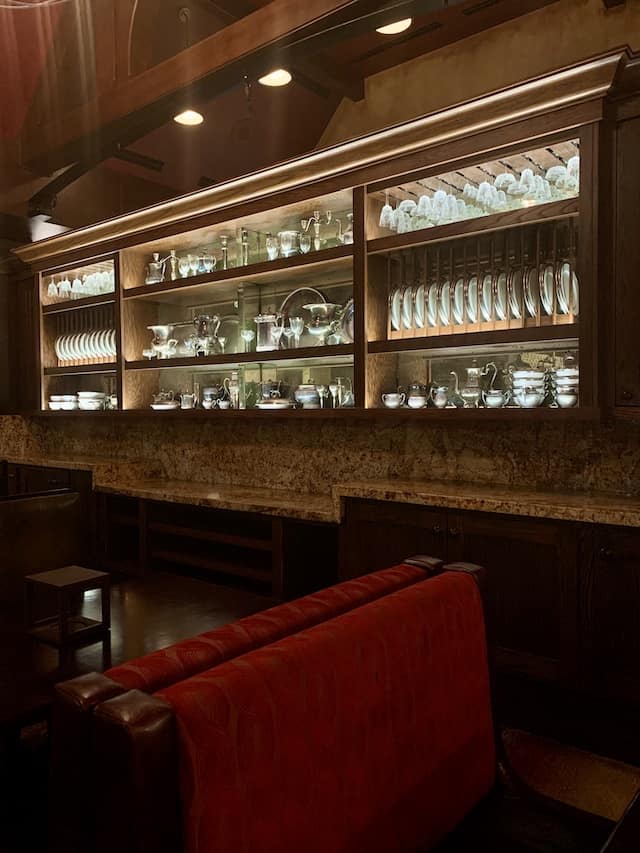 Also during my stay, I had the pleasure of enjoying dinner at Trattoria al Forno as well! This was my favorite meal of the two.
Currently, adult entrees include:
Oak-grilled strip steak
Lasagna al Forno
Polpette
Lentil riscoto
Pettini di Mare
Pasta alla bolognese
Parmigiana di Pollo
You can also add a 6 oz strip steak, jumbo scallops, or grilled chicken breast for an additional fee.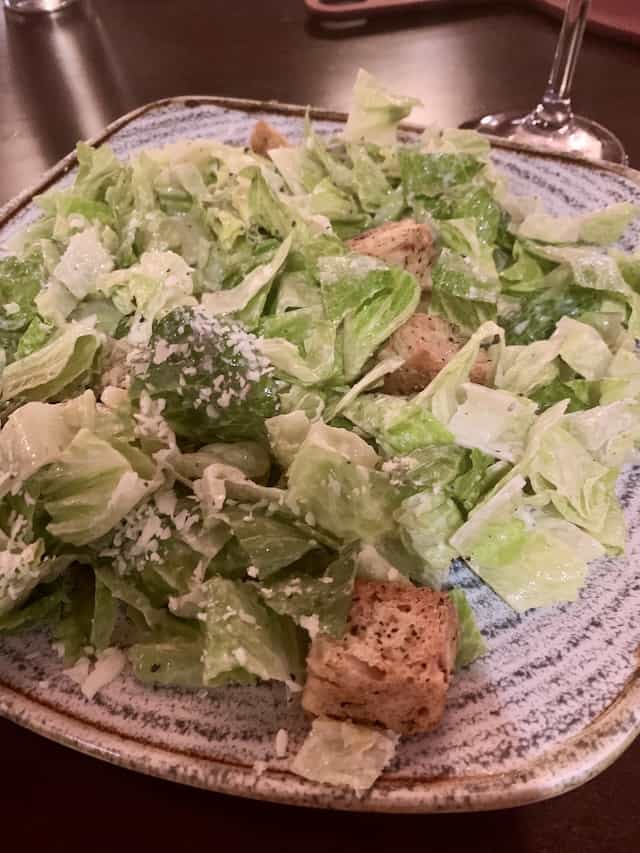 For this meal, we ordered a salad and cheesy garlic bread to start with. I was amazed with both. The salad was fresh and the garlic bread was so hot we needed to wait a few minutes for it to cool down.
We both ordered the lasagna, and I don't think I can ever eat lasagna again without thinking about this dish! It was so cheesy, which I really loved. They came served in their own skillets after being baked in them.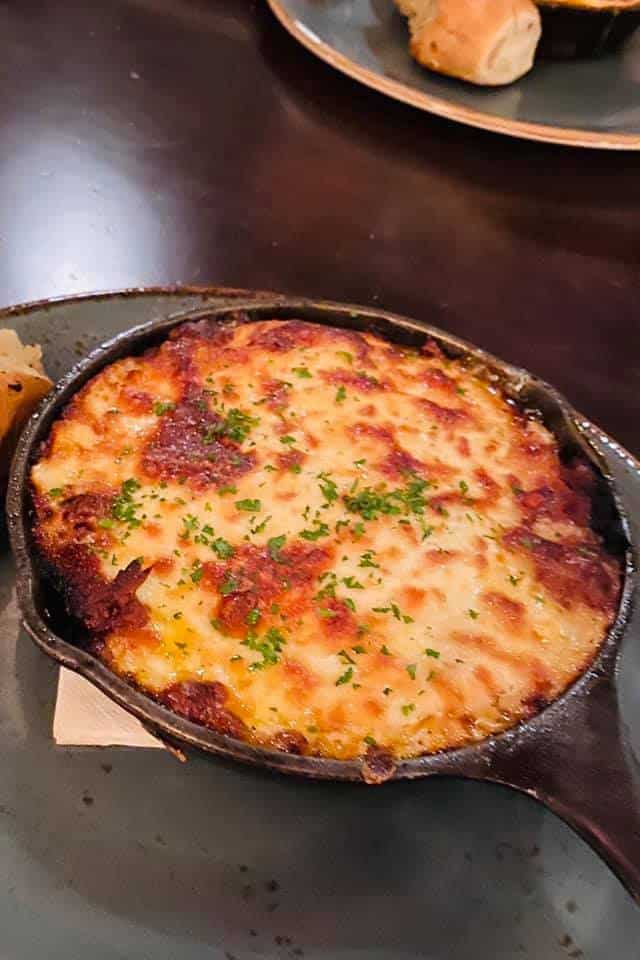 The cheese was perfectly brown being that it was cooked in the fire oven. The portion was huge, but please don't judge me when I tell you I ate the whole thing! It really was one of the best entrees I have had on Disney World property.
I really tried to order dessert, but after eating the salad, bread, and lasagna I didn't have anymore room!
My Final Thoughts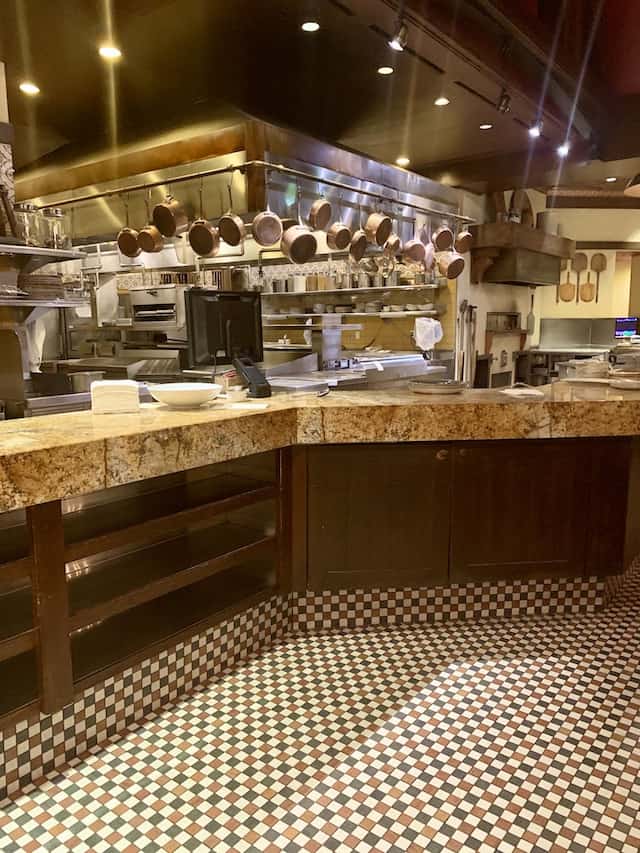 Overall, I really enjoyed my two meals at Trattoria al Forno. The food was excellent, and the atmosphere was warm and inviting.
It would be an excellent spot to enjoy dinner, grab some drinks at Abracadabar, and then head to Jellyrolls or Atlantic Dance Hall for a fun evening out once they reopen.
Currently, there is not much to see and do at the BoardWalk. With the recent news that the BoardWalk Inn (non-DVC side) won't be reopening this fall like originally planned, the only places open right now are Trattoria al Forno, the BoardWalk Bakery, and the general store.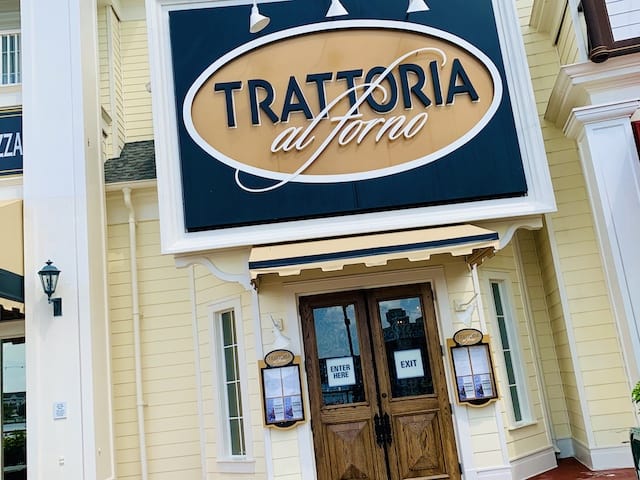 Because of this, you may want to wait to enjoy Trattoria al Forno until more entertainment options are open. This is the only downside I can think of for this restaurant. Otherwise, I really enjoyed myself!
Have you ever dined at Trattoria al Forno? Share your experience with us on Facebook!
Are you planning a vacation? Reach out to our trusted travel agency sponsor Authorized Disney Vacation Planner
Mouse Class Travel
!