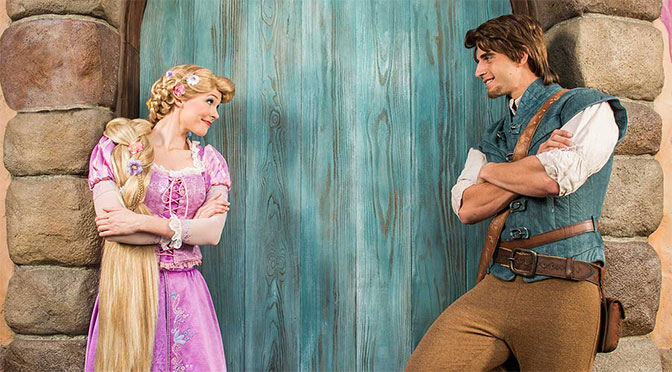 Located at Disney's Boardwalk, Trattoria al Forno serves up a fun character breakfast where "dreams are coming true all over the place."  Thinking of giving it a try?  Here are 4 reasons you'll love Disney's Bon Voyage Adventure Breakfast.
This character meal is a lively, highly sought after experience with the opportunity to eat delicious food and meet some beloved (and rare!) characters. Rapunzel, Flynn Rider, Ariel, and Prince Eric are there to greet you while you eat breakfast.
The atmosphere is unique
Trattoria al Forno is an Italian restaurant. On the day we dined, we were the first family to enter that morning. The cast members formed two lines, and they all applauded as we walked through the restaurant to be seated. The seating arrangement is mostly tables with a few rounded booths. The walls are adorned with Italian wine. As far as theming for character dining goes, Trattoria's ambiance does not quite fit with the adventure theme, and neither The Little Mermaid nor Tangled took place in Italy. There are no special overlays or decorations for the character meal, but they do play music that fits with the character themes. The kitchen is open, which is fun for kids and adults alike to watch as you are waiting for the characters to get to your table.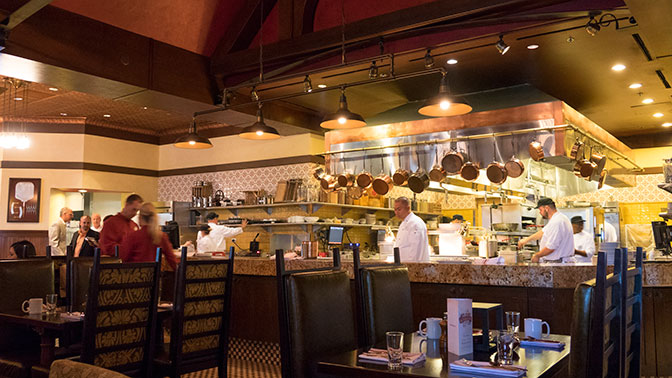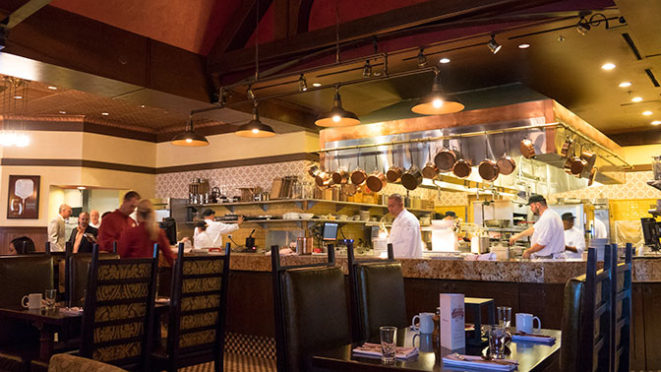 The food is delicious
Your delicious breakfast starts off with a frying pan (who knew?) of a beautiful assortment of pastries. We especially loved the almond pastry shaped like the sun, which is an important symbol in the movie "Tangled."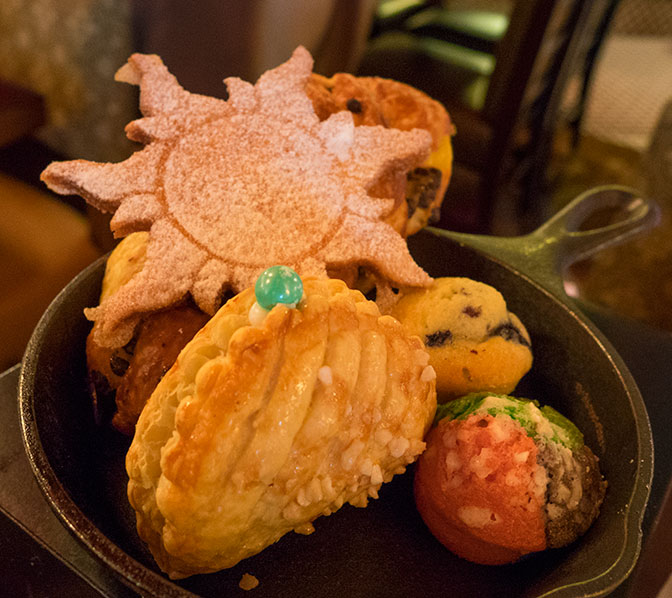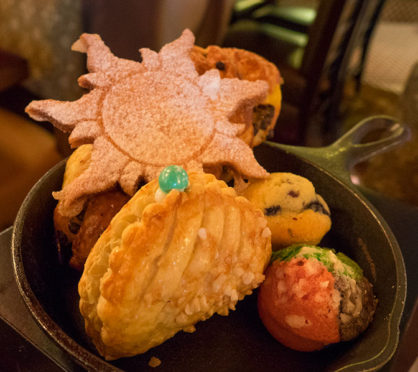 You'll then have a choice of fruit salad or a yogurt parfait with granola and berries. Both are great choices.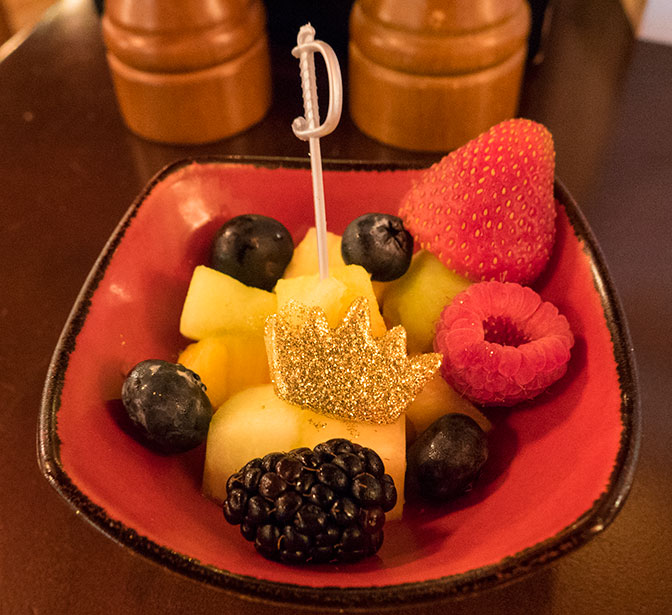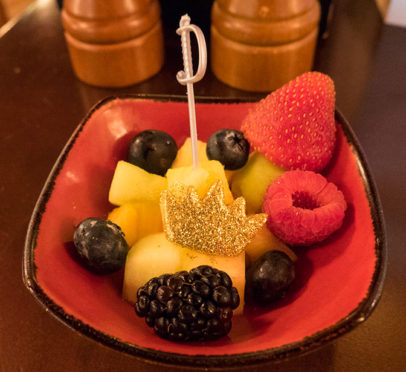 There are several entrees to choose from!
Tangled Eggs – mozzarella, tomato-basil scrambled eggs, and Sunday gravy with roasted potatoes and bacon or sausage
King Triton's Shipwreck al Forno – calzone with soppressata, bacon, sausage, blend of cheeses, and Sunday gravy
Royale Breakfast – oak-grilled steak, cheesy egg torte, asparagus, crispy onions and roasted potatoes
Kids can enjoy meals such as Flounder's Flapjacks and Character Waffles.
Overall, the food is delicious and we were more than satisfied with the portion sizes. It was wonderful to be able to experience a character meal that is NOT a buffet!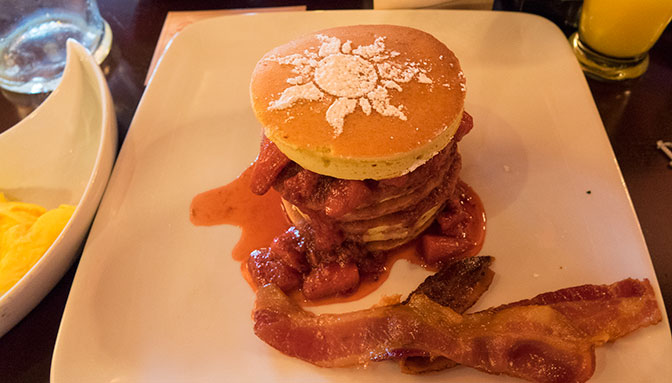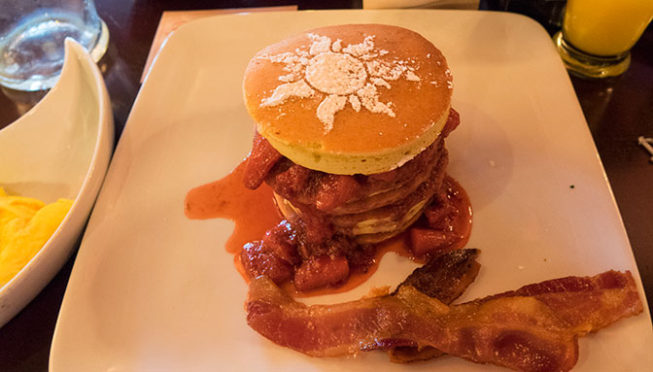 The location is outstanding
This breakfast is held at Trattoria al Forno, located at Disney's Boardwalk. I had never visited the Boardwalk before our visit, and I was pleasantly surprised at how wonderful this area is. If you plan to visit, save some time to explore the Boardwalk area before you set off on your plans for the day. There is so much to do and see there!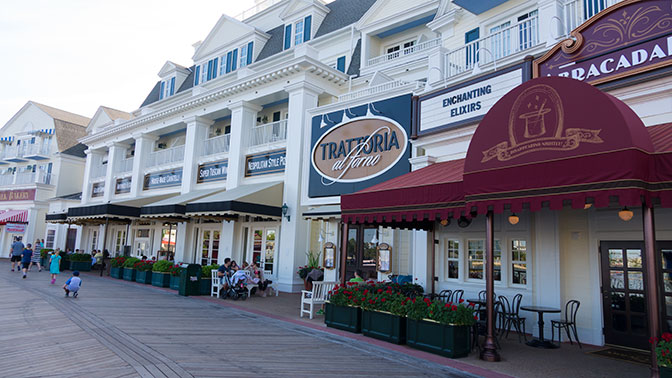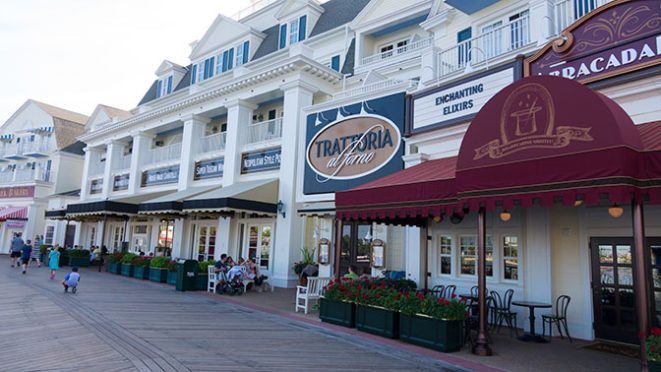 If you are staying on property and relying on Disney transportation, you'll need to have a good plan in advance for how you'll get there. If you are staying at an Epcot-area resort or the Swan or Dolphin, you can just walk over. If you are taking the bus, you'll have to take the bus from your resort to Hollywood Studios and then use the walkway (about a 15-minute walk) or boats to get there. If you are already in Epcot, you can use the International Gateway exit to walk to the Boardwalk, which is about a 5-minute walk. Otherwise, you can use a Minnie Van, Uber, or Lyft.
On the day of our visit, we planned to spend the day at Epcot. This worked out well for us as after breakfast; we walked directly to Epcot and used the International Gateway entrance. We had a 7:30 am reservation and walked right over, arriving before Rope Drop. By the time the park opened, we were one of the first in line for Frozen Ever After!
The character interactions are fantastic
This character meal is special because you can meet Prince Eric, Ariel, Rapunzel and Flynn Rider! Prince Eric and Flynn Rider do not regularly meet anywhere else. They all meet separately, but as each Princess enters the restaurant,  her Prince will leave his place among the guests to greet her and escort her around the room.  As every character is introduced, a narration comes over the loudspeaker and special music plays.  Every once in a while, the characters will also invite the children in the room to join them in a parade, which is absolutely adorable.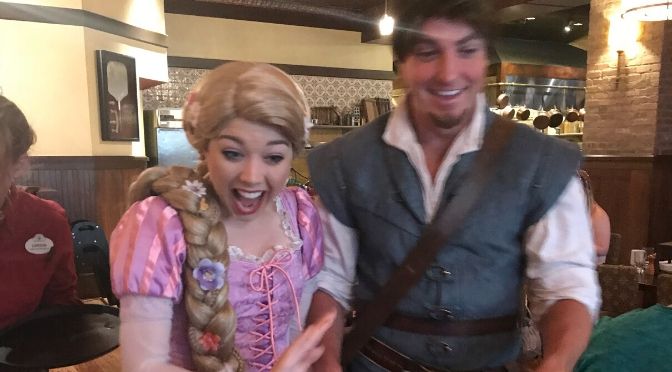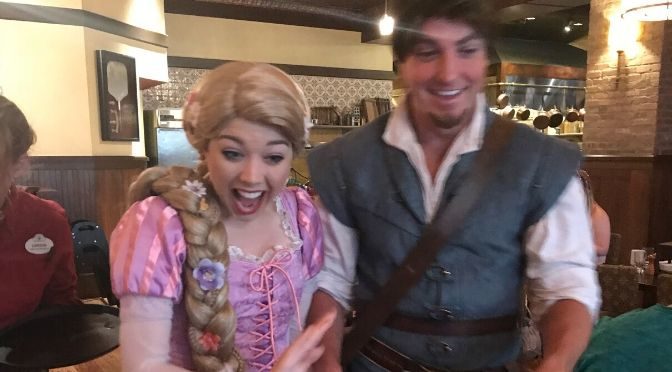 Our family eagerly awaited our character interactions, and we were not disappointed!  We met Ariel, who was excited to meet my daughter, who was also dressed as Ariel.  Prince Eric was a quick interaction; he was friendly enough but moved along after posing for pictures and signing autographs.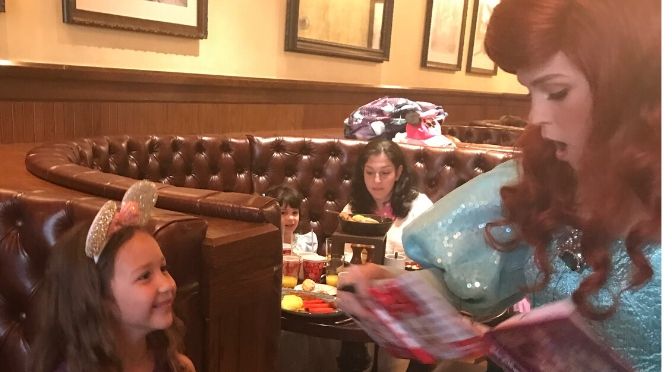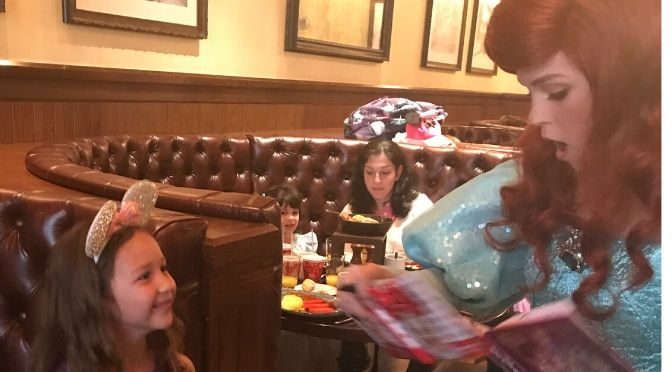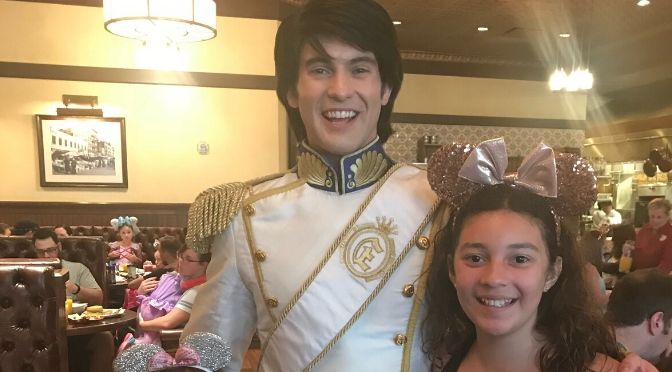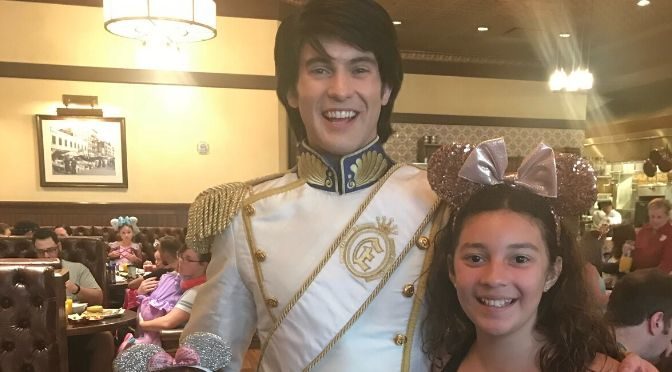 My family had the most fun with Rapunzel and Flynn Rider.  Rapunzel was first, and she happily posed for pictures, signed my girl's stuffed Pascals, and told them stories of Pascal hiding in different spots around the restaurant.  As Flynn approached, he was delighted when we referred to him as "Eugene."  He spent a lot of time with us, showing us the smolder, making jokes about frying pans, and even obliged when we asked him to show us what was in his satchel.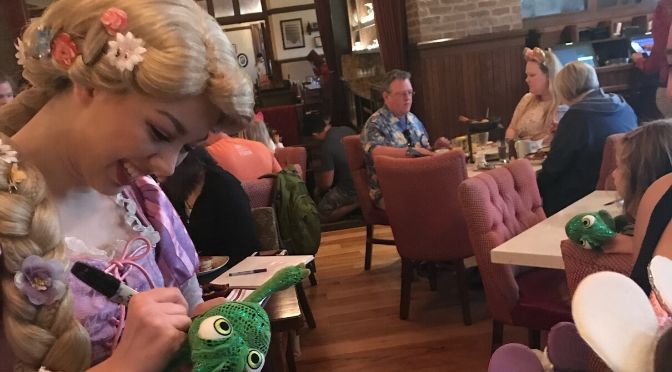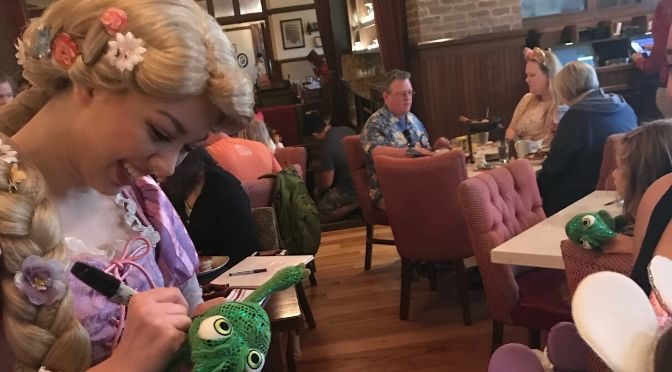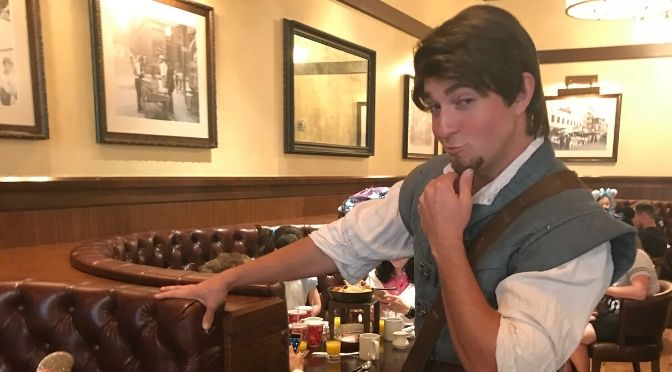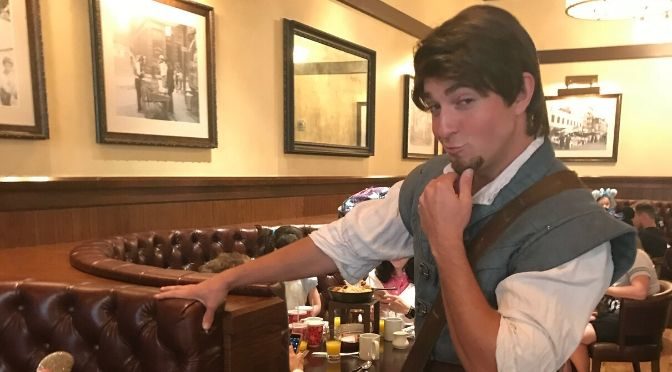 My family has done several character meals, but Bon Voyage Adventure Breakfast tops our list of best experiences yet.  We can't wait to return!
Have you ever eaten at Trattoria al Forno for the Bon Voyage breakfast? Drop me a comment below and let me know!
Jamie Fonseca
"All our dreams can come true, if we have the courage to pursue them."-Walt Disney