Are you planning your Disney dining reservations? If so, you might want to check out this review of Le Cellier Steakhouse in EPCOT.
Advanced Dining Reservations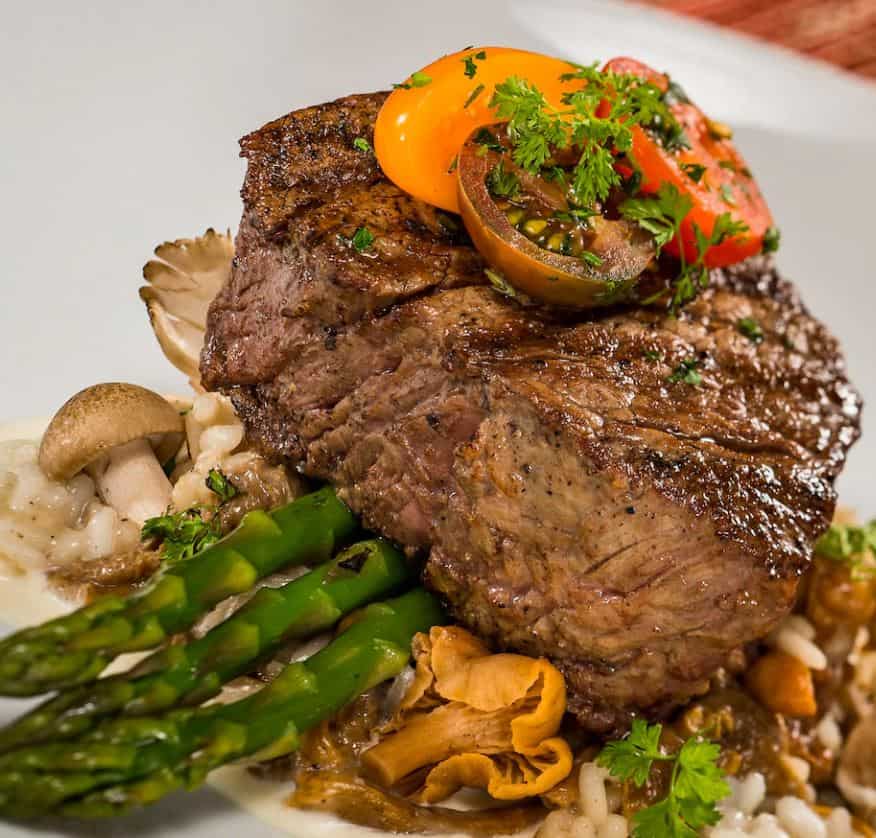 If you are anything like me, you are a Disney planner. You read and research everything when it comes to your Disney vacation, and advanced dining reservations (ADR) are no exception.
Let's face it. ADR FOMO is REAL. Hopefully this review can help you avoid it.
Le Cellier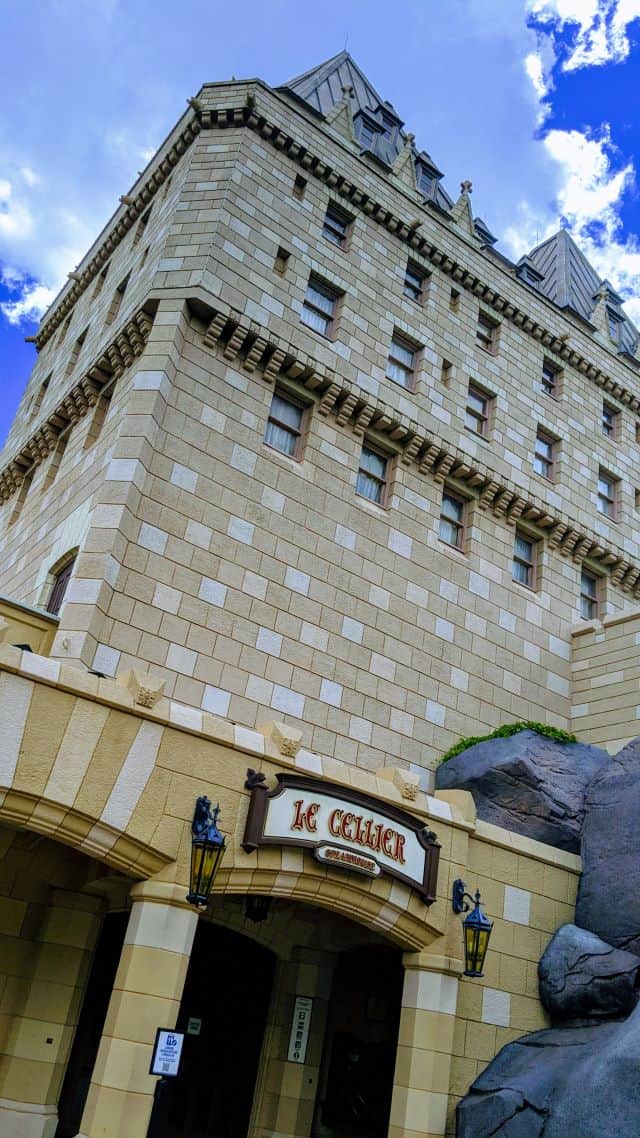 Le Cellier Steakhouse is a signature restaurant located in EPCOT's World Showcase. The restaurant is nestled in Canada just over the bridge.
It serves lunch and dinner daily. And while it is primarily a steakhouse, it has other options as well.
Lately, it seems that the trend is to tout Le Cellier as "overrated." However, I have never had an experience there that fell short of lovely.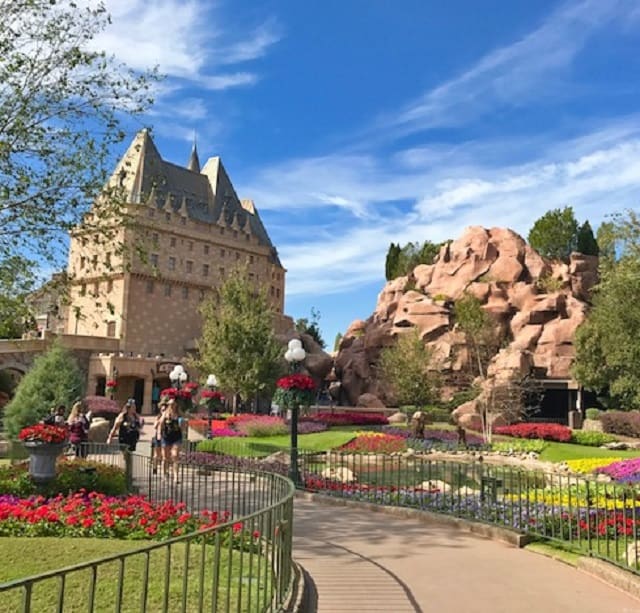 In fact, my travel companions and I enjoy it so much that we keep going back. Overall, in my experience, it is always good and often fantastic.
I mentioned food FOMO earlier, and for me, Le Cellier has set a bar. Every time I go to make EPCOT ADR, I find myself asking, "Will I be sitting in that restaurant wishing I were in Le Cellier instead?" I weigh my options accordingly.
Theming and Ambiance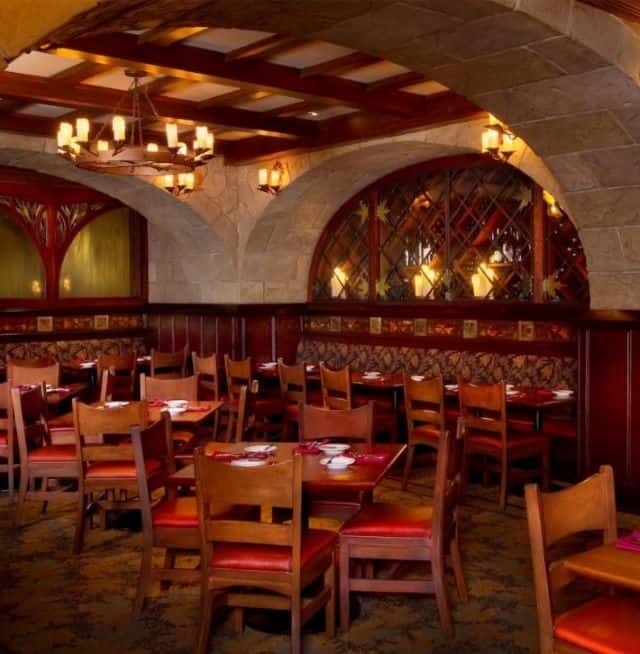 Le Cellier's exterior theming is that of a wine cellar of a grand château-style hotel. The building itself fits nicely into the rest of the pavilion.
Stepping inside takes you to a completely different world compared with the bustling theme park outside. The inside is dim and rustic, but not in an "I use antlers in all of my decorating" kind of way. It is certainly not your typical theme park dining experience.
It feels cozy and relaxing. I have heard it called loud, but to me it is no louder than any other Disney Restaurant and quieter than many of them.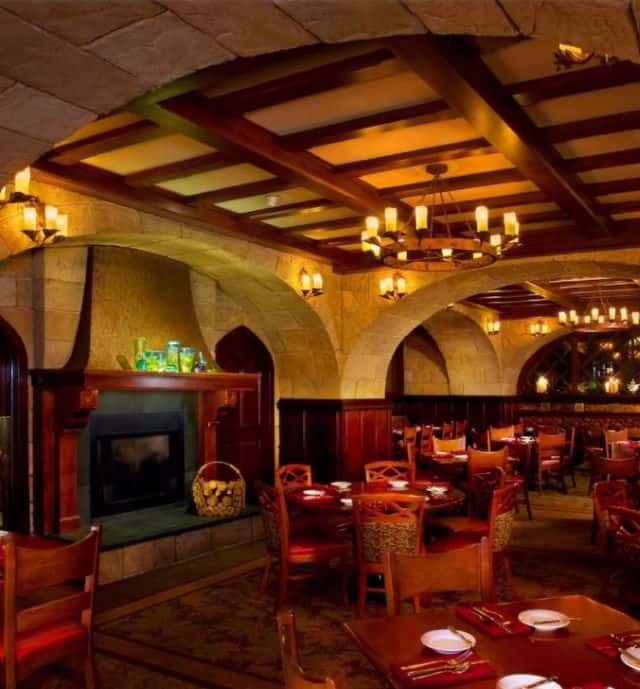 I have also noticed pre-pandemic complaints about the spacing of the tables. I find all pre-pandemic theme park restaurants feel somewhat cramped.
However, this is probably not even a consideration with the additional spacing between tables the pandemic has brought. Can socially distant seating be something we hold onto forever?
Service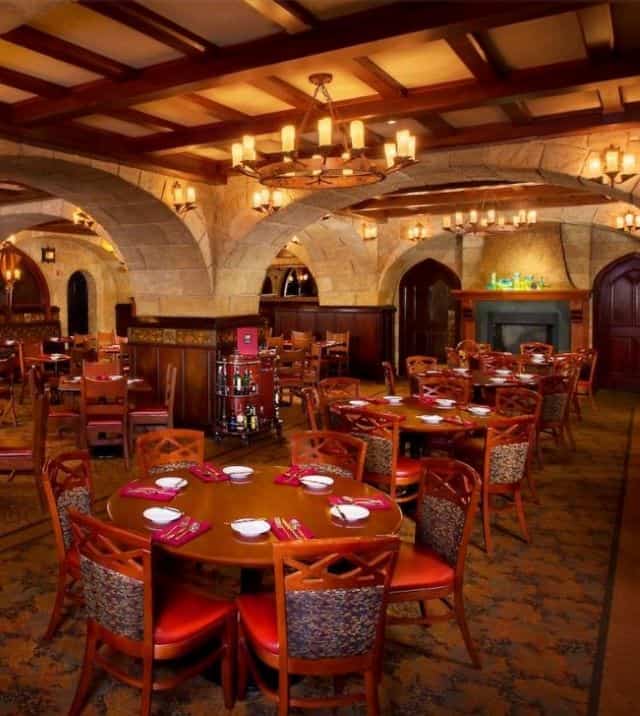 Any server can have bad days and good. So I have trouble rating the "overall service" provided by an entire restaurant based on any given visit to a restaurant.
That said, I have yet to have bad service at Le Cellier. And, I have often had phenomenal service.
In fact, one of my all time favorite Disney service experiences happened at at Le Cellier. Our server made our night magical and fun and kept us laughing and certainly deserved the highest of cast compliments.
The Food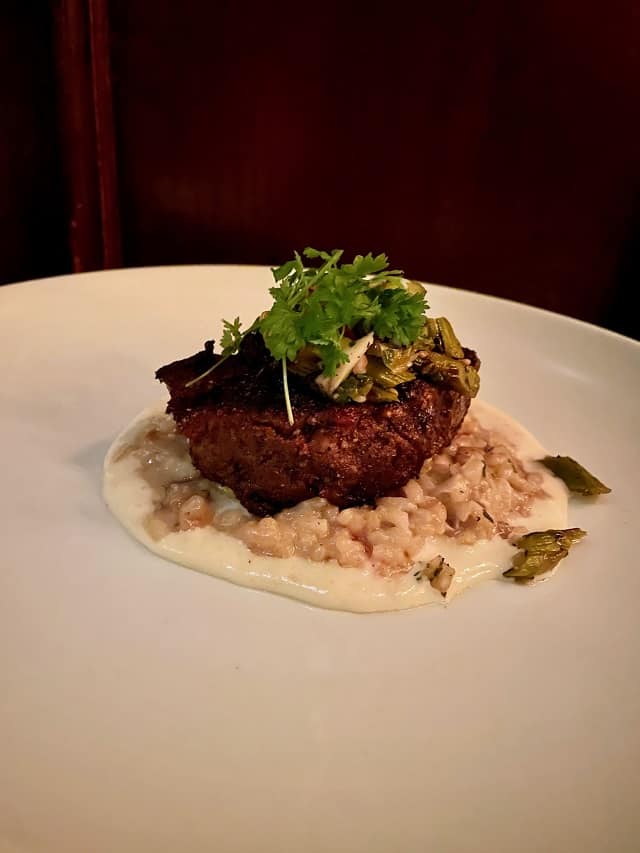 Of course, the primary draw for me is the food. Le Cellier's offerings are delectable.
I always order the fillet. Of course, I tell myself, "I am going to try something different this time," each time we visit, but that is a lie.
Le Cellier serves its fillet over mushroom risotto. Over the years, there have been several different preparations for this dish, which vary seasonally, all of them delicious. The risoto could be a stand-alone dish.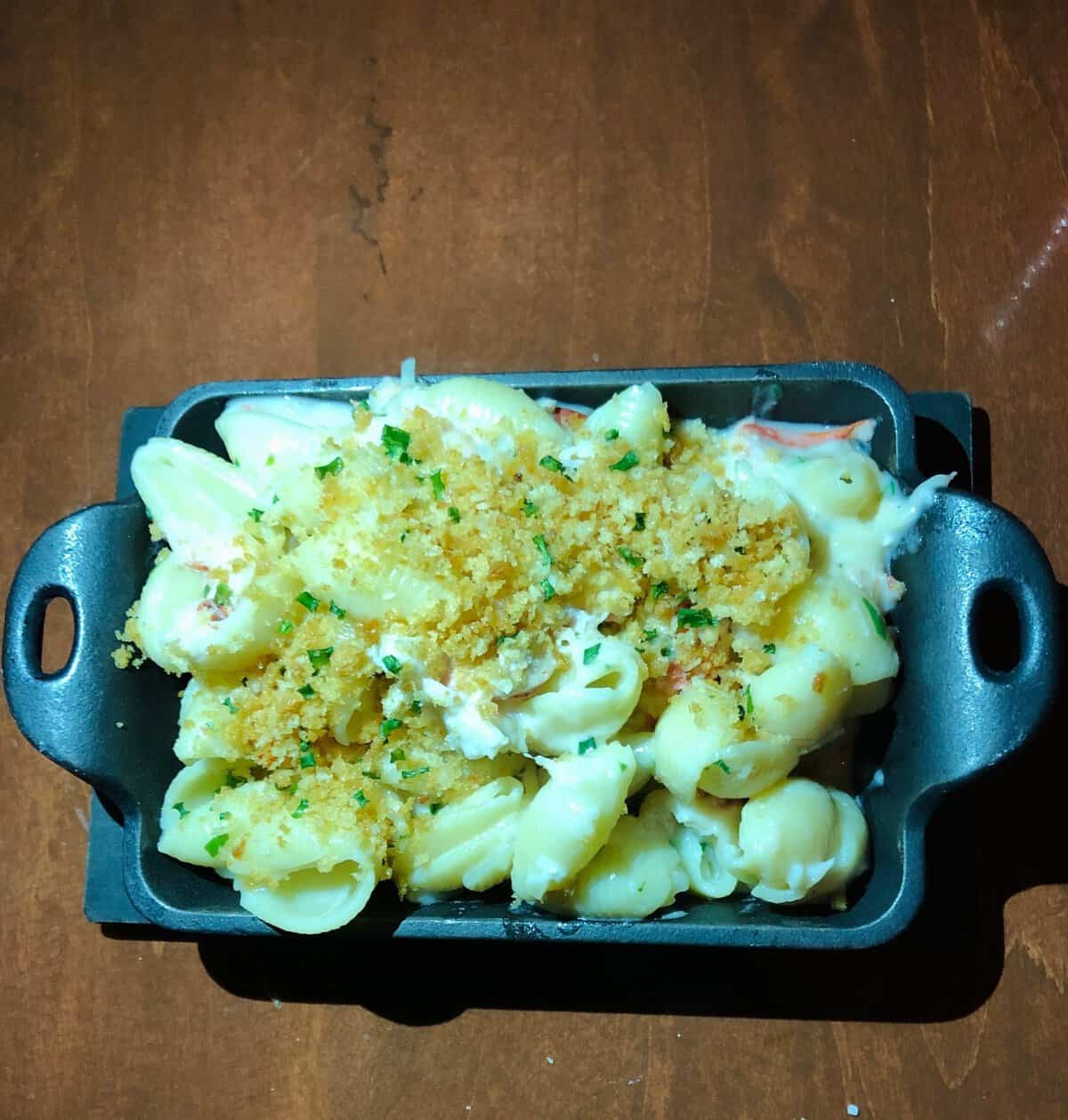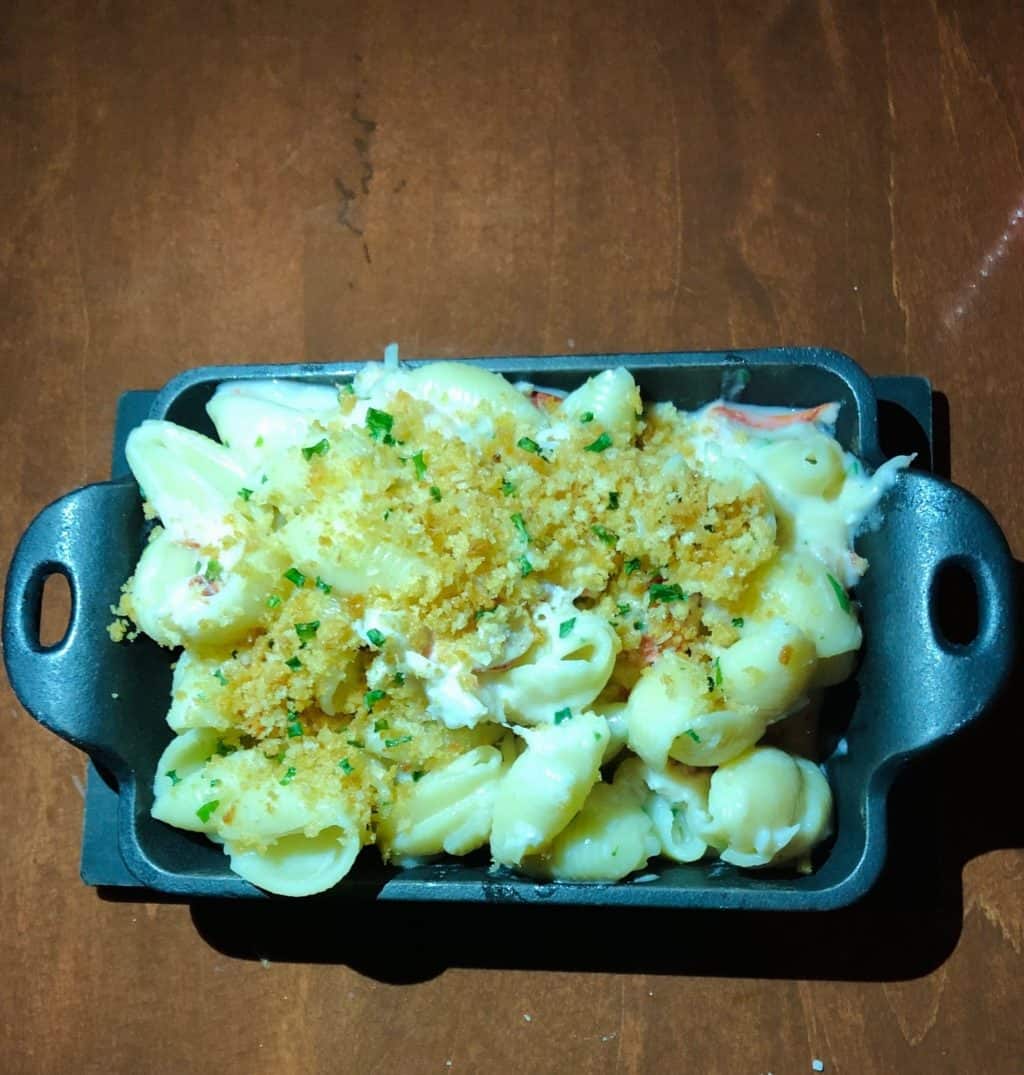 From time to time, Le Cellier also serves lobster mac n cheese. Although I enjoyed it, I probably would not order it again. While the lobster mac is great, other dishes are superior.
For example, I adore the mashed potatoes. They come loaded with bacon and cheese and are served with the skins. They are so creamy and flavorful.
Additionally, Le Cellier has a pretty stellar bread service. I know one shouldn't fill up on bread, but it is hard to resist when they present you with pretzel bread and a plate of salted maple butter.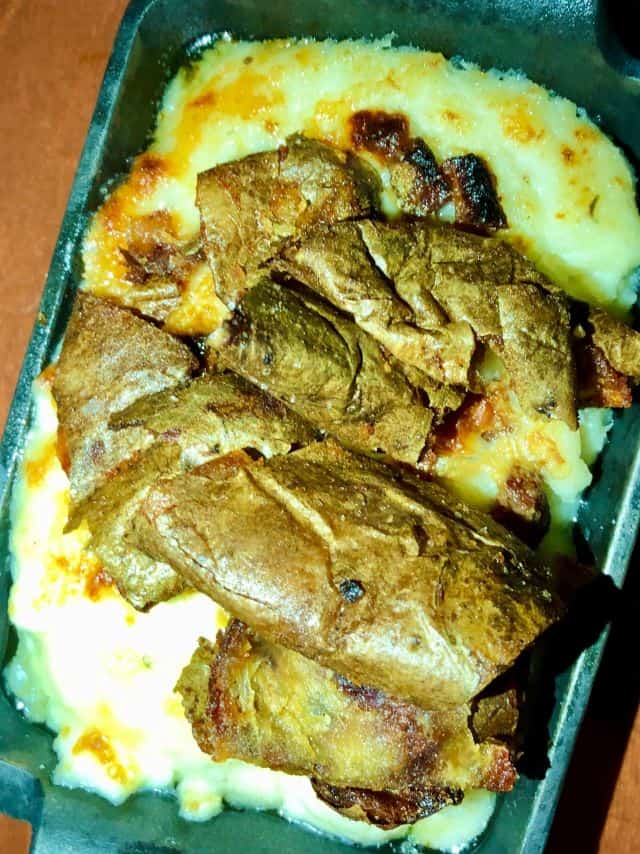 Canada is also known for poutine, which Le Cellier serves. A couple of trips ago my husband and I tried it, and it was entirely too salty.
I should have prefaced that by saying that one of my toxic traits is my love for salt. But, in the case of the poutine, it was too much for me.
However, it gets consistently good reviews. The dish we had was probably an unfortunate one-off.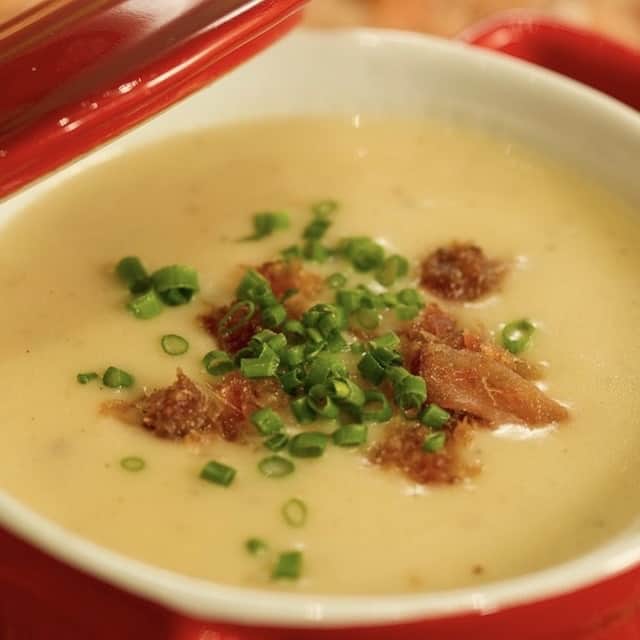 We have also had opportunity to try the famous cheddar soup. My husband and I and both kids thoroughly enjoyed it.
The Le Cellier menu changes occasionally. If you would like to see the most updated version, it is available on Character Locator.
The Dessert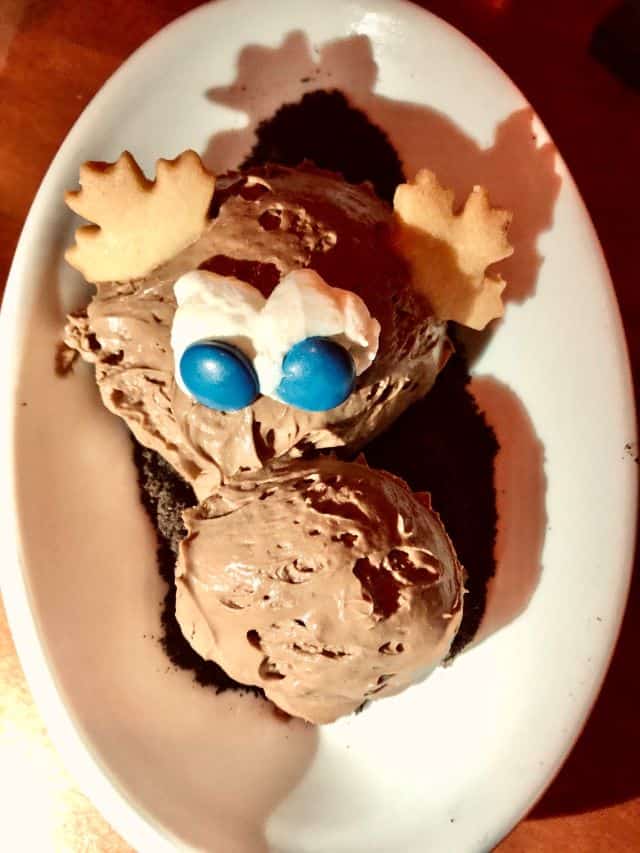 Dessert is not always a highlight for Disney restaurants. However, Le Cellier's is solid.
I particularly love the maple creme brulee. The kids love the chocolate mousse.
Is it Kid Friendly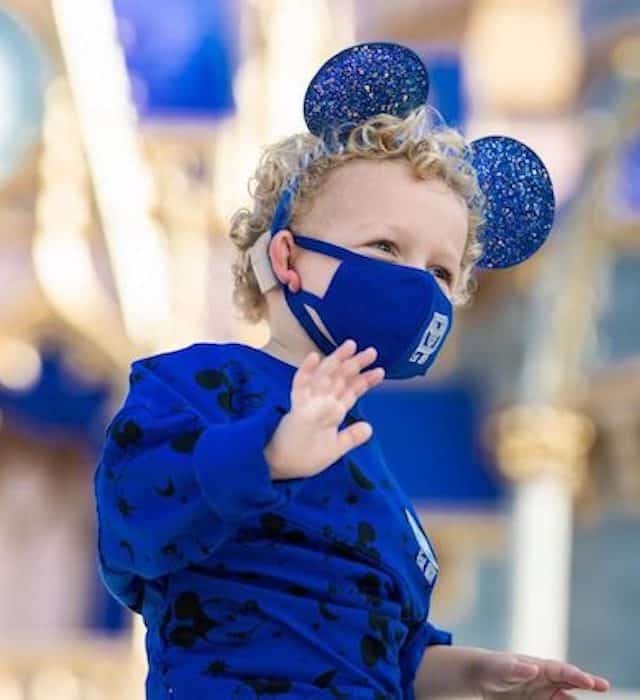 In general children are welcomed almost everywhere in Disney World. We have taken our own kids to Le Cellier ever since the younger one was two.
Signature restaurants can be a long experience. If your child is not used to 90+ minute meals, he/she may not be ready for Le Cellier. You know your child best, and your gut instinct is probably right when it comes to dining choices.
I will say, my kids enjoy going to restaurants for the most part. They like the "special steak restaurant" as they call it.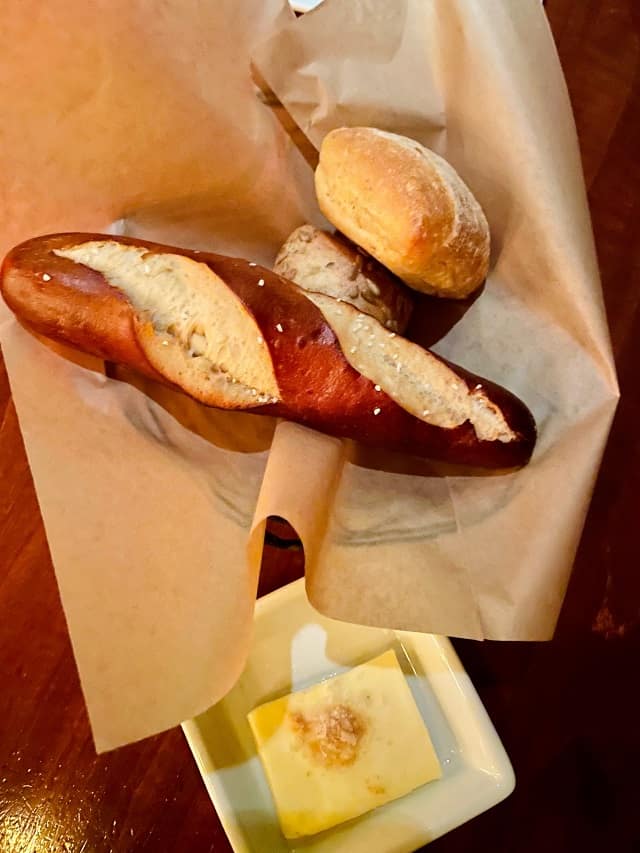 Even so, we try to limit our sit-down dining experiences to one per trip UNLESS the restaurant has characters or some other fun theming like Sci-Fi Dine-In. Even kids who are into restaurants may get antsy when there is so much fun to be had elsewhere.
While there are no characters wandering around in Le Cellier, the restaurant does provide coloring sheets and kids' menus. We don't always see people with young families there, but it is not unusual to see them either.
As far as food goes, my kids both enjoy the grilled cheese and fruit cup. My little boy also likes the cheese soup.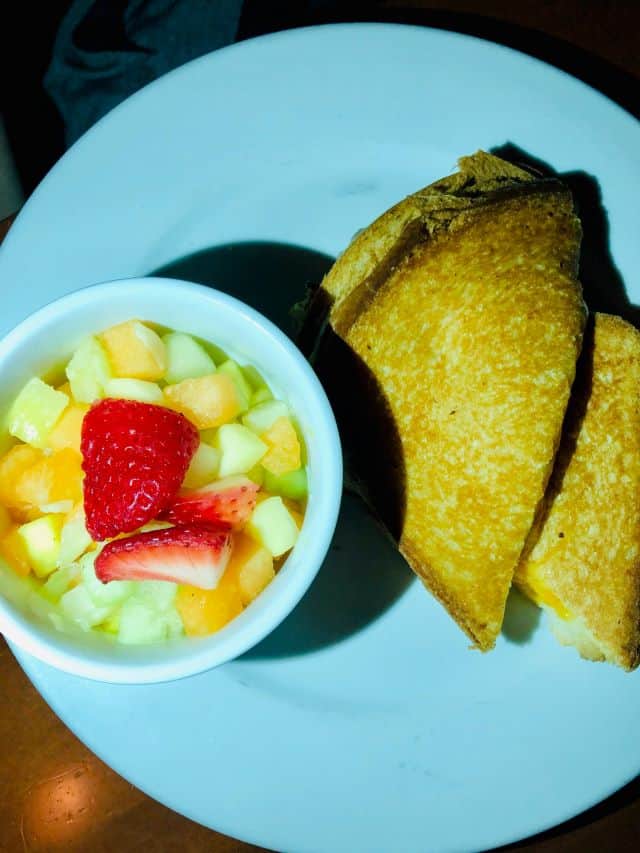 Of course, they vastly prefer the bread basket (who can blame them) and fill up on that before the food has a chance to arrive. For that reason we sometimes order ONE kid's meal and give each of them half.
They also really love the kid's dessert, like the chocolate mousse I mentioned earlier. It's super cute and delicious (You didn't think I'd let them get away without sharing a bite with me just to make sure, did you?)
Pricing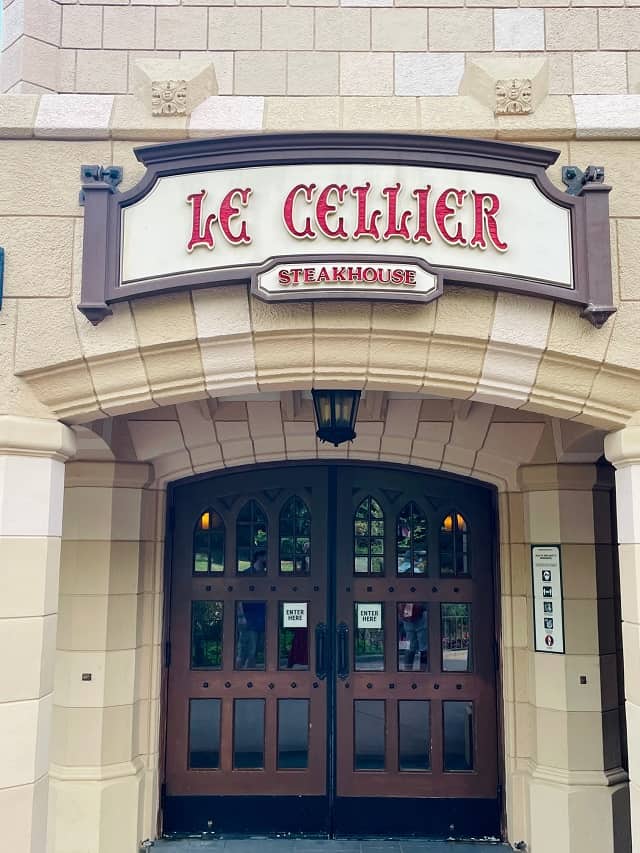 Perhaps the most notable drawback is the pricing. Since it is a signature restaurant it is priced higher than its table service counterparts.
There are, of course plenty of ways to save money. For example, you could stick with water, skip the appetizers, and share a plate. You could go for appetizers and/or desserts if you are just craving some delicious soups.
You can also sometimes save with discounts for AP, DVC members, Disney Rewards Visa Card Holders, or Tables in Wonderland participants. Check before you go because the discounts are subject to change and are sometimes available at lunch only.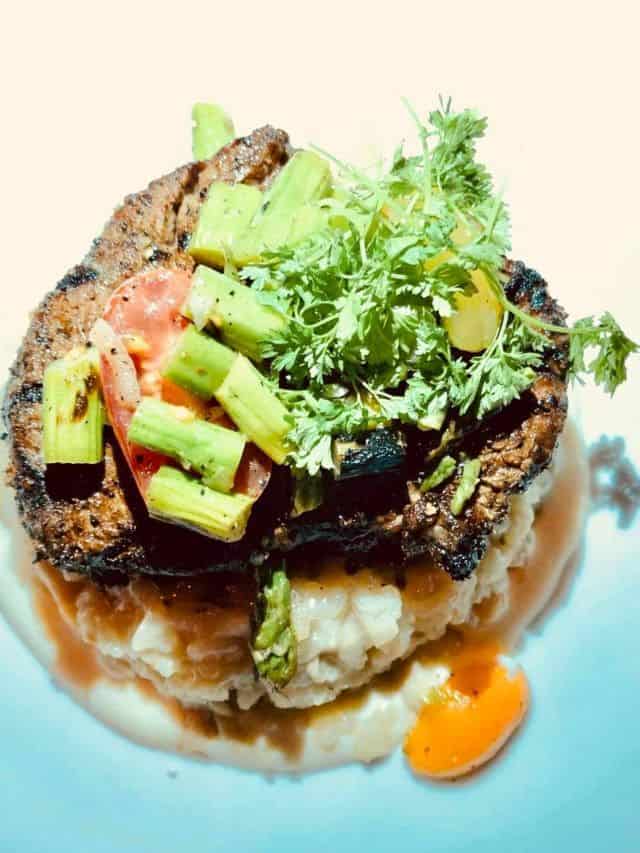 Overall, I find the price to be worth it, particularly if you like to do splurge meals on vacation. Surprisingly, we find we spend less here for our family of four than we would at a character meal, and we enjoy the food more.
Menu pricing can fluctuate seasonally. If you are budgeting, pricing is available on Character Locator.
Le Cellier For Less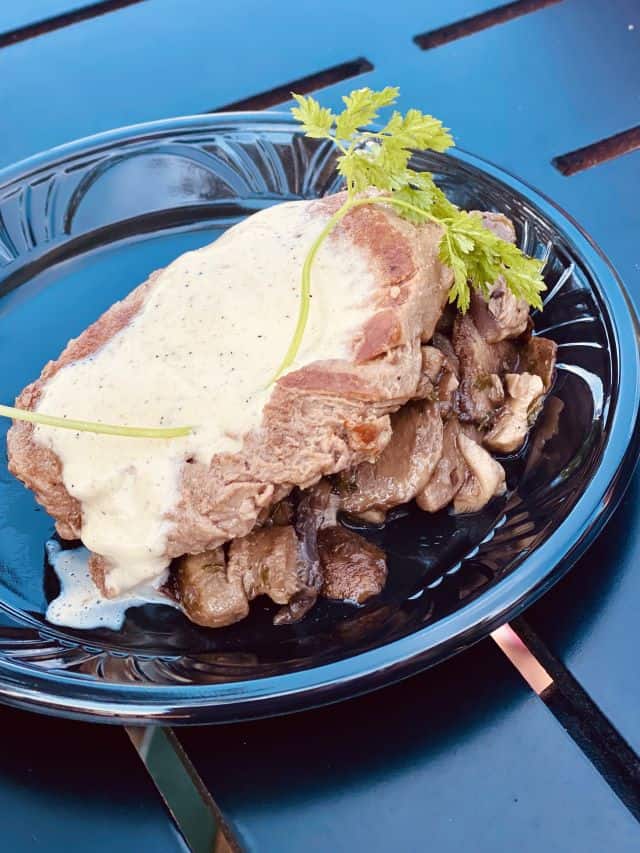 If you want a taste of Le Cellier before you commit to the pricing, you can test drive it at Food & Wine. The festival is typically in the autumn months, so your trip would have to be timed right for you to indulge that way.
The food booth in Canada typically serves too variations of Le Cellier's offerings. You can usually try the cheese soup and a small version of the fillet.
Overall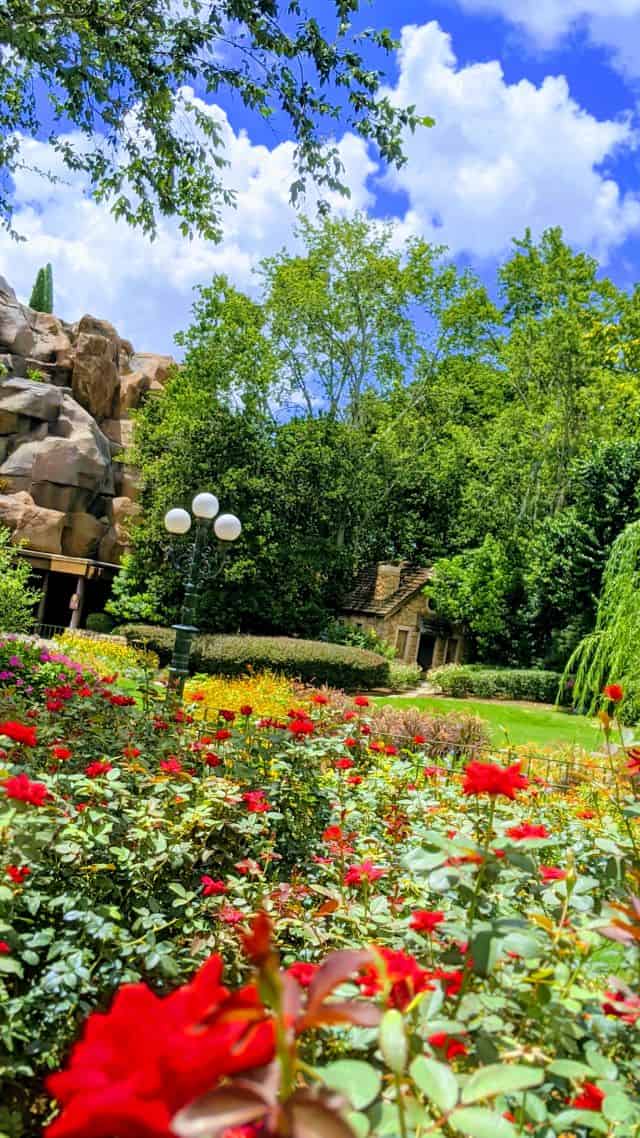 Of course, even when everyone else dining at a particular time on a particular night is having a grand experience, there may be someone who catches bad luck. I am sure Le Cellier is not without lackluster instances.
I have even seen it compared to a Longhorn. But, truly, if my local Longhorn served fillet like this, I would never dine anywhere else. I have yet to have that comparison enter my mind.
For me, Le Cellier is the best signature restaurant inside of a Walt Disney World theme park. Sure, there are resort hotel locations that knock signature dining out of the park, but if you want in-park fine dining, and you love steak, Le Cellier is my top pick.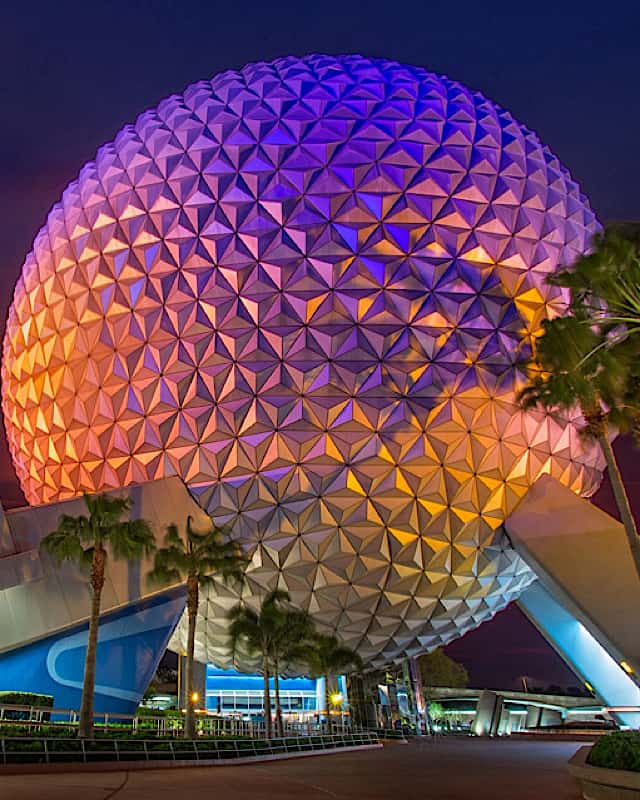 We love to pick a night to do a late-ish reservation. We head to Epcot, enjoy a ride or two, have a feast, and then take a nice stroll through the park as it is closing down. There is nothing quite like empty EPCOT at night, especially when you need a nice "if I don't walk I am going to burst" walk after a big meal.
Hopefully, this piece hasn't caused more ADR FOMO than it has prevented. If you happen to go in the next little while, let us know if it's still delicious.
Do you agree that Le Cellier is worth the hype? What's your favorite menu item? Let us know on Kenny the Pirate's Facebook Page, or join our crew and continue the discussion!