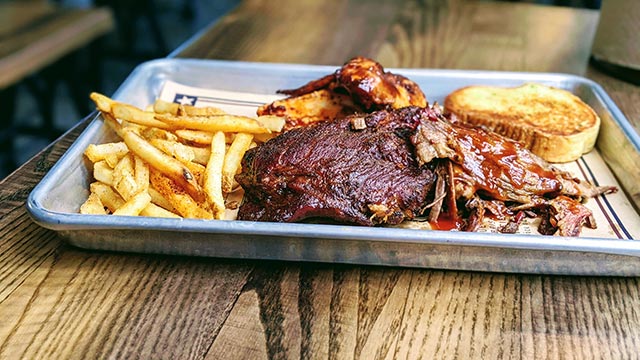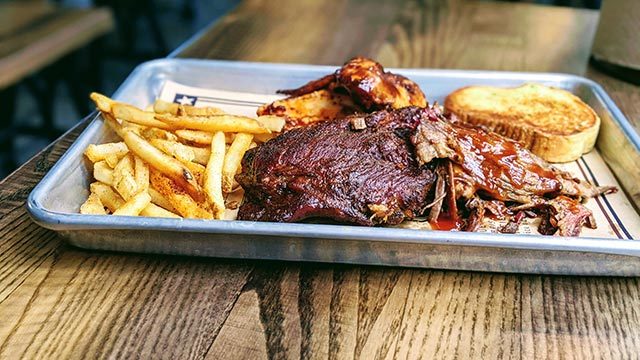 After months of waiting, the day has finally come! I was over the moon excited about combining my love for BBQ with my love for the Muppets. What I found was that the Muppets were better at comedy than creating high quality BBQ. Here's my Regal Eagle Smokehouse Epcot Review from opening day.
The decor
Let's begin my commenting on the look of the new Regal Eagle Smokehouse. I like the new touches that blend the Muppets bits of humor with classic Patriotism. The Muppets injection is done in an appropriate way that is not over-the-top, like Muppet Vision 3D. The entrance does have a "Regal" appeal.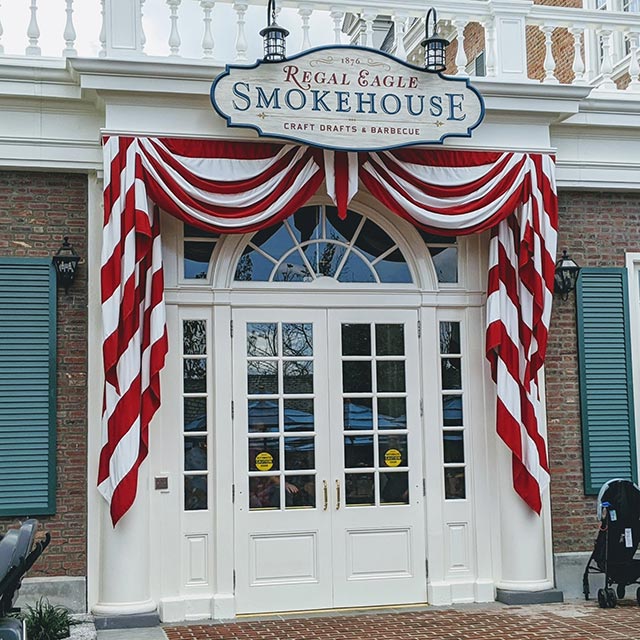 There is an outdoor smoker. I was told it was not in use for day one, but would be used on select days in the future and could begin being used tomorrow. It seems like a no-brainer to have meat smoking on a wood smoker. It would draw in guests by the smell alone.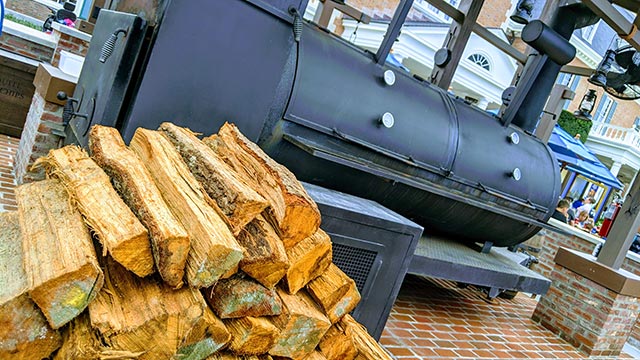 Sam Eagle has his own logo prominently displayed on the right as you enter his establishment. There was no sign of Rapunzel though.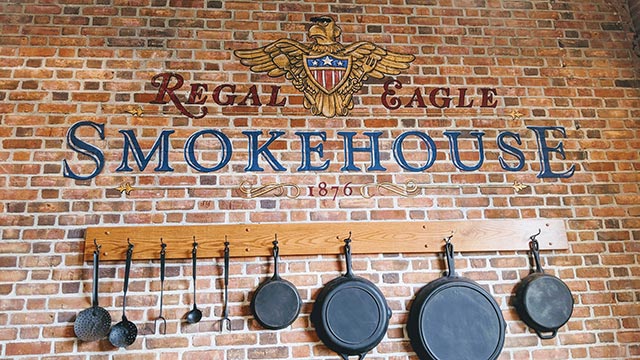 Below you will find Gonzo doing a stunt. It's one of the many tributes to the Muppets. You'll find a great deal of red, white and blue bunting and hints of Sam Eagle's prowess with BBQ preparation. He is said to be an award winner.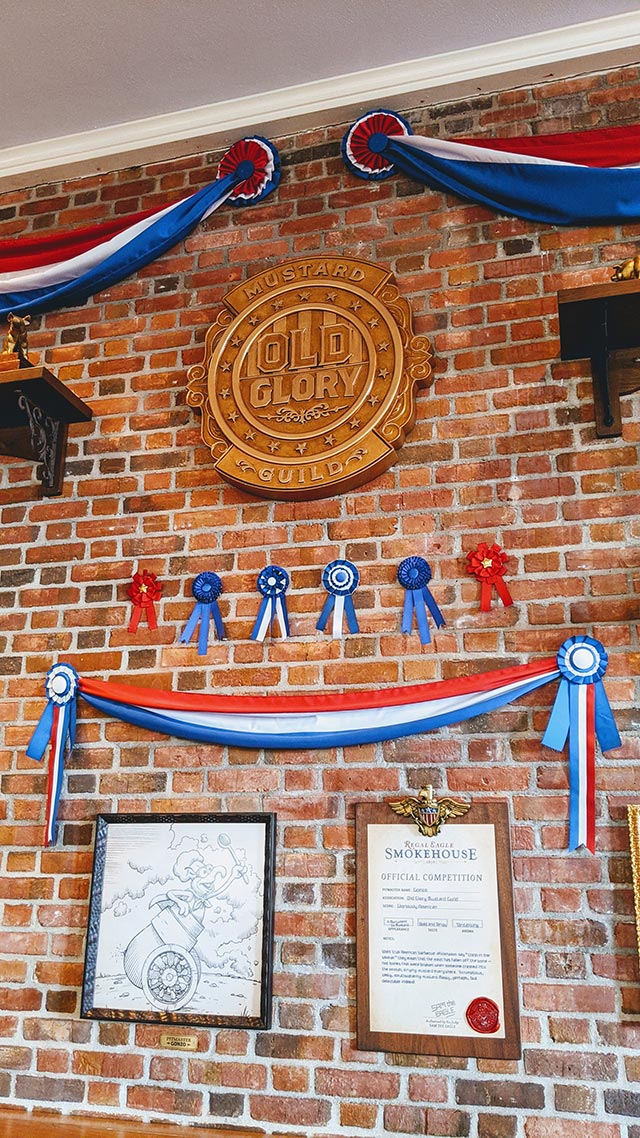 The tiny trophies remind me of Gaston's Tavern, where he displays many tiny animal heads.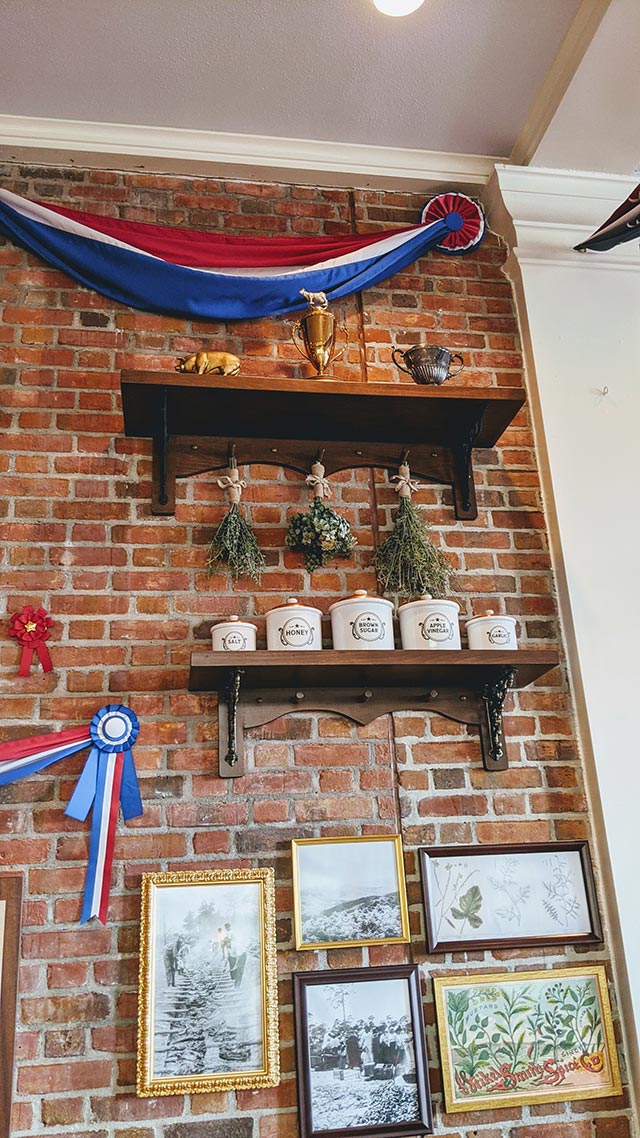 Rolph gets in on the act in the picture below left.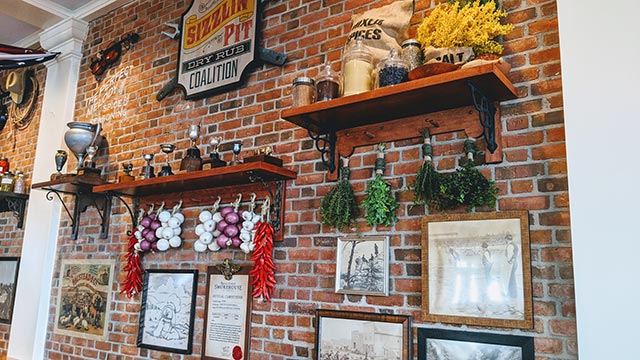 These props are located off to the right of the ordering area.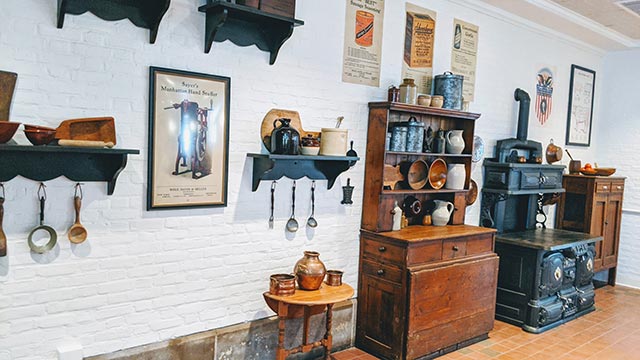 The back story tells us the Sam Eagle hosted the 1876 Centennial Cook-off. It's a salute to all cook-offs, but mostly barbecue.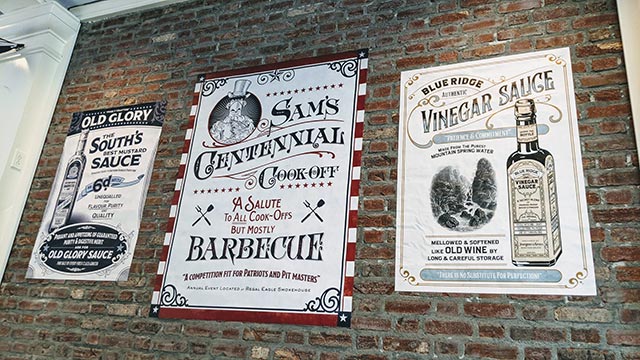 Seating areas
The space is similar to what existed as Liberty Inn with a refreshing. Everything is clean and freshly painted. More tribute bunting flows through the space.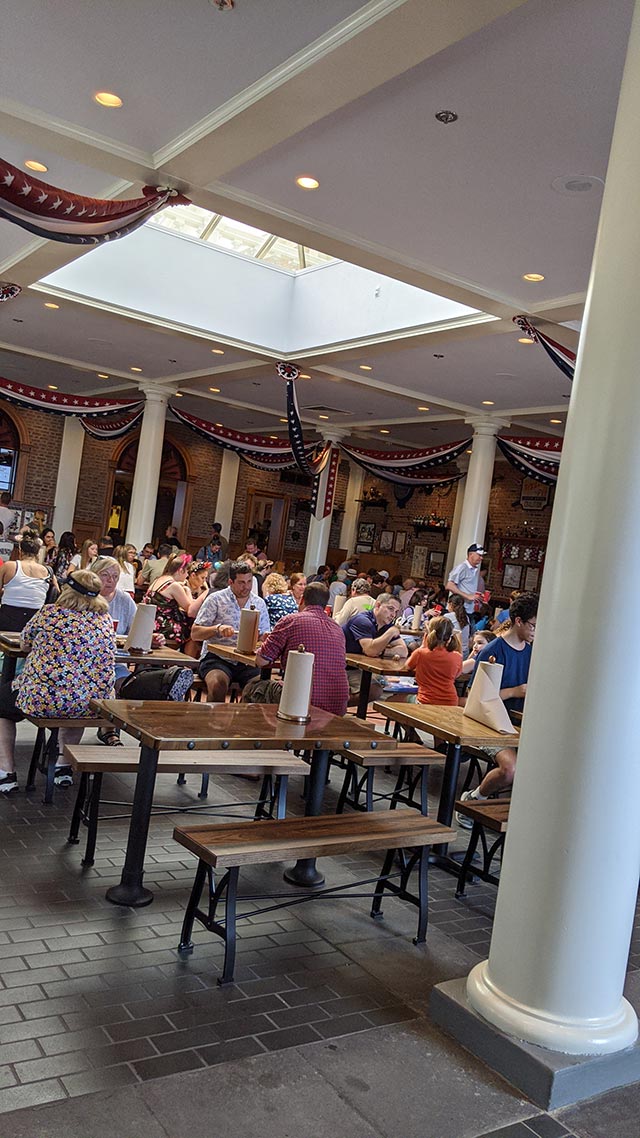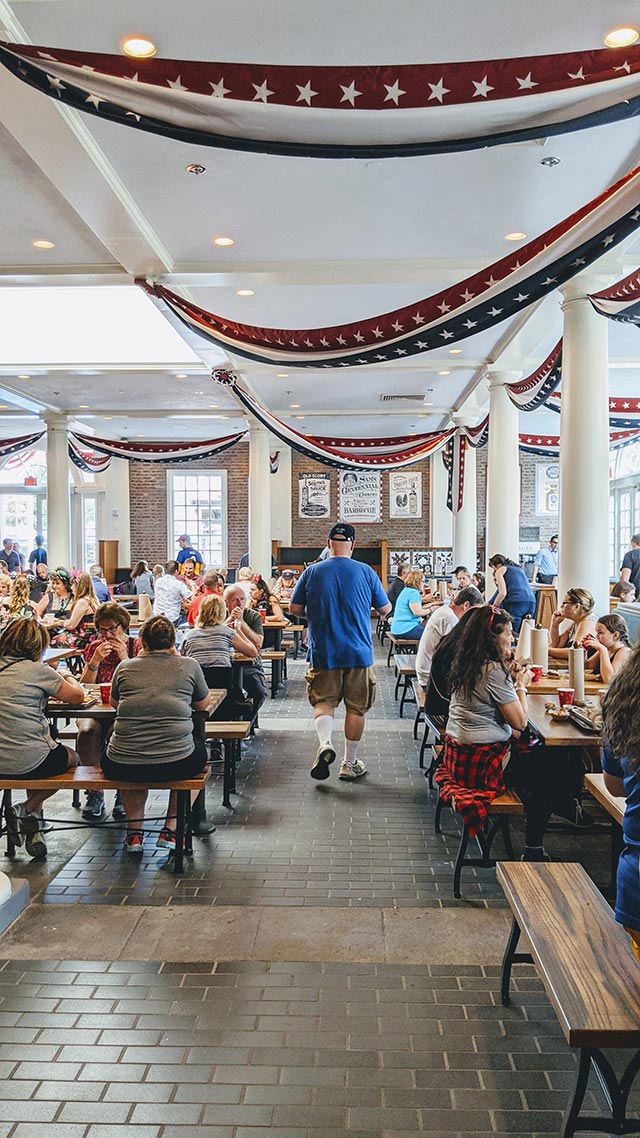 On nice days, like today, you may wish to be seated outdoors. In the summer months, you'll be thankful for the quality air conditioning indoors.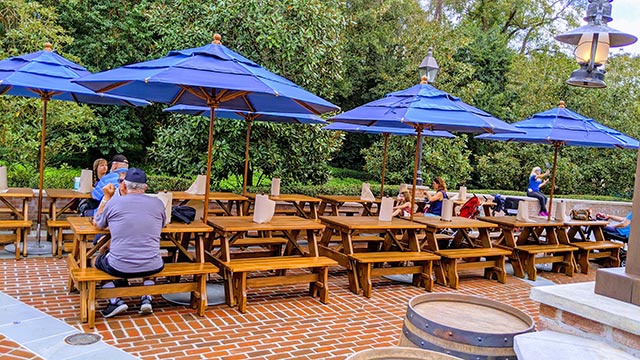 The food
It's likely that you didn't come here for a bunch of photos of the decor and benches, so let's get to the food. I ordered the American Platter and the North Carolina Chopped Smoked Pork Butt Platter. Regal Eagle is included in the Disney Dining Plan and you can use My Disney Experience for mobile ordering.
American Platter
The American Platter allows you to choose 3 different meats along with a side and Texas toast. The cost is $18.99 and is the way to go when dining here. You could easily feed two people with a single dining plan credit or feed one person with a hearty appetite.
I ordered the Kansas City Smoked Half-Chicken, Memphis Dry-rub Pork Ribs and the Sliced Texas Beef.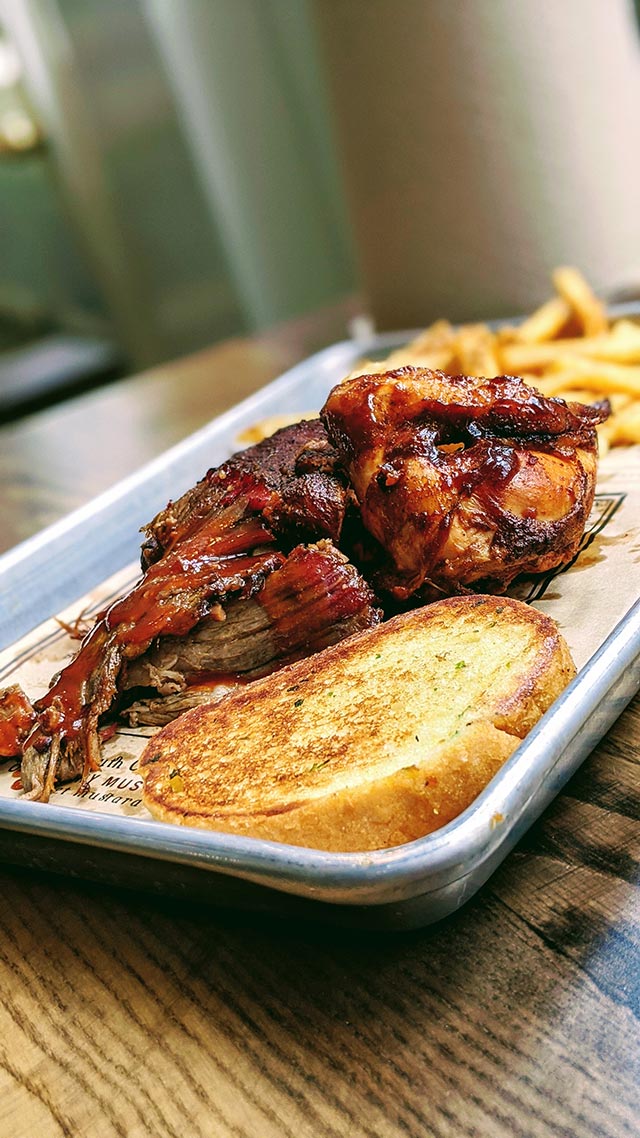 Sliced Texas Beef
The Sliced Texas Beef comes mopped in sauce, which was odd to me. I lived in Texas for 7 years and never had brisket presented with sauce already applied. Sauces were always available to me, but I didn't find it with sauce on it.
I wanted to taste the actual brisket preparation, so I picked through it first to find some with no sauce. I wanted it to have a hearty smoked flavor and some outside fat. I really didn't find either. It more tasted like it came from a rotisserie than a smoker. The sauce did save the dish though.
The sliced brisket was tender and easy to eat, so it was cooked at the right temperature and for the correct length of time.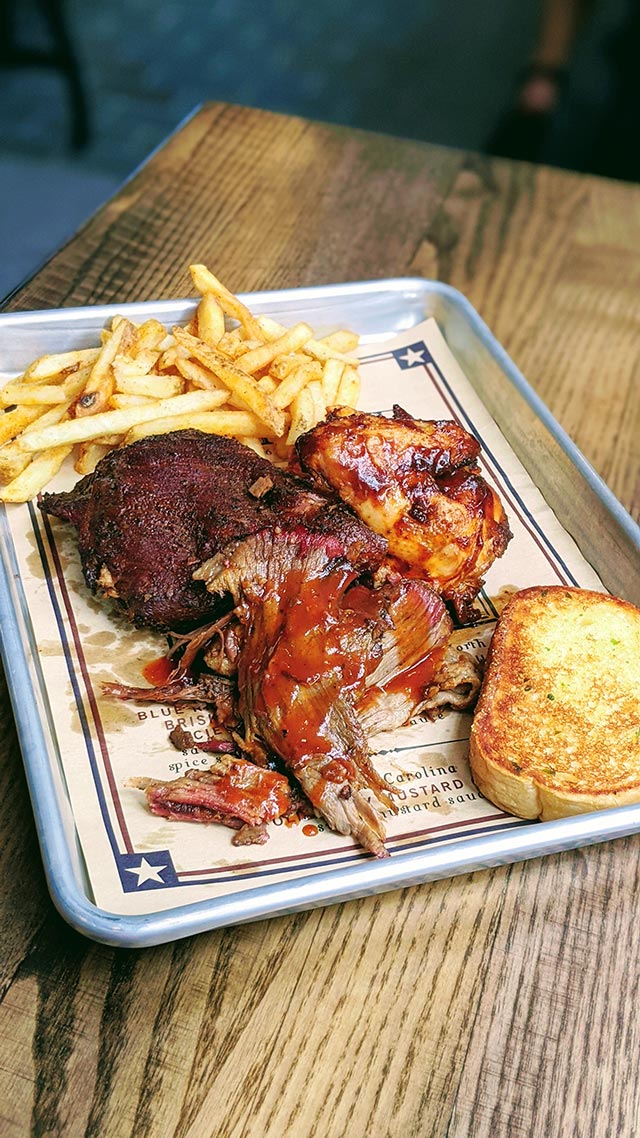 Memphis Dry-rub Pork Ribs
The Memphis Dry-rub Pork Ribs had a good flavor, but it wasn't over-powering. The rub had a nice taste, but I'm used to Memphis style being a bit stronger in nature. I was served two ribs and one was an end rib and was too hard to chew on the outside.
Kansas City Smoked Half-Chicken
The Kansas City Smoked Half-Chicken had a good sauce and used a decent rub on the outside. The inside of the breast was quite dry. I was still left wondering where the smokiness was at. I needed a smokey, nutty flavor, but was left with something that felt like it came from Publix.
Seasoned Fries
The seasoned fries were quite salty. I could only taste the seasoning when it was applied heavily to the french fries. They were hot and crispy and tasted just fine. They were not spectacular, but they were serviceable.
North Carolina Chopped Smoked Pork Butt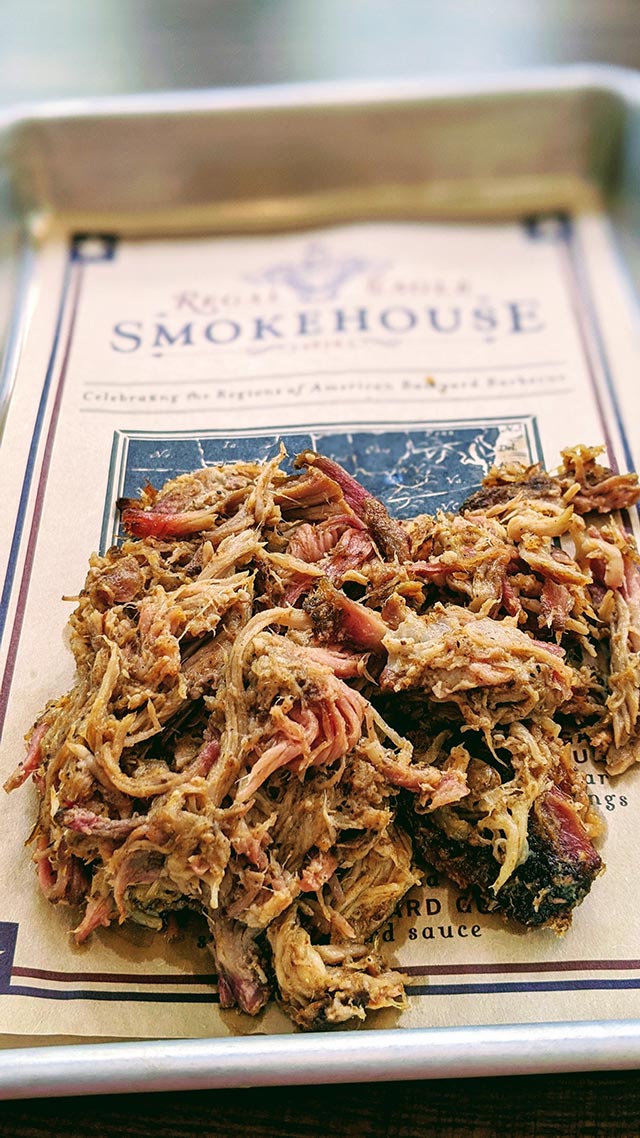 I was happy with the pulled pork. It was tender and juicy and had some burnt parts that provided the classic southern BBQ that I'm accustomed to eating. I tried it with a variety of the sauces that were offered and preferred the Sizzlin' Pit sauce. The mustard sauce was good as well, but I don't prefer that taste on my pulled pork.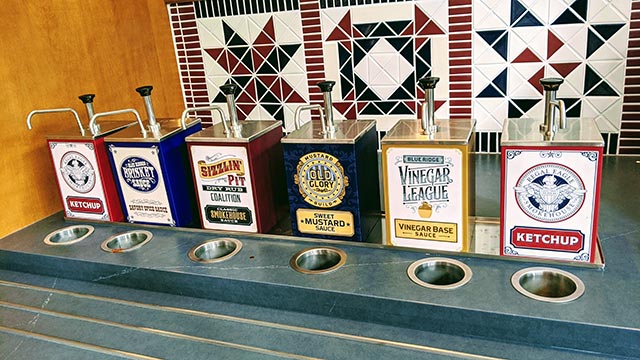 Macaroni and Cheese
The mac and cheese was delicious. It was creamy and tender and the breadcrumbs on top added a bit of crunch to the side dish.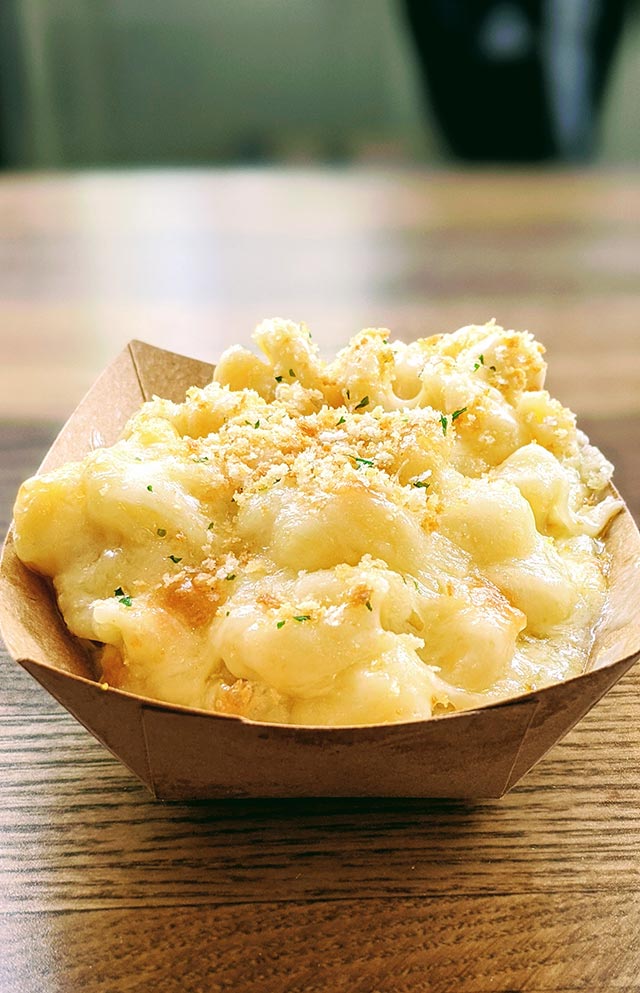 Onion Rings
I ordered the onion rings as a side item to taste. I was very disappointed to find that my side order at $4.99 contained exactly THREE onion rings. The rings themselves tasted great. They were presented hot and crispy, which is rare for quick service in Walt Disney World. I would order them again, if they provided more for the money.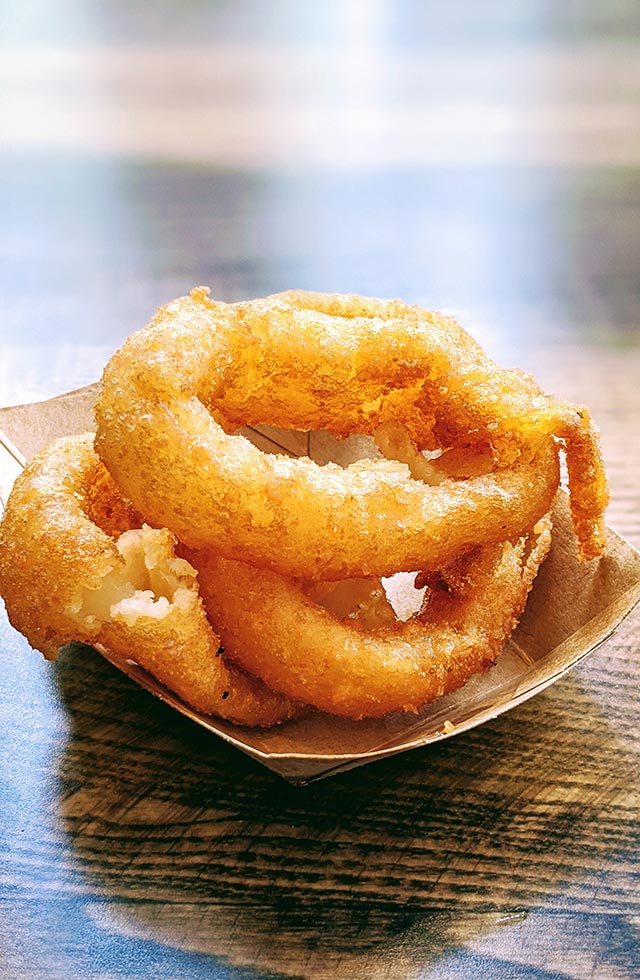 Those who consume soft drinks and tea will be happy to know that there is a beverage bar with unlimited refills while you dine at Regal Eagle. I would caution you that you do need to make a purchase in order to use the beverage bar. It's not a free benefit for coming to EPCOT.
For those who imbibe on alcoholic beverages with their meal, there is a limited offering on the main menu, but there is a more full menu outdoors at the walk-up bar.
Overall, I would rate my first experience at Regal Eagle as okay compared to my expectations. It's much better than burgers and chicken nuggets, but I'd like to taste more southern style BBQ without needing the sauces to add flavor.
It's like preparing a steak. When you have to request steak sauce for your steak, it means it was not prepared as you expected it. At Pig Fest in Lakeland last year, I purchased some ribs from a vendor. As he handed them to me, I asked for some sauce. He told me, if you need sauce on them, I'll give you your money back.
I will visit the Regal Eagle again and I hope to see the tastes more full flavored, but it is a good improvement over the old Liberty Inn menu. You can always find the full menu with pricing and snack credits on Character Locator! You can add it to your touring plan for ease of use.
-KtP