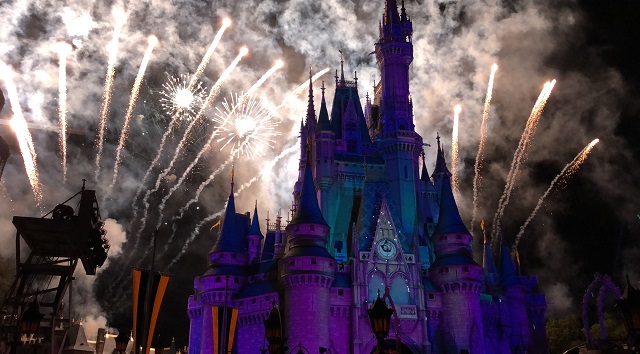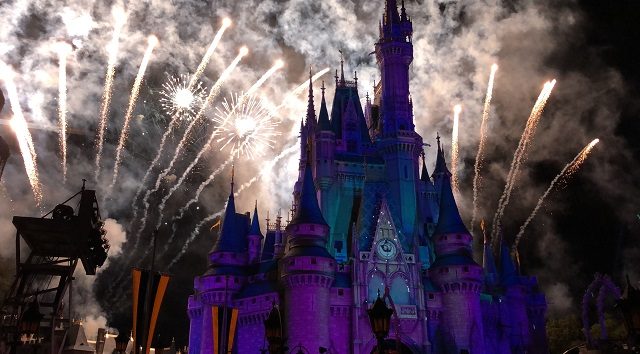 As a huge Disney fanatic, one of the tours that has been on my bucket list for quite some time is the "Disney's Keys to the Kingdom Tour" at Magic Kingdom Park.
This summer, my dream finally came true! I embarked on a wonderful adventure.
The tour is offered a couple of times a day and costs $99 per person. Annual Passholders, Disney Chase Visa Cardmembers, and Disney Vacation Club Members qualify for a 15% discount. You must already have park admission for that day in addition to the ticket for the tour.
Reservations may be purchased by calling: (407) WDW-TOUR or(407) 939-8687. You must be at least 16 years of age to attend the tour so none of the magic is ruined!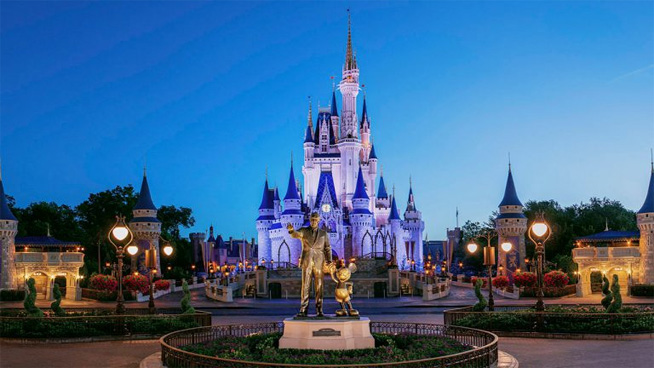 I arrived about 30 minutes before the tour and checked in at Town Square Theater where I was provided a headset, a name tag, complimentary bottled water, as well as a menu so I could select my meal from Peco's Bill Tall Tale Inn and Cafe for lunch. Lunch is provided on the tour.
The meal consists of mostly a meat/bun option and salad. However, there is also a vegetarian option.
The Start of the Tour
The beginning of our tour began with introductions of everyone within the tour group. It was also in this location where we were introduced to the concept of Disney's four Keys to a great guest experience:
Safety
Courtesy
Show
Efficiency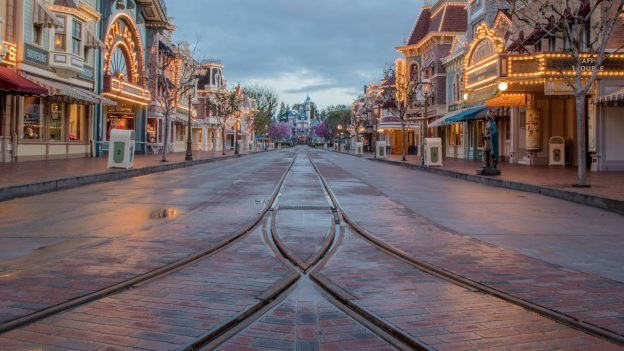 All four keys were pointed out throughout the day. It truly is amazing the smallest of details that guests are not aware of as they walk throughout the park. It is now after taking the tour that I am able to point out bits of information to my family each time we visit.
Attractions
One cool aspect of booking this tour is the ability to be able to ride two rides as a group. For my group, we rode "The Haunted Mansion" as well as "The Jungle Cruise."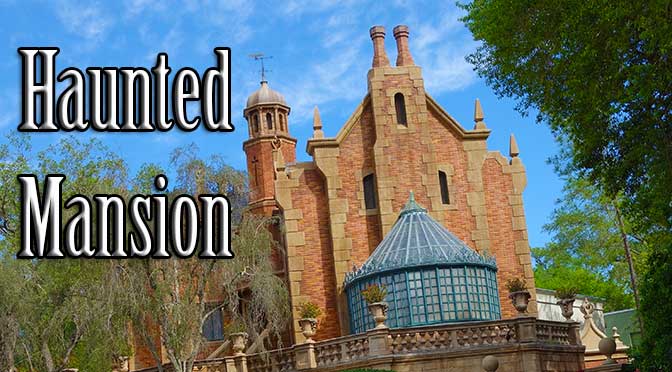 Although our tour guide did not talk during the ride, it was before and after the rides that we were provided with more information that we may have not known about.
Another part of the park that you are taken during this tour is one of which I will never forget. We went "behind the scenes" to see where the parade floats are stored. We saw floats from the daytime parade, as well as those that were receiving a facelift for the "Boo to You" parade.
"Boo to You" parade is one of my favorite parades. I cry at every parade but put this song on, and I will be an emotional wreck for sure (in a good way).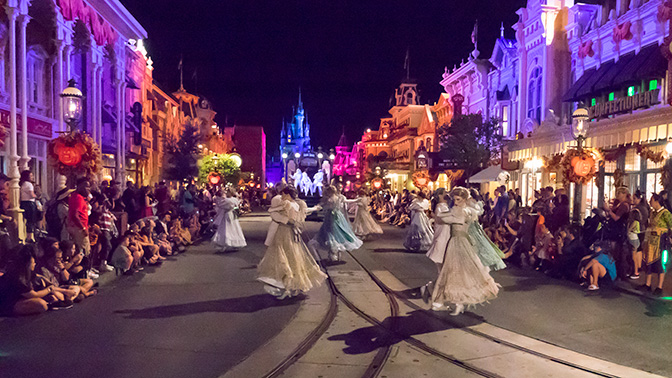 Well… would you believe me if I told you that as we were entering this area, Cast Members who perform in the parade were having rehearsals in July! I about lost it! Talk about a behind-the-scenes special treat!
Unfortunately, no pictures were allowed in the restricted areas of the tour, including this area.
Lunch & a Special Surprise!
Halfway through the tour, we had lunch which was welcomed as it was very hot out and my tummy was starting to rumble. I had ordered a hamburger, and a nice treat was that we could stock up with as much guacamole as we wanted!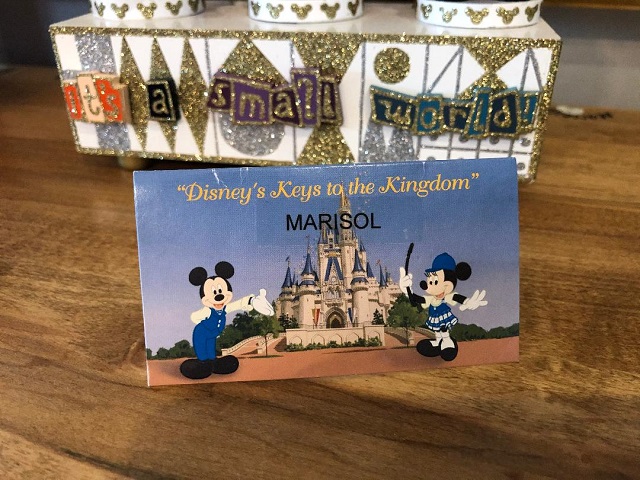 Our place setting was also adorned with a name card that held a special "key" keepsake pin inside! Perfect for my collection!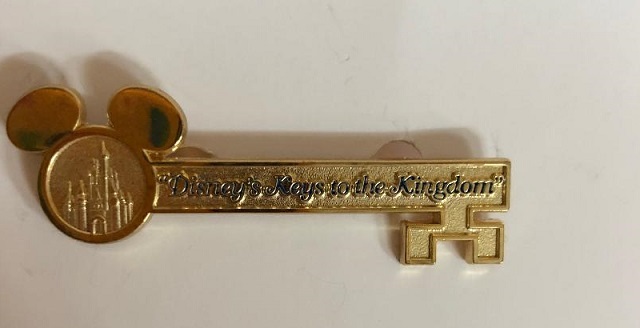 Magic Kingdom Utilidor
If there is one reason why many guests book this tour is because this very tour takes one through the famous "Disney under-ground tunnels" better known as the utilidor. For the longest time, I believed that this was an urban legend!
Now… for the first time in my life, I was going to walk in this very area. I won't give too much away, but let me tell you why I now understand why anyone under the age of 16 is not allowed to participate!
My eyes saw many things that I can never take back now and that I shall never repeat ever again!
Of course, it is what it is… a tunnel, which allows Cast Members and friends of characters to get from one area of Magic Kingdom to another!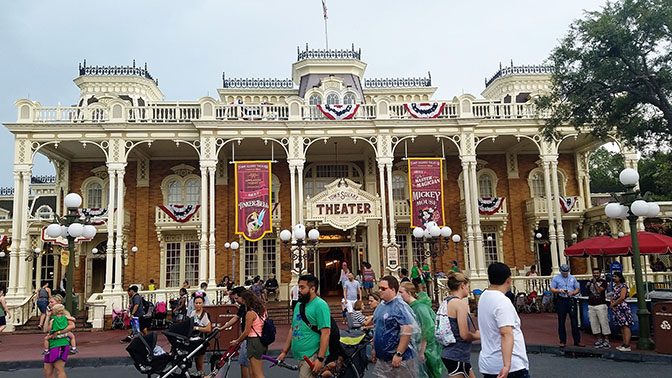 My Overall Thoughts
Would I recommend this tour? I sure would! It was amazing how much new information, facts, and details that we received that I had never heard about before!
Would this tour take the magic away from future trips? Not really to be honest with you! I was quite the tour guide to my own family after the tour, but after a while and a couple trips later, they are not details that I focus on anymore.
The tour was absolutely amazing and I would go on it again in a heartbeat and quite possibly every couple years or so.
The only negative part of taking the tour is that it is, in fact, five hours in length, so if you are only visiting Magic Kingdom for the day, then that will take quite a big chunk of your day! But then again, if you love Disney history, it may very well be worth taking the time out of your schedule.
Have you taken the "Keys to the Kingdom Tour? Let us know on Kenny the Pirate's Facebook page or join our crew and continue the discussion there.
-Marisol White