When I heard Cinderella's Royal Table was reopening (without our favorite princesses), I sought out to see if the price of the meal was still justifiable. Check out my review and honest thoughts about whether or not the restaurant is too expensive now. If you've been recently, do you agree?
Cinderella's Royal Table
Cinderella's Royal Table is one of the most expensive and most sought-after experiences in all of Disney World (though not quite as expensive and sought-after as Victoria and Albert's).
The first time I ate there was in late 2018 for breakfast. Our family really enjoyed that meal from the timing (we were done right as the park was opening for the day) to the princess interactions. The breakfast food was pretty standard, but I justified the cost because we were meeting five princesses and enjoying a sit down meal before the park opened. Plus, a kid was free so it seemed like the perfect trip to try it out.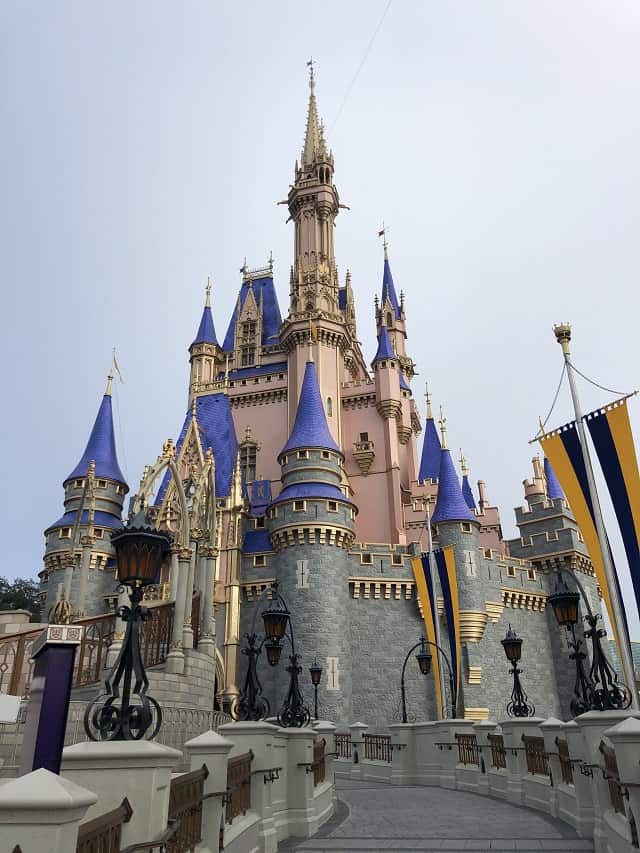 Now, characters do not meet and greet Guests like before. Many restaurants that once offered the chance to meet your favorite friends are just regular meals now. There are a few exceptions, but no character will actually come to your table, hug you, and sign your autograph book. You can see the list of restaurants that currently offer some type of character meet HERE.
So when I heard Cinderella's Royal Table was returning without princesses, I was still a little intrigued. I was about to visit the parks without my family in tow so it was the perfect opportunity to see if the lack of princesses was a deal breaker for the restaurant. One, the price wouldn't be as bad, and two, my kids wouldn't be upset about mom enjoying a meal with princesses without them.
Checking In and Being Seated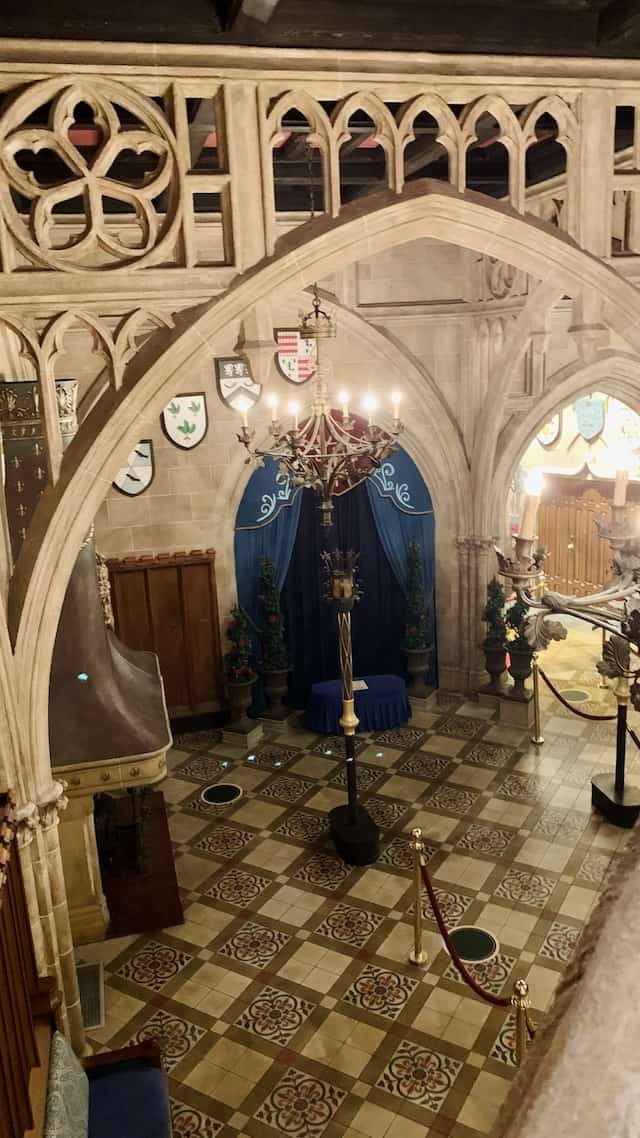 We checked in for our 12:50 reservation on the mobile app, and someone called us back just a few moments later. My friend and I entered the Majestic Hall where Cinderella used to greet Guests. We walked around and took photos. Seeing the empty photo spot made me reminiscent of my daughter meeting Cinderella in that same spot just a few years ago.
I noticed a sign that alerted me to the fact that "castle royalty may make a quick surprise stop by the restaurant". I had heard of Cinderella greeting Guests (from a distance, of course) but wasn't sure if this was consistent. It made me hopeful that I would, in fact, see a princess during the meal!
We then headed up the spiral staircase up to the banquet hall. If you have never been in this restaurant before, it is probably one of the smallest on property. In the center, you walk down a few steps to a small circular dining area with tables. There is also the circular dining area on the "main" floor." Here is my view of the middle section from my seat: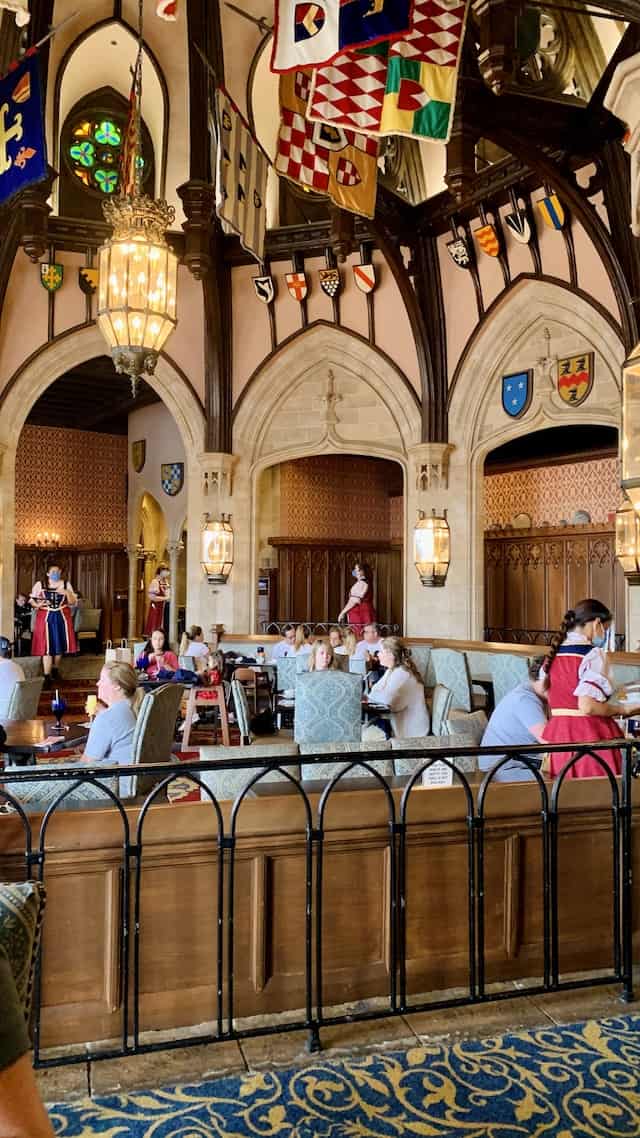 When you add in the fact that not every table is in use, it's no surprise reservations go very quickly for this restaurant. There were only four other parties in my section, and maybe 30 tables in the entire restaurant that were occupied.
The theming itself is extremely detailed. From the banners and medieval castle architecture/elements to the hidden details (like Jax and Gus!), you really do feel like you have stepped into a fairytale.
The Menu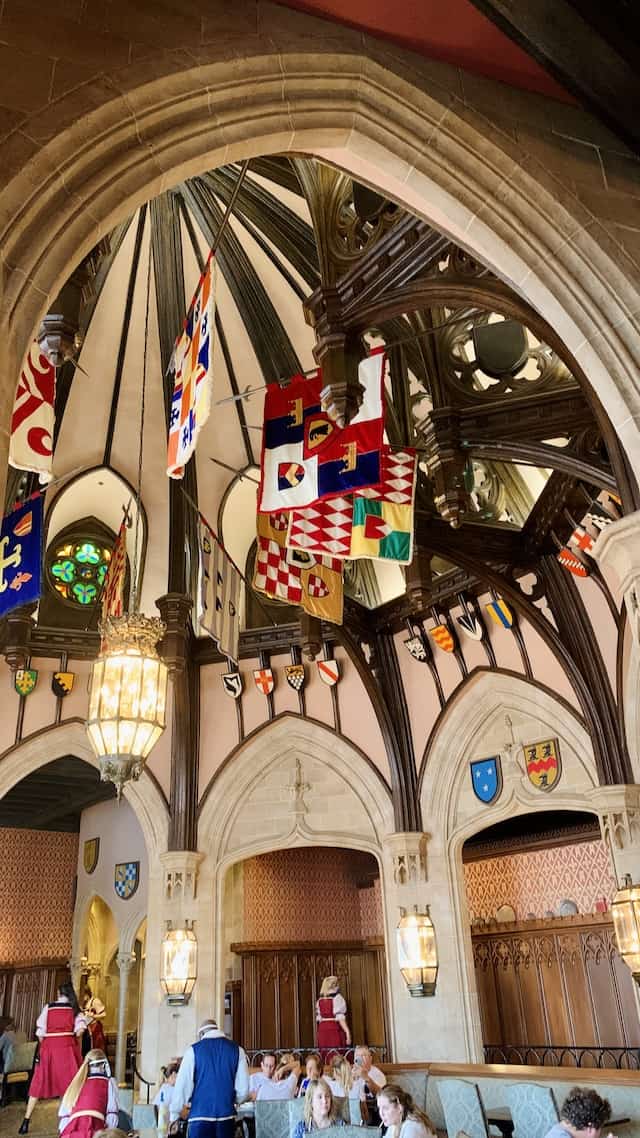 Appetizers: Soup of the Day, Castle Salad, Charcuterie
Entrees: Chickpea Panisse, Tenderloin of Beef, Braised Lamb Shank, Roasted All-Natural Chicken Breast, Chef's Fish of the Day
Desserts: Jaq and Gus, Coffee Pots de Creme, The Clock Strikes Twelve
Kids meals (ages 3-9) cost $37, and you can choose from the following: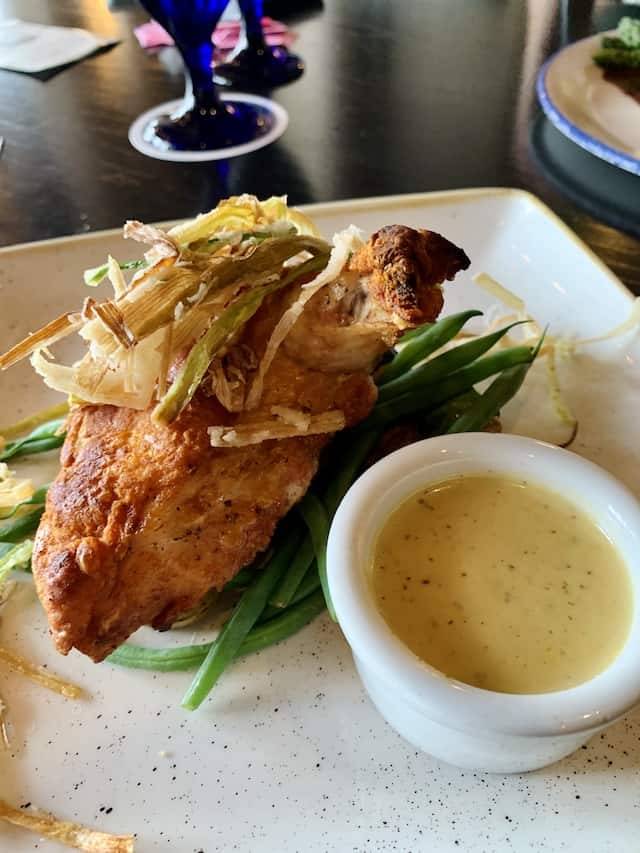 Appetizers: Sliced Apples, Garden Salad, Cheddar Cheese and Grapes
Entrees: Seared Fish of the Day, Chicken Nuggets, Beef Tenderloin, Macaroni & Cheese
Sides: Seasonal Vegetables, Mashed Potatoes, Rice Pilaf, Buttered Corn
Desserts: Build your own Cupcake, Seasonal Sorbet, Yogurt Parfait
Additionally, there is a beverage menu. You can see the choices below.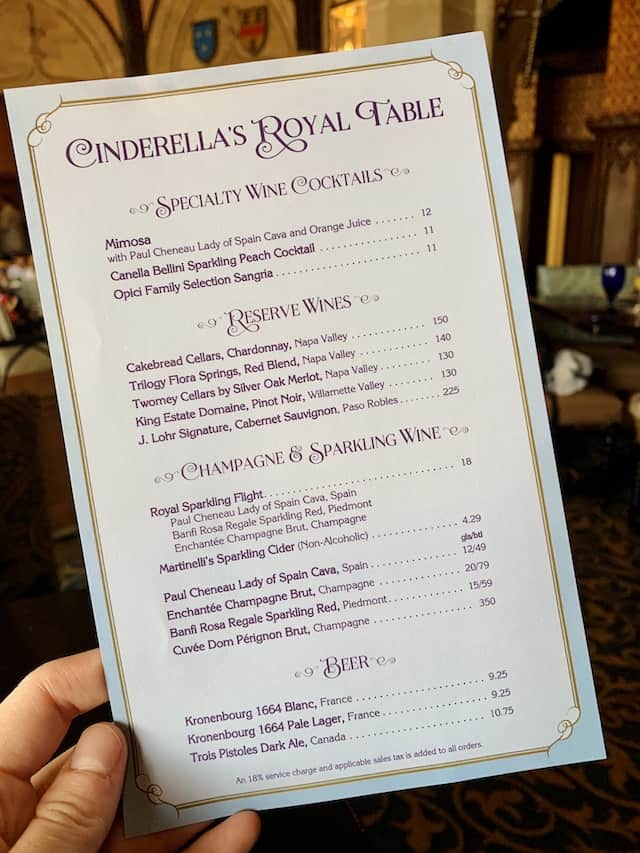 My Thoughts on the Food
Our server greeted us and took our drink orders promptly. The service was extremely fast. Our salads came out almost immediately after ordering, and our entrees came out shortly after finishing the appetizers.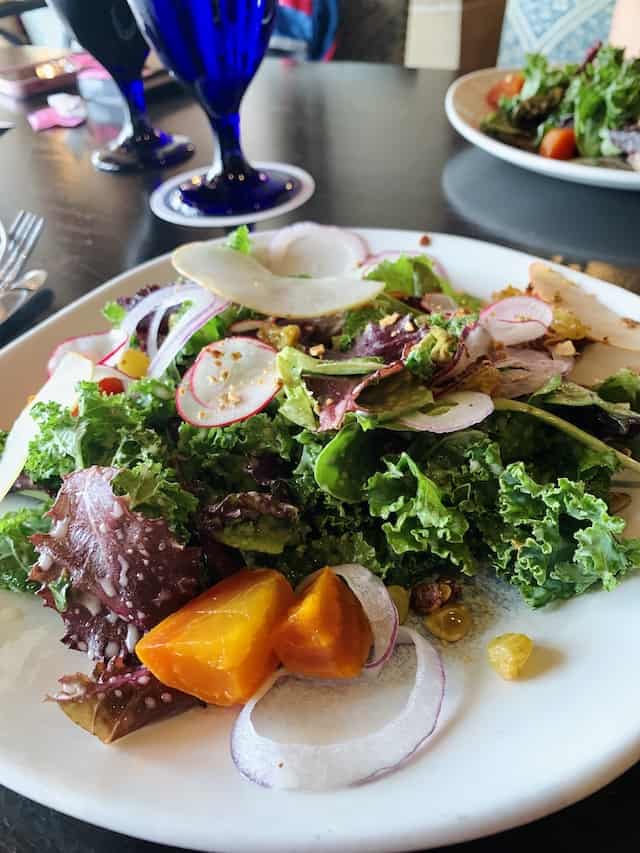 My friend and I both chose the Castle Salad to start. It includes hearty mixed greens (lettuce, spinach, arugula, and others), Toasted Pumpkin Seeds, Riesling-marinated Golden Raisins, Pink Lady Apples, and Maple-Balsamic Vinaigrette. The salad was very crunchy – both the greens and the accompaniments. It had so many different flavors, from the nuttiness of the pumpkin seed to the sweetness of the nuts and apples. This salad is not for picky eaters as both the pumpkin seeds and raisins offered a very unique taste. I myself am not an overly adventurous eater, but I still managed to eat most of it.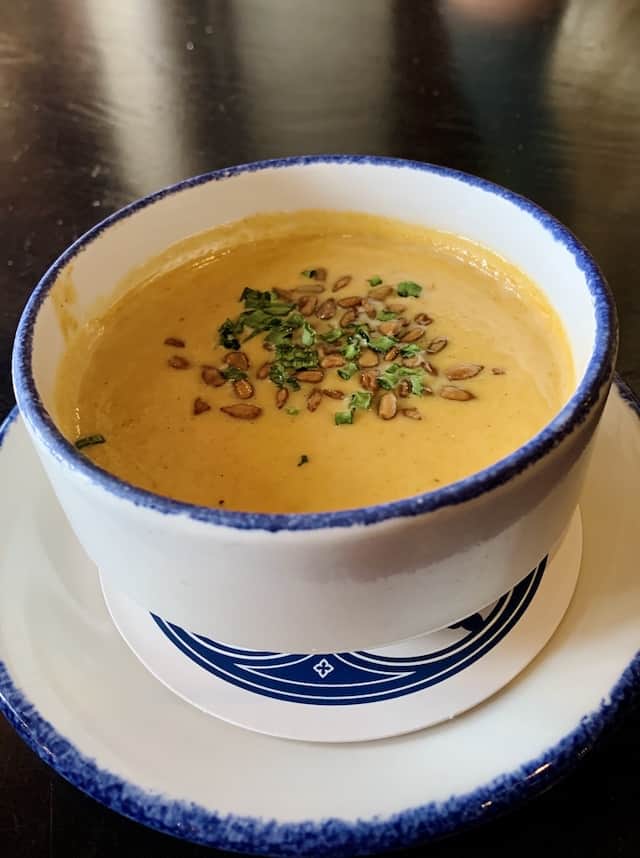 The soup of the day was butternut squash, and my friend requested a side of that as well. She said it was sweeter than she had anticipated it being. Eating the chives and nuts on top helped to cut down on the sweetness of the soup, but it was definitely not a savory soup.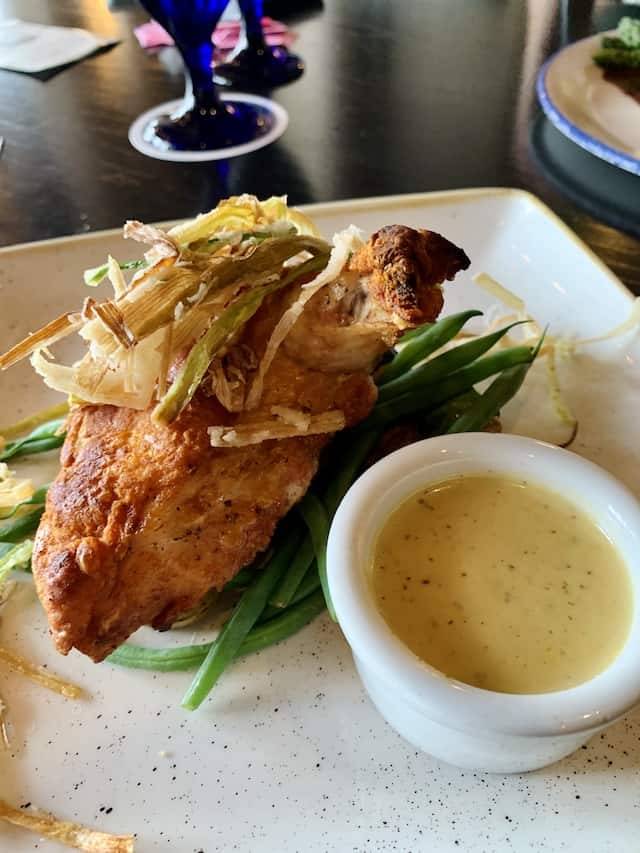 I had the Oven Roasted Chicken Breast for my entree, and it was amazing. The skin was crispy, and the meat was tender. I did ask for the leek-mustard sauce on the side, and I am glad I did because I did not care for it. I ended up eating the chicken plain, and it tasted delicious by itself. The potatoes were not mushy, and the green beans were fresh and crisp. Overall, I was extremely satisfied with the food. It was much better than the standard bacon and eggs I had at breakfast previously.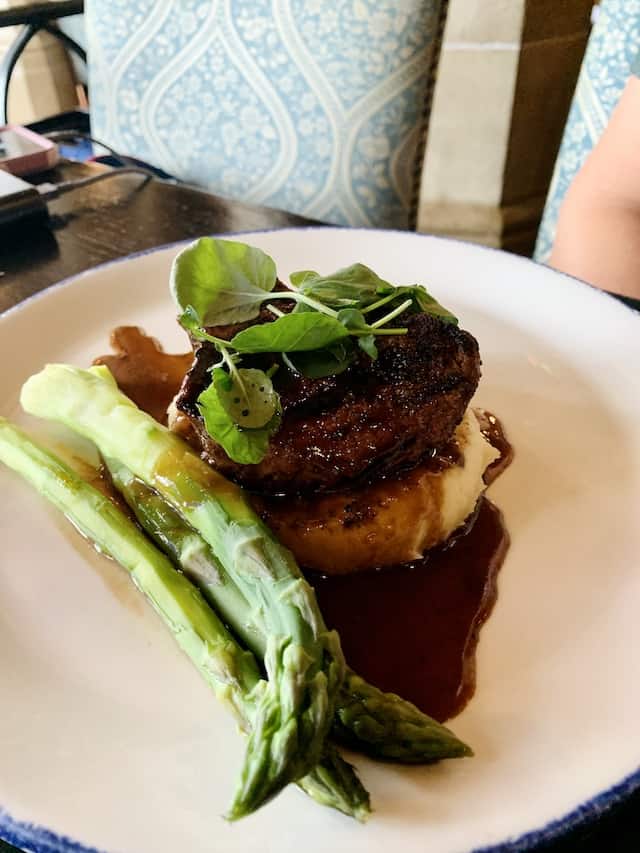 My friend ordered the Beef of Tenderloin. She thought the meat was fine, but she had better at Topolino's Terrace (be on the lookout for that dinner review soon!). The potatoes and asparagus were pretty standard. There are so many restaurants on property to get a steak meal, so I would personally try something new at Cinderella's Royal Table. This meal would be good for less adventurous eaters.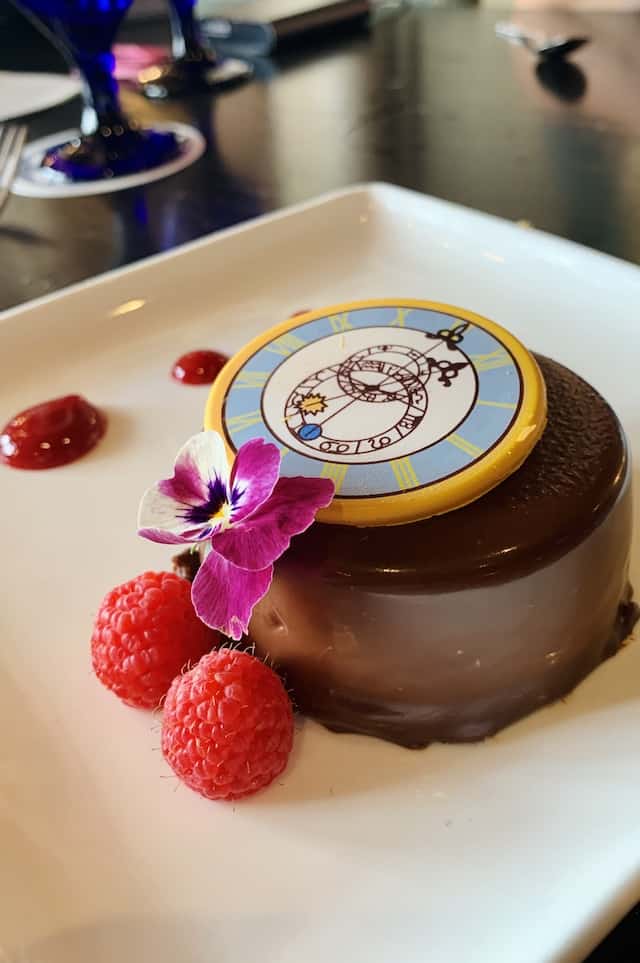 For dessert I decided on The Clock Strikes Twelve, which is a dark chocolate mousse with dark chocolate ganache. There is a white chocolate embellishment on top along with raspberry coulis and fresh raspberries on the side.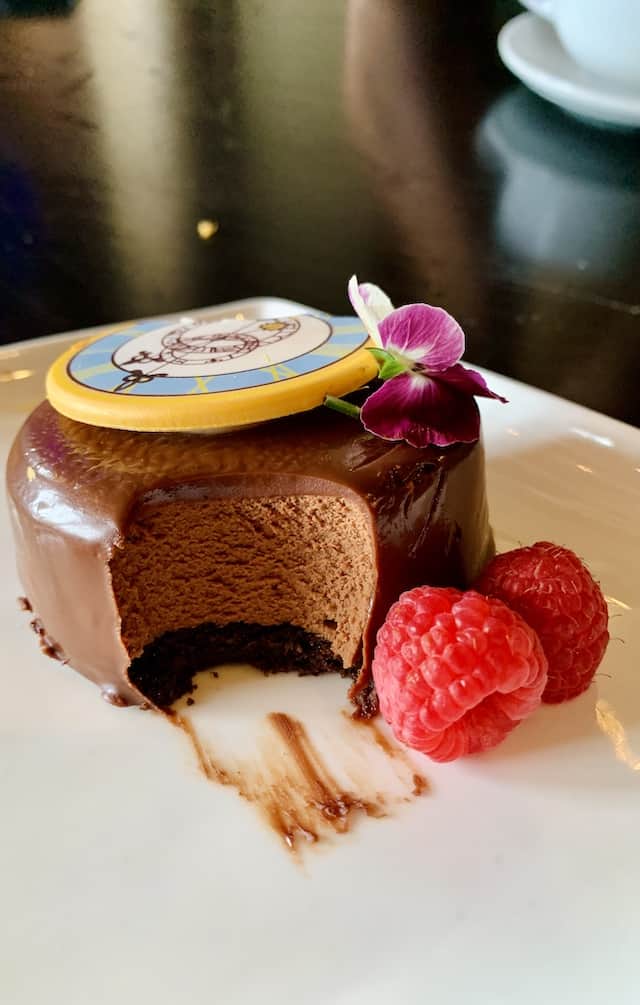 I am not a fan of dark chocolate, but I absolutely loved this dessert. I am a sucker for anything raspberry, and it paired so perfectly with the chocolate mousse.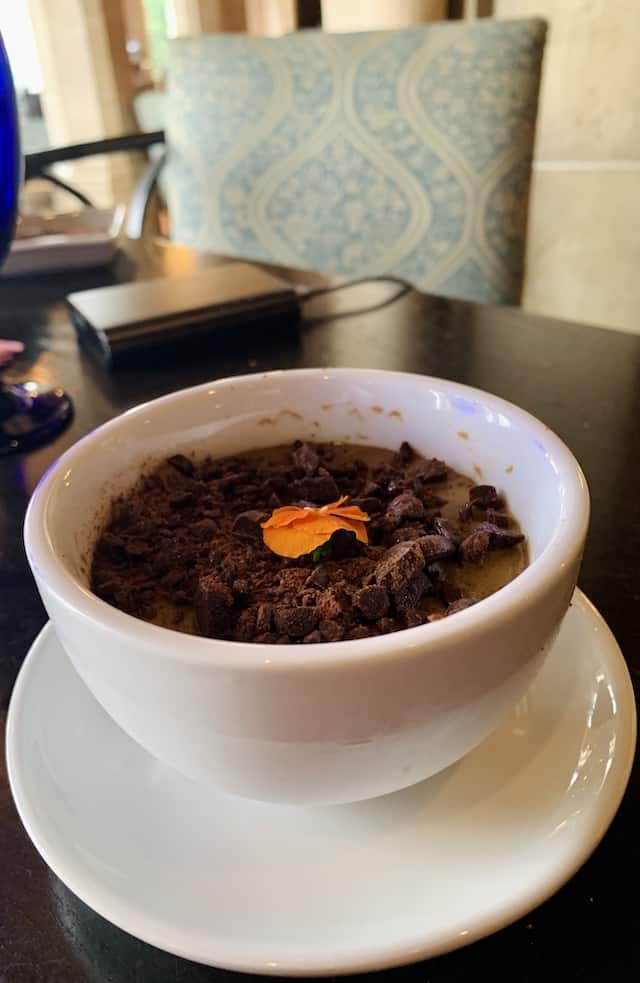 The other dessert we tried was the Coffee Pots de Creme, and unfortunately, we did not care for it as much as we loved the mousse. There are so many different flavors in it – from the coffee-infused coconut and and passion fruit to the chocolate-espresso beans on top. They did not really complement each other well, so unless you are a huge fan of custard we suggest one of the other desserts.
Since this is a pre-paid meal, we did not have to wait for the check in order to leave. If you do have eligible discounts like the 10% Annual Passholder discount, make sure you let your server know so you can get that portion refunded back.
Royal Greeting from Cinderella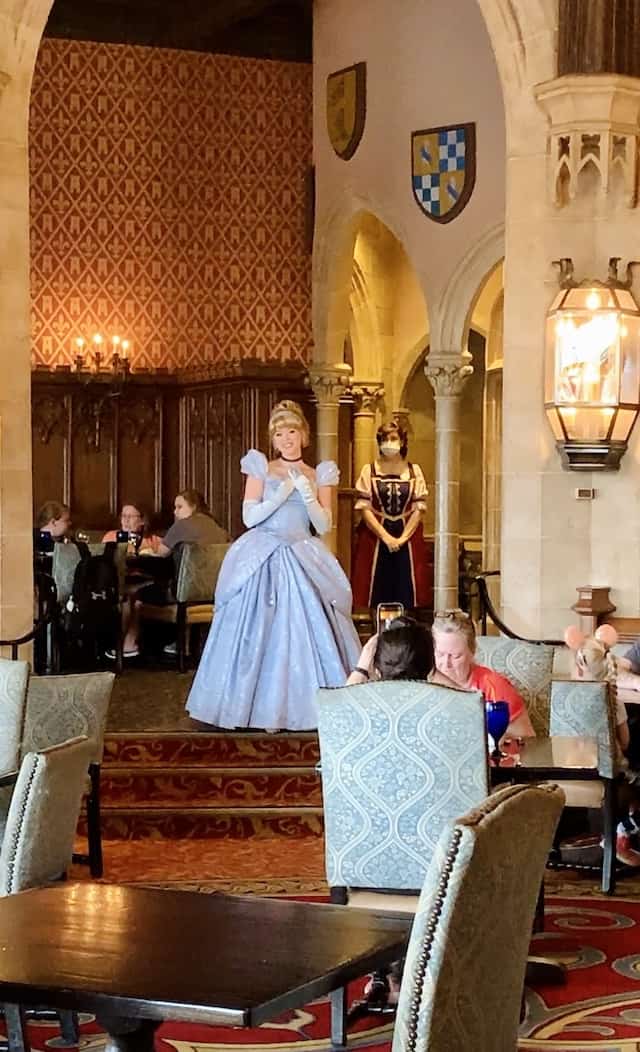 Throughout our experience, Cinderella did come out and wave to her Guests periodically. They do announce her arrival so there is plenty of time to get your camera ready. I was thrilled and had to do my best to stay in my seat. She walks around the upper level of the restaurant to one side, then in the center, and then over to the other side. If you are in the section near the windows, you will have the furthest view from her.
The entrance of the banquet hall or near the kitchen area has great views of Cinderella. If you are in the middle lower section of the hall facing the kitchen/entrance area, you will also have no problem seeing her.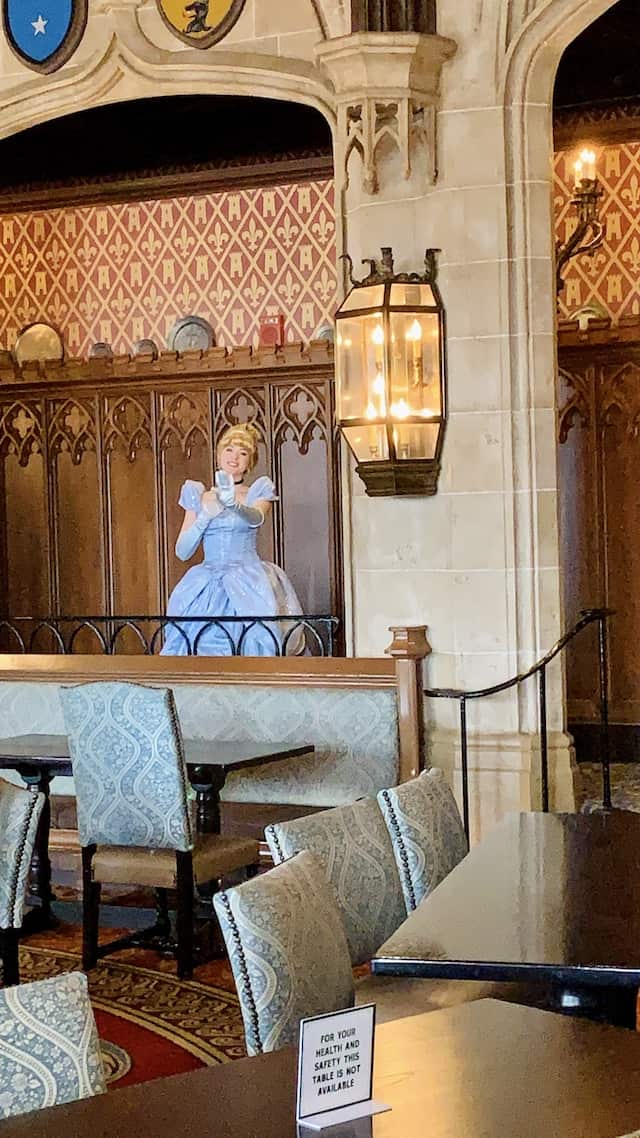 I was on the far side by the kitchen but towards the back so I did not have a close up view of her. However, she still interacted with me from a distance as she did with as many Guests as she could. She danced, waved to Guests, and posed for photos. I thought it was really special that they still offered some type of princess experience. Hopefully, character experiences will come back the way we know and love them.
So, is it worth it?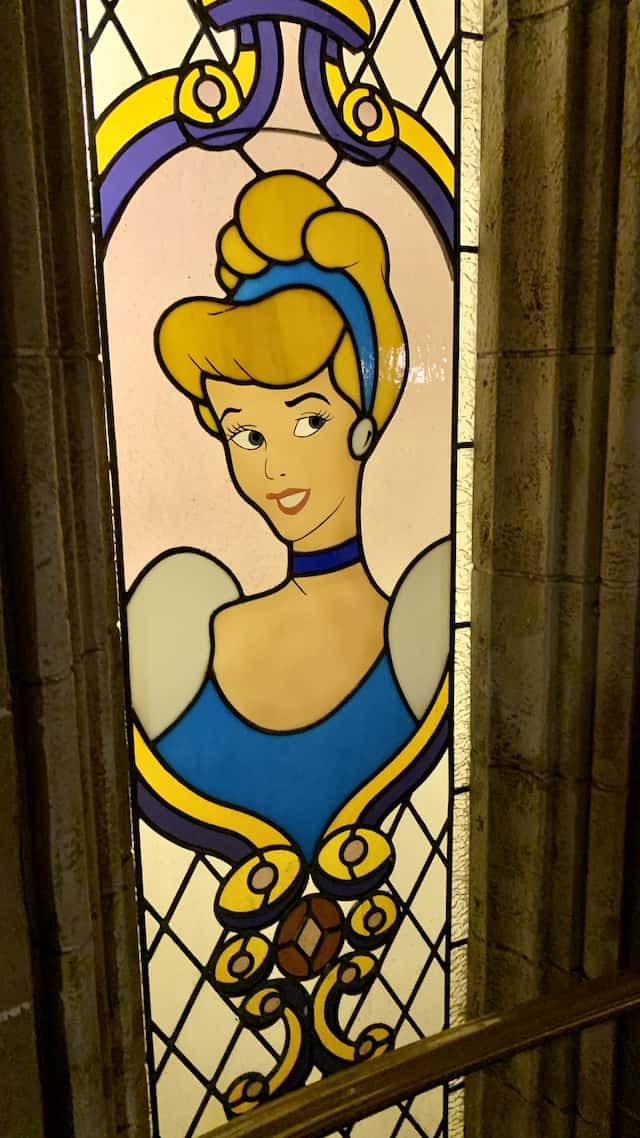 I would absolutely eat lunch or dinner here again. The food was delicious, and the service was great. I think the food here is sometimes viewed as sub-par for the amount of money you're spending. For breakfast, I could definitely see that. However, the lunch and dinner menu offers something for everyone.
Seeing Cinderella a few times during our meal was a real treat, but unless you are (or have) a serious princess-lover who absolutely wants to see Cinderella during a meal, I would probably wait. She is not guaranteed to be meeting every single day. The website does state this is not a character meal.
You can catch her along with a long processional of princess during one of the many cavalcades at Magic Kingdom. Belle has also been spotted in her cottage area during a surprise pop-up. You may be able to find princesses elsewhere in the park.
Have you dined at Cinderella's Royal Table since it reopened? What are your thoughts on the food and experience without princesses? Share your thoughts with us on Facebook.