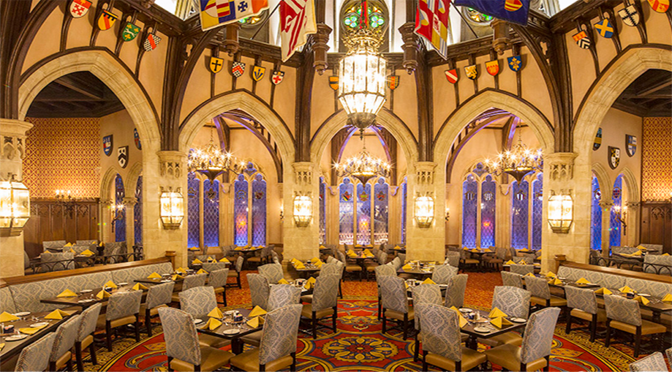 What is the one restaurant everyone thinks of when they think of dining at Disney World? Cinderella's Royal Table is, of course! I have some tips for scoring a reservation for this one-of-a-kind meal. Plus, I am also going to share my experience and an honest review.
My family and I enjoyed breakfast in Cinderella Castle during a recent trip. To give a little background, my travel party consisted of my husband, my 4 children (8-year-old son, 7-year-old daughter, 4-year-old daughter, and 2-year-old son), my parents, and myself. There were 8 of us total, and I was pretty nervous leading up to our reservation day.
How to Get a Reservation for Cinderella's Royal Table
I knew it was pretty difficult to get a breakfast reservation at this restaurant, with this large of a group. A reservation before the park opened was even more difficult.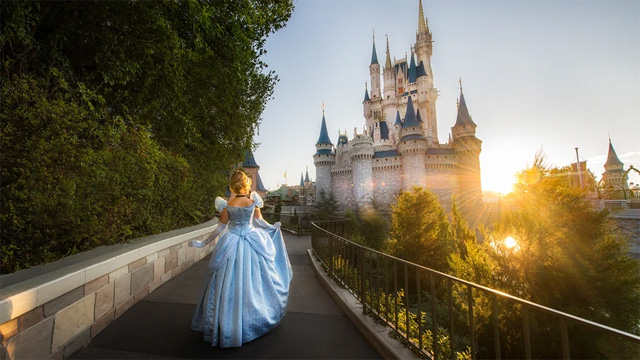 I was not able to snag a reservation online when my window opened or on the phone when the lines opened. I checked online and called back every day (sometimes multiple times a day) for 4 days until I finally got a reservation for 8:20 am on my desired day! They were able to accommodate all 8 of us as well.
If you are looking for a reservation, try to get one by checking online and calling. Don't give up! You never know when that reservation is going to pop up whether it be a few days after your reservation day or in the days and weeks leading up to your vacation. Also if you are okay with splitting up your large party, this may increase your chances of getting a reservation.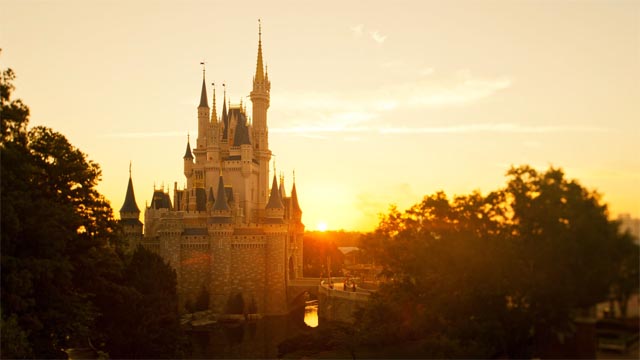 I also let them know we would be celebrating my husband's birthday that day. Although I did not know what exactly that would entail during the meal, I knew Disney likes to celebrate guests' birthdays!
Checking In at CRT
So let's fast forward 6 months. My family and I arrived at Magic Kingdom at 7:45 am. Since this is a PPO (pre-park opening) reservation we were able to enter the park early and check in to the restaurant early as well.
All PPO reservations can check in at 7:45 AM regardless of reservation time. There were people holding signs that showed us where to go so there was no confusion about how to get in.
Pirate Tip: this is also a great time to get park photos on Main Street!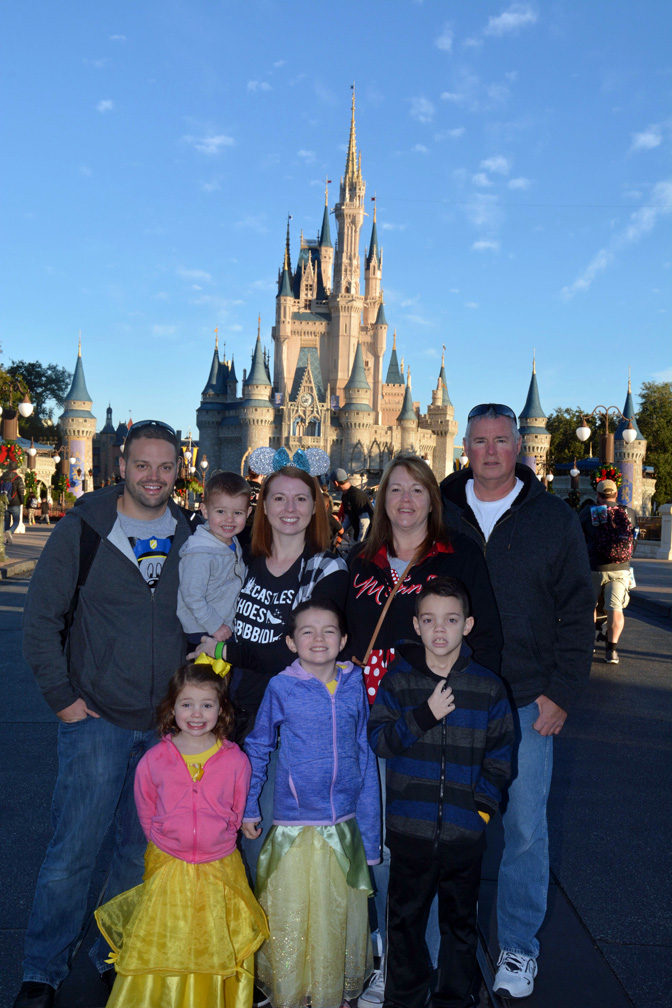 We checked in at the castle at 7:55 am and waited a few minutes to be led inside. Once inside, we waited about 10-15 minutes to meet Cinderella.
Meeting Cinderella
She was in her winter dress and cloak, and my daughter was very excited to meet her. Then, we ended up meeting her two more times that day alone at Princess Fairytale Hall and 1900 Park Fare dinner.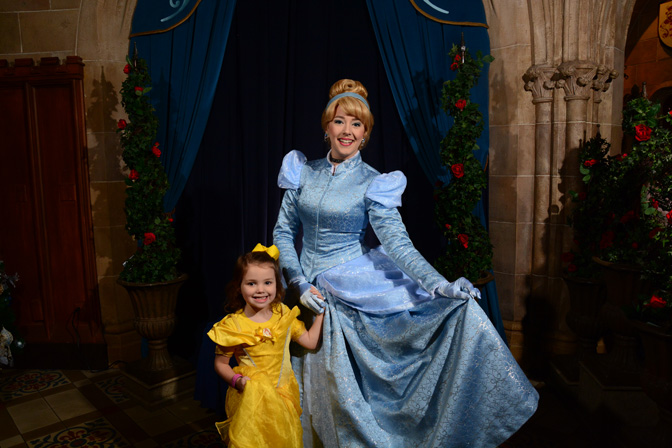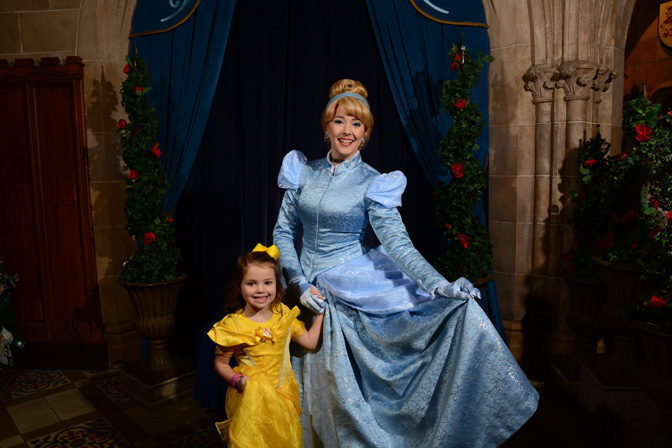 At right around 8:20 (our original reservation time) we were led upstairs to the dining area. I was very glad I knew about checking in early because had I not known we would have just now been getting to the restaurant.
The goal was to be done with breakfast right at 9:00 when the park opened, and we wouldn't have made it out at that time if we did not check in early.
Impressions of the Dining Room
My first thoughts when entering the dining area were OH MY! We loved looking at all the details and theming. I loved how the tables were set up in two circles on two different levels. It was very intimate, and it was then I realized why it's such a hard reservation to get. There are not that many tables!
My family and I were promptly greeted by a server with a few plates of pastries, wishing stars, and swords (for souvenirs). He then took our drink and food order. Since this is a prepaid meal we did not have to worry about prices or tips. My mother did order an alcoholic beverage so we did have to pay for that at the end of the meal (we were not on the dining plan).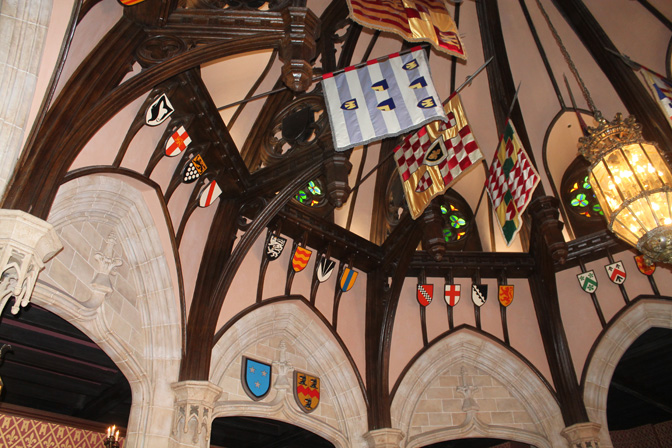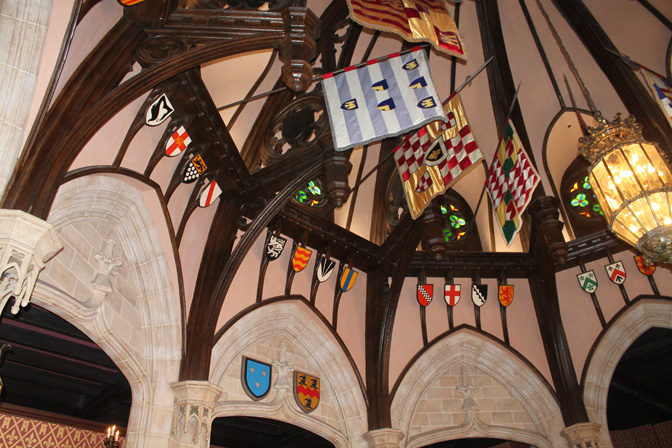 My Thoughts of the Food at CRT
The food arrived pretty quickly after. My husband ordered steak and eggs (note: I do not see this entree on the official Disney menu anymore), and the rest of us adults ordered the traditional breakfast. My husband thoroughly enjoyed his steak and eggs! He still talks about it almost a year later.
My kids ordered cereal (so much money for a bowl of cereal!), waffles, and eggs. The rest of us thought the food was good – nothing out of this world, but better than most places. I wanted to order the stuffed french toast, but chickened out.
Meeting the Princesses
Around the time we got our food, the announcements were made and the princesses entered the dining room to start greeting guests. We met Snow White, Aurora, Ariel, and Jasmine.
They announced a new princess 5-10 minutes after the previous one to leave some space and time between tables. I used to be opposed to character meets during meals because I just really dislike seeing food and other people in my photos, but this was an excellent use of time as we ate a meal and met five princesses in less than an hour.
I was just careful to push plates out of the way before taking a picture or made my kids stand. It would not be hard to position people in this area and have a background free of other guests.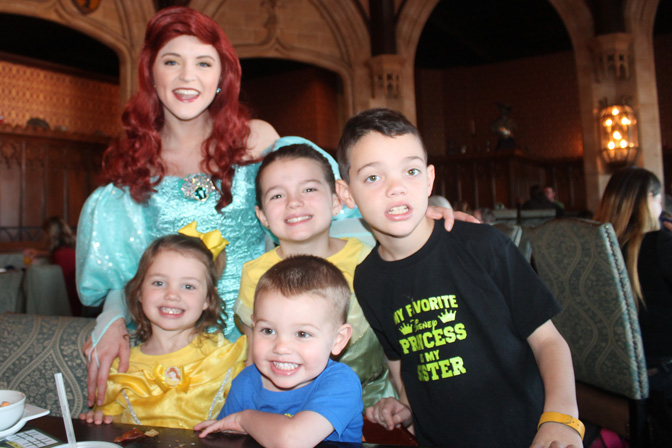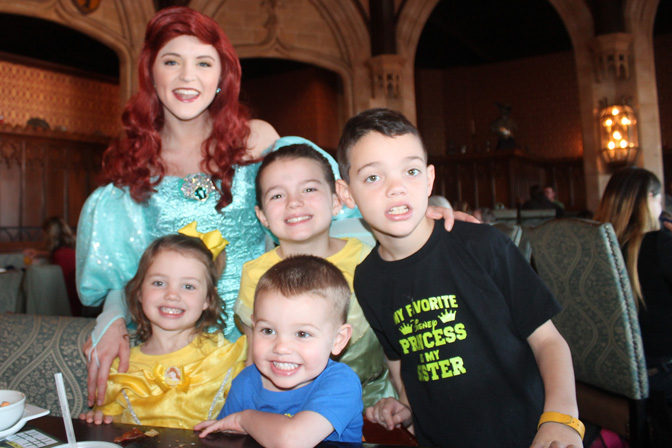 Here is a lovely photo of my daughter who was not impressed with so many princesses interrupting her meal and making her cereal soggy!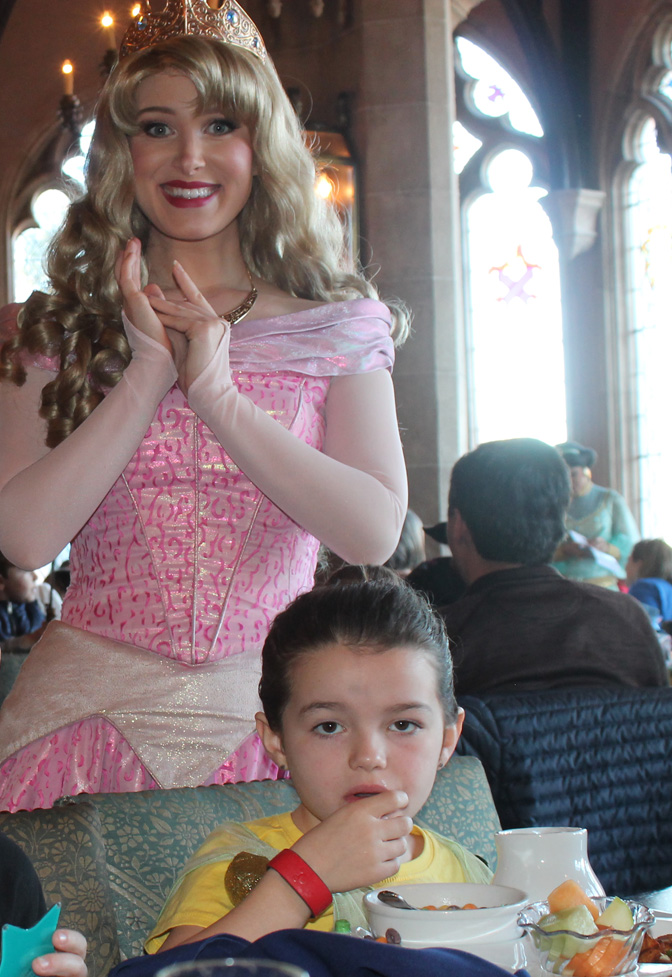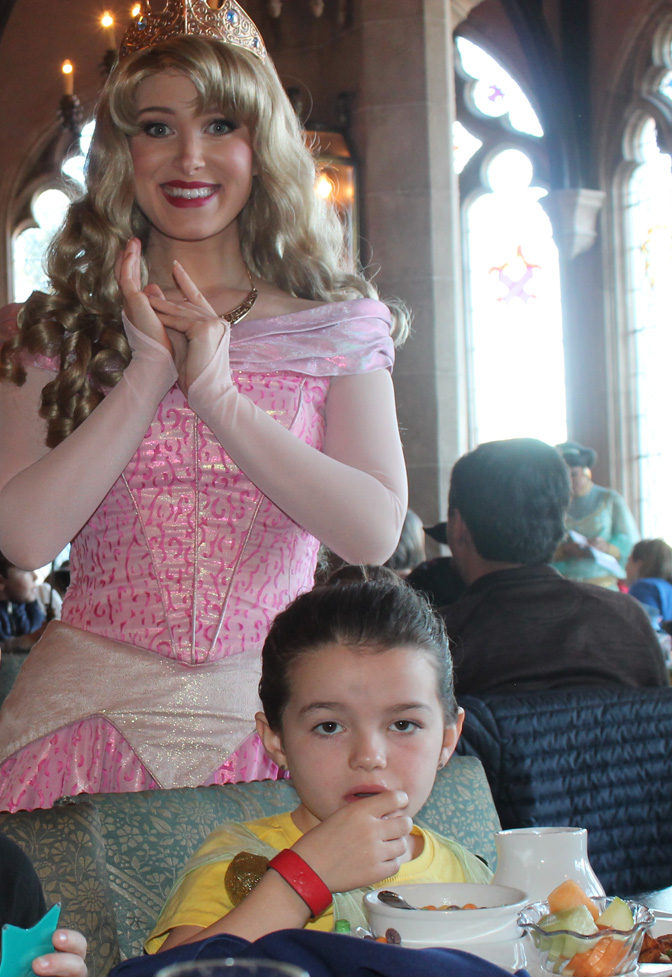 I told every single princess we were celebrating my husband's birthday and required him to stand for a picture with them! He was not happy with me, but I enjoy a little teasing! Our server brought us a poster signed by all the princesses as well as a cupcake. We then sang happy birthday to him and embarrassed him a little more!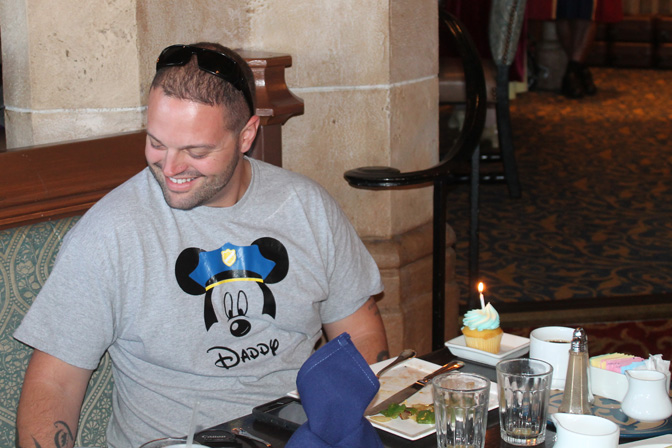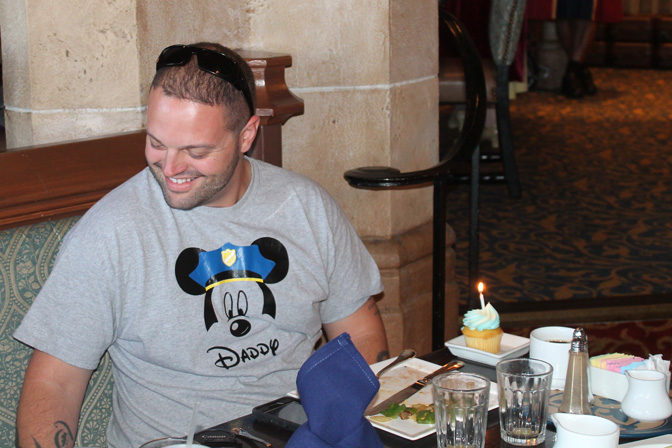 Final Thoughts on Cinderella's Royal Table
We were done eating and meeting the princesses shortly before 9:00 – 40 minutes after being seated. I thought this was excellent timing as the park was just opening. I do not think this would have happened if our reservation was later in the day if the restaurant is running late on seating guests. Most people take around 1.5-2 hours from start to finish.
I am so happy we decided to do this meal and that I was able to get a reservation. If you are debating or questioning this meal – just do it. Do it especially if you have princess-loving daughters or just want to have the experience of eating in the castle.
I am not sure if we will ever do this again just because of the price. Yes, it was a good price for the experience (which is often what you pay for at Disney), but not for the food. I think if they were to create some more options for entrees and put that steak and eggs back on the menu, our family would go again.
Do you have more questions about breakfast at Cinderella's Royal Table? Ask them on our facebook page and I would be happy to answer them!
-Monica S.