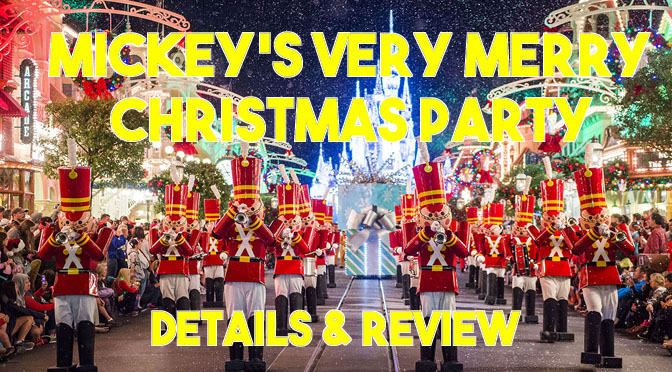 (Repost due to prior error.) Christmastime is one of the most magical times at Disney World, and arguably the biggest celebration of the season is Mickey's Very Merry Christmas Party (MVMCP) that takes place at Magic Kingdom. I have all the details, tips for enjoying the party (even with young kids), plus my review from the party my family attended last year.
KtP NOTE:  The parties rarely change a great deal from year to year, but we do have a NEW fireworks show coming for 2019.  I'll update Character Locator, if I hear of any other changes.
MVMCP takes place on select nights beginning November 8 until December 22, 2019. Official party times are 7 pm to 12 am; however, guests can enter the park as early as 2:00 pm (annual passholders and DVC) and 4:00 pm for regular guests.
[the_ad id='41484′]
A ticket is required for this event; prices range from $99 to $139 with discounts offered to AP and DVC holders and U.S. service members who qualify. Children under the age of 3 do not need a ticket to the party so if you have small children this is a great benefit if you are worried about the extra cost. Keep reading – I have more thoughts on young children attending the party!
So what can you expect at a Christmas party? A lot, actually!
Complimentary snacks
Specialty snacks (that can be purchased)
Rare character greets
A special castle-lighting ceremony featuring Queen Elsa
Snow on Main Street
Low wait times for rides
A festive parade called "Mickey's Once Upon a Christmas"
A spectacular fireworks show called "Minnie's Christmastime Fireworks" (new for 2019)
Merry stage shows like "A Totally Tomorrowland Christmas Show" and "Mickey's Most Merriest Celebration"
A fireworks dessert party
A parade dessert party
Dance parties: Club Tinsel and Disney Junior Jingle Jam
Photo ops and magic shots throughout the park
Special event merchandise
A special Sorcerers of the Magic Kingdom card
All the holiday feels! Character Locator is THE place to get locations for treats, magic shots, rare character meets, and so much more.
[the_ad id="34163″]
So how did my family like the Christmas party? Our party of 8 (children, parents, and grandparents) went to a party last year on Sunday, December 2. I had bought a custom touring plan from Character Locator, and Kenny's itinerary made all of the difference! I was a little overwhelmed because of all the party-exclusive aspects of it, and he really put my mind at ease.  So my advice: figure out what you want to do most and go from there. Do you want to focus on rides? Rare characters? Shows, parades, and fireworks? Kenny has plenty of different touring plans available on Character Locator for free with a subscription (seriously, do it! Best $10 you will spend!), you can also order a custom plan for the party!
In no particular order, here is what we were able to accomplish:
Disney Jr dance party
Rode Dumbo
Met Moana
Dinner at Casey's Corner
Castle pictures (tip: there are Photopass photographers off to the sides of the castle, and the lines were much shorter than on Main St. directly in front of the castle)
Met Jack & Sally
Watched castle lighting
Rode Barnstormer (it was my 2-year-olds first roller coaster, and he loved it!)
A quick break for snacks by Disney Jr dance party and at Cosmic Rays
Watched Christmas parade
Met Mickey
Rode Splash Mountain and Big Thunder Railroad
Watched fireworks
Crowds
Overall, I did not think the crowds were too bad. The park certainly wasn't empty and Main Street was pretty busy, but the rest of the park was decently spread out. We were able to hop on the rides we wanted to without much of a wait. Snack lines looked long, but they moved quickly and we were able to get what we wanted.
We based our travel dates off Kenny's crowd calendar and attended a party pretty early in the season which I think contributed to the low crowd level. Be aware that the closer your trip to Christmas (or if it's right around Thanksgiving) the more likely your party will be busier. The first night of MVMCP is already sold out, and several MNSSHP for the 2019 season sold out too.
[the_ad id="42631″]
If you want a good view of the parade, stage shows, and fireworks, I suggest getting there early. We decided to ride a few rides instead of secure a spot for the fireworks show, and by the time we got to Main Street the fireworks were currently going and we didn't have a great spot. We did secure a spot for the parade, and I feel like this was a much better experience than the fireworks show so it's all about balancing what you want to accomplish the most.  Kenny has great tips about where to be and when to be on Character Locator though :)
Special attractions
I love all of the fun, party-exclusive things there are to do! I feel like Disney does a great job making guests feel like the party is worth going to vs a regular day. Out of the 12 items on our itinerary, 6 were party-exclusive. Even though Magic Kingdom stays decorated during the day, the party just has such a festive vibe.
Young children at MVMCP
I have four young children – ages 2 to 8 at the time of the party. I know so many people are worried about how their children will do, staying up so late and, if it is really worth it to take them if they may sleep through it.
Personally, my children did great. For a month leading up to our trip, I pushed their bedtimes back a half-hour each week. So they normally went to bed around 7:30 or 8:00 pm, and by the time of our trip they were staying up until 10:30 pm. Just be sure to take it easy the day of your party and don't plan anything super early the next day!
If you are dead set on a party but not sure how they will do, they will probably have more energy and excitement at the beginning of your trip. Our party was the day after our arrival, but by the end of the trip they were all exhausted. Our experience probably would have been a lot different had I bought tickets for the party towards the end of the trip.
Even if your kids can't hang, you can still enjoy the party! If they need to take a little cat nap in the stroller, that's fine too. Wake them up for the parade and fireworks then let them go back to sleep. My daughter took a nap while we waited in line for Jack & Sally. I've also seen people dress their kids (and themselves) in pajamas to make the bedtime routine easier when they get back to their resort.
Value
Our tickets were roughly $100 per ticket (the toddler got in free) so approximately $500 for the event. We thought this was a great value for 8 hours in the park with low wait times, the merriest celebration on Earth, and a lifetime of memories! A good touring plan from Character Locator is key!
[the_ad id="34163″]
My youngest baby gave me a lot of special memories during this trip, including him running to Mickey and giving him the biggest hug during the party!
The bottom line is you need to take your family's unique travel circumstances into consideration to decide if it's worth it to you. No one can make that decision but you!
What other questions do you have about the party? Post them below or on Facebook, and I will be sure to answer them!
-Monica S.