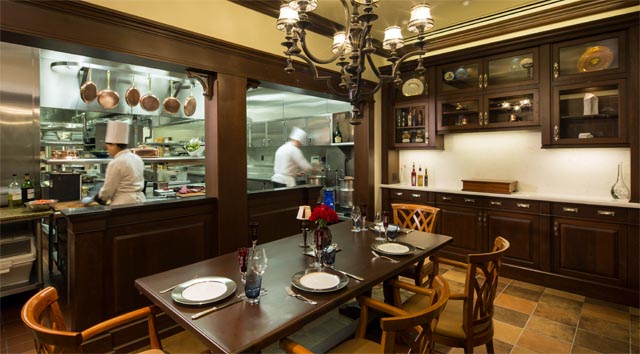 Dining at the Chef's Table at Victoria and Albert's at Disney's Grand Floridian is about to be more expensive than ever. Would you still dine there?
Victoria and Albert's is a one-of-a-kind experience at Disney's Grand Floridian Resort and Spa. It is hailed as the finest dining experience throughout the entire Walt Disney World Resort.
The culinary team is world-class, and the atmosphere is timeless and elegant.
If you thought that was amazing by itself, did you know you can enjoy an even more exclusive dining experience by reserving the Chef's Table?
The Disney World website describes the Chef Table:
Savor the finest dining at Walt Disney World Resort as our chef de cuisine crafts an exquisite degustation menu for a select few Guests.
Gather at the exclusive table located in the heart of Victoria & Albert's kitchen—interacting with our staff as they prepare an extraordinary culinary experience just for you. Inspired by the season, each unique menu features ingredients culled fresh daily from the world market.
Throughout the approximately 3-hour service, the chef offers up superb morsels and tasting samples, tailoring the mouth-watering feast to your party's dietary preferences. And when you choose the optional wine pairing, our sommelier selects the ideal vintage to enjoy with each portion of your meal.
Only one Chef's Table is able to be reserved per night, and this one table will seat only 8 Guests. This dining experience is like nothing you would ever experience, but it's also one of the hardest reservations to obtain.
It's also one of the most expensive.
Currently, the prix fixe menu begins at $250 per Guest. If you choose the optional wine pairing, that will cost another $150. Gratuity and tax are not included.
Let's do some math:
$250 for the meal (this is just the starting price)
$150 for the wine (also the starting point – there are more expensive options)
$100 (approximately) for the gratuity and tax
This equals $500+ for one person x 8 people at the table = $4,000 for the entire table every night.
However, beginning August 30, 2020, that price is set to increase even more by $100. Now, the meal will cost at least $350 plus the optional wine, gratuity, and tax.

I know for many the price is well worth it. Victoria and Albert's is the winner of the prestigious AAA Five Diamond Award every year since 2000.
Have you ever dined at the Chef's Table at Victoria and Albert's? Would you pay the new price increase for the meal and experience? I would love to hear your thoughts on Facebook.