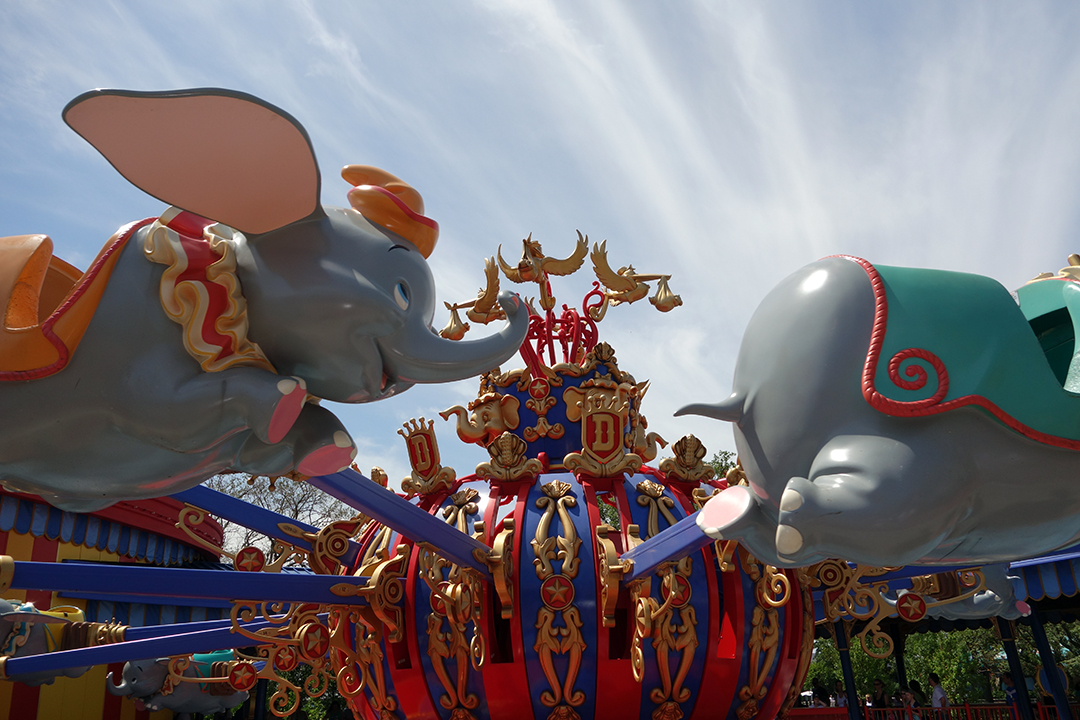 Since Fastpass+ was introduced, it's been possible to "Double Dip" as some call using Fastpass+ for 3 electronic Fastpasses AND using your hotel key to gather paper Fastpasses from the machines old school style or "Triple Dip" as I refer to using Magic Band FP+ for 3 FP, hotel key for paper Fastpass and Annual Pass for additional FP.
A lot of people have speculated on the net about "Double Dipping" coming to an end.  (I'm not linking to specific sites purposely not to attempt an "I'm right and you're wrong" kind of thing.  I have no intention to disparage other people's work.)  Some have said that resorts would issue Key to the World cards with no swipe on the back.  Some have said that it would be an RFID only card.  Some speculated that the Key to the World would be eliminated entirely soon.  I spoke to a person who has a solid knowledge of the Fastpass system last week and was told that the swipe on the back of the card will remain just the same for the foreseeable future for all hotel guests.   I was told that there is no test in the works that eliminates the swipe on the Key to the World.  The test that many are discussing is actually a test with Cast Members only.   New Disney World resort guests will continue to receive Magic Bands to access their FP+, door key and charging privileges and the Key to the World will still be issued as a backup.  If a person attempts to use the Magic Band, but the technology is acting up, the Cast Member can use the plastic card to continue the operation that is necessary to assist the guest.  This means that one can still use FP+ for 3 electronic FP and the Key to the World plastic card in the paper FP machines.
I booked a one night stay on Wednesday of this week at the Pop Century resort with the primary goal of getting my kids and myself into the FP+ system.  The parks have been getting busier and we would like to hit some of our favorite attractions without waiting forever.  Combine the fact that paper Fastpass runs out earlier than ever with more guests and it's a perfect storm.  When I checked in, I was given Keys to the World for all my guests as well as Magic Bands.  I've been working on discovering the best ways to use the FP+ system, which I'm not fully ready to report upon.  But, I did test the room only hotel keys, annual passes and Magic Bands again today and found ALL THREE still work.  I booked FP+ for my daughter to be involved in Enchanted Tales with Belle for the first time, to meet Rapunzel and to meet Ariel.  We had to drop the Ariel meet due to time constraints.  We also used our Annual passes and the 4 ROOM ONLY hotel keys to gather paper Fastpasses which we used.  I WAS NOT able to use a hotel key from September that once had valid park tickets that were used up.
This is how our day went on Saturday, October 26, 2013.  My daughter Debbie and I arrived at the gates about 5 minutes after rope drop because we had to take my son to basketball practice (Try outs are Monday, so keep him in mind).  Debbie LOVES Disney characters.  She's the one that dreamed up the Extreme Character Challenge in which she and I met 71 characters, 68 were in different costuming and 60 were unique characters IN ONE REGULAR day.  She really wanted to meet a few characters and do some of her favorite rides.
I had pre-selected Enchanted Tales with Belle for 9:05-10:05, Rapunzel meet and greet from 10:05-11:05 and Ariel for a later time.  We didn't feel a need to hurry to Belle at 9:05, so we grabbed some Fastpasses to meet Mickey Mouse, who i now talking in Town Square Theater.  We started our touring with a ride on Buzz Lightyear with no wait.  It was a close competition with me scoring over 400,000 and her scoring around 12,000.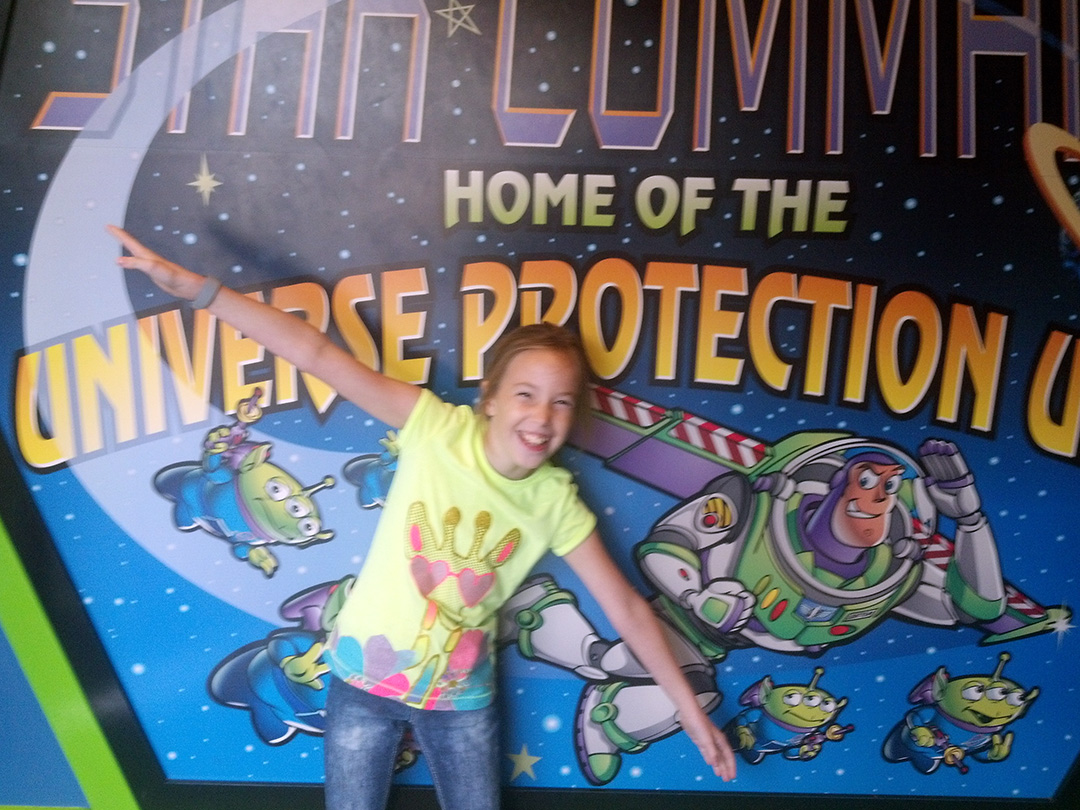 She wasn't very delighted with the final score.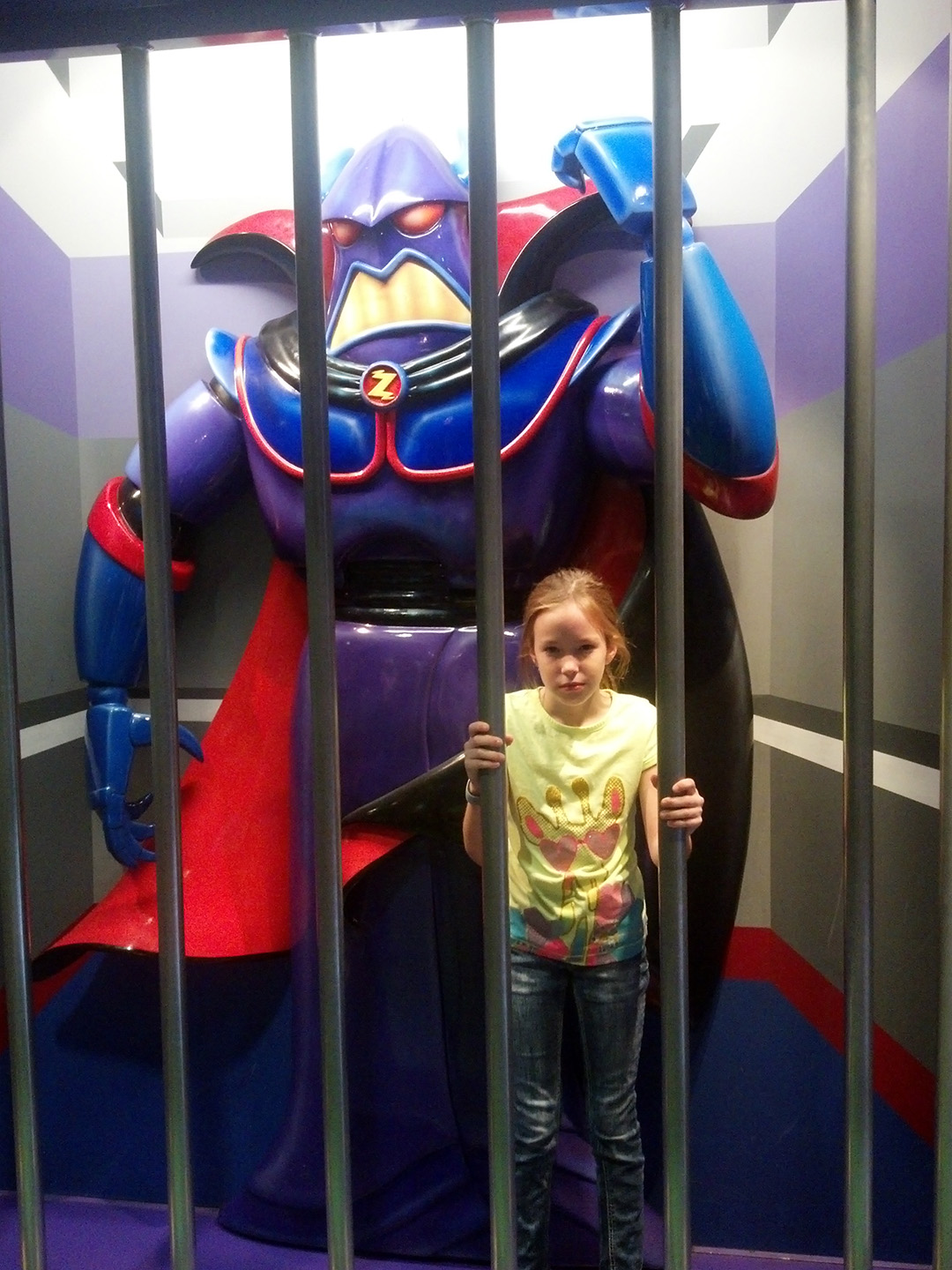 We gathered paper FP for Space Mountain on the way up toward Fantasyland.  She wanted to ride Tomorrowland Speedway, but there was already a long line by 9:30 and she said, "I don't want to breathe gas for 30 minutes."  I could see using a FP+ entitlement as a good possibility for this attraction, either that or go there first.   Smart 10 year old!  We decided to drop in and meet Alice and the White Rabbit.  They shared a brief Tea Party moment.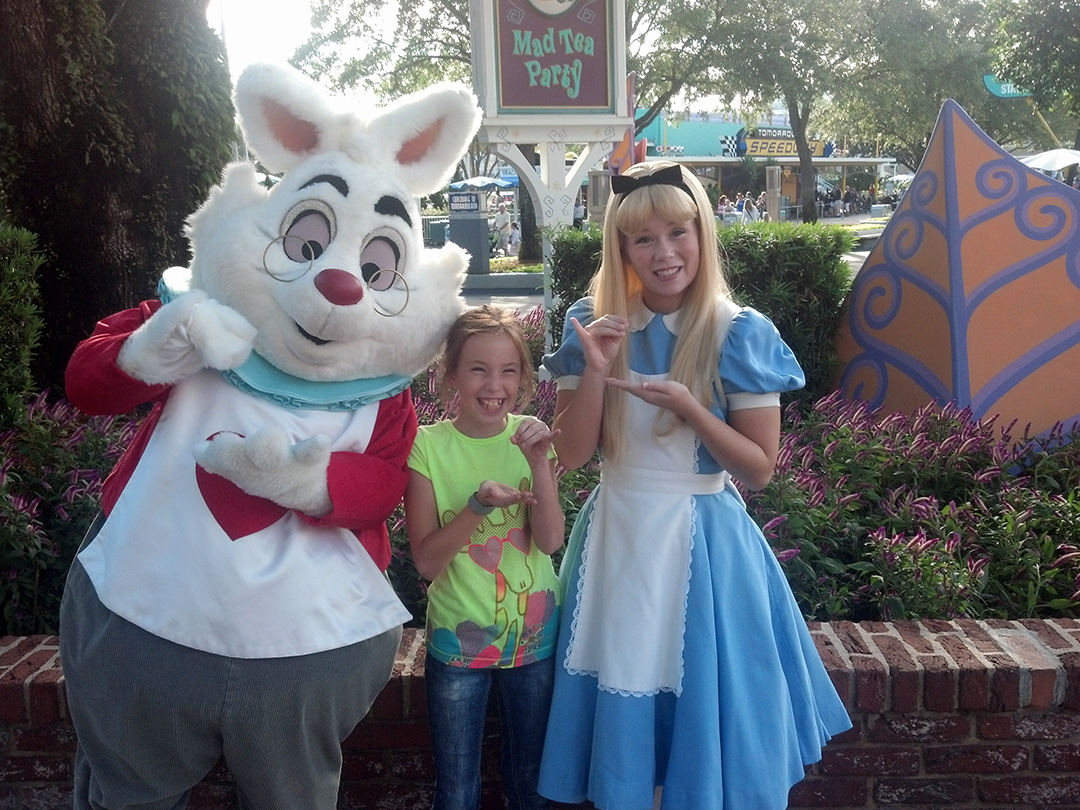 If you have a bad camera or don't want the hassles of carrying a decent one around, you might consider Disney Photopass service.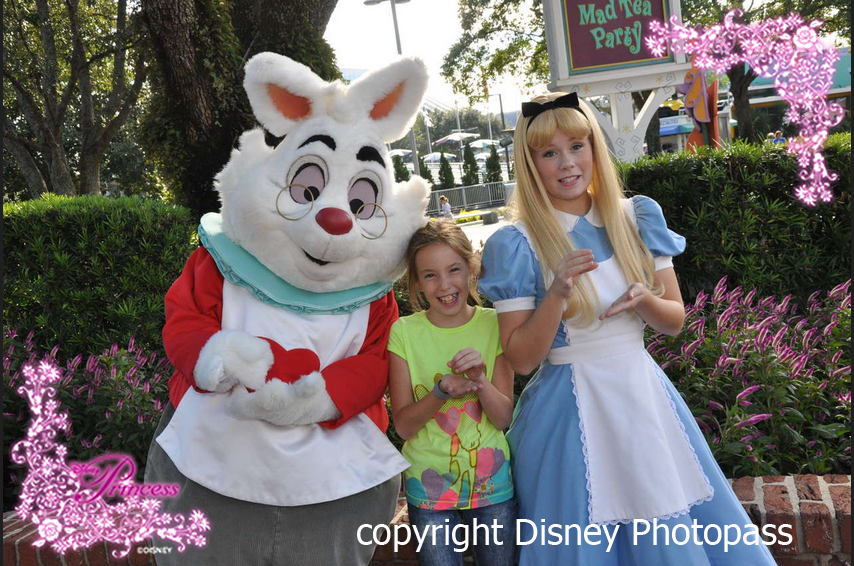 We went to get some paper FP for Dumbo and Barnstomer (Mickey, Dumbo and Barnstormer still aren't connected to the system or each other).  Barnstormer was down all morning, so we settled only for Dumbo paper FP.  On the way we saw this line that had formed at Pete's Silly Sideshow because they don't bring the characters out until 9:45am.  I have said many times that it's pretty silly to bring them out 45 minutes after park opening and keep them out so late, just cut the line off earlier in the evening so people don't have to wait in unnecessary lines.  It was 9:42 am.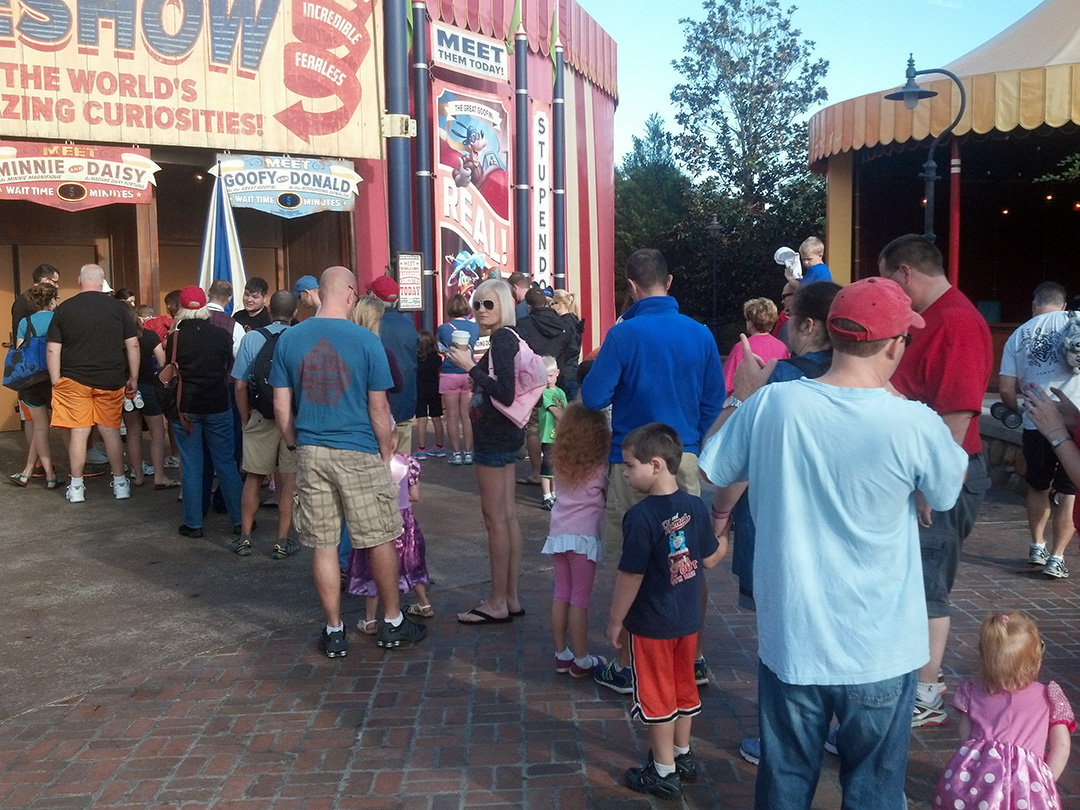 After gathering that Dumbo FP, we headed over to Fantasyland and got a couple of paper FP to meet Cinderella.  My daughter told me to use the other machine that had no wait.  I told her it was for Rapunzel and we needed Cinderella.  The lady in front of me had no idea (despite the clearly marked signs) that she was getting Cinderella FP.  She thought all 4 Princesses met together in one room.  An interesting exchange ensued.  We moved on to see Enchanted Tales and used our FP+.  The posted wait was 45 minutes and the line looked all of that or more.  We tapped our Magic Bands and walked right in with NO WAIT.  Win!
Debbie really wanted to be involved in this experience, so I told her to show lots of enthusiasm and she'll be chosen.  She was picked for the role of Mrs. Potts, which is funny because Debbie is a pretty tidy person.  I never have to tell her to clean her room.  She was so happy.  I took another crappy phone pic of her big smile, but it was even less worthy than these.  I'm about to surrender on repairing my own camera and have considered buying a new Nikon.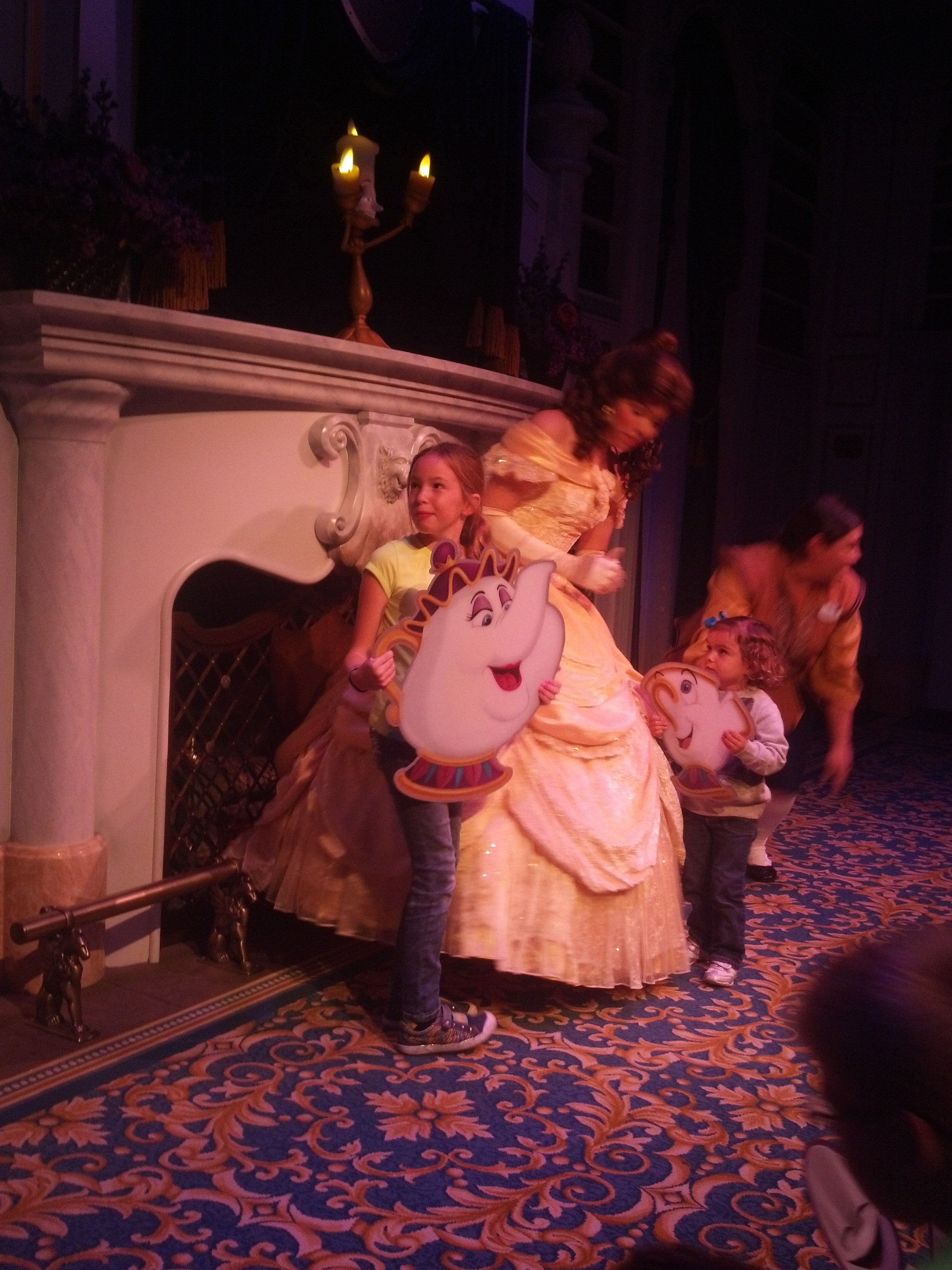 Debbie was very impressed with Enchanted Tales and loved how she got to help Belle tell her story and parade around with the tea pot.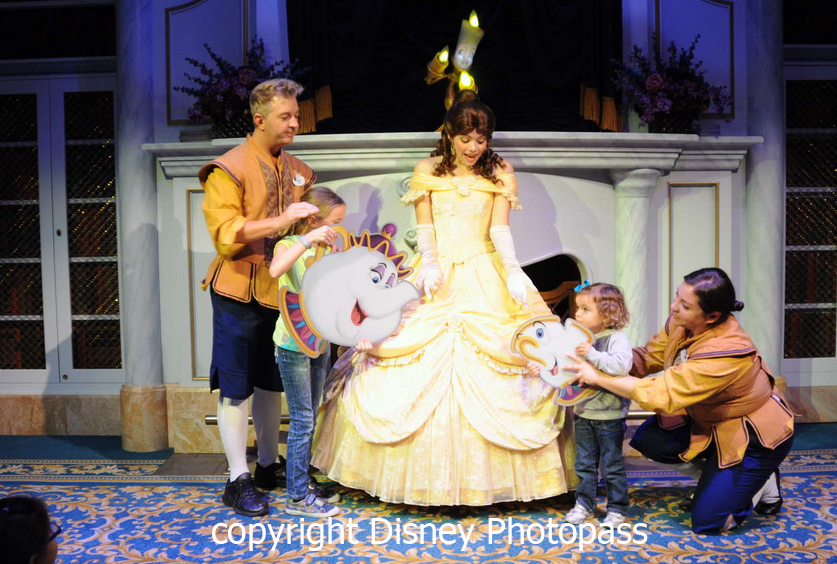 At the end of Enchanted Tales with Belle it is okay to walk to the back of the room and take a photo of your child with Belle.  The Cast Members ask that you please not use a flash and don't hinder the Photopass person doing his/her job.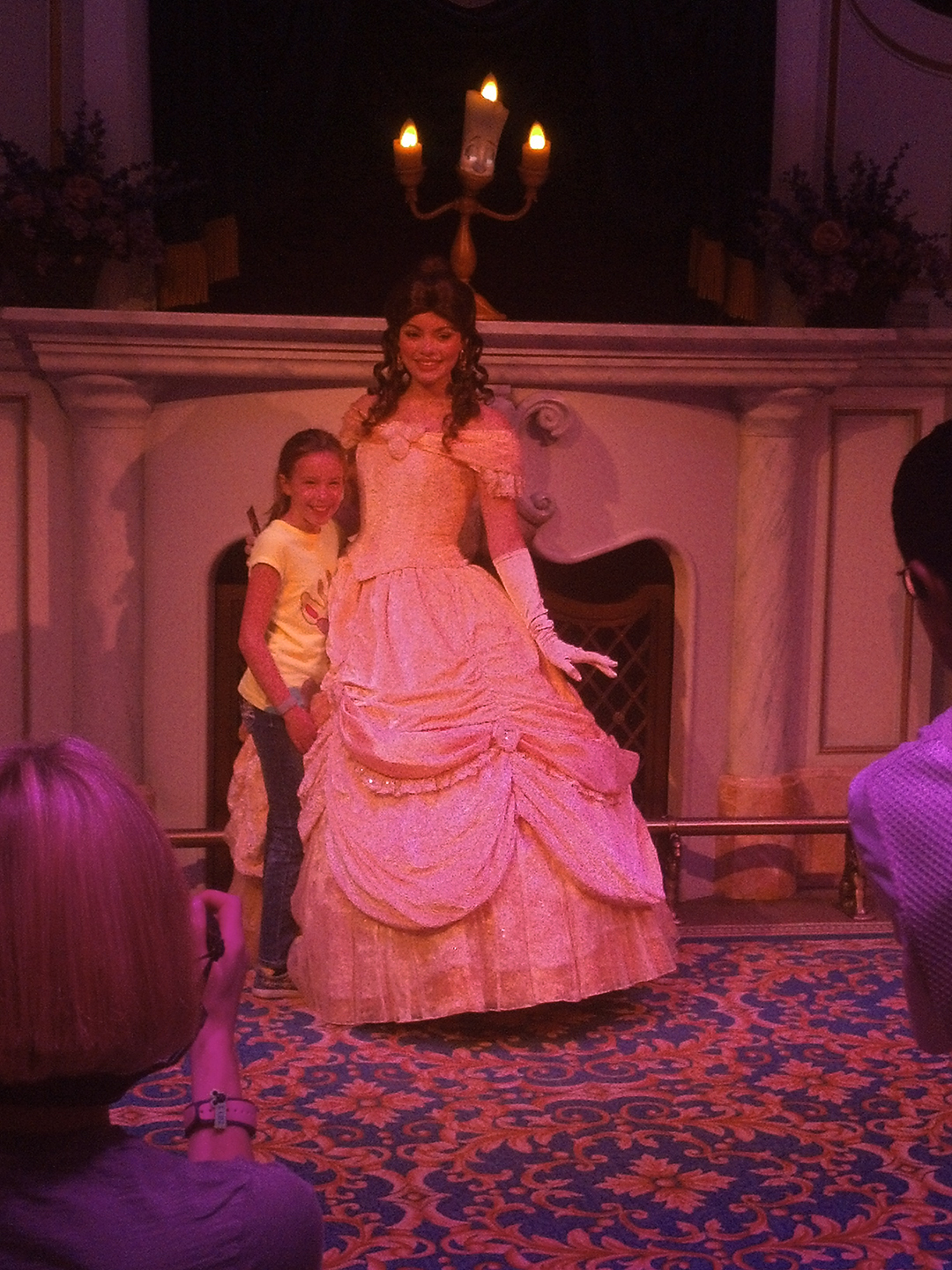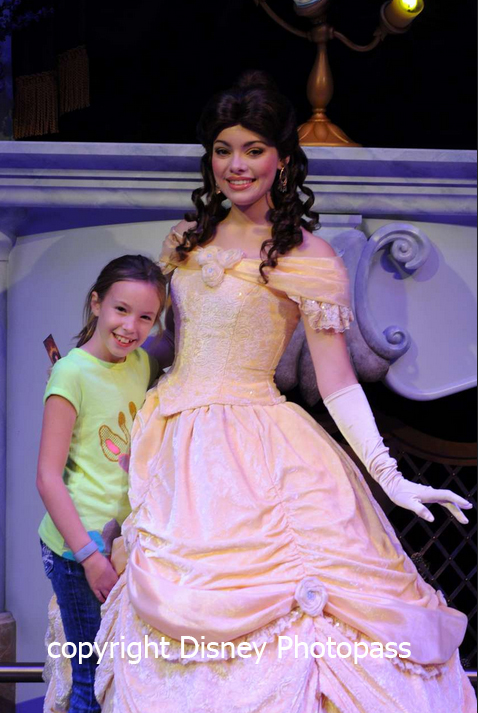 So here's the haul of Fastpasses:  Mickey, Space Mountain, Dumbo and Cinderella before really getting started into the day.   We could have had more, but we were testing at Space Mountain and got more FP than we neeeded.  We ended up giving them all away because we didn't have time to ride.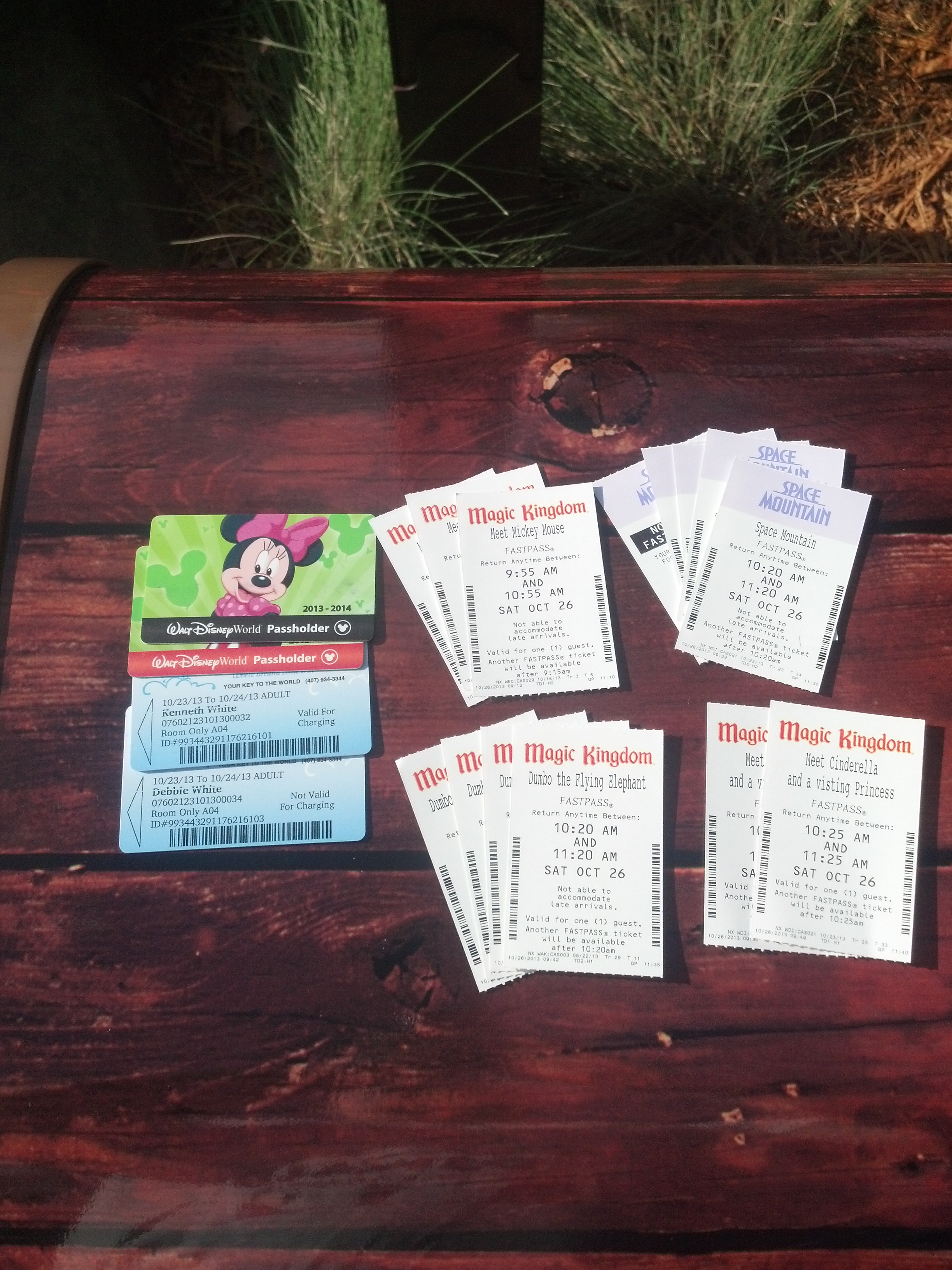 We then used our FP+ reservation to meet Rapunzel and Snow White, the posted wait was 35 minutes.  We waited 13 minutes to meet these princesses.  Debbie got a quick peek at the portrait gallery and Cinderella's slipper. Rapunzel didn't have a Photopass photographer which I thought was odd.  Debbie talked to Snow White about her love for apple pie.  Snow said to stay away from the red ones, especially at Halloween and not to take them from strangers.  Good advice Snow!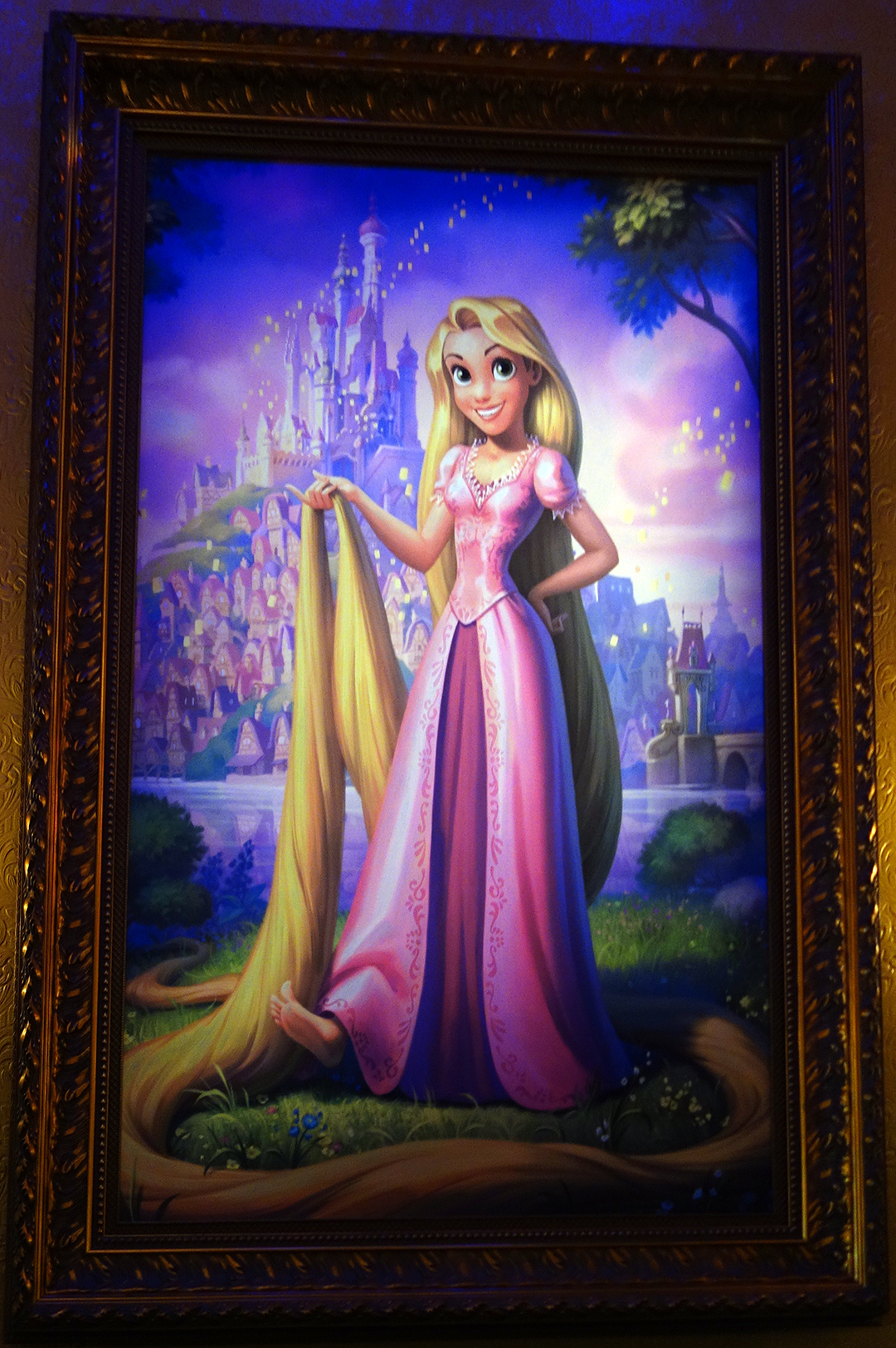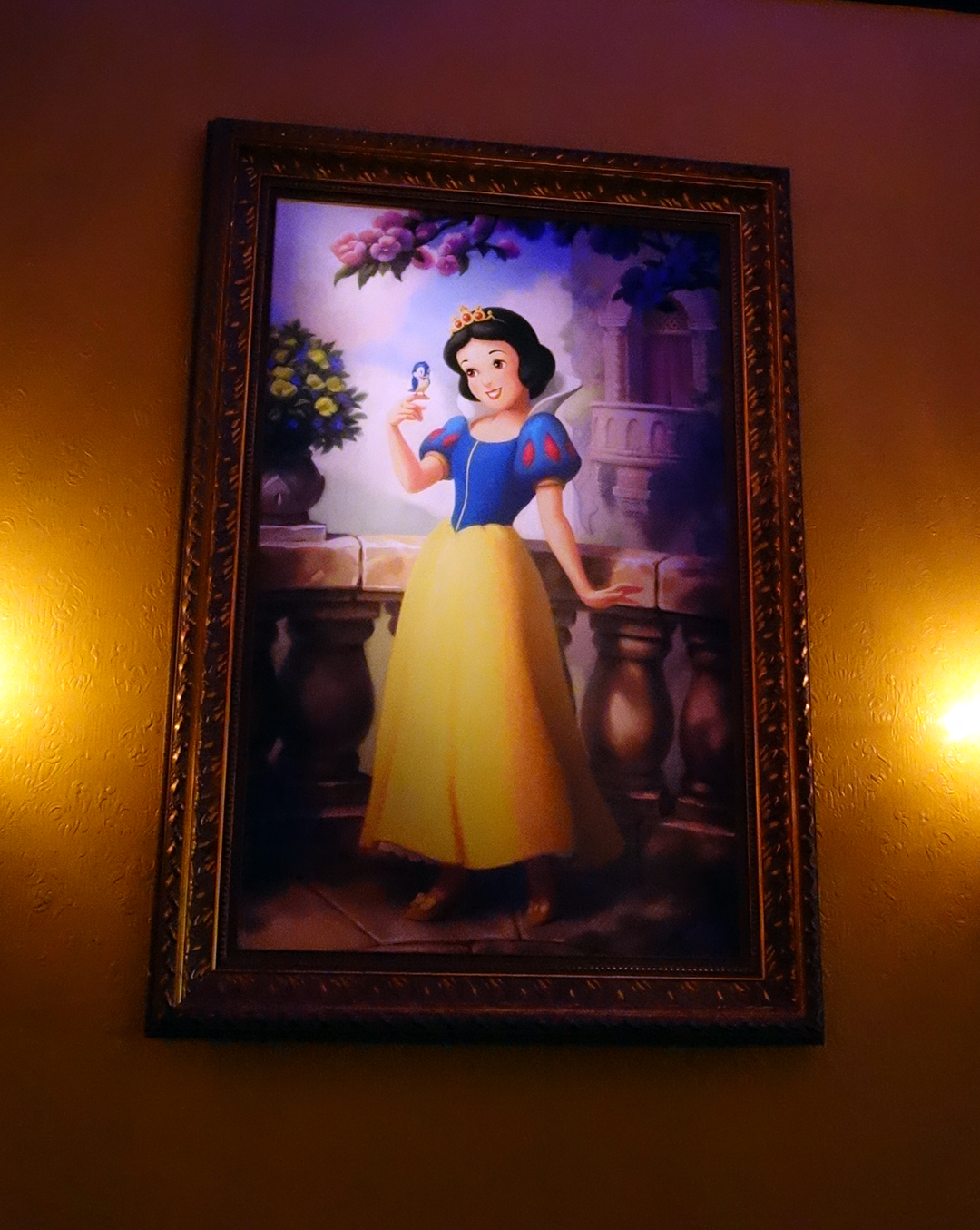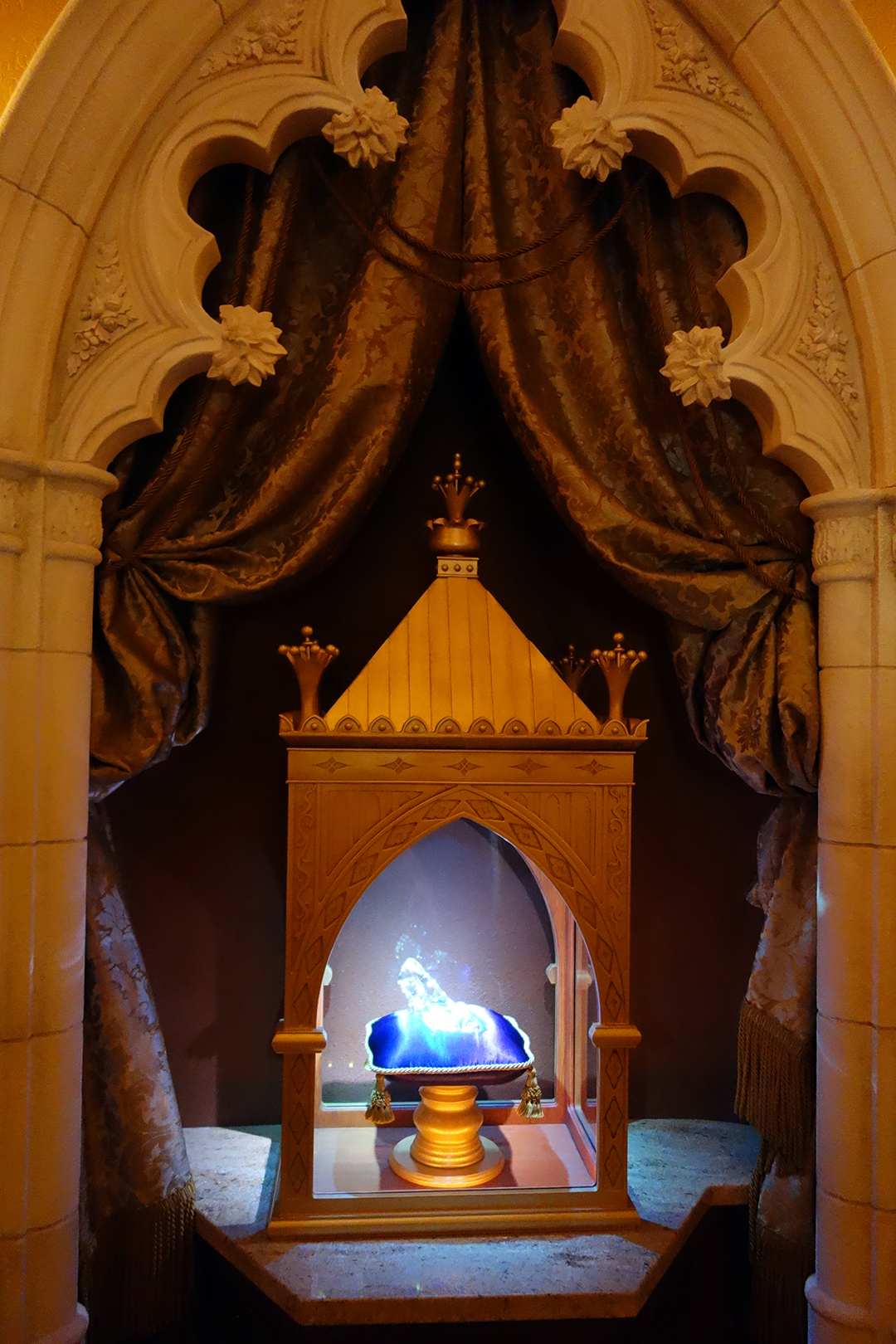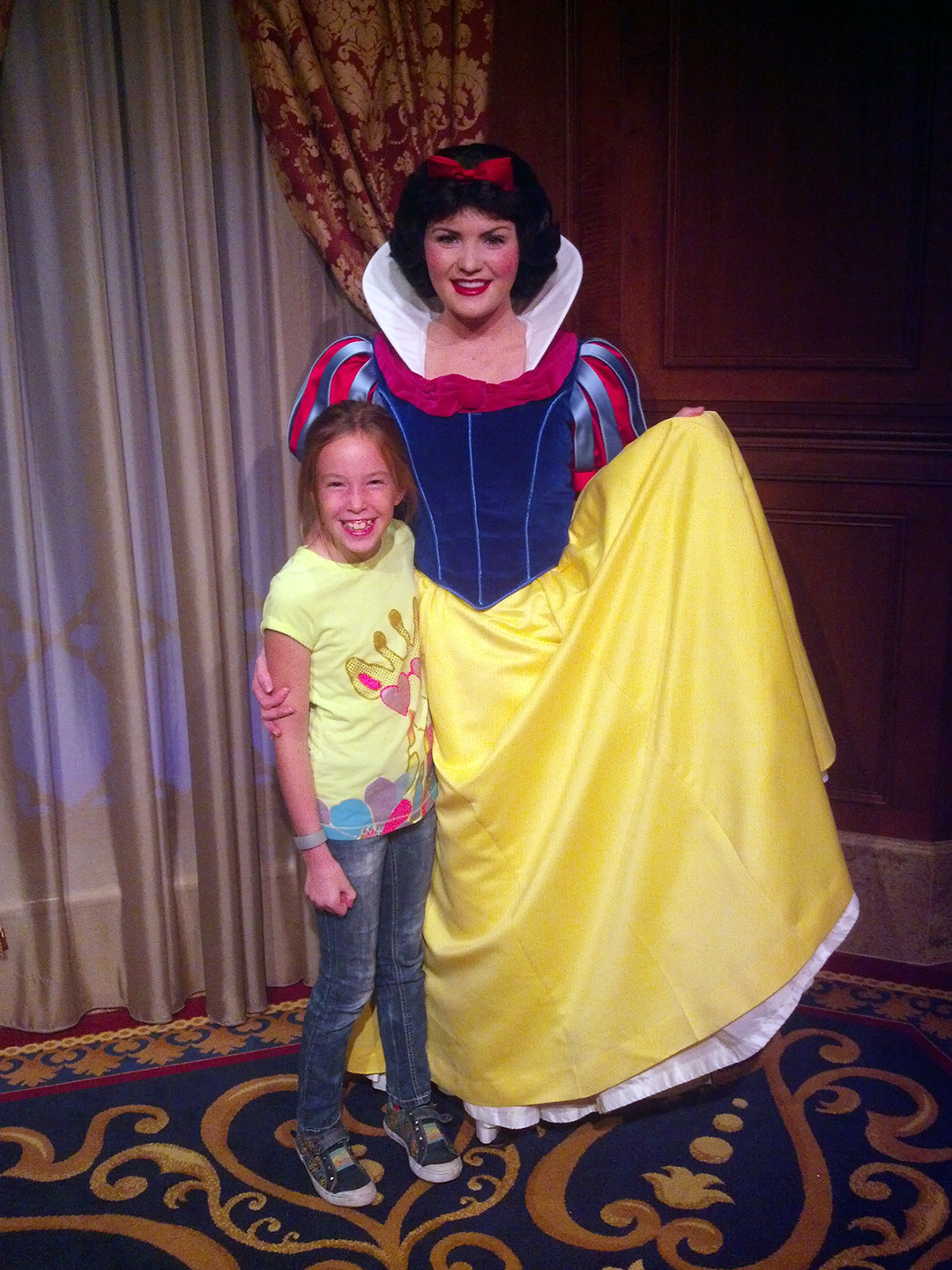 Debbie and Rapunzel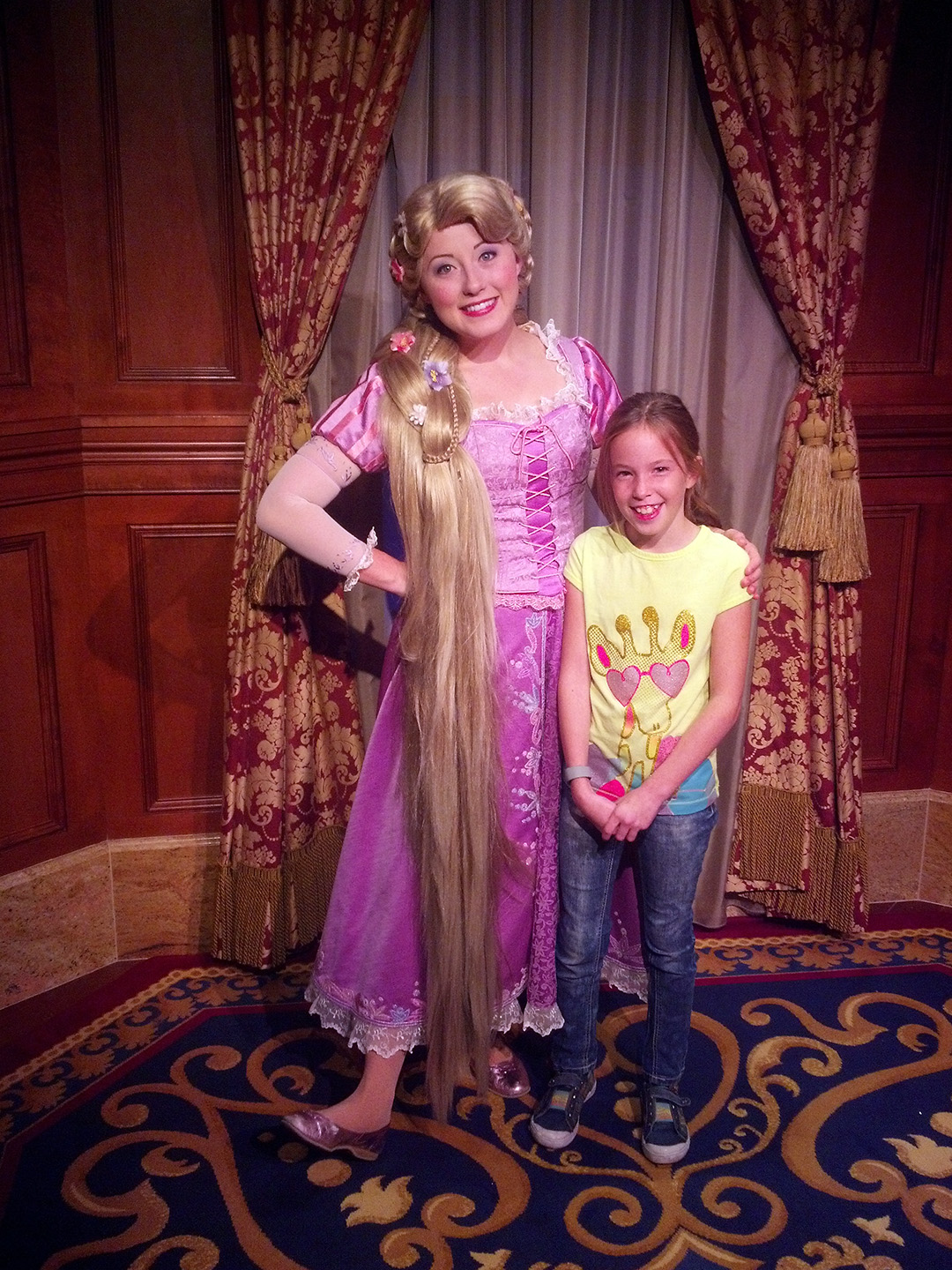 After meeting Rapunzel and Snow using our FP+ entitlement, we used our Cinderella paper Fastpass.  We had absolutely NO WAIT to meet Cinderella and Aurora.  Debbie and Cinderella discussed their love for shoes.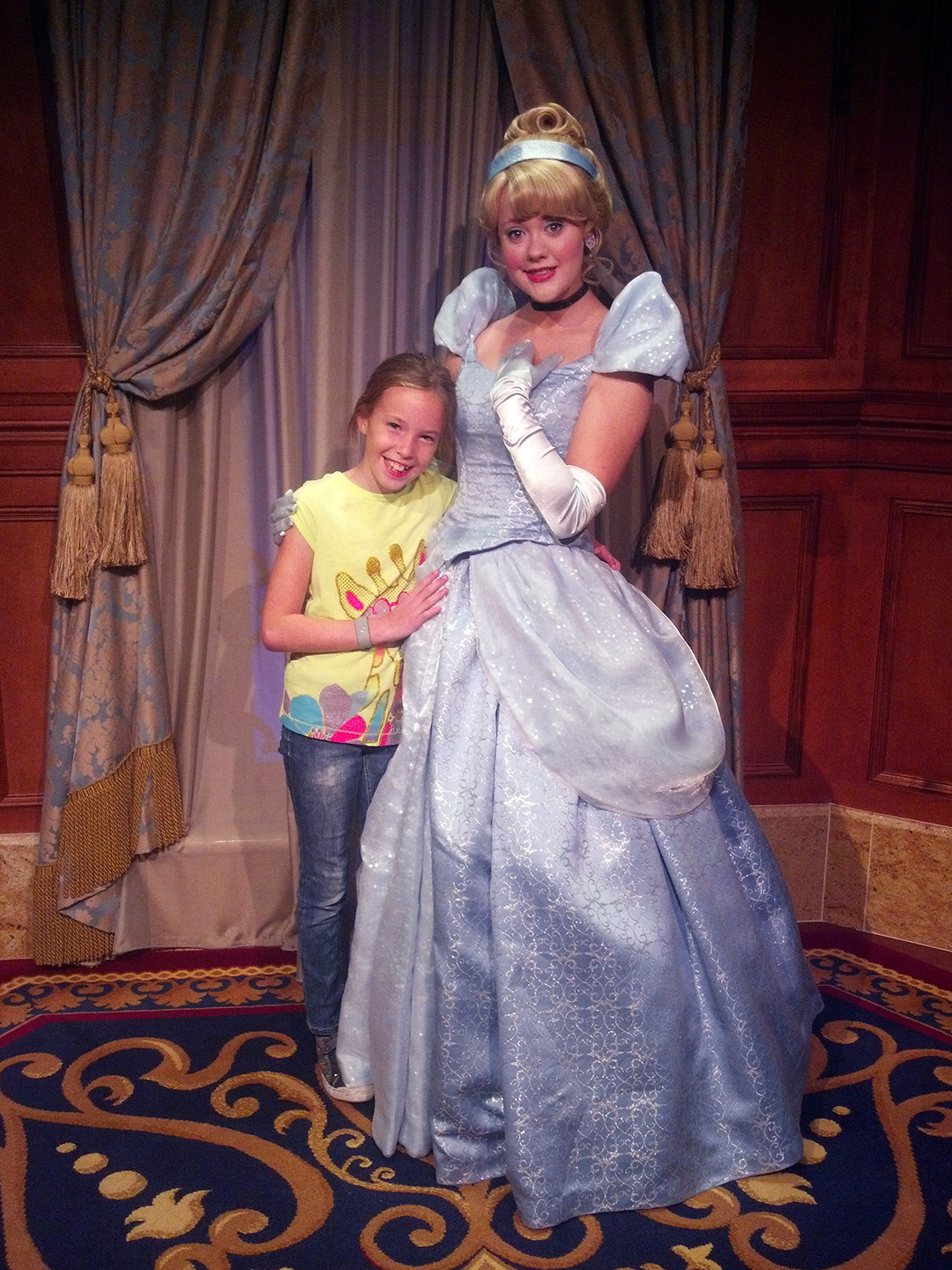 Debbie asked Princess Aurora which name she prefers and Aurora explained that she likes them all when they are presented by different people.  Princess Aurora from her family, Sleeping Beauty when it comes from Prince Phillip and Briar Rose from the Fairies.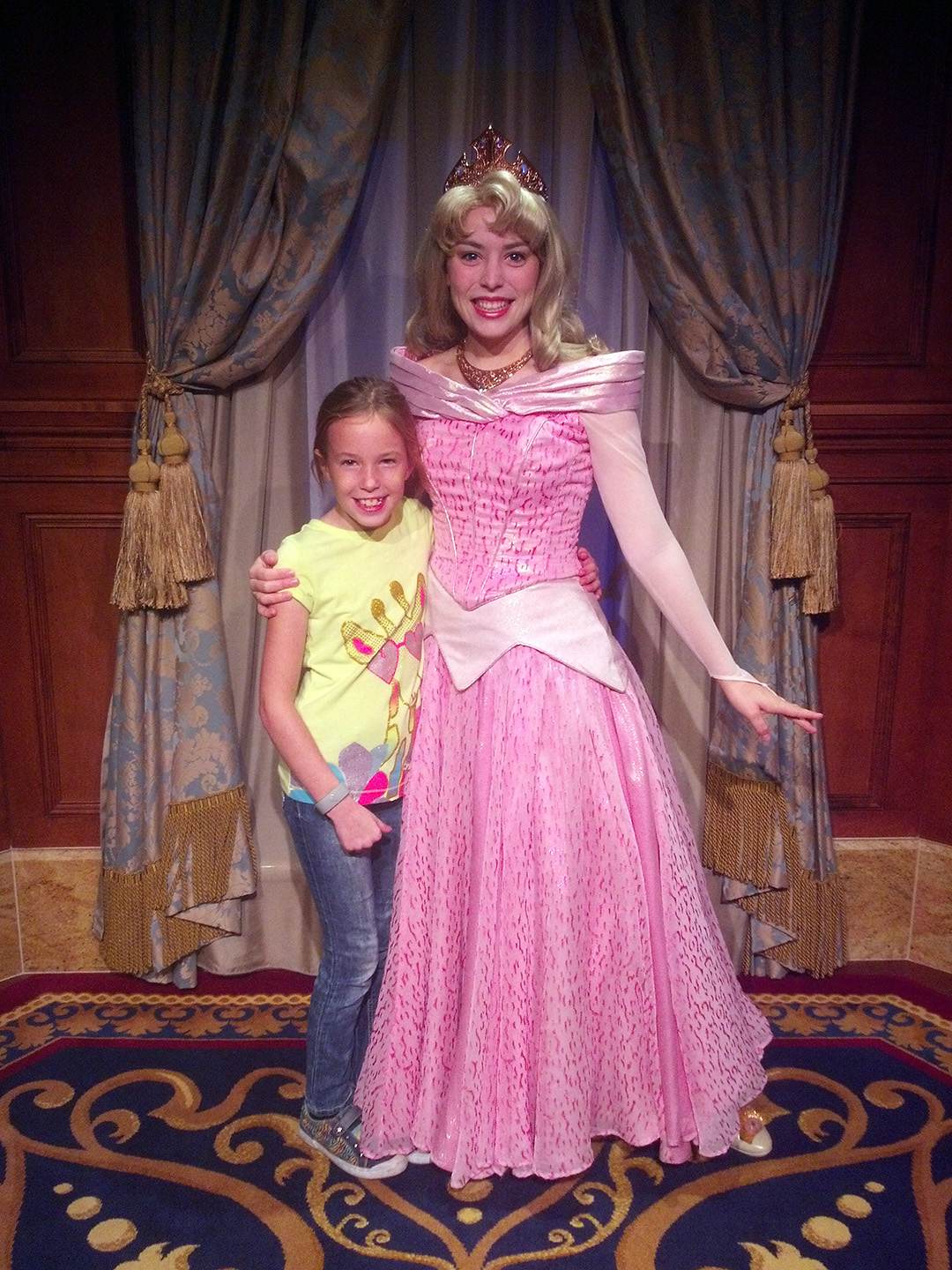 We circled back to see if Barnstormer was open before using our Dumbo paper FP.  Barnstormer was still closed :(  Debbie enjoyed seeing the new construction on the Seven Dwarfs Mine Train ride that should open in Spring 2014.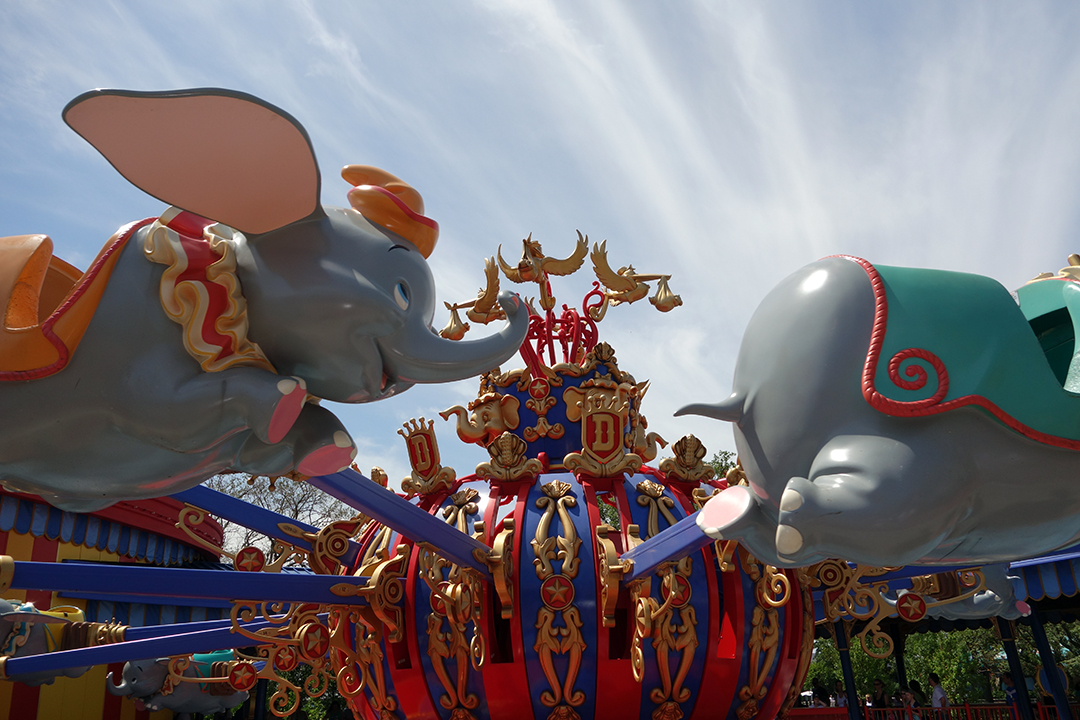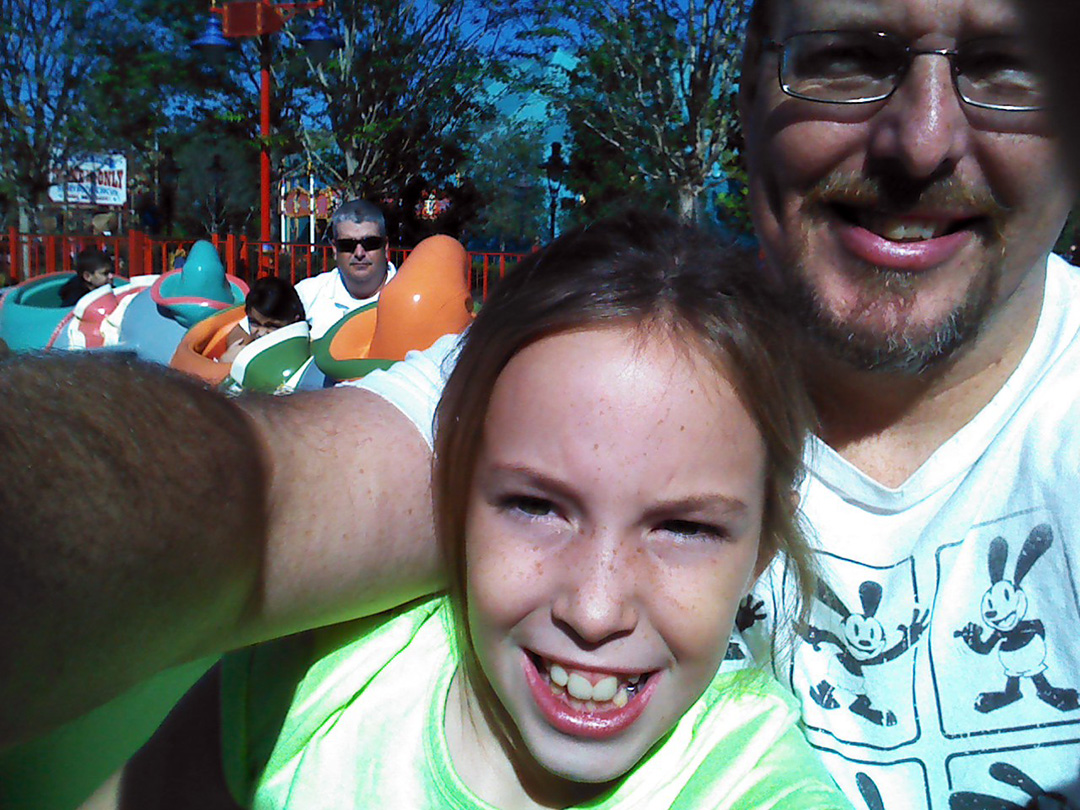 We took a spin on the Walt Disney World Railroad to get back to Town Square quickly and easily.  Well, it ended up being easily, but not quickly.  The train stopped behind Space Mountain for quite a while and we would be a few minutes late for meeting Mickey with paper FP.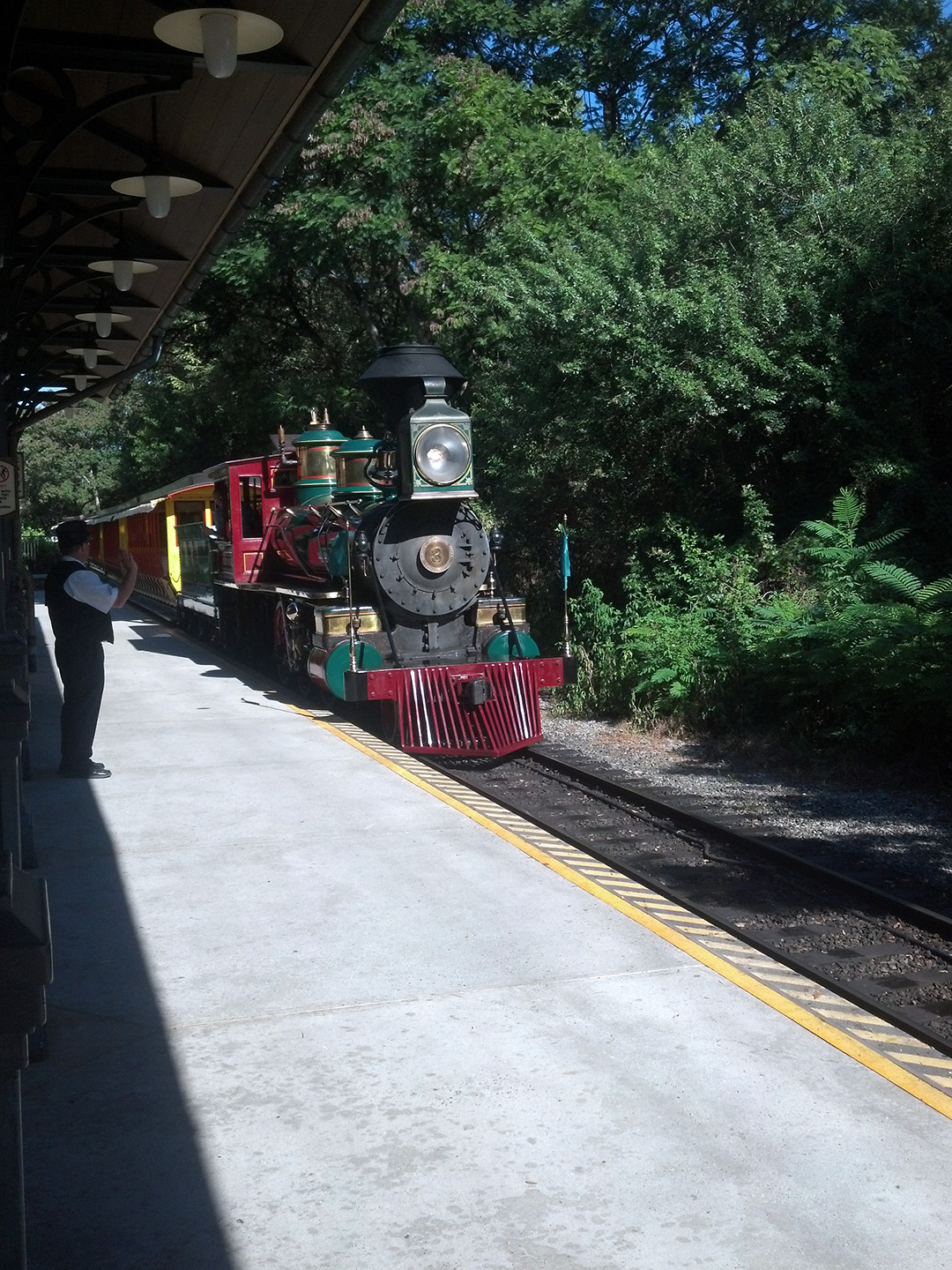 The Cast Member noticed we were a little late and I explained that the train delayed our arrival.  He was accommodating and allowed the grace period.  The posted wait for Magic Words with Mickey was 60 minutes.  The wait looked more like 90 minutes though.  The cast were telling people that they could wait as much as 30 minutes using Fastpass of any type.  We ended up waiting 15 minutes.  It was a pretty rough 15 minutes because the line had several children having meltdowns.  The screaming was incessant and Debbie was thinking of bailing, but really wanted to see Mickey talk.
Here's a video of the interaction Mickey had right before ours.  Mickey offered to fly like Peter Pan.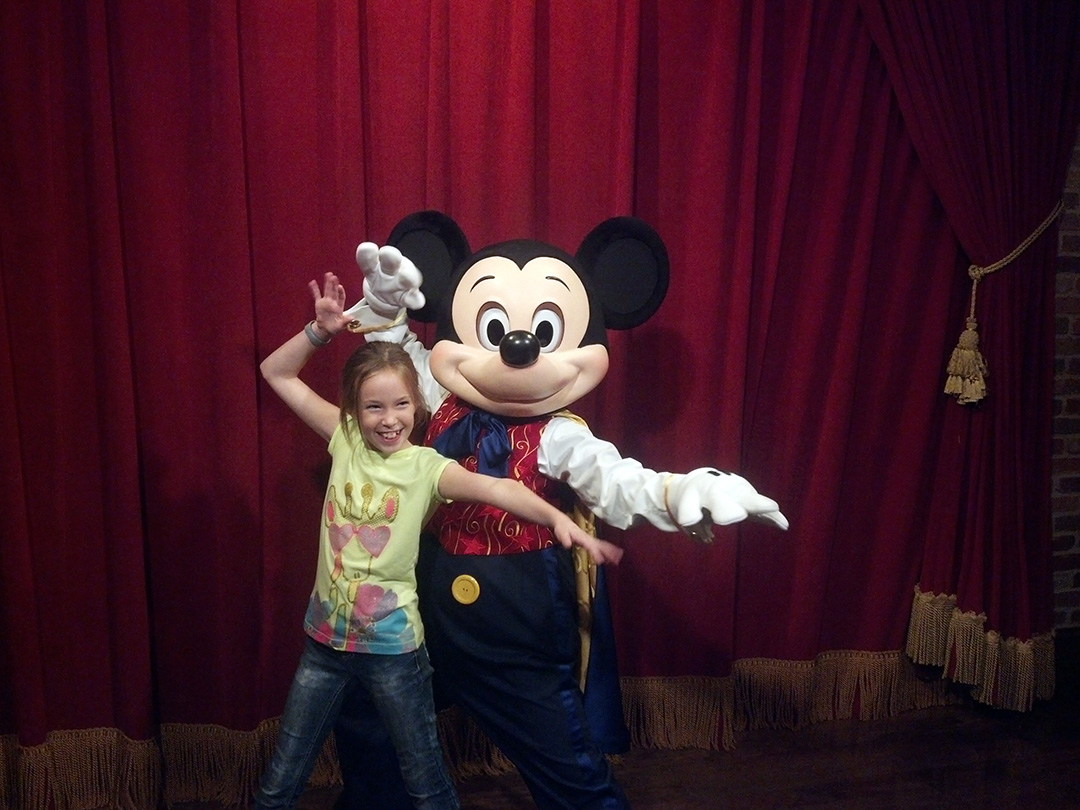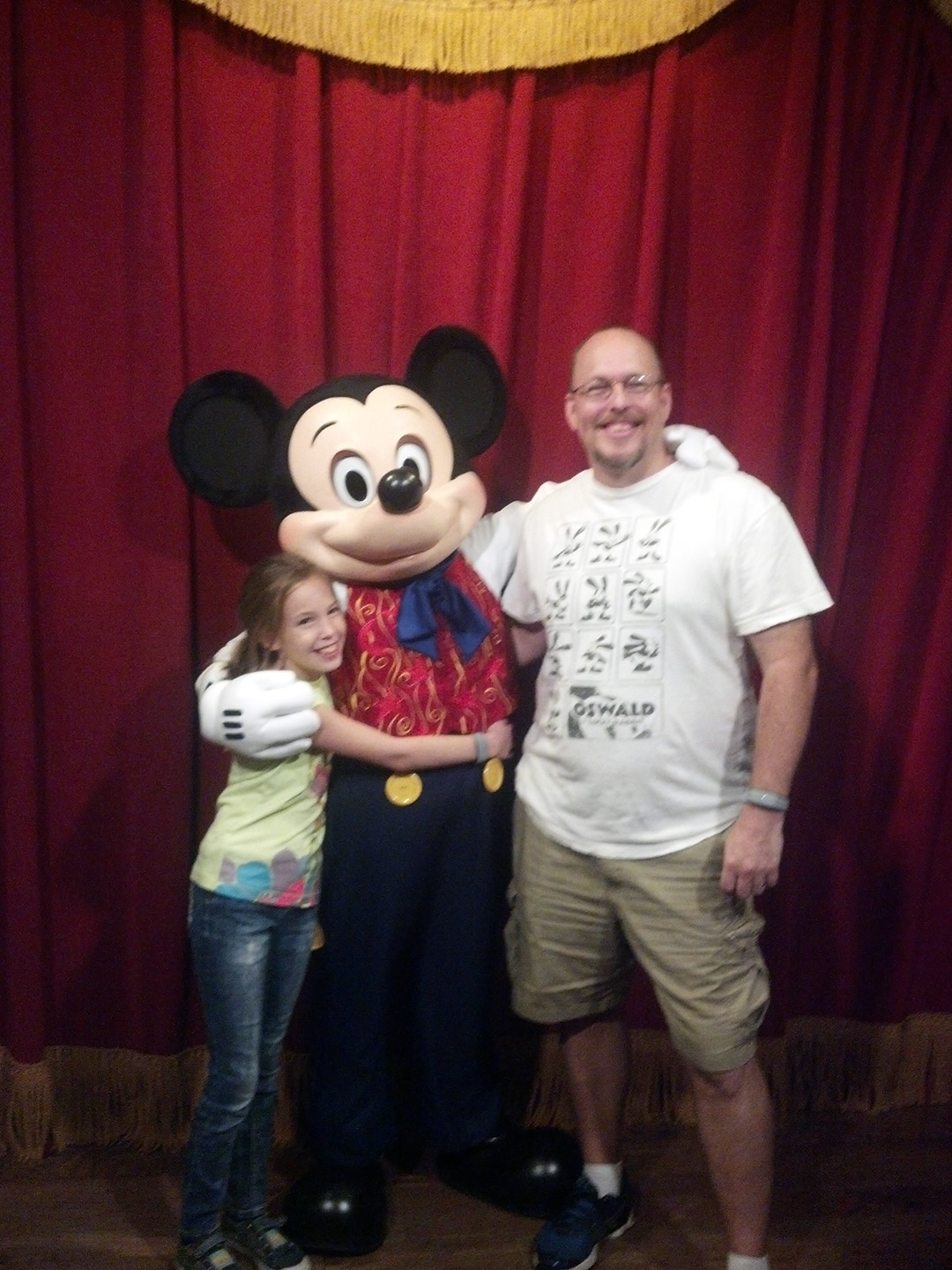 We decided to take the Railroad over to Frontierland and use our Annual Passes and hotel keys to gather some more FP to see if it would work on that side of the park.  We got paper FP for Splash Mountain, Big Thunder Mountain Railroad and Jungle Cruise.  It was our first time on Jungle Cruise since the changes were made.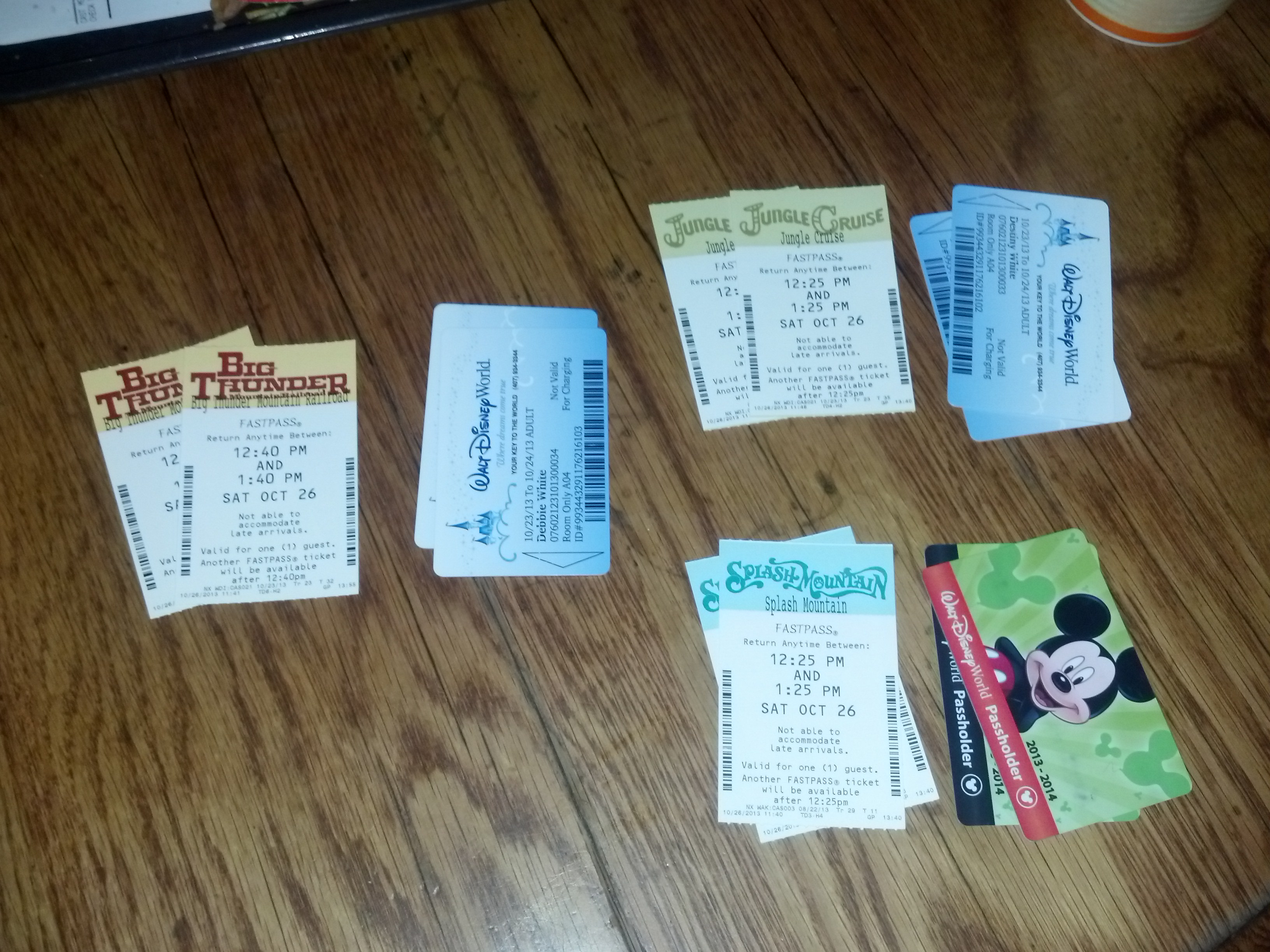 We shared a taco salad at Pecos Bill and headed over towards the Jungle Cruise to use our FP.  We had a few minutes, so we purchased a Mickey Premium Bar to share.  Sharing is Caring!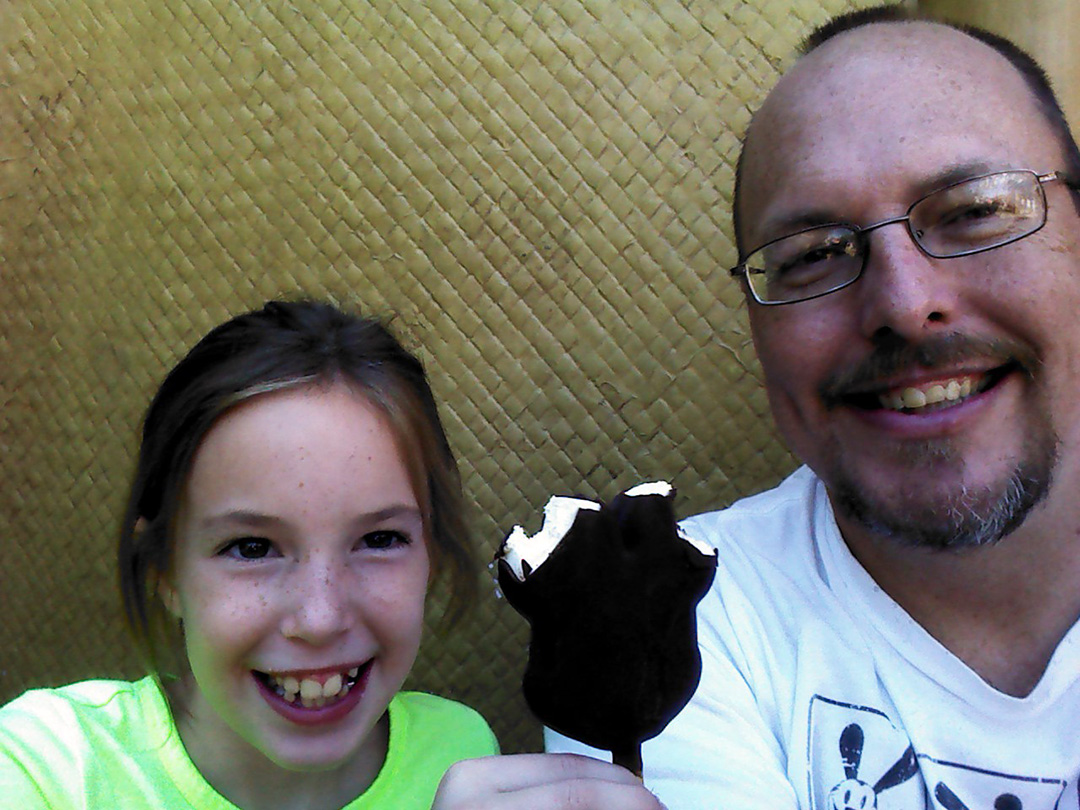 Why we moved to Orlando…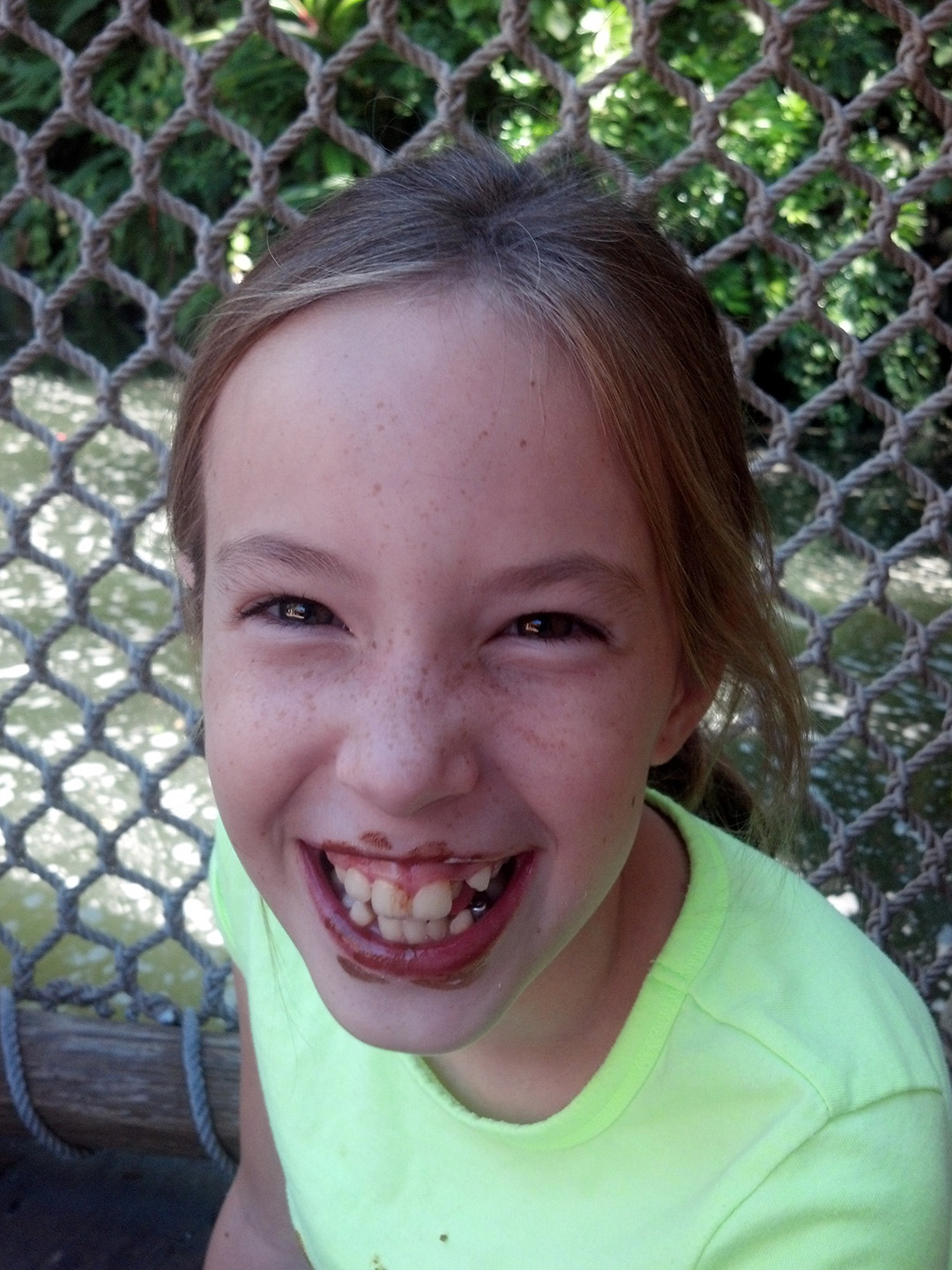 We had a fun experience on Jungle Cruise and heard a few new jokes.  We weren't expecting the arrow tossing natives near the backside of water though.  We then headed over to Splash Mountain and got soaked!  I'm glad that WDW finally got around to letting people get wet again on Splash.  For quite some time you could ride and never get a drop of water on you.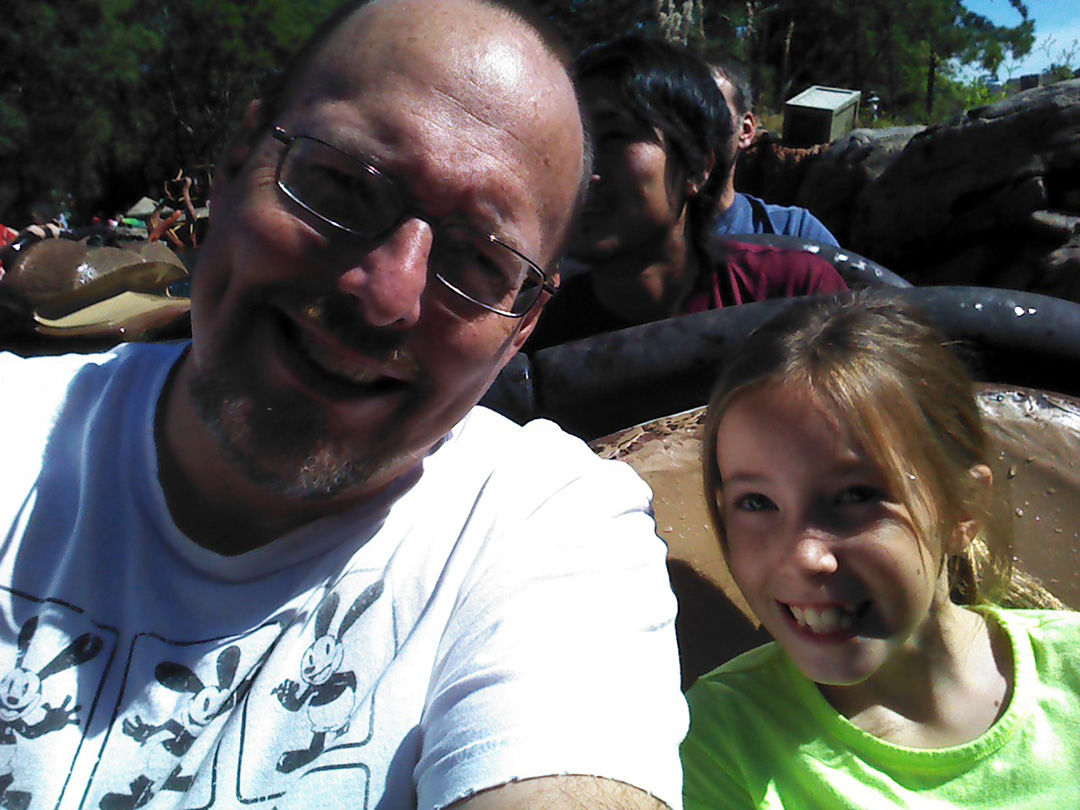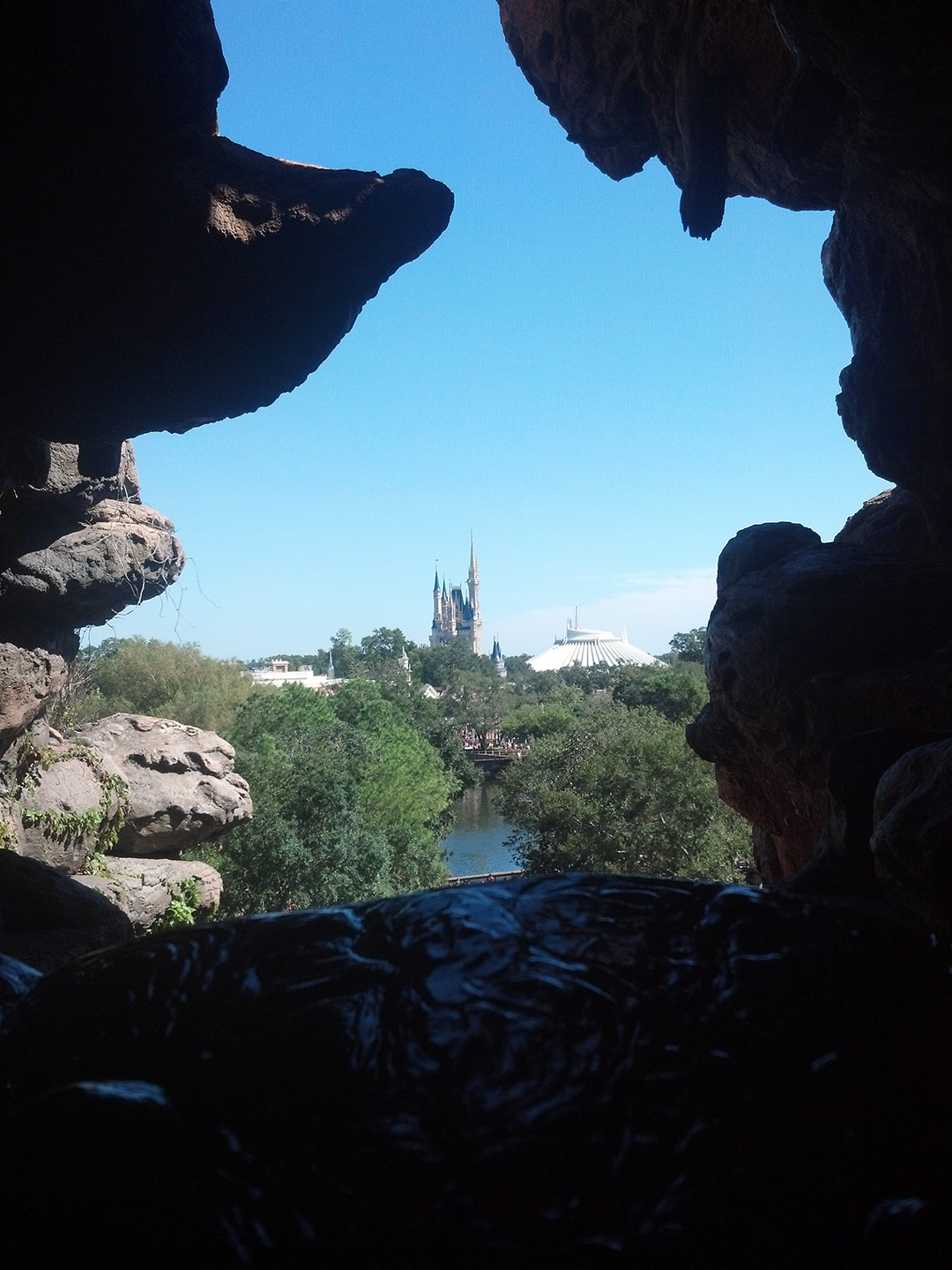 We gave away our Thunder Mountain FP because we had to leave by 1:00 pm to pick my son up from basketball.  So here's our total for the day:
Reserved Enchanted Tales, Rapunzel & Ariel FP+
Gathered Mickey paper FP
Rode Buzz Lightyear with no wait
Gathered Space FP (gave away)
Met Alice and White Rabbit
Gathered Dumbo FP (Barnstormer closed.  Could have split them and gotten The Many Adventures of Winnie the Pooh, but were testing stuff)
Gathered Cinderella FP
Involved in Enchanted Tales with Belle (FP+)
Met Rapunzel and Snow (FP+)
Met Cinderella and Aurora (Paper FP)
Rode Dumbo (Paper FP)
Rode Railroad to Town Square
Met Mickey (Paper FP)
Rode Railroad to Frontierland
Gathered Splash, Thunder and Jungle FP
Ate lunch at Pecos
Shared a Mickey Premium Bar
Rode Jungle Cruise (Paper FP)
Rode Splash Mountain (Paper FP)
We had a great time doing things she wanted and never broke a sweat on a beautiful day in the Magic Kingdom.  We were there less than 4 hours :)
Have any questions about our Fastpass testing experience today?