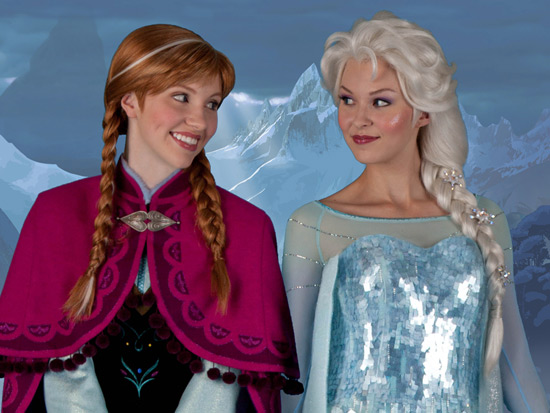 Limited Time Magic:  a Ghostly Time at the Happy Haunted Horseshoe
October 28 to November 1, 2013
Kick up your boots for Halloween week at Magic Kingdom park where you can find all sorts of spirited fun in Frontierland! From 11:00 AM to 3:00 PM, head to the Diamond Horseshoe Saloon—re-dressed in the guise of "The Happy Haunted Horseshoe"—and grab a snack or a Halloween-inspired goodie as an ethereal group of entertainers takes a break from pushing up daisies to delight you with their tricks and treats. This is your chance to join hostess Miss Betty Blue as she calls forth haunting harmonies from the Cadaver Dans, the piano-playing Dearly Departed Stan and everyone's favorite morbid magician, Abner Cadaver. So be on the lookout—miss this offering from Limited Time Magic and you may never rest in peace!
Club Cool will receive new flavors on October 30, 2013
Is there a certain soda at Club Cool that you absolutely love? Well, you may want to go and get one last taste (of what's left) before new flavors appear next Wednesday October 30, 2013.  A couple of "favorites" will be sticking around though…here's a look at the new line up:
Fanta Pineapple
VegitaBeta
Fanta (Melon Frosty)
Bibo
Sparberry
Guarana Kuat
Inca Kola
Beverly 
Read more detail at WDWNT
Anna and Elsa from "Frozen" to begin meeting Friday, November 1st
Anna and Elsa from "Frozen"  in the Norway Pavilion in Epcot  11:00, 12:00, 1:00, 2:00, 3:00, 4:50, 5:50 and 6:50pm
Anna & Elsa schedule is now added to the http://www.characterlocator.com/ app as well.
The girls appeared ONE DAY for training and then disappeared quickly.  From what I could gather, Elsa only made it for one actual set.
Thor to offer a meet and greet in Disneyland
Thor will make his first ever in Park meet and greet in Disneyland beginning November 1st.  He will meet in Tomorrowland's Innoventions area.
Huey, Dewey and Louie to be featured for Mickey's Very Merry Christmas Party Sorcerers of the Magic Kingdom exclusive card.
Beginning November 8th for Mickey's Very Merry Christmas Party ONLY Sorcerers of the Magic Kingdom fans will receive an event-exclusive game card during party nights.
Jungle Cruise to become Jingle Cruise
The beloved 10 minute cruise of slapstick comedy will take on a Holiday theme beginning Tuesday, November 12.
From the Disney Parks Blog:  "In this new seasonal storyline of the attraction, the Skippers have grown homesick for the holidays, so they've added holiday cheer to the Jungle Cruise queue and boathouse with decorations that have been mailed to them from home (plus a few they've created themselves). The Skippers have also added a slew of new jokes to their tours that are the perfect way to get guests in the holiday spirit. Additionally, Jungle Cruise boats have been renamed with the holidays in mind, and if guests listen carefully, they may hear a holiday-themed radio broadcast playing in the background."