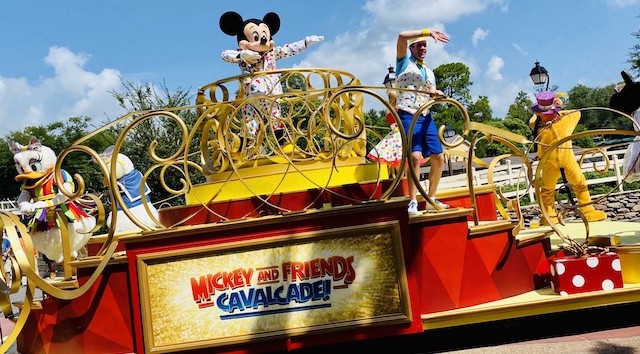 As Walt Disney World set to reopen on July 11th, many Guests were concerned with the new Disney experience including the cancellation of parades, fireworks, and character meet and greets. I was pleasantly surprised with the great interaction and character experiences that I experienced on my most recent trip to Walt Disney World. See how Disney continues to share the magic in such unique ways.
Reimagined Magic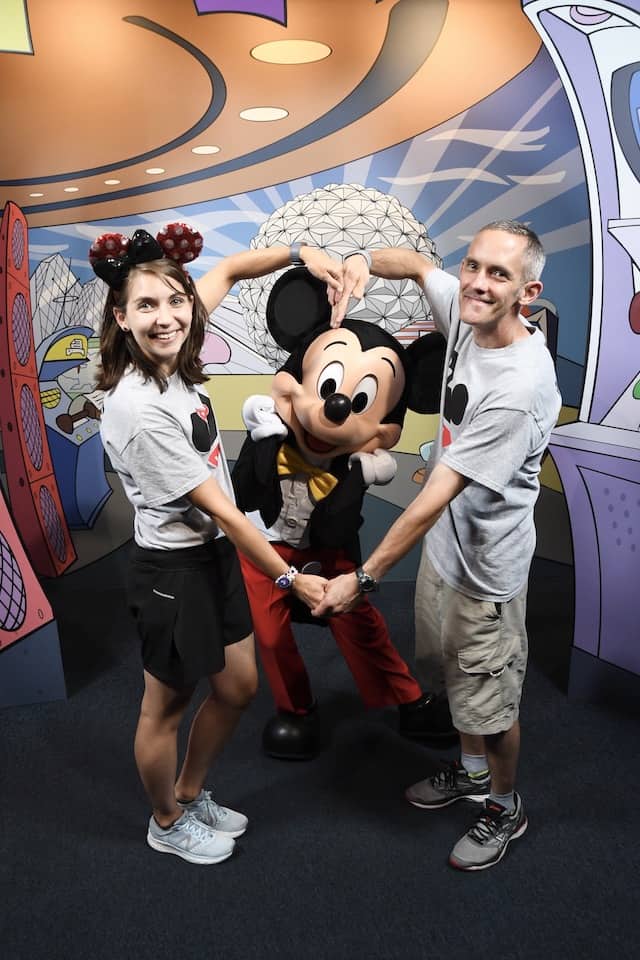 We learned soon after Walt Disney World proposed their reopening plan that many Guest experiences and entertainment options would either be cancelled or modified during the initial phased reopening.
This included parades, nighttime fireworks, stage shows, and character meet and greets.  Read more about this HERE.
Even with the cancellation of character meet and greets, Disney Parks has a plan to share the magic while also following social distancing protocols.
"Our characters will still be in the parks to entertain and delight our guests. additionally you'll be able to experience many favorite attractions and dozens of entertainment offerings."

Disney Parks
Magic Kingdom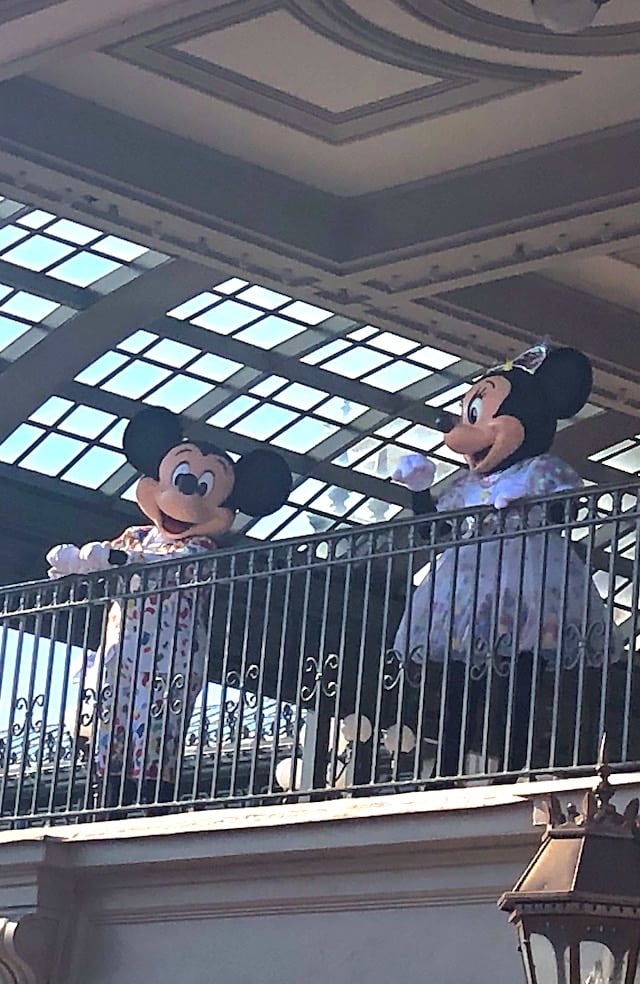 A great big hug from Mickey Mouse is without a doubt my very favorite part of visiting the Disney Parks. I wondered if I would still feel the same level of Disney magic even without the character meet and greets.
We were so excited as we entered Magic Kingdom to find Mickey and friends standing at the top of the Main Street Train Station.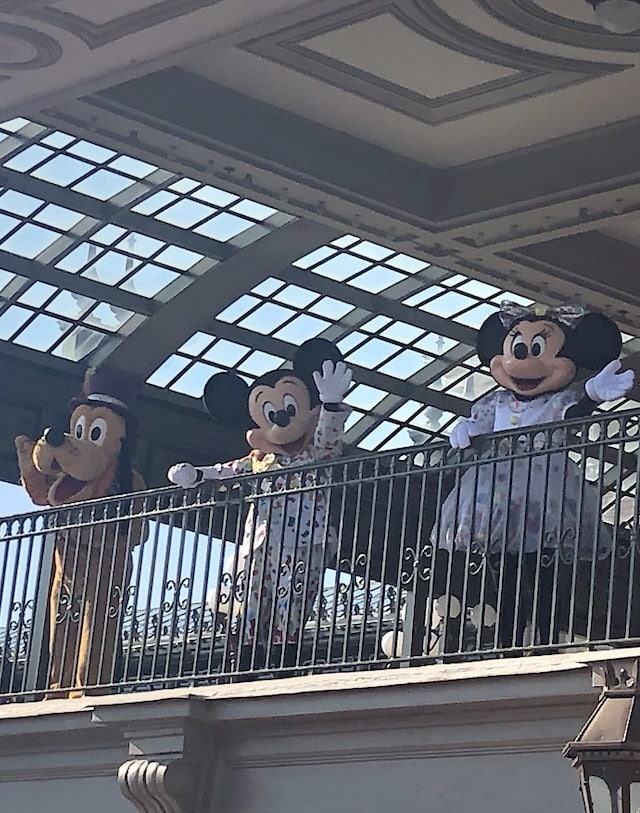 It was amazing to see how well each character interacted with Guests. Characters were blowing kisses, pointing to a special pair of Mickey ears, and even drawing a heart with their hands to let you know that they loved your ears.
Be sure to check Character Locator to find updated information for all of the great Character Cavalcades and Pop-Up Characters.
Mickey and Friends Cavalcade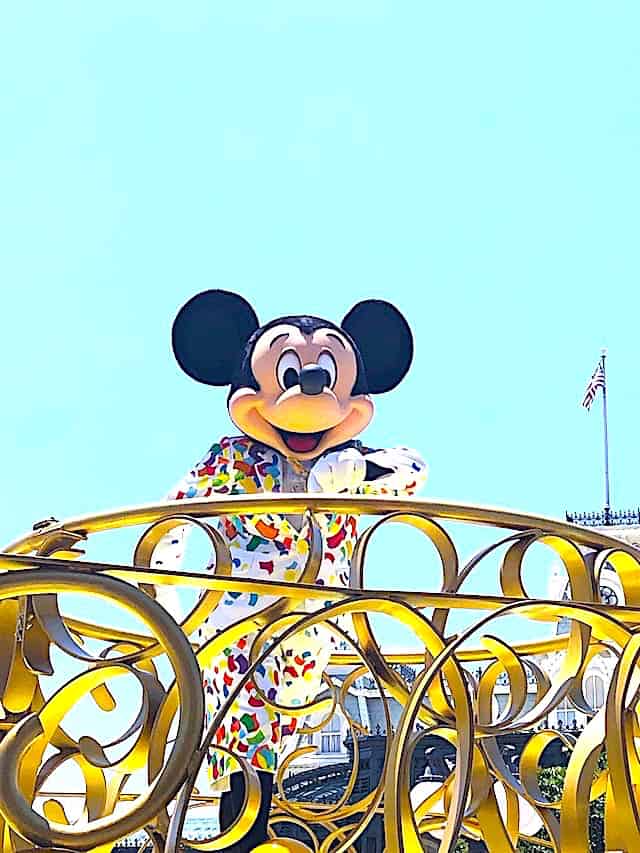 Throughout the day Guests could enjoy special character cavalcades. My absolute favorite was the cavalcade featuring Mickey Mouse and his friends.
This cavalcade featured the same great music and character outfits as the "Get Your Ears On" dance party in honor of Mickey Mouse's 90th birthday celebration.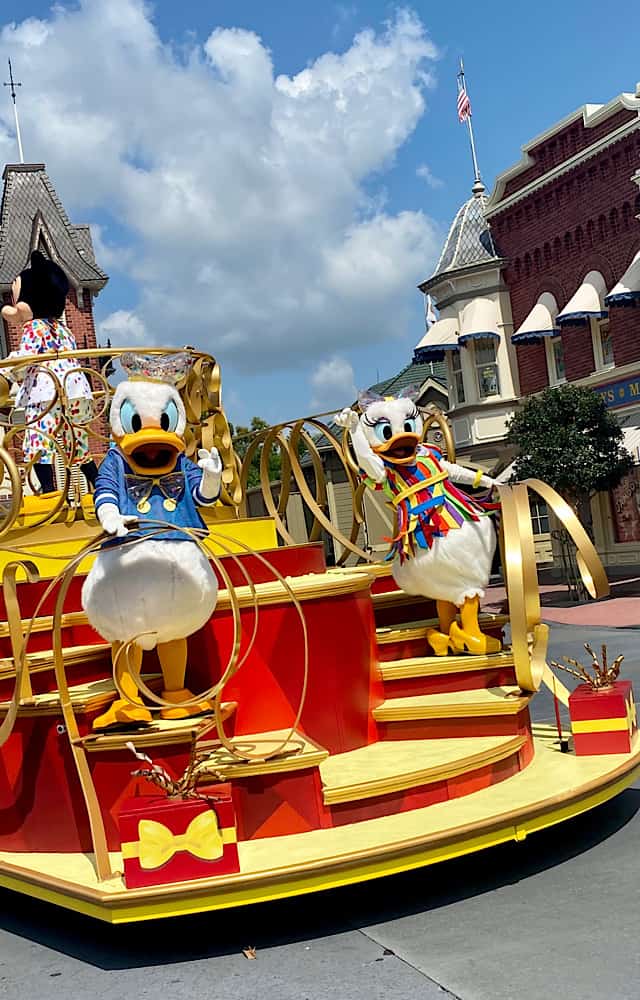 This was such a great Character Cavalcade and it even included dancers and stilt walkers. It was such a fun surprise to hear the upbeat music and begin running to the parade route to see who may be coming.
Of course the highlight of my day was standing on Main Street to see Mickey and Minnie greeting all of the Guests from his float.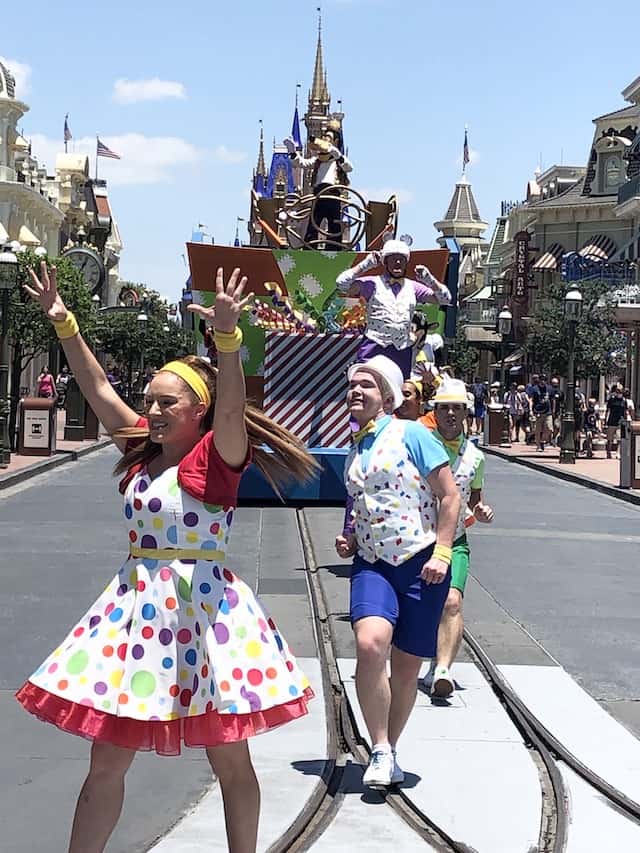 Joining Mickey and Minnie were Clarabelle Cow, Goofy, Max (Goofy's son), Donald Duck, Daisy Duck and Donald's friends (3 Caballeros).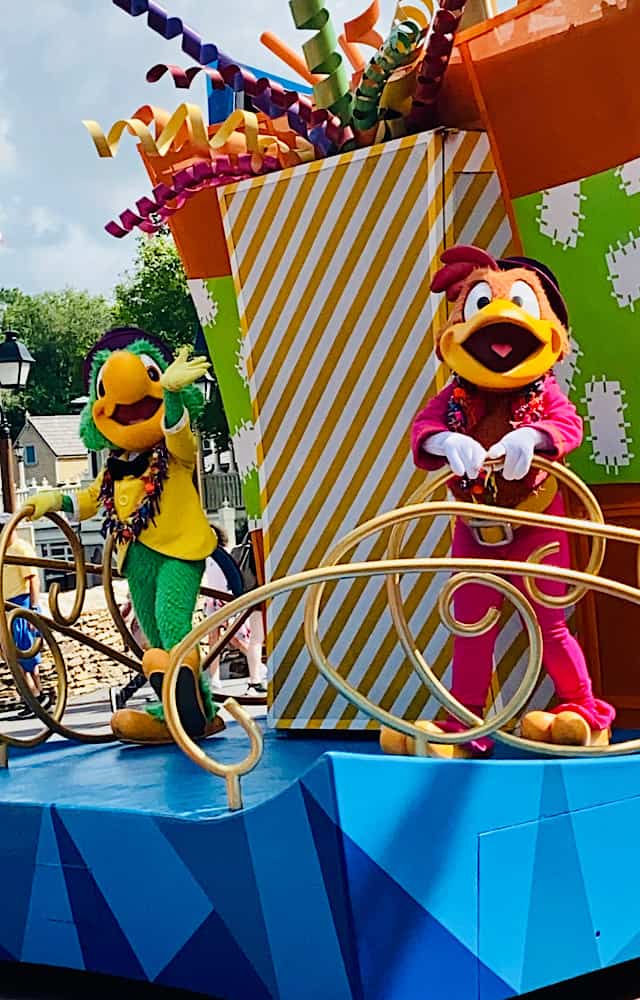 Princess Cavalcade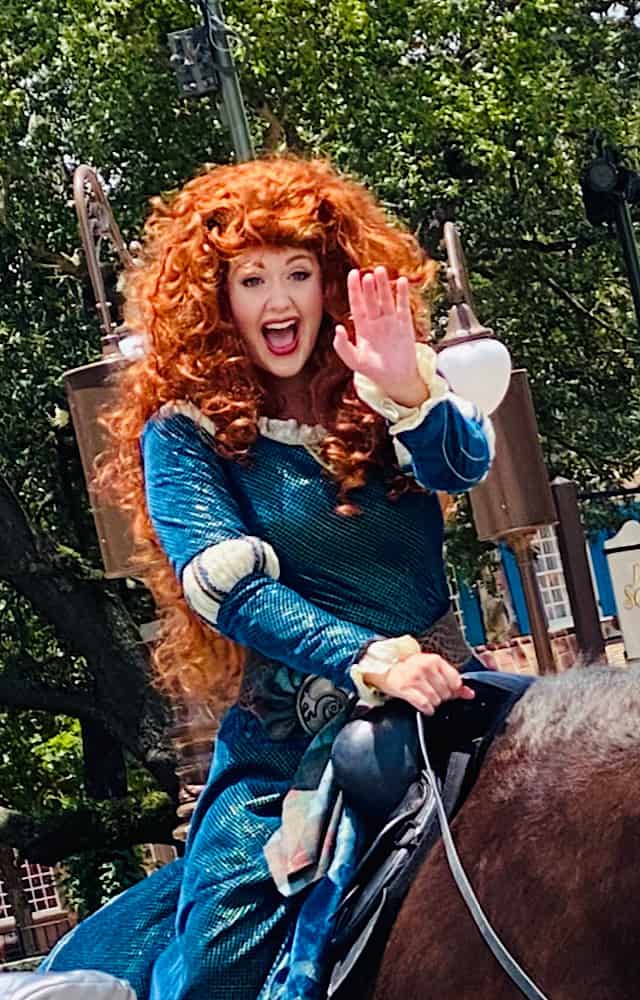 The Princesses arrived in royal fanfare as Merida led the way of this royal Character Cavalcade by riding in on a beautiful Clydesdale horse.
Merida is my oldest daughter's favorite princess, and she was so excited to hear that Merida was featured so beautifully in this Character Cavalcade.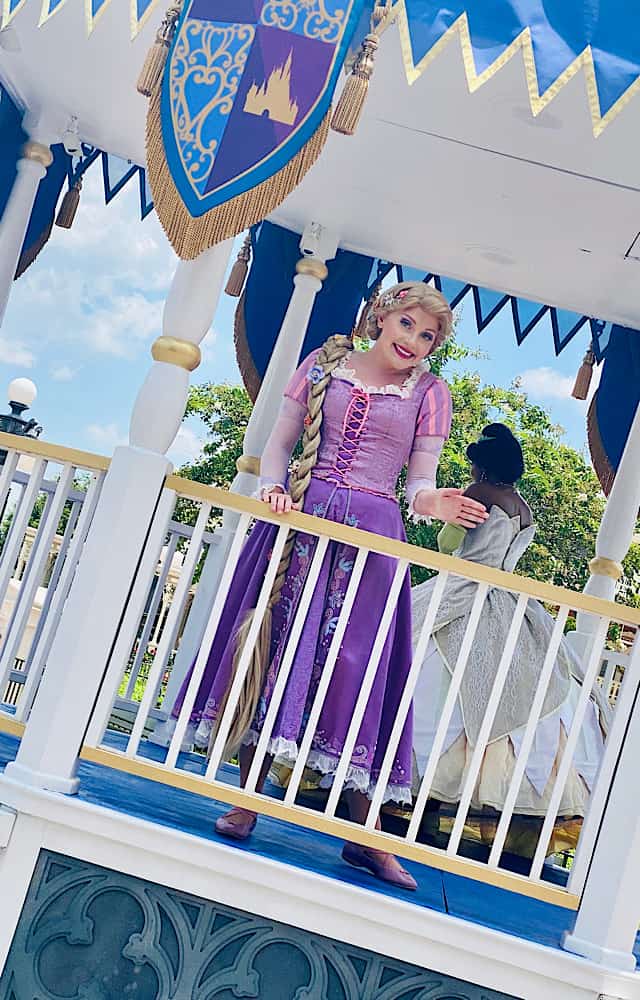 Behind Merida was the gazebo that has been used in the Festival of Fantasy Parade. Featured in the gazebo were Rapunzel and Tiana.
Each princess was careful to stay on opposite sides and gracefully crossed to the opposite side to greet Guests while also maintaining social distancing from each other.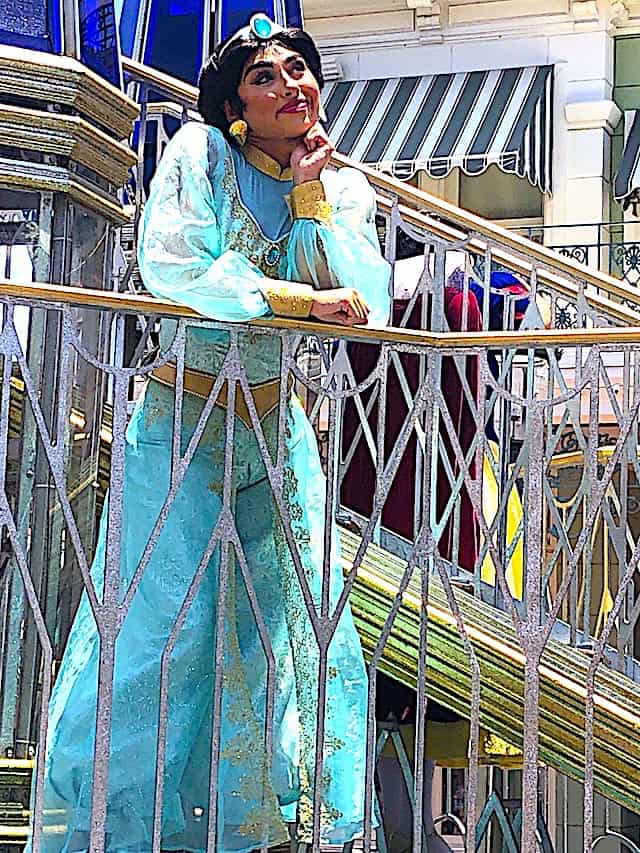 The royal fanfare ended with the mirrored castle float that has been used in Mickey's Very Merry Christmas Party. This float allowed many princesses to greet Guests while maintaining social distancing.
On this float we were greeted by Jasmine, Ariel, Aurora, Snow White, Elena, Belle, Cinderella and even the Fairy Godmother.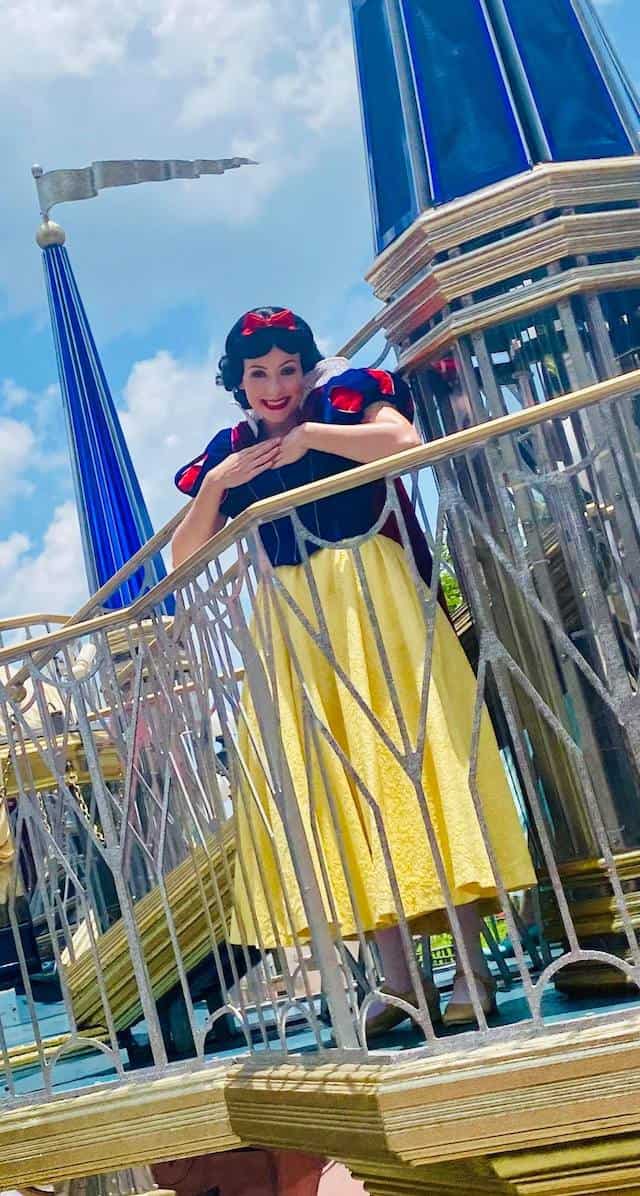 Tinker Bell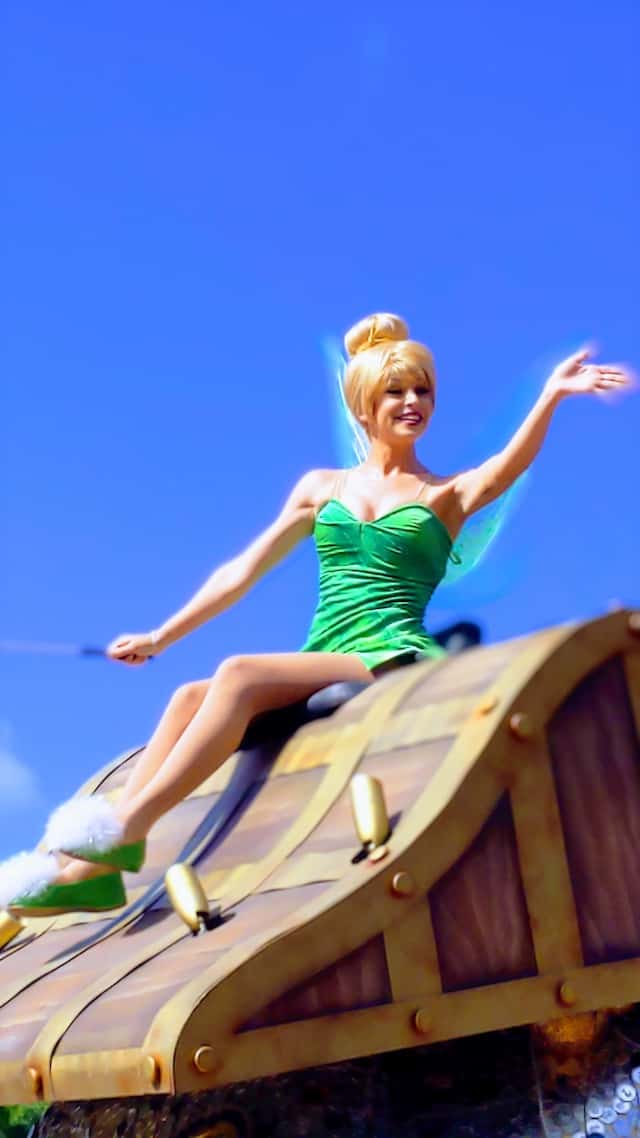 All it takes is faith, trust, and a little bit of pixie dust.
We were all believing that we could fly as we saw Tinker Bell sprinkling her magical pixie dust throughout the Magic Kingdom.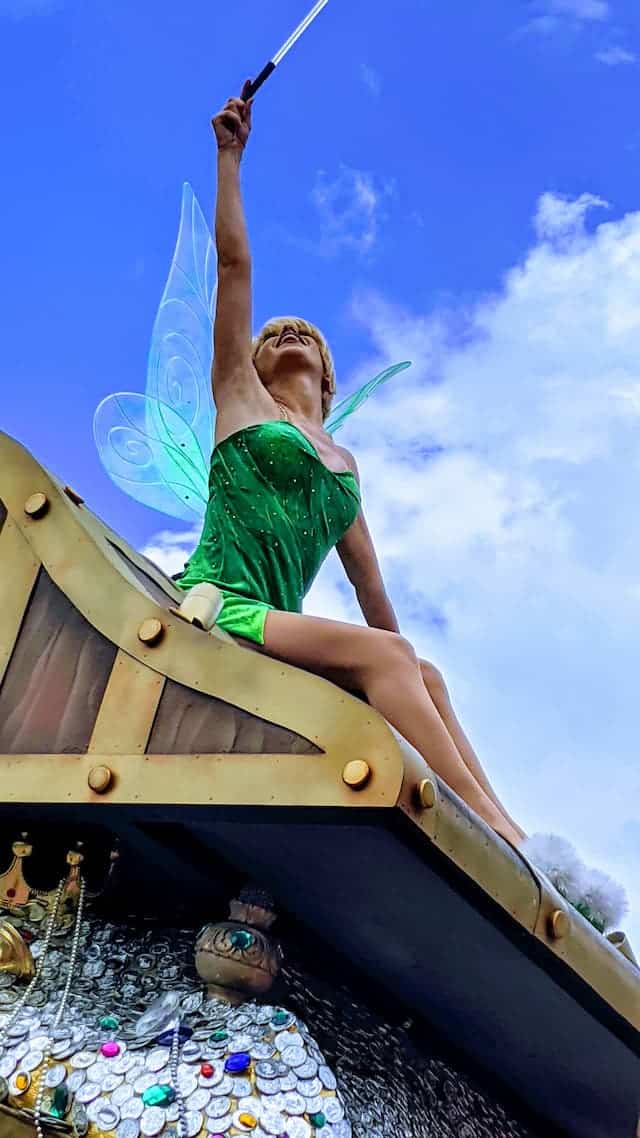 Chip n' Dale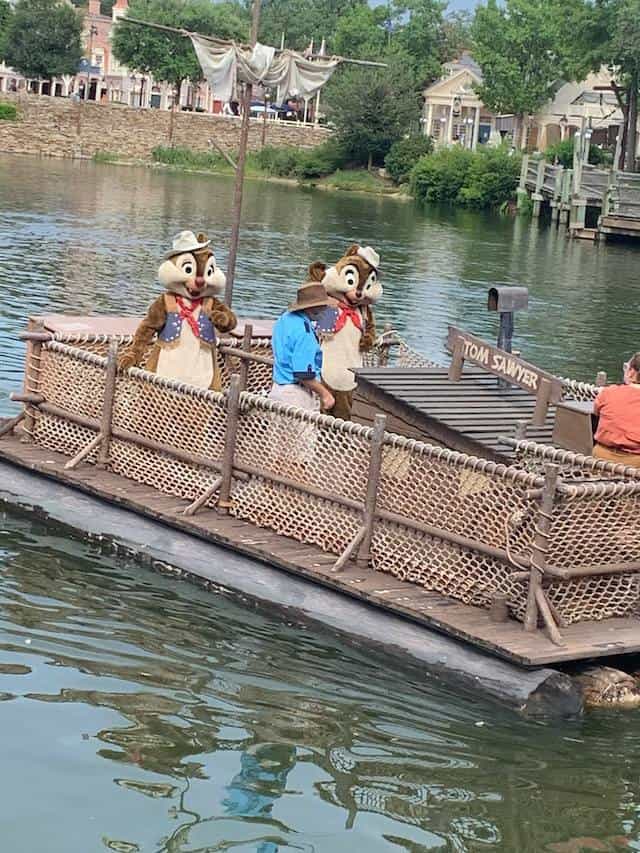 This adorable duo could be seen traveling aboard the Tom Sawyer rafts in the Rivers of America.
These chipmunks greeted Guests in Frontierland and they looked as though they were ready for an adventure on Tom Sawyer's Island.
Hundred Acre Wood Friends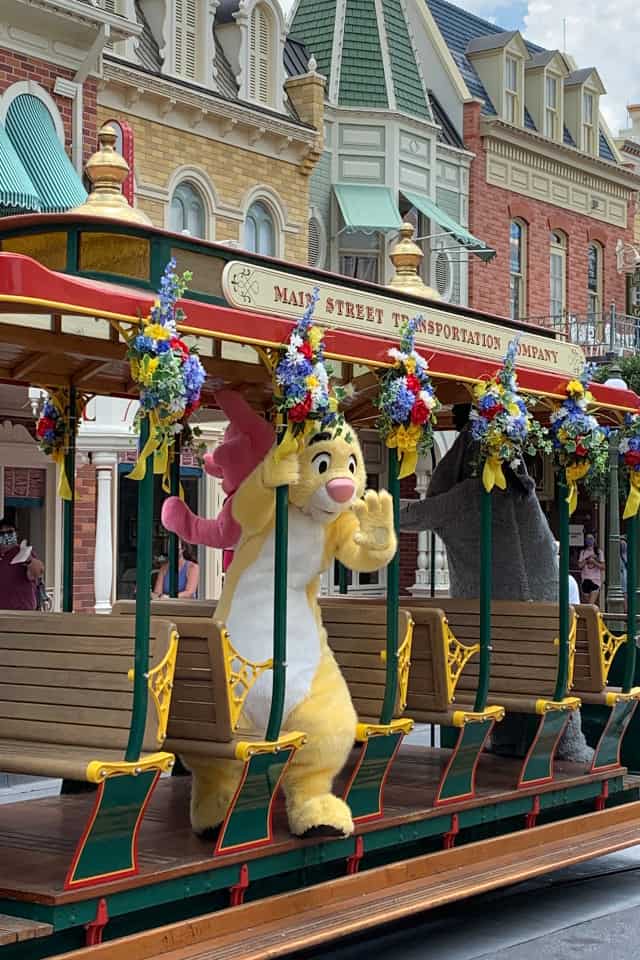 This cavalcade made use of the Main Street Trolly. Disney fans both young and the young at heart loved seeing some of our favorite friends from the Hundred Acre Wood including Rabbit, Eeyore, and Piglet.
Fantasyland Cavalcade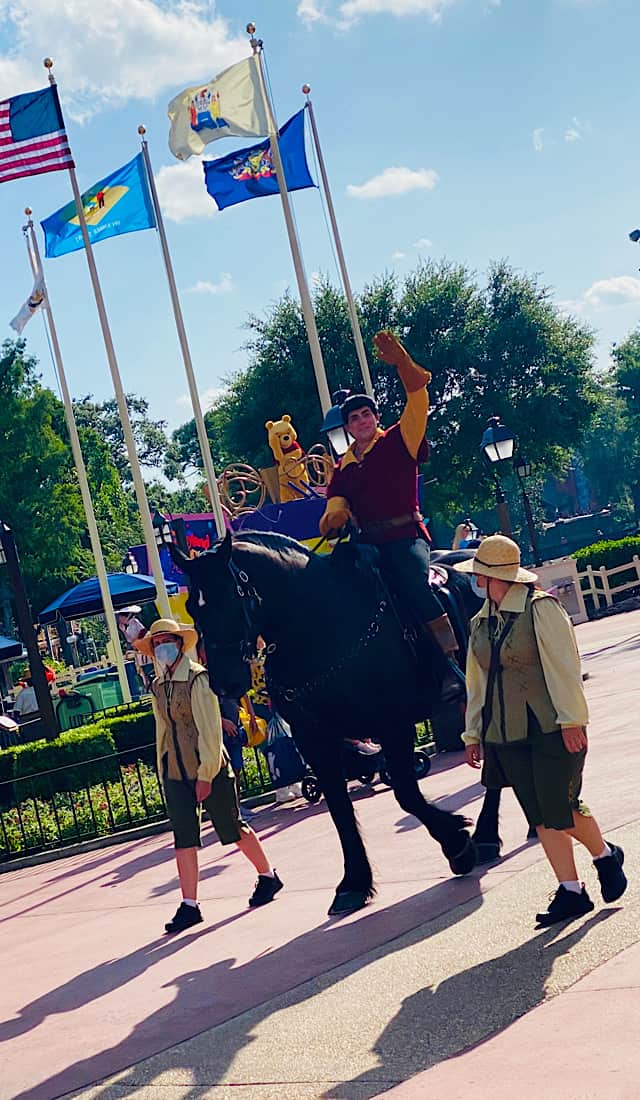 Gaston began this Character Cavalcade in true style proving "My what a guy, Gaston!" He came down the parade route on a beautiful Clydesdale horse.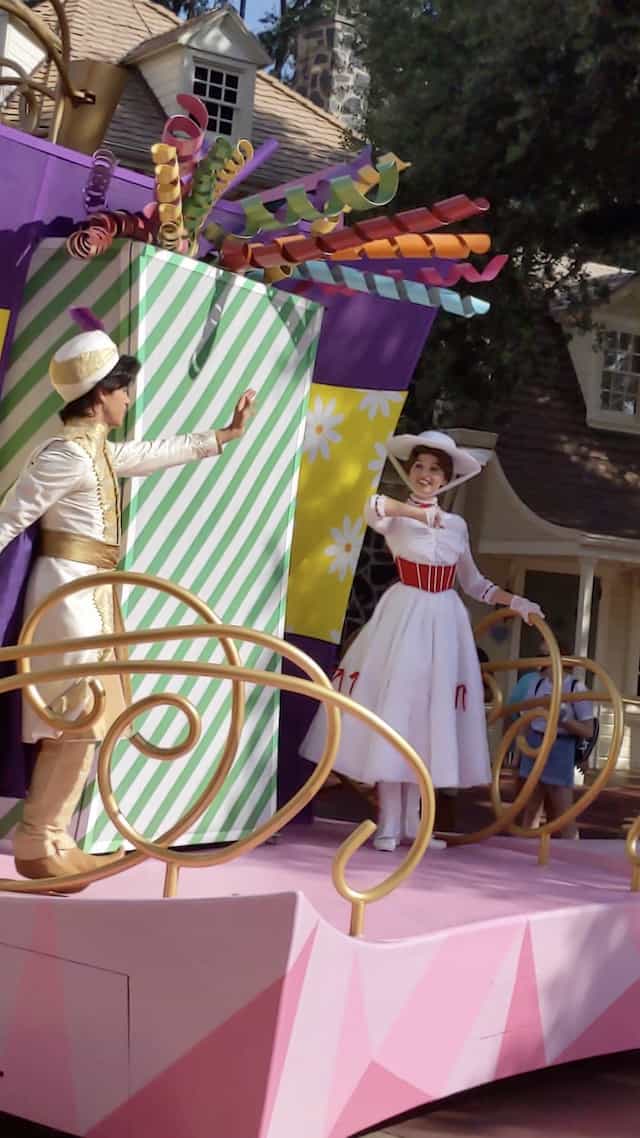 We also saw our favorite "Diamond in the Rough." Aladdin, dressed as Prince Ali.
Also featured beside him was Mary Poppins who of course was "practically perfect in every way."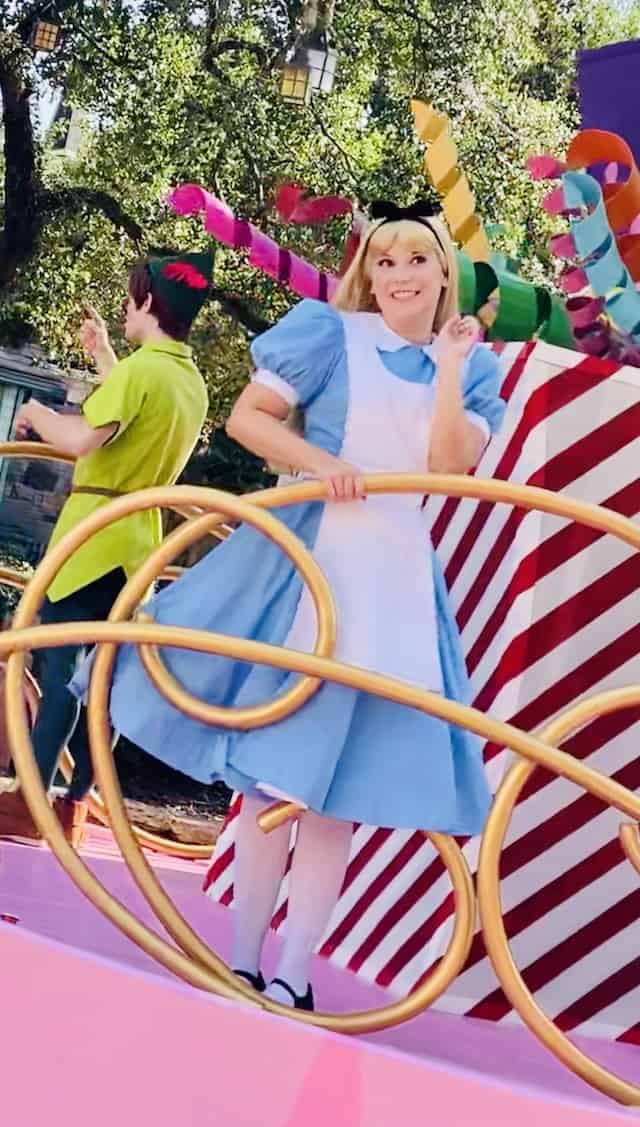 We loved seeing a couple of our favorite classic characters such as Alice and Peter Pan.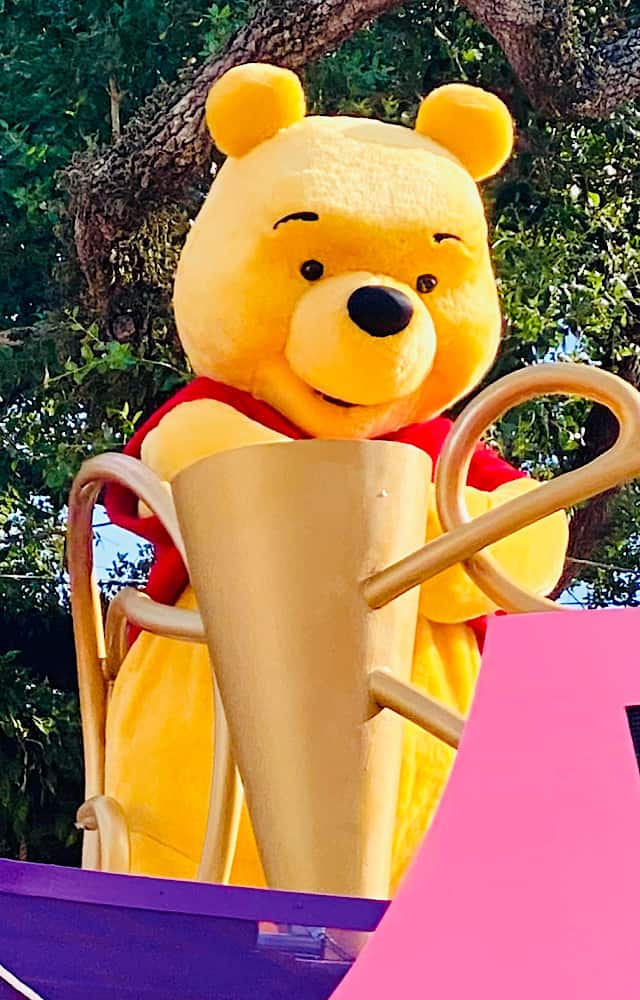 Our favorite chubby little cubby, Winnie the Pooh, was atop of this float greeting Guests throughout the Magic Kingdom while Tigger did what Tiggers do best and bounced along the streets of the Magic Kingdom.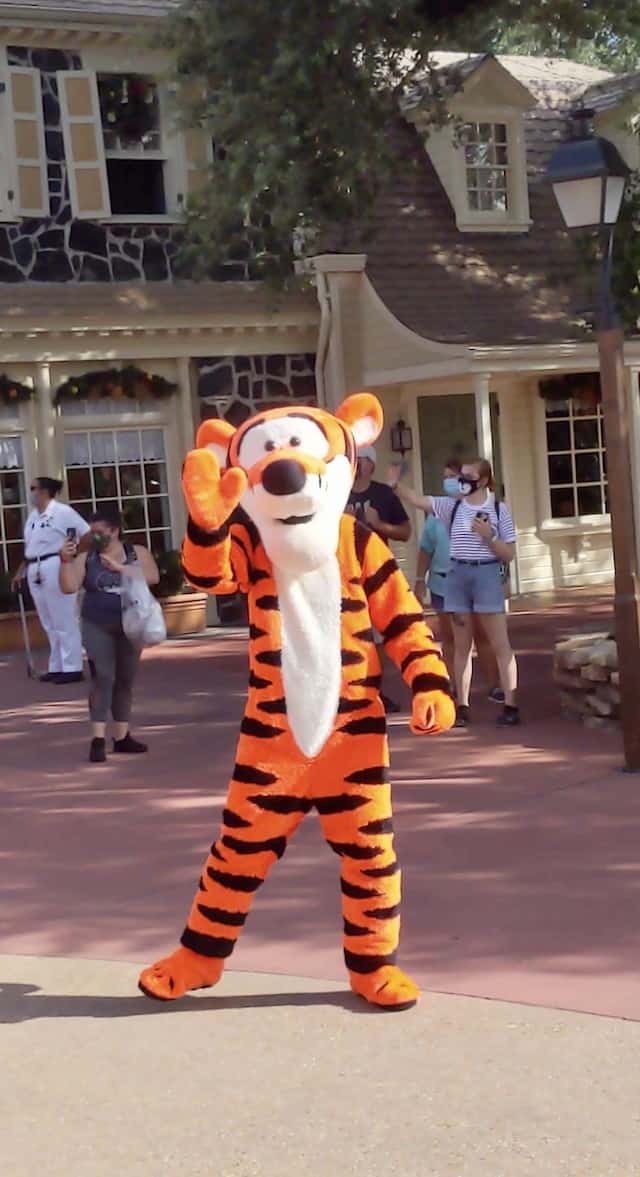 Pop-up Characters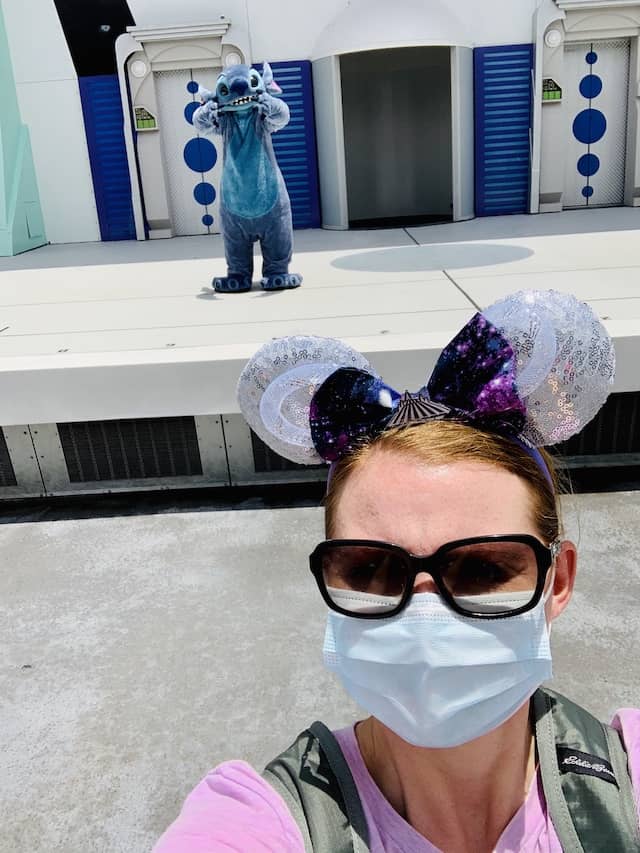 Also Guests can find great pop-up characters that will appear throughout the day.
Monica was able to grab a selfie with Stitch at the Tomorrowland stage in Magic Kingdom.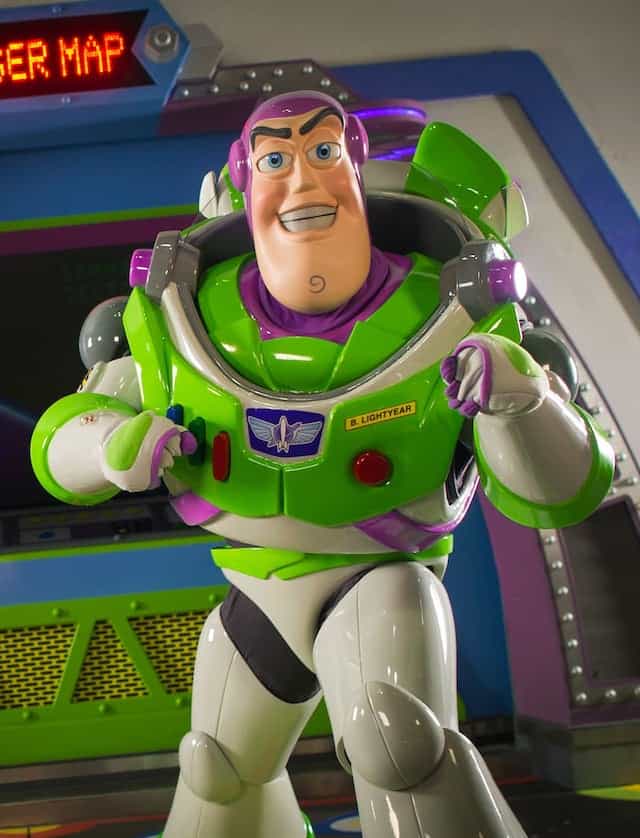 Buzz Lightyear was also seen at the Tomrrowland Stage to have pictures taken with Guests.
Remember that at this time Cast Members are not able to take photos with your cameras for you. Read more about that HERE.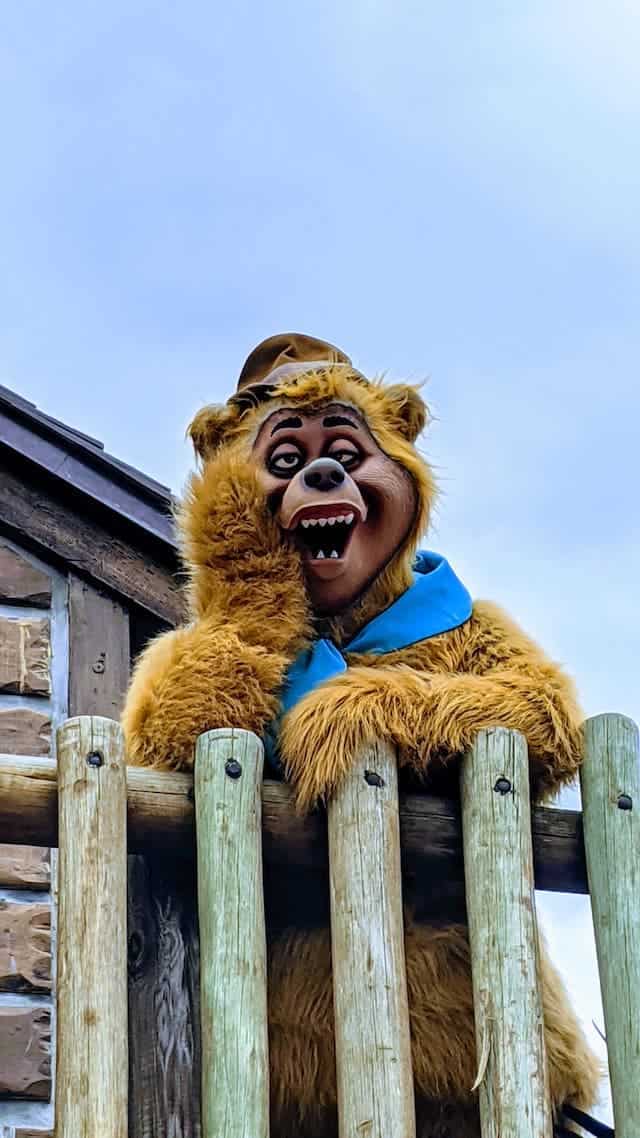 Our favorite Country Bears could be found in Frontierland above the Country Bear Theatre.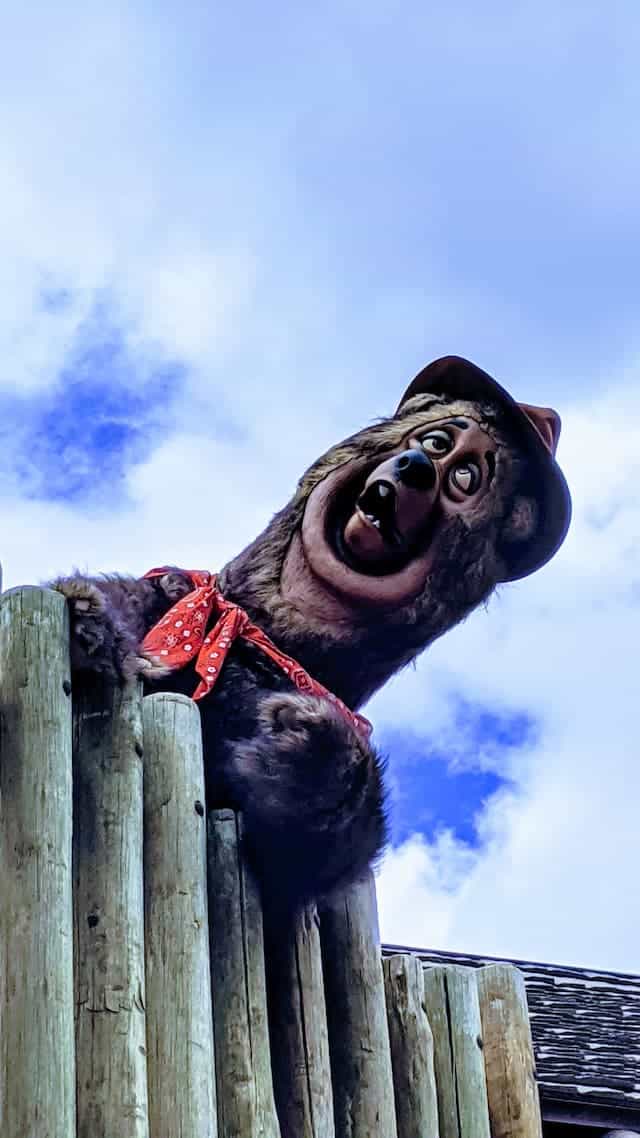 All Pirate Crew members will be happy to spy Captain Jack Sparrow located near the Pirates of the Caribbean attraction.
He offered great interactions with Guests passing through. Maggie was able to take a selfie with him while maintaining social distancing.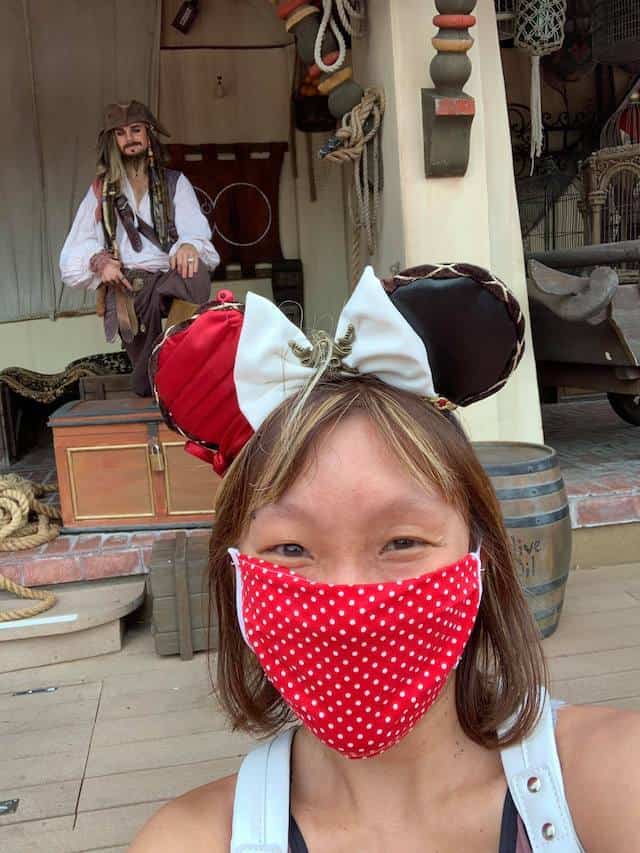 As we walked towards Cinderella Castle we saw our favorite evil step-sisters, Drizella and Anastasia.
They saw our Kenny the Pirate writing Crew in our matching shirts and pirate ears and they called us the "Rodent Family." They were so much fun for Guests both the young and the young at heart to interact with.
Animal Kingdom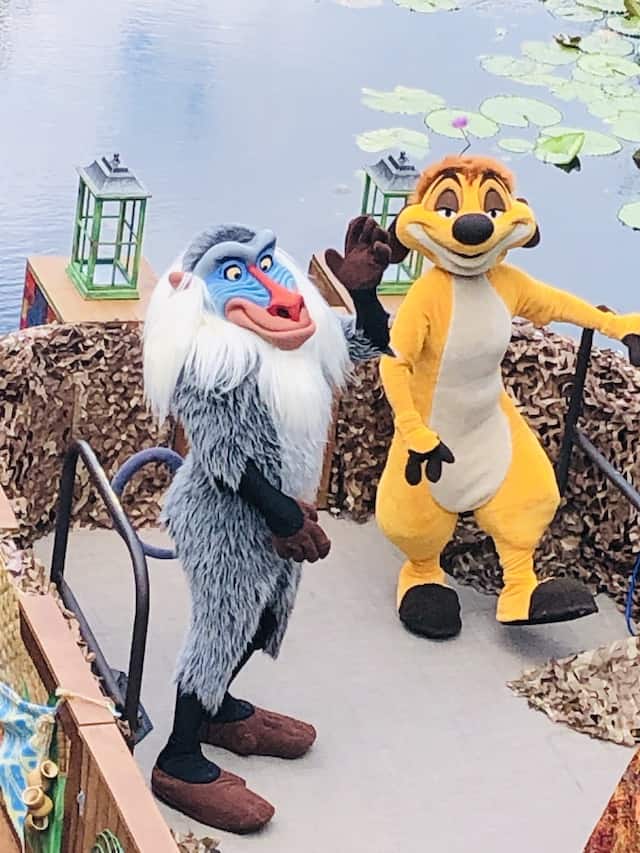 In Disney's Animal Kingdom we were given a small preview when the vice-president shared images on Instagram of the rafts that would be used for the characters to travel along the waterways through the Park.
We were greeted by both Timon and Rafiki from The Lion King.
Pocahontas and Meeko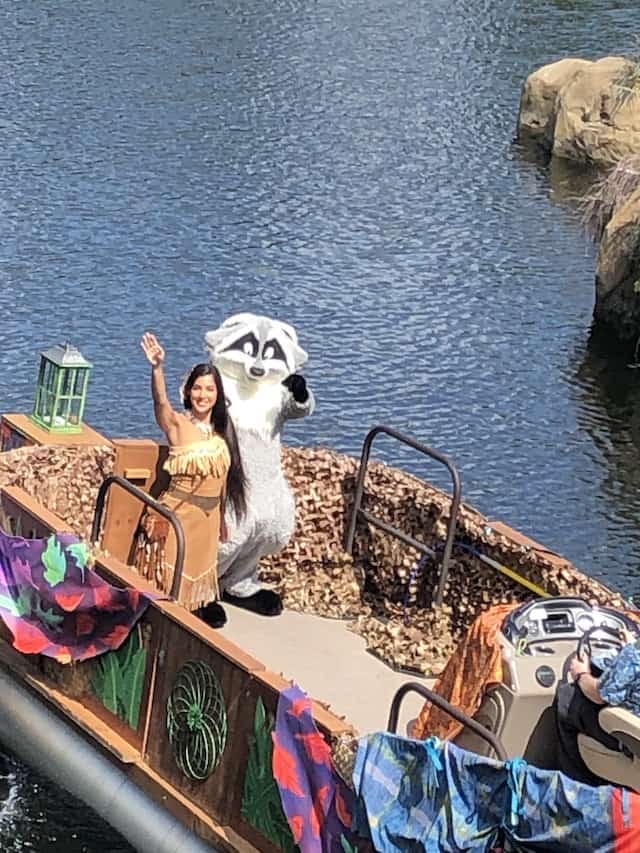 We also loved the opportunity to see Pocahontas and her trusty sidekick Meeko travel just around the riverbed.
Mickey, Minnie, and Pluto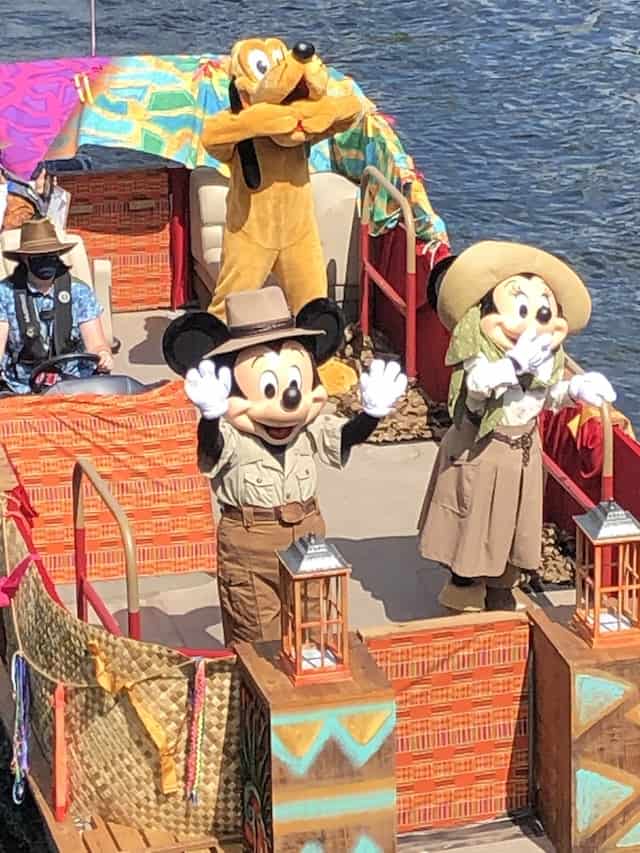 My favorite had to be seeing Mickey and Minnie dressed in their Adventure Outpost attire.
Pluto also came aboard for a fun ride through the Animal Kingdom.
Discovery Island Drummers
You'll also find the talented Discovery Island Drummers floating along the Discovery River.
You'll hear their joyous drumming from a distance, but the time you actually see them is quite brief.
Chip 'n Dale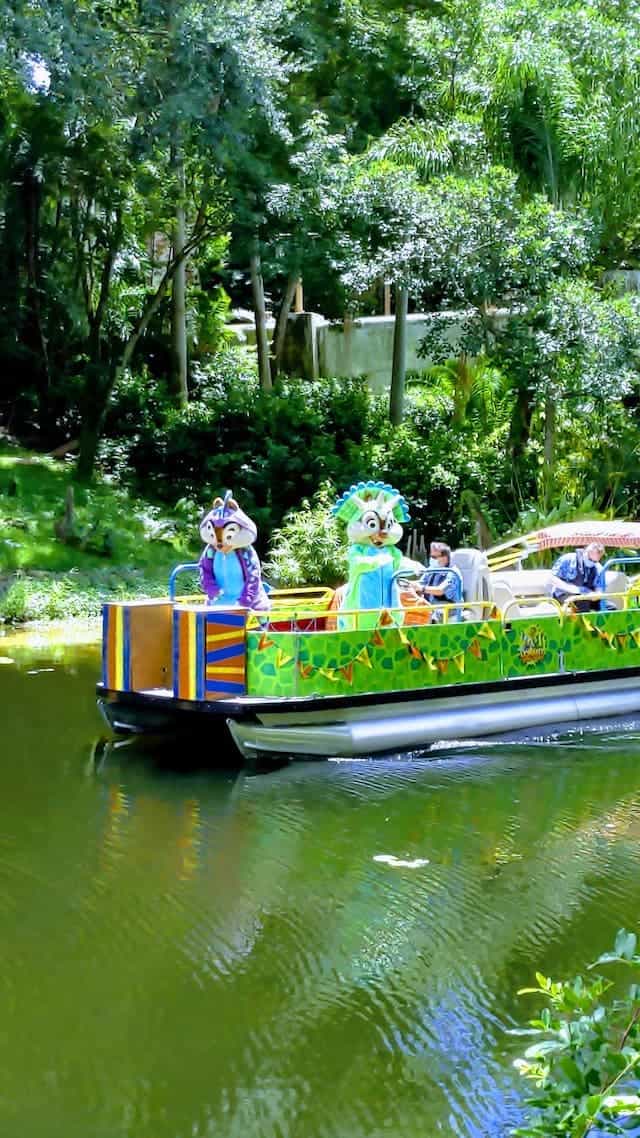 We love Chip 'n Dale in their adorable dinosaur costumes that they wear in DinoLand. We were so excited to be able to see these cuties.
Goofy often joins Chip 'n Dale as they sail around the waterways of the Animal Kingdom, but he was a little tied up when we visited Animal Kingdom on this day.
Donald Duck Floatilla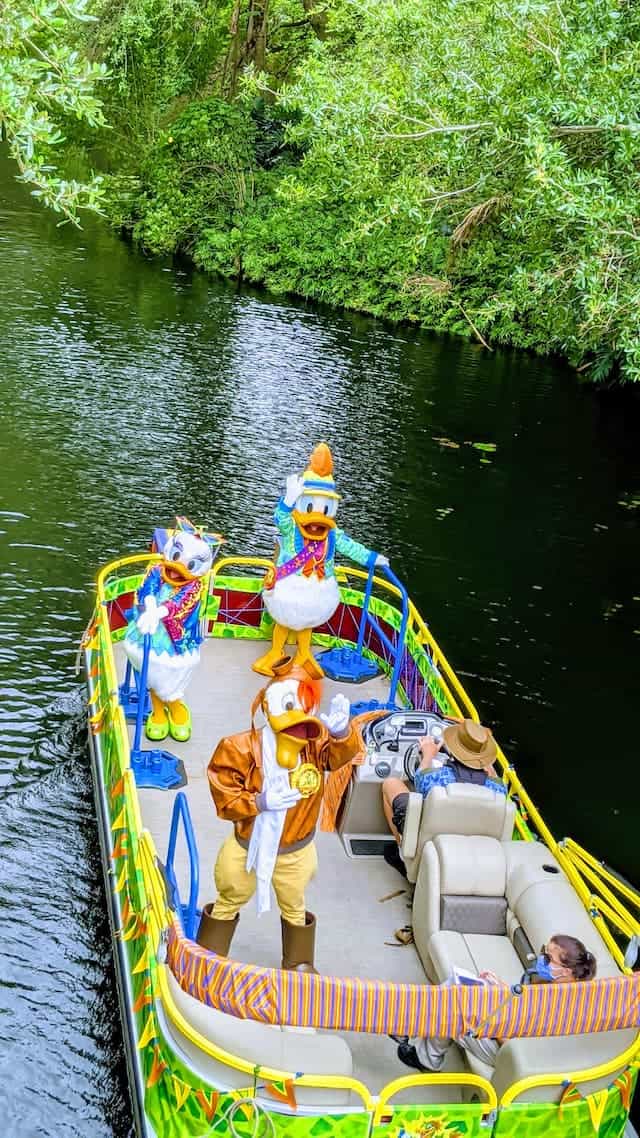 Also from DinoLand we have Launchpad, Donald, and Daisy.
Their vibrant colored costumes and upbeat music make this cavalcade a "can't miss" character interaction.
Hollywood Studios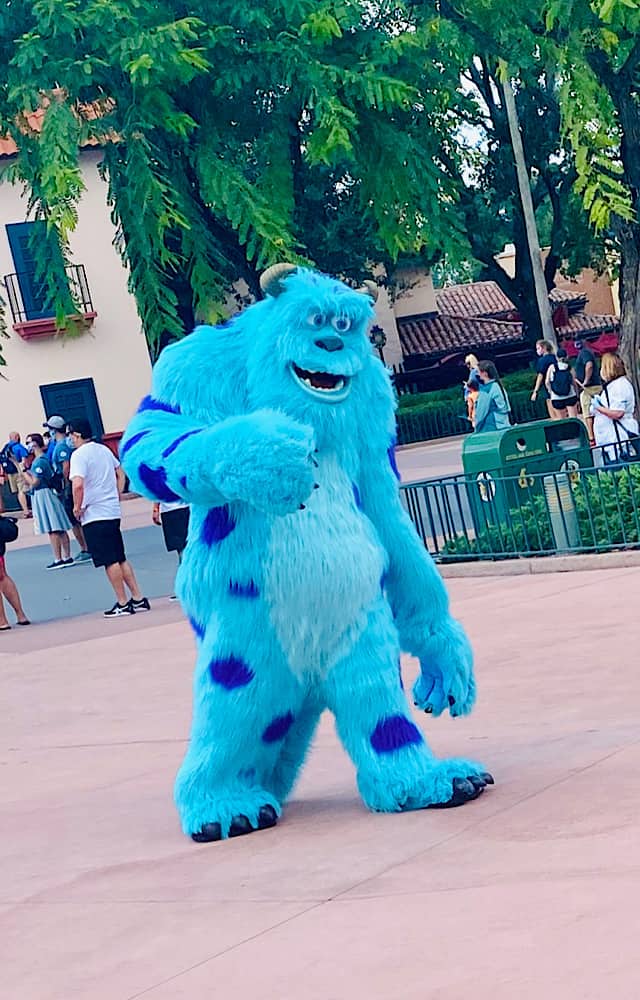 Hollywood Studios was such a fun park to experience the characters. Each Character Cavalcade included so many great characters.
Our favorite pals cruised down Hollywood Boulevard to greet Guests. Sulley was featured in the Pixar Pals Character Cavalcade.
Pixar Pals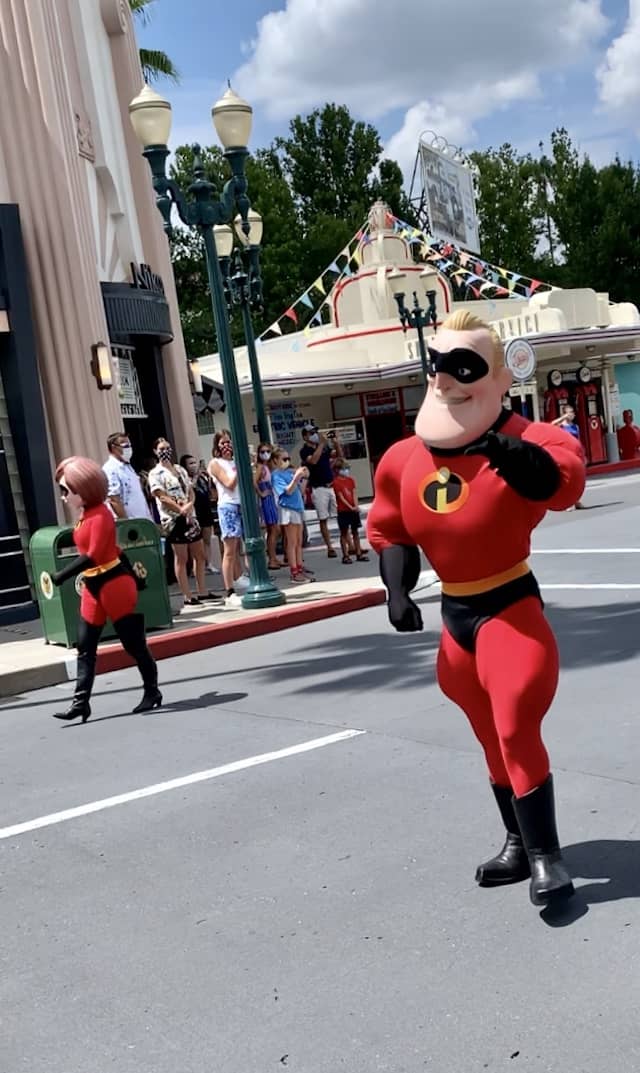 Leading the Pixar Pals was our favorite "Incredible" family with Mr. Incredible, Elastagirl, and Edna Mode.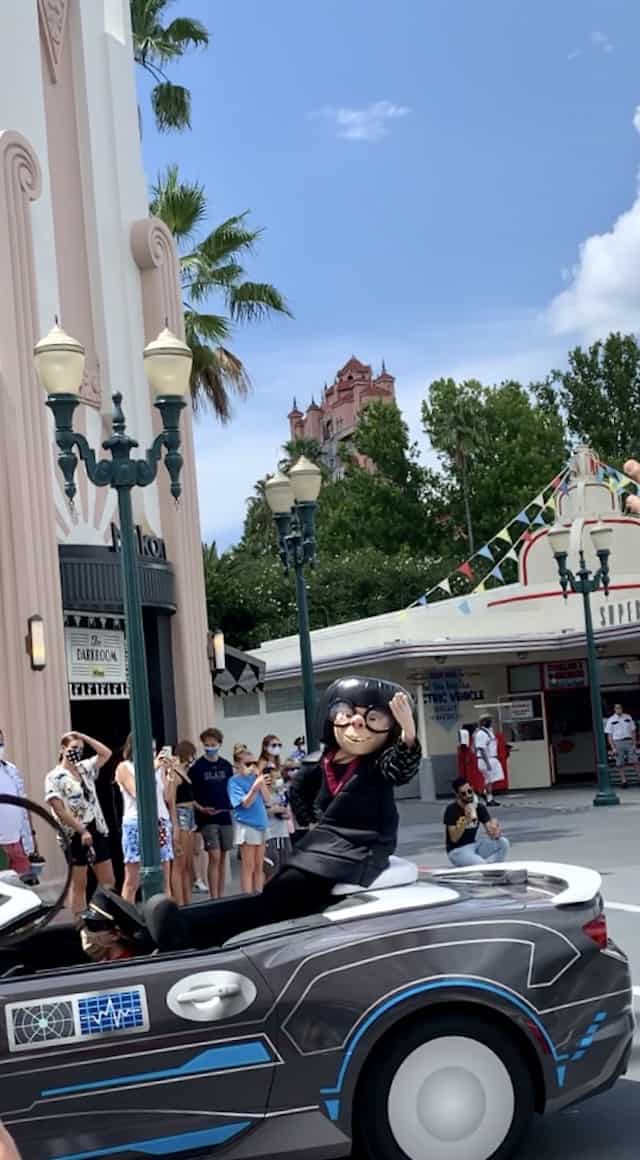 One of my favorite new additions to Hollywood Studios has to be Toy Story Land.
We were so excited to see the army of green soldiers announcing the arrival of our favorite Toy Story pals Woody, Buzz Lightyear, and Jessie.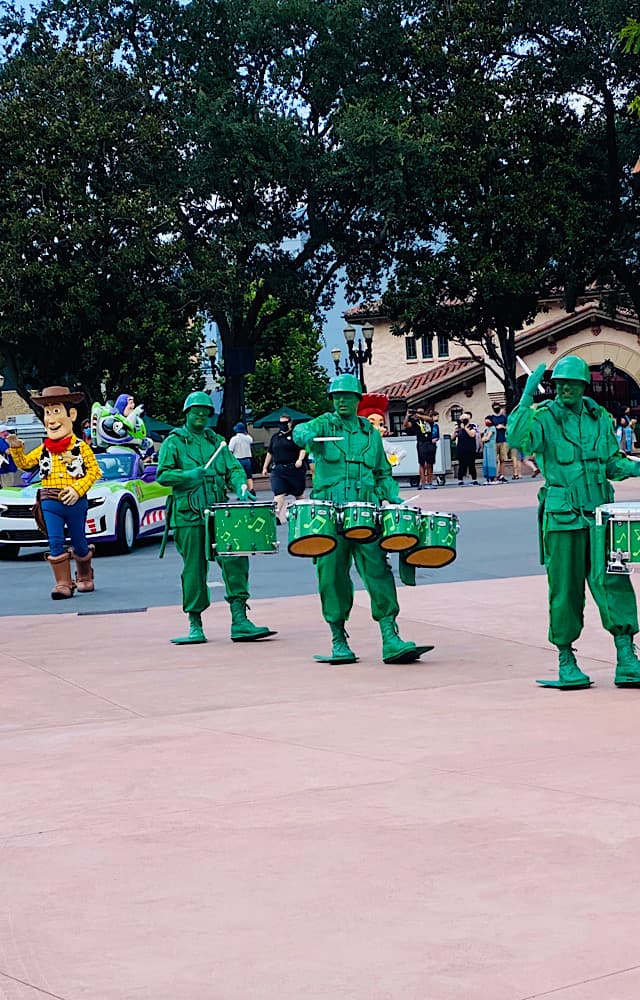 It looks like Buzz traded in his galactic spaceship for a decked out convertible. "To Infinity and Beyond!"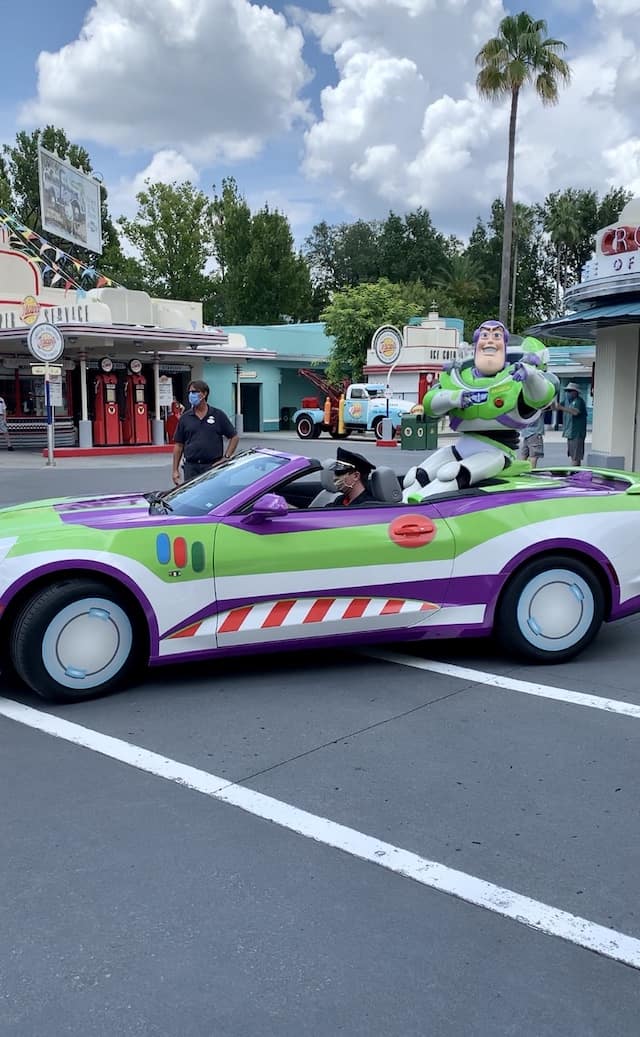 Mickey & Pals Cavalcade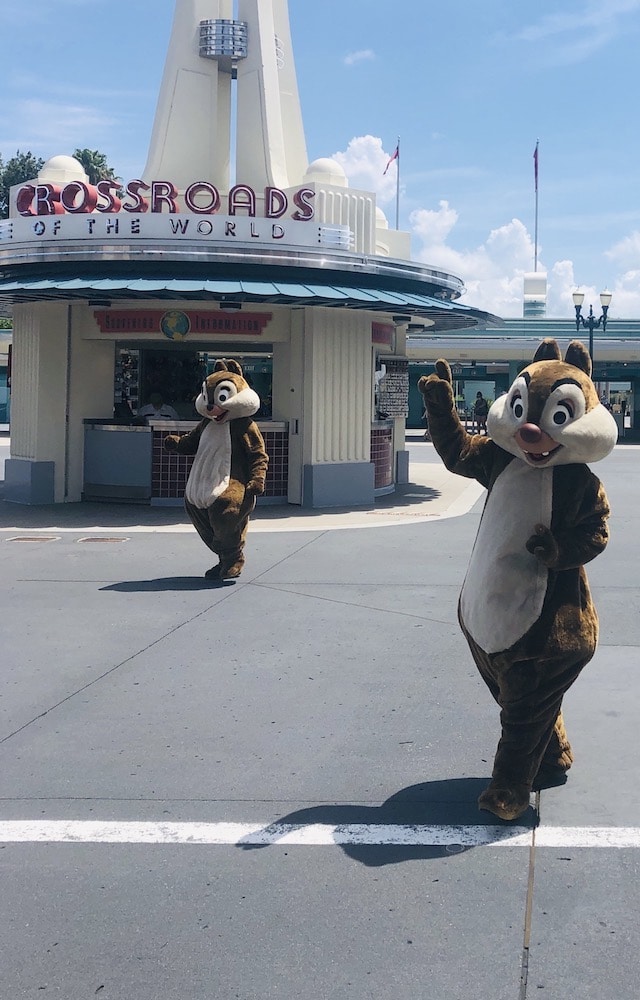 Our favorite little chipmunks began this Character Cavalcade.
Chip 'n Dale are simply the cutest and my daughter's favorite characters.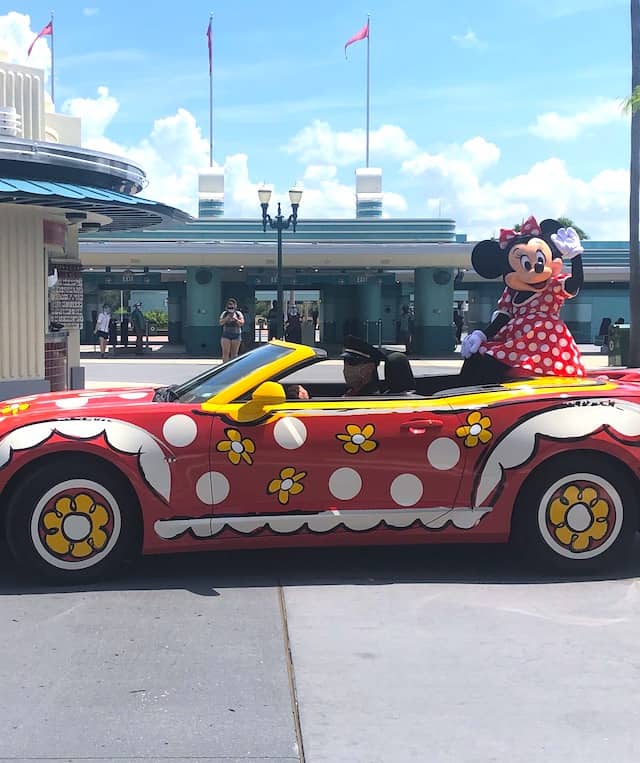 Next, came Minnie in her adorable convertible.
I was so impressed with the details that were added to each car. Minnie's car looked as though she had just zoomed out of a cartoon with the polka dots, yellow daisies, and even yellow daisy wheels.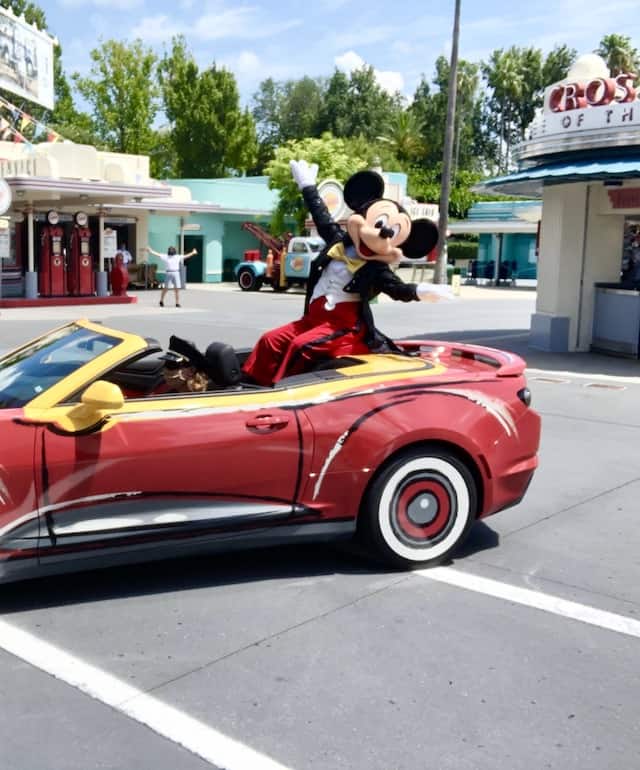 Pluto greeted Guests as Mickey Mouse came rolling down the boulevard in his very own cartoon themed ride.
I loved the cars because it reminded me of the newest attraction at Hollywood Studios, Mickey & Minnie's Runaway Railway.
Disney Junior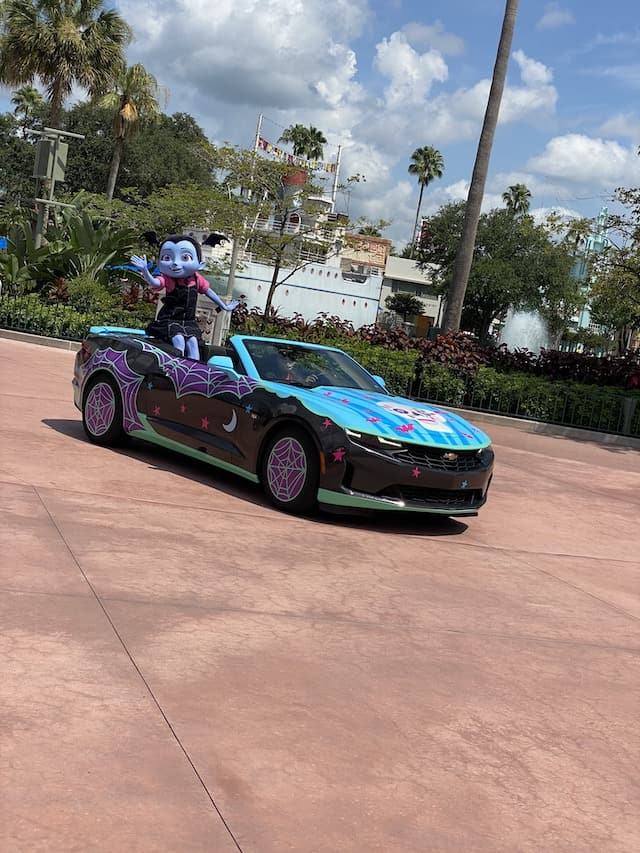 Unfortunately the Disney Junior Dance Party is unavailable at this time, but Disney Junior fans could still see 2 of their favorite Disney pals in their own special Disney Junior Cavalcade.
Guests could see one of the Disney Junior stars, Vampirina.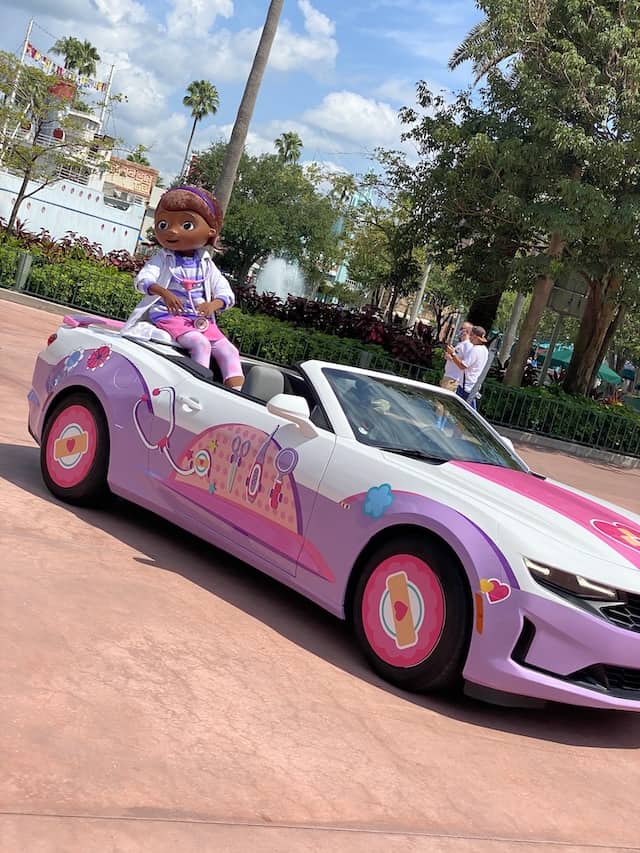 Doc McStuffins greeted Guests as well. Check out all of her doctor tools on the side of her ride. It looks like "The Doc Is In!"
Epcot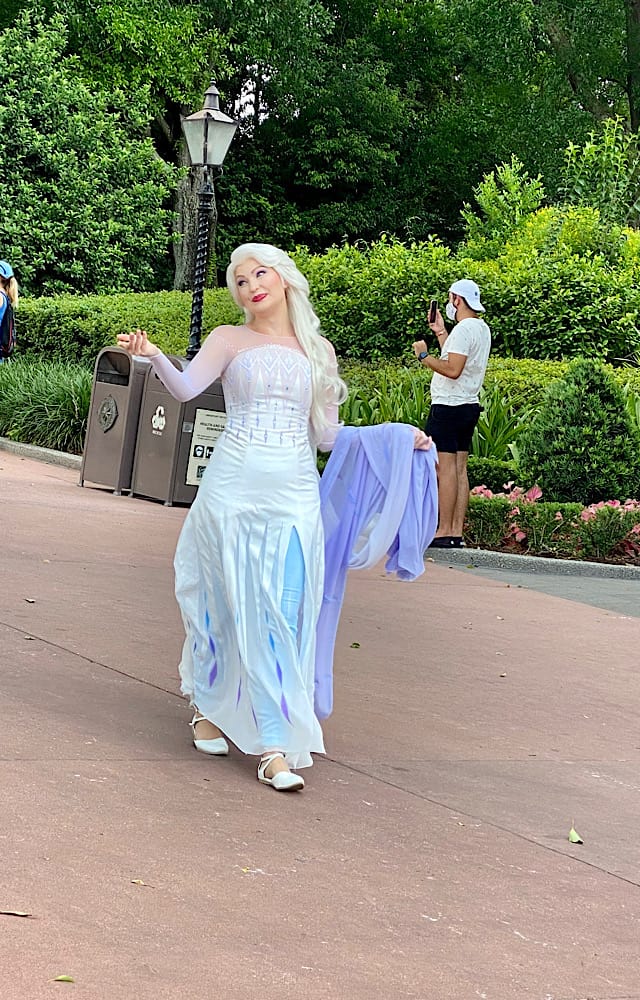 Elsa and Anna
The Character Cavalcades in Epcot travel throughout the World Showcase.
We were excited to see our favorite Sisters Forever both Anna and Elsa. Their pictures look absolutely gorgeous when captured near the Norway pavilion.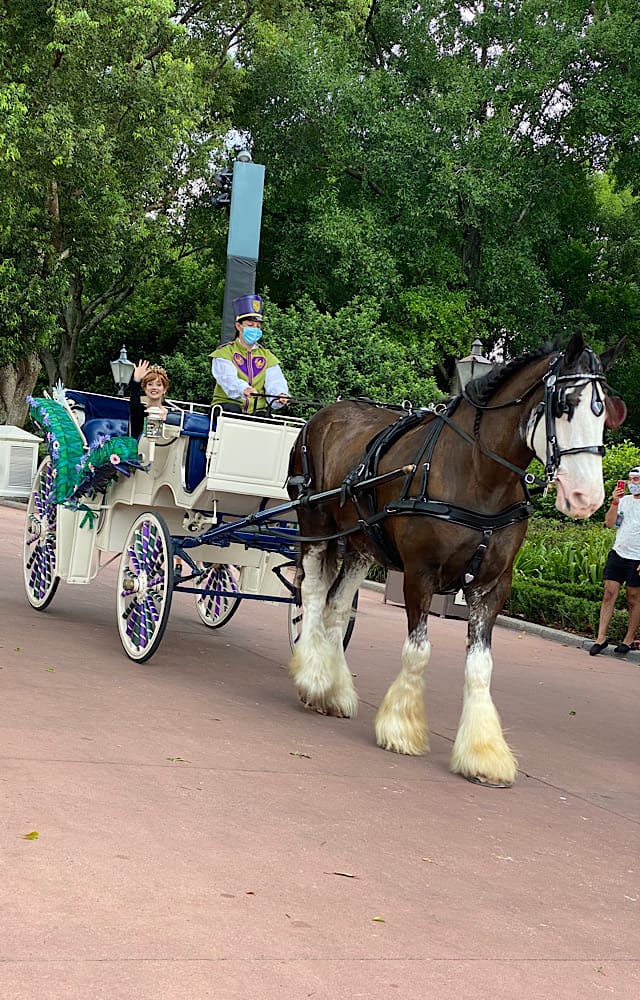 Mickey and Minnie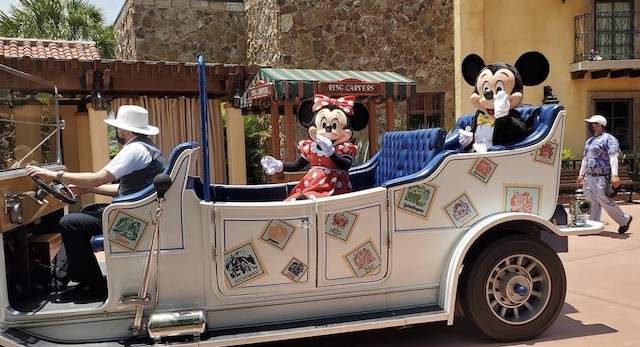 Mickey and Minnie truly are World Travelers as they can been seen in their car displaying all of their stamps they have received from traveling around the World Showcase.
Princess Cavalcade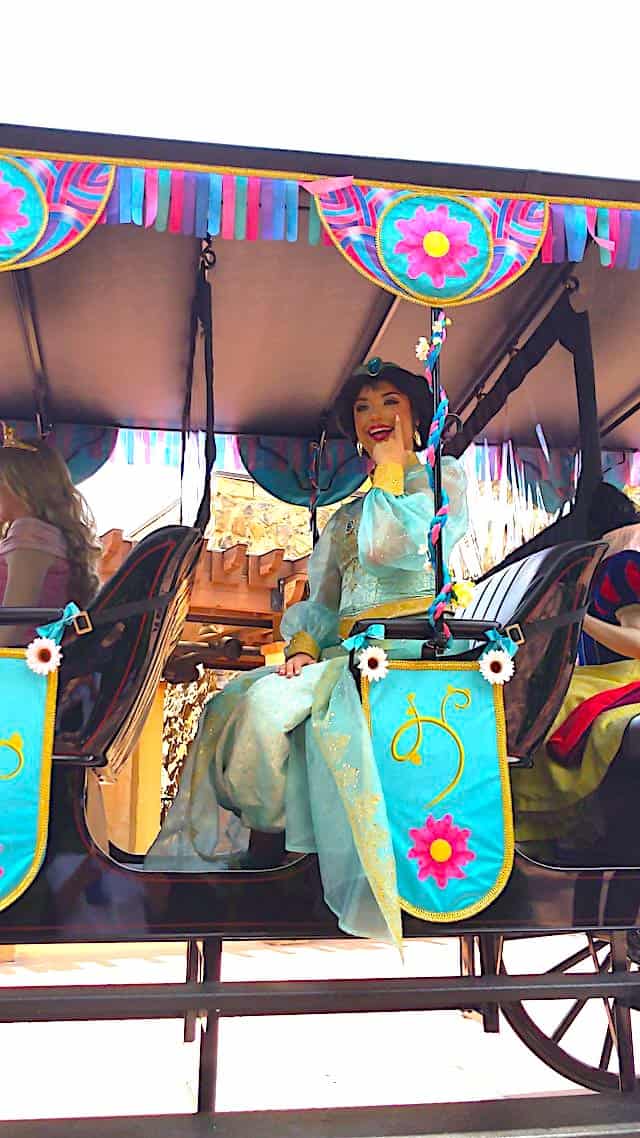 The Princesses arrived in full royal fanfare in a horse drawn carriage. We were excited to be greeted by Princess Aurora, Belle, Jasmine, and Snow White.
Each Princess sat on different sides of the trolley and partitions were installed to separate the seating. This was probably the most difficult to interact with the characters due to the clear partitions and that they were sitting down.
We preferred the Princess Cavalcade at Magic Kingdom to this held in Epcot.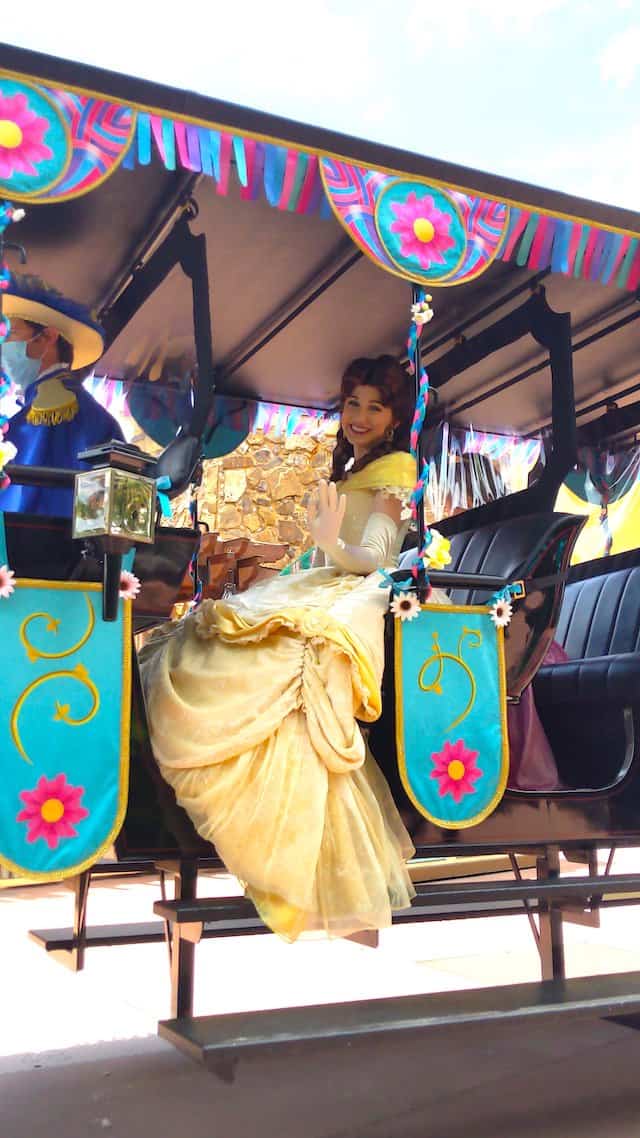 Pop-Up Characters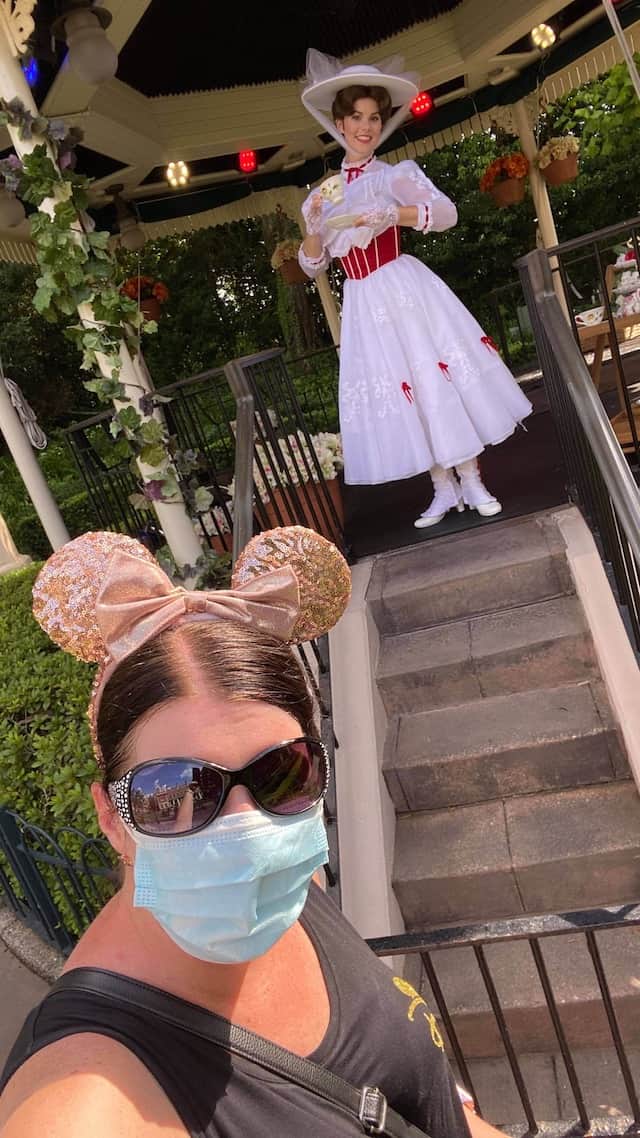 In the UK Pavilion you can find fun pop-up characters that are available for Guests to take photos with from a distance.
Jessica was able to grab a photo with Mary Poppins as she greeted Guests while enjoying a nice cup of tea.
Also seen in the UK World Showcase, Guests can expect to see Alice.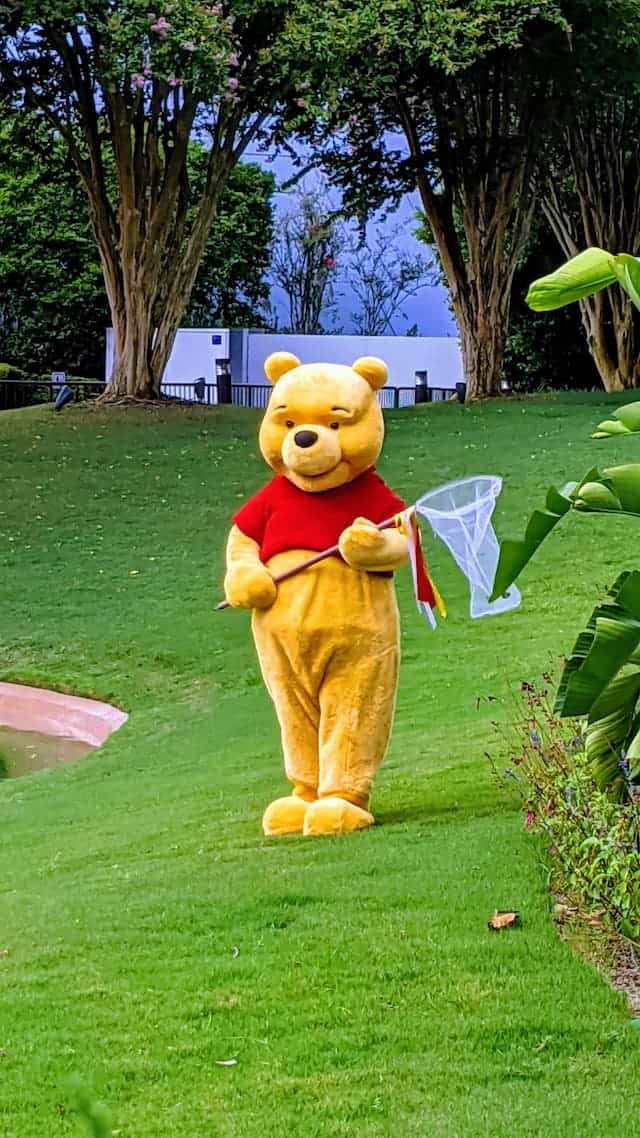 Guests can find fun interactions near the Imagination Pavilion as Winnie the Pooh and Joy, from Inside Out, have been seen playing in the grass.
This is such a fun surprise to find the characters freely roaming around the Park while maintaining social distancing.
My Review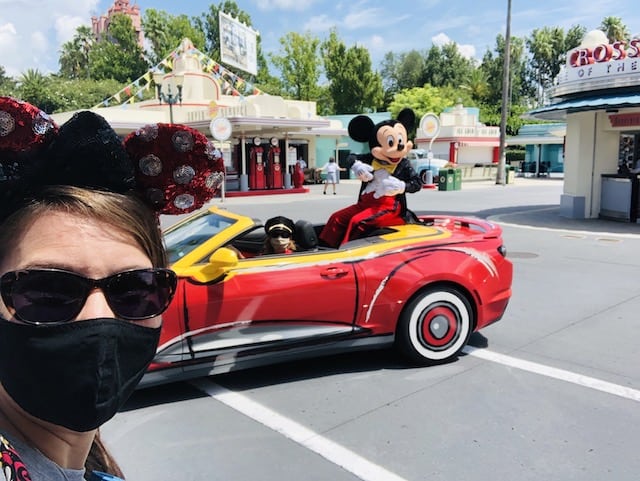 As you can see, although Characters interactions may be a bit different the magic truly is still present at Walt Disney World. I personally enjoyed the surprise appearances of the Character Cavalcades and the Pop-Up Characters.
It was refreshing to not stand shoulder to shoulder for the Festival of Fantasy Parade, but to still see my favorite characters throughout the Parks.
character locator includes all of the great character interactions that you can find in each of the walt disney world parks
It was particularly nice in those Parks that no longer have daily character parades. I hope to one day again be able to hug Mickey Mouse, but I felt the same level of magic and quality character interactions during this visit to Walt Disney World.
What do you think of the use of Character Cavalcades and Pop-Up Characters? How long do you think these may be in place? Share your thoughts with us on our Facebook Page.