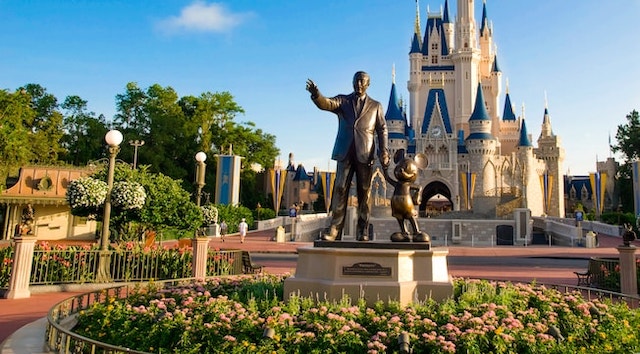 After months of uncertainty, we are finally starting to get some answers regarding the reopening of Disney World resorts and parks! Come see the reopening plan that was proposed at the meeting this morning!
We got word yesterday that Disney World was confirmed to present its reopening plan to the Orange County Economic Recovery Task Force. Finally! The day we have been waiting for!
The Task Force has been meeting often throughout the COVID-19 pandemic to determine the best steps in regards to reopening businesses in the Orange County area.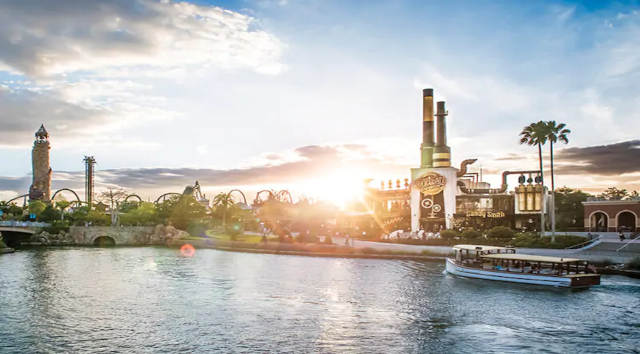 Last week we heard from Universal Studios. Their approved reopening date is June 3 for Passholders and June 5 for general admission.
Social distancing, temperature checks, virtual queues will all be the norm for Universal Studios when it reopens.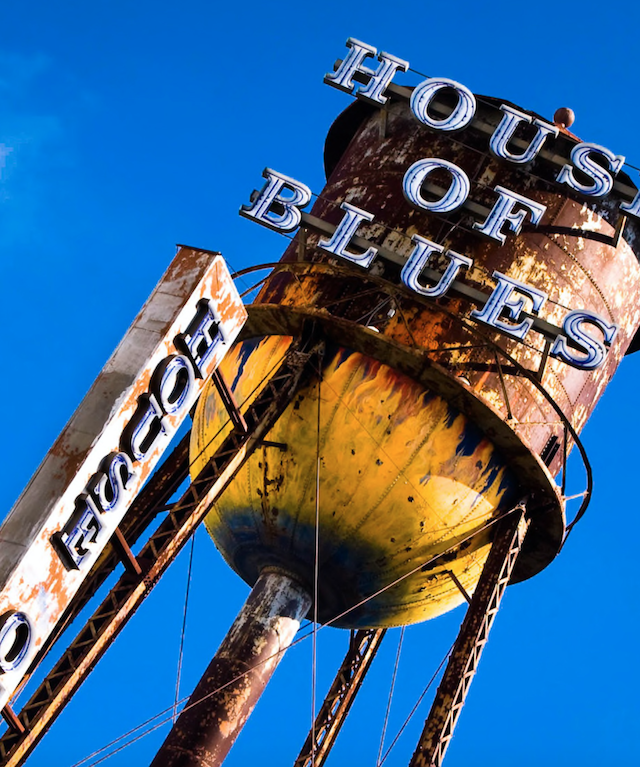 The big question for many of us has been whether or not Disney World will implement many of the same requirements. We have already been given a sneak peek of the Disney World experience when Disney Springs reopened last week.
You can read more about Cast Member and Guest expectations while visiting Disney Springs HERE.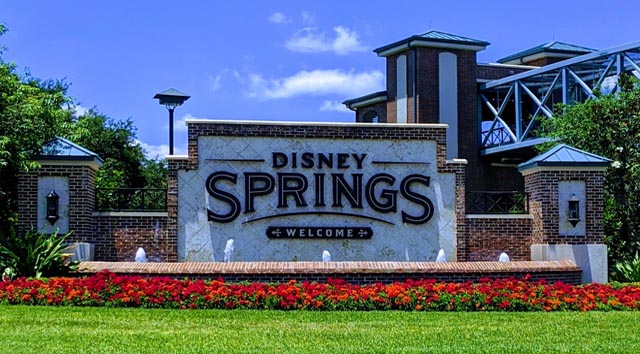 Well, now we have our answers! At the meeting this morning, Disney World proposed a reopening date of July 11 for Magic Kingdom and Animal Kingdom and July 15 for Epcot and Hollywood Studios.
There are several health and safety requirements that will be implemented for Cast Members and Guests when Disney World reopens. They are as follows: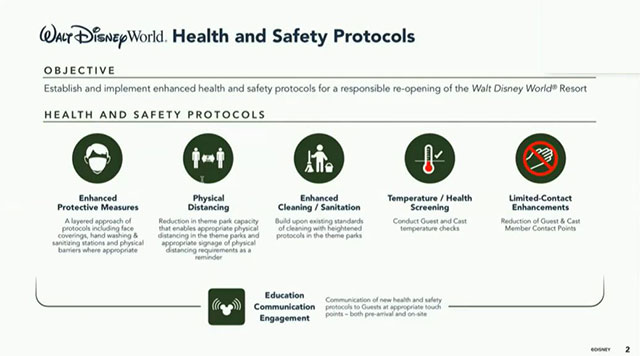 Enhanced protective measures and physical distancing
Mask wearing will be required for Cast Members and Guests.
More frequent hand washing and sanitation stations for both Cast Members and Guests.
Plexiglass will be used as barriers to facilitate physical distancing.
Physical distancing requirements will be maintained.
Overall capacity will be limited in retail stores, restaurants, in the parks, and on transportation vehicles. A reservation system will be used to ensure capacity is not reached.
Disney will also suspend parades, fireworks shows, and other entertainment that create crowds.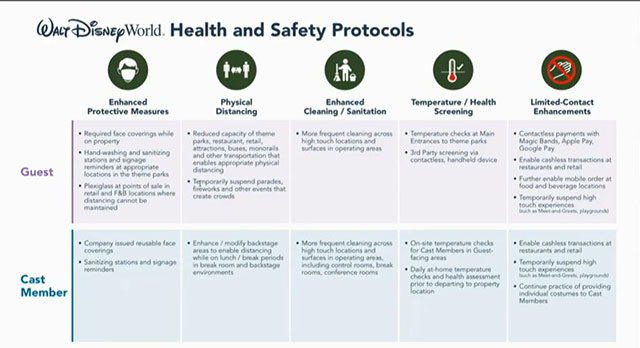 Enhanced cleaning and health protocols
Increased cleaning will be implemented on high touch areas.
Temperature screenings will take place like at Disney Springs. This will take place at the entrance to the parks. A contactless, handheld device will be used.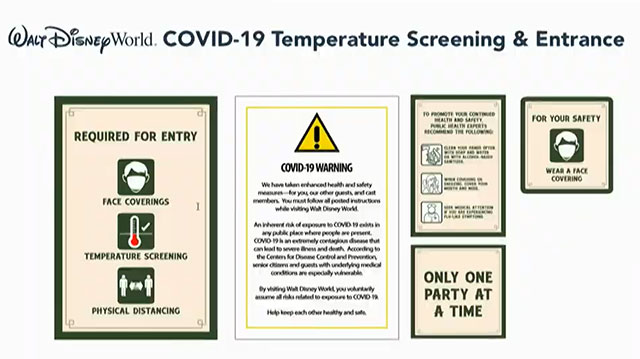 At-home temperature checks at home and on site for Cast Members will be required.
Limited Contactless Enhancements
Limiting the number of contacts will also be importance. Cashless transactions like mobile ordering and continued use of MagicBands to make purchases will be encouraged.
Temporarily pausing character meet and greets and play areas will also be implemented.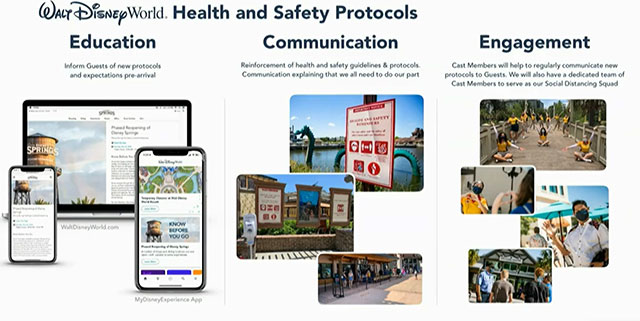 Education, Communication, Engagement
Signs and online materials will be available for Guests to view ahead of time, known as "Know before you go."
Guests will be prepared for the environment on the website, while in the parks, and on the My Disney Experience app.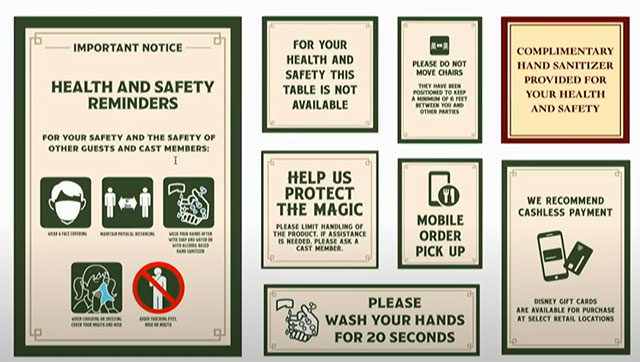 Cast Members will continue to engage Guests, but they need to focus on well-being now. Correct behaviors will be displayed and encouraged.
A social distance squad will be made up of energetic Cast Members and will emphasize the important elements of physical distancing. They will be located throughout the parks.
Just as a reminder, this is a proposed plan, meaning it still needs to be voted upon by the Task Force and then approved by Mayor Demings and Governor DeSantis. It should, however, be approved rather quickly. We will be sure to update when that happens.
What do you think of the measures Disney World is proposing in order to reopen? Will any of these keep you from visiting Disney World? Let us know on Facebook!