A popular character dining meal at Walt Disney World has returned! Check out my review of Chef Mickey's breakfast and see if you want to try it on your next trip.
Chef Mickey's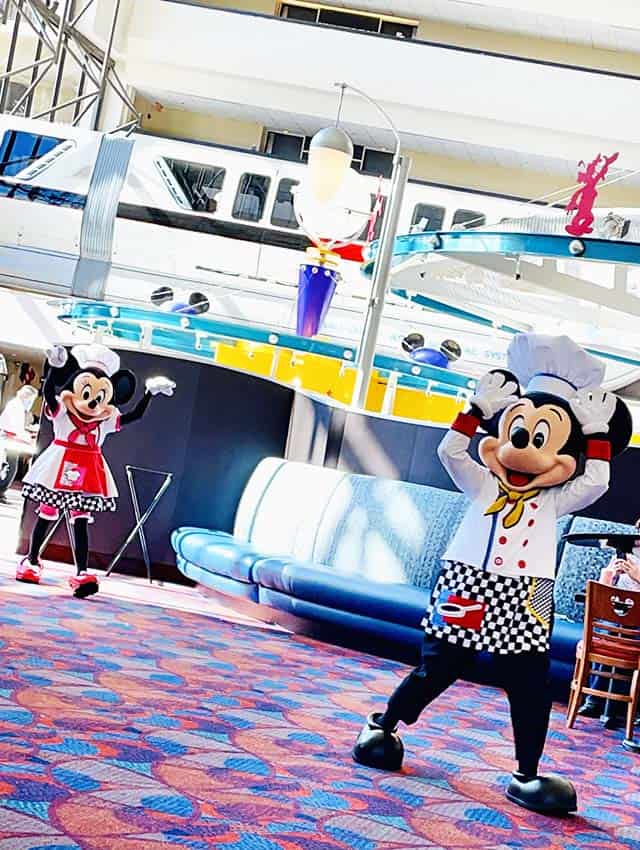 Chef Mickey's has been a guest favorite for many years. Located in Disney's Contemporary Resort, guests love dining here to see Chef Mickey and all of his pals.
This popular dining location has been one of the top character dining meals at Walt Disney World especially with the bonus view of the monorail passing through the resort. There is really nothing quite like it.
Traditionally, it was been served buffet style. Since its reopening, Chef Mickey's now serves a family-style meal. Among the other changes are characters greeting tables from a safe distance rather than visiting each individual table as before.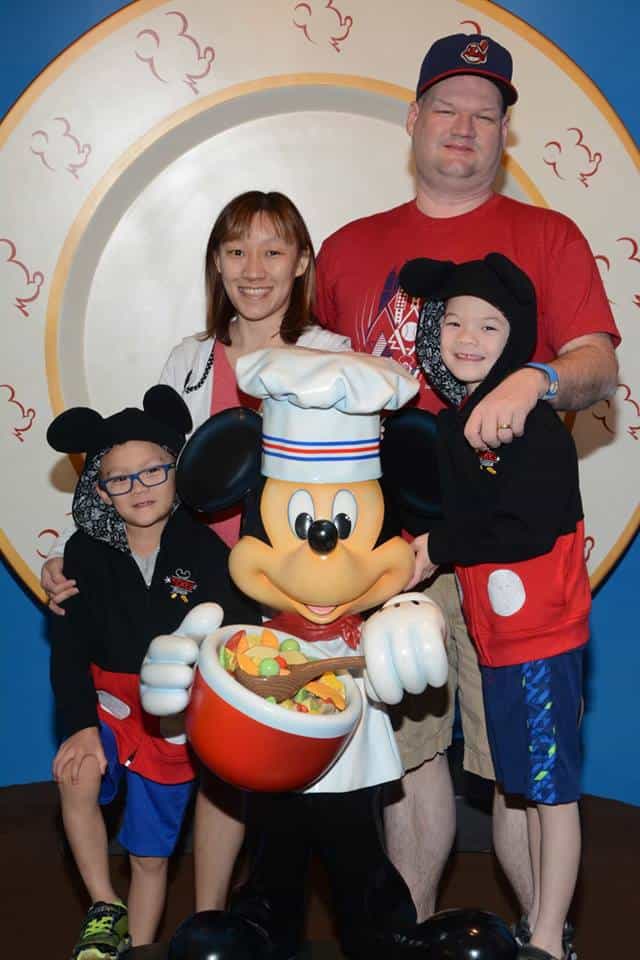 Some guests might remember this photo opportunity pictured above that was available at Chef Mickey's prior to being seated. At the time of writing, this opportunity is no longer available as they are trying to eliminate as much contact as possible between guests and Cast Members.
The Menu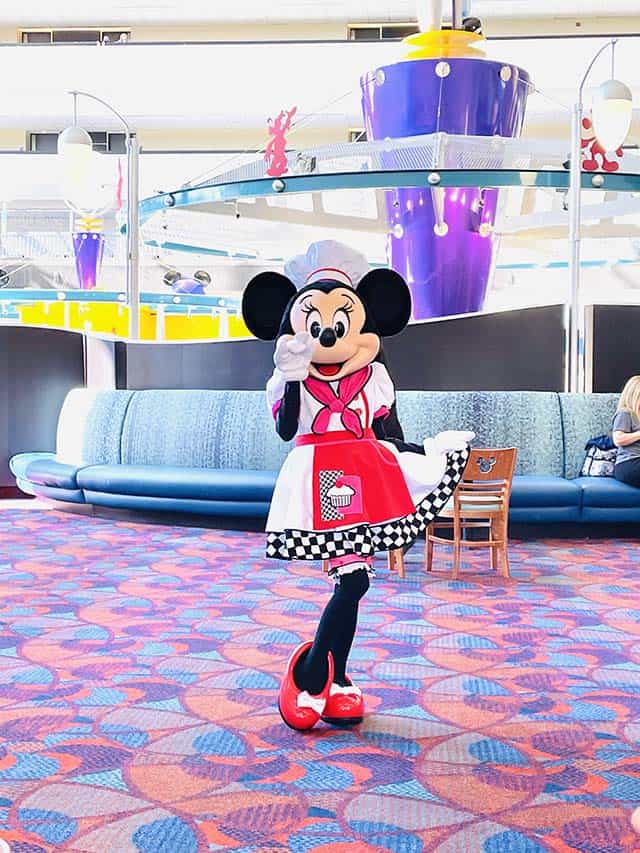 Chef Mickey's serves a breakfast and dinner menu at this time. Let's take a look at the menu items!
Chilled Options
Fruit of the season
Mini Yogurt Parfaits
Breakfast Bread Selections
Harvest Sweet Rolls
Fresh Fried Sweet Fritter
Traditional Selections
Scrambled Eggs
Slow Roasted Beef Brisket
Pork Sausage Links
Smoked Bacon
Chicken Sausage
Mickey Waffles
Signature Selections
"Loaded" Potato-cheese Casserole
"Celebration" Mickey Pancake
Banana Bread French Toast
A variety of specialty beverages are also offered, such as specialty coffees, smoothies, and morning cocktails.
For more details regarding dinner at Chef Mickey's including what is on the menu and pricing, take a look at this post HERE.
Our Experience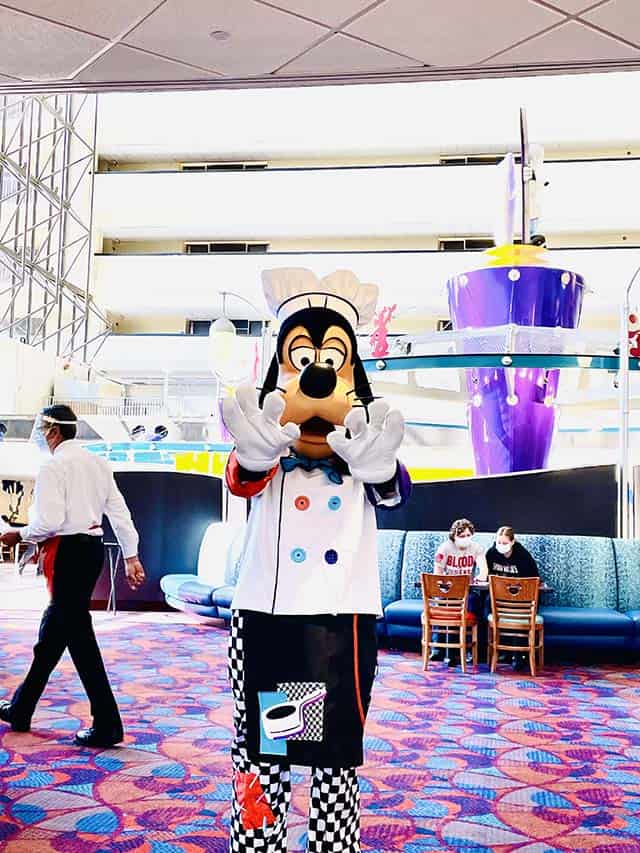 We used the mobile check-in feature that is common for many of the dining locations at Walt Disney World. Our reservation was at 11:15 a.m., which is one of the later times for breakfast. The day of our reservation, Chef Mickey's was running a good half hour behind schedule.
Cast Members apologized for the delay and kindly offered us some water to have while waiting.
We were notified that our table was ready around 11:45 a.m. After checking all of our temperatures, we were escorted to our table. Note, temperature checking in restaurants is no longer necessary. This review is from a visit in January 2021.
Food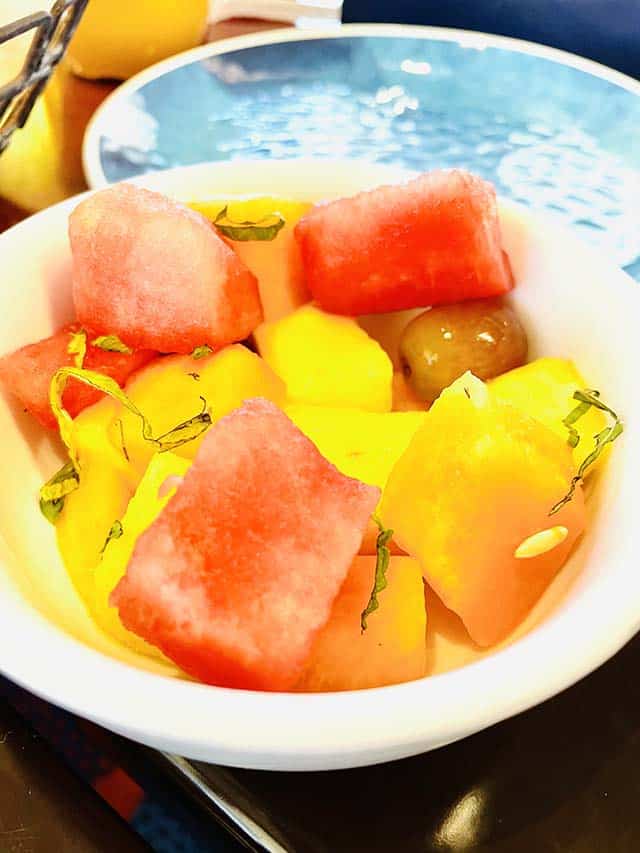 Our server came and took our drink orders and told us Chef Mickey and all of his friends would be greeting us very soon. We were given a dish of fruit and some yogurt parfaits.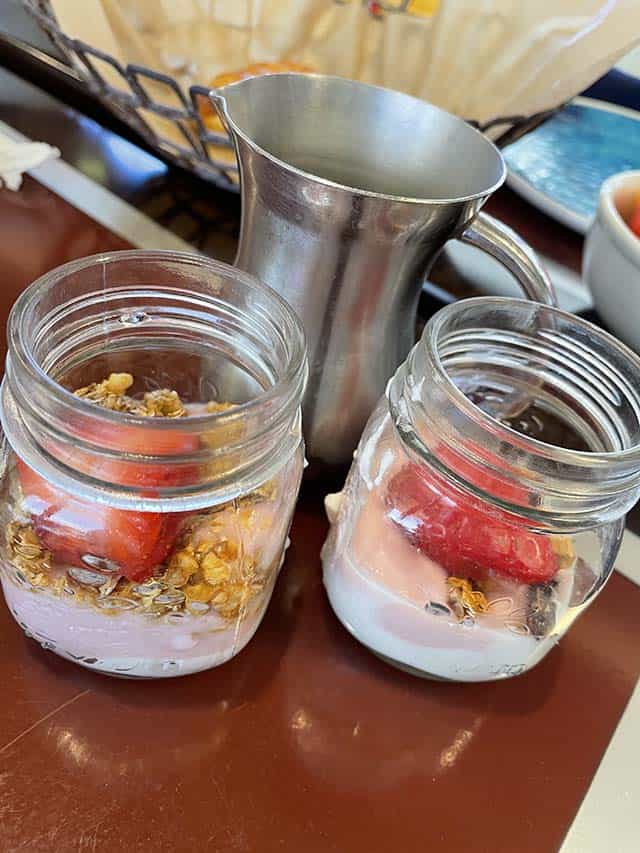 Our server then brought the bread selections and the traditional food, like breakfast sausage, scrambled eggs, bacon and beef brisket. This must have been pretty good, because it was gone before I was even able to get a picture of it. It's a good size portion of food and was more than enough for our table.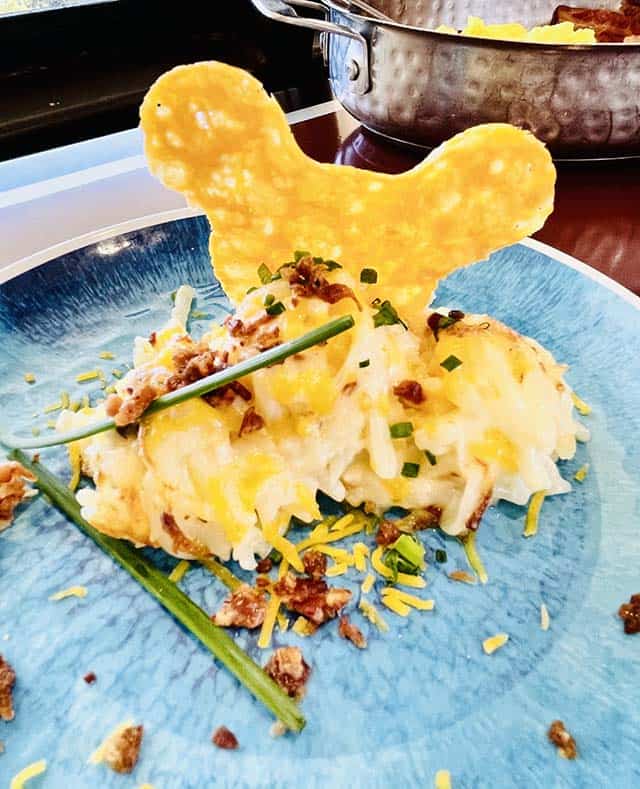 The selections I loved the most from the meal were the signature selections. I feel like these were the highlights of the meal.
I loved the "Loaded" Potato-Cheese casserole. I am not ashamed to say, as a lover of all things potato (and the only one in my group who likes potatoes), I ate the entire dish myself. It was cheesy, warm and I think it would make a great comfort dish to serve at home.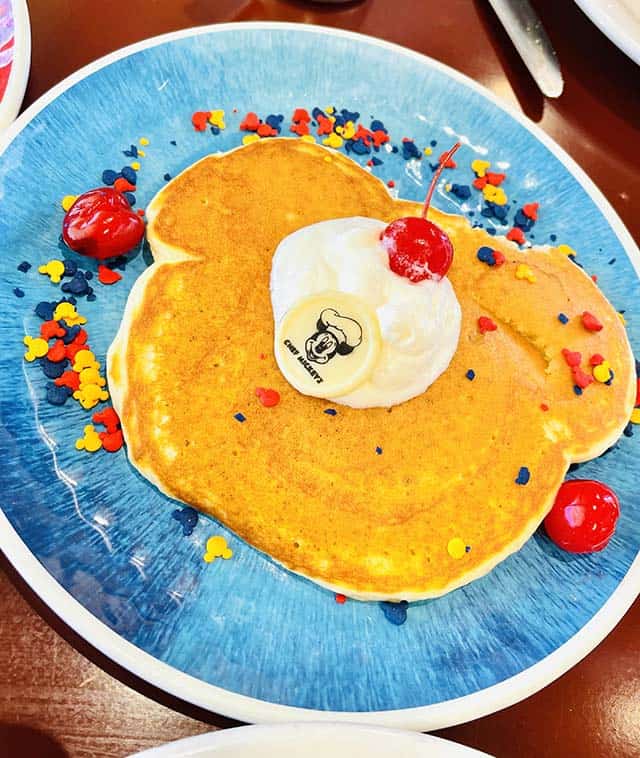 My two boys were immediately drawn to the "Celebration" Mickey Pancake. Do you blame them? I love the little Mickey shaped confetti mix and the piece of Mickey chocolate on top. It even says "Chef Mickey's!" My oldest son loved the cherries that came with it.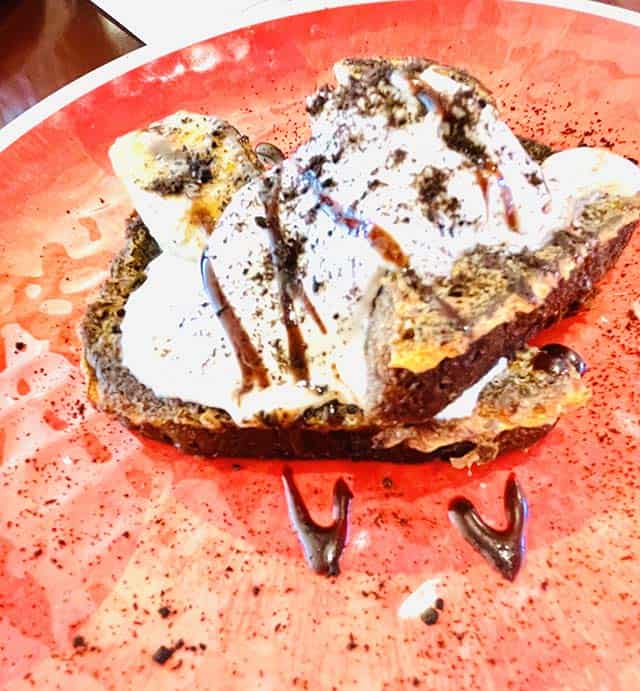 While the Banana Bread French Toast looked really good, it was probably the most unpopular dish in our group. We just had SO much food, that I think we just ran out of room to try this too!
Characters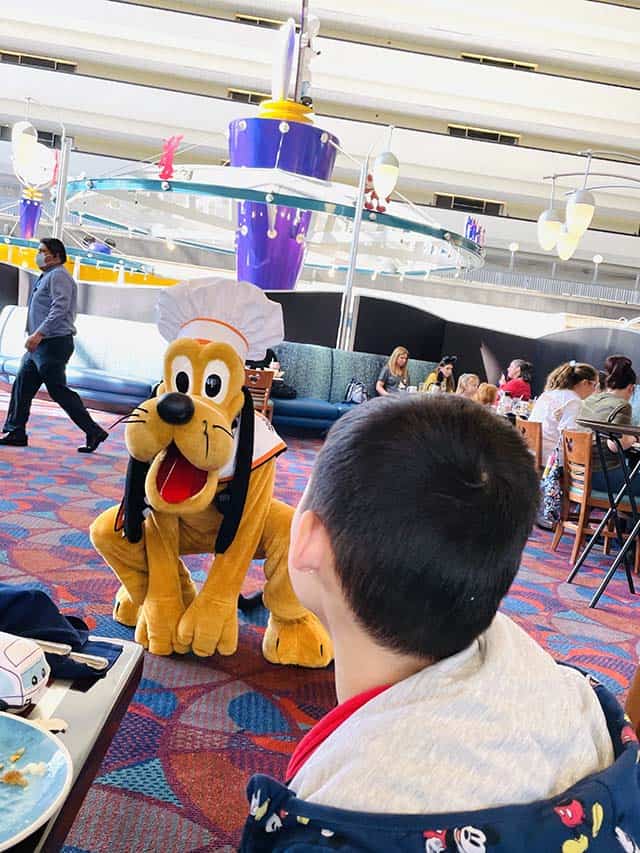 Characters that you can meet during this dining experience are Chef Mickey, Minnie, Donald, Goofy and Pluto.
For us, Pluto was our favorite character and he also interacted with us the most. We saw each character come around at least three to four times during our meal.
REMEMBER TO USE CHARACTER LOCATOR FOR TIPS TO INTERACT WITH THE CHARACTERS!
Characters will stop at each table and pause long enough for you to take a selfie or picture from a safe distance. Remember, you can still use Character Locator to interact with all of the characters!
Though they do stop, sometimes I feel like you have to be quick or at least have your camera ready when they do come by your table.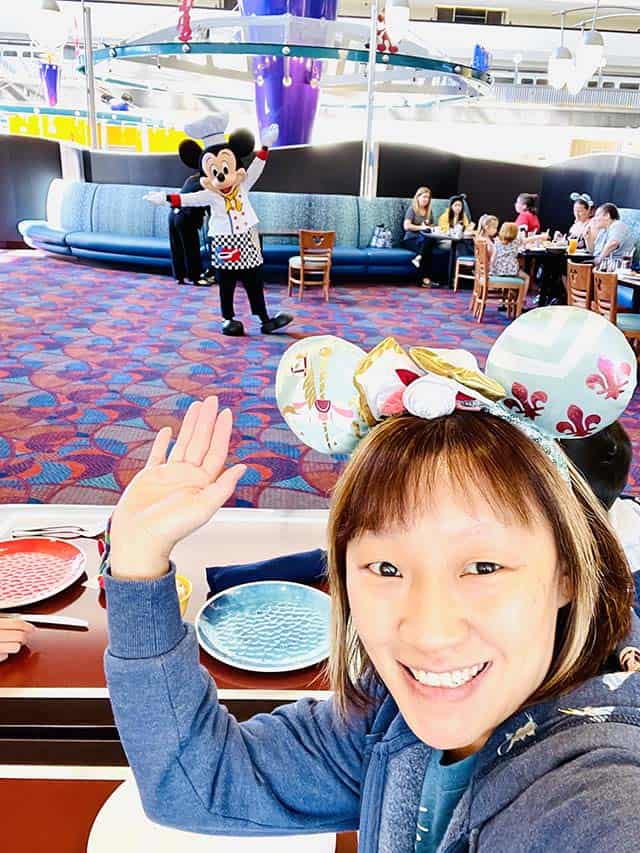 The characters also come out and do a special dance to music during the meal for everyone. During our meal, the food came out at the exact same time as this, so my boys were more interested in having Mickey waffles than seeing the dance. But, can you blame them? Mickey waffles are pretty delicious.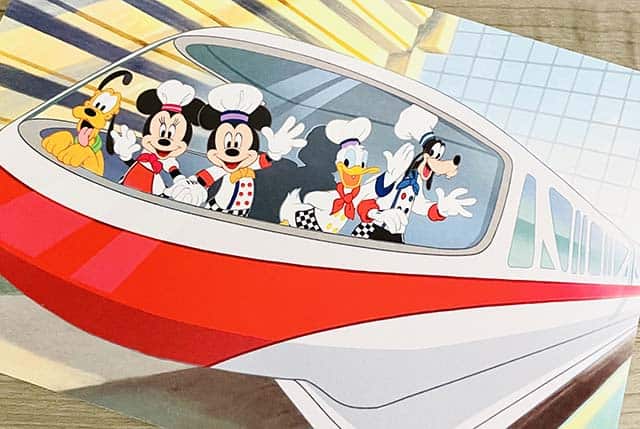 Since this is a character meal, we were given these post cards at the end of our meal with the signatures of the characters on the back. I love that this one features all of the characters in the monorail. It's truly a unique feature to this restaurant!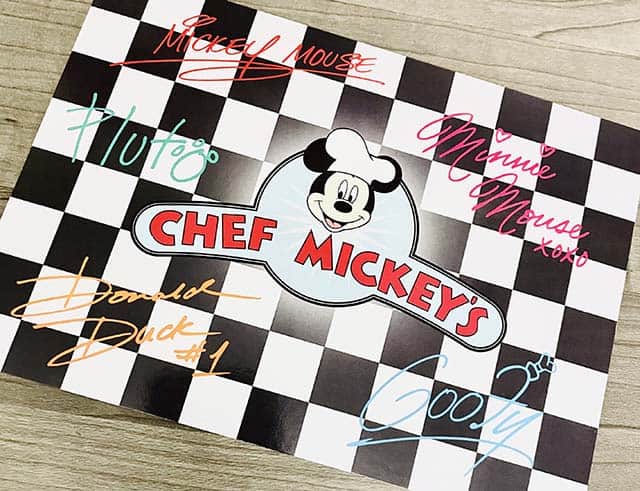 My thoughts
Overall, I enjoyed our meal at Chef Mickey's. It wasn't our first time at this particular meal and most likely will not be our last. I enjoyed the food, especially the new signature items. I do hope those will stay.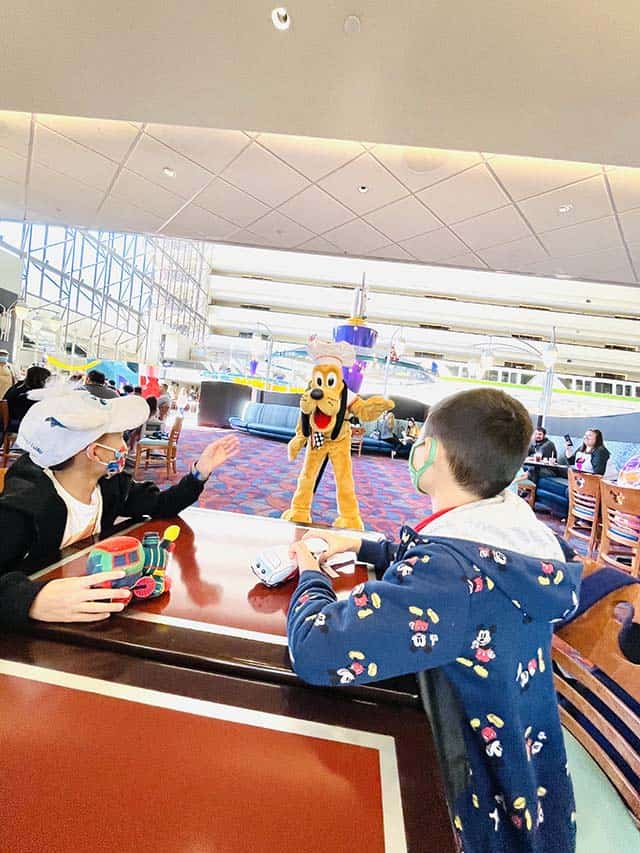 Not being able to hug the characters is a huge difference in the meal and experience, especially for children. During every character meal that we went to, I asked my children which experience they liked better. All times, they told me that they missed being able to hug Mickey, get his autograph and have a picture taken with him.
I do appreciate the modified character dining experience that is being offered, but I will admit that it's not the same. Hopefully, when it's safe enough to do so, we'll all be back to hugging Mickey just like before!
Chef Mickey's breakfast costs $42 per adult, plus tax and gratuity and $27 per child.
Do you have plans to visit Chef Mickey's? What do you think of the modified character dining experience? Tell us your thoughts in the comments below or on our Facebook page. Keep the conversation going in our crew too!
Maggie Baltz