Ever crave a traditional Thanksgiving meal even when it's not Thanksgiving? You can enjoy a patriotic-inspired family meal at Magic Kingdom any day of the year at Liberty Tree Tavern! Here are my thoughts after a recent visit. Have you ever been?
Liberty Tree Tavern offers a traditional Thanksgiving meal for Guests during their stay at Disney World. Pay tribute to our founding fathers in Liberty Square at the Magic Kingdom by celebrating our country's history and heritage!
Liberty Tree Tavern Location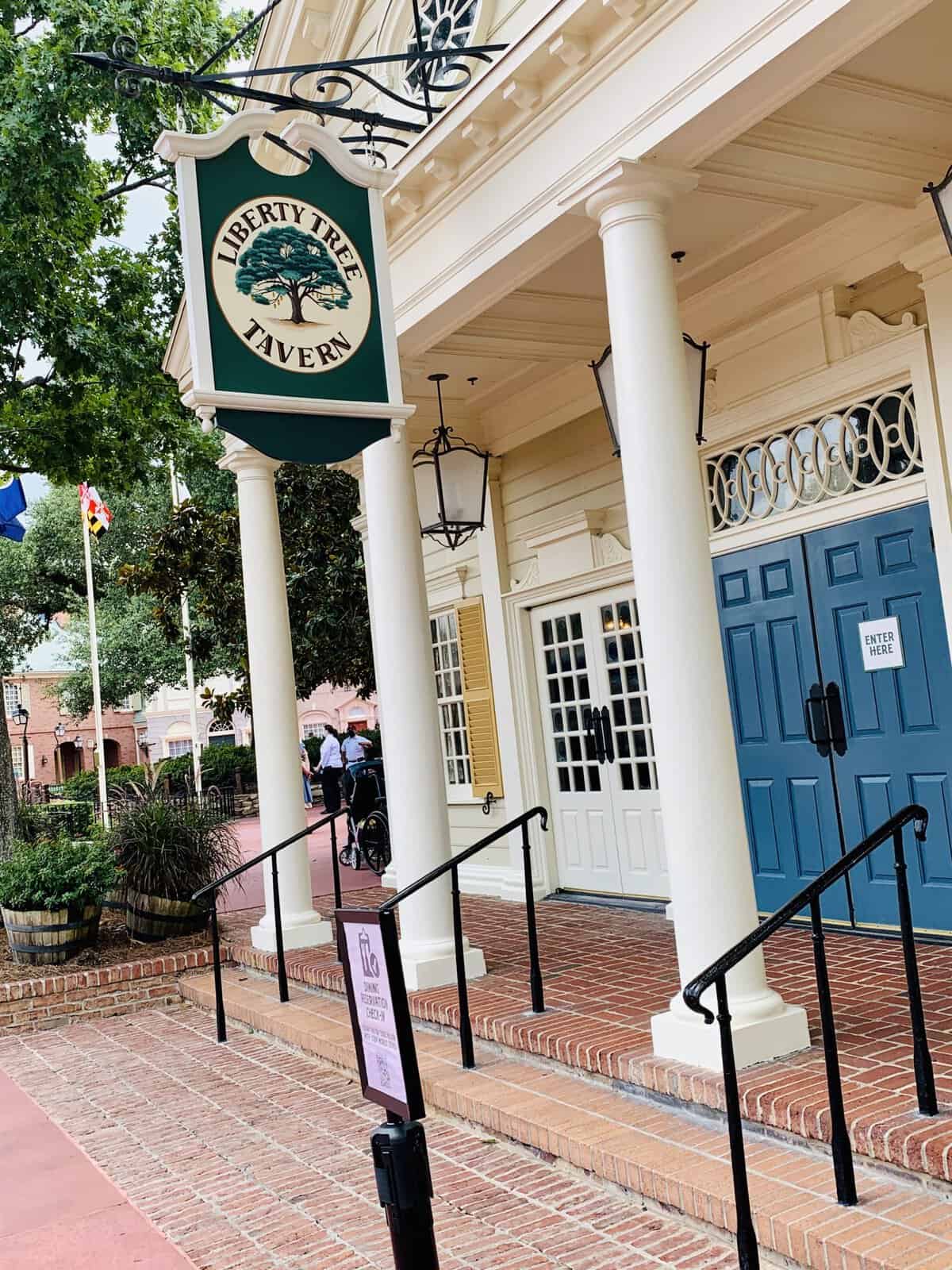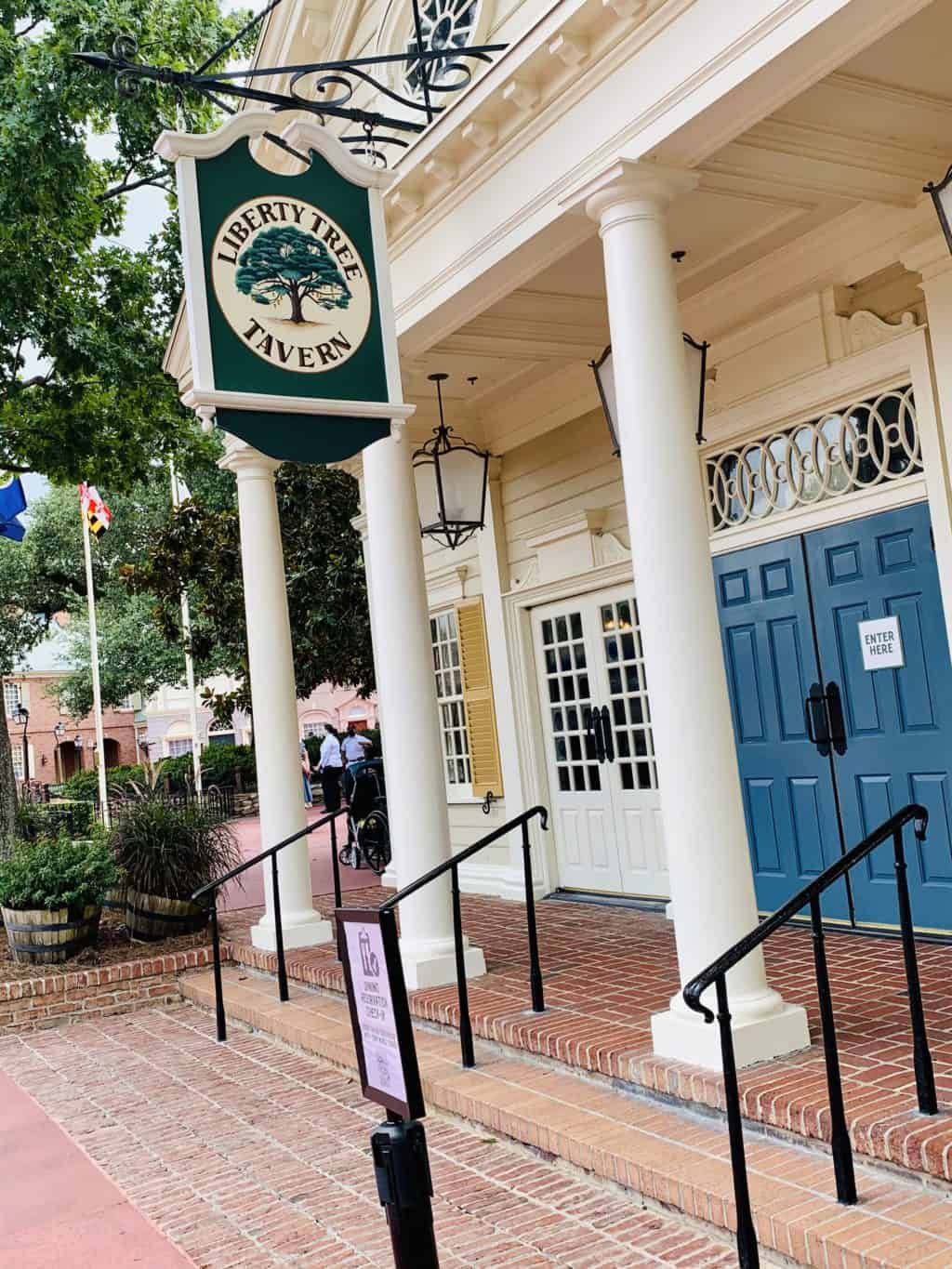 The location of Liberty Square is right in between Fantasyland and Frontierland. It is also a short walk to the Hub and Main Street U.S.A.
This makes Liberty Tree Tavern a pretty convenient dining location at Magic Kingdom.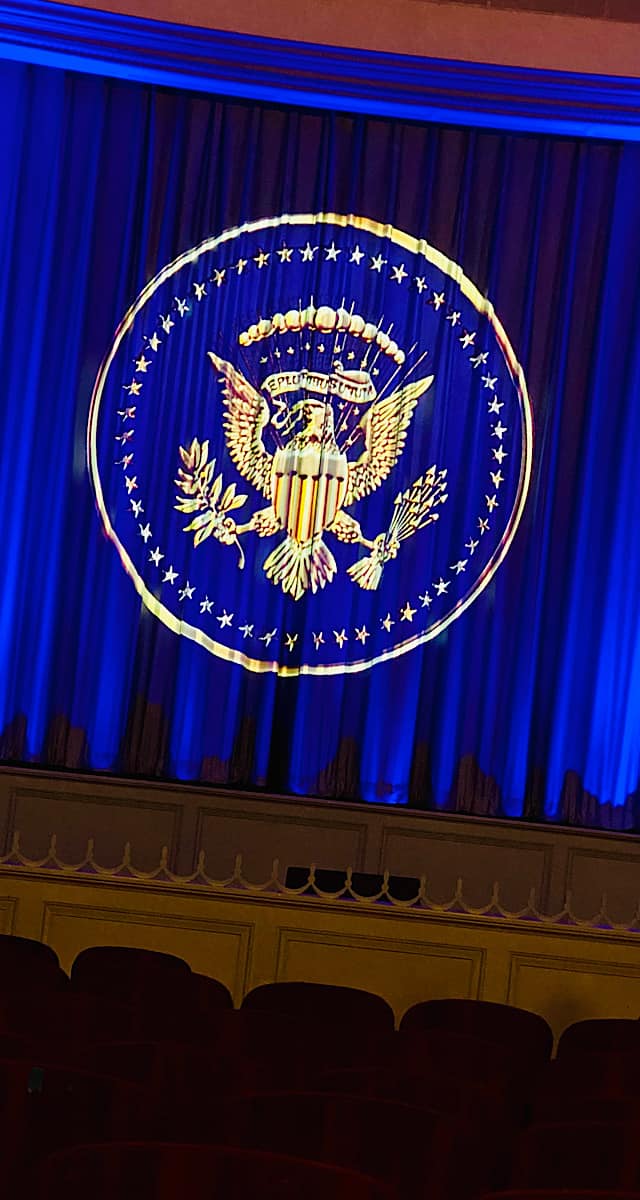 Nearby attractions in Liberty Square include Liberty Square Riverboat, Haunted Mansion, Hall of Presidents, Sleepy Hollow, and the Christmas Shoppe.
As mentioned above, it's a short walk to all the attractions in Frontierland or follow the path towards Fantasyland! Before dinner you can get the ultimate thrill on Big Thunder Mountain or let your stomach settle while you experience "it's a small world."
There is also a walkway out of Liberty Square towards the Hub and Main Street, U.S.A.
Liberty Tree Tavern Atmosphere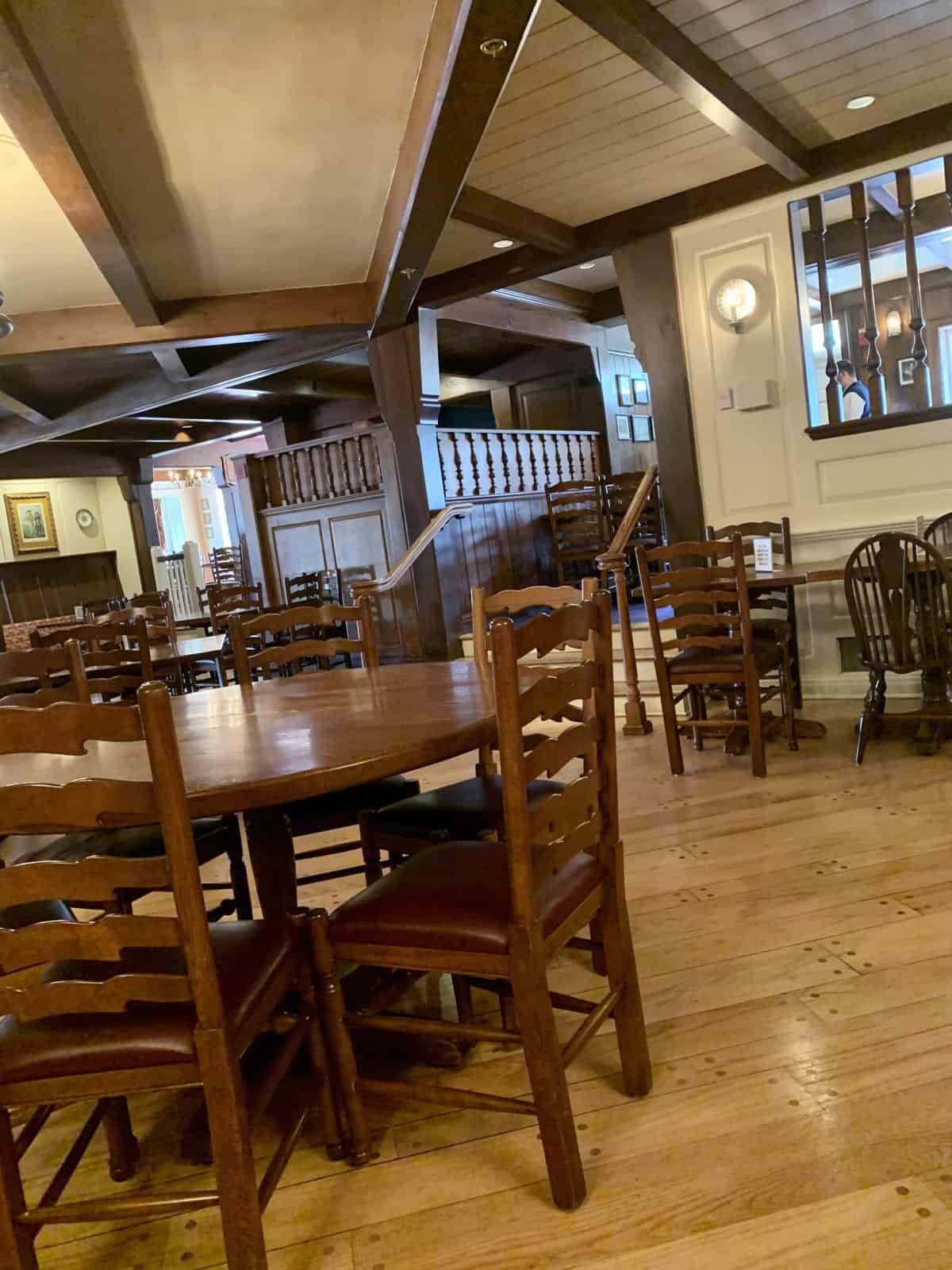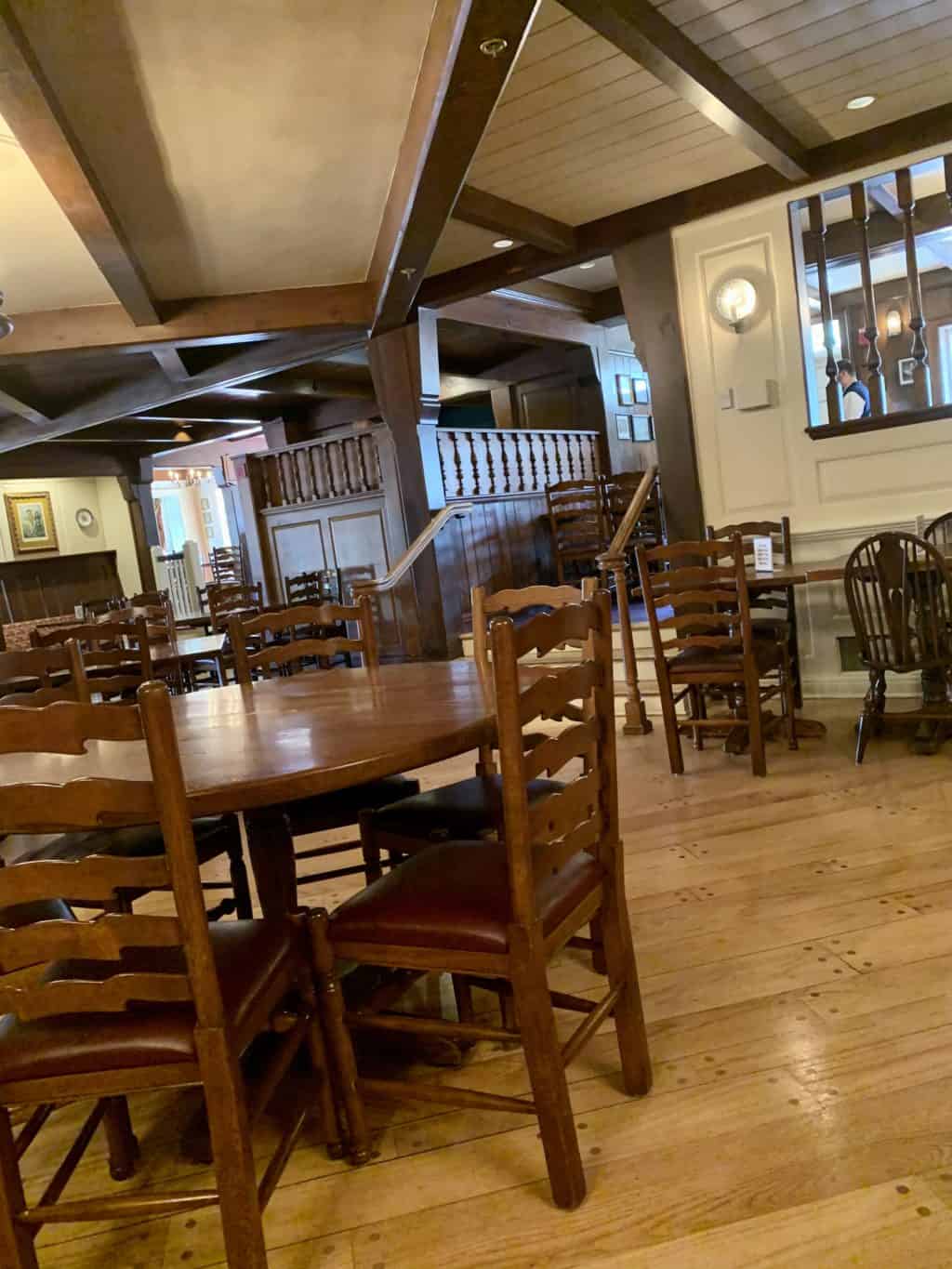 As for Liberty Tree Tavern itself, step into one of six historically themed rooms in a colonial-style inn and relive a full fall harvest in Colonial Williamsburg.
I have been to Colonial Williamsburg in Virginia, and like much of what Disney World Imagineers have accomplished, I thought the recreation was fantastic.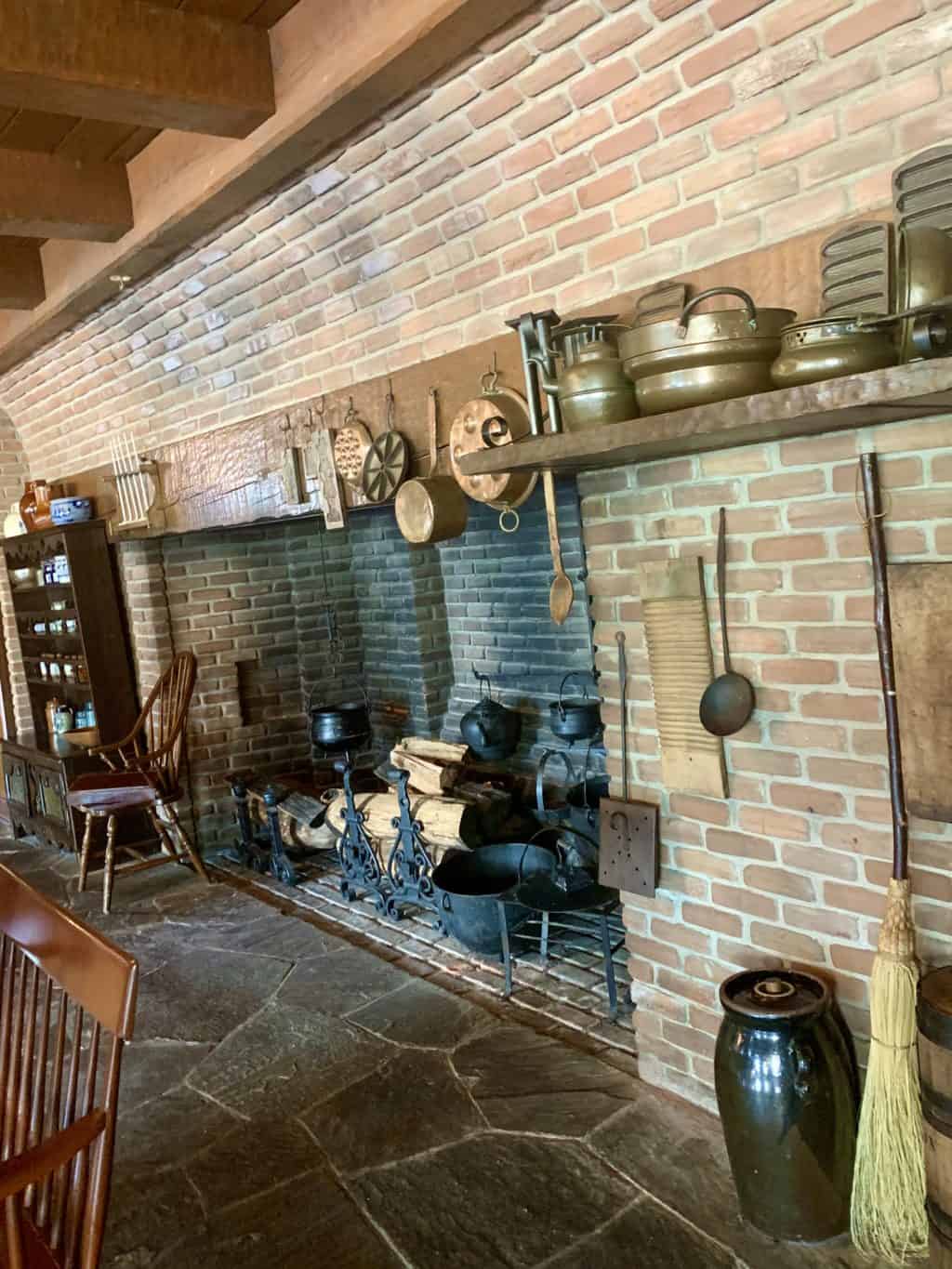 When I first walked in Liberty Tree, I felt like I had really stepped back into time. As soon as you enter, you notice the giant brick wall with massive wood fireplace. Brooms, cookware, and other Colonial household supplies were all displayed throughout the main waiting area.
Giant candle chandeliers hung from the ceiling. It was wonderfully decorated!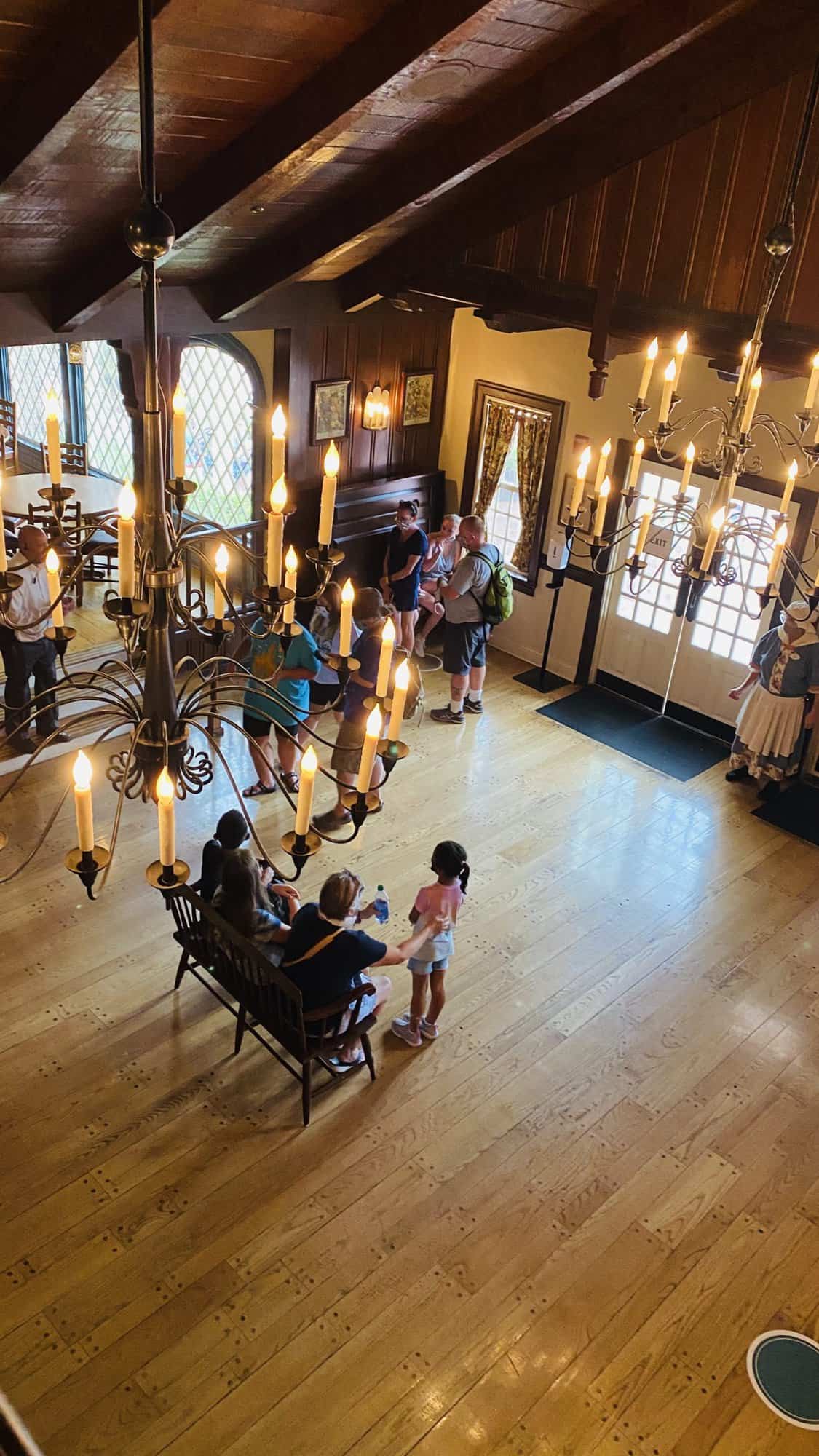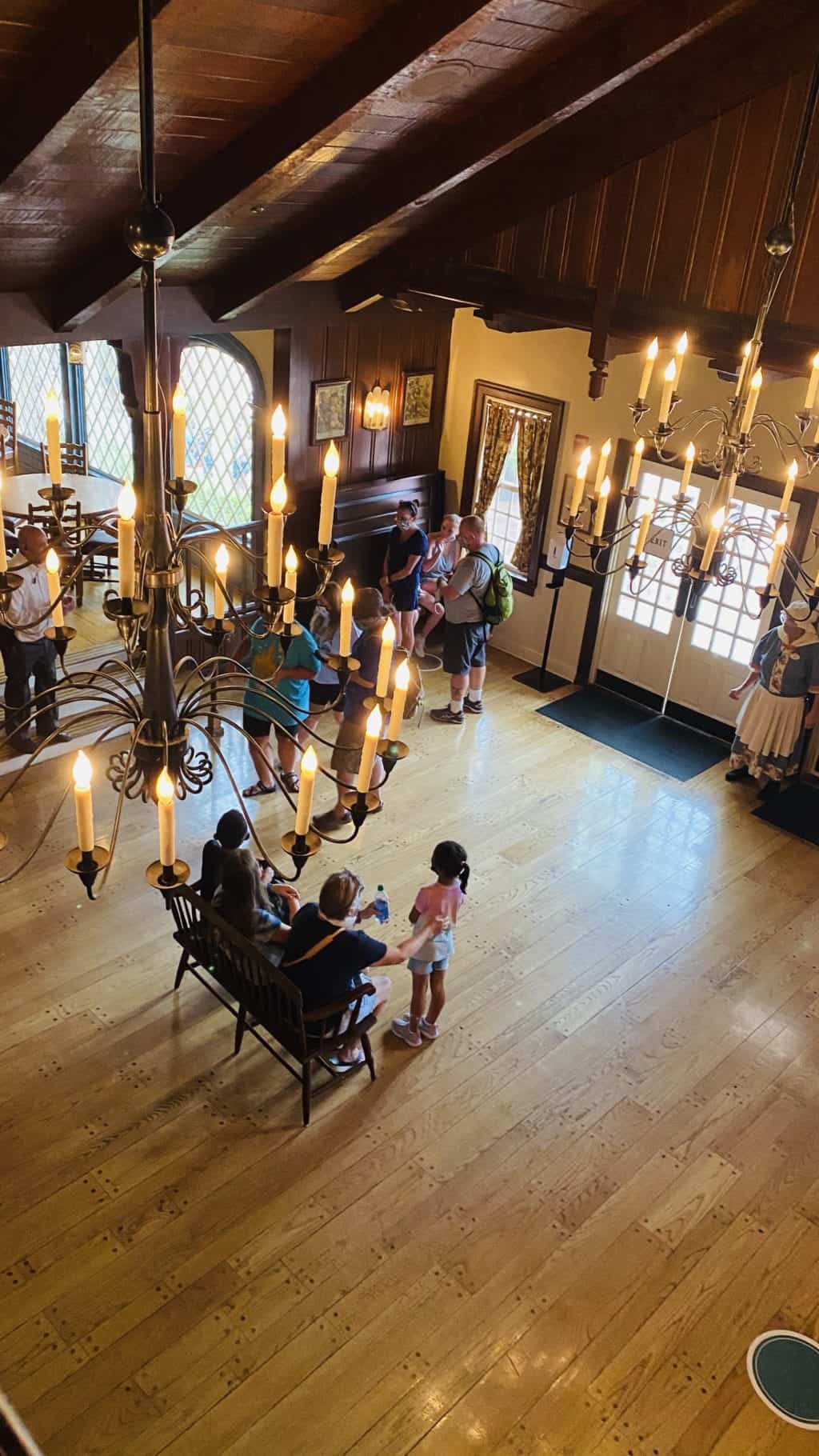 Each of the six dining rooms commemorate one of our nation's founding heroes:
Benjamin Franklin
Thomas Jefferson
Betsy Ross
John Paul Jones
Paul Revere
George Washington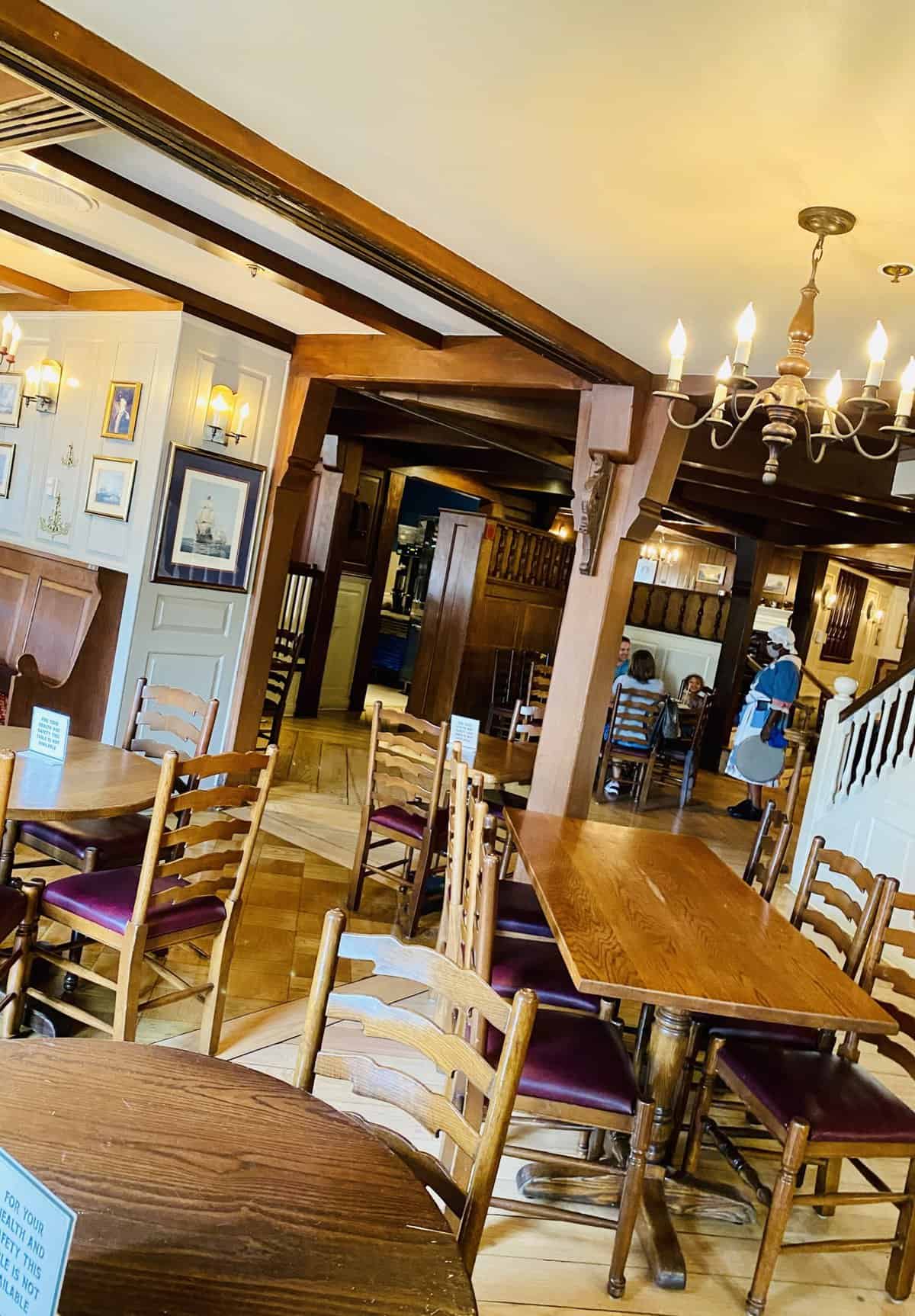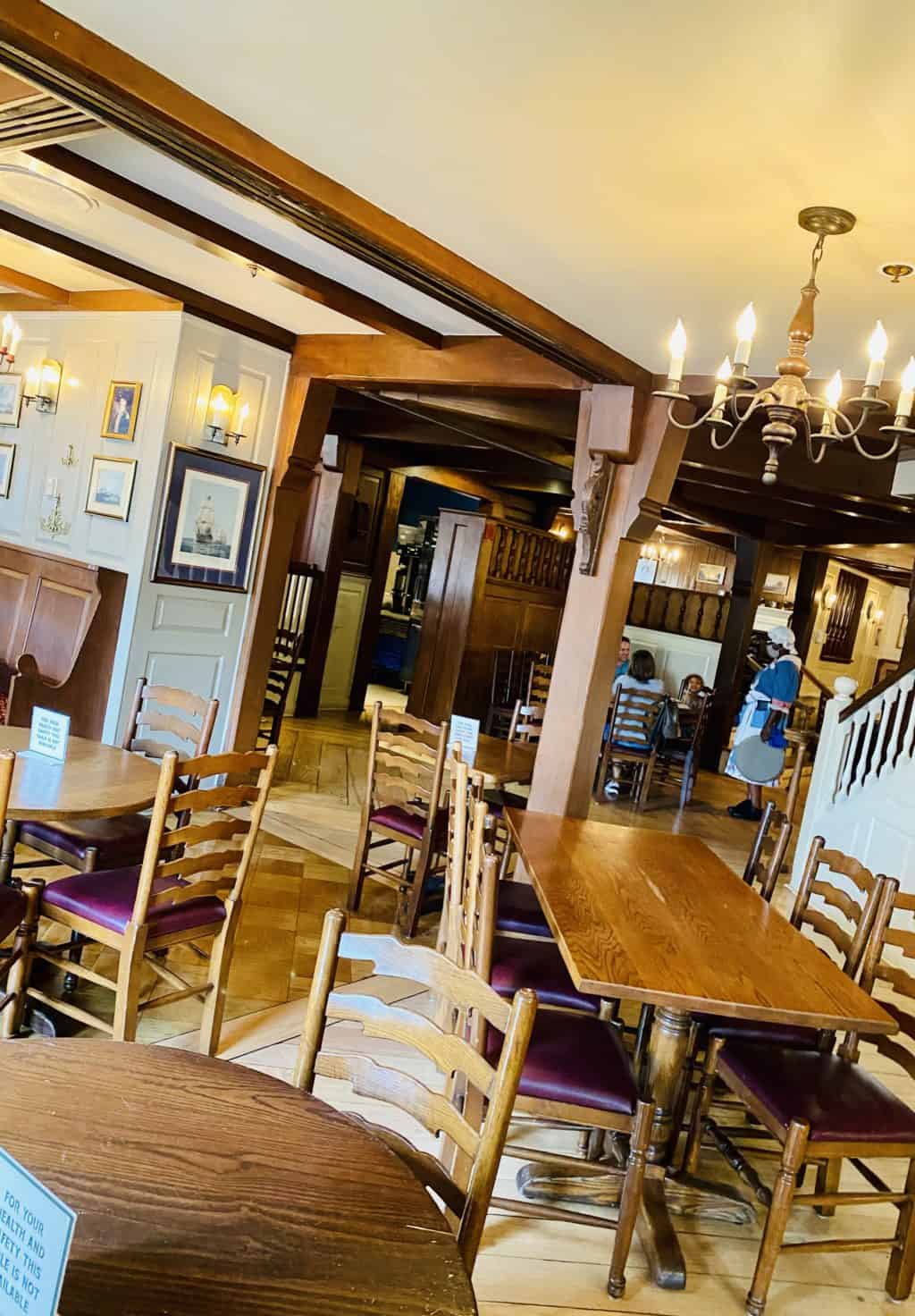 Since I dined here after the reopening of Disney World, I did not want to wander through the rooms. To be honest I wasn't sure if it would be appropriate walking around the restaurant when other Guests were dining so I decided to give them their space.
Judging off the photos on the wall, our party dined in Thomas Jefferson's "room." Since I did not want to wander around too much, I cannot confirm this. You can see the photos of him, some sketches, and a map on the wall.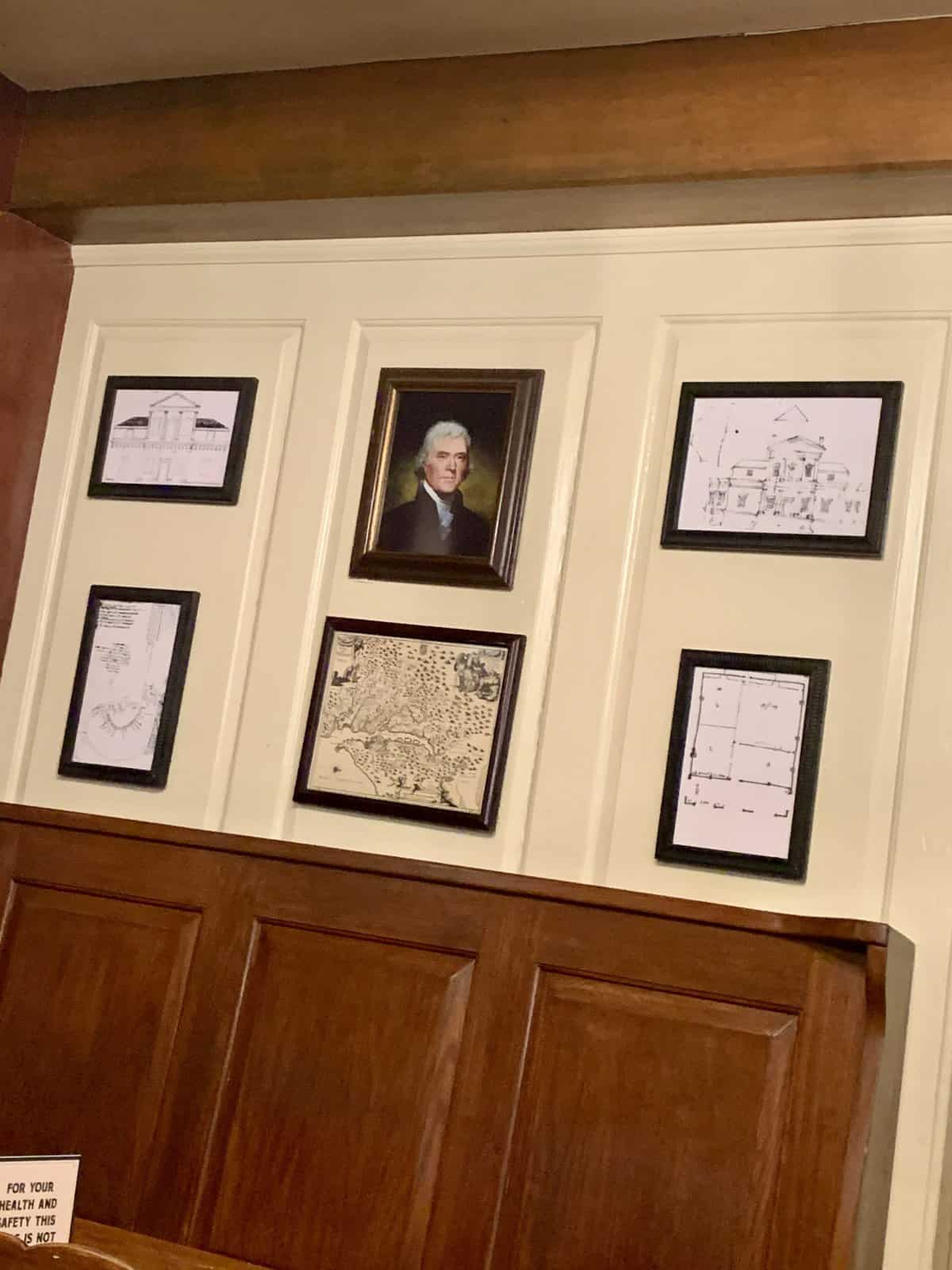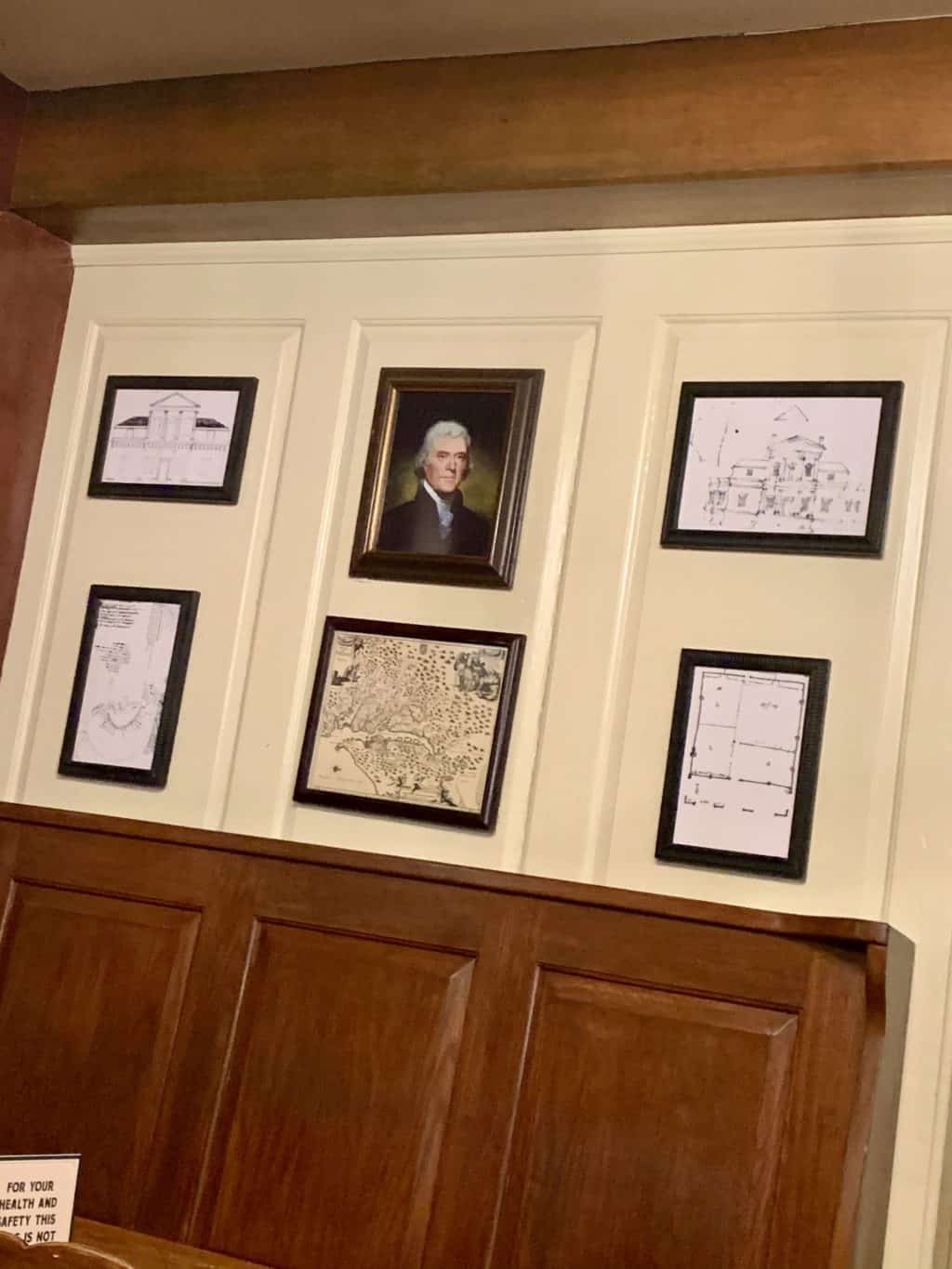 You can see the walls are thoughtfully decorated with cloaks, statues, candles, and other knick knacks.
The little touches pay homage to the individual the room is themed after.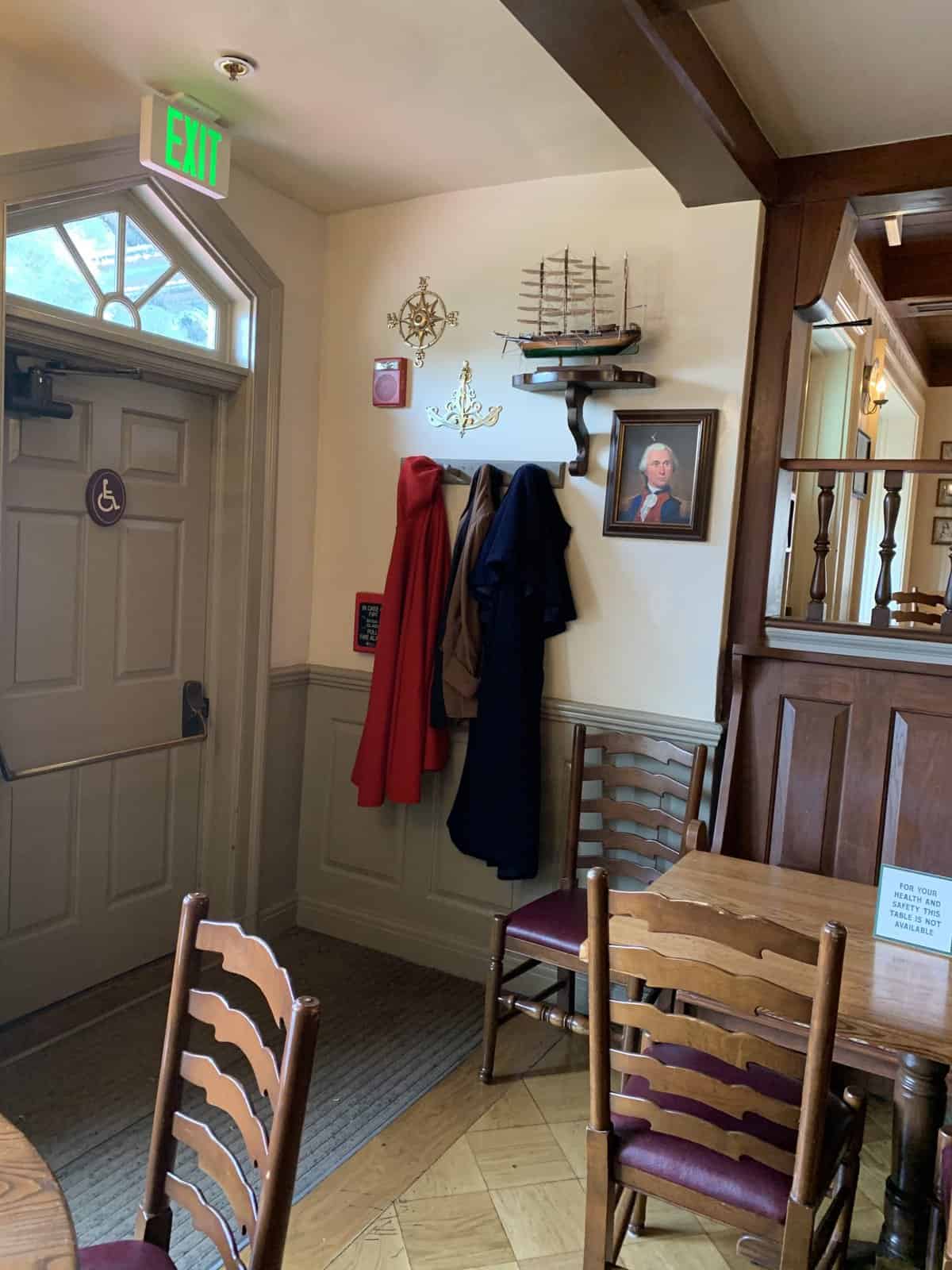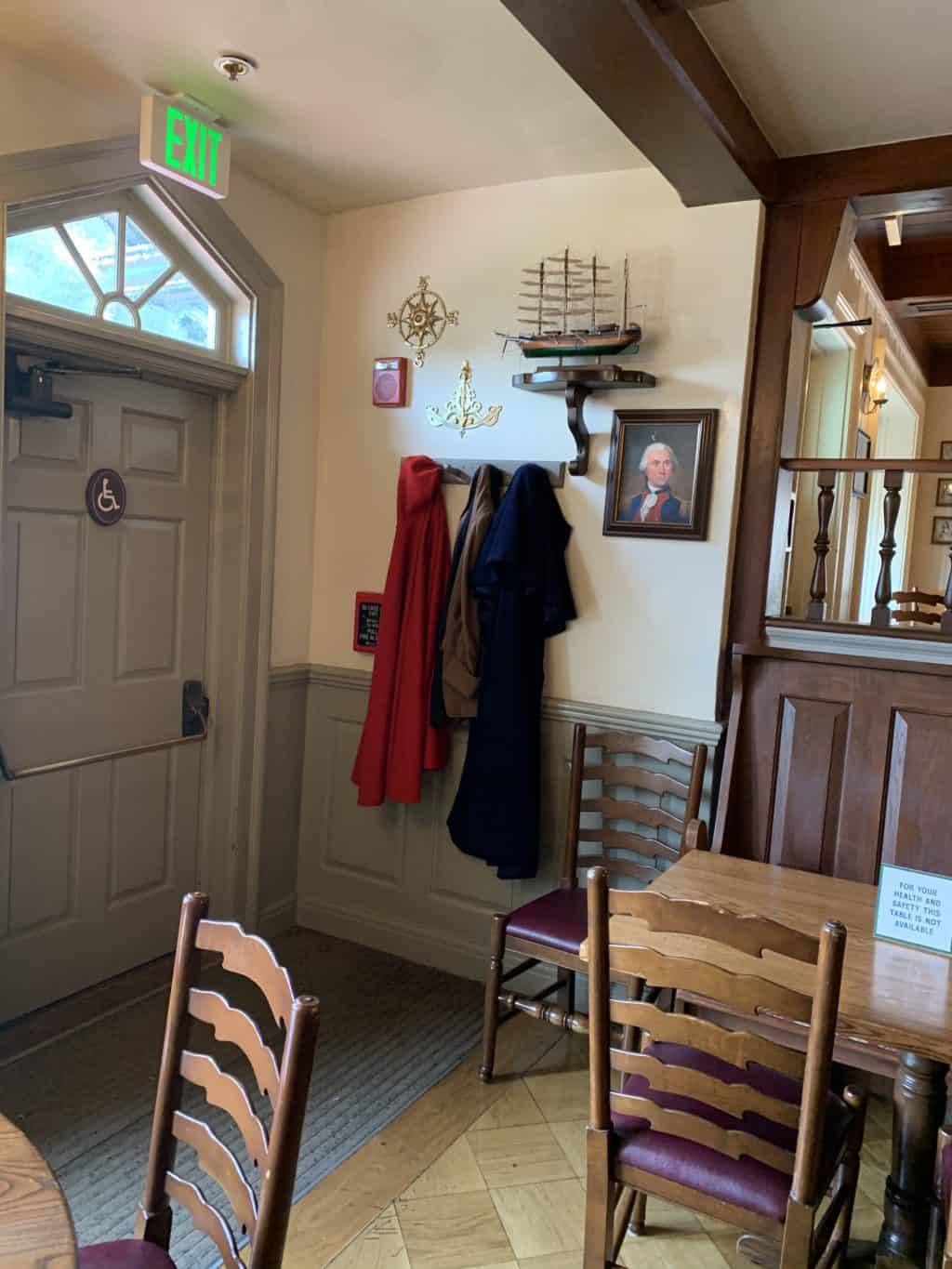 The table and chairs are also themed appropriately – wooden, but the seats are padded!
Valances, more chandeliers, and other wooden details (like the floor and columns!) give this colonial-style inn a complete and proper look.
A Thanksgiving Meal at Liberty Tree Tavern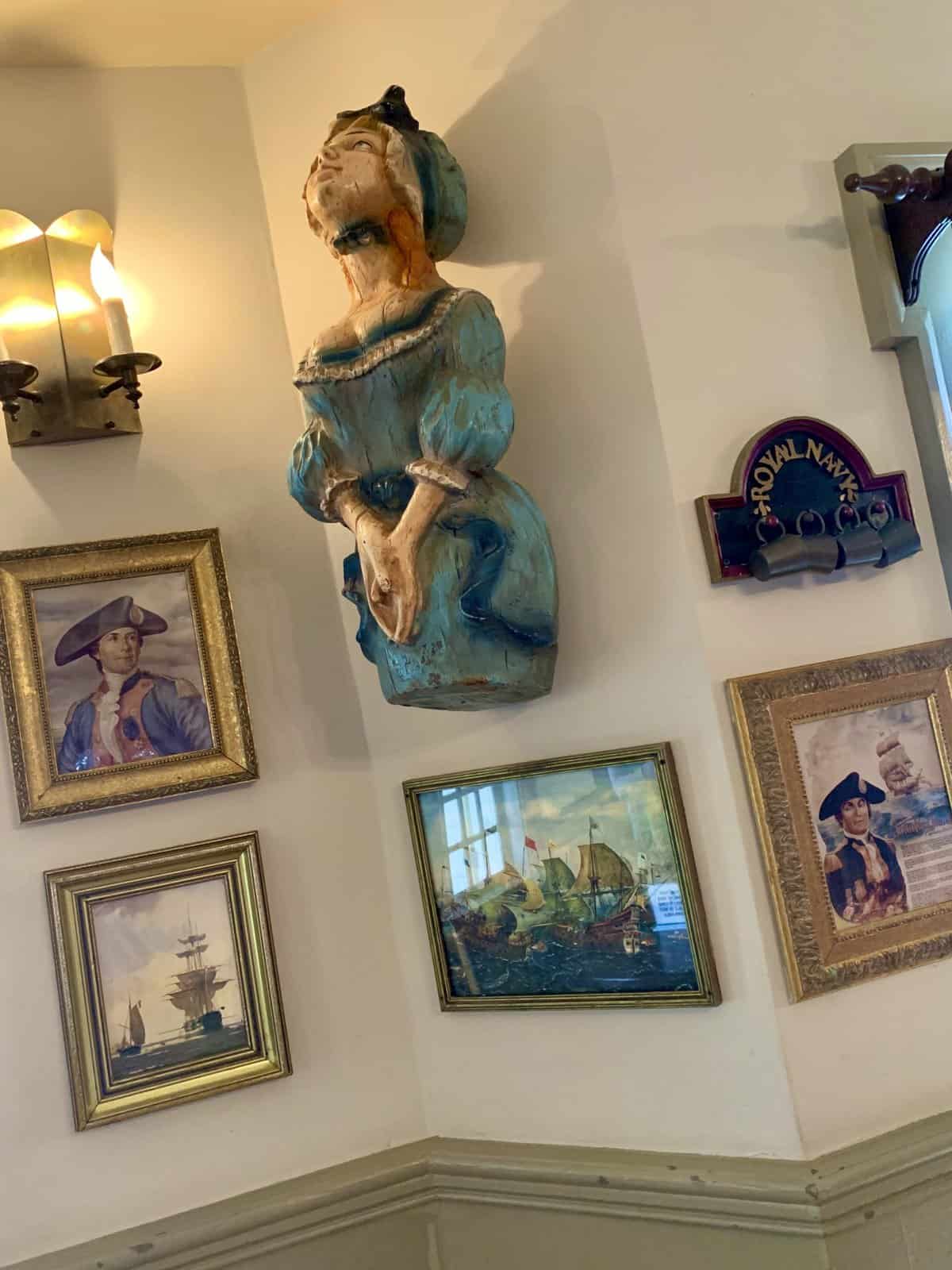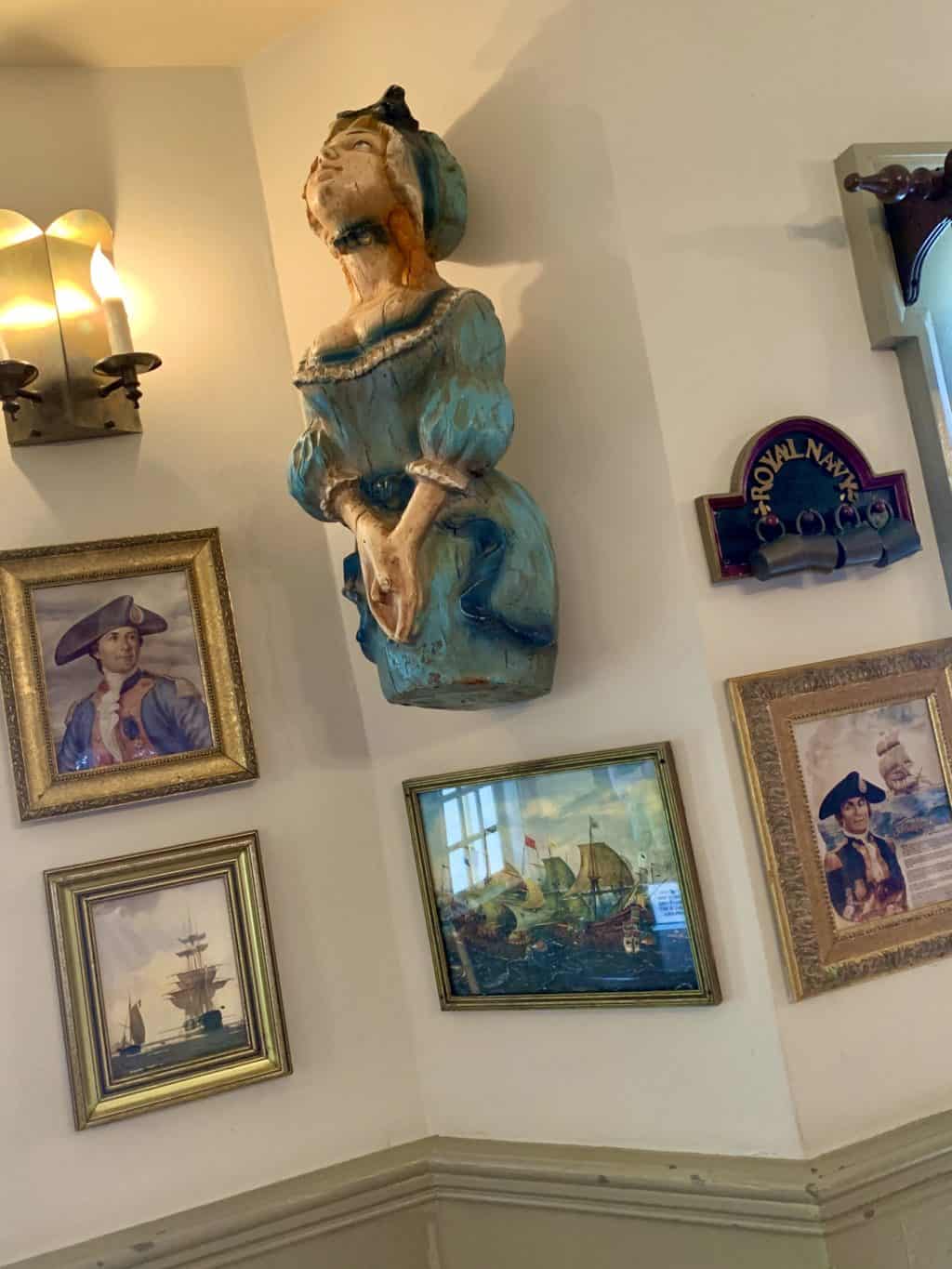 It may have been July, but I had turkey on the brain! The food is served family-style here, which only seems appropriate.
Pricing is $39 for adults and $21 for children ages 3-9. Children under 3 can eat for free on the platter. This makes it a great value if you have young toddlers who have a good appetite!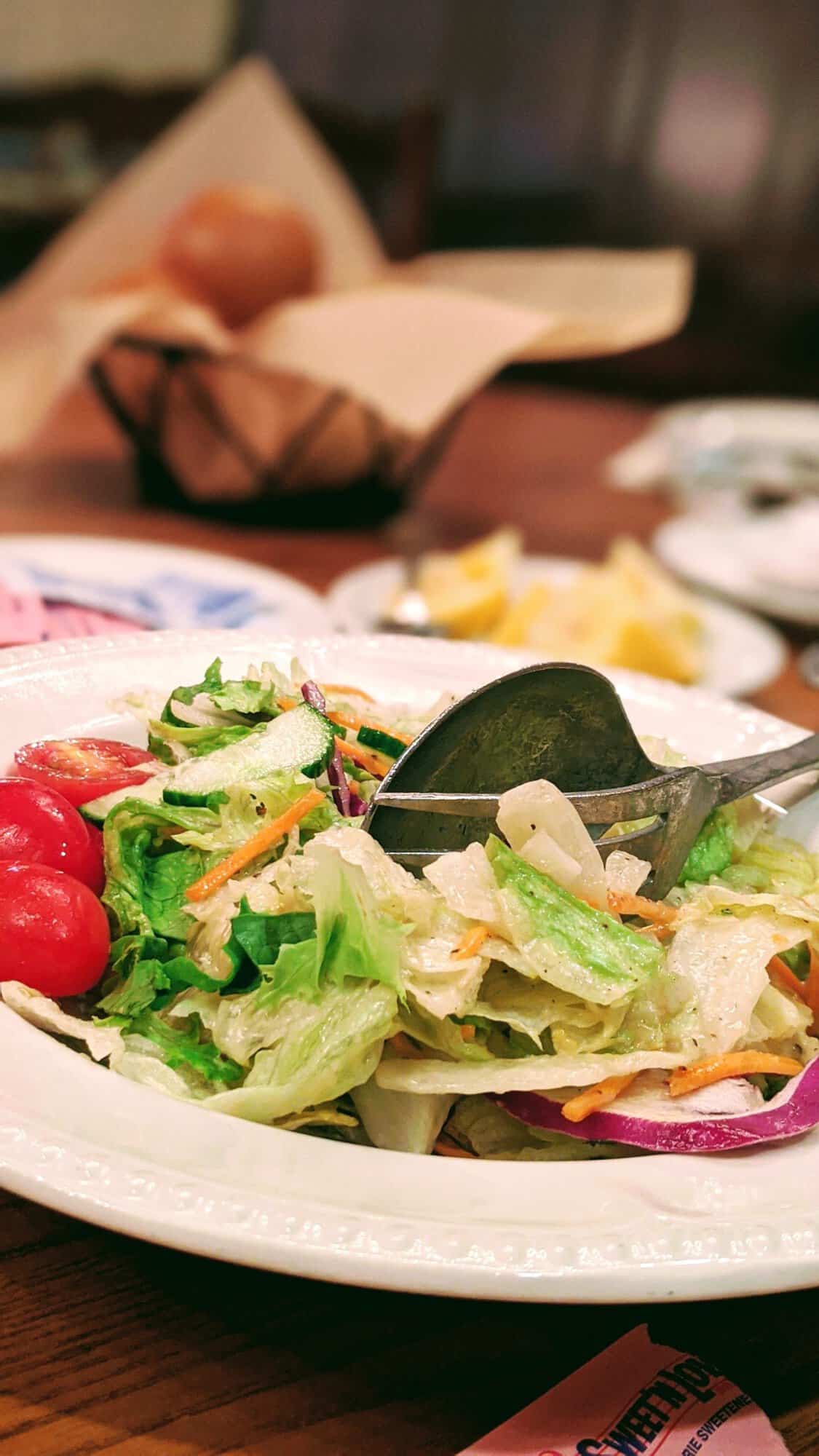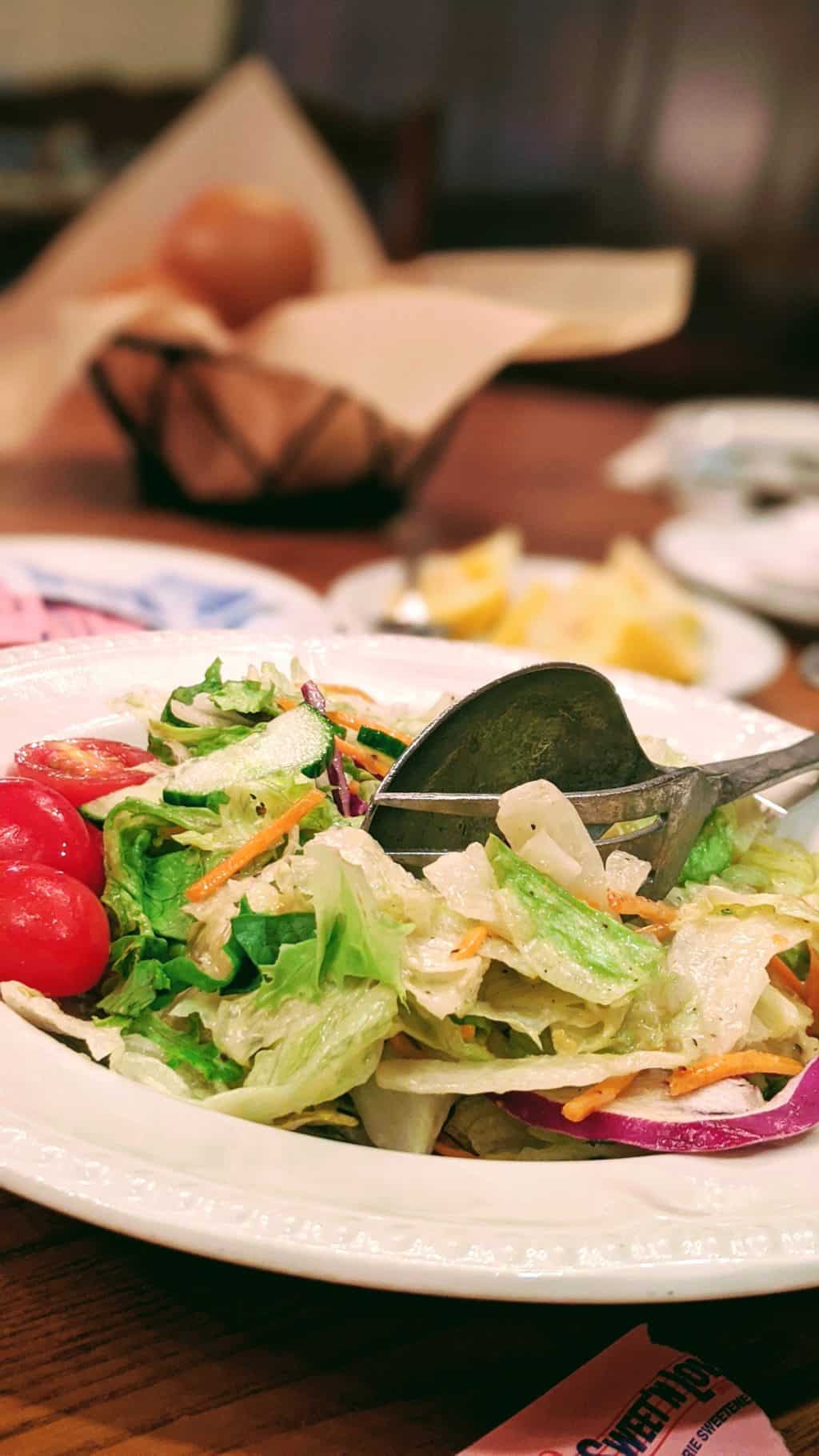 You will start with a large bowl (or more depending on the size of your party) of salad and a plate of bread. The salad was your average restaurant salad. The dressing was light, which I appreciated for being out in the hot Florida sun.
The bread was hard and stale, though. I was hoping maybe it was just a bad batch of bread, but another serving later in the meal proved me wrong. Admittedly, I am a carb-lover, and I was really hoping for some soft, warm bread.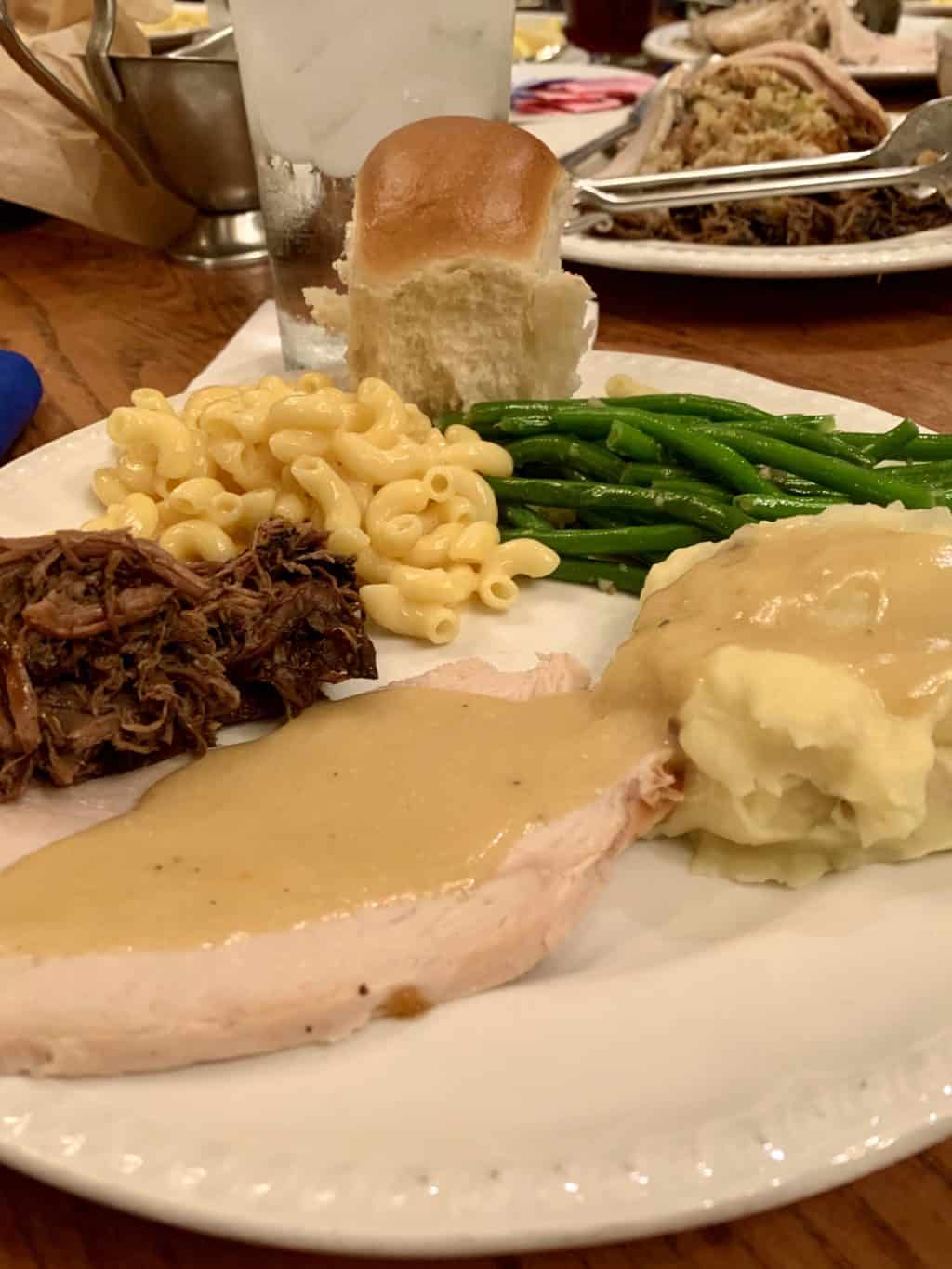 Roasted turkey breast, pot roast, and carved pork are the meat entrees you will receive on your platter. All three tasted great! I appreciated the fact that gravy was served with the meal so I could add it to my turkey and potatoes.
The pot roast was fork tender and seasoned well. The carved pork was a great flavor as well.
Sides include:
mashed potatoes
green beans (or other seasonal vegetable)
herb stuffing
macaroni and cheese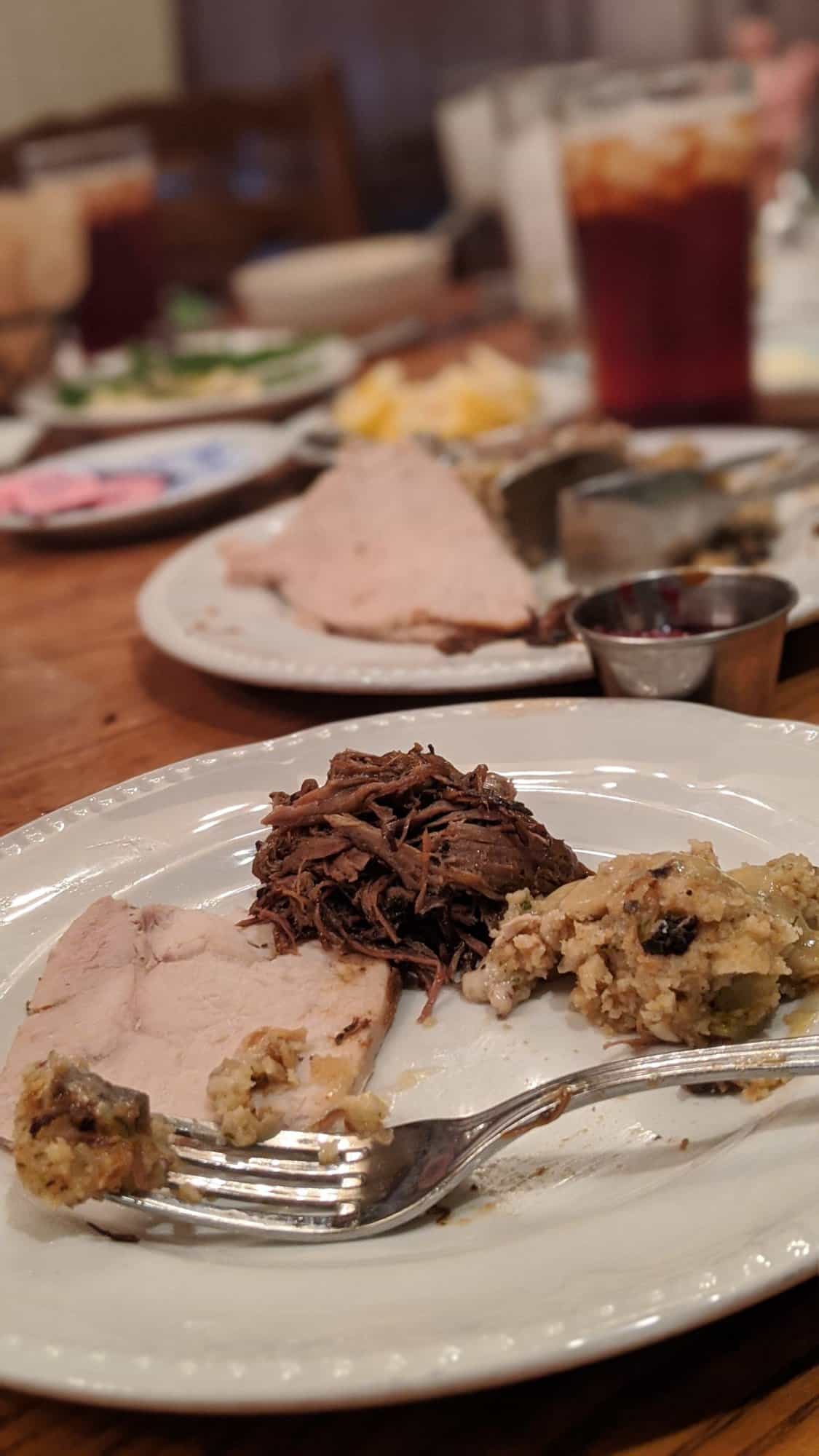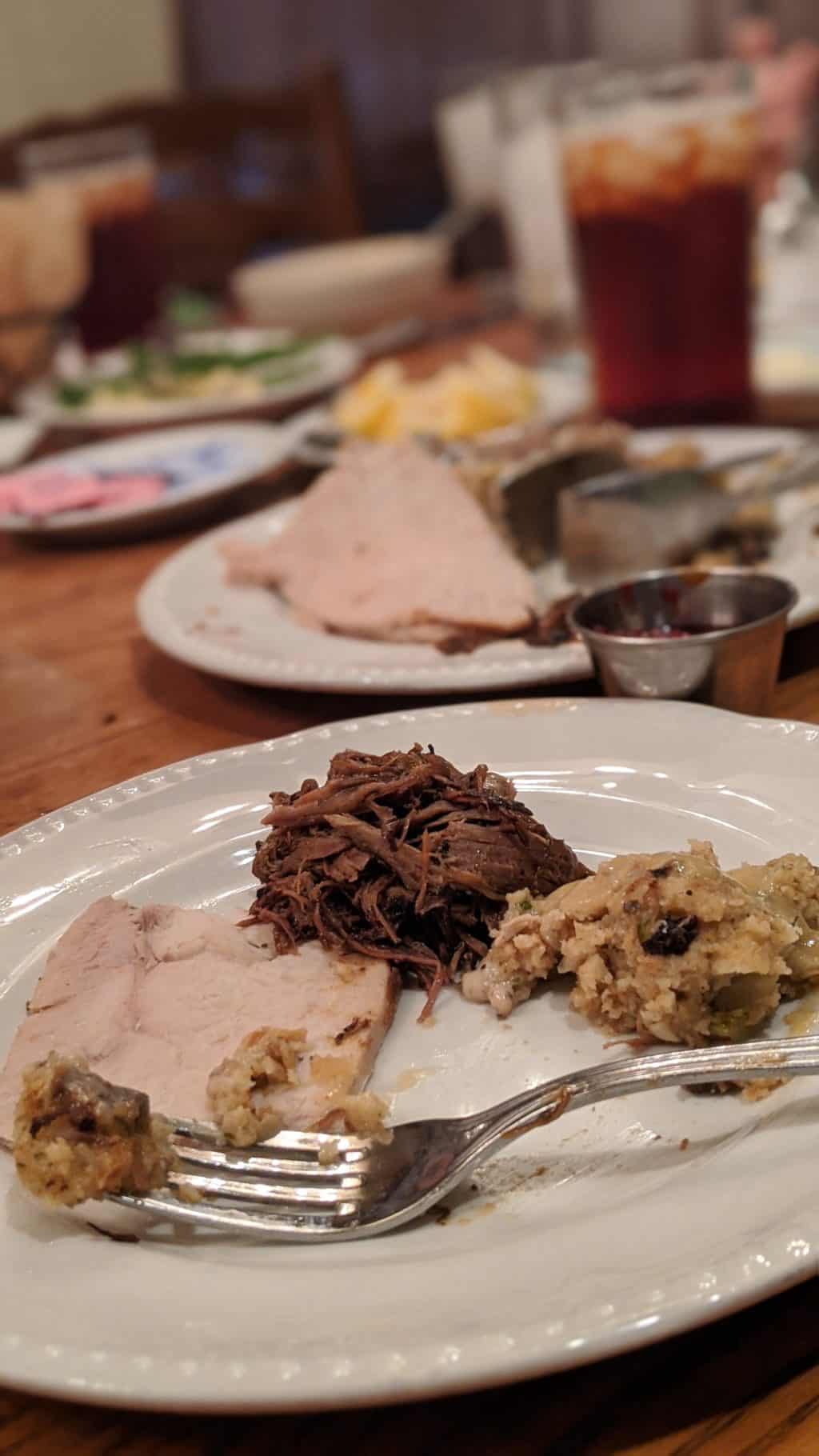 Each side, while not particularly bad, was not particularly great either. I did enjoy the macaroni and cheese and potatoes the best. The potatoes were so creamy!
The green beans did not have much flavor, in my opinion. I like to dress mine up fancy with onion and bacon at home. Finally, the stuffing was just ok. I had one helping, and that was enough for me.
A plant-based platter is also available. Plant-based meatloaf, mashed potatoes, mushroom gravy, and vegetables are on the menu for those that have specific dietary restrictions.
If you have additional concerns, be sure to speak to the chef!
Dessert Options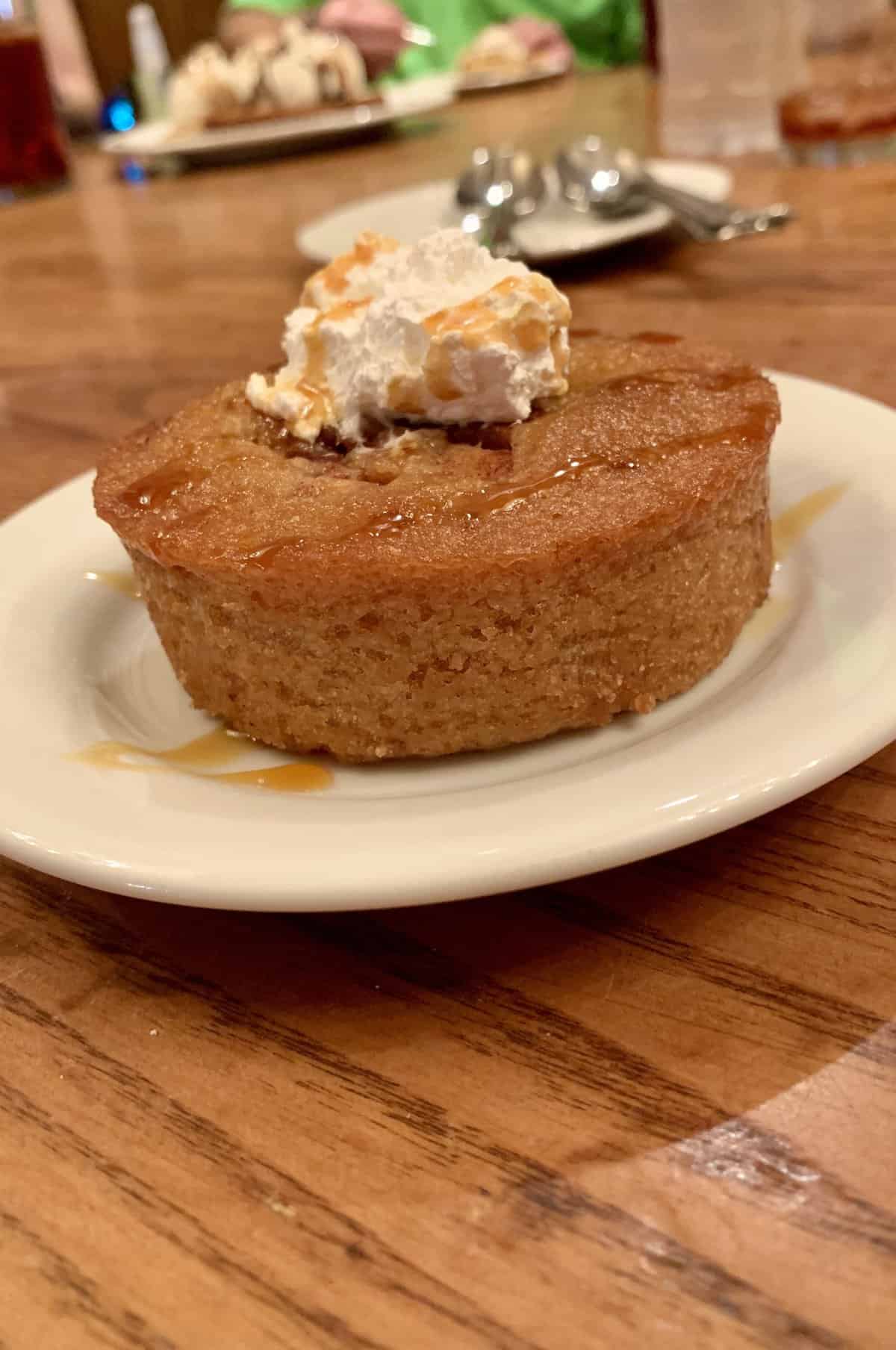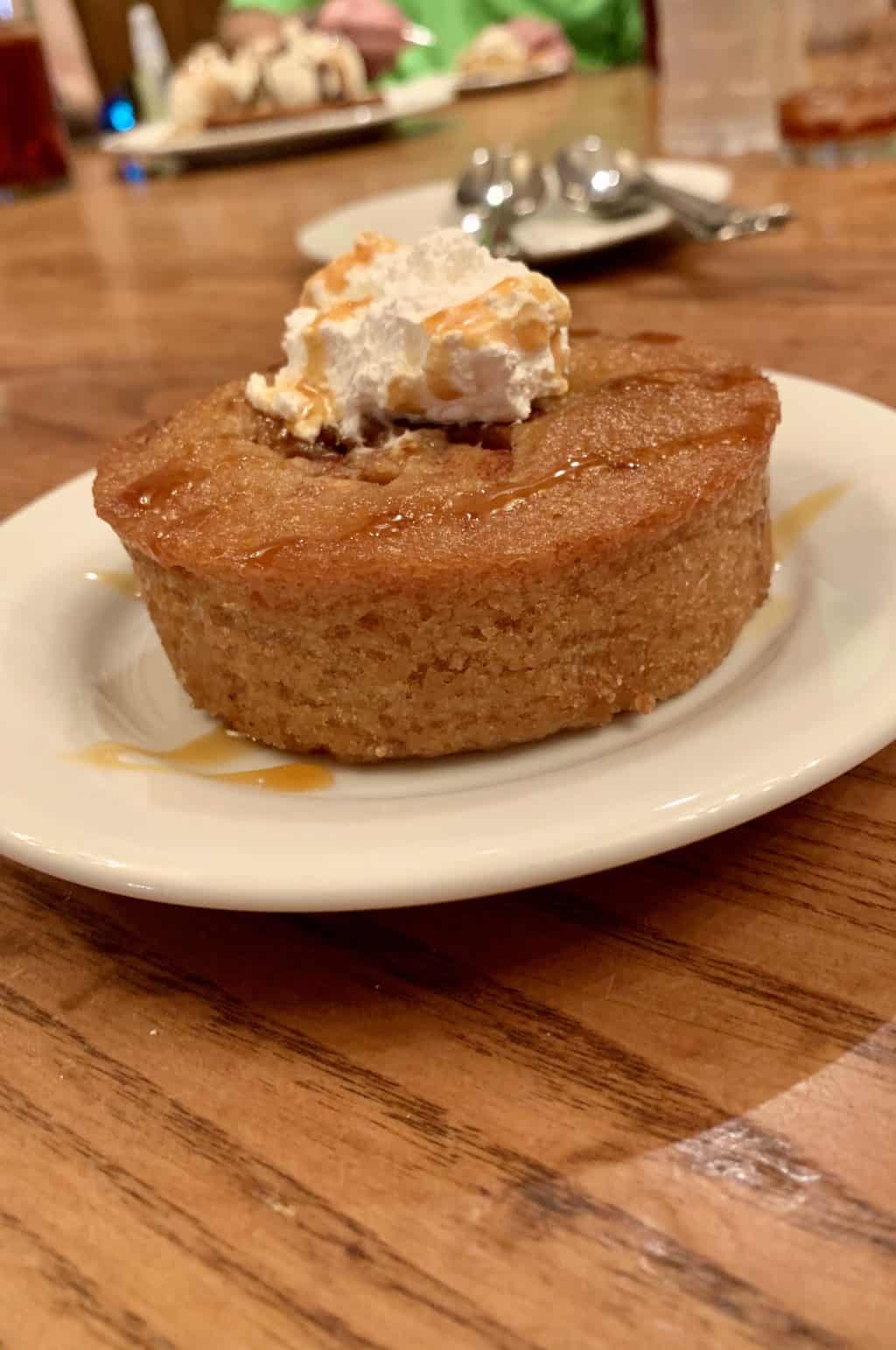 The real star of the meal was the dessert! The oogey gooey toffee cake is a favorite dessert for many that visit Magic Kingdom. Johnny Appleseed's warm apple cake is another sweet option (which is also plant based).
I do love anything apple so I asked to have a plate of the apple cake along with the toffee cake that the rest of the table shared.
The apple cake was slightly disappointing because there were no pieces of apple or glaze. It was just cake (a little dry), caramel, and a dollop of whipped cream. The flavor did not taste "apple-y" enough for me. I should have asked for a dish of vanilla ice cream.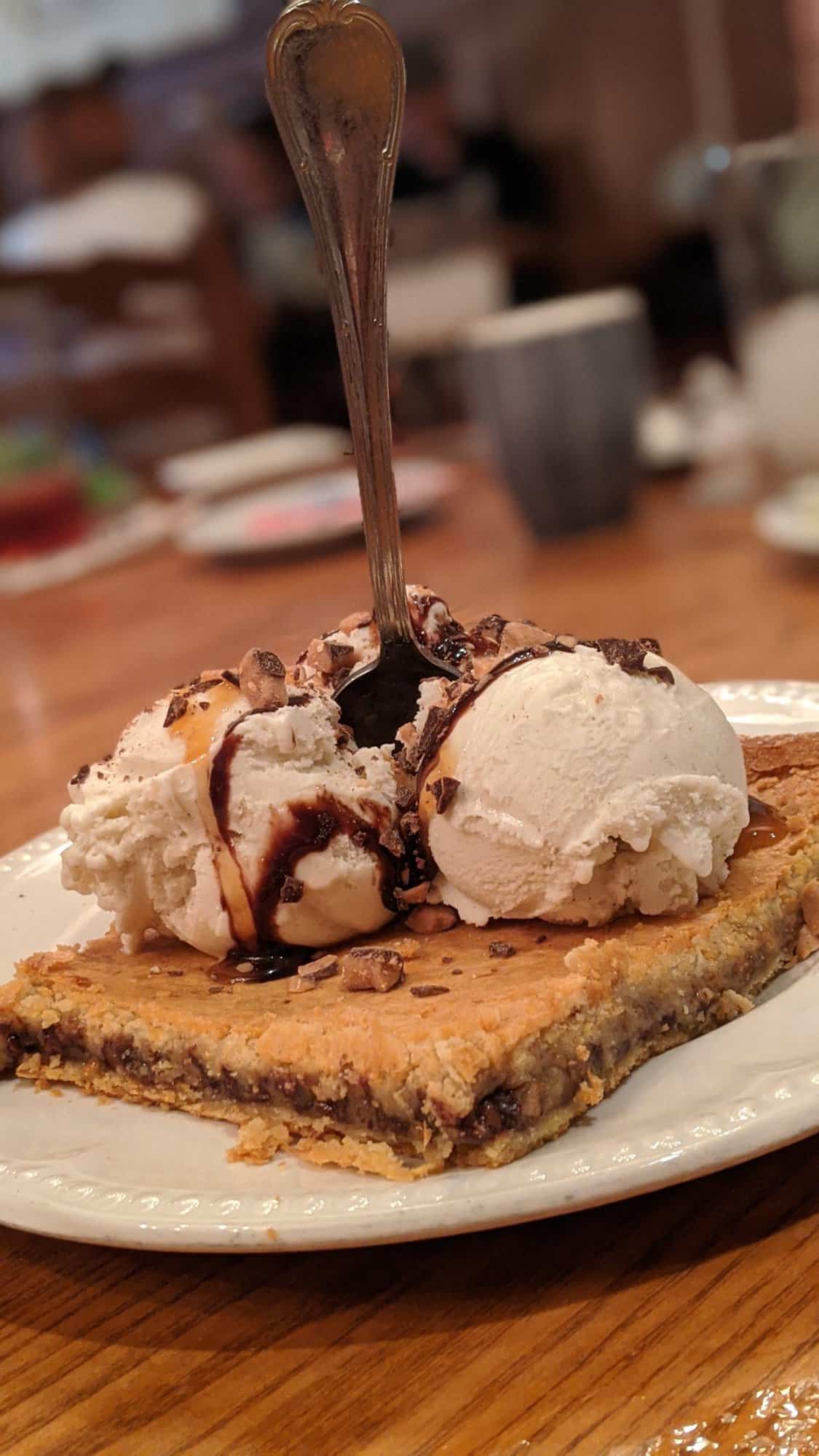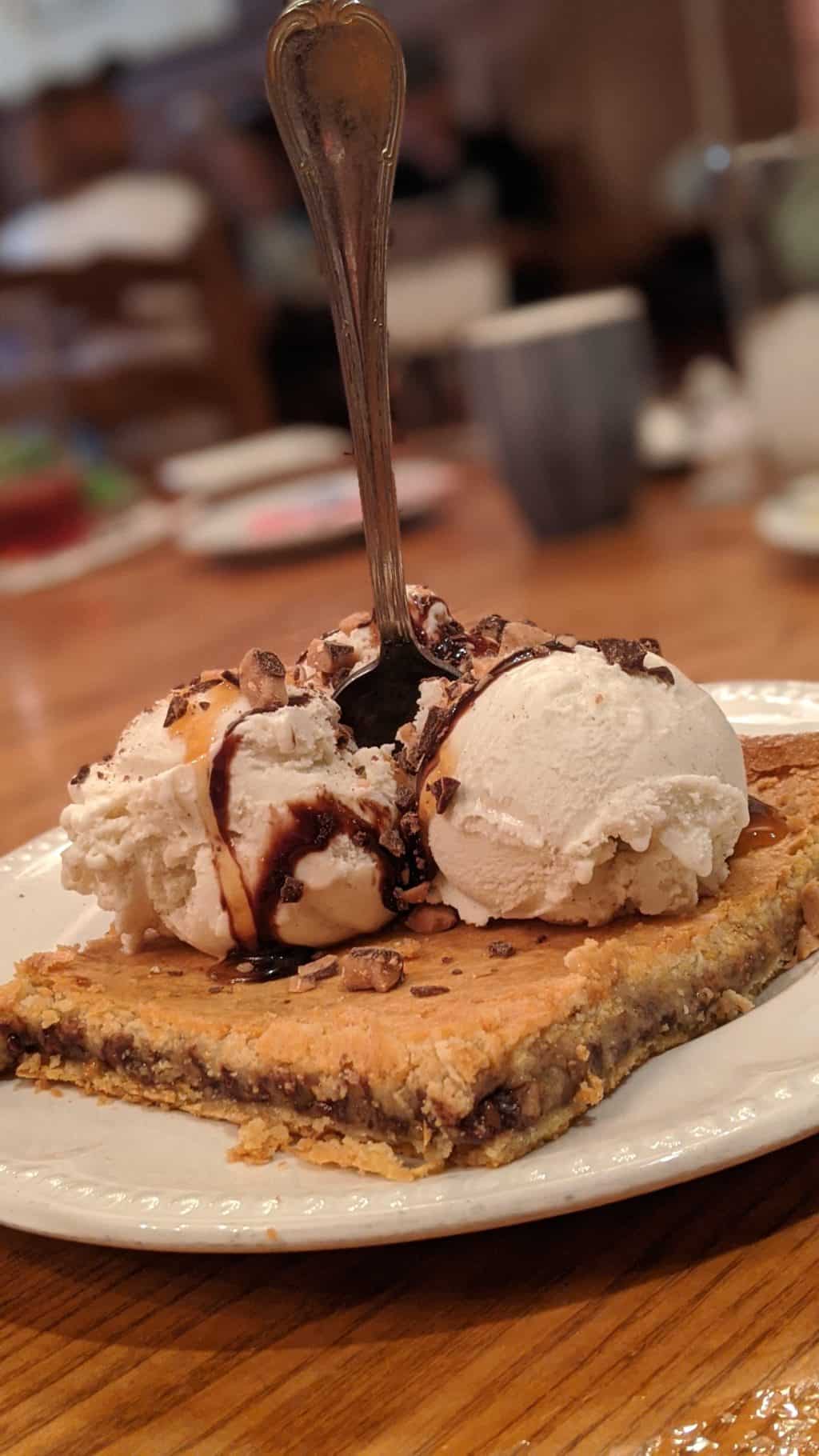 The toffee cake was fantastic, though! The flavors all meshed together, and it really was oogey gooey! The ooey gooey toffee cake is a cross between a blondie and a thick chocolate chip cookie. It's crispy on the outside and oh so gooey on the inside.
The vanilla ice cream and crumbled toffee on top gives the perfect finish to this mouthwatering dessert.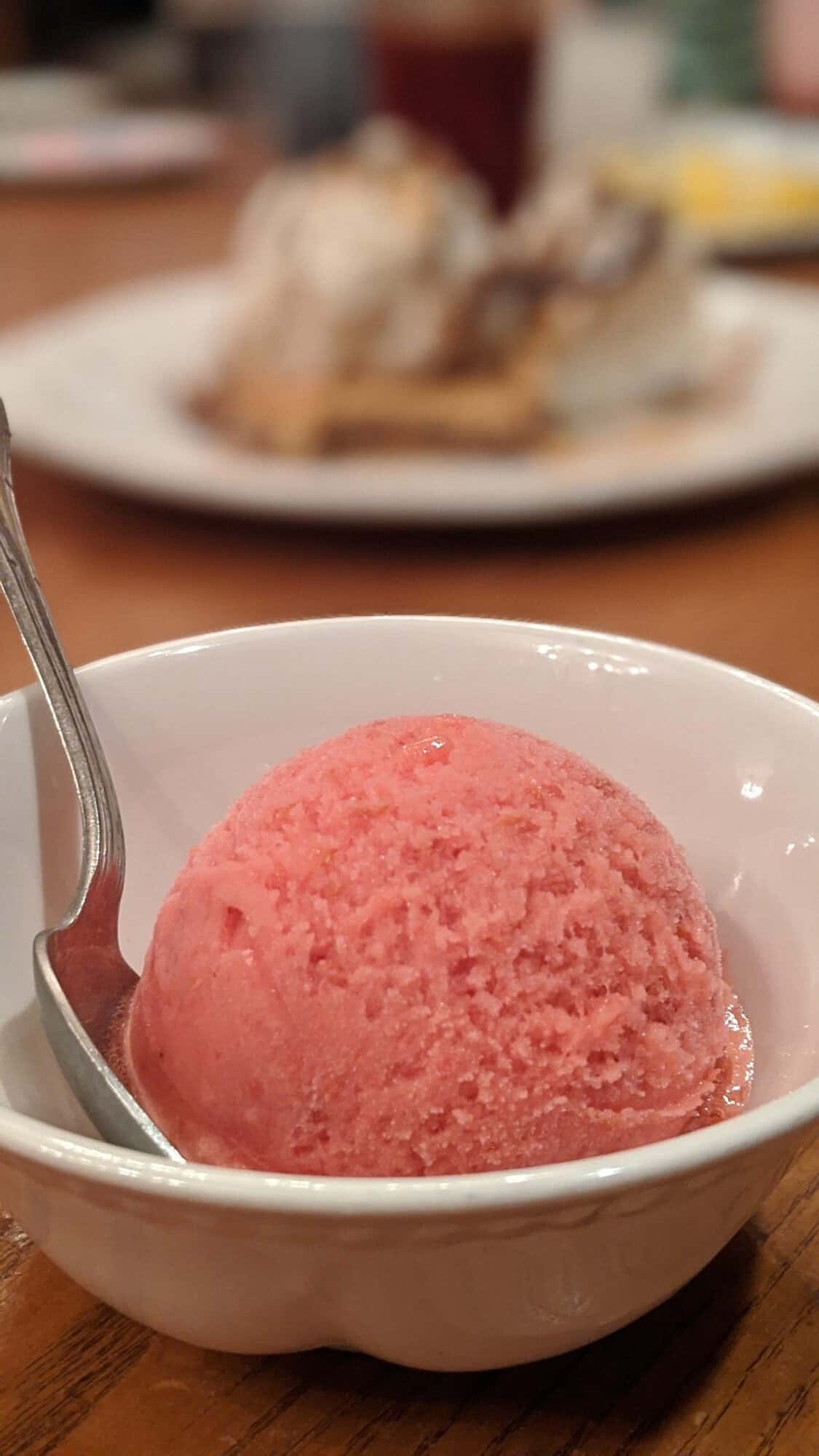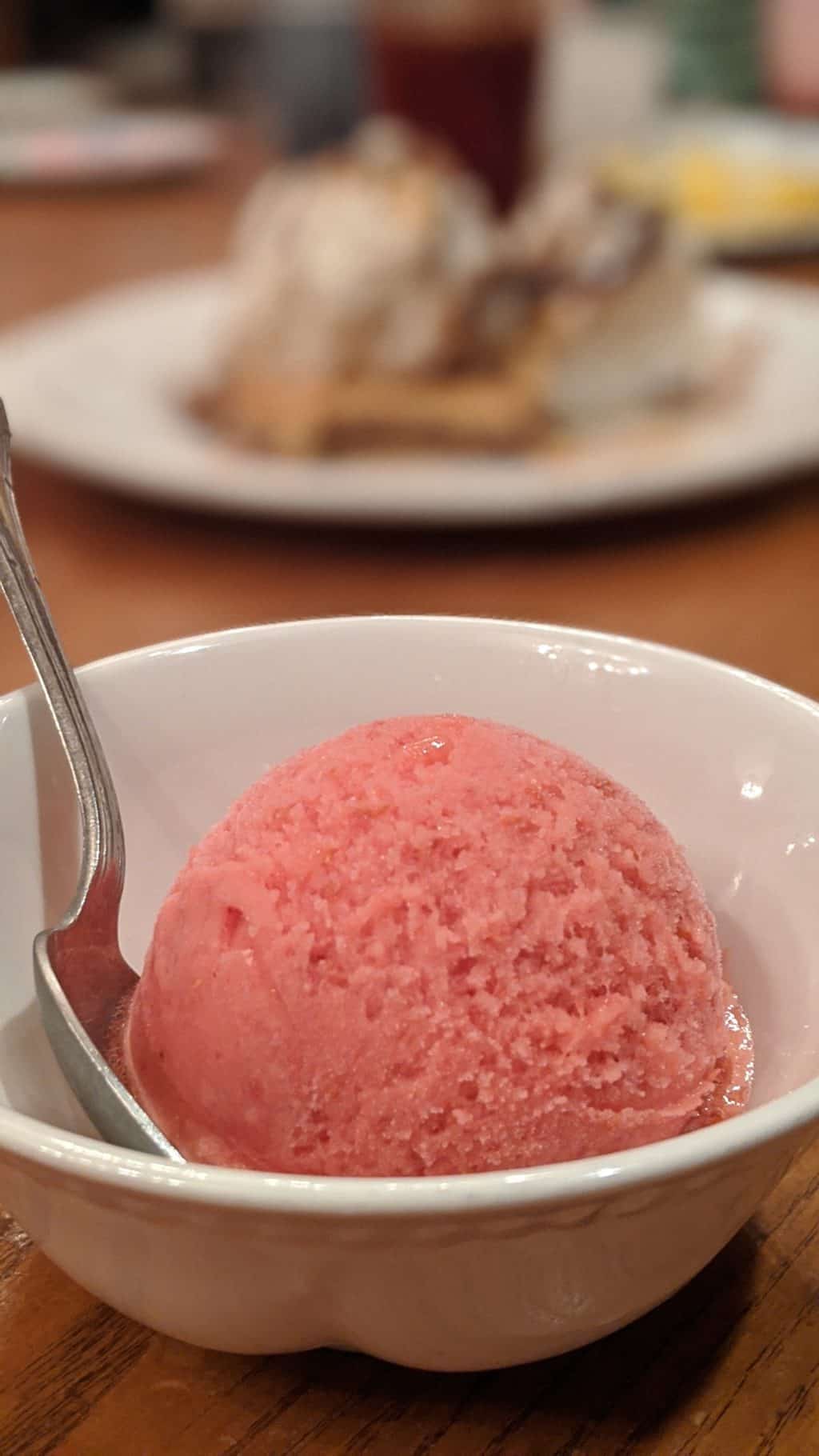 Sugar-free sorbet is also available for Guests who choose not to eat one of the other dessert options.
Final Thoughts on Liberty Tree Tavern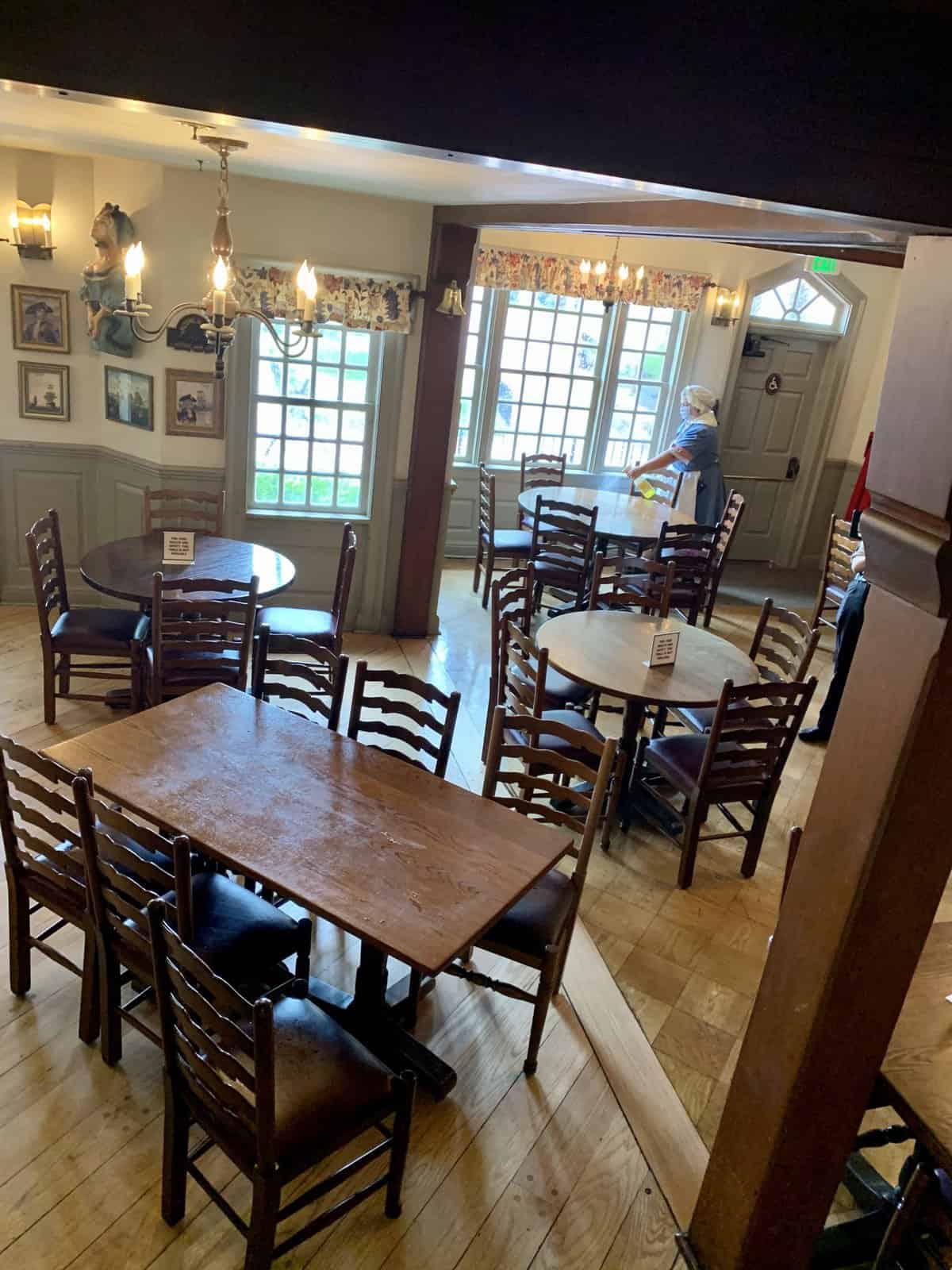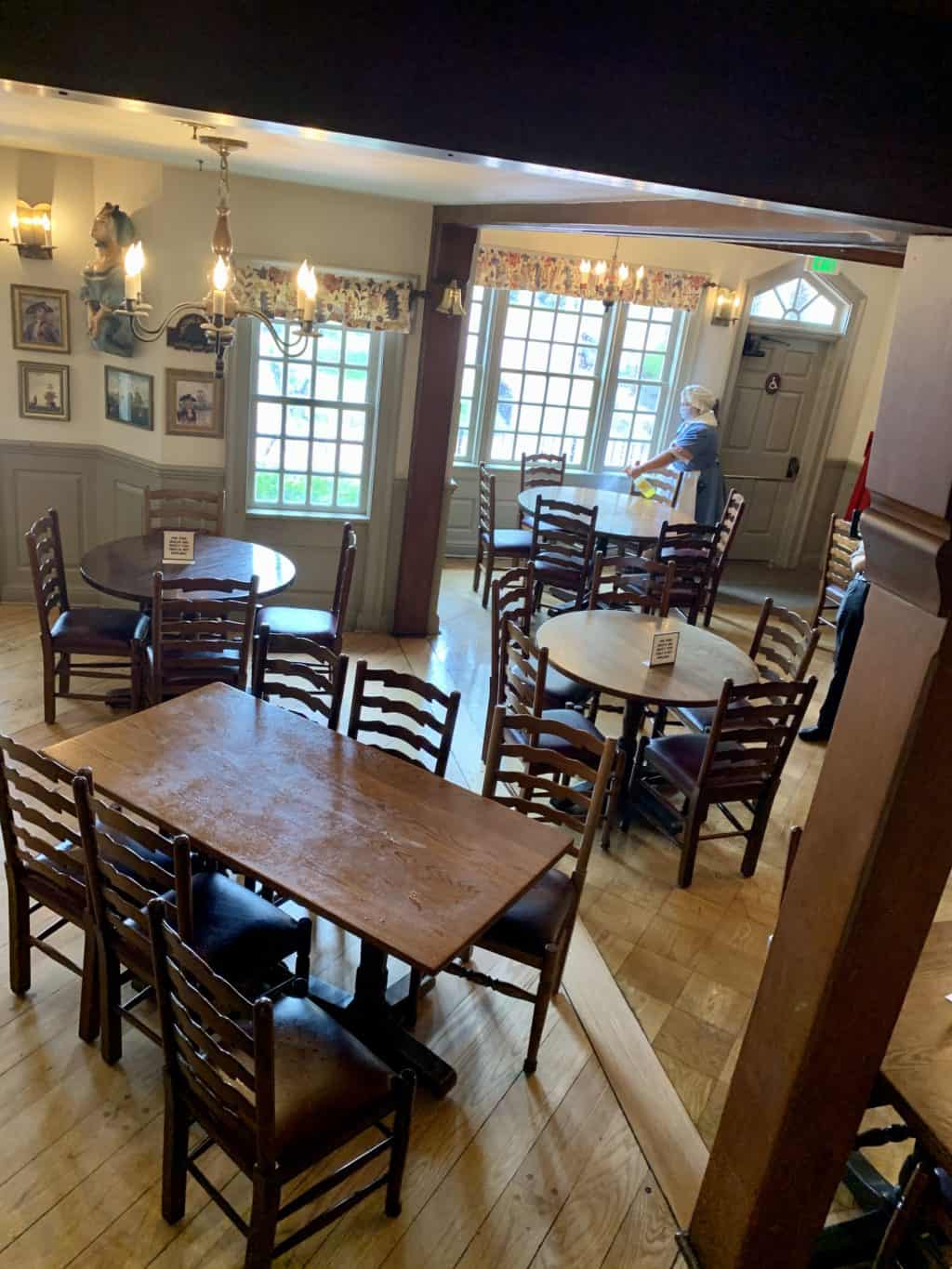 I do think the food at Liberty Tree Tavern was better than traditional park food, which I think has to count for something. Perhaps I just had such high hopes because of how much I love my family's Thanksgiving dinners!
Overall, I did enjoy my meal and would go back there again in the future! It just wasn't my favorite meal I've ever had at Disney.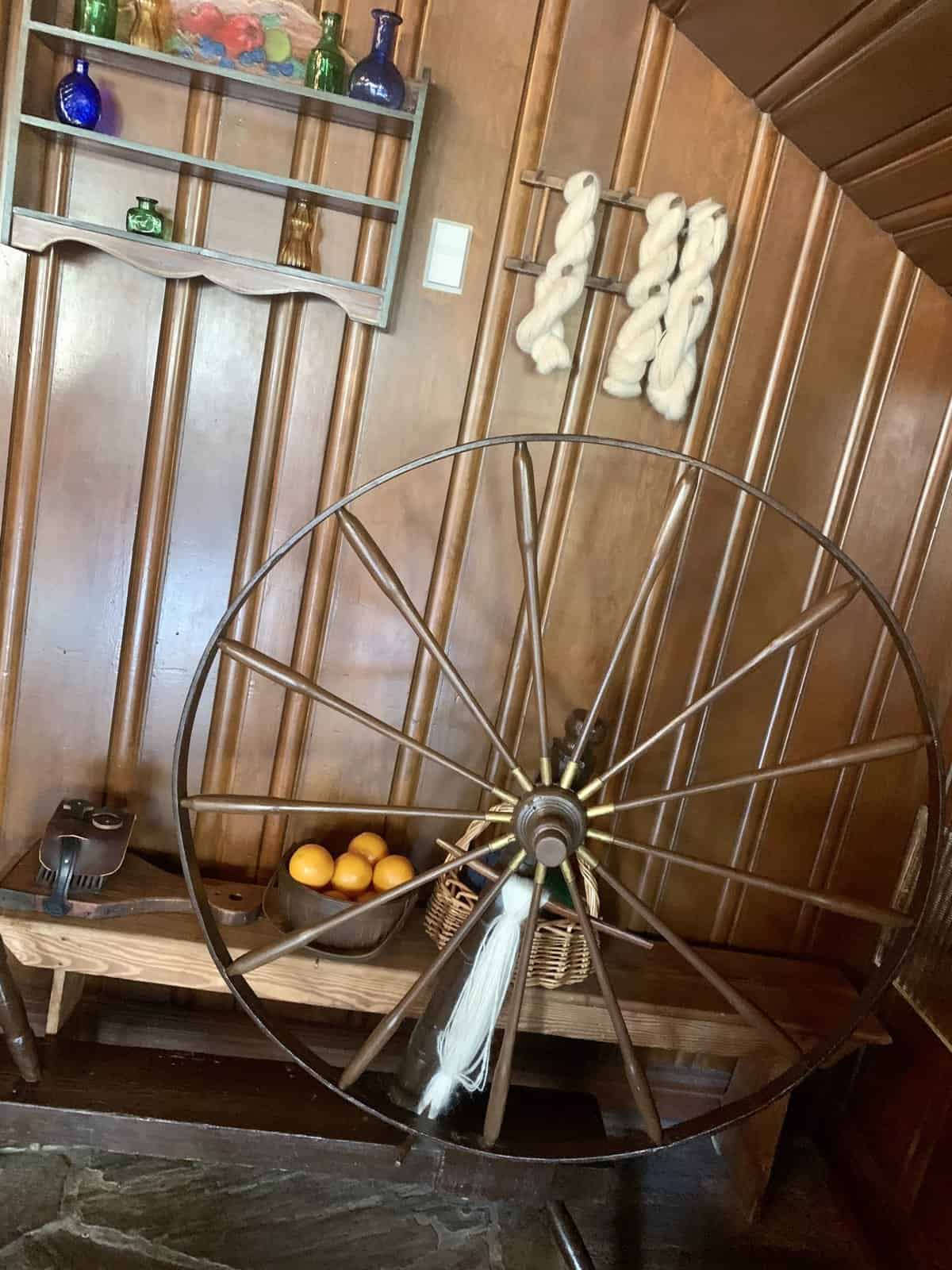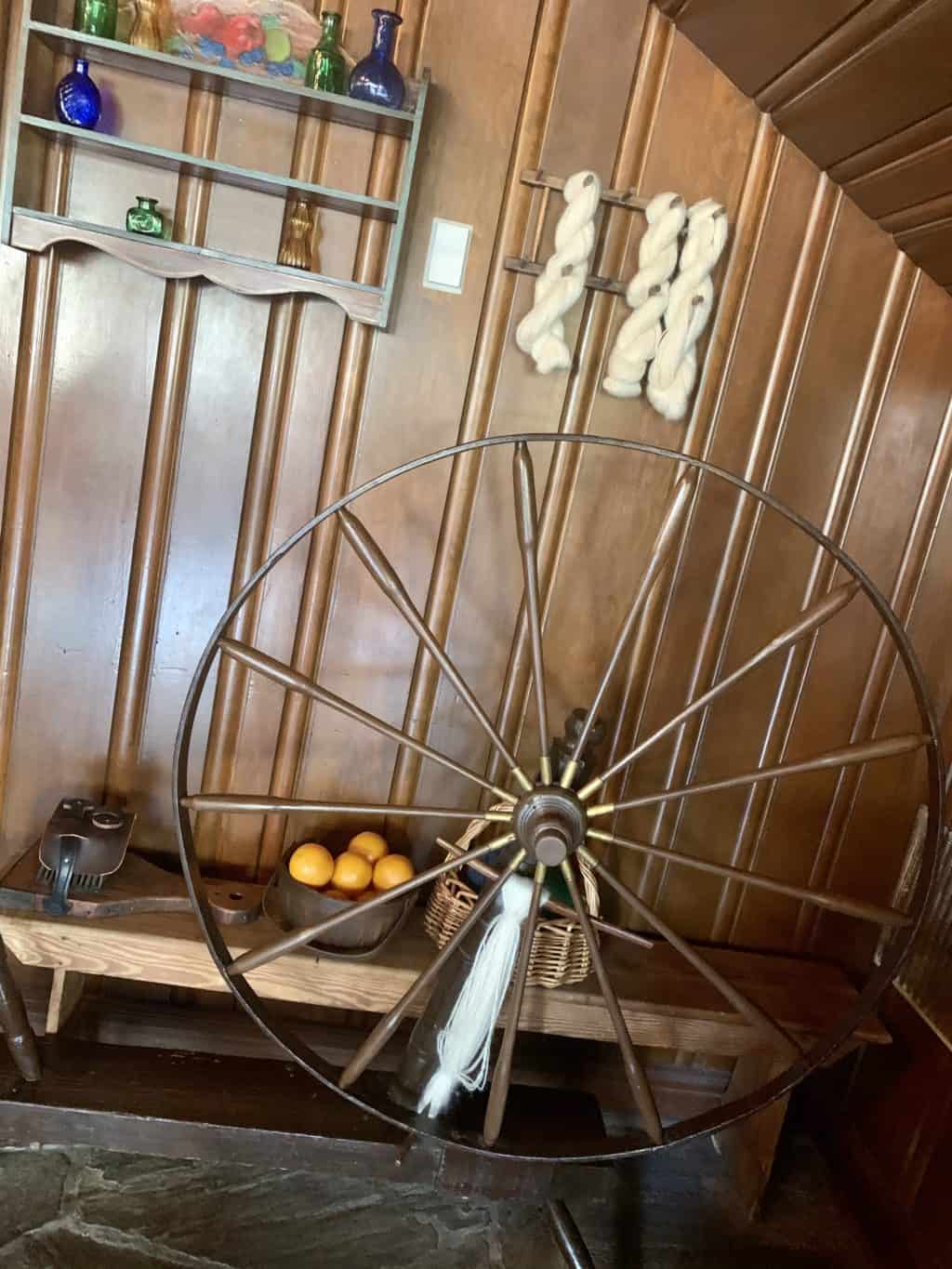 I think the atmosphere is very patriotic with the touches to Colonial life and the respect that is given to a few of the individuals who played a large part in the founding our country.
Do you have Liberty Tree Tavern on your list of restaurants to try on your next visit? Please ask questions on Facebook!