Sleepy Hollow is a must for me every time I visit Magic Kingdom. If you've never eaten there, allow me to encourage you to try it next time you have the chance! Here are 5 reasons why you should eat at Sleepy Hollow the next time you visit Magic Kingdom.
Sleepy Hollow is a small brick cottage located in Liberty Square at the Magic Kingdom. The combination of theming and location along with a menu that will satisfy any sweet tooth keeps me coming back every visit.
Do you know the story behind Sleepy Hollow? It has a back story just like everything else at Disney World! I'll share all about it in a bit. Let's dig in!
5. The Menu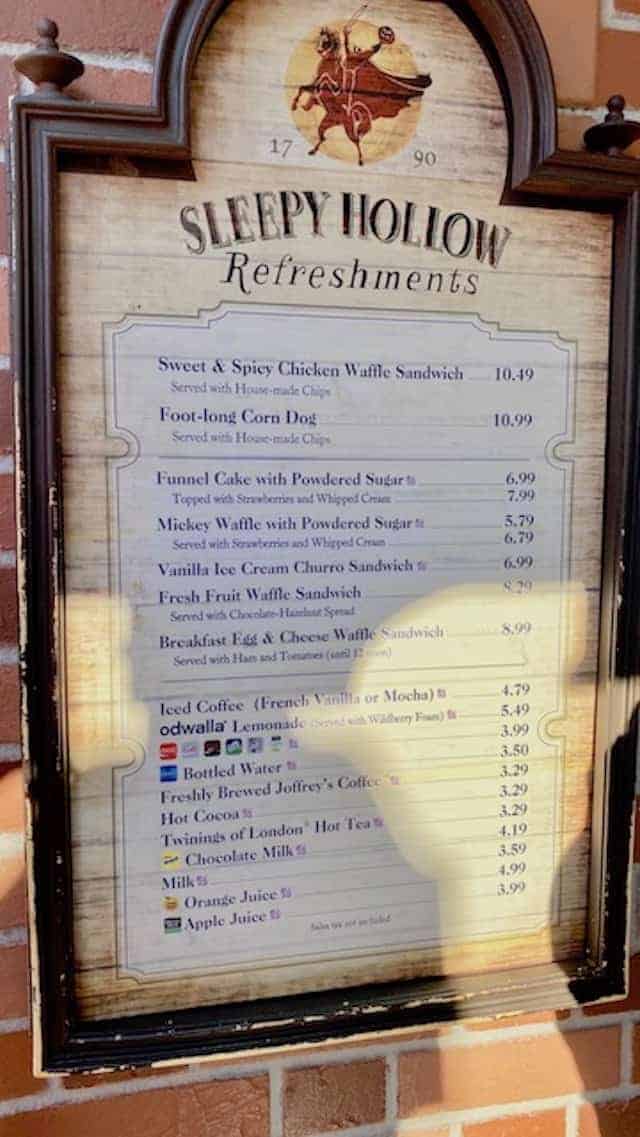 The menu at Sleepy Hollow is smaller compared to other restaurants, but I think the simplicity is what makes it so great. They don't serve traditional food items like pizza or sandwiches but more snack food.
Foot long corn dogs, waffle sandwiches, Mickey waffles, and funnel cakes all grace the menu.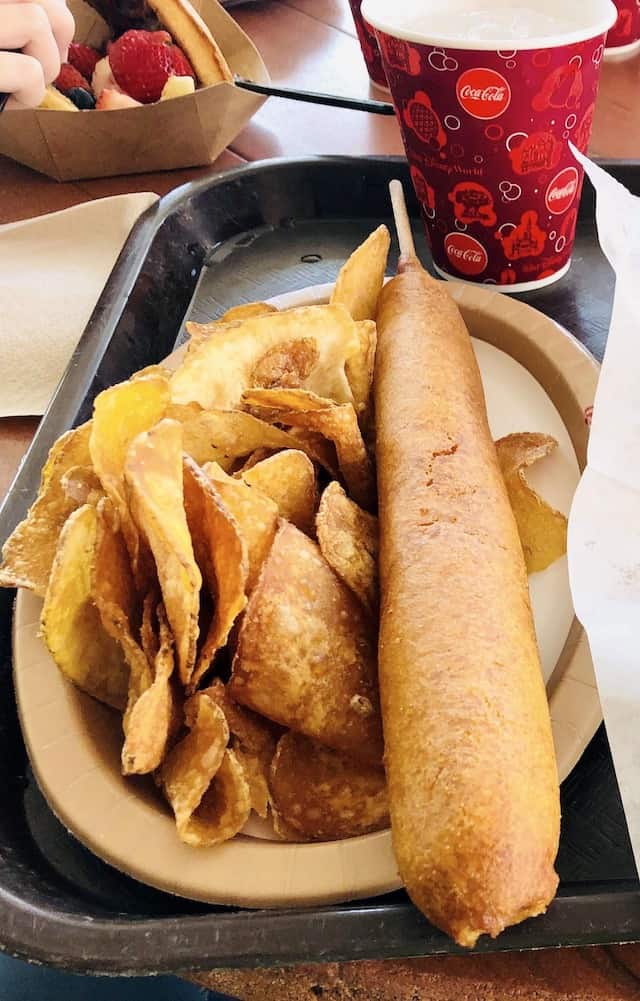 The corn dog and funnel cake are a must for me each time I visit, even though they aren't particularly hard to come by here at home.
I don't know what makes them so special at Magic Kingdom!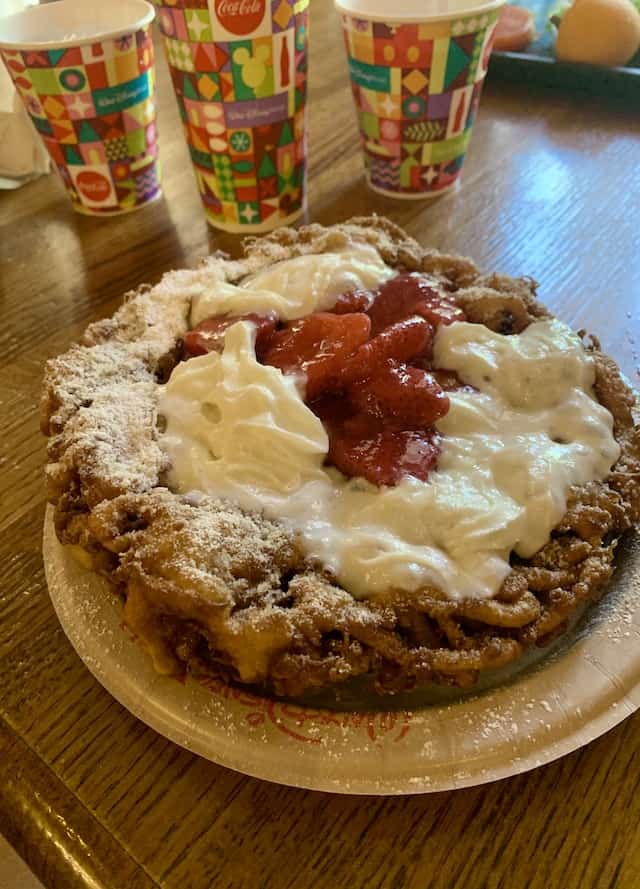 I love to get my funnel cake topped with strawberries and whipped cream! You can order the Mickey waffle and funnel cake without toppings if you desire.
The waffle sandwiches are also delicious! If you want something sweet you can go for the fresh fruit and Nutella waffle sandwiches.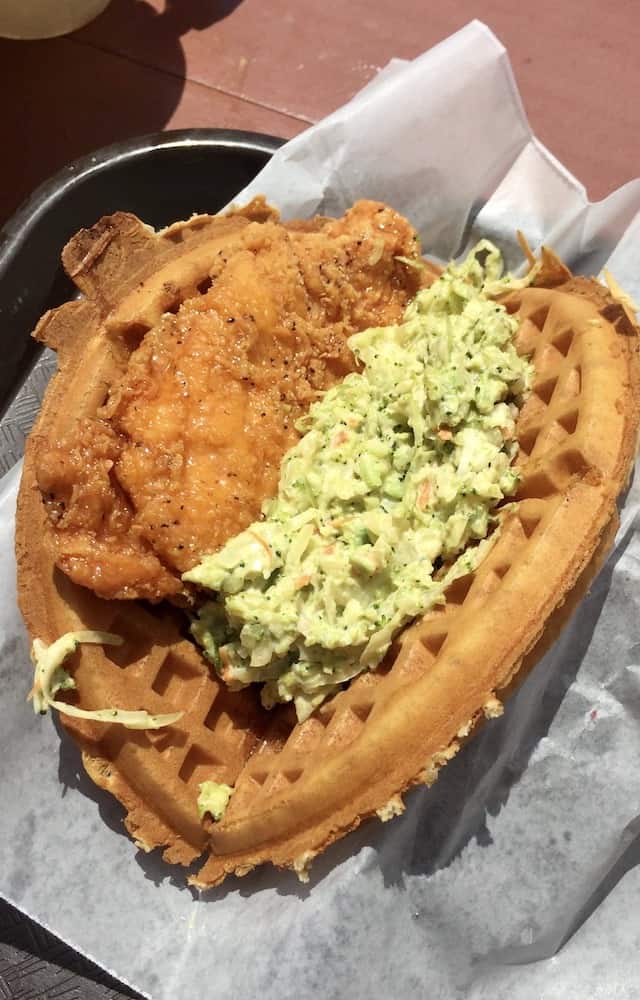 If you want something spicy you can try the sweet-and-spicy chicken waffle sandwich. It is pretty spicy, but the cole slaw does tone it down a bit. You can also ask for your spicy chicken waffle to be served without cole slaw if you wish.
I have had both waffle sandwiches and love both! Don't make me choose!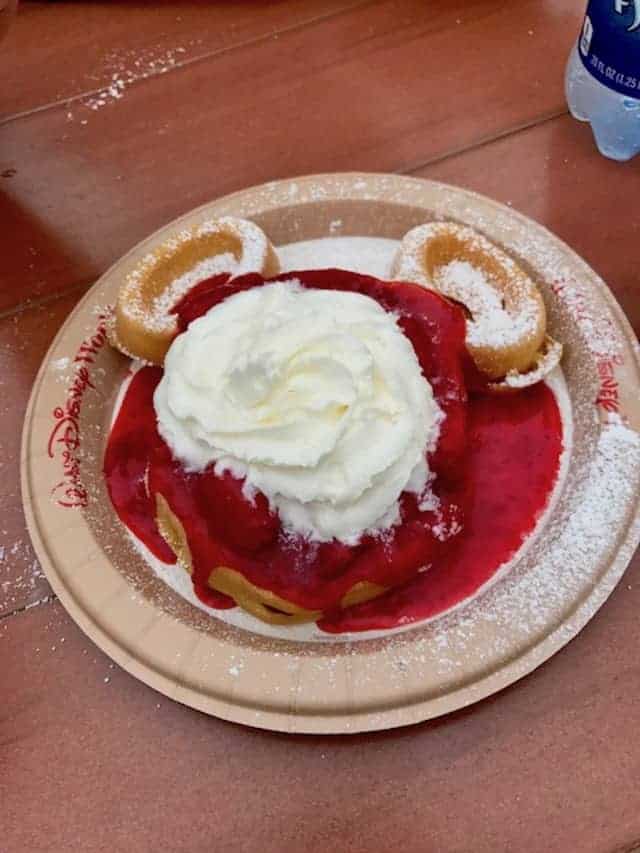 If you need to satisfy your need for a Mickey waffle (and who doesn't?), Sleepy Hollow has you covered there, too. You can get it plain, add powdered sugar, or load it up with strawberries and whipped cream.
Joffrey's coffee, Twinings of London hot tea, fountain beverages, and various bottled beverages are also available.
4. The Location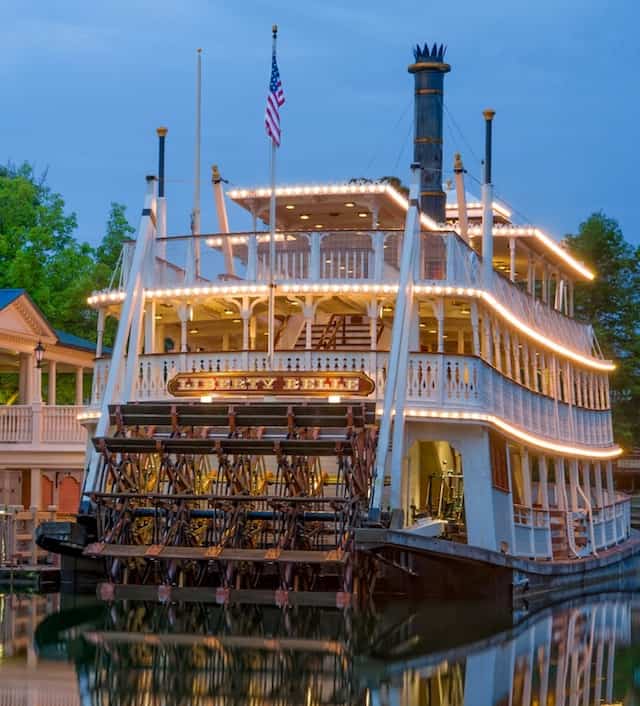 Sleepy Hollow is located in Liberty Square at Magic Kingdom. You actually pass it on your way to the Hub from Liberty Square.
This is what makes it a great location to grab a snack. It is easily accessible from both the Hub and Liberty Square.
Previously, I would grab my funnel cake before the fireworks and find a spot in the Hub. Even though the fireworks have been temporarily paused during this initial reopening phase, Sleepy Hollow still offers a great opportunity to grab a snack and take a break near Cinderella Castle.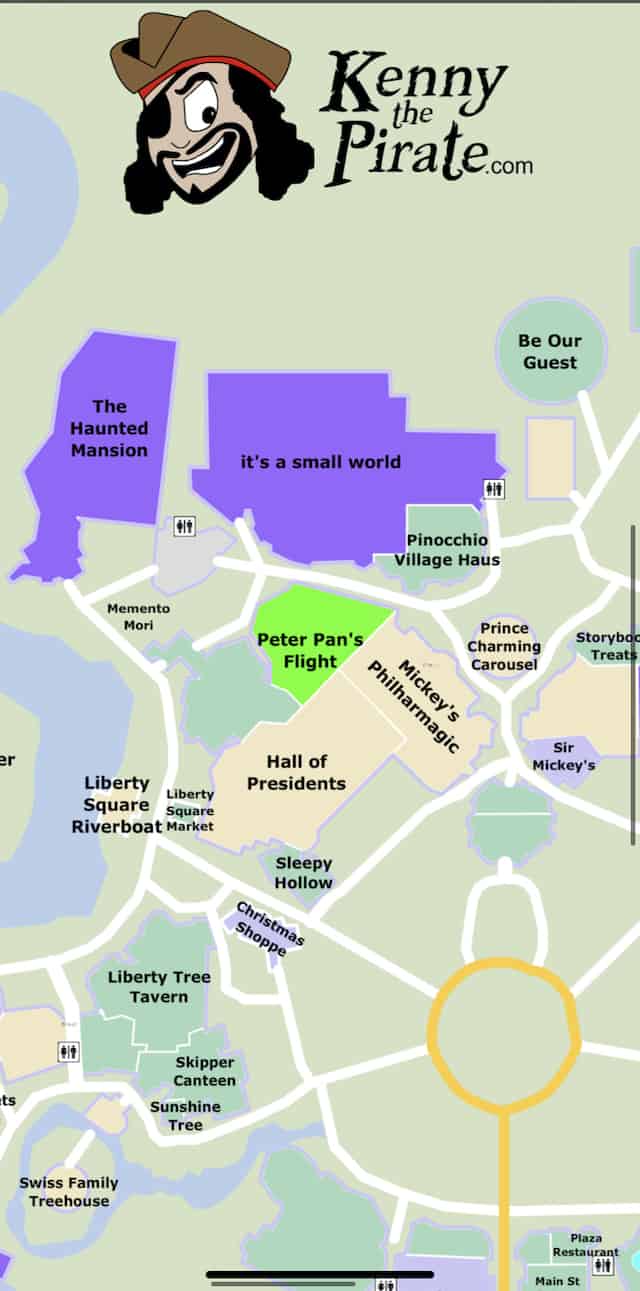 Because it's located in Liberty Square, you can also grab your treats and head towards Frontierland or Fantasyland.
On a previous trip, my friend and I grabbed our "lunch" and met the rest of our group at Pecos Bill where they were eating. The walk was not far and we were able to enjoy our meal in the cool air conditioning.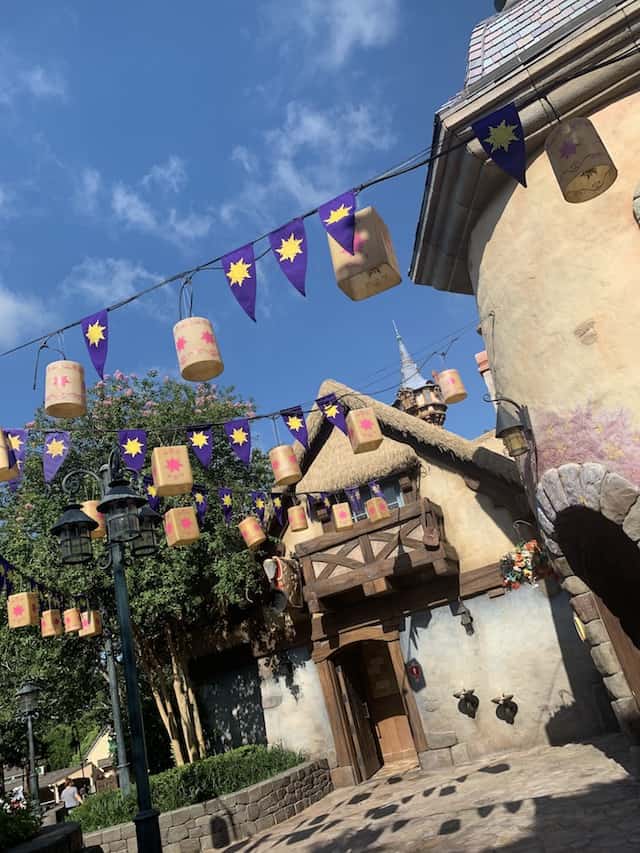 Heading the opposite way, you could walk towards the Tangled bathrooms and eat your food there in that seating area nearby before heading to Peter Pan's Flight or it's a small world.
Bonus: the Tangled seating area also has USB ports for you to recharge electronic devices.
There is a small dedicated outdoor seating area right next to Sleepy Hollow, but it can be hard to find a spot to sit. There are nearby benches along the pathway to the Hub or behind the Christmas Shoppe.
3. The Theming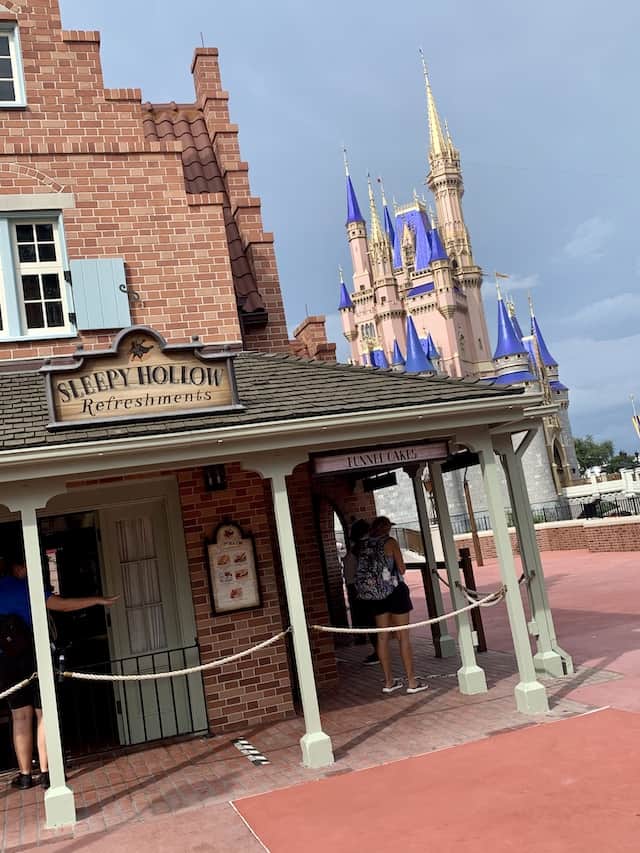 Okay so most people don't decide to eat somewhere because of the theming. Of course, some restaurants beg to be eaten at because of the atmosphere, like Cinderella's Royal Table or Coral Reef at Epcot.
In this case, the theming of Sleepy Hollow adds to the charm.
Did you know there is actually a story line for Sleepy Hollow?! Oh yes, there is, and I fall in love with this place even more after knowing there is a story. Doesn't everything at Disney World have a story?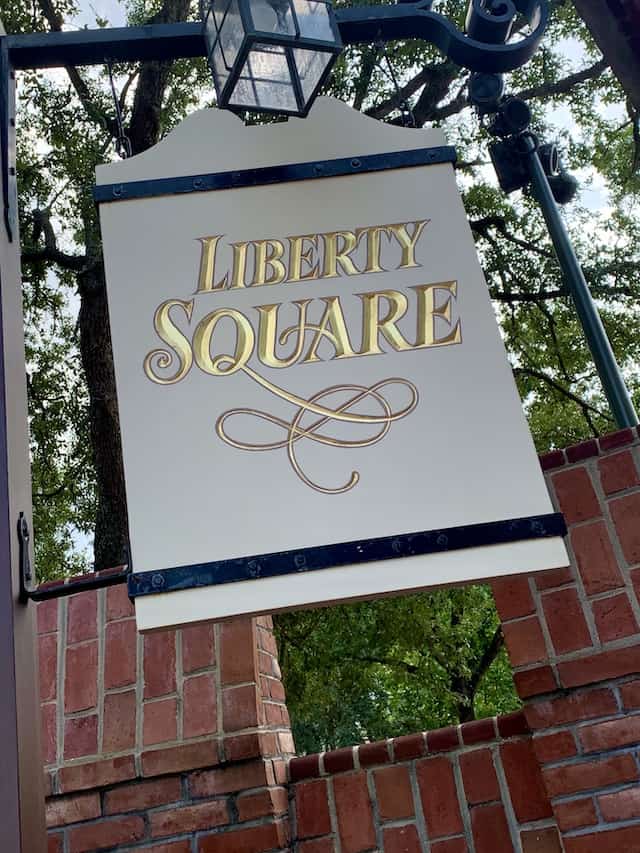 Disney Parks Blog shared the story several years ago when Disney Imagineering Art Director Alex Caruthers offered up some some trivia regarding Sleepy Hollow:
Washington Irving is the author of The Legend of Sleepy Hollow – you remember Ichabod Crane and the Headless Horseman. In 1835, Irving purchased a tiny, two-room cottage situated on ten acres in Tarrytown, New York, along the banks of the Hudson River.
He described the place "capable of being made a little paradise."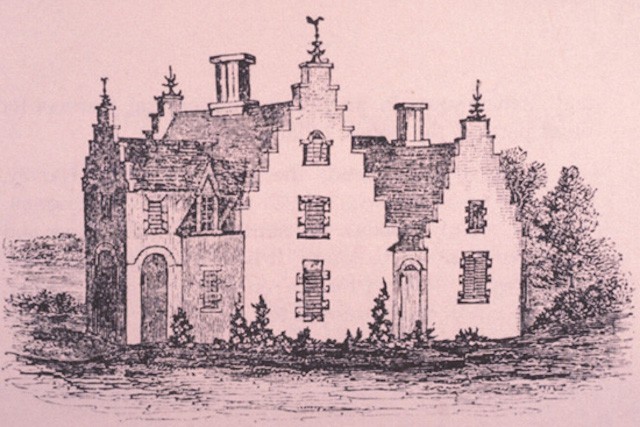 Irving spent many years remodeling and expanding the residence, combining elements of colonial New York architecture and buildings he knew in Scotland and Spain.
He named it Sunnyside in 1841, and history shows that the home was a busy place, full of friends and family most of the time – not unlike the restaurant.
Now, take a look at this photo also shared by Disney Parks Blog: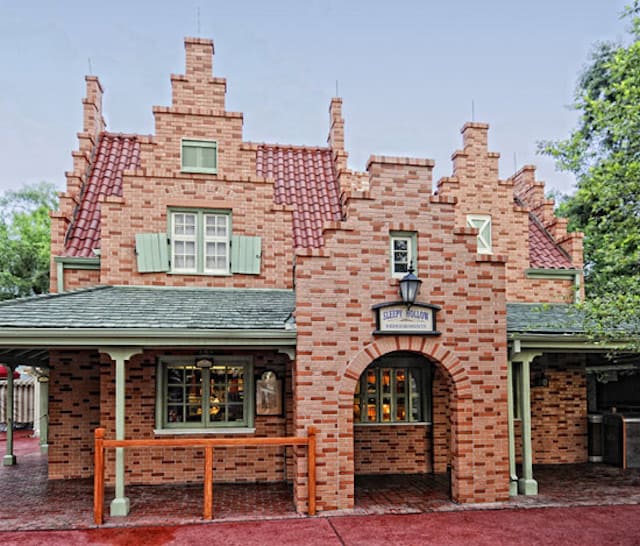 Sleepy Hollow was designed to look like Washington Irving's Sunnyside home! How neat! I just love that Disney Imagineers put so much thought and effort into every aspect of the parks.
2. Seasonal Offerings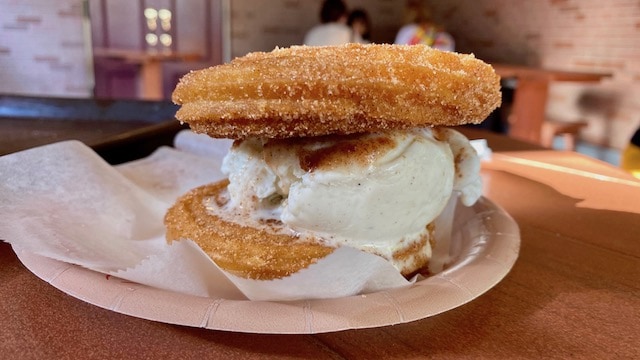 Yes, you can enjoy your Mickey waffles, foot long corn dogs, and churro ice cream sandwich (pictured above) year-round.
But, did you know Sleepy Hollow also offers specialty treats during the Halloween and Christmas seasons?
This Halloween season (2020), Sleepy Hollow will offer a pumpkin spiced Mickey waffle sundae! Enjoy two pumpkin-spice flavored Mickey waffles topped with vanilla ice cream, whipped cream, caramel drizzle, and sprinkles.
*Mickey waffle sundae is pictured top left in the photo above.
Madame Leota, a favorite from the nearby Haunted Mansion attraction, will also be available at Sleepy Hollow in the form of a sipper cup!
You can see all the fall treats and drinks available this year HERE.
In years past, Christmas-themed treats have been available at Sleepy Hollow for those attending during this festive time.
The Santa Mickey waffle sandwich is a red velvet waffle topped with mint-chip ice cream, seasonal sprinkles, chocolate sauce, and peppermint powder. A variation of this snack has been served for a few years now.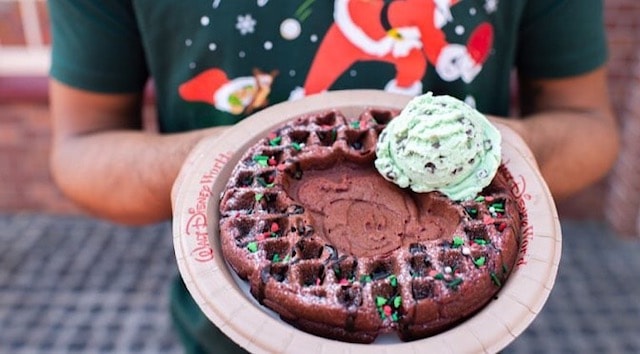 Also, Sandy Claws has made Christmas again a few Christmases ago with a cake push-pop. Previously, He's been filled with layers of orange vanilla cake, cranberry cherry mousse, white crispy pearls, cream cheese buttercream and holiday sprinkles.
Will we see him return this year? If so, you may catch him at Sleepy Hollow! I just love that you can find something new to try during Halloween and Christmas here!
1. Views of Cinderella Castle
This kind of ties into the location of Sleepy Hollow, but it bears repeating.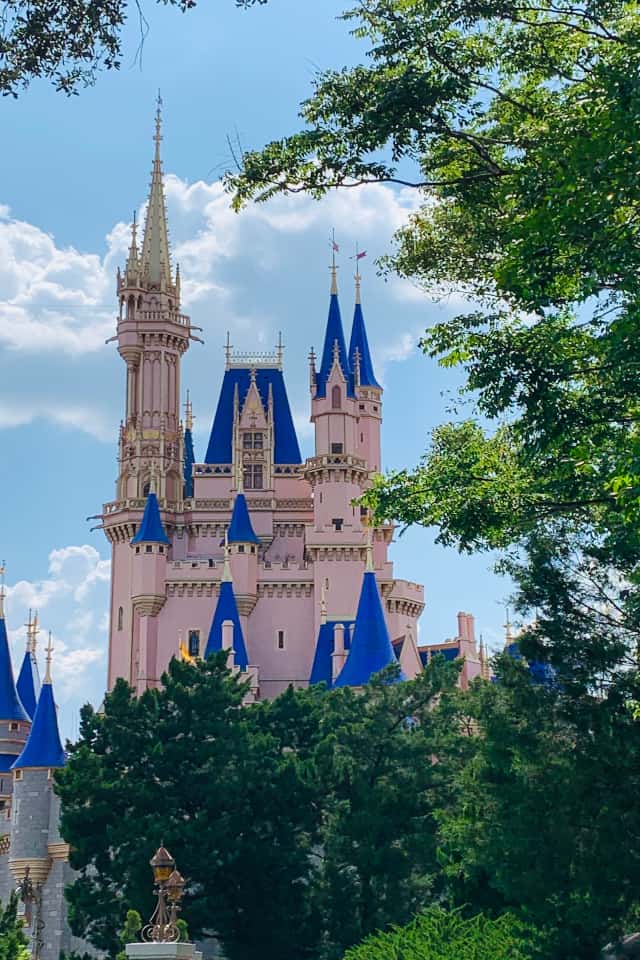 Is there anything better than the sight of Cinderella Castle? Of course, looking at it once you hit Main Street U.S.A. is enough to bring you to tears. However, the less obvious views of Cinderella Castle make you appreciate it more.
Sleepy Hollow is the perfect place to grab your snack and just watch. You can view the moat (hopefully filled with water) and the side of the Castle.
Now that the refurbishment is complete, you won't see any cranes that obstruct the view.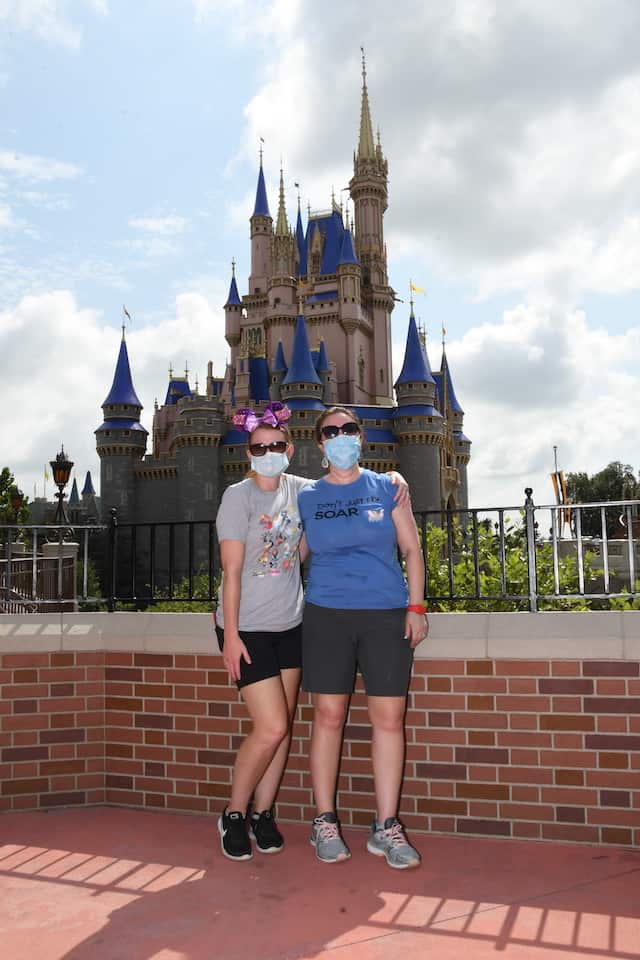 Oftentimes, there is also a PhotoPass photographer right next to Sleepy Hollow, as pictured above. There, you can grab a photo of yourself and your family/friends with this less popular view of Cinderella Castle.
Bonus: there is usually not a long wait like you might experience trying to get your photo in front of Cinderella Castle on Main Street U.S.A. or in the Hub!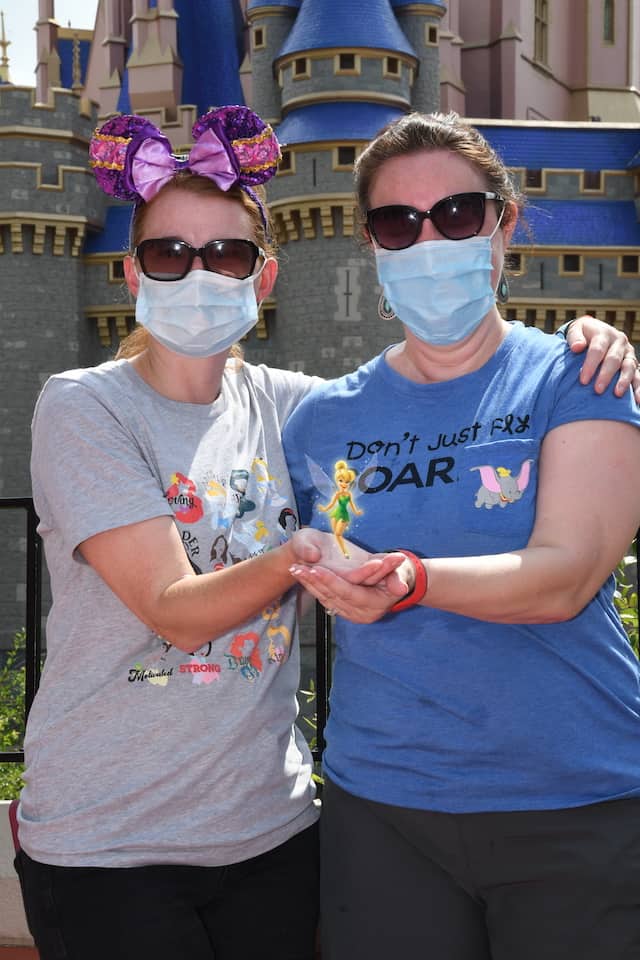 Now do you see why I love Sleepy Hollow so much? Not only is the theme charming (in its own not-so-spooky way) and snacks are top notch, but the location of this snack cottage makes it a great place to enjoy your surroundings of Cinderella Castle.
Have you ever eaten at Sleepy Hollow? What's your favorite snack? Share your review and photos with us on Facebook!