Have you ever tried Disney's Coral Reef restaurant at EPCOT? On our last trip, we searched for somewhere to celebrate our 25th anniversary and decided to give Coral Reef a try. I'm sharing all the details and my honest thoughts.
Where Is It?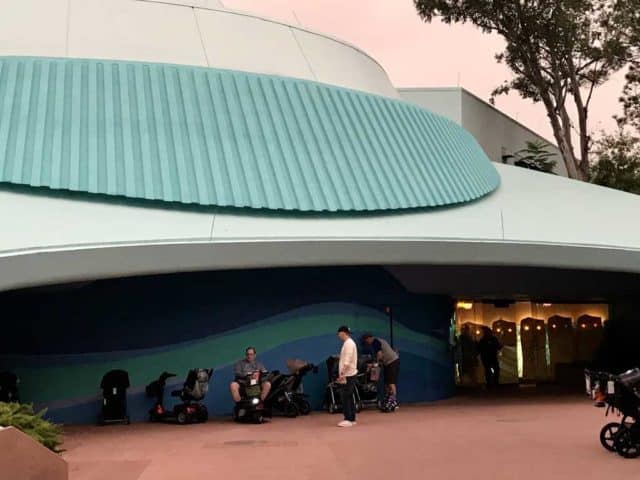 Coral Reef is one of EPCOT's table-service choices located in Future World. You'd better know where you're going to find it because there is absolutely NO clear signage on where to enter.
We knew it was somewhere near The Seas With Nemo attraction so we headed that way and still had a difficult time finding the entrance. Check Character Locator for maps of all four parks!
First Impressions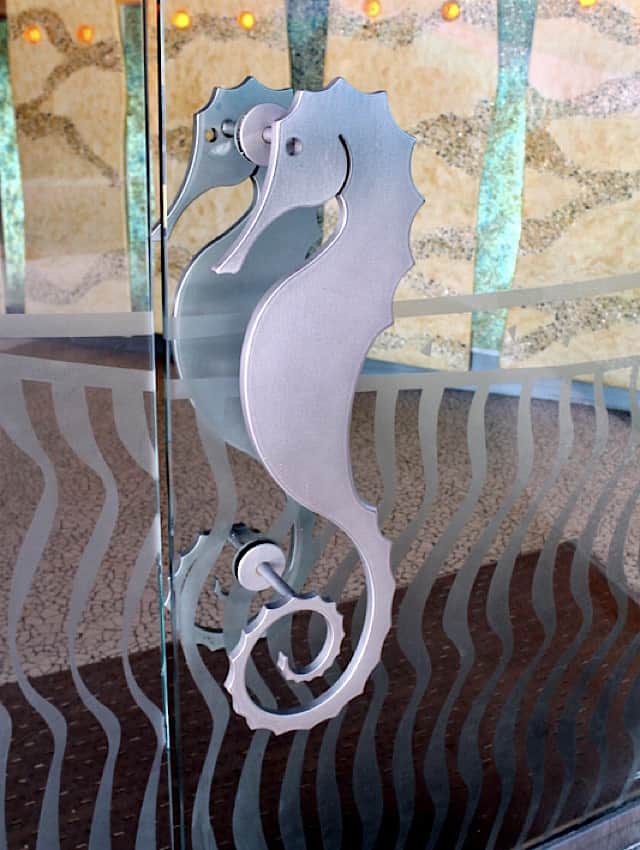 Once we found the entrance, I was blown away at the attention to detail in the lobby, starting with these really cool seahorse handles on the entrance door.
Then, we took in the oceanic vibe immediately. Everything from the jellyfish-like chandeliers to the lit-up octopus at the check-in desk reminded us of the ocean. We also loved the seashell-shaped alcoves housing fish glass sculptures.
I kept expecting Ariel to come by at any moment…
Waiting For a Table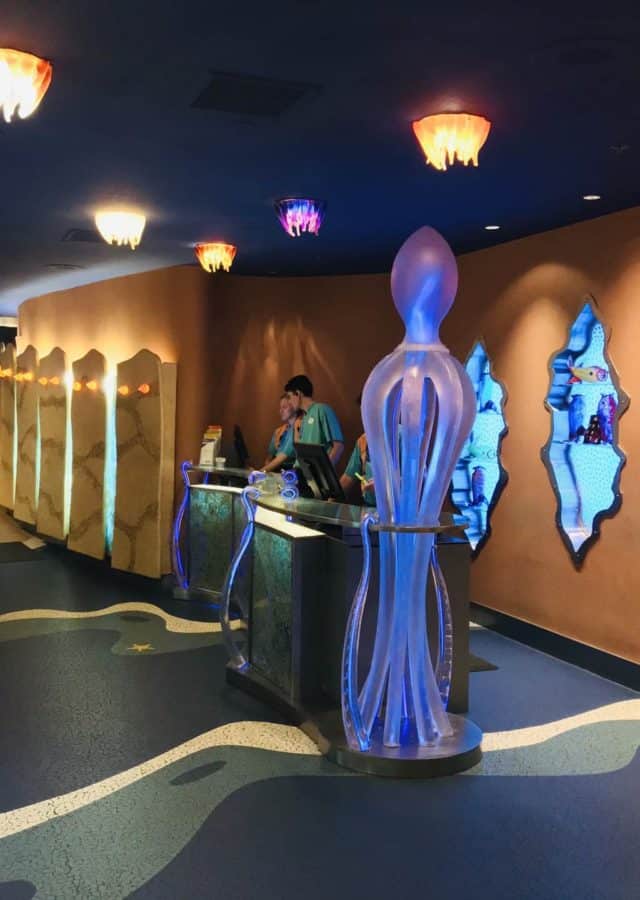 After we checked in, we waited on these sofas that wrap around the curvy walls. There was ample seating for everyone, and the curved walls made the area feel more intimate.
We arrived about 10 minutes before our reservation time and expected to be called quickly since there were only 3-4 people in the waiting area. However, this was not the case.
Many more people came and went before we were called back some 20-25 minutes later. We asked when we were going to be called and told we were next. Not sure if they forgot us or if they were waiting for a table for two to become available.
The Food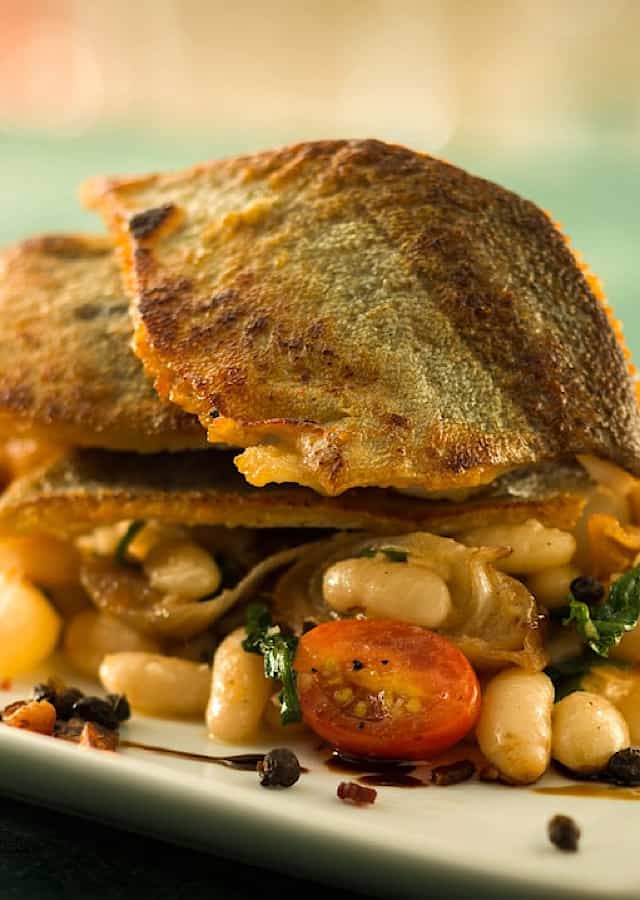 Our dinner consisted of steak and potatoes for my husband the lobster seafood boil from the 30th Anniversary Little Mermaid menu for me. This special menu has been discontinued, but the lobster seafood boil is still available.
My husband prefers his steak with absolutely NO pink in it, and his steak was definitely undercooked.
Although the menu stated his potatoes had bacon in them, they were more like bacon specks. As you can see in the photo below, there is basically no bacon. He shared that the mashed potatoes at our Be Our Guest lunch the day before were much tastier.
Steak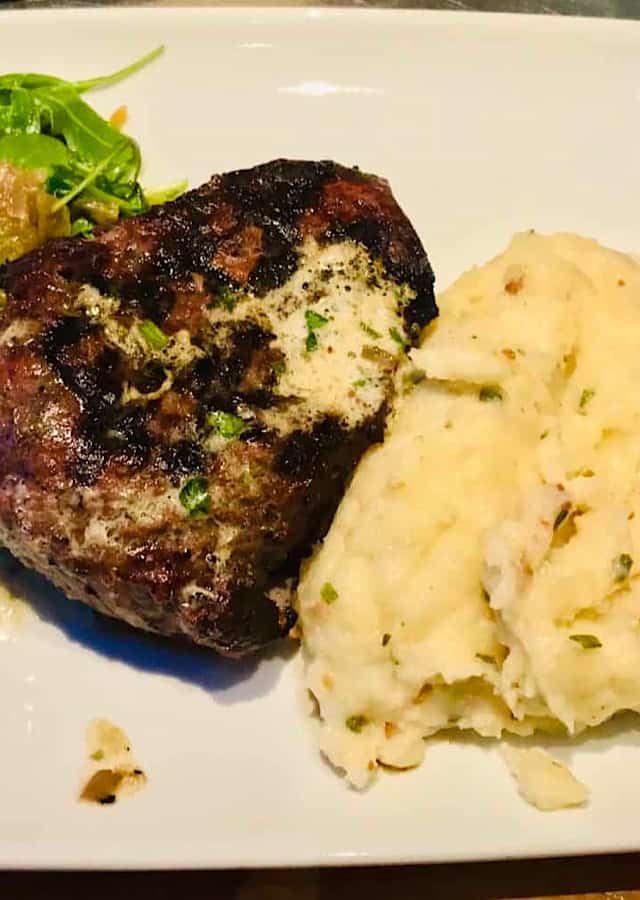 I've always been a seafood lover, and thought ordering seafood at a "seafood" restaurant would be a safe bet. In all fairness, the server recommended the Mahi Mahi that night so perhaps I should have tried that. The lobster tail was rubbery, but the shrimp and sausage were cooked well.
The menu states a "creole" seasoning, and I'm used to cooking with Old Bay seasoning so this is what I was expecting. What I found, however, was an overly salty mix of spices that detracted rather than added to the flavor of the seafood. It was just too overpowering for my liking.
The cracked crab claw was the same as I had at Hollywood & Vine and was quite tasty!
Seafood Boil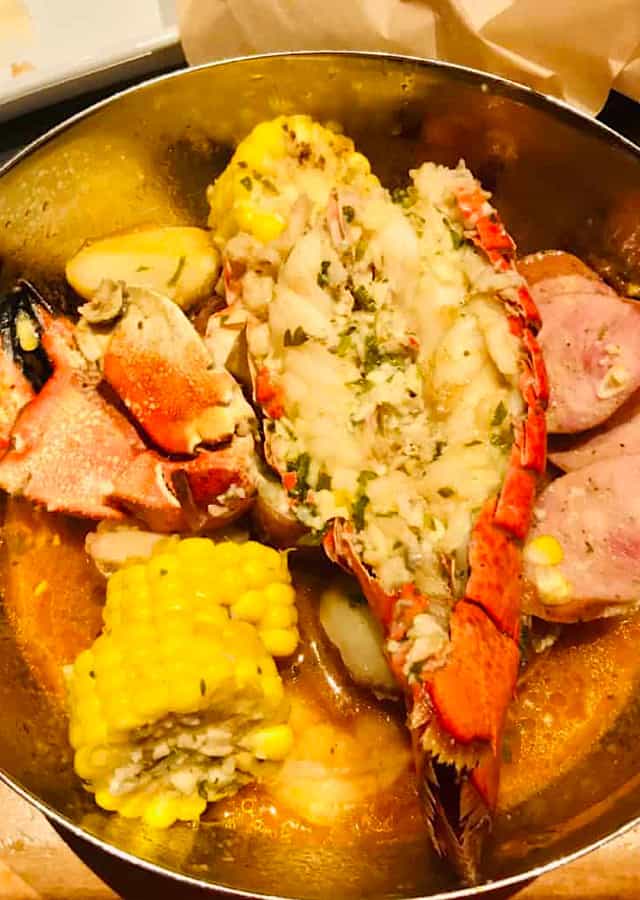 Final Course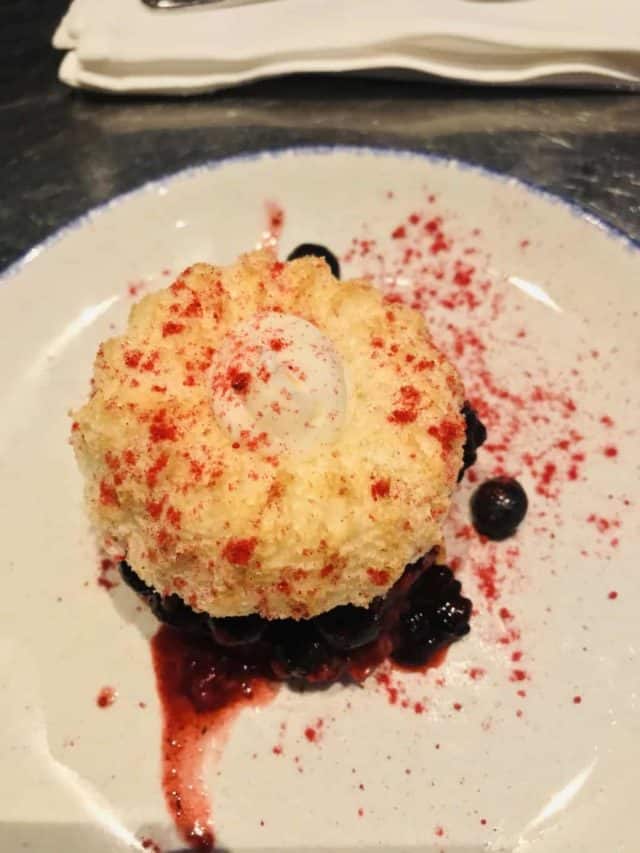 The desserts were another story entirely. My husband hesitantly ordered the blueberry cheesecake, and it very delicious. He said the blueberries were fresh and just the right balance of flavor with the cheesecake.
On this trip, I set on a quest to try no-sugar added desserts, and found the angel food cake one of the best desserts I've ever tried! The berry compote was bursting with fruit flavor.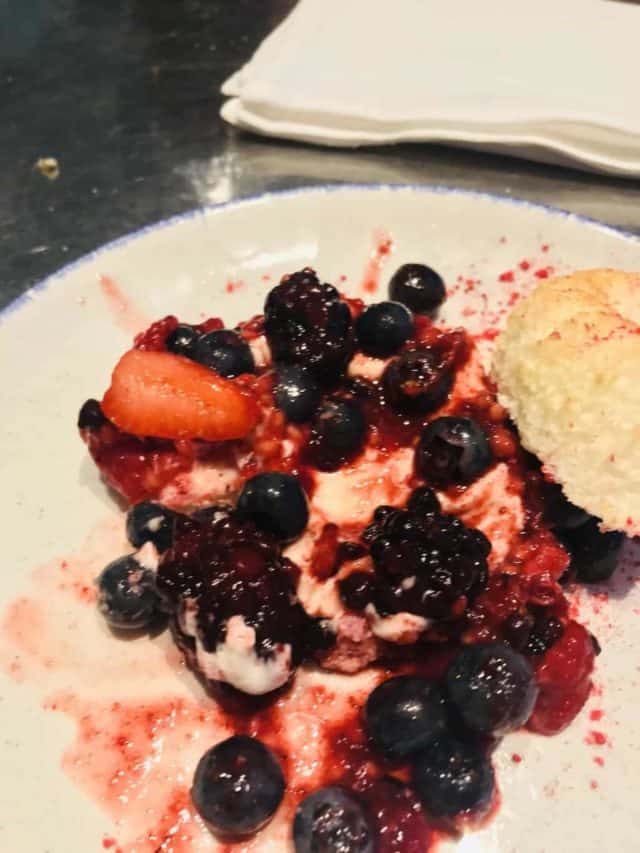 The angel food cake was light and fluffy, while the creamy filling complemented both of them. Check out all the fresh berries!!
Atmosphere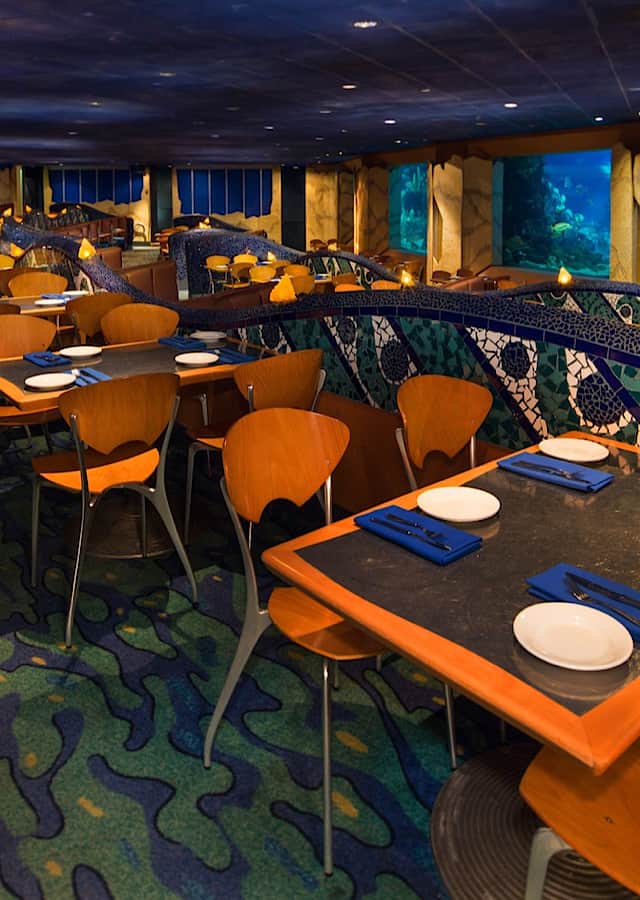 When trying new table service restaurants at Disney, I like to find restaurants that offer something unique that I cannot find at home. Coral Reef is a real winner here!
Where else can you dine while watching an enormous 5.7 million gallon salt-water aquarium filled with fish, sharks, and other sea creatures?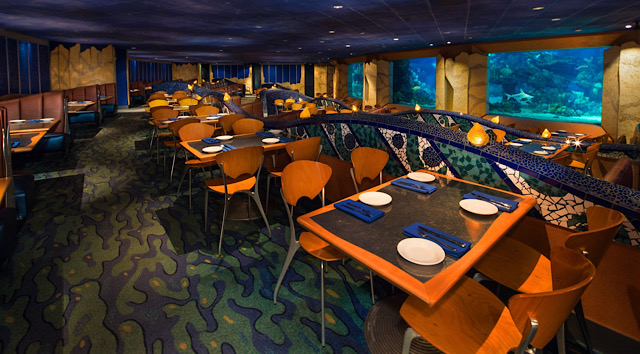 Coral Reef is adorned with faux sandstone and contemporary wood furnishings. The deep-blue accents and ceramic trim that mimics beach glass all add to the feeling of being underwater.
Thankfully, we were seated at a table near the aquarium. I suspect when our travel agent called and told them we were celebrating our anniversary, she requested this. I would ALWAYS request a table near the aquarium!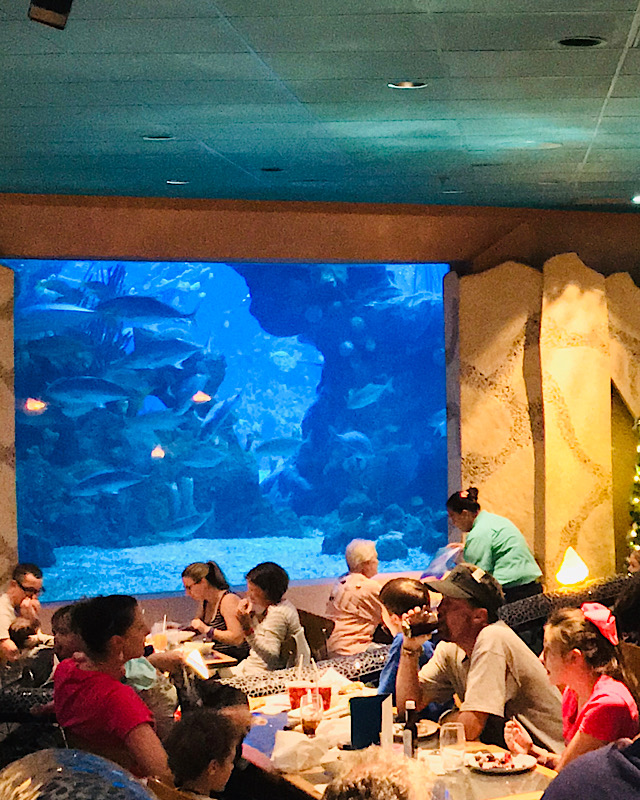 "Free" Entertainment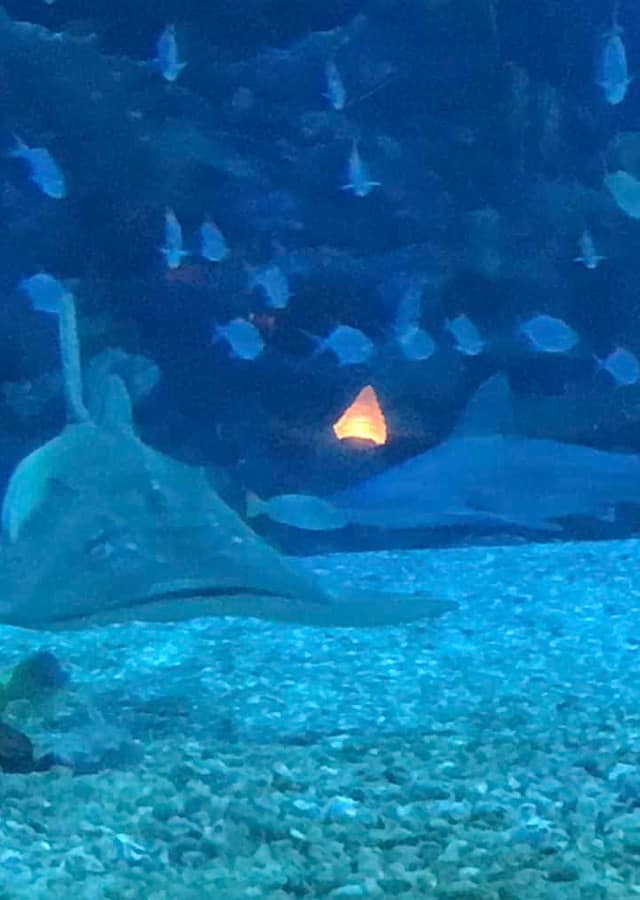 The various sea creatures seem to makes their "rounds" and circle back to us on a frequent rotation. We started giving some of them names and just had a ball gazing at such an amazing view!
Besides the sea life, the highlight of our night was watching the divers swim. You can even sign up for a diving experience through My Disney Experience.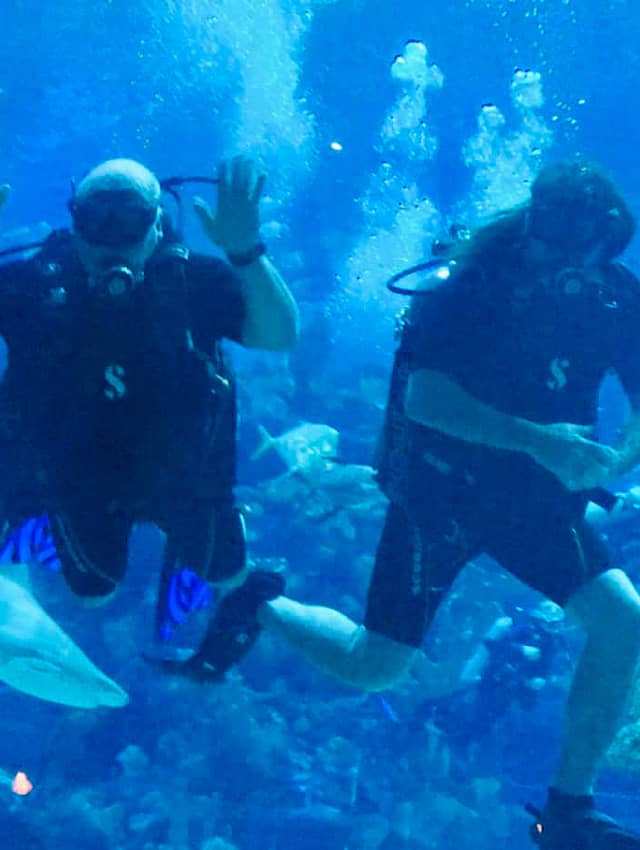 A few of the diving instructors were hams. When they realized I was taking photos, they began waving at us and giving us a thumbs up. We were cracking up!
Our Anniversary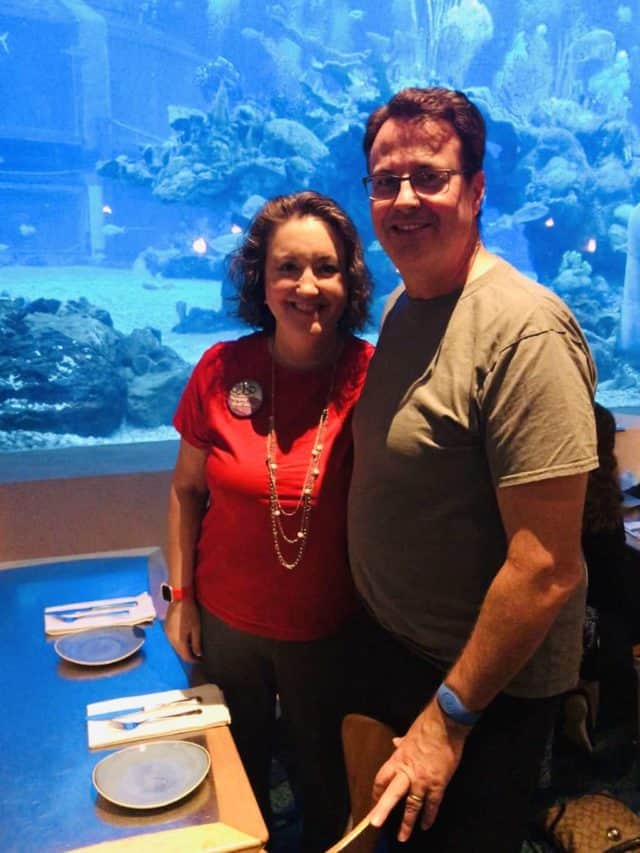 My husband and I chose Coral Reef as a unique and special experience for our 25th Anniversary dinner. We wore our anniversary pins and called to let the restaurant know we were celebrating.
So, how did they celebrate you ask? Well, hopefully that got us a table near the aquarium, but that's just a guess as I really have no idea.
Additionally, taking us to our table, the hostess told us "Happy Anniversary."
The server did not recognize our anniversary in any way. While we were given adequate service, it did not seem up to Disney's standards. We did ask to have our picture taken in front of the aquarium, and our server obliged.
Would We Return?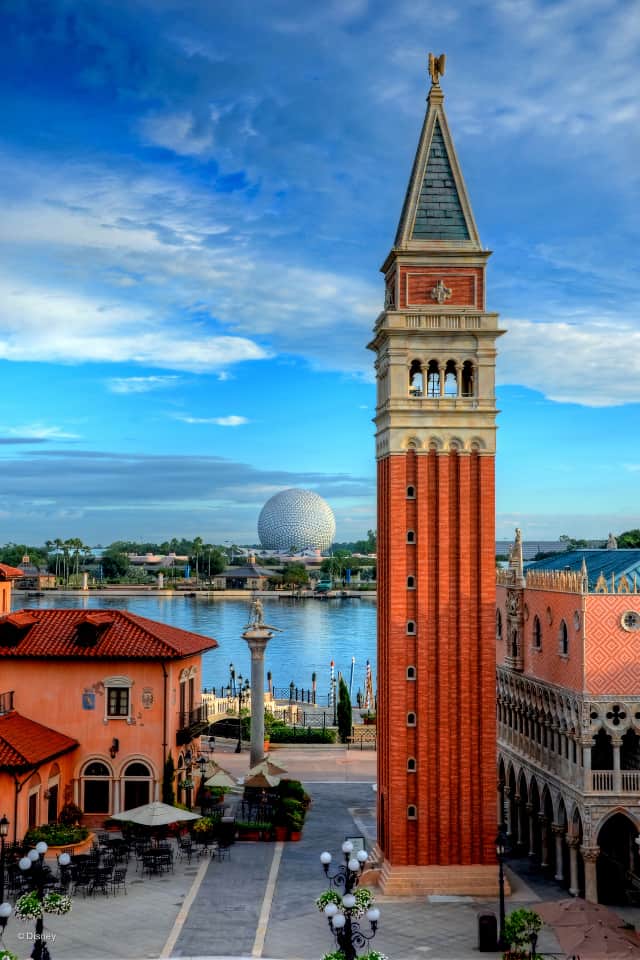 Ever since our visit, I've been contemplating if we would return to Coral Reef. Am I sorry we chose this restaurant since our anniversary was pretty much ignored? No, because we laughed so hard and enjoyed the aquarium more than any meal I can remember in a long time.
Our food was subpar, but the desserts were showstoppers. On a return visit I would go for dessert and coffee instead. With so many wonderful EPCOT restaurants to choose from, Coral Reef really needs to step up its food quality.
Calling ahead and confirming a table close to the aquarium is a fantastic plan. The aquarium really made this a fun experience.
Have you tried Coral Reef before, or would you consider trying it? Have you had any special experiences, good or bad, at Disney? Please let us know your thoughts on the KtP Facebook Page. You can also share this review by clicking the Facebook button below.
Are you planning a vacation? Reach out to our trusted travel agency sponsor Authorized Disney Vacation Planner
Mouse Class Travel
!