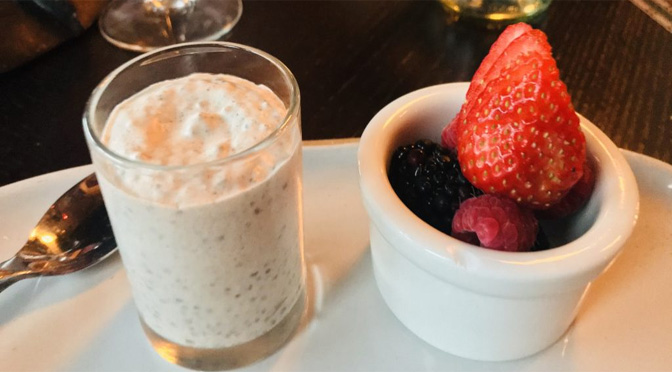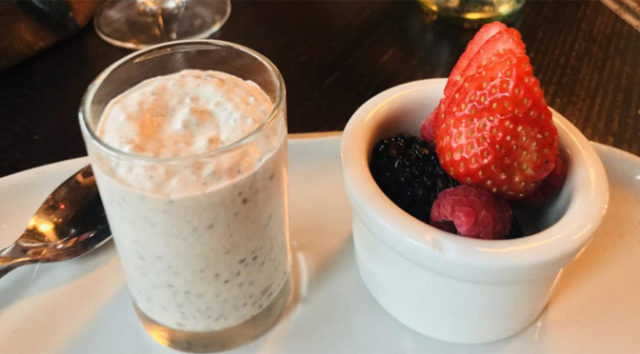 Ever wondered what no sugar added desserts are offered at Disney World? I've searched every menu online and sampled various treats on my latest visit.
Disney World has an array of food options including grab-and-go snacks to signature dining choices.  There are countless indulgent desserts in every park and resort to tempt anyone with a sweet tooth.
I recently started following a Keto-friendly diet wanting to improve my health, thanks to Kenny sharing his health journey. Click here for more information on Kenny's journey. However, on vacation, I wanted a few sweet treats without adding sugar. If you're like me, you may be wondering where to find no sugar added desserts.
Read below for details on no-sugar-added options available throughout Disney property.
Please note, although they haven't been sweetened with sugar, Disney can't call desserts "sugar-free" because they may contain lactose, which is a natural milk sugar.
Magic Kingdom
Be Our Guest – Lemon-Raspberry Cream Puff filled with Lemon Custard ($4.99)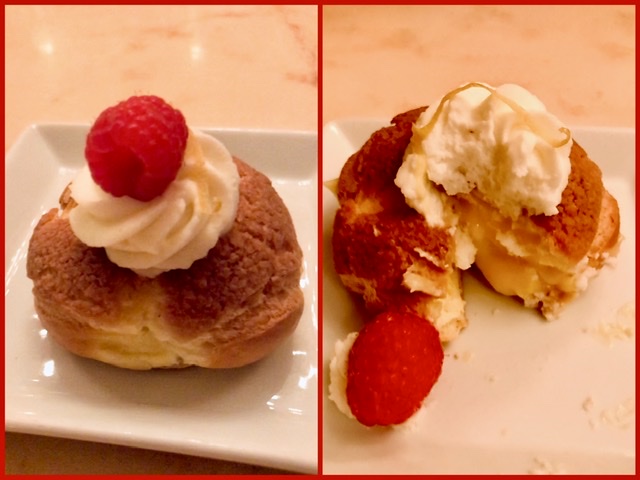 While this is called a Lemon-Raspberry Cream Puff, the raspberry is just the garnish on top. The filling is a lemon custard and was very refreshing and plentiful. The cream puff and whipped cream were delicious as well.
Liberty Tree Tavern- Seasonal Sorbet with berries ($9.00)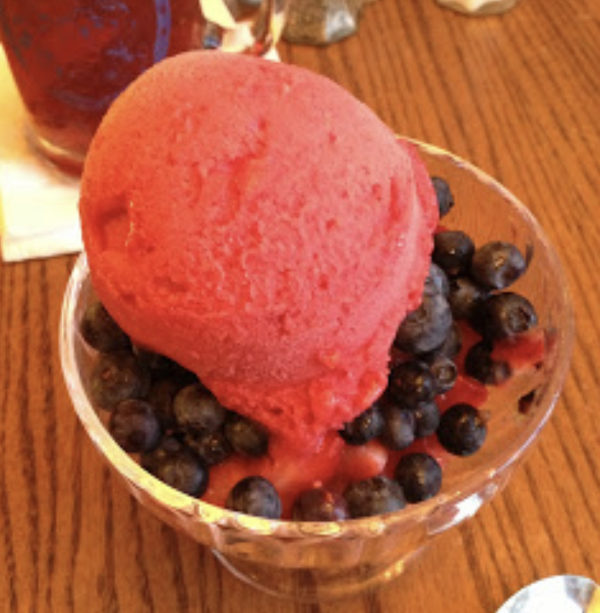 Plaza Ice Cream Parlor – Butter pecan, chocolate-vanilla swirl, and raspberry sorbet
Tony's Town Square – Raspberry Sorbet ($7.00)
Animal Kingdom
NOTHING. NADA. With all of the scrumptious culinary choices at Animal Kingdom, you'd think they could include something without sugar added, but nope. If anyone has been or plans to go to table-service locations, please ask and share any no-sugar dessert options in the comments.
EPCOT
Coral Reef – Angel Food Cake with Fresh Berry Compote, Whipped Cream, and Berry Glaze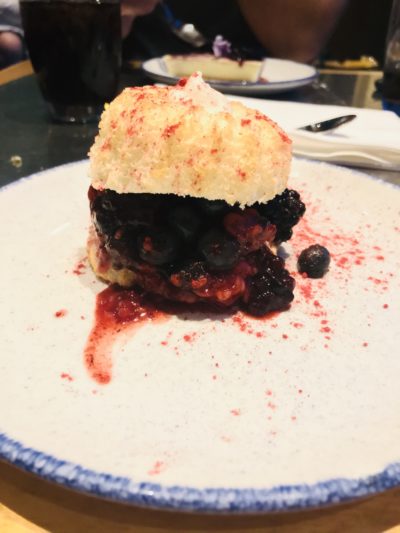 The angel food cake was so light and fluffy, very lightly sweetened. The whipped cream was so delicious. This dessert was the best part of my meal at Coral Reef!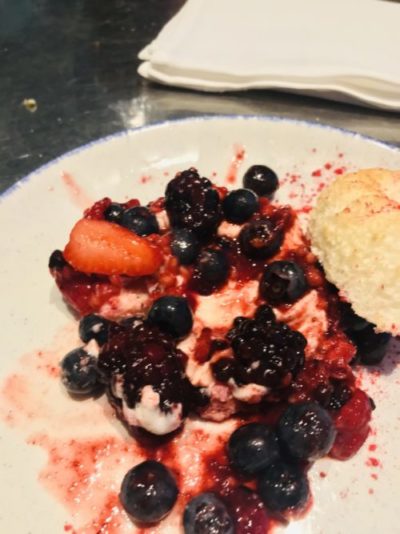 The fresh berries were truly the stars here! They were so fresh and literally bursting with flavor!! I would go back to Coral Reef for this dessert alone.
Le Cellier – Chocolate Mousse Maple Leaf with Whipped Cream and Sesame Tuile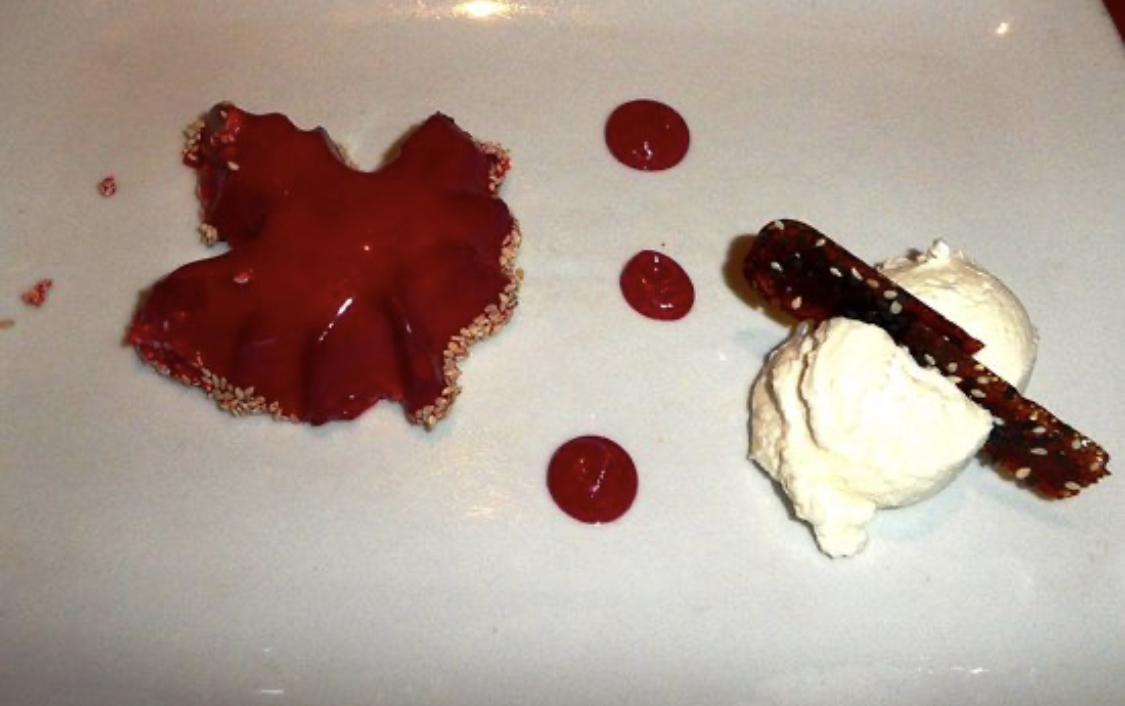 HOLLYWOOD STUDIOS
ABC Commissary – Strawberry Parfait ($4.99)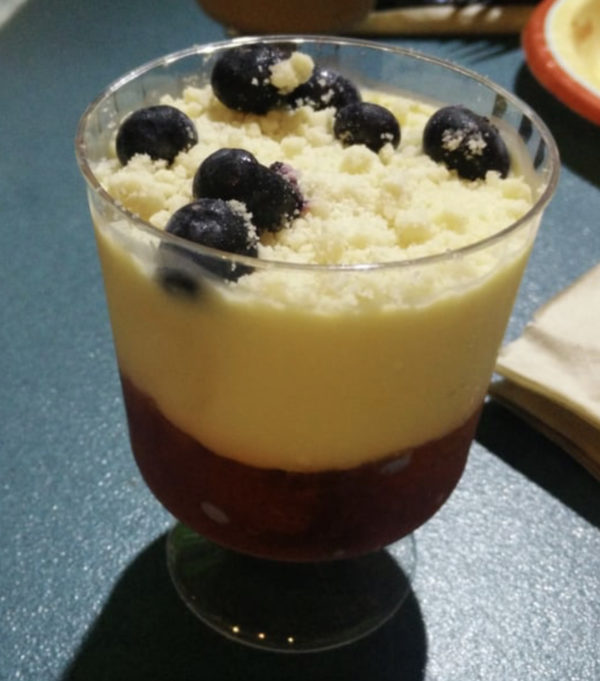 Hollywood & Vine – Cheesecake with Strawberry Sauce and topped with Whipped Cream (not listed on menu – ask for this)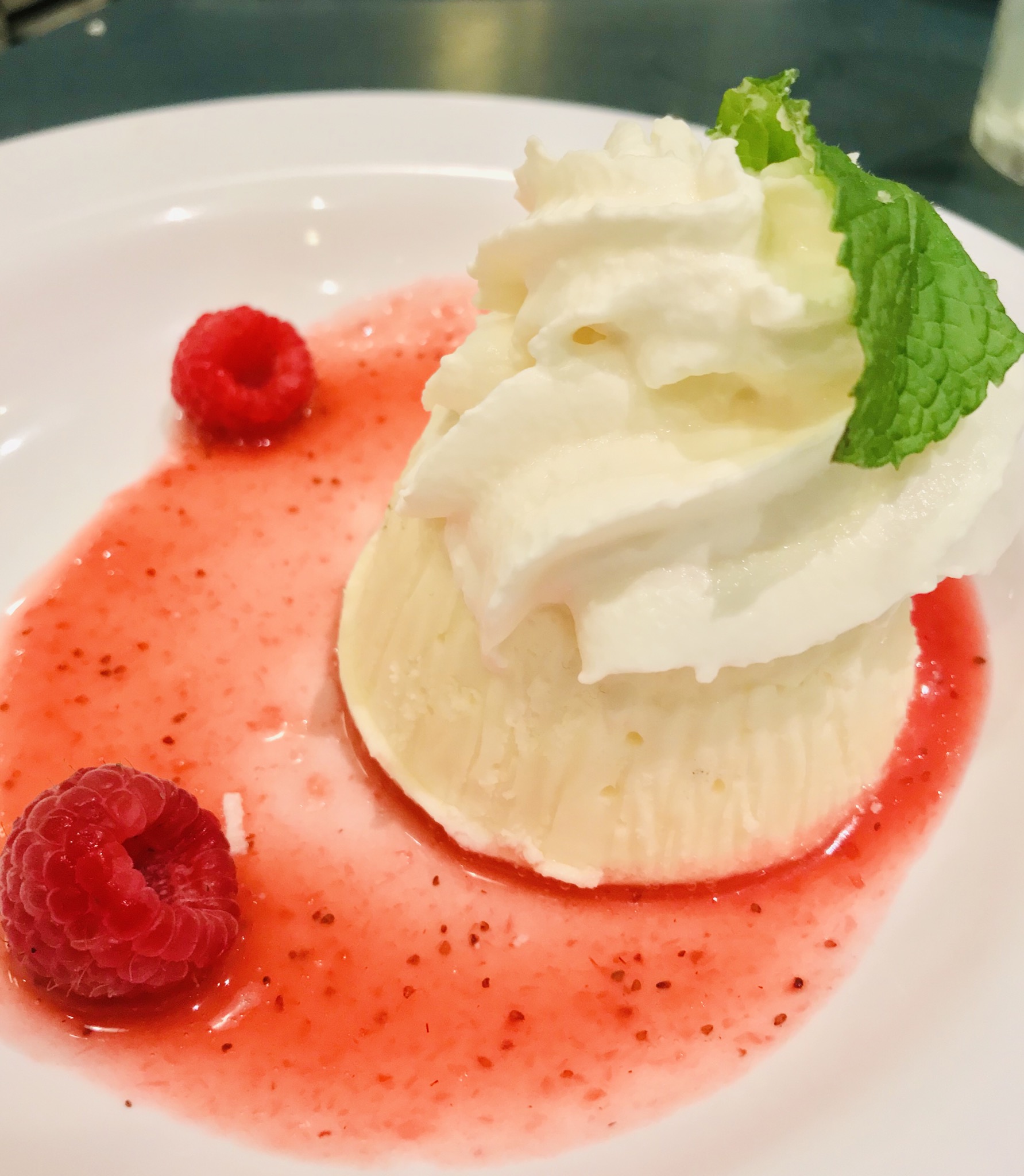 This cheesecake was light and creamy with just the right amount of whipped cream and strawberry sauce without overpowering the cheesecake. It was the perfect ending to my buffet. Check out my review on the Seasonal Dine at Hollywood & Vine here.
Hollywood Scoops – Fat-free Vanilla Ice Cream
Mama Melrose – Cheesecake with Strawberry Sauce and topped with Whipped Cream, or Lemon Sorbet. This sounds like the same cheesecake offered at Hollywood & Vine.

DISNEY SPRINGS
Sprinkles – Red Velvet Cupcake
Disney Goofy Candy Company – Chocolates and Sweet & Sour Candies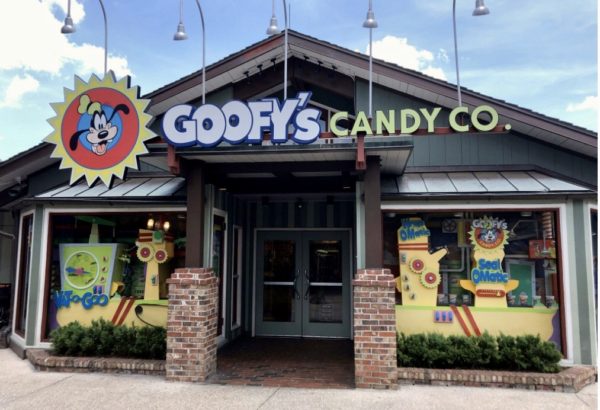 RESORTS
Animal Kingdom Lodge (Jiko) – Angel Food Cake with White Chocolate Panna Cotta, Seasonal Fruit Compote, and Citrus Gel ($11.00)
Contemporary: (California Grill) – Cheesecake with Sunflower Seed Crunch, Raspberry Gelée, Popcorn Shoots ($14.00), and The Wave – Vanilla Crème Brûlée with Fresh Berries ($7.00)
Grand Floridian (Narcoossee's) – Mango Sorbet with Melon, Pineapple, and Berries ($11.00), and (Cítricos) – Mango-Lime or Raspberry Sorbet ($8.00)
Old Key West (Olivia's Cafe): Tropical Panna Cotta ($8.50)
Saratoga Springs (The Turf Club Bar And Grill): No-sugar Added Dessert Available Upon Request. This is the only menu I saw this listed on My Disney Experience.
Wilderness Lodge (Artist Point): Chia pudding with fresh fruit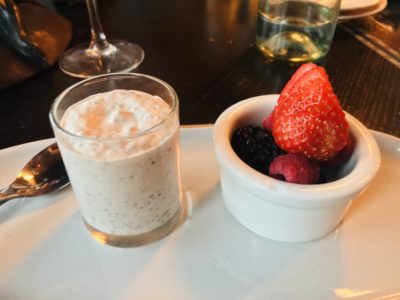 We enjoyed our meal and character interaction at Story Book dining. This wasn't listed on the menu, but when I asked for it when we arrived, our server was very happy to accommodate. The chia pudding was small but so creamy and light.
Very lightly sweetened, which when mixed with the fresh fruit, was perfect. I have no idea what chia seeds taste like, but this was like a very mild tapioca pudding/custard.
Yacht Club (Yachtsman Steakhouse): Carrot Cake with Cheesecake Icing, Caramel Ice Cream, Walnuts ($11.00)
Chocolate Chip Cookies
Minnie's Bake Shop sells gluten-free and no-sugar-added cookies, in family-size packages, and they can be found at several locations throughout the parks and resorts.
Disney has recently increased its offerings of plant-based dishes. Although availability was limited on no-sugar-added desserts, I was pleasantly surprised by the flavors and freshness of the no-sugar-added desserts at Disney World.
Hopefully, if people request these, Disney will step up to the plate and offer more variety, especially at quick-service locations.
It was my experience at all table-service restaurants that, when requested, they eagerly provided a no-sugar-added dessert. Counter-service restaurants need to increase their offerings though.
Have you had any no-sugar-added desserts? What would you like to see added to Disney menus? Please share your thoughts and experiences on the KtP Facebook Page. You can also share this information by clicking the large blue Facebook button below.
-Susan

Are you planning a vacation? Reach out to our trusted travel agency sponsor Authorized Disney Vacation Planner
Mouse Class Travel
!