California Adventure is such a delightful park with its old Hollywood charm and exquisite theming. The only thing that could make this park even better is visiting it during the "Most Wonderful Time of the Year." Join me in viewing our top 5 Christmas must do's in this great park.
1. Mickey's Happy Holidays Dance Party
This is a new offering this year, and it is definitely a must-see event. This party is offered twice daily (be sure to check Character Locator for times for this parade and other shows) and can be seen at Paradise Gardens Park and Carthay Circle.
We viewed this from the Carthay Circle location and greatly enjoyed the open area and wonderful decorations displayed around this old Hollywood-themed location.
Guests are welcome to dance to the music of the Holiday Toy Drummers with Mickey, Minnie, Chip n' Dale, Goofy, Clarabelle, Country Bears, Mr. Incredible, Elastagirl, Frozone, Joy, Woody, Jessie, and Bo Peep all dressed up for the occasion.
This is a high energy celebration, with great character interactions, and the grand finale includes streamers blasting. This will be sure to get you in the holiday mood.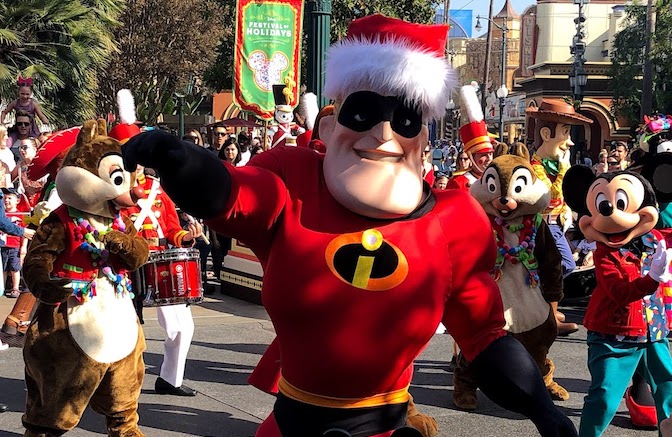 2. Viva Navidad
The Three Caballeros host the Viva Navidad Street Party at the Festival Corridor. Donald, Panchito, and Jose' are joined by mariachi and samba musicians and dancers to get everyone dancing a festive jig.
Throughout the parade, Mickey and his pals join the party along with classic large mojiganga puppets and mojiganga puppets of both Santa and Mrs. Claus. This is such a fun experience and the party is so large that you are sure to get a great view with fellow dance party goers.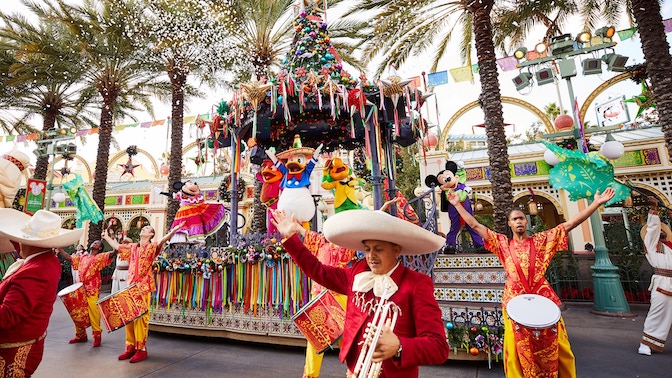 3. Cars Land
Mater has been busy getting Cars Land decorated for Christmas. Take time to walk through and enjoy all of the unique decorations. The decorations include Rt. 66 sign ornaments, oil filters used for garland, and decorated orange traffic cones. These truly set the stage for special holiday-themed rides.
Cars Land is beautiful during the day but is even more magical at night. It's recommended to enjoy this land both during the day and at night if possible.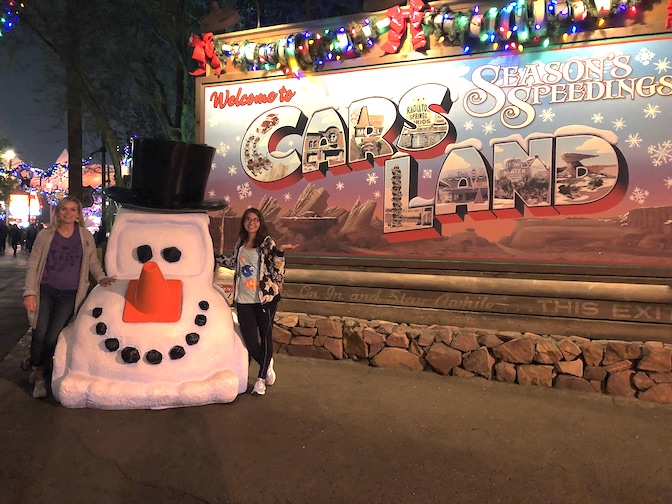 Both Mater's Junkyard Jamboree and Luigi's Roasters take on a holiday overlay. Check out a short clip of "Luigi's Joy To The Whirl." This ride had a bit of a wait time, but it was so much fun to watch even when you were not yet in the driver's seat.
4. World of Color "Season of Light"
This is truly a must-see show. It's recommended to get a FastPass as soon as you enter the park for this show. This FastPass will not affect your other FastPass options for the day.
This show has classic holiday music, scenes from some of your favorite Disney and Pixar movies, heart-shaped snow bubbles, and lights set around the classic Pixar Pier. Be sure to stay even after the show for a short encore show.
5. Holiday Food Options
There are so many great food choices to get your taste buds in the Christmas mood:
A Twist On Tradition: Beef Wellington or Reuben potato tots with Russian dressing and Rye toast.
Brews and Bites: A variety of seasonal brews and housemaid tortilla chips.
Favorite Things: Glazed ham shanks and holiday stuffing mac & cheese, or a S'mores frozen hot chocolate.
Grandma's Recipes: Shepherd's upside pie, curried cauliflower & chicken with lemon tahini sauce and black garlic drizzle.
Holiday Duets: Perfect pairings of shrimp and grits or braised pork belly adobo with garlic fried rice.
Making Spirits Bright: Pomegranate, apple, or cranberry-blueberry mimosas, or hot chocolate macaroon.
Merry Mashups: Turkey and stuffing tamale, pork al pastor naan taco with pineapple pico de gallo.
Winter Sliderland: Fried turkey slider or herb roll with cranberry slaw, beef pot roast on a potato roll. To warm up a little, try the warm peppermint chocolate float with peppermint hot chocolate. To cool down a little, they also have Dreyer's vanilla ice cream with peppermint crumbles. (We saw lines forming before this stand even opened and large lines throughout the day.)
Gibson Girl Ice Cream Parlor: Our favorite was the peppermint ice cream.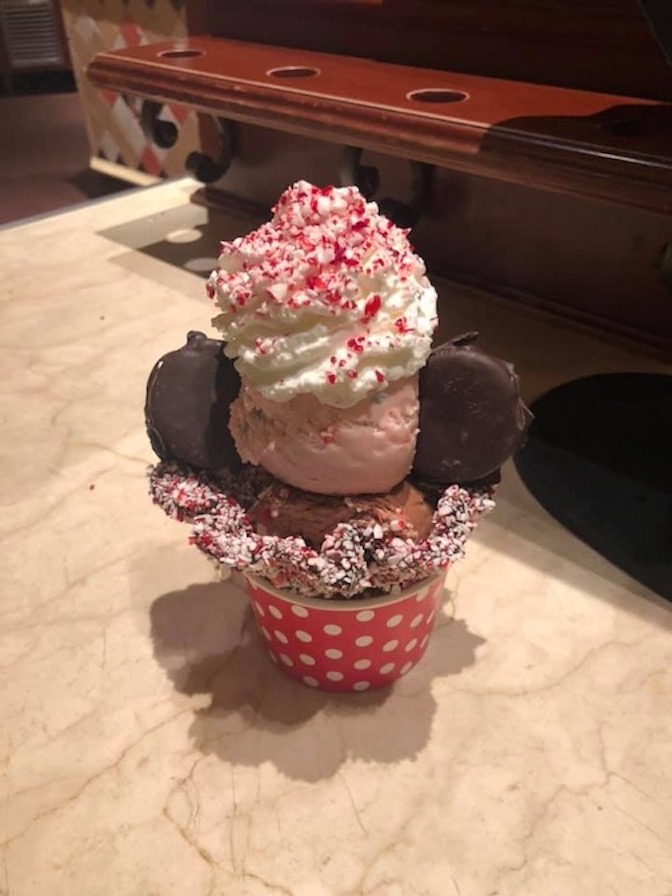 California Adventure has many more seasonal offerings, but these were just a few of our favorites. Which would you like to experience?