Before dining at Hollywood & Vine, I heard mixed (at best) reviews, and was uncertain what to expect. Since I've been wanting to meet the Fab 4 decked out in their Christmas attire without experiencing lengthy lines, I decided to give it a go. Read here for full details on my experience…
Before Entering Restaurant
Hollywood & Vine Seasonal Christmas Dine's lunch and dinner will set you back $57.51 for adults, and $34.08 for children, and counts as one table service credit on the Disney dining plan.
You can also reserve the Seasonal Dine with reserved viewing for Fantasmic.
The breakfast buffet only features Disney Jr characters, even during the seasonal times – the seasonal characters only meet for lunch and dinner.
Although there were ample benches for everyone to wait on outside on the restaurant's porch, it was REALLY cold and breezy so the 30 minutes waiting to be seated made us apprehensive from the get-go.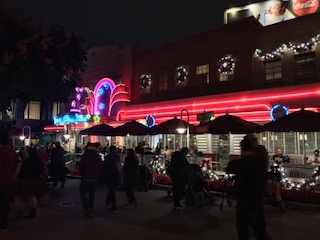 Several guests approached the podium but were turned away due to the restaurant being full this evening.
For each season, lunch and dinner at Hollywood & Vine change character costumes and food offerings. Click here too read a review on the Spring Seasonal Dine.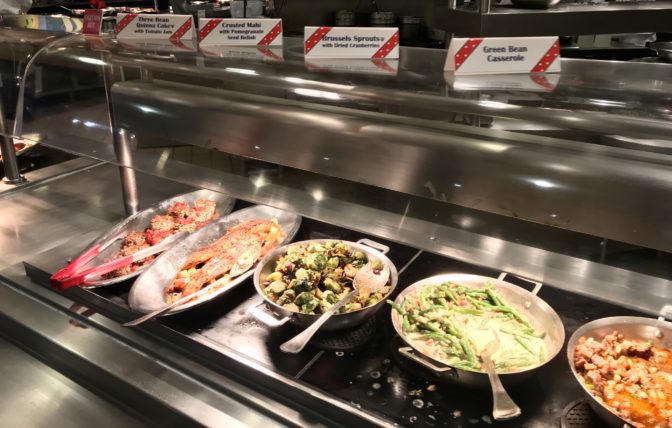 Daisy and Our Initial Experience
Immediately after being seated, Daisy greeted us in her festive green velvet attire. As expected, she was friendly, and although my husband was getting "hangry" at this point, he acknowledged my excitement for seeing my favorite duck, Daisy, and took pictures of us. (I even named my Shih-tzu Daisy after her.)
After pictures, my husband (pictured below – lol) dashed to the buffet, famished, while I walked around taking photos and taking in the atmosphere, and food choices.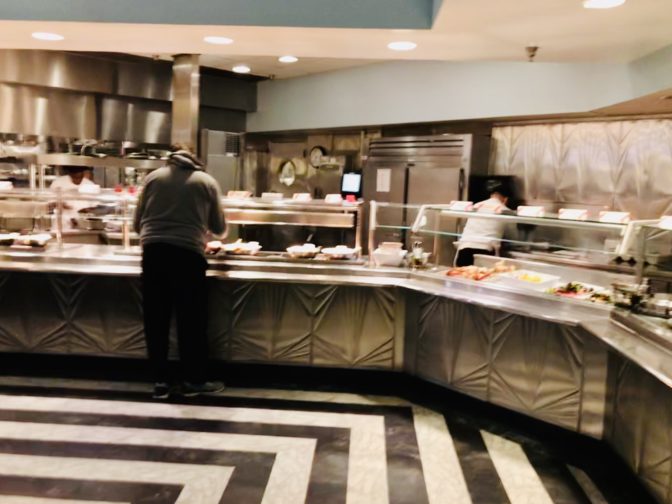 Our server took our drink order and explained that 30-45 minutes after we were seated the characters would make their rotation to our table. This helped us relax, and enjoy dinner without worrying about missing characters.
We were also given a card to meet Santa Goofy anytime during dinner, or on our way out. Love Santa Goofy so much!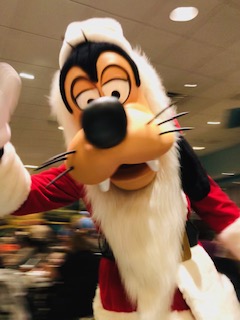 We must have caught the previous rotation for Daisy. I missed a character at Crystal Palace on a past trip and it took SOOO long for them to return. This made me appreciate Daisy coming to us now rather than making us wait.
Thoughts on the Buffet Itself
I was pleasantly surprised by the food offerings at the Hollywood & Vine buffet. Although I enjoyed the meats, my favorite dishes were the roasted brussel sprouts and acorn squash.
My least favorite item on the buffet was the mustard Mahi-Mahi. The Mahi-Mahi was fresh, but the mustard overwhelmed the dish. It was also very dry – skip this one.
I was super stoked about the oversized crab claws. A crab cracking tool is provided to break through the tough shell. It will be worth it, so if you're a seafood lover like myself please try this!!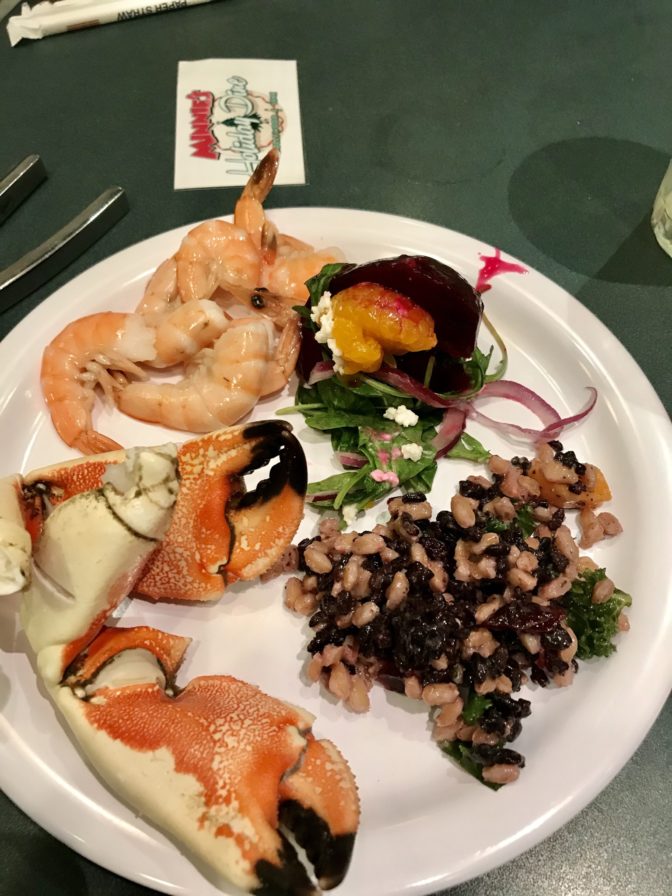 The boiled peel-and-eat shrimp was fresh and cooked perfectly. The cocktail sauce had just the right amount of horseradish sauce in it to give it a bit of a kick without overpowering the shrimp. I thoroughly enjoyed both seafood items.
The chicken was juicy and perfectly seasoned. My husband enjoyed the roast beef from the carving station. The Cast Member was super friendly. When he saw me taking pictures of the food, he was like, "what about me?"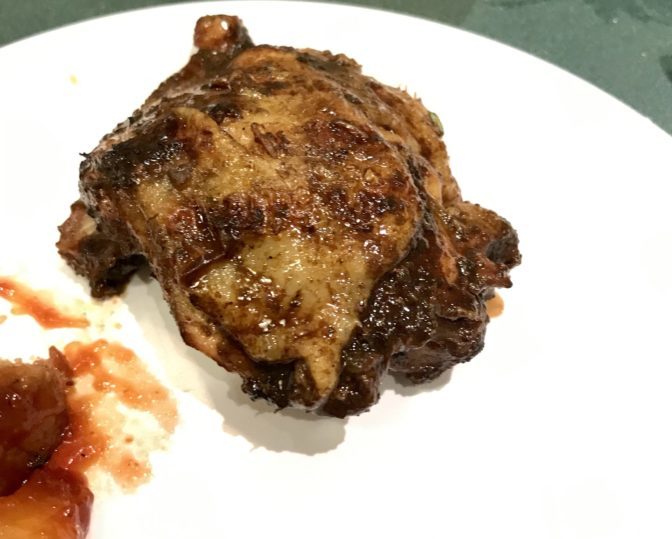 Standard children's items were available such as chicken nuggets, corn dogs, tater tots, and chocolate-chip cookies.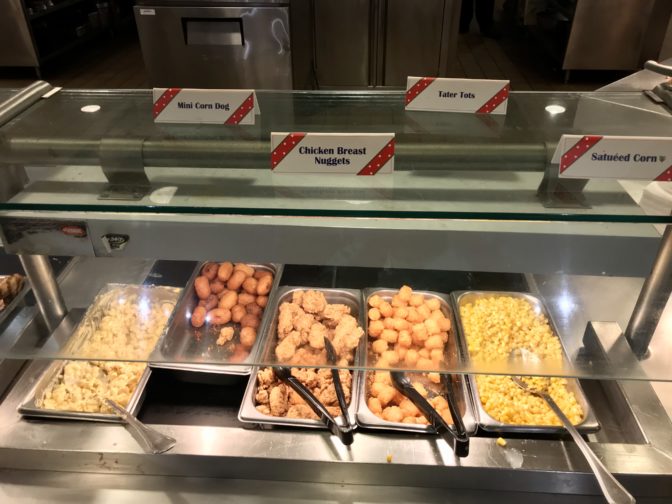 Seasonal desserts were offered such as gingerbread cupcakes and white-chocolate cranberry bread pudding with vanilla sauce, along with soft-serve ice cream and toppings. A few months ago, I began eliminating sugar from my diet, so I didn't try the buffet desserts.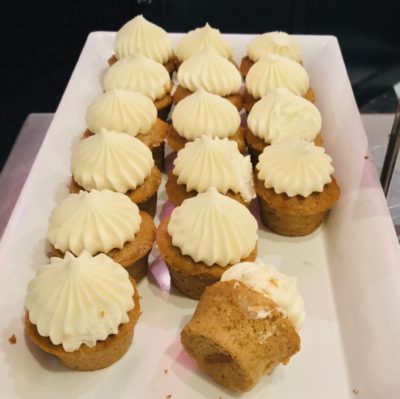 Although I neglected to request a no-sugar-added dessert on both my advance reservation and upon being seated, when I asked about this during dinner, my server was eager to accommodate. He stated that he would communicate with the chef. I was given a no sugar added cheesecake with whipped cream that was the most delicious no sugar added dessert of the trip!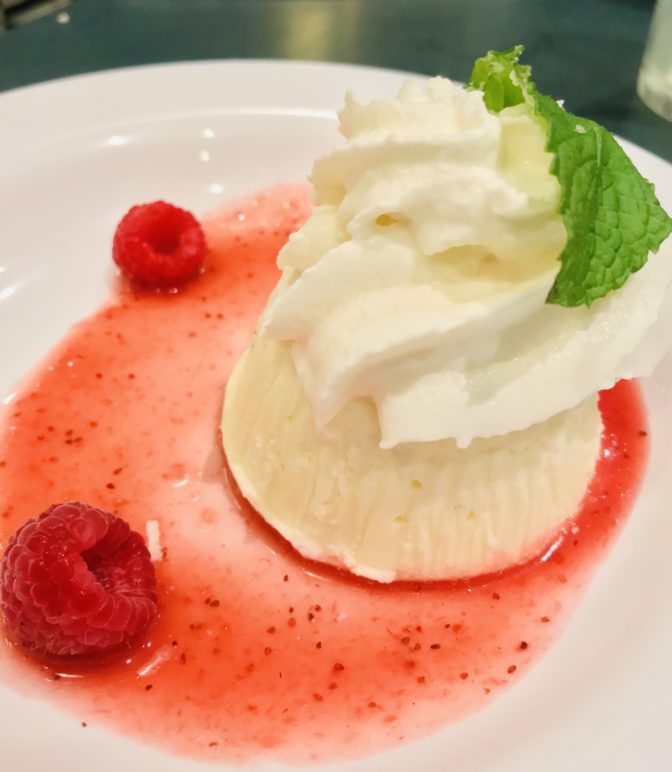 Meet and Greet With Mickey
Right on cue, Mickey was the first character to make his rounds. The timing couldn't have been more perfect. We had just finished our dinner and dessert, and here comes our favorite pal!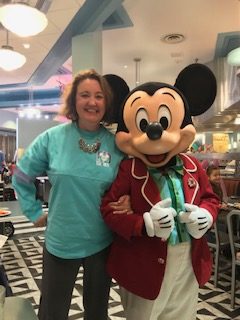 Donald Sporting his Dapper Attire
Next, Donald came our way with his dapper attire on! Always love meeting with the mischievous member of the fab 4. Donald did not disappoint!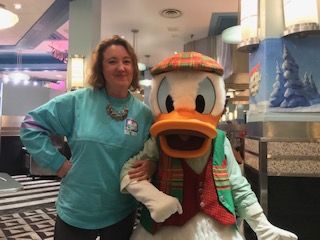 Sweet Minnie Mouse – Love the Red Dress!!
Last, but certainly not least, was Miss Minnie. Her red dress was my favorite – so festive and ready for the holidays!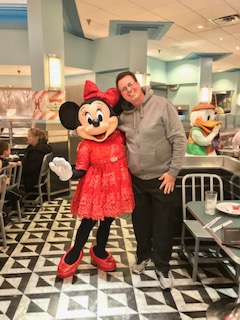 At this point, my husband was a little over meeting characters so I was thrilled when Minnie encouraged him to pose for a photo with her! He genuinely enjoyed her sweet interaction. She blew us kisses before leaving.
Santa Goofy Photopass Experience
On the way out, we presented our card to the character attendant and had a Disney Photopass photographer take our picture with Santa Goofy.
Love the backdrop and his outfit here! Plus meeting him with no wait is a win in my book!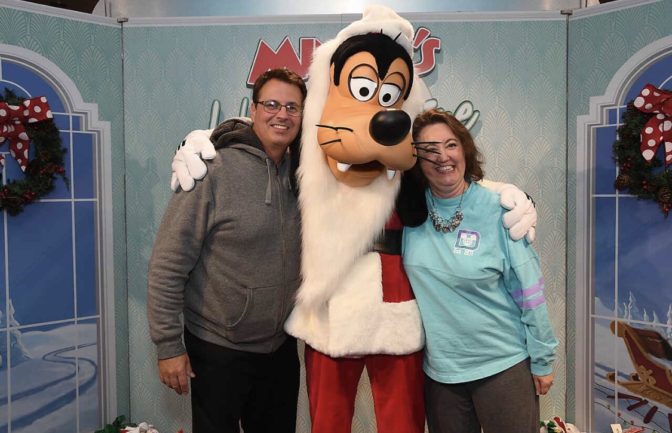 Final Thoughts
Each of the characters spent time interacting not only with the children but several tables of adults only as well. We truly enjoyed the meal and the characters. Where else can you meet 5 Christmas themed characters and enjoy a buffet meal in an hour??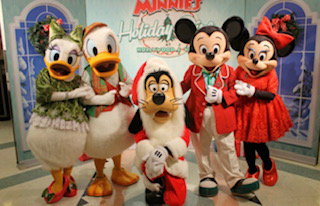 In summary, although Hollywood and Vine (along with other Disney character meals) has a hefty price tag, once we were seated we felt like special guests the entire meal, from the servers to characters to buffet attendants.
Not sure if this is the norm, but we expected this to be a loud character meal, and this was not the case at all. When we left, we were full of satisfying food and magical memories.
Have you tried any of the Hollywood & Vine Seasonal Dine meals? If so, please share your experiences. Also, would you consider trying it?
-Susan P.