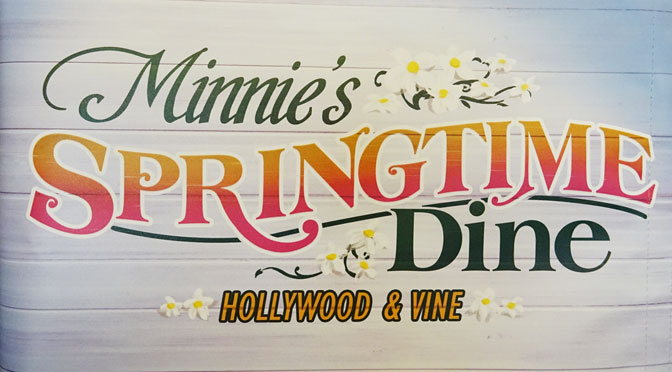 Hollywood & Vine at Hollywood Studios presents Minnie's Springtime Dine for dinner each night during the spring season.  Each quarter Minnie offers a different theme and costumes.  Let's take a look at this Spring version.
Minnie's Springtime Dine at Hollywood & Vine requires a reservation and is available for adults and children.  Minnie's Springtime Dine costs $46.99 per adult and $27.99 per child, plus tax and gratuity.  It requires 1 dining plan credit and does offer a Fantasmic! seating option.  It is a character dining experience with Minnie, Daisy, Donald, Goofy and Mickey.  It offers buffet style service.  Your server will provide you drinks, refills and utensils.
After you check in and enter the main doors, we were met by Daisy Duck who was acting as the greeter.  She has a lovely, springtime set that is supposed to provide the feeling of a nice picnic.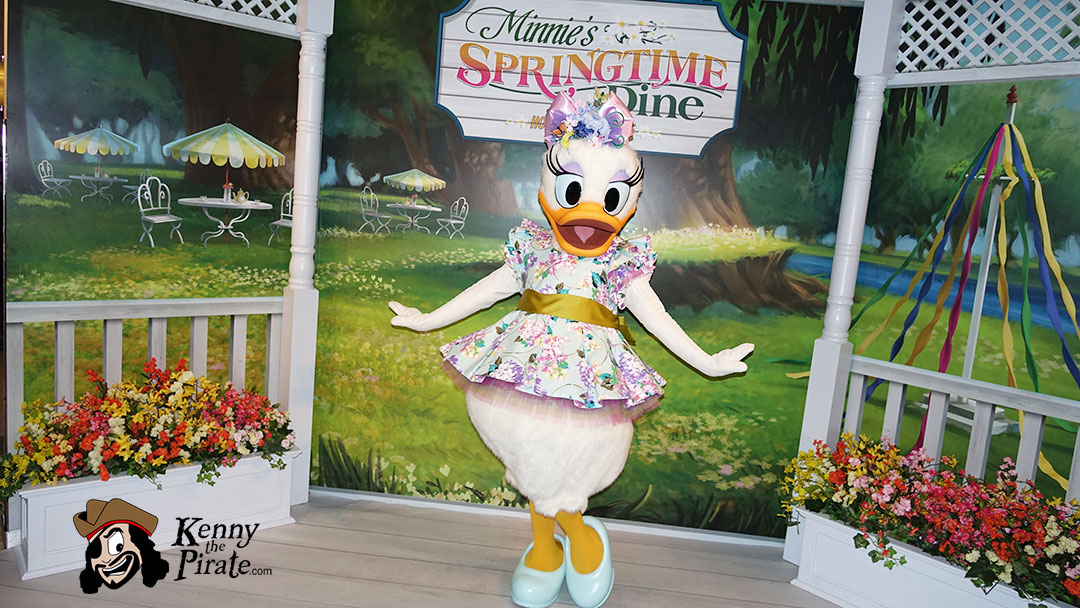 Who will be the first person with an Etsy account to remake Daisy's cute spring bow?  Let me know when you do, I want my cut of the action.  Adorable dress.  My little girl needs one of these.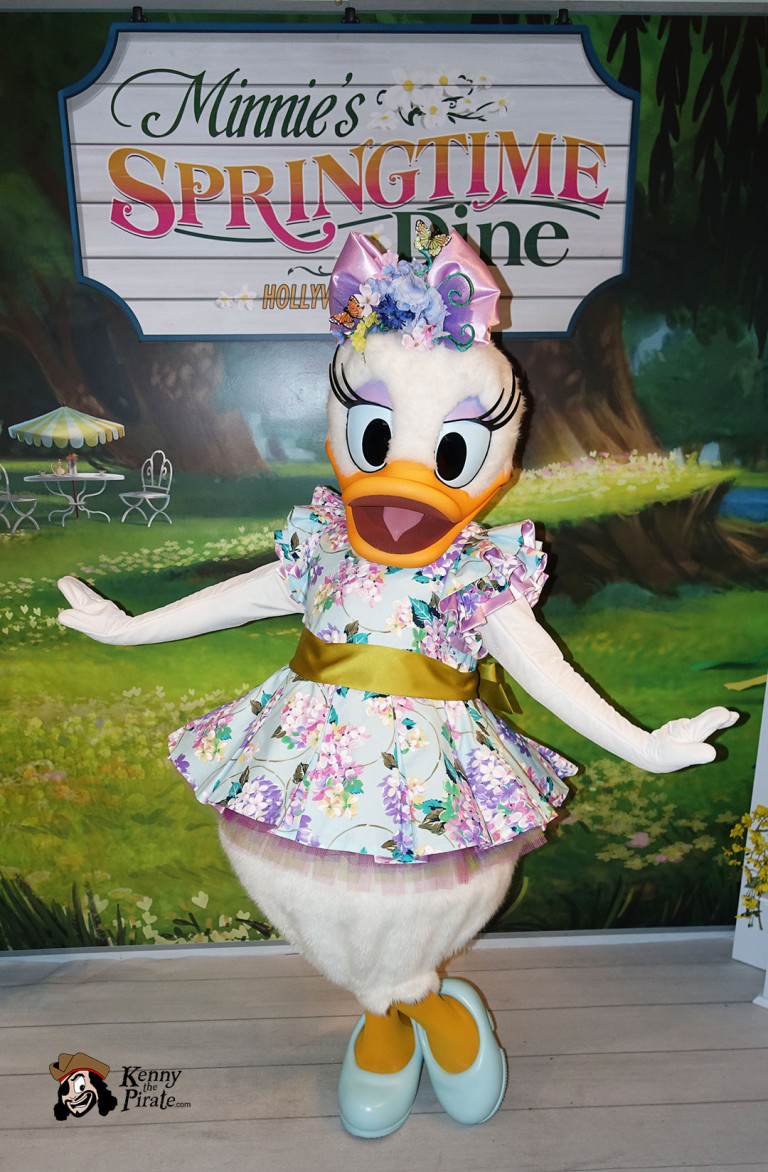 Characters do not sign autographs, instead they provide you with this pre-signed card.  Your's won't come with the awesome pirate logo though.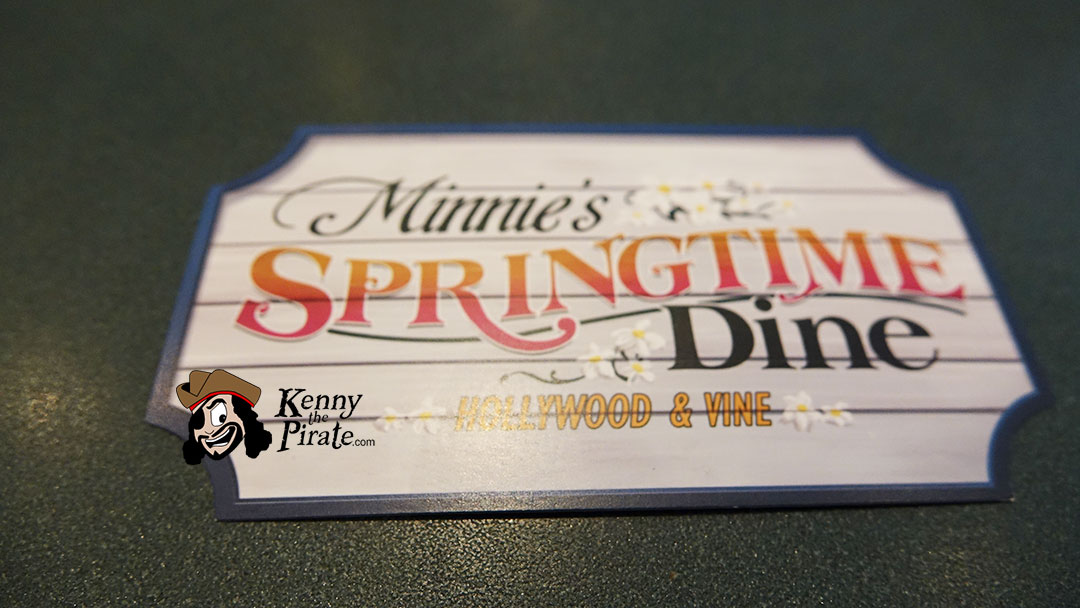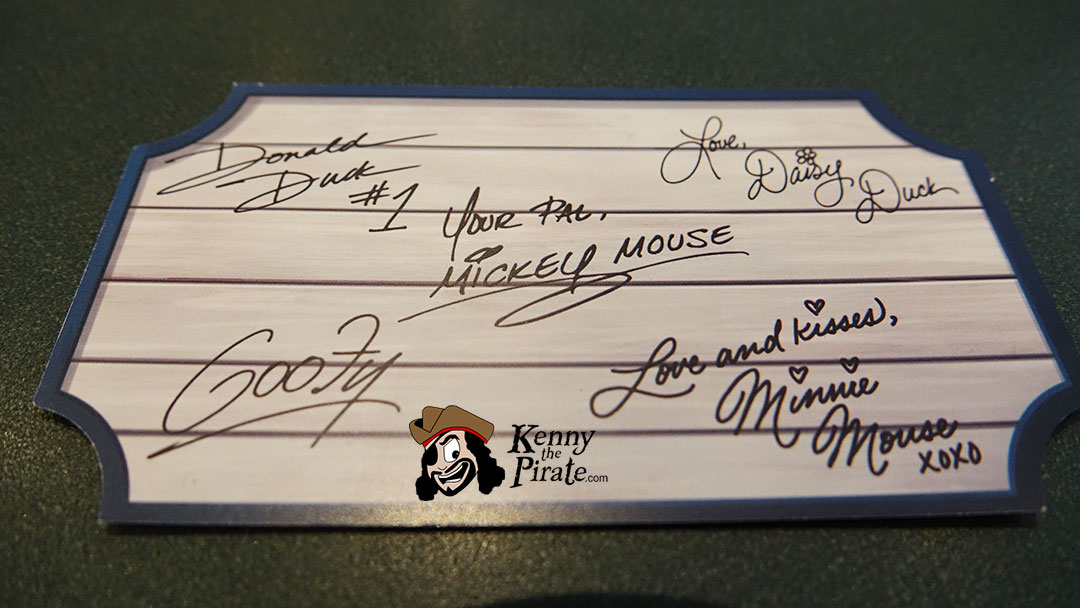 Minnie Mouse and her remaining friends move about from one table to the next displaying their spring finest clothing and accoutrements.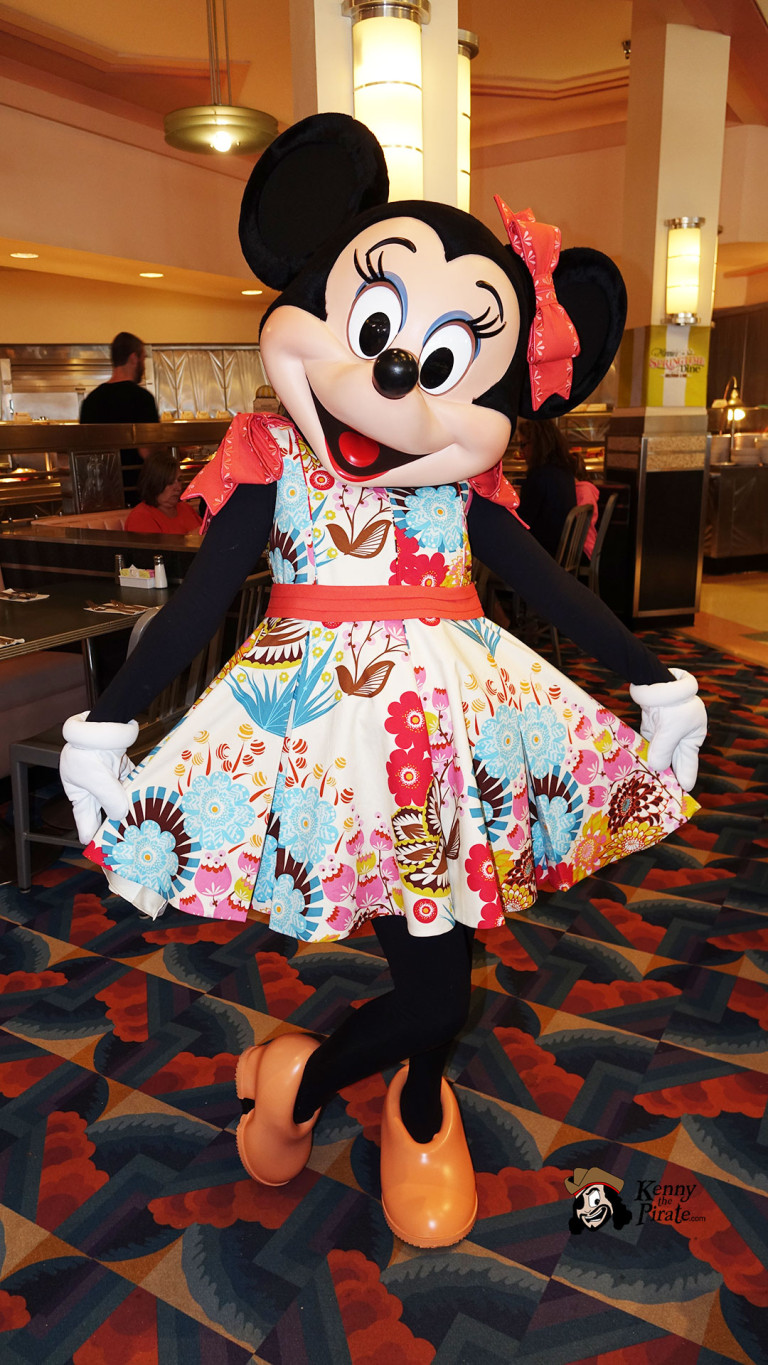 Mickey opted for the classic Don Johnson "Miami Mice" look.  I'm pretty sure I had this outfit back in 1984.  We could have been twinsies.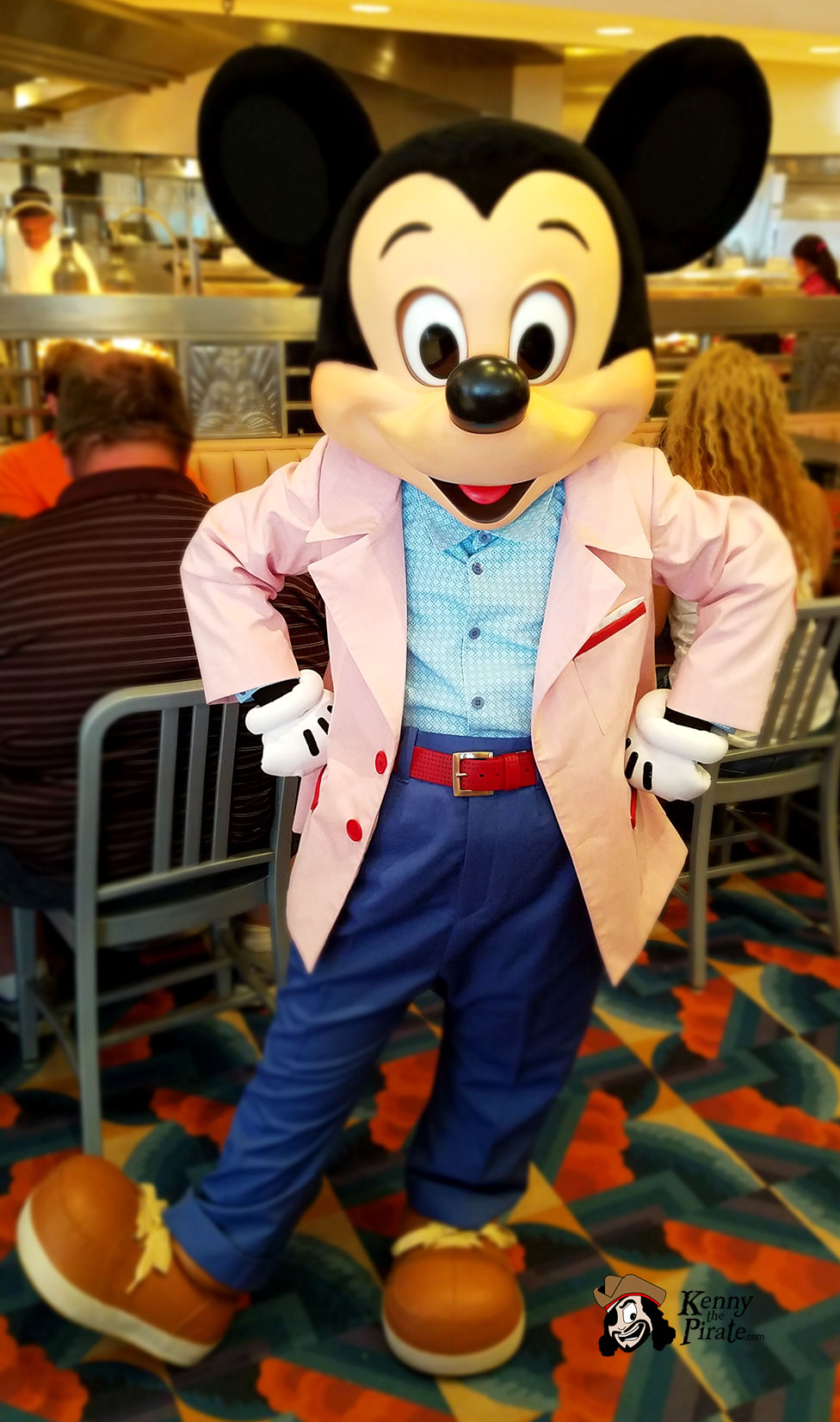 If anyone understands a dapper gentleman, it's Goofy, right?  My son loves bow ties, I wonder if I can get him one of these somewhere.  He'd be the killer of the prom.  Sweet Chuck Taylor's there!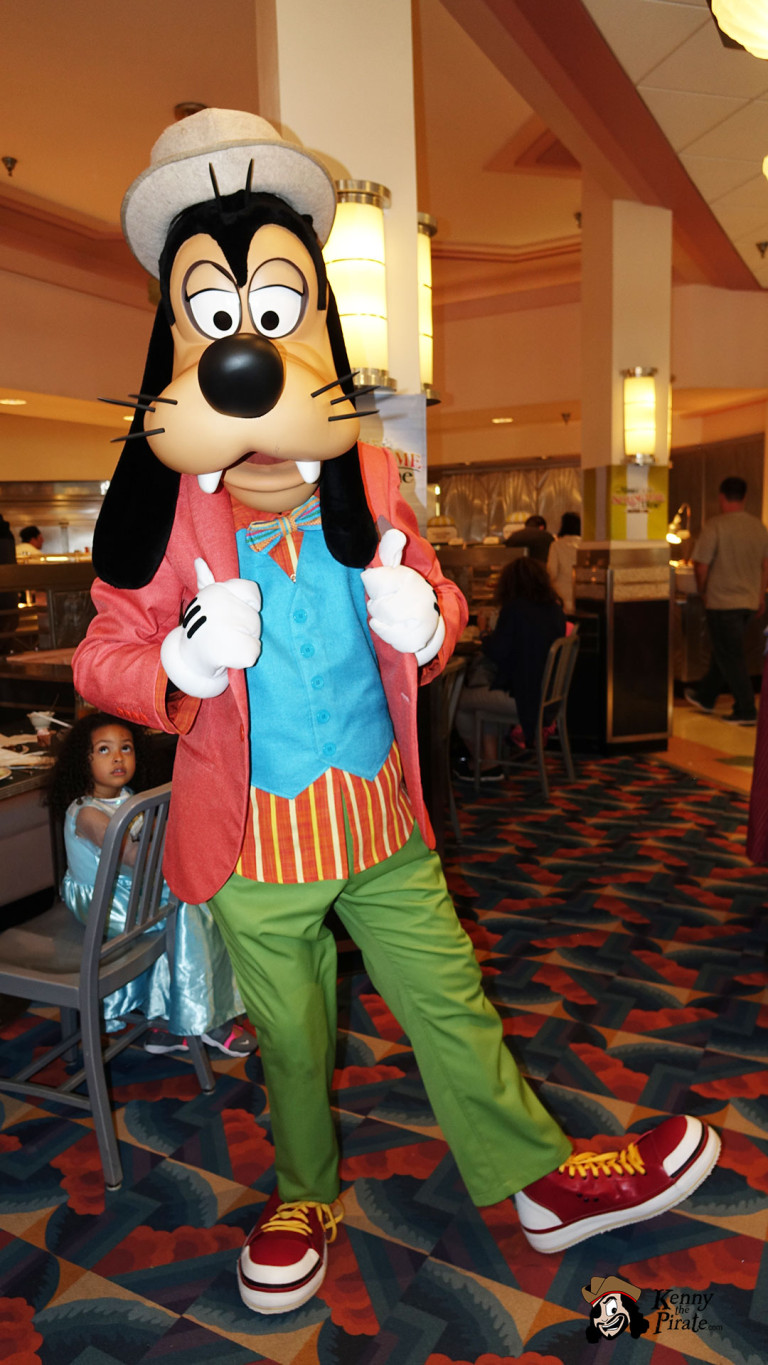 Donald's inferiority complex leads him to the majestic, royal purple with golf hat.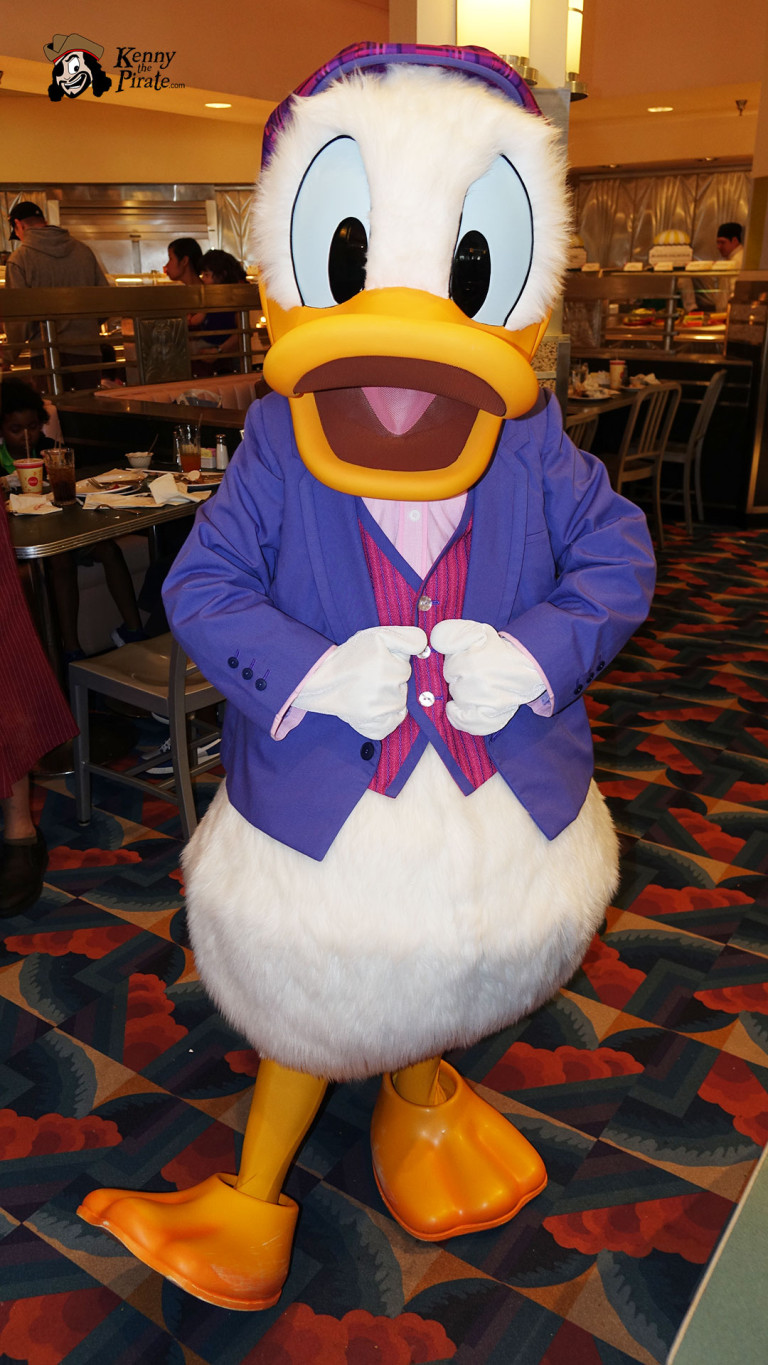 Always reminding us who the REAL Donald actually is.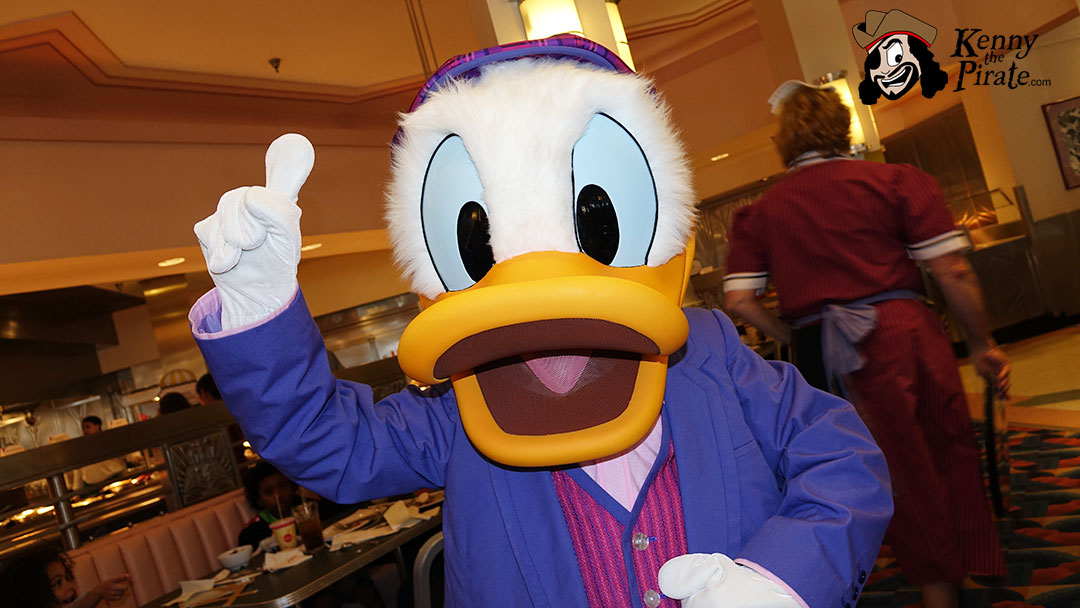 Buffet offers a wide range of sides, salads, meats, vegetables and desserts.  Here's the sides which are cold items.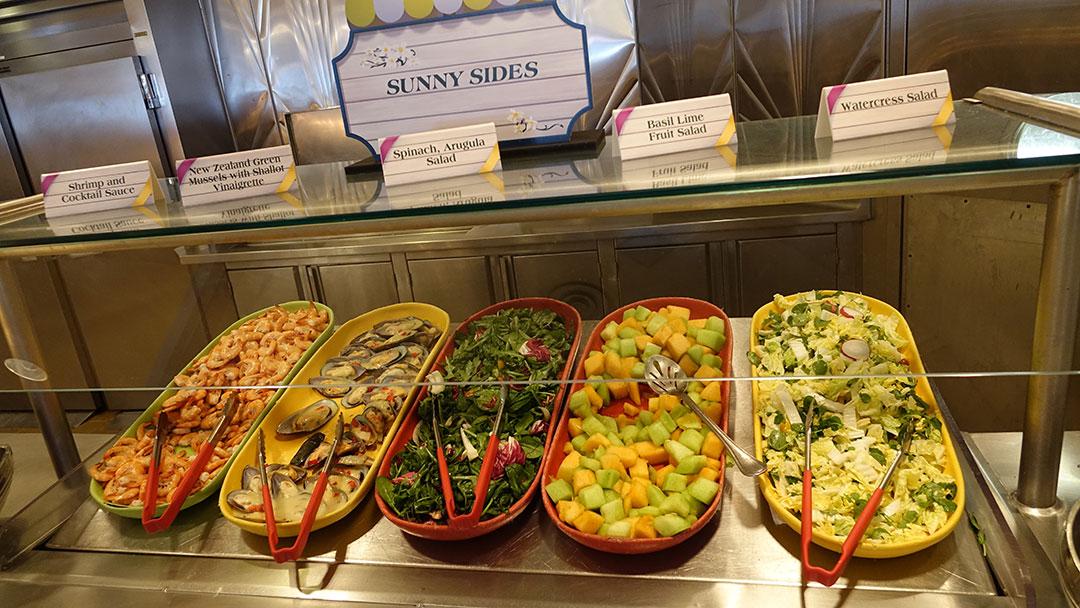 You can build your own Caesar or Field Green salad.  Were these greens actually grown in a field though or inside the giant boat ride in Epcot?  My kids can't eat anything without Ranch, so yes they have that.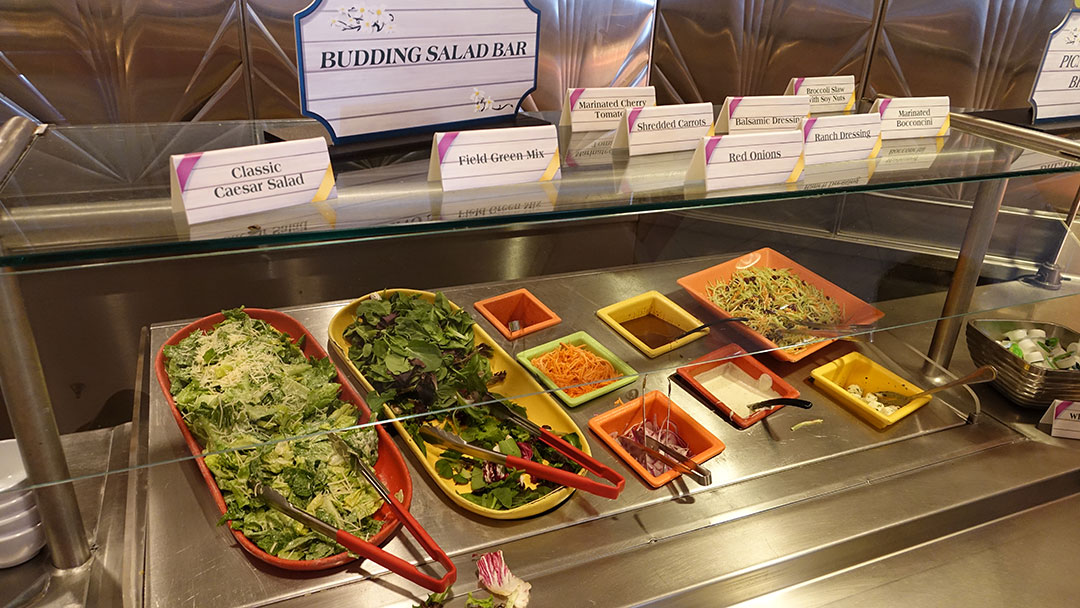 Who cares about meats and stuff?  We want dessert!  Hey, I understand.  Dessert is Stressed spelled backward and you booked your meals 180 days ago, your Fastpass+ 60 days ago and you just want to know the schedule for a show that begins next month.  It's vacation (holiday for Brits), no one can tell you not to eat dessert first.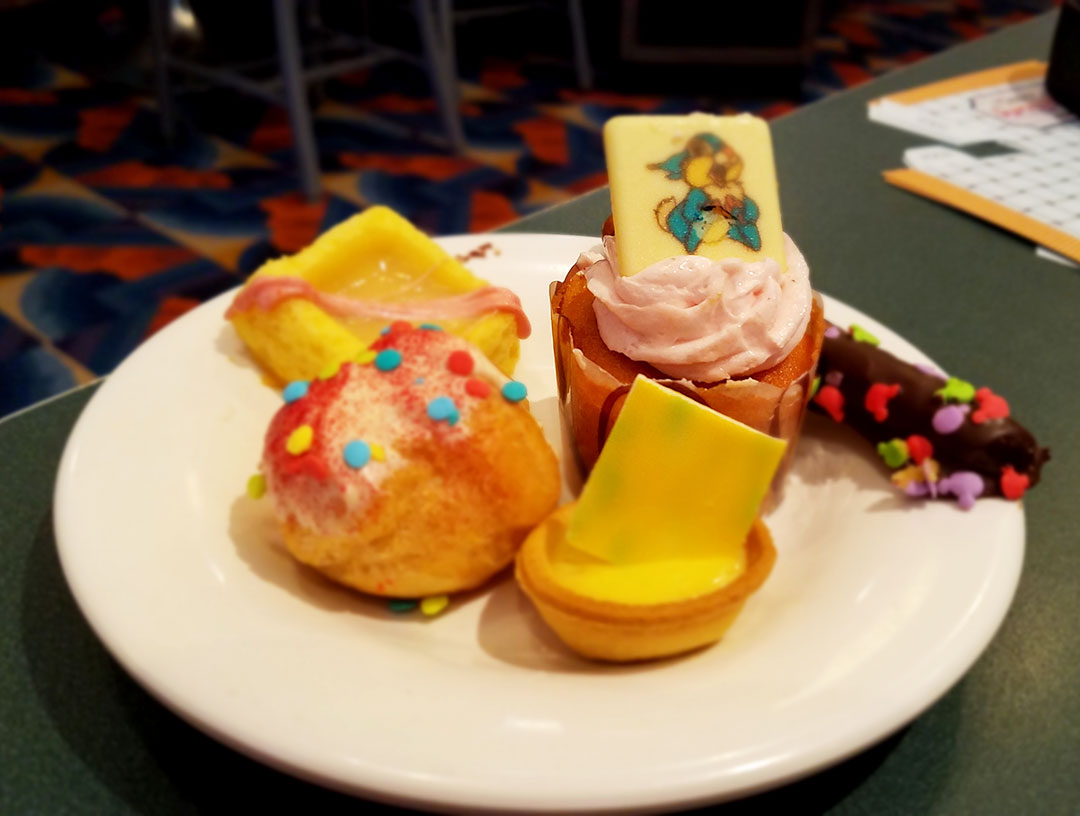 But they do have a very wide array of vegetable and meat dishes including seafood, beef, chicken, turkey and more.   I think they even work in the word Aioli some where.  What the heck is Aioli?  I just figured out what Quinoa means for crying out loud!  (Definition – dry and tasteless cake of inedible goo)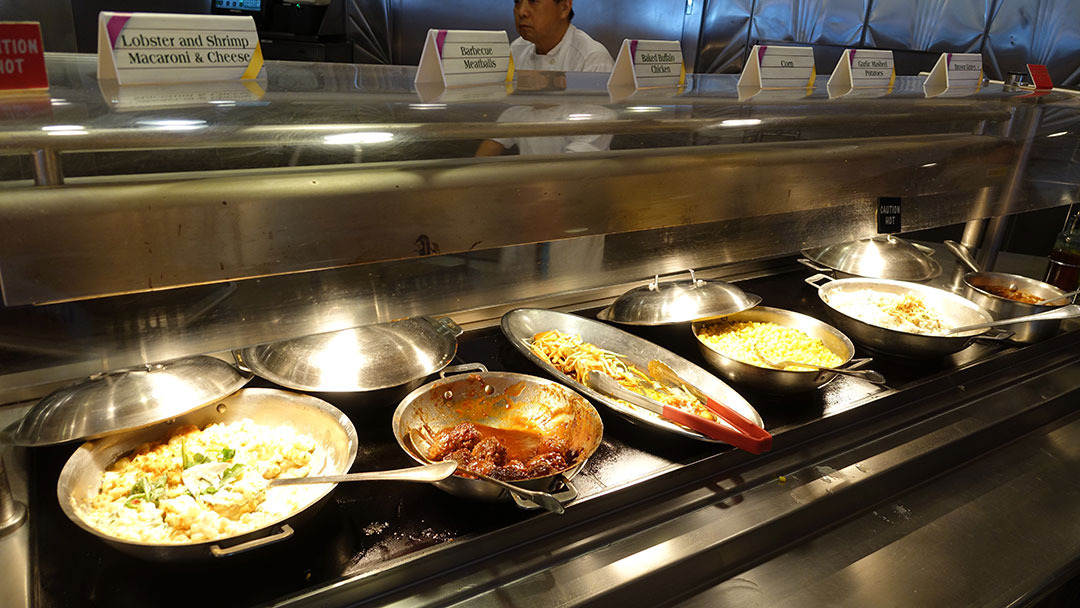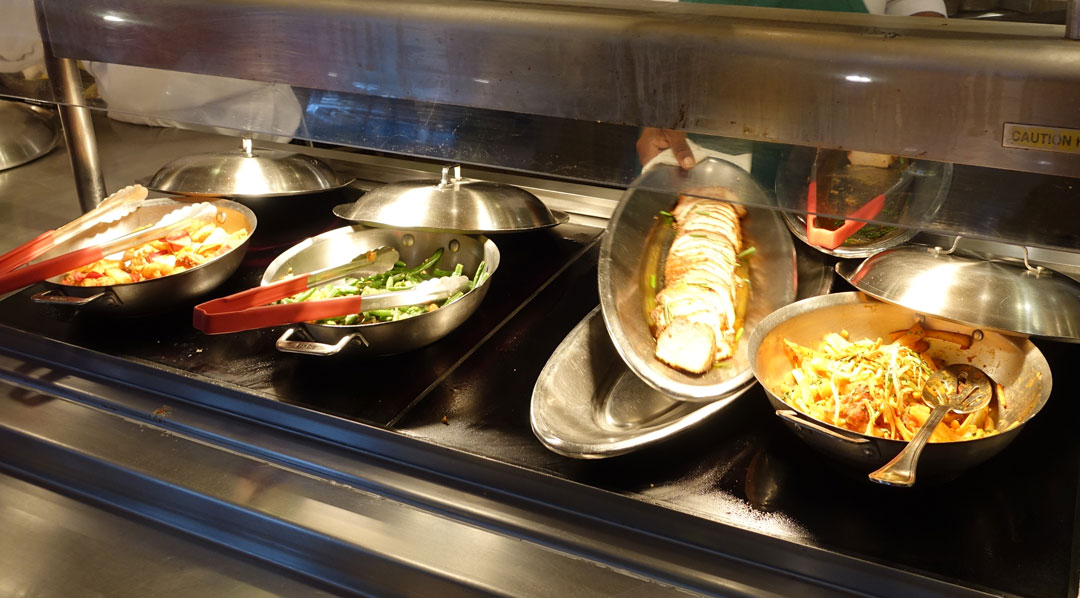 Pastas, meatballs, shrimp.  All kinds of stuff that you'll burn off if you tour Epcot later.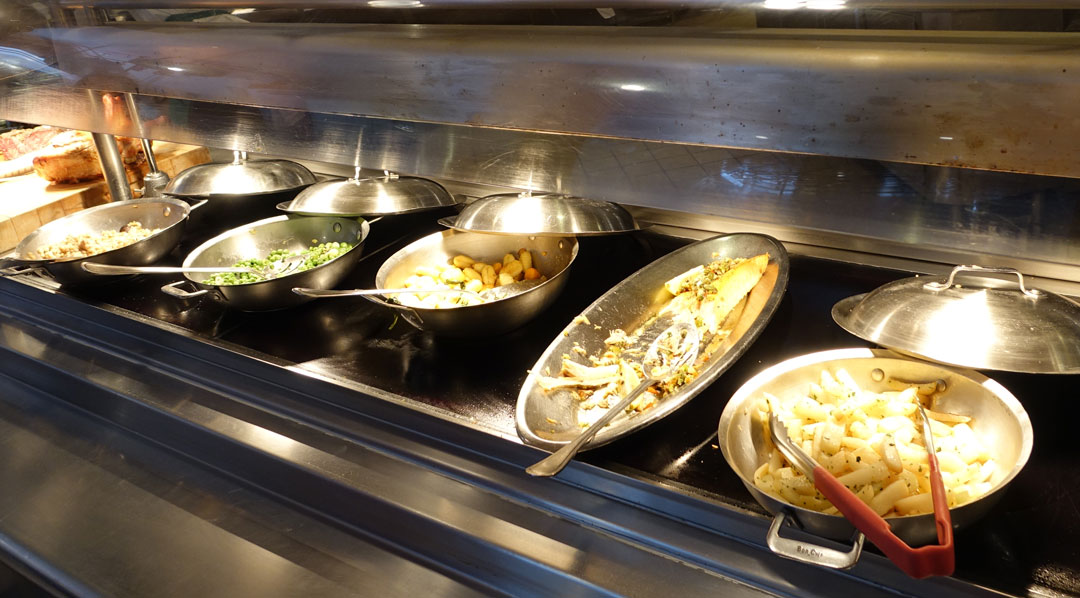 Cow and bird are both fresh sliced.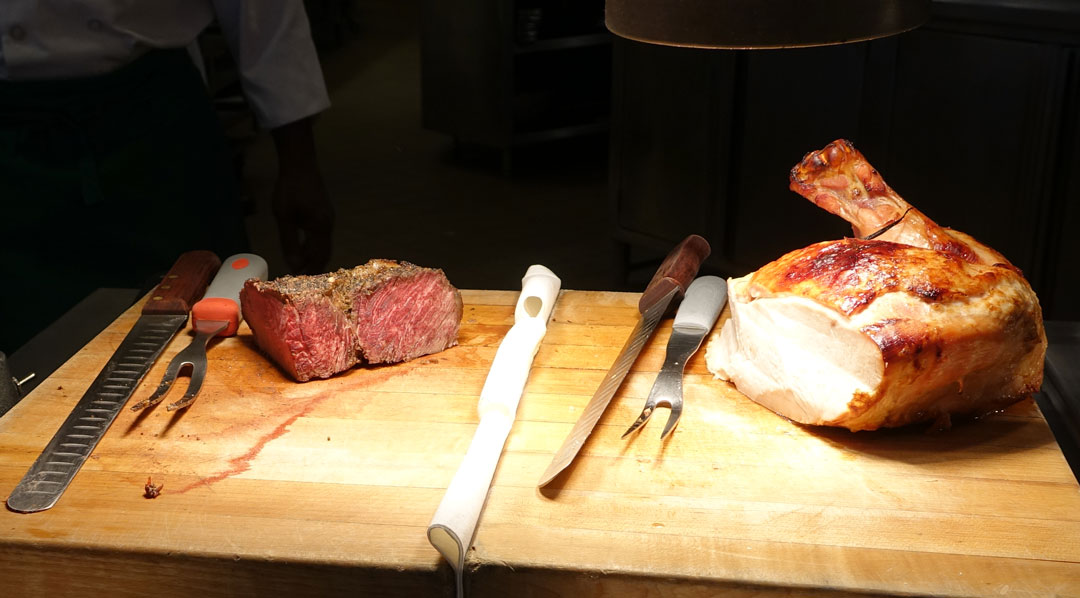 All the plain stuff that kids demand like rice, mac n cheese, chicken nuggets…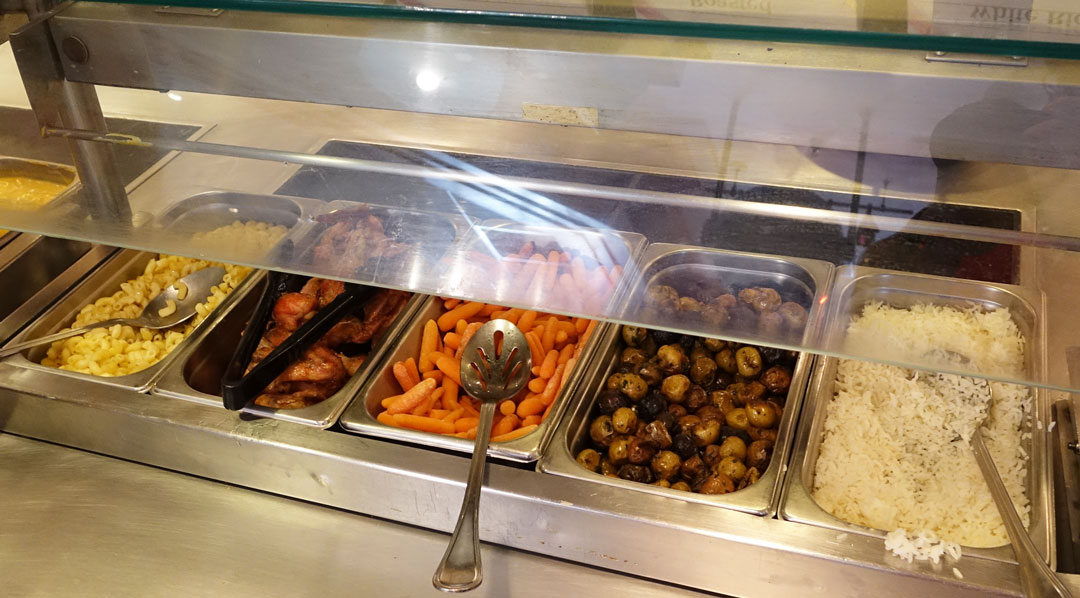 tater tots, corn dog nuggets and of course every child loves brocolli!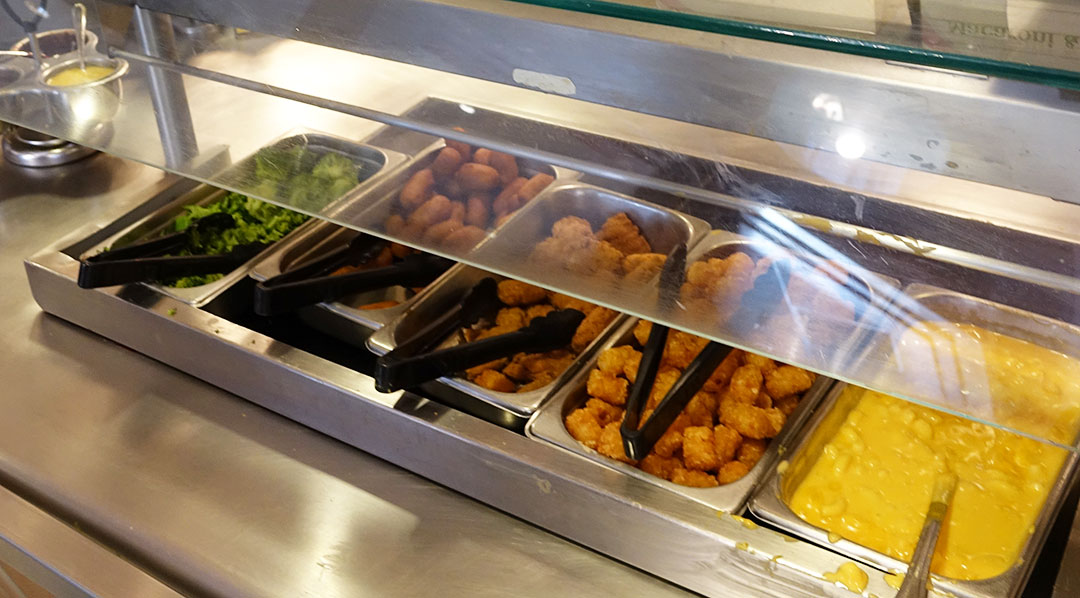 Back to the desserts, yes!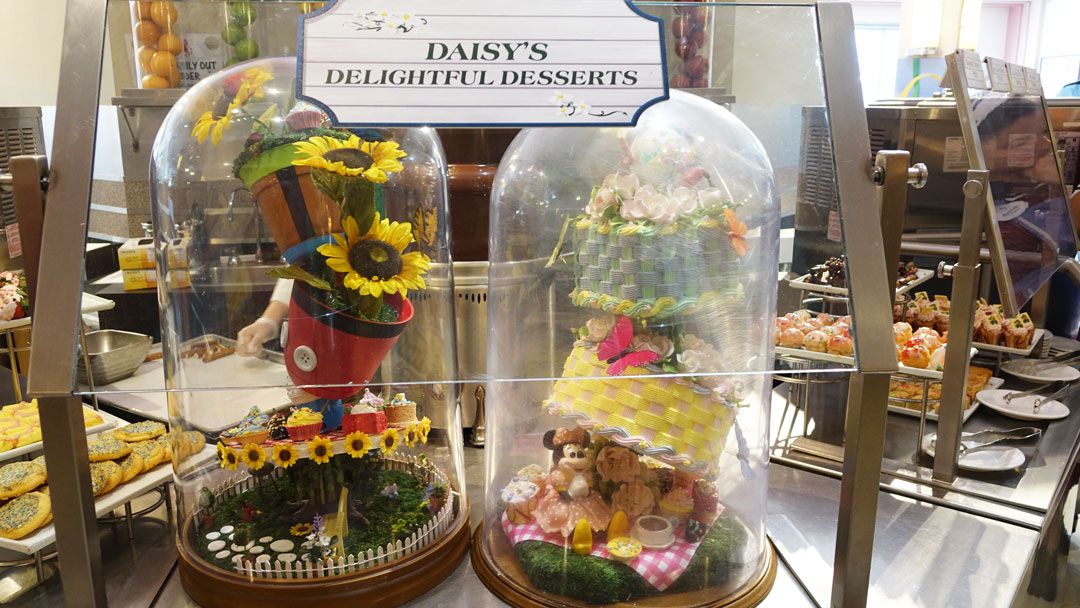 Puffs, pretzels and cupcakes, oh my!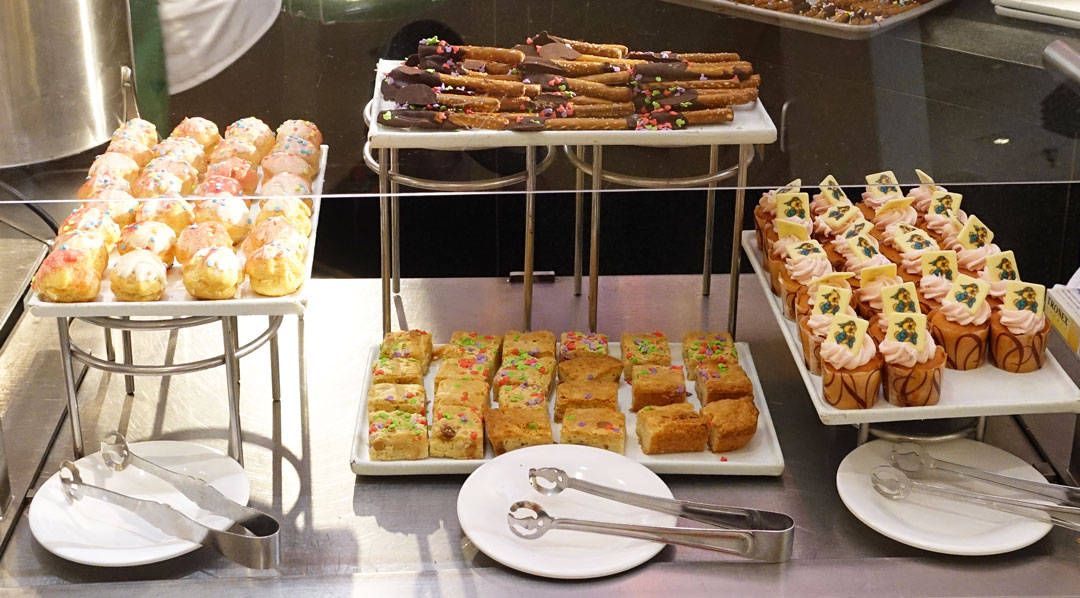 Quoting Disney's own Stacey, "Yummy, yummy, yummy"
And of course Ice Cream too.  Choices though, careful there with the handle you pull.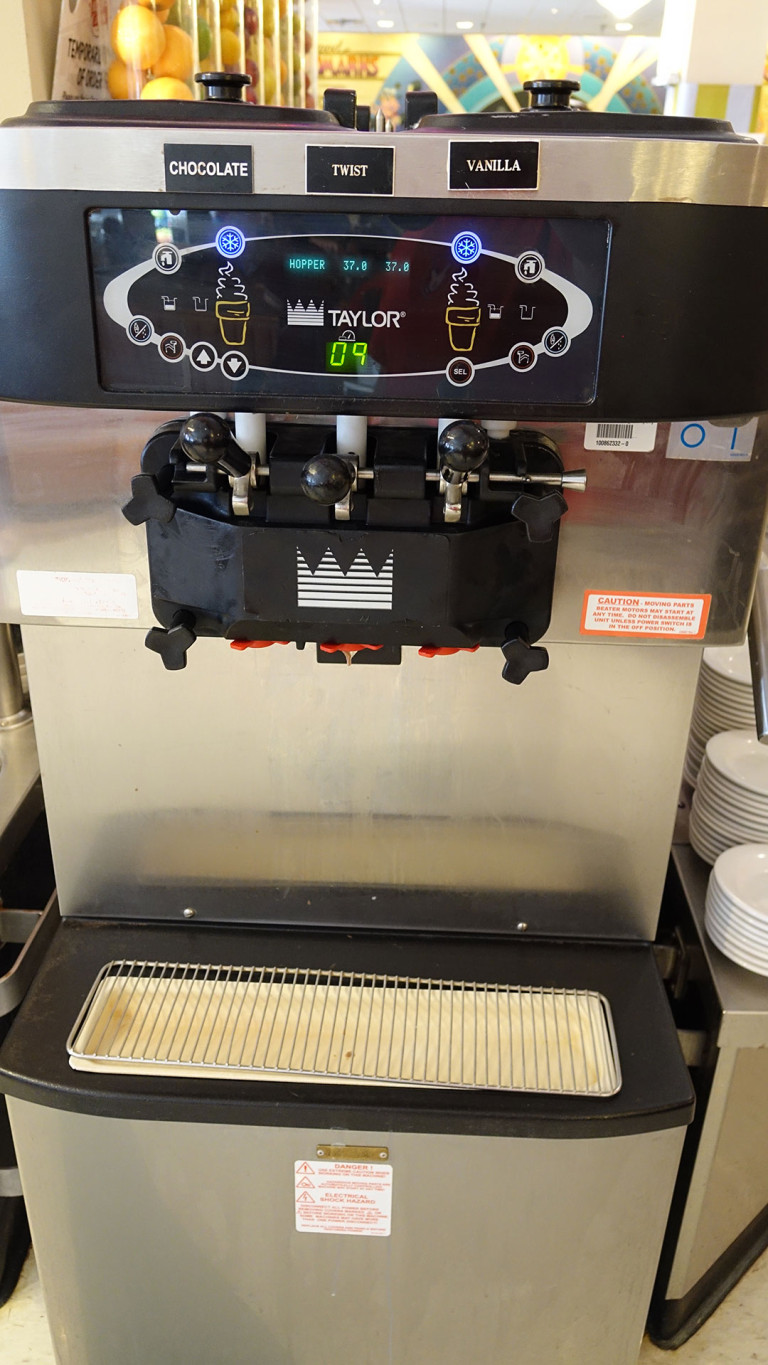 Hope you enjoyed the grand tour of Minnie's Springtime Dine (Dinner).  I enjoyed the meal.  It offered a wide variety of tasty foods, but I wished for fried chicken.  What else would you bring on a picnic but fried chicken and potato salad?  Some checkered table clothes and live ants would have really amped up the experience too.  Each character has a great, unique costume.  I'll check back for summer, but I'm on pins and needles over the Halloween season offering!
January 4, 2016 – March 20, 2016
Minnie's Silver Screen Dine
Celebrate Hollywood blockbusters at a banquet honoring the glitz and glamor of Tinseltown!
March 21, 2016 – June 5, 2016
Minnie's Springtime Dine
Shake off winter's chill with a fabulous fete marking the bright and beautiful delights of spring!
June 6, 2016 – September 11, 2016
Minnie's Summertime Dine
Heat things up at a beach-inspired bash welcoming the excitement of the season!
September 12, 2016 – November 6, 2016
Minnie's Halloween Dine
Head to Minnie's favorite haunt as all her pals gather for a frightfully festive Halloween feast!
November 7, 2016 – January 6, 2017
Minnie's Holiday Dine
Deck the halls at a dazzling dinner party filled with holiday cheer and the joy of the season!
Each table also has a build your own tiny picnic basket.  You're supposed to play a game of pass the basket at your table, but my friend Josh and I just stared into space.
Share this post so more than 5 people can view my 4 hours of work :)