Mobile Ordering is nothing new to guests visiting Walt Disney World, but you will notice a few changes when placing your orders. Read on to see how mobile ordering has changed in this new normal.
Mobile Ordering debuted back in 2017 and officially launched at Satu'li Canteen in Pandora – The World of Avatar at Disney's Animal Kingdom.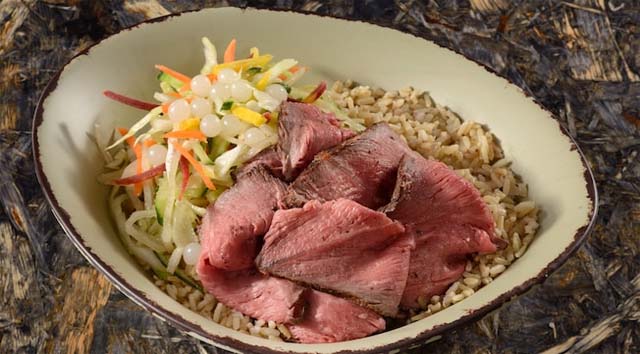 Since then, it has taken off and has saved time for thousands of guests waiting in line for their food. It's basically a FastPass for your food!
For more details regarding how Mobile Ordering might save you and your family time during your next visit to Walt Disney World, go here.
Mobile Ordering is available at select quick-service dining locations throughout the theme parks, Disney Springs, and Disney resort hotels. Be sure to check out Disney's website for locations offering this service because they can often change.
Recent Updates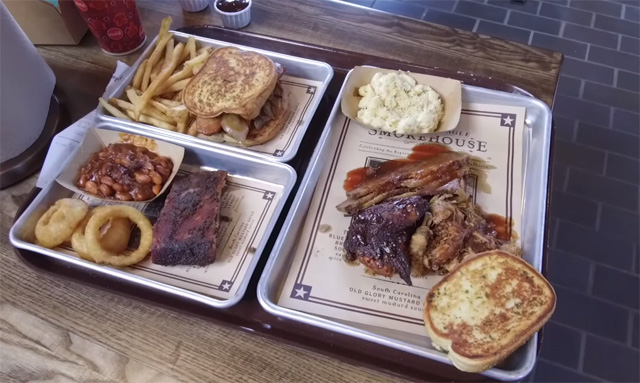 In the past couple of months, we have also seen updates to Mobile Ordering, and this is in light of the recent encouragement of limited contact enhancements.
Contactless payments, cashless transactions, and Mobile Ordering are now the preferred method of purchasing food items.
Among the updates have been the addition of an arrival window to pick up your order and additional methods for paying such as using a Disney Gift card, Disney Dining card, Apple Pay or Disney Rewards Redemption card.
What Other Changes Are There?
Your next visit to Walt Disney World will be different. So, it's good to be prepared and know what you can expect.
The ordering process itself has not changed. Ordering can be done through the My Disney Experience App and then selecting 'Order Food' at the bottom of the screen.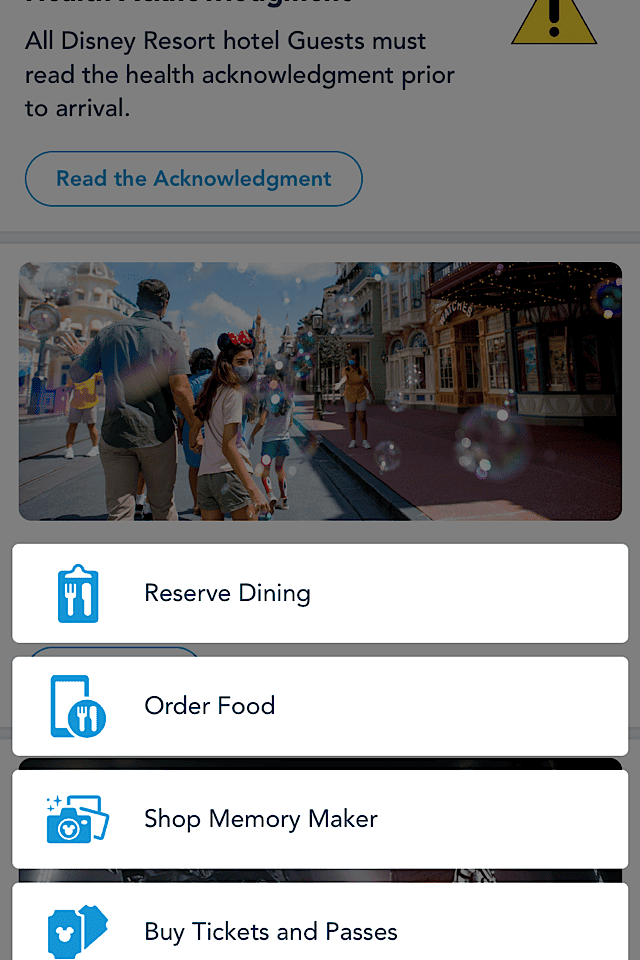 Or you can also select 'Mobile Food Orders' from this screen to create a new order.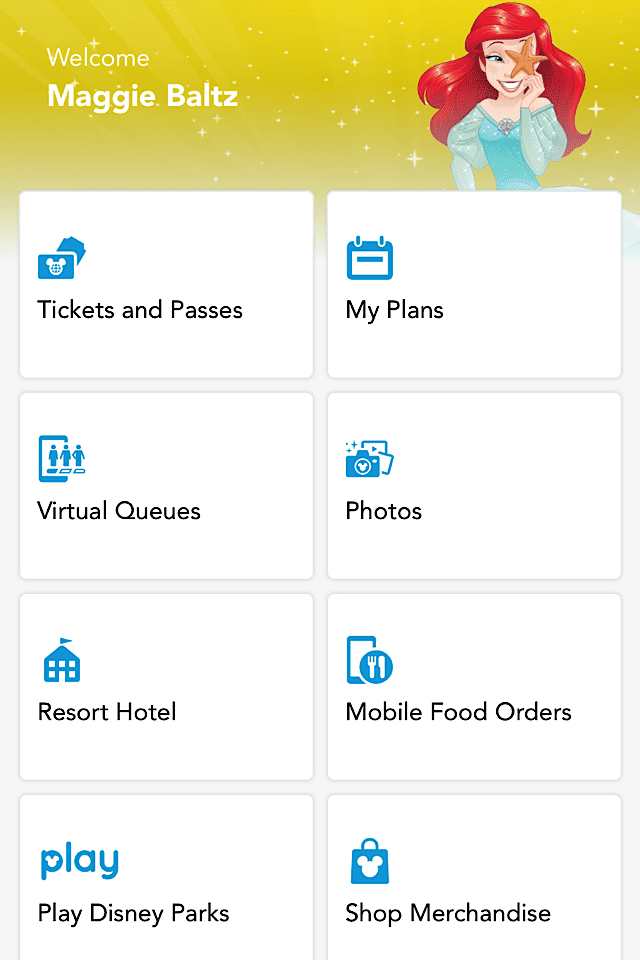 Once you do this, you can proceed to order from various dining locations.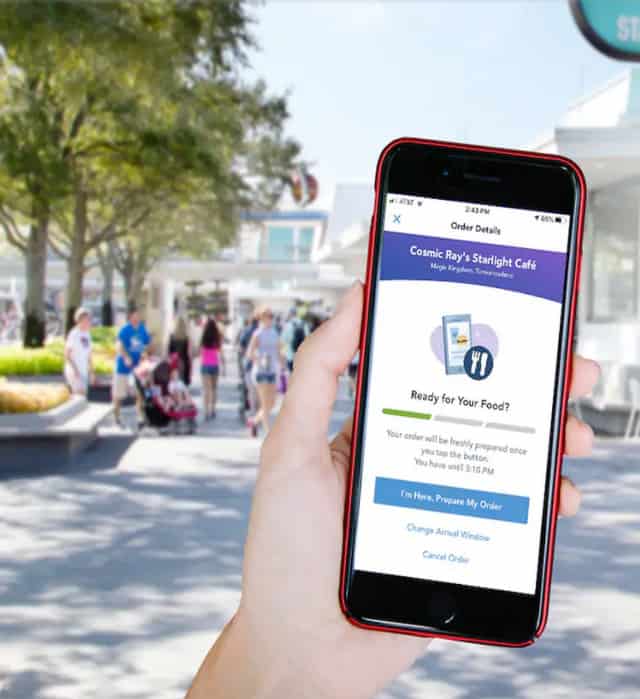 After your order is placed, you will be taken to this screen shown above and it gives you a window of time for you to have your order prepared. If you are ready, click on 'I'm Here, Prepare My Order.'
pirate tip: click on 'i'm here, prepare my order' right away so you can receive your order more quickly
I found that in certain dining locations, your order will take a little longer to prepare for various reasons. There is no reason not to have them start preparing your order right away, unless you believe you will not be able to make your arrival window, so don't be afraid to have your order prepared right away.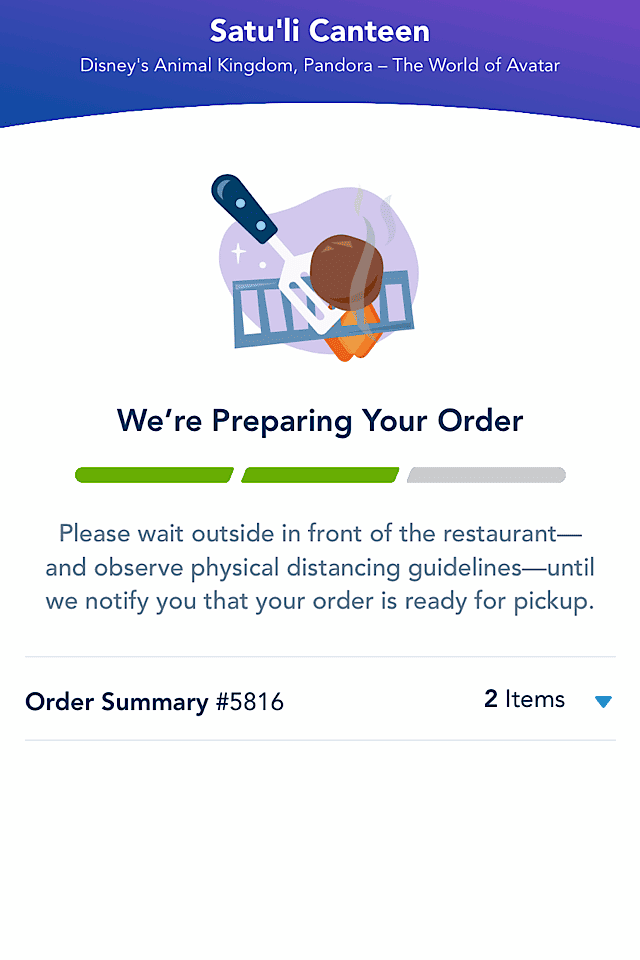 After clicking on 'I'm Here, Prepare My Order', you will be brought to the screen shown above. This is the first difference in mobile ordering that I observed.
As you can see it says to, "Please wait outside in front of the restaurant – and observe physical distancing guidelines – until we notify you that your order is ready for pickup."
Guests may recall being able to walk right into the dining location and wait for their order then. Now, you will be stopped if your order is not ready and Cast Members do enforce this.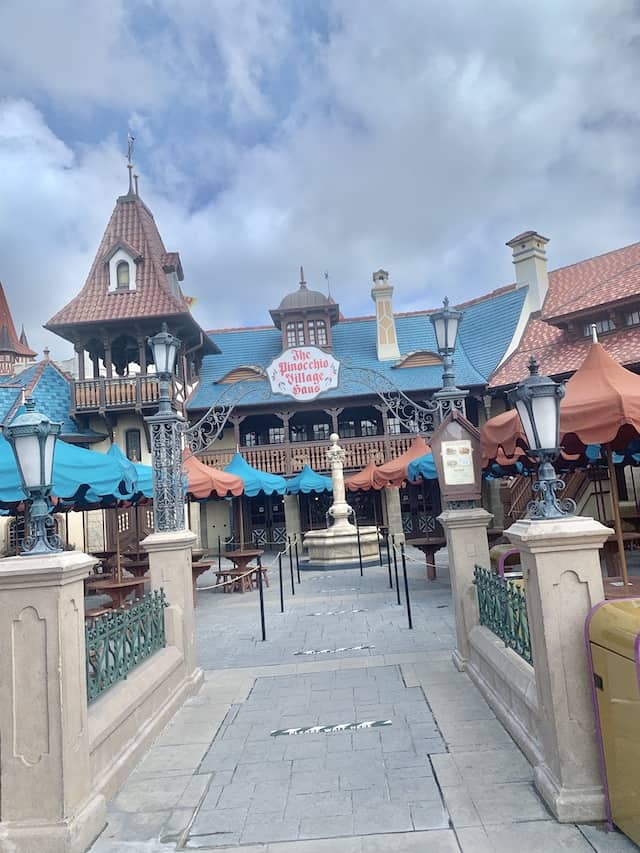 You can expect to see a Cast Member standing outside of the dining location asking guests if their orders are ready. They will not allow you into the restaurant unless your order is ready.
One thing to note is that guests can still receive complimentary water, so if you just want some ice water, tell a Cast Member and they will let you in.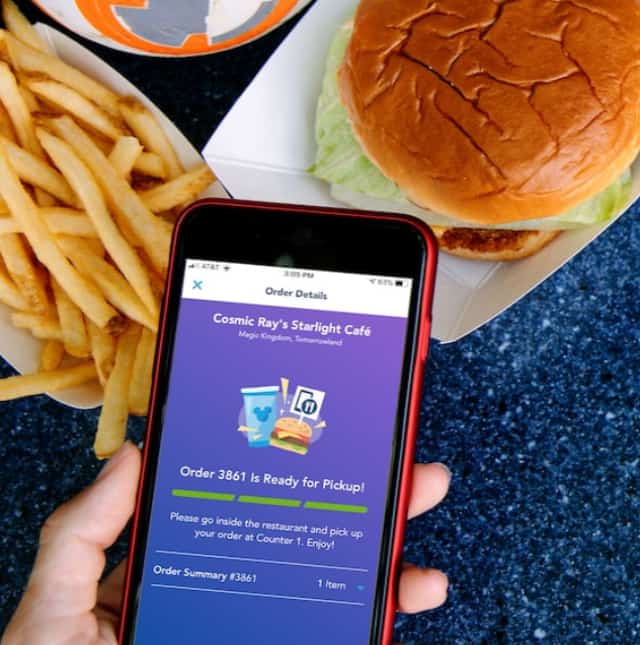 When your order is ready, you will be notified and you will also receive a push notification that your order is ready to be picked up. At this point, you can show the Cast Member that your order is ready and you will be waved into the dining location.
Here you will see another Cast Member, who will show you where your order is to be picked up.
Guests can pick up their orders at various counters and the orders will be placed on the counter for pickup and placed on a tray or in a bag.
Beverage Locations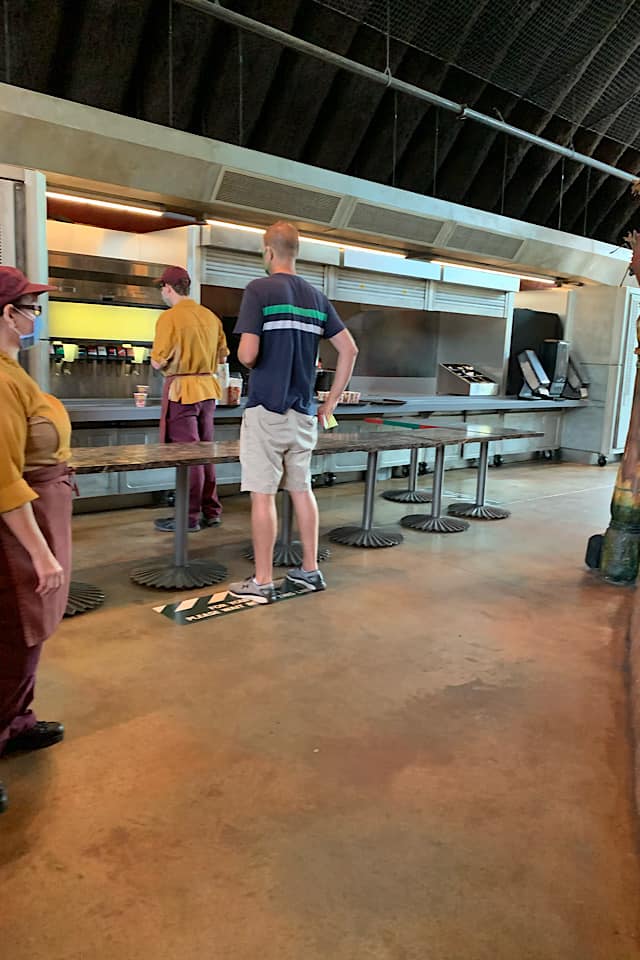 Another difference you will see are the beverage locations. There is a separate line to receive your beverages and social distancing markers are placed on the floor to stand in line. Sometimes, these lines can be quite long, but most locations have multiple lines for beverages.
When it is your turn to receive your beverage, you will be waved through by a Cast Member and brought to a table like the one shown above. Here only one Cast Member will give you your beverage and hand it to you.
Guests will not be filling their own beverages at this time.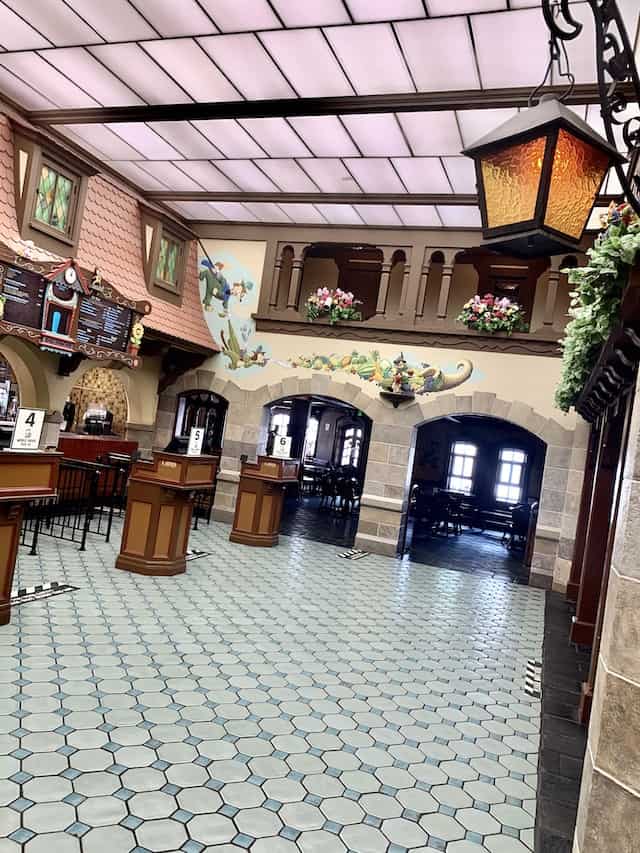 For me, I welcome this change. How often did you find yourself standing with multiple people waiting to fill your cup at the same time? Sometimes it would get crowded, and I am not a fan of fighting my way through other people just to get myself a soft drink or water.
If you prefer, you can get in line to receive your beverage first before picking up your food so you are not left trying to balance everything at the same time.
Final Thoughts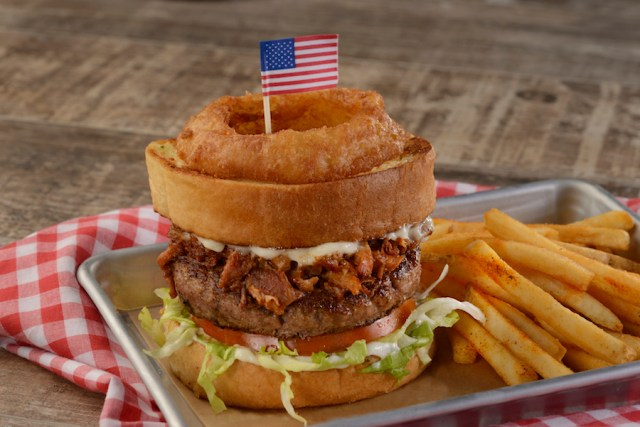 I found the entire mobile ordering process to be quick and convenient and used it quite often during my trip. The overall ordering process was obviously different, but it seemed smooth and efficient.
Orders were quick in the parks and sometimes seemed to take a little longer in my resort, but that does not mean it will be similar to your experience.
Mobile ordering is definitely a feature you should take advantage of if you plan on visiting. With the recent changes, I found the lines to be less crowded and I did not mind them at all.
Have you used mobile ordering during one of your visits to the theme parks and resorts? Tell us about your experience in the comments below or on our Facebook page! You can share your experience with us in the crew too.
Maggie Baltz