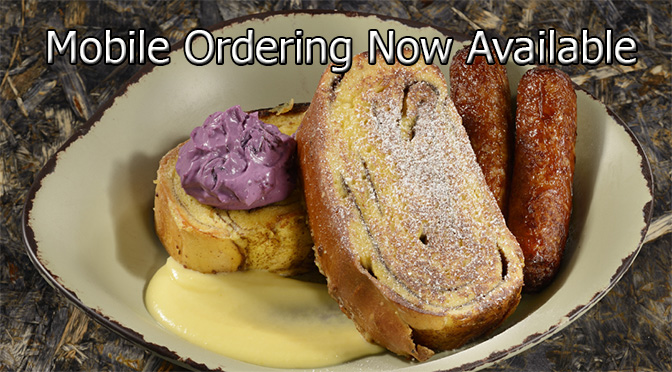 Walt Disney World is beginning to roll out Mobile Ordering through their My Disney Experience application.  They have completed the release to both iPhone and Android users which allows you to pre-order food at quick service locations.  Here's the details:
At the time of this article, only Satu'li Canteen at Disney's Animal Kingdom is listed .  Soon, you'll find a wide variety of Quick Service locations available.  Those should include:
ABC Commissary
Backlot Express
Columbia Harbor House
Cosmic Ray's Starlight Cafe
D-Luxe Burger
Electric Umbrella
Flame Tree Barbecue
Liberty Inn
Pecos Bill Tall Tale Inn and Cafe
Pinocchio Village Haus
Pizzafari
Restaurantosaurus
Tomorrowland Terrace Restaurant
Tortuga Tavern
After checking to make sure you have the latest update, you'll find a new icon that says "Order Food."  Click that icon to begin the process.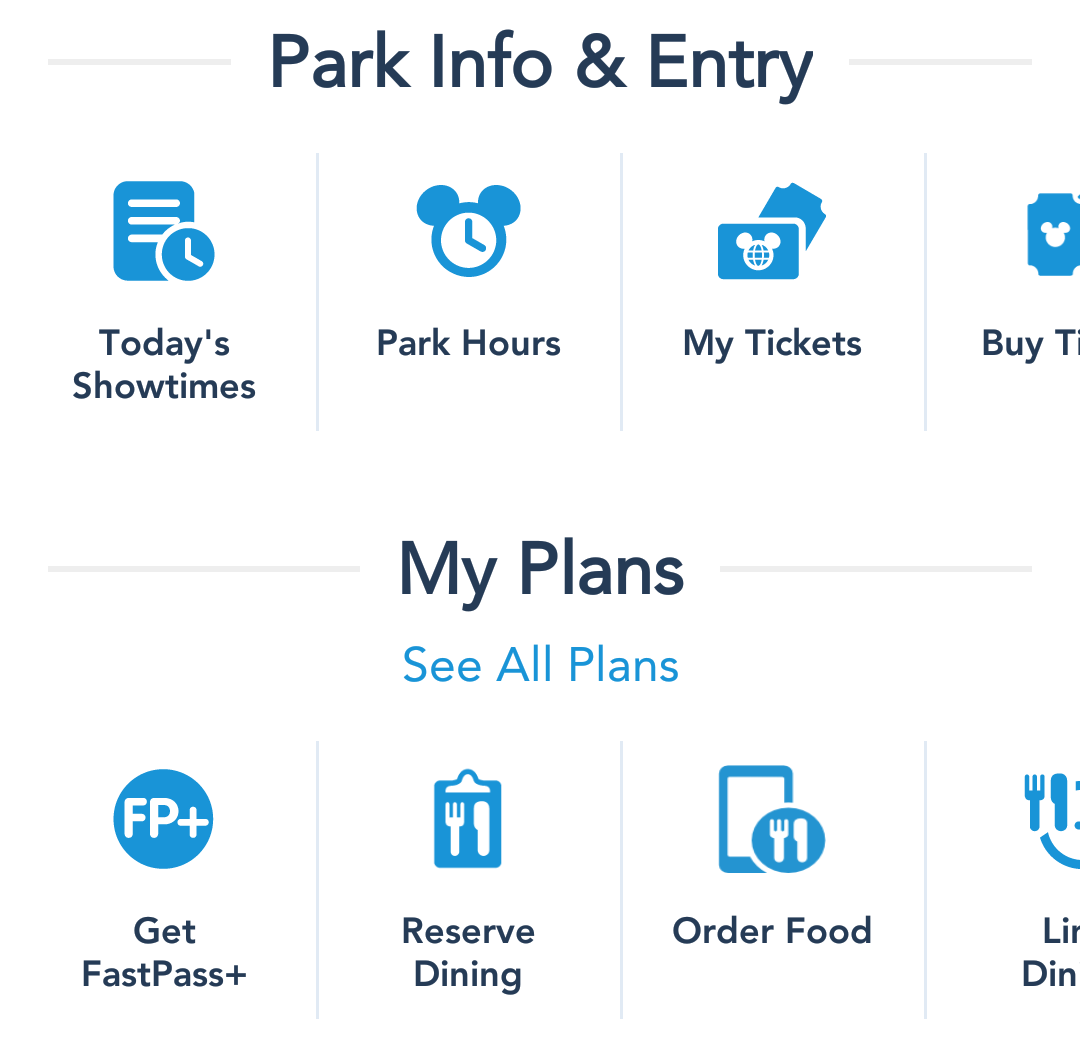 There's a note informing you that at this time they are only accepting credit cards for payment.  In the coming weeks they are supposed to allow the option to use Disney Dining Plans, but no word on when that will roll out.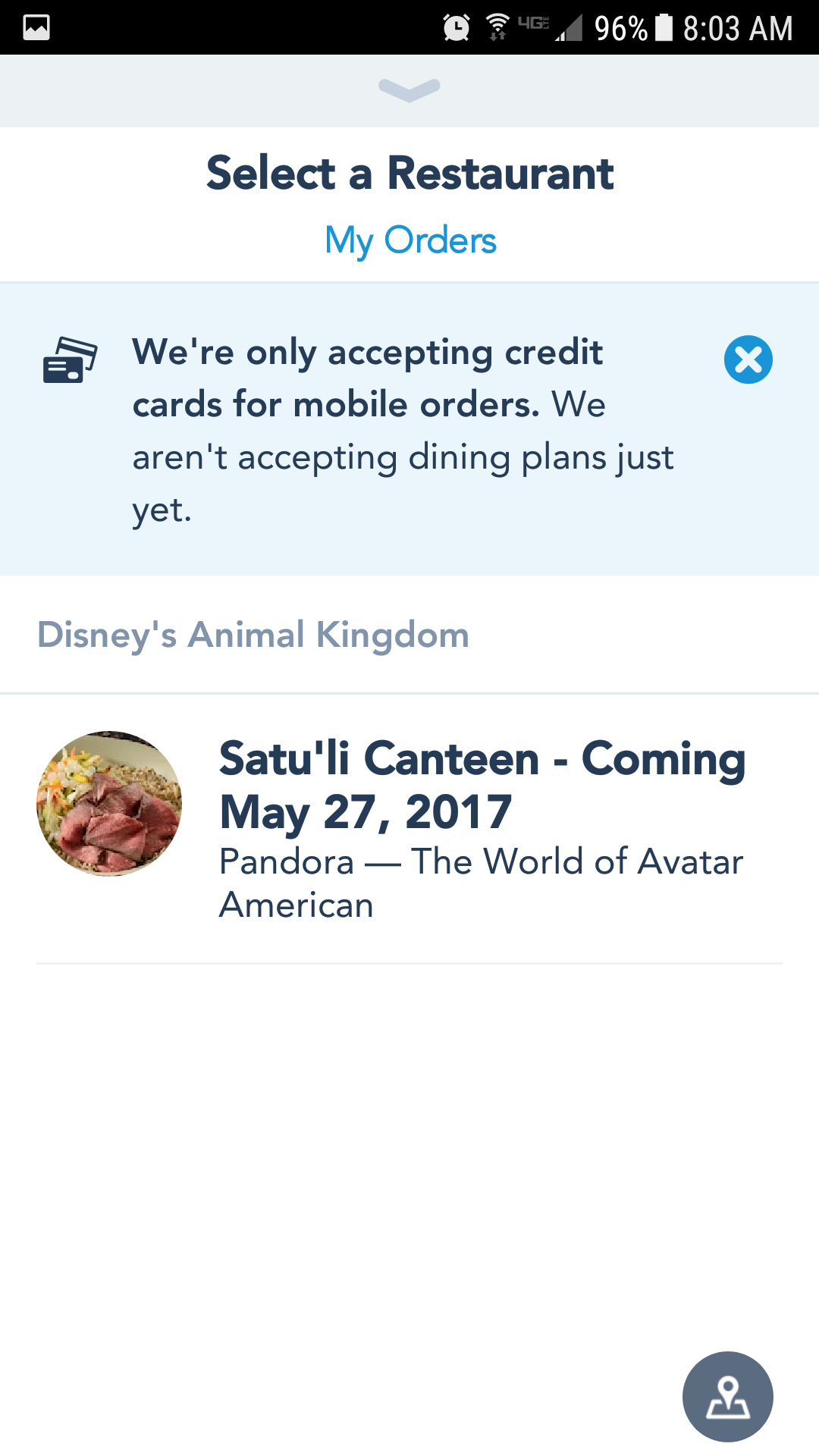 After clicking upon a restaurant (Satu'li Canteen at this time), you'll find another "Order Food" icon.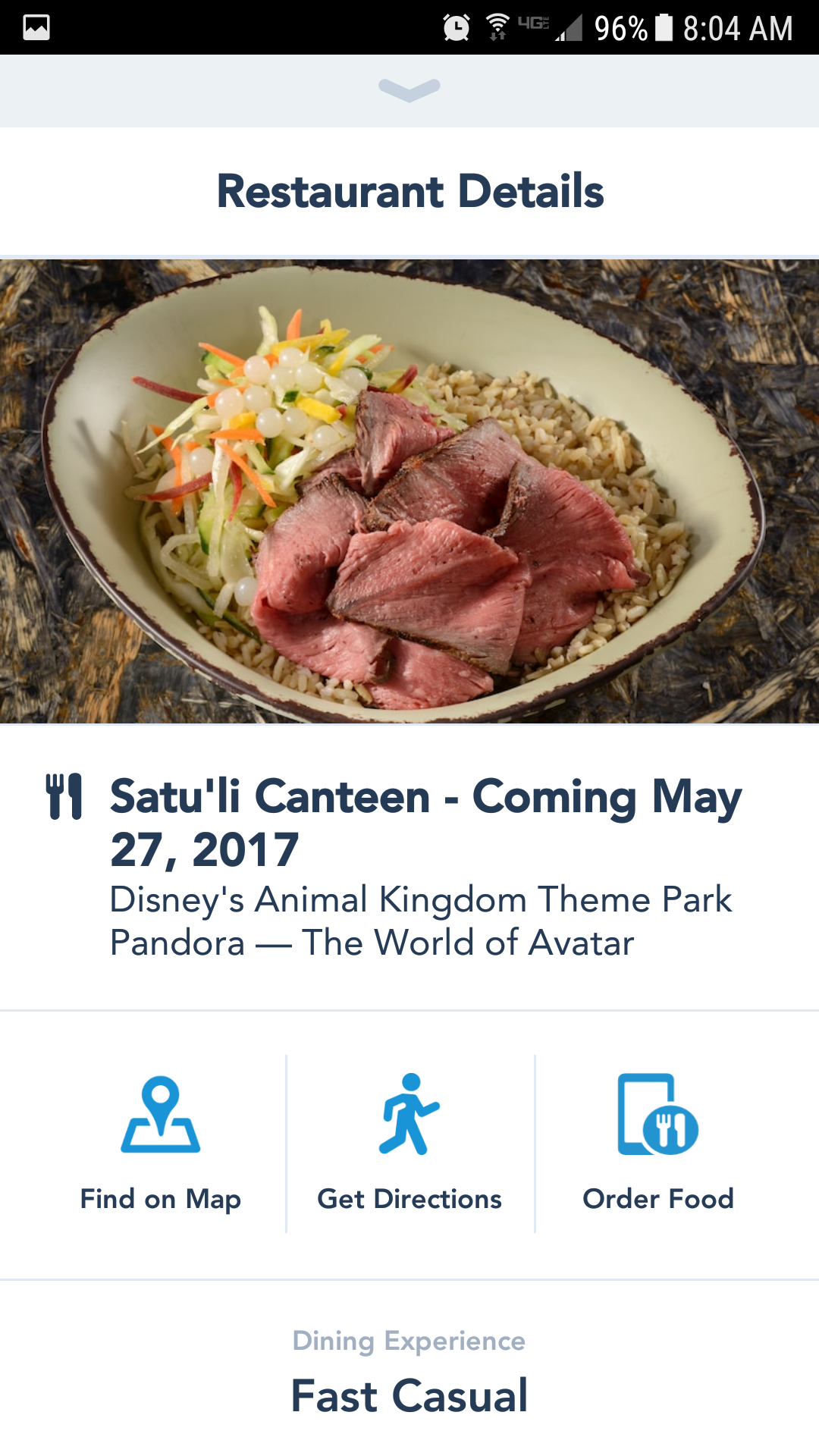 There's  a reminder that mobile ordering is currently available at one location and it is only for those with Annual Passholder previews.  This screen will go away on May 27th.  The system only allows you to pre-order your food on the same day as well.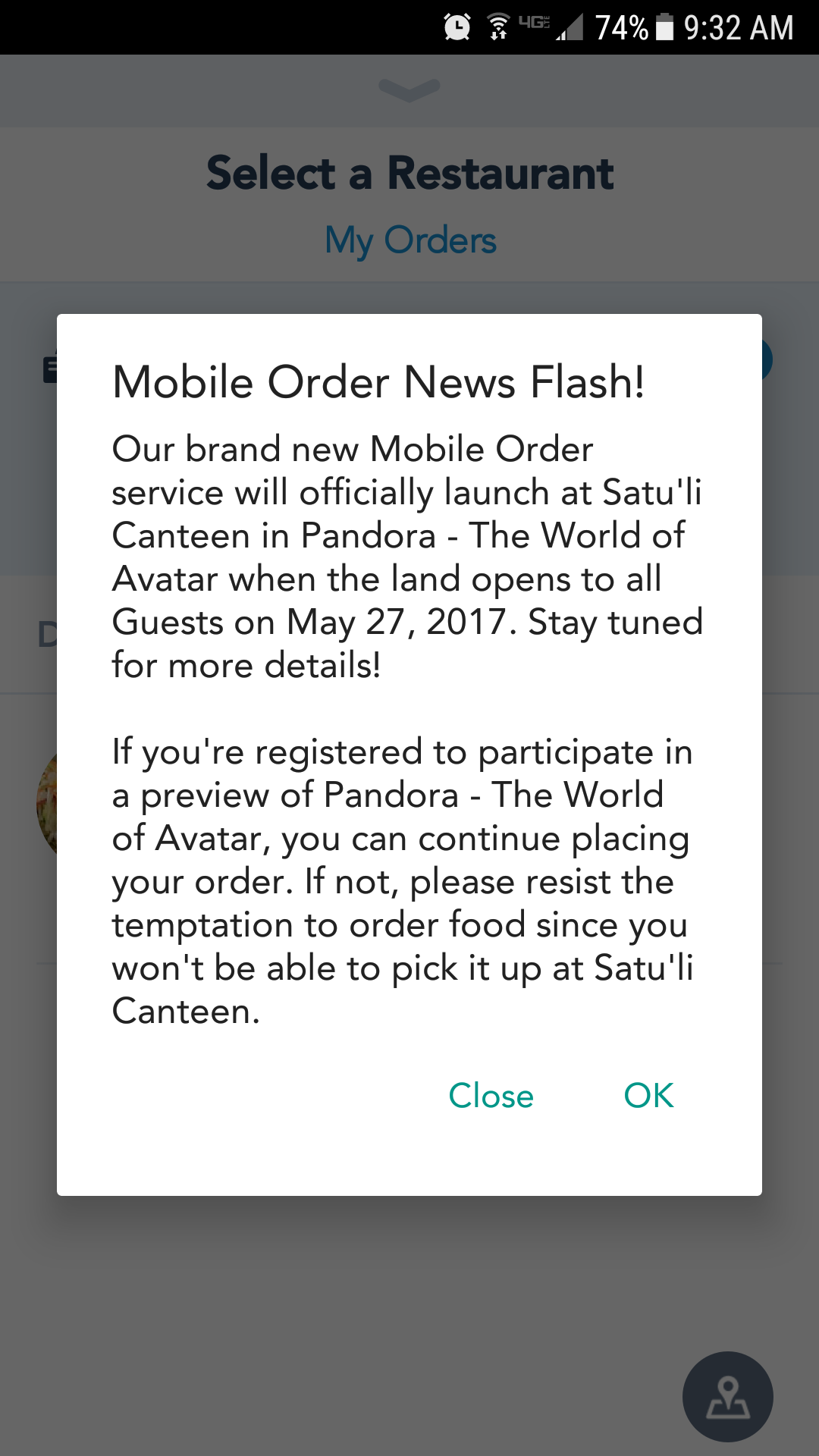 You'll then begin to "Build your order."  Just click upon an item you may be interested in and it will take you to another screen.  It seems that this step could have been eliminated.  Big graphic ahead, keep scrolling :)
Here's the breakfast menu for Satu'li Canteen by the way.

You'll then be given a photo, hopefully a photo of the food you're ordering, and a brief description.  You click the "Add" button at the bottom.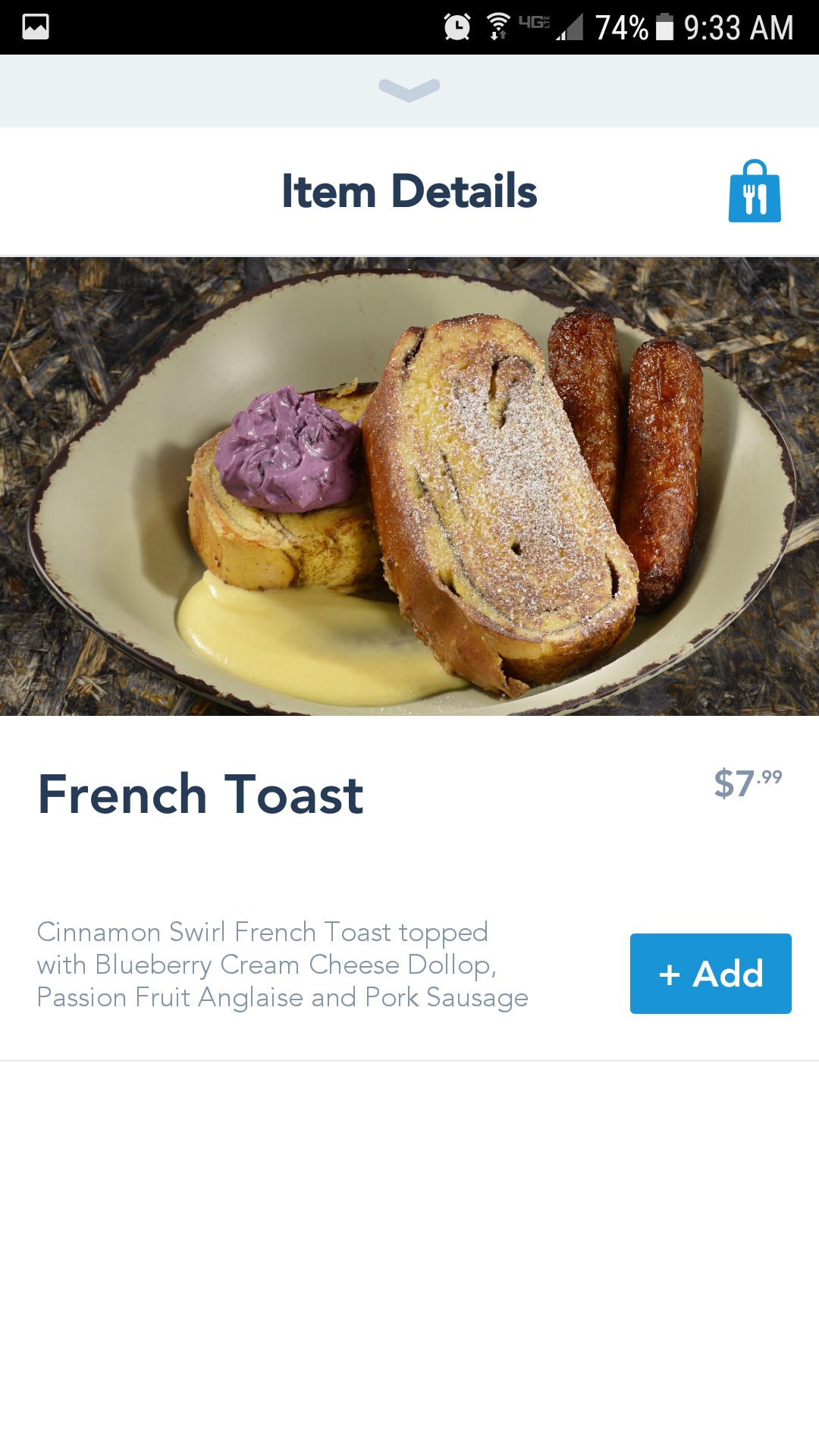 After going back and forth quite a bit (remember I said that Add button should have just been on the menu screen?) you click that little icon at the top above that looks like a briefcase with fork and knife.  Don't try to carry a knife in your briefcase, it will get taken from you at airport security.  You are then given a review screen to make sure you have all the items you want in your briefcase.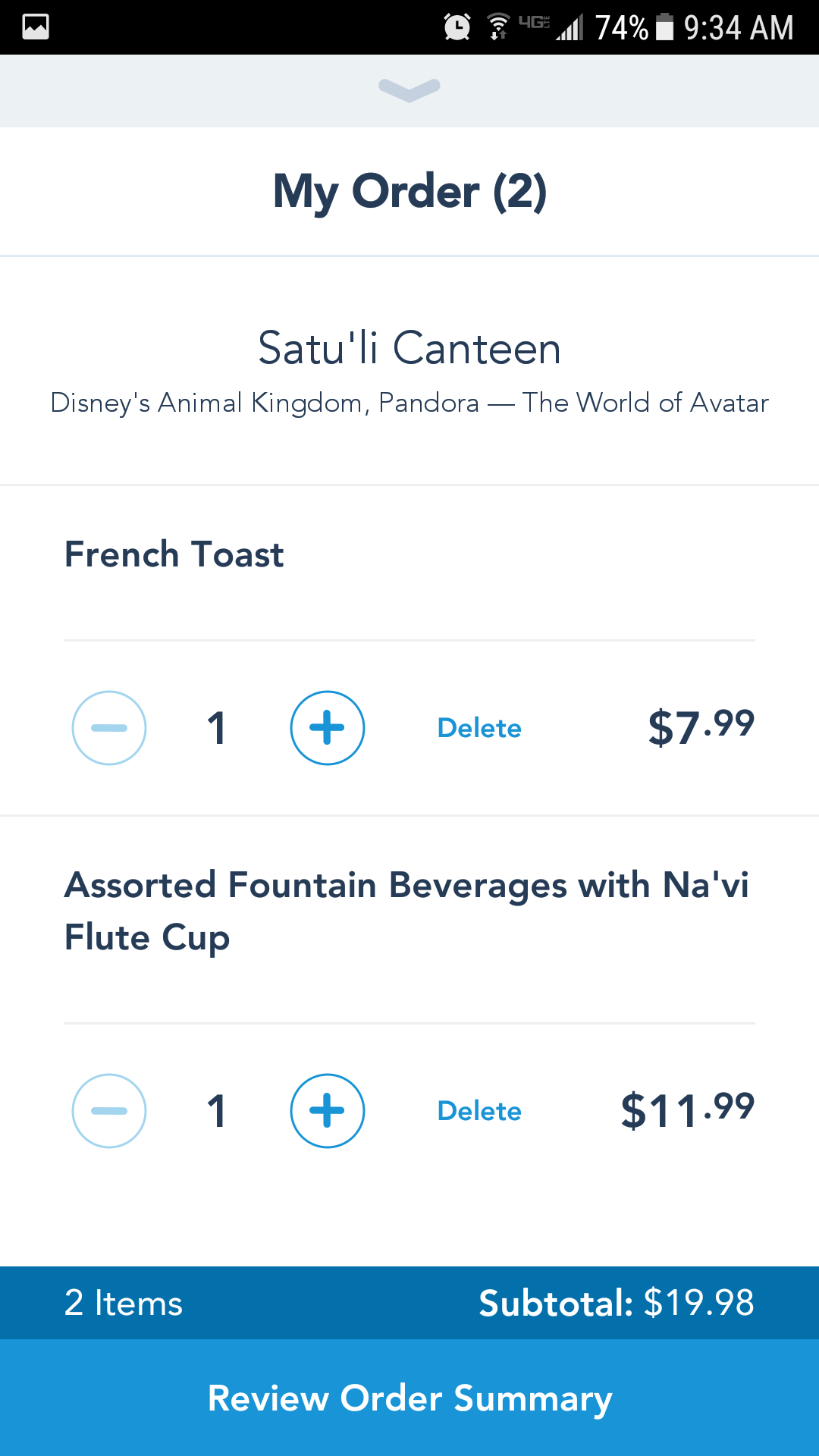 After reviewing your order, you can then use your credit card on file with your Disney account to place your order.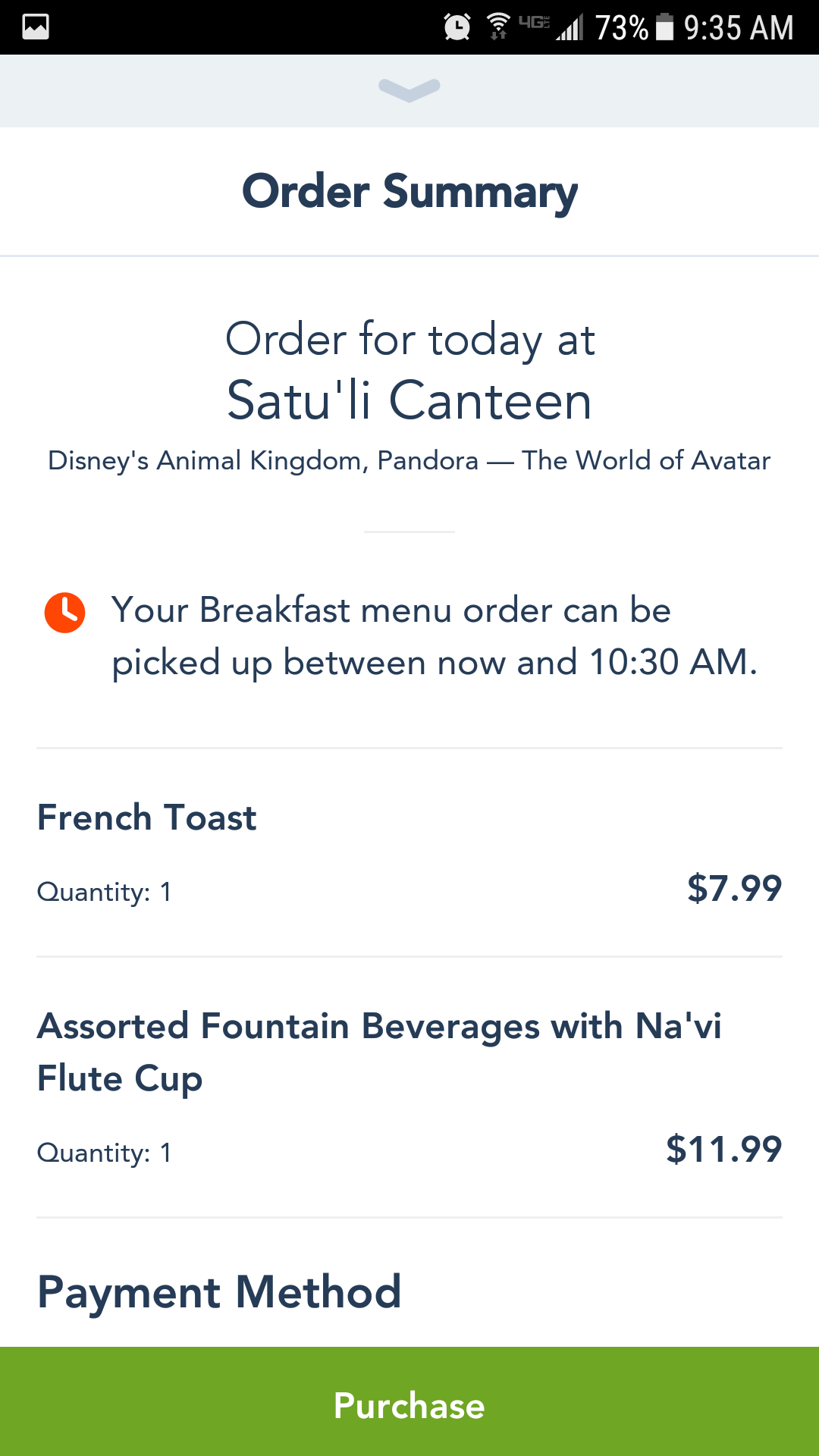 After placing your order, you'll receive a confirmation message for your order.  You can travel about the park as you desire, but when you come near Pandora, the app will ask if you are ready to place and pick up your order.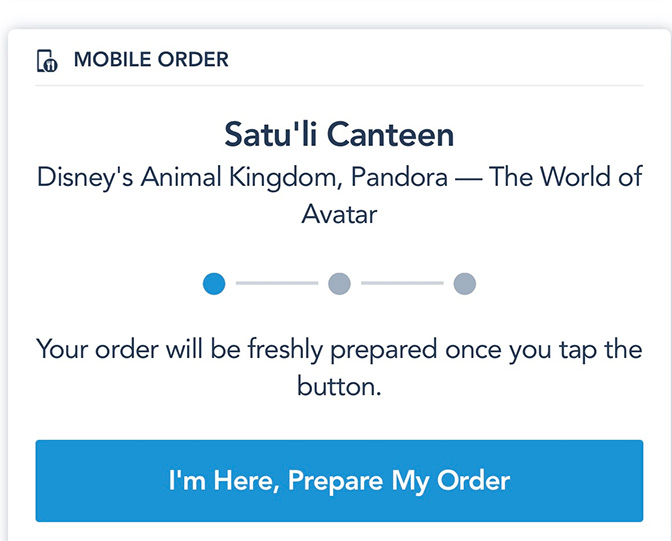 After clicking the button above, you'll be assigned an order number and the app will notify you when your food is ready for pick up.  You then proceed to a part of the counter that is marked "Mobile Order Pick Up"  It's pretty obvious as it is a full menu screen with this information on it.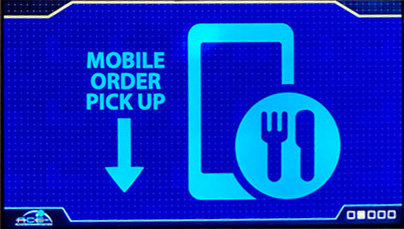 The process is very simple, but does require a lot of clicking around to get all the items that you desire.  Your food is prepared much faster and you don't have to stand in long ordering lines.  I hope they include the "Add" button on the actual menu page in a future release to eliminate a lot of the clicking.  It is a great service and should be helpful to guests as the system rolls out system wide in coming weeks.