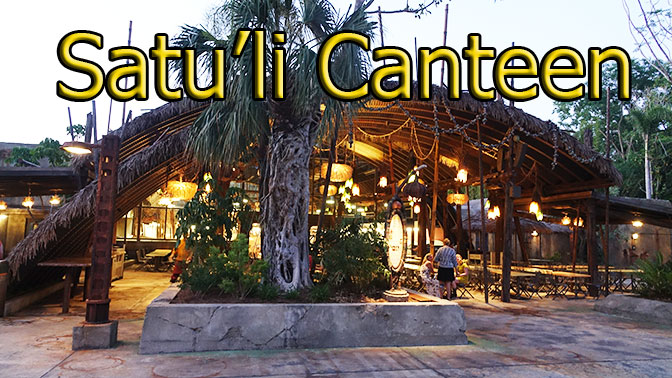 Satu'li Canteen is the "Quick Casual" restaurant located inside Pandora – the World of Avatar at Disney's Animal Kingdom.  Many are confused by the moniker "Quick Casual"  I'll explain that and tell you about the restaurant and the delicious food.  Click to read it all.
Decor and Seating
The outdoor decor for Satu'li Canteen is reminiscent of a mixture of African tribal and Polynesian with palms and twisted reeds.  It is said to be the former Canteen area for the RDA members who worked in Pandora to raid the Unobtanium ore.  It's now the dining area for A.C.E or Alpha Centauri Expeditions.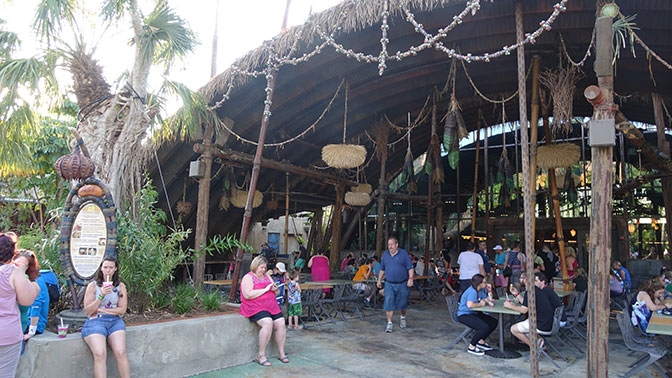 It offers a large amount of seating both indoors and outdoors.  The indoor area is well air-conditioned to help cool you off on those warm Pandoran summer days.  It's amazing how the climate feels EXACTLY like central Florida!  I feel like I'm right at home when I visit.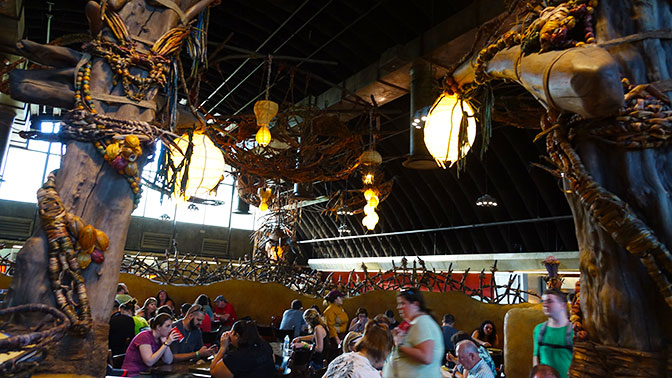 Here's another view of the outdoor area.  I'm still amazed how A.C.E. worked so hard to pump in breathable air for the earth guests.  I sure hope that guests come from other planets in the future too.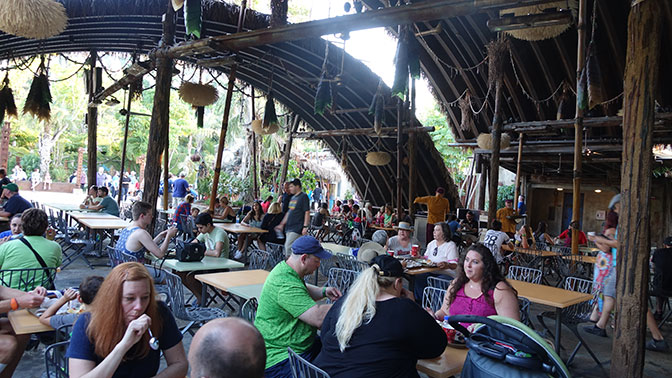 Here's a night view looking into the air-conditioned area.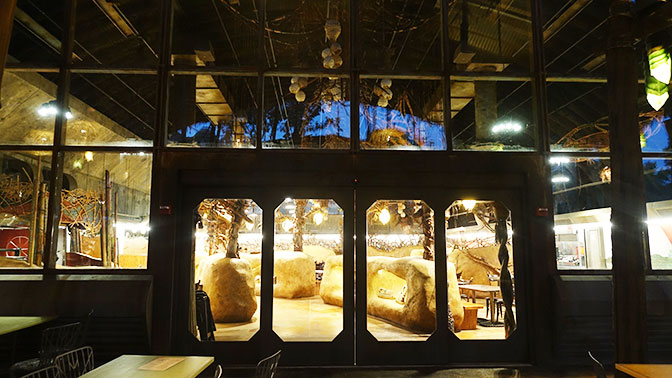 The Menu
Look, a beautiful model with our menu.  When you're in the park, you'll be able to easily find the menu on Character Locator under Animal Kingdom, then Menus.  If you add it to your touring plan, it makes it super simple to find!
The restaurant will also serve breakfast.  I'll add the breakfast menu for you this week as well.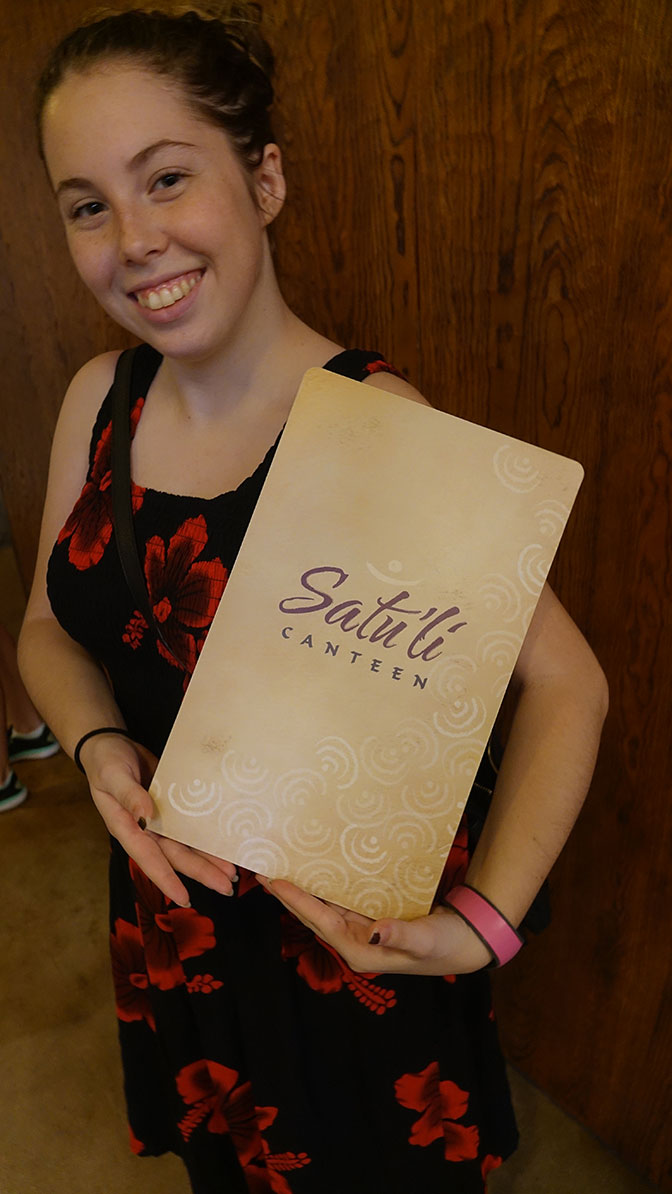 Okay, let's explain what "Quick Casual" means.  You do NOT need a reservation.  It is not table service.  For the purpose of the Dining Plan it is Quick Service.  They do accept the DDP credits.  One new wrinkle that Disney is offering is the ability to pre-order your food using their phone app.  When you arrive at the restaurant, you click a button to let them know you have arrived and your food will be quickly prepared and you won't have to wait in the enormous lines that are expected here.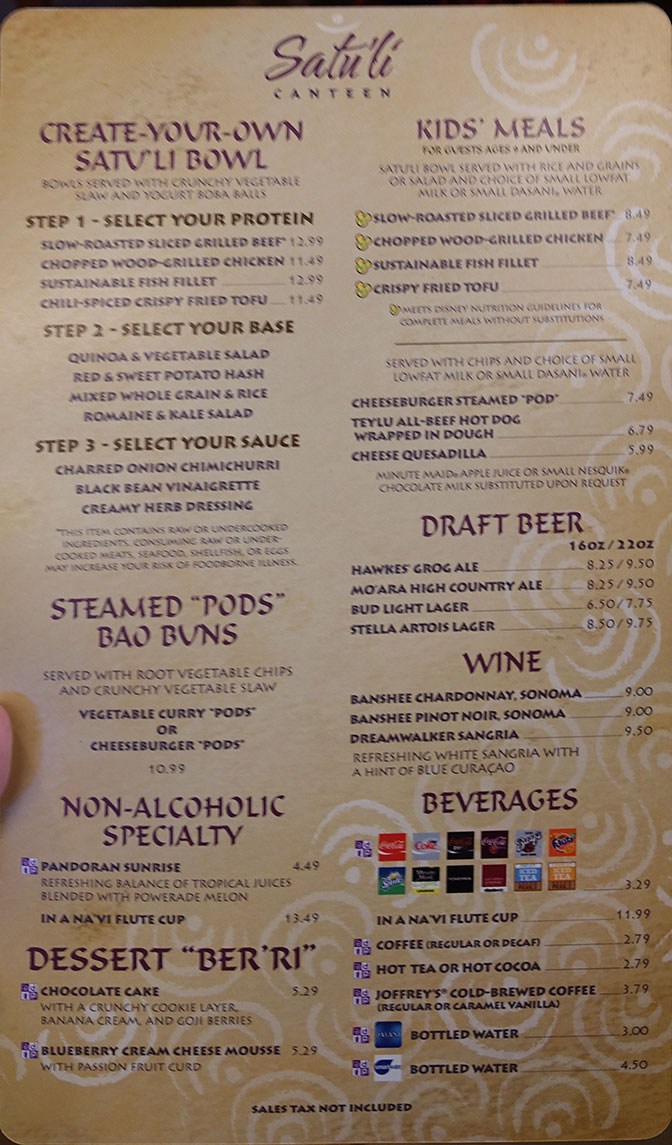 You build your own "bowls" by completing these 3 steps per item.
 Choose your Protein – Sliced grilled beef, Wood-grilled Chicken, Fish Fillet or Tofu.
Select your base – Quinoa & Vegetable Salad, Red & Sweet Potato Hash, Mixed Whole Grain & Rice or Romaine and Kale Salad.
Select your sauce – Charred Onion Chimmichuri, Black Bean Viniagrette or Creamy Herb Dressing.
You can request it without sauce or sauce on the side.  All bowls are topped with a cole slaw type topping.  My son requested his without it and the guy said "no special orders."  We weren't sure if that was just for the Annual Passholder Previews or it will be a regular policy at Satu'li Canteen.  The prices are in line with the cost of a cheeseburger meal.
They also offer "Pods" of Vegetable Curry or Cheeseburger.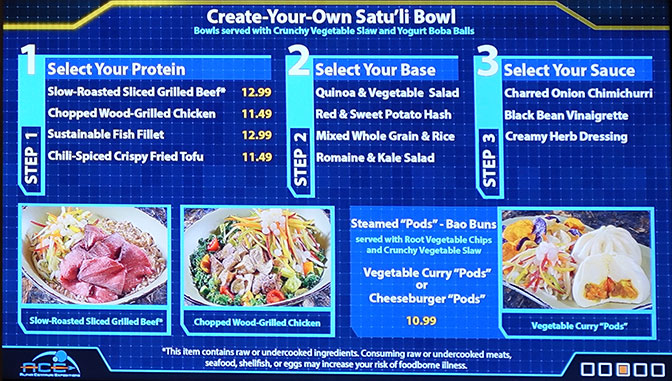 Your basic Soda, water etc are offered along with the "Pandoran Sunrise" which my son enjoyed.  I don't like Powerade as it leaves a weird taste in my mouth.  There's a selection of alcoholic beverages and two special desserts.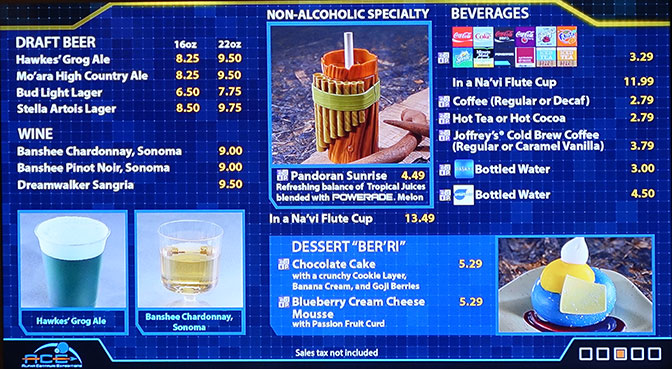 Kids can choose a smaller sized selection of the Grilled Beef, Grilled Chicken, Fish Fillet, Fried Tofu, Cheeseburger "Pod", weird gooey hot dog or Cheese Quesadilla (which is good as far as those go.)  I bet they sell a lot of Quesadillas.
The ordering stations look like this.  Many people aren't aware you can line up on either side of these at Walt Disney World, so they will wait in uncessary lines.  I'd use the pre-order option to avoid waiting at Satu'li Canteen.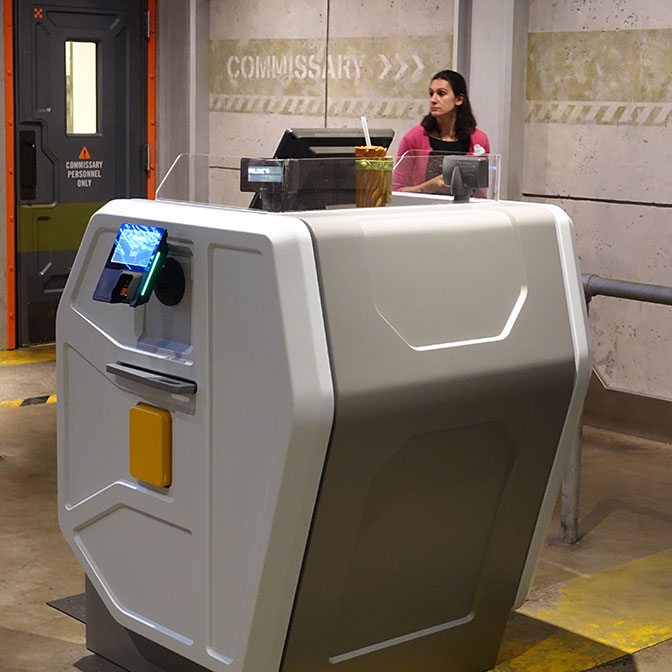 Here's a blurry photo of the "Flute" cup they sell for $13.49 each.  I didn't really see the appeal with this cup.  I'll stick with Baymax and Crush.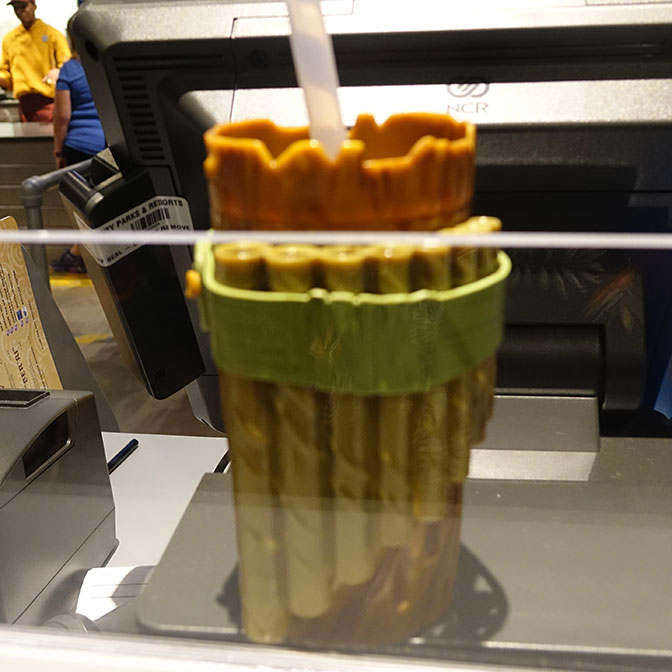 I ordered the Grilled Chicken over Potato Hash with the Viniagrette on the side.  I'm  a fairly picky eater and don't usually mix my foods often.  I started by stabbing a piece of the chicken and found it to be flavorful and left me desiring to try more.  I tasted the cole slaw type topping as I hate cole slaw, but found it quite tasty and light.  The chicken was hot and juicy.
The potato hash tasted sort of like good breakfast potatoes, but a step above.  I think the boba balls are just there for looks as I couldn't really pick them out.  I actually did the unthinkable and mixed my food together and found it to be one of the best quick service theme park meals I've enjoyed over the years.  Don't worry Flame Tree, you're still special to me with your Barbecue yumminess.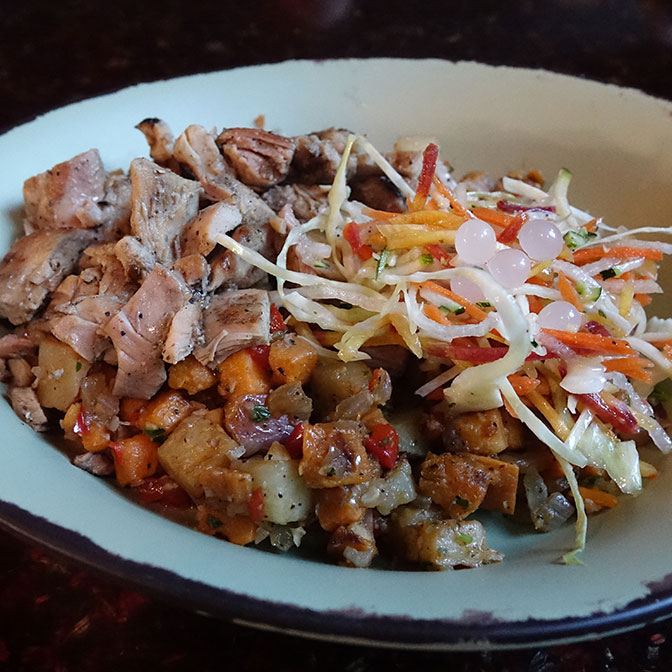 Jordyn opted for the Fish over the Quinoa salad and Herb Dressing.  She said the fish was sort of bland without the dressing, but found it tasty when she mixed the bowl.  It was tender and flaky as you'd hope.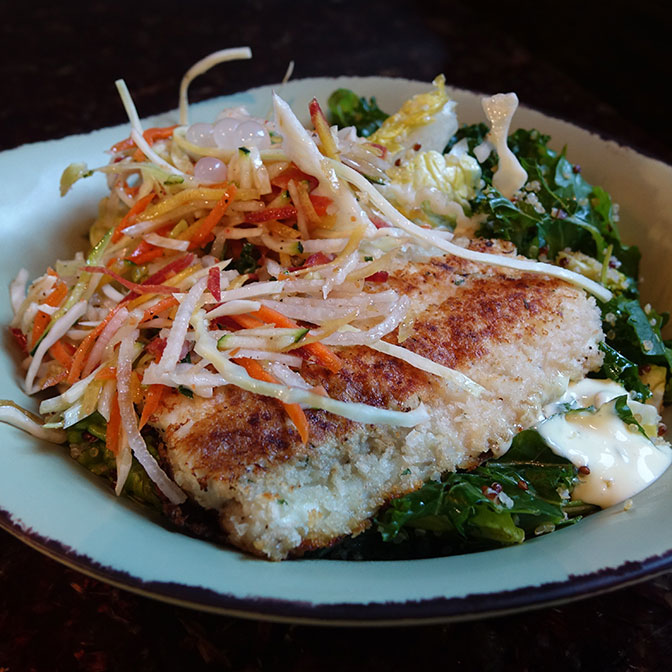 Nathan went for the Grilled Beef over Rice with the Herb Dressing.  I think he enjoyed it because it dissappeared within seconds of me taking this photo.  He was still hungry as graduating seniors can be and ate some of my meal as well.  I tasted the beef and it was okay.  It didn't really have much of a flavor profile by itself, but mixed with the dish it was quite good.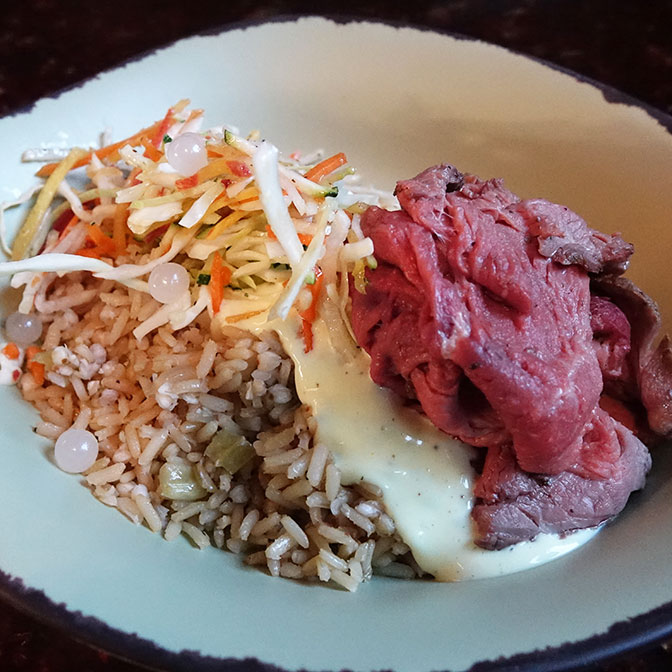 Desserts
There are two desserts.  One is off the charts yummy and the other is so overbearing that we couldn't finish it with 4 people at the table.  Let's start with that one.
Neytiri's Chocolate Cake

$5.29

Chocolate Cake with a Crunchy Cookie Layer and Banana Cream Topping
The chocolate cake ball was so dark and rich in the chocolate that it caused each of us to have "pucker face."  You know, when you eat something that is sour and your mouth draws up.  It was really overbearing with the dark chocolate.  I might have eaten it with a vanilla ice cream to offset it, but none of us enjoyed it.  If you love dark chocolate decadence, it might be your thing.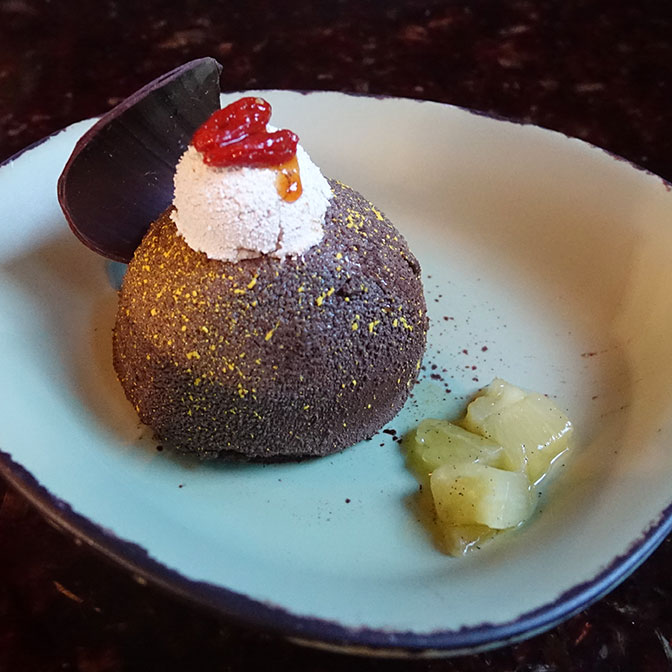 Only a couple more bites were taken, then we left it for the Na'vi gods.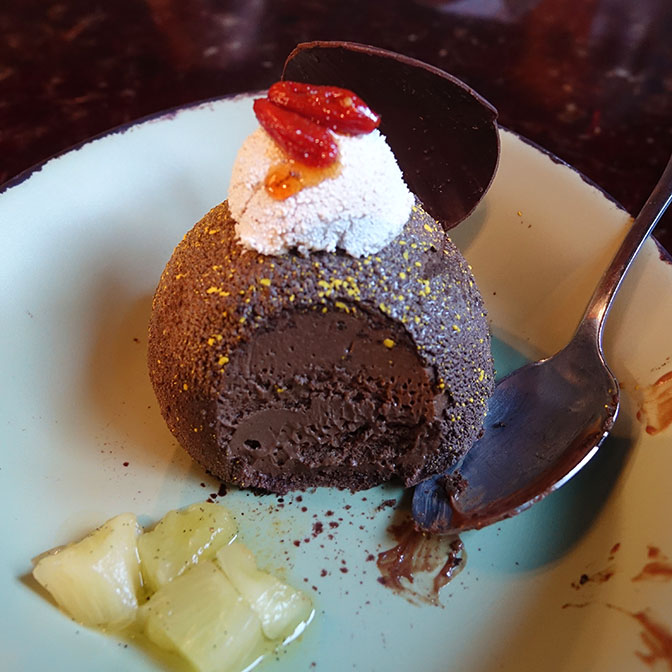 Na'vi Cheesecake

$5.29

Blueberry Cheesecake topped with Passion Fruit Curd
The Na'vi Cheesecake at Satu'li is fantastic!  We all enjoyed this lighter dessert with a nice blueberry taste.  The Passion Fruit topping was great all by itself, but complimented the blueberry cream cheese mouse quite well.
This dessert didn't last very long as all 4 of us devoured it like a voracious Thanator seeking its prey.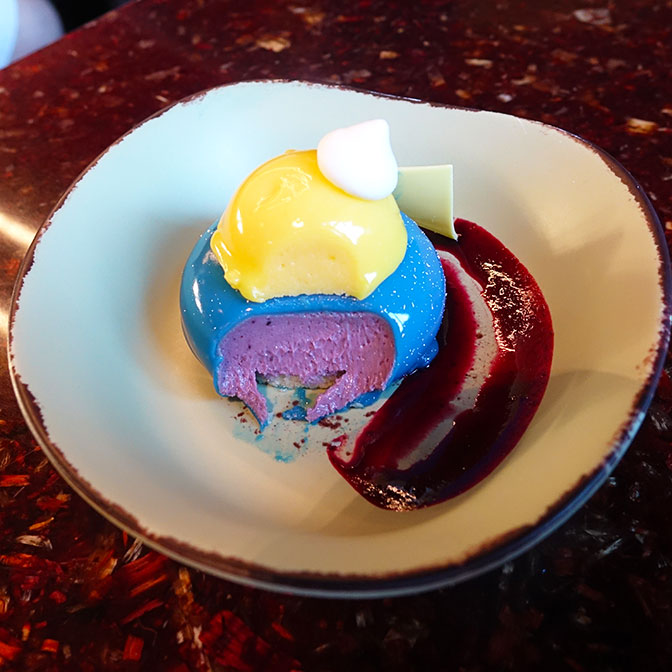 Clean up
The Cast Members work hard at quick service restaurants and receive no tips, so be sure to take your plates (yes real plates) to the disposal area.
For a park that is badly in need of dining options, Animal Kingdom hit a home run with Satu'li Canteen.  My friend tried the cheeseburger pod and enjoyed that as well.  I'd make it part of my plan to visit this dining location at least once during your trip and order each person their own blueberry dessert.