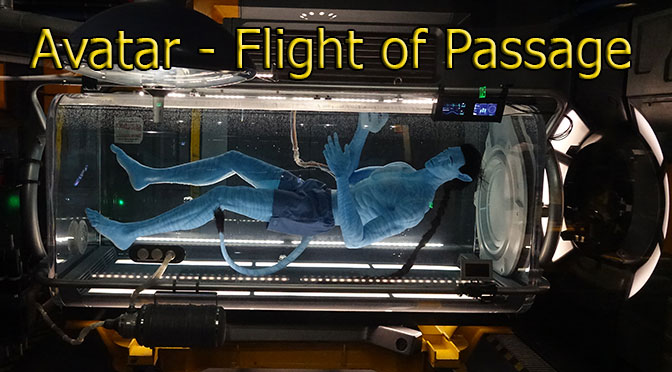 Avatar – Flight of Passage is one of Disney World's newest rides.  It combines 3D film with physical effects and movement to create a flying sensation like you haven't experienced in a theme park before.  Read more to learn all the exciting details.
As I had expected when Avatar was first announced, the land is visually stunning.  They did a terrific job with the overall appeal and making you feel lost in a tropical jungle.  You're so immersed that you forget you're in a theme park.  Overall, Animal Kingdom does an excellent job of this, until you get to Dinoland anyway.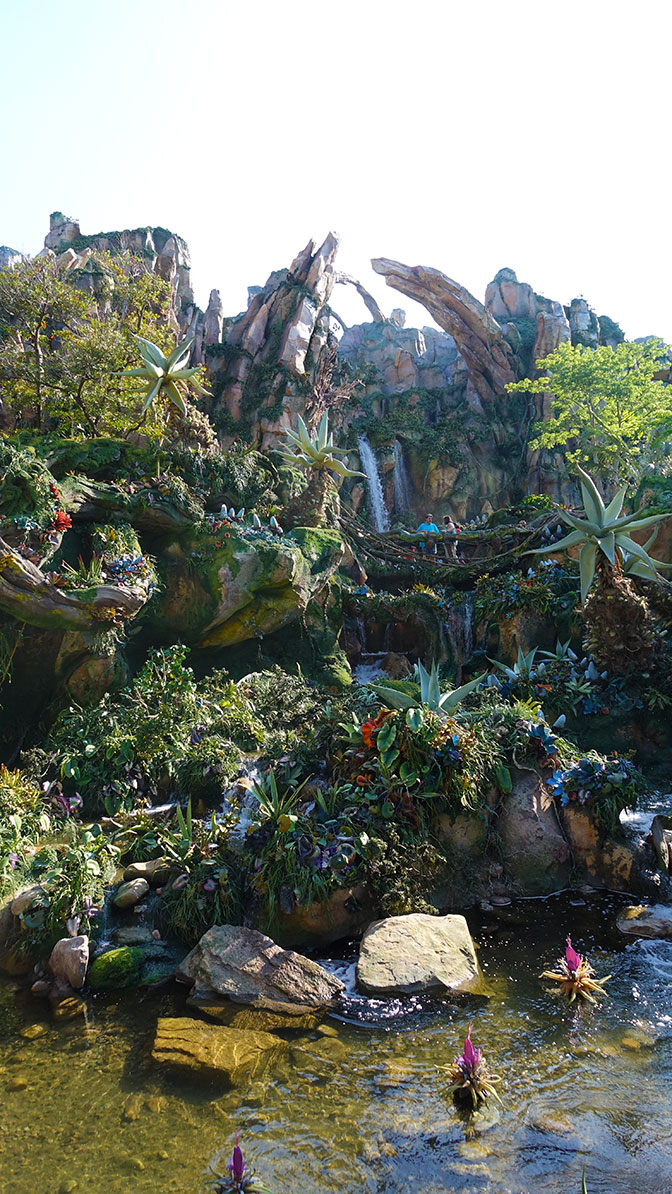 The test vehicle wasn't prepared for the Annual Passholder previews.  I suppose 7 years wasn't enough time to get one ready.  I'll talk more about the vehicle and "Pooh sized" guests later in the article.  The Cast Member had some photos to explain what it looked like and told guests that not all body types will fit.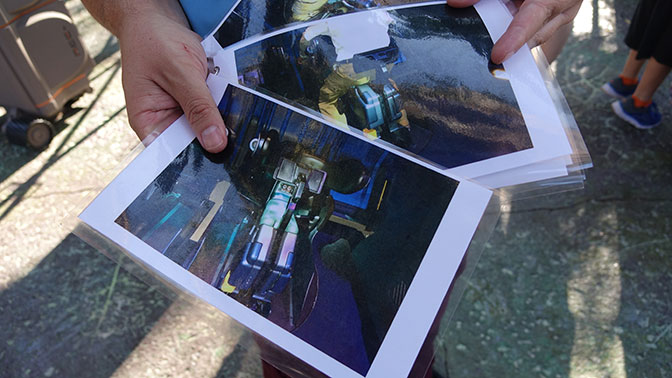 Here's the official description and warnings that you'll find.  That information and much, much more is available on Character Locator under Animal Kingdom > Rides.  The ride offers Stand By, Single Rider and Fastpass+.  I'll provide some tips on when to ride near the bottom of the post.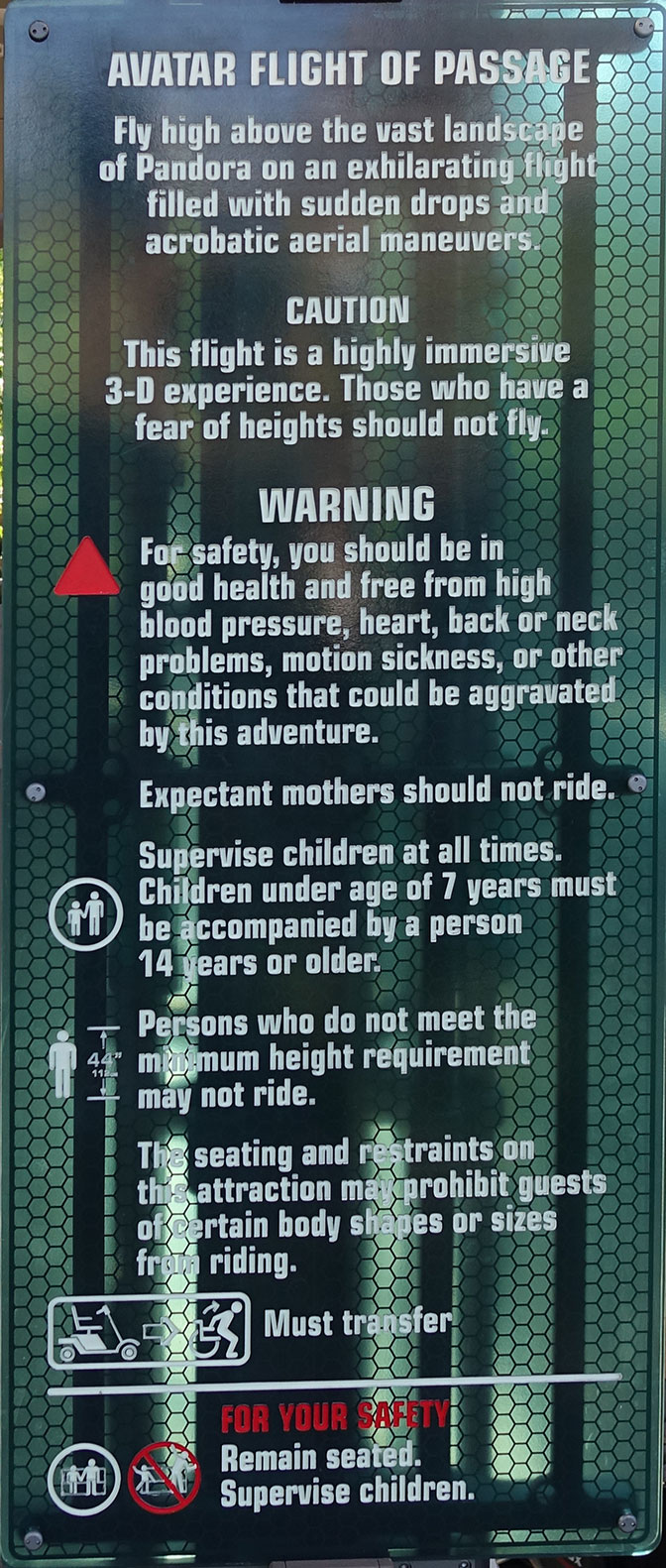 Fastpass+ Entry
Our ride during the Annual Passholder preview was provided thorugh the Fastpass+ entry area.  As you'll see later, we were allowed to walk the full regular queue as well.  It is well worth seeing.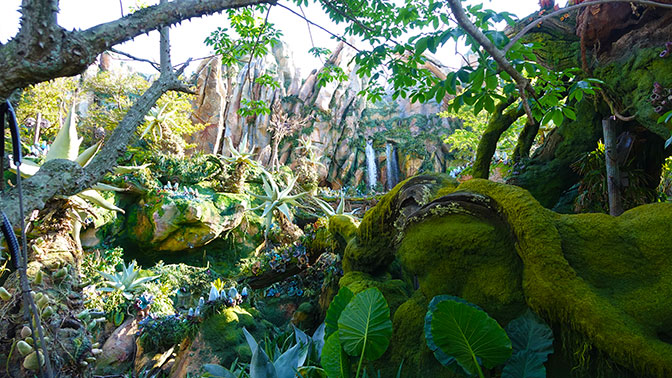 Waterfalls are a nice touch.  Hopefully, they will continue working beyond 1 month after opening.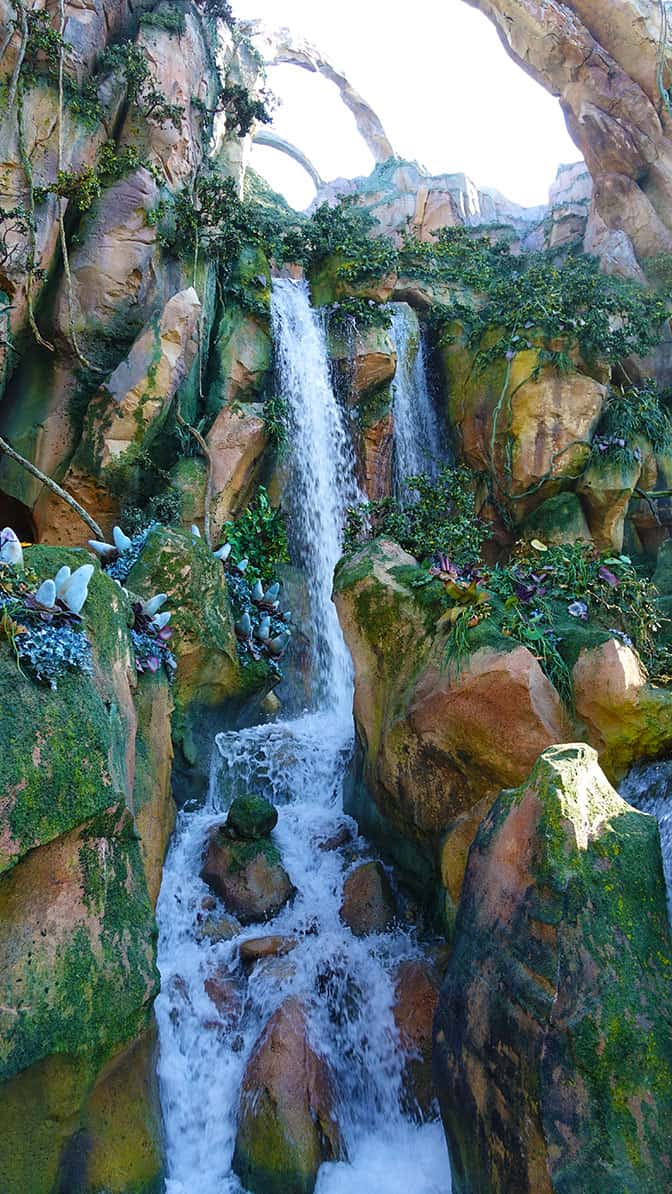 After you pass through the short forest area, you enter the caves.  Disney is famous for rock work in its queue lines.  We tried to think of a recent queue without rock work inside or out and Soarin was the best we could come up with.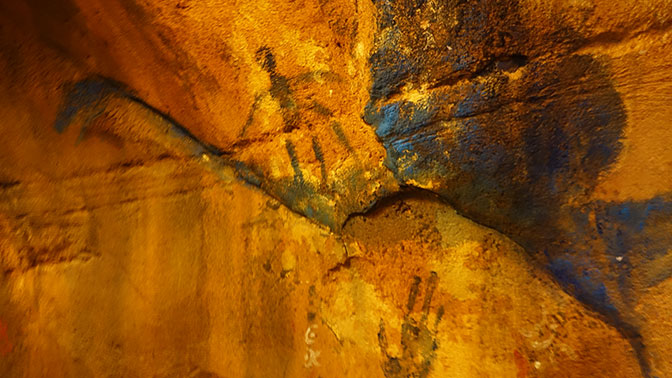 Artitsts did their their thing on the walls.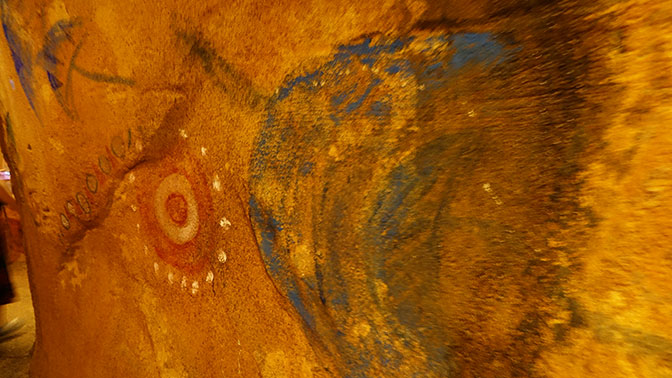 It was exciting to see that my 11th grade art teacher was able to contribute one of my classic pieces to the queue lines!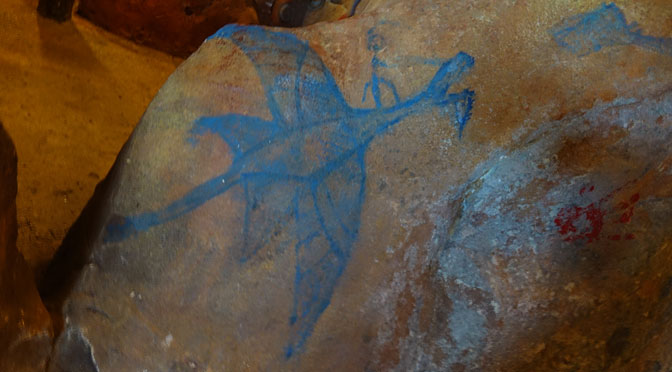 After passing through the cave area, you pass through what appears to be an old air lock.  Oh, it says "Airlock" on the door!  I'm grateful that they figued out the whole breathing on Pandora thing for us.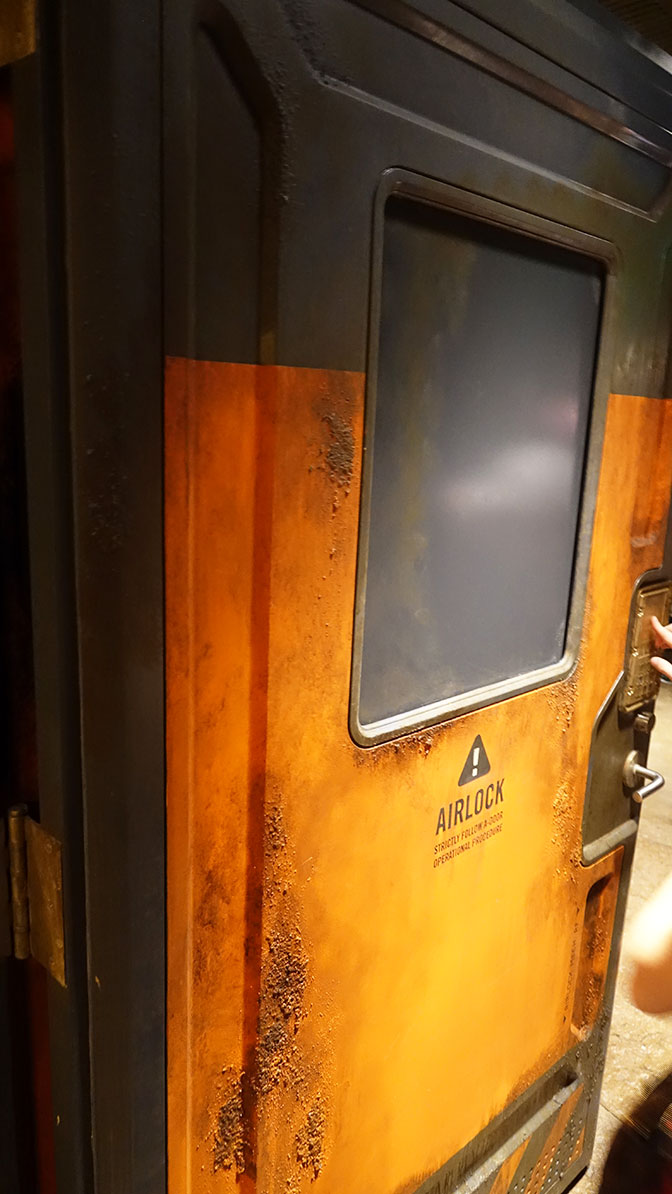 The appearance turns much more industrial in this area.  If you worked in a factory at some point, you may go through some type of PTSD moments in this part of the queue.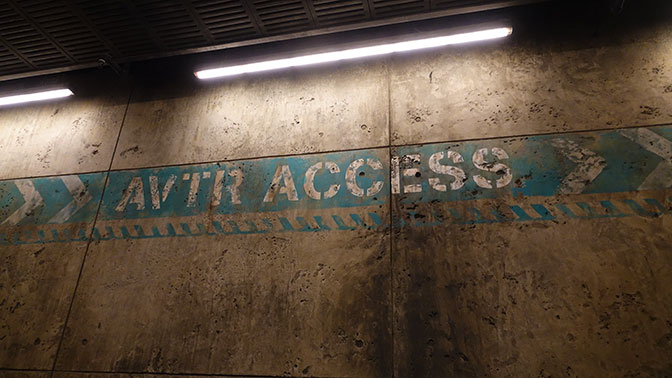 This drawing shows 6 levels.  There are actually 3 boarding levels for each show.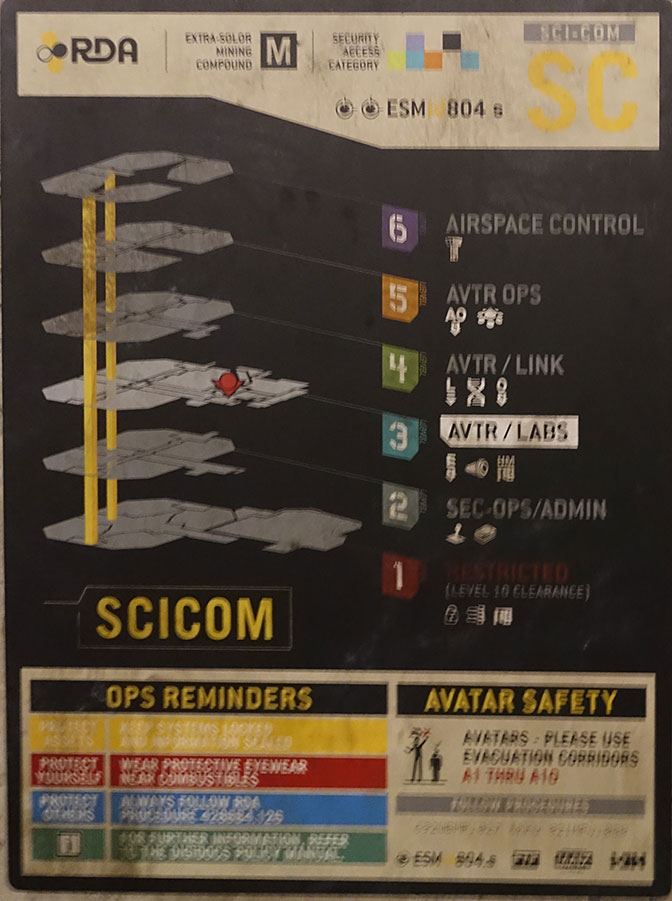 This poster attempts to explain that you'll be "linked" with your Na'vi Avatar.  "Psionically" you become one with your Avatar which is made of a combination of human and Na'vi DNA.  I know that because I recorded the movie on Freeform so my kids could see it without the 37 minutes of curse words.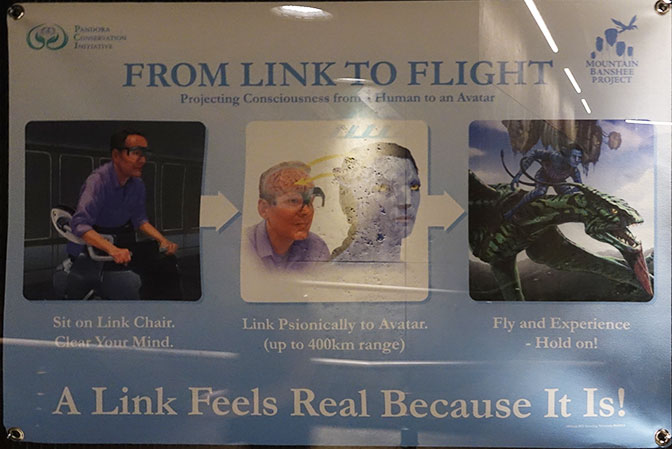 If you're using Fastpass+, you'll notice that there are currently touch points at the entry and the merge points for Flight of Passage.  They aren't the typical Mickey head, but certainly remind you of one, huh?  How long until the 2nd tap point is disabled?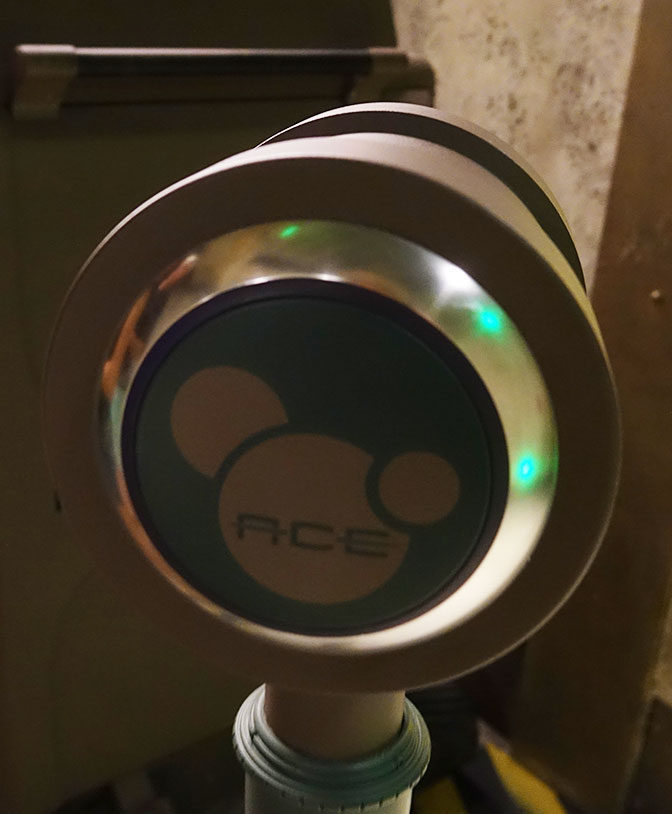 The Merge
At the merge point there are 5 different lines that they can sort you into.  There are 4 theaters, so I'd assume that one of these lines will be used for Single Riders.  If you think you'll avoid a long wait by going Single Rider with your entire family, I'll bet you'll still face a long line this summer.  This ride will be very popular and the lines will be incredibly long, since a large portion of the low capacity will be allocated to Fastpass+.
Here's the stark holding area.  You feel like you're about to board the spaceship Nostromo or you're about to face some Dinosaurs.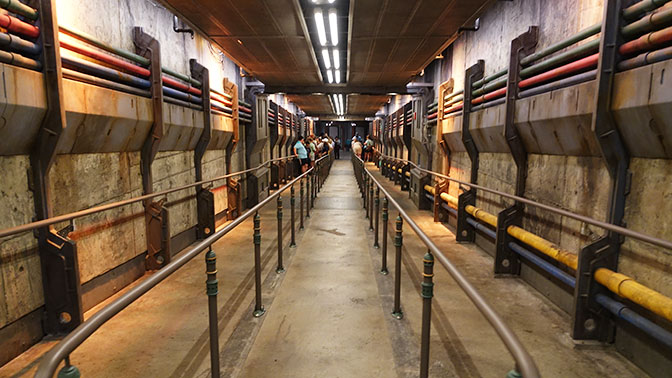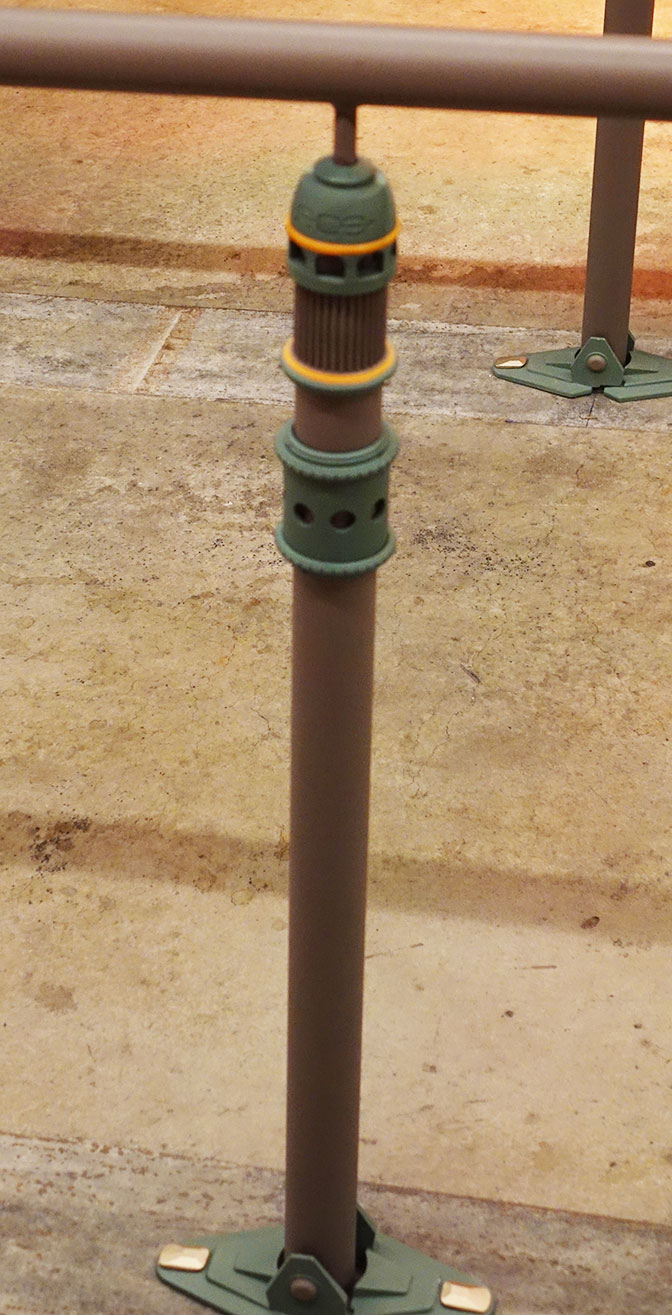 Here's what the holding area looks like after people fill in.  From this point it took us 30 minutes to fully experience Avatar – Flight of Passage.  One Cast Member said the ride wasn't operating at capacity at the time though.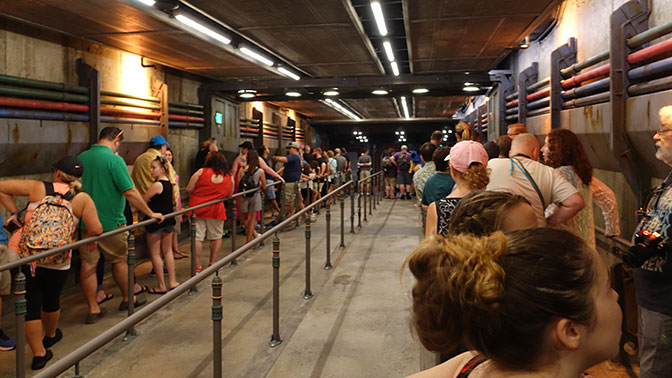 Reminds me of the ketchup, mustard, mayo pipes in the Dinosaur queue.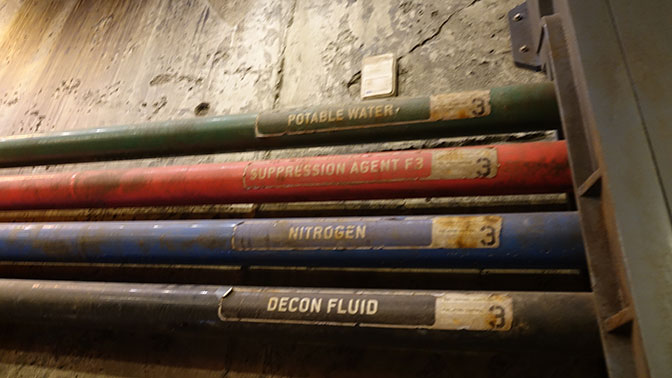 Walk through the Fastpass+ queue with us!
When you reach the front of the line, you are sorted into different pre-show rooms.  Nothing says "techie" like the color blue, right?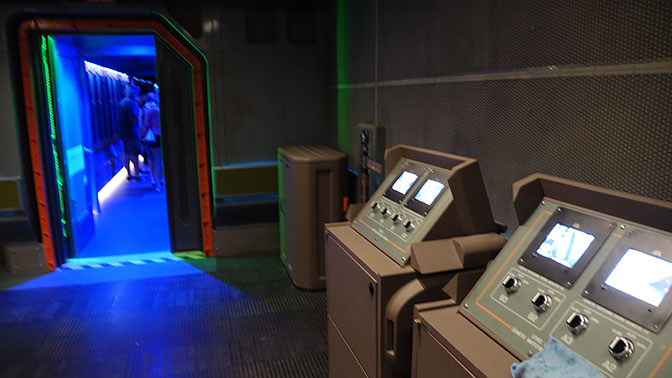 One group for each theater is instructed to climb stairs, one is told to descend stairs and one walks straight into the attraction.  We were climbers.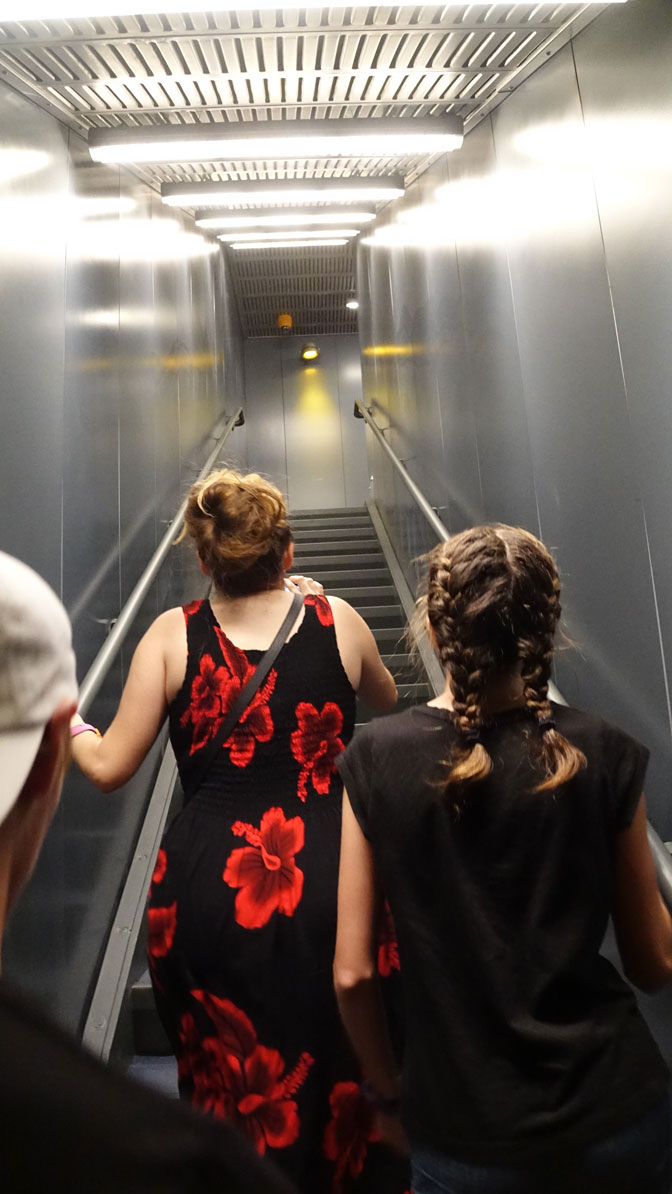 You're then brought into the blue room in which a boring video is played that is supposed to explain how the attraction works.  They should have called Dr. Seeker or Bill McKim to help with this part.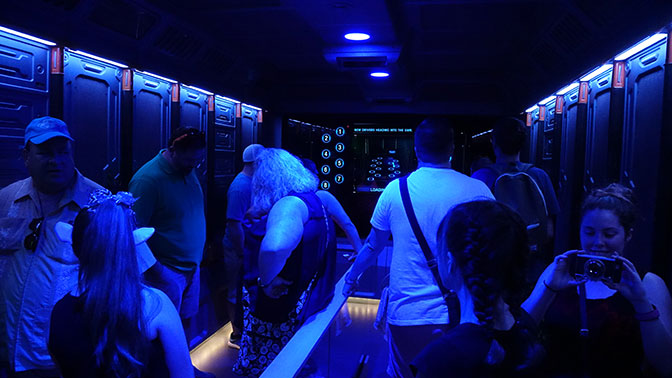 Each room holds exactly 16 people, which matches up with the nubmer of banshee vehicles in the ride room.  There are 3 floors, so that means 48 people per cycle are riding.  There are 4 theaters, so that's 196 people cycling at any given time.  For comparison, Soarin was originally at around 174 people per cycle until they expanded to a third theater.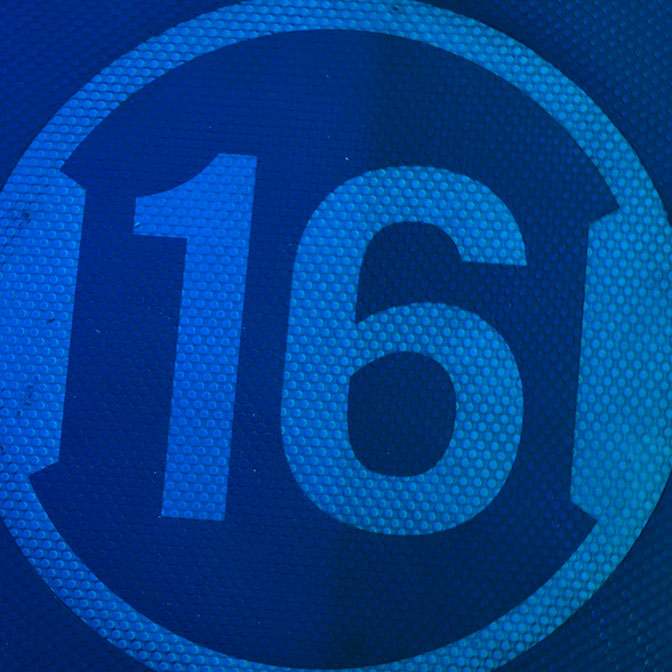 We are taught how to link with an Avatar.  It has something to do with dancing the hokey pokey or something.  We were told to move around so the link would occur, but I just stood still and got chosen by a Banshee of the more boring variety, I suppose.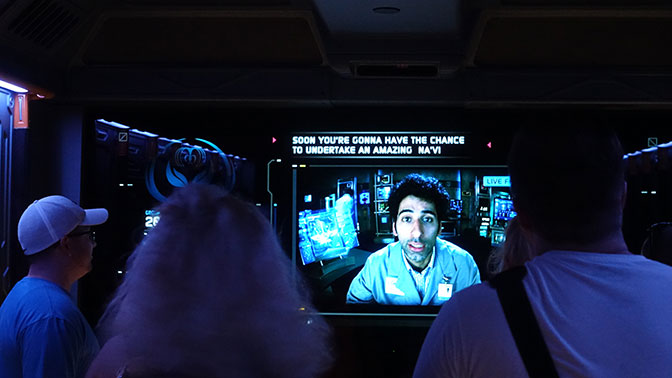 Here's a video of this first pre-show room.
Think link room takes, uh, like 2 minutes to and, uh complete before moving to ANOTHER pre-show room.  That one features Dr. Jackie Ogden who doesn't say and, uh every sentence.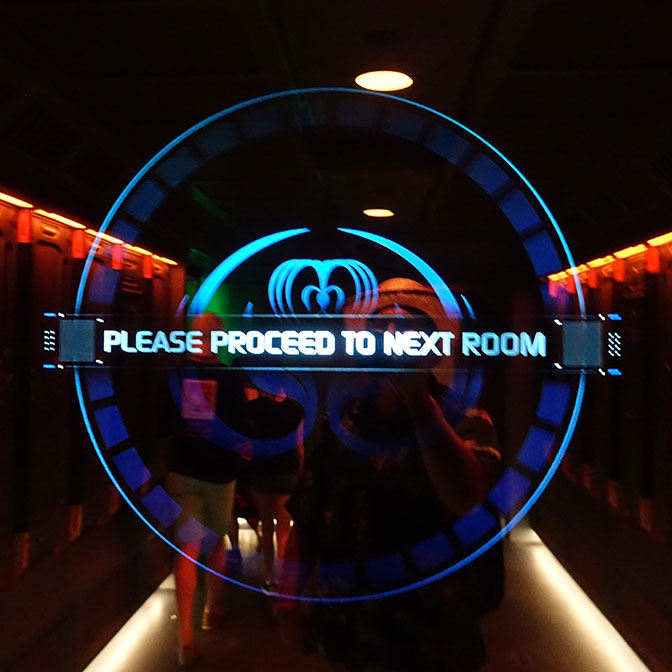 As we were about to board we were given our 3D flying glasses.  Remember blue means "techie."  At this time my son and I commented how it felt like we were doing a ride at Universal Orlando.  The boarding and pre-show feel a lot like riding Transfomers, until you reach the vehicle.  They didn't have child sized glasses available.  The 3D glasses fit over my glasses just fine, but felt as if they were going to fall off a few times on the ride.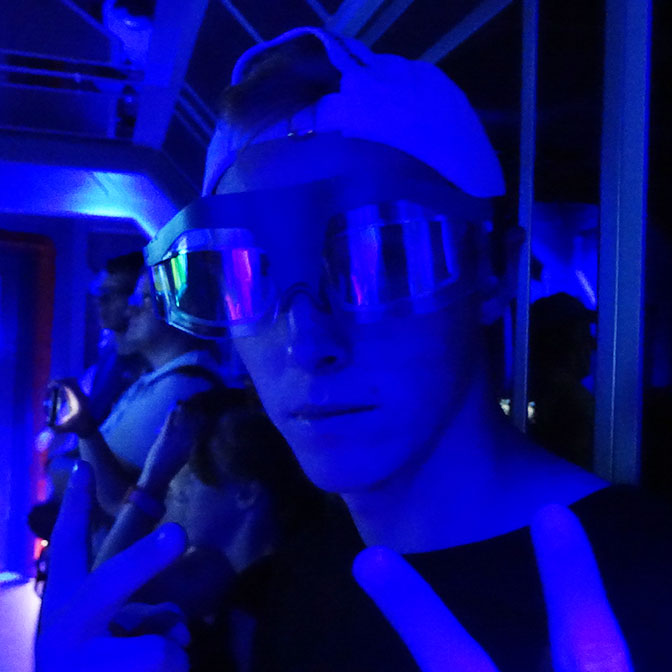 The Ride
The ride vehicle is like boarding a stationary bike or motorcycle.  They even tell you how to board, in case you've never ridden a bike.  The vehicle is very unique in that the back rest flips up from the back of the bike and snugs against your body.  Then leg flaps come out from the sides to hold your calf in place.
Some larger "Pooh sized" guests have reported being unable to board.  I'm currently 5'10" and 240ish pounds and had no issues.  I've been told that larger women have more of a stuggle as you have to press your chest agains the black front support.  Be sure to test yourself on the test vehicle out front, once it is installed.  Around 15% of guests during early tests weren't allowed to ride.  They made a few tweaks lately to improve that number.  One website reported 22% based on seeing empty seats, but Annual Passholder previews didn't use the Single Rider option, so many seats went unfilled.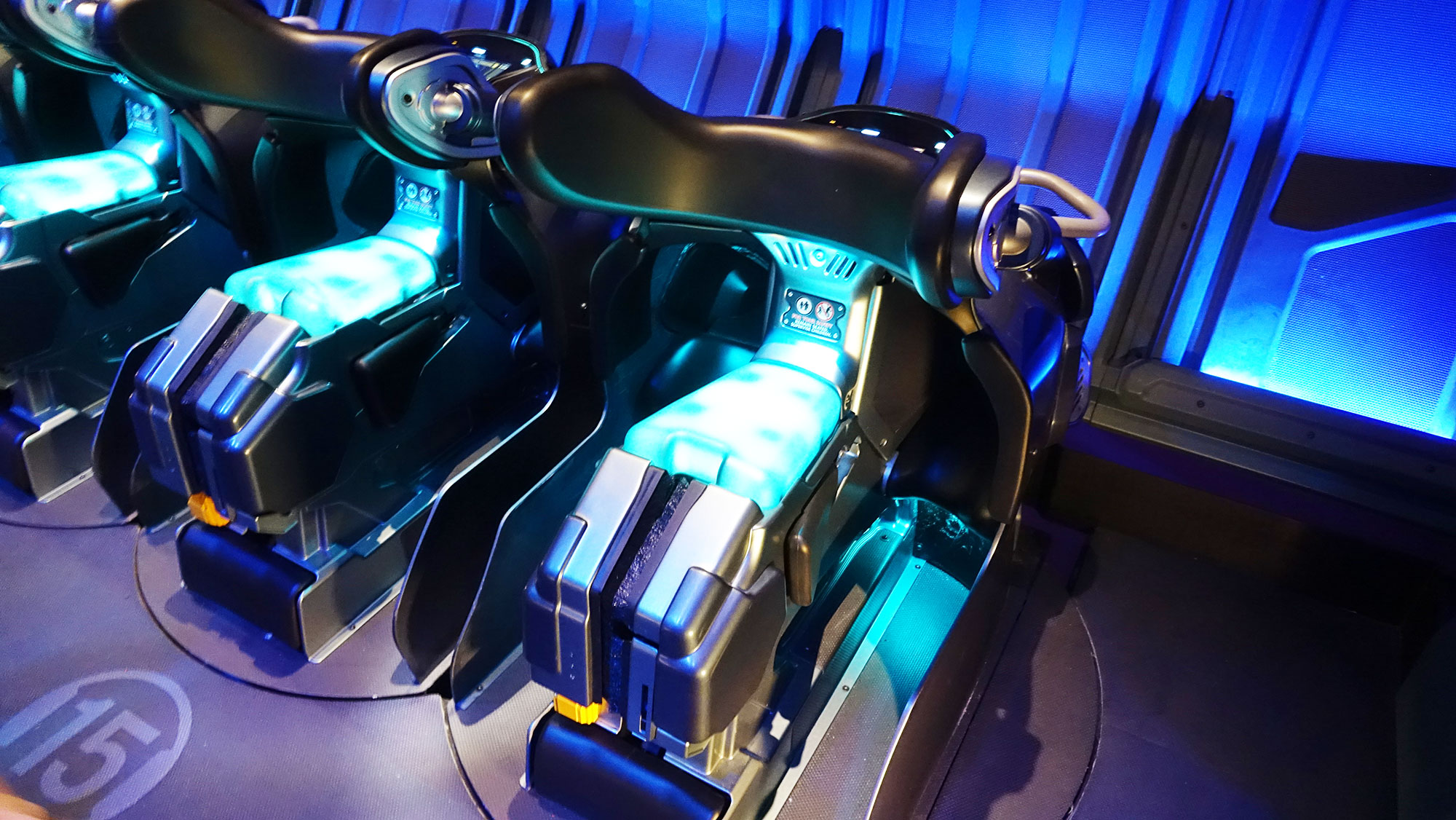 Disney Cast Members state repeatedly that you are not allowed to video the actual ride and it would just be a blurry mess anyway, so no ride vehicle from us.  One website was telling guests to wear go pro cameras on their wrist and chest, but I wouldn't advise that.  Just follow the rules!
As for the ride, it was a lot of fun.  It was like Soarin' on a motorcycle with Star Tours thrown in.  There are 3 smells and you're spritzed with water in the face 3 or 4 times during the water.  It's not enough to leave wet, but is a little refreshing.  There's also a fan blowing on you throughout.
Some guests report motion sickness issues and a couple of Cast Members said theaters experience some downtime due to protein spills.  This ride will be very popular and I'd expect actual waits this summer in the 3 hour range because Fastpass+ is gone 35 days out at this time.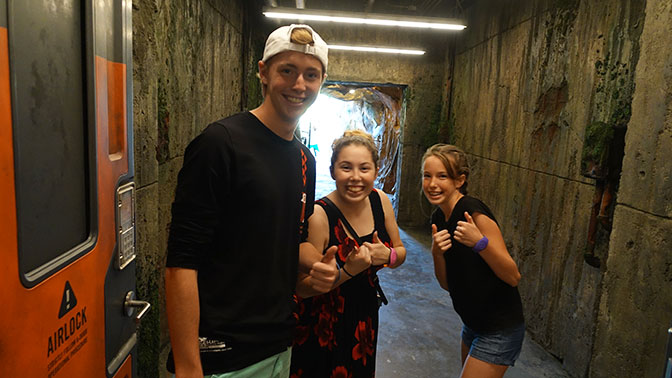 Regular Stand By Line
The regular line for Avatar Flight of Passage is a major part of the story line and you totally miss it when you use Fastpass+.  At least they provided some of the theming for Fastpass+ guests.  As you enter the forest, you find a tribute to the mighty Ikran or Mountain Banshee.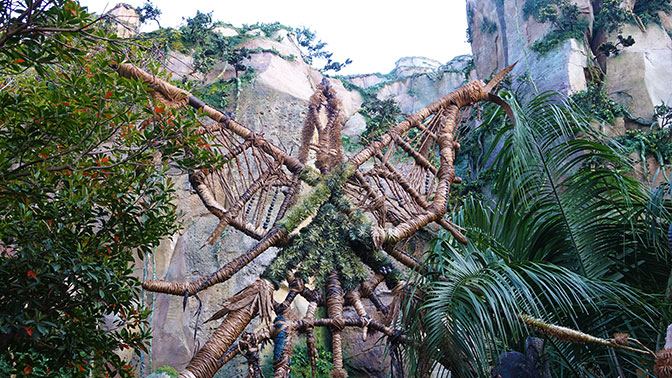 Will people pitch coins here as offerings like they do at the Yeti tribute in the Everest line?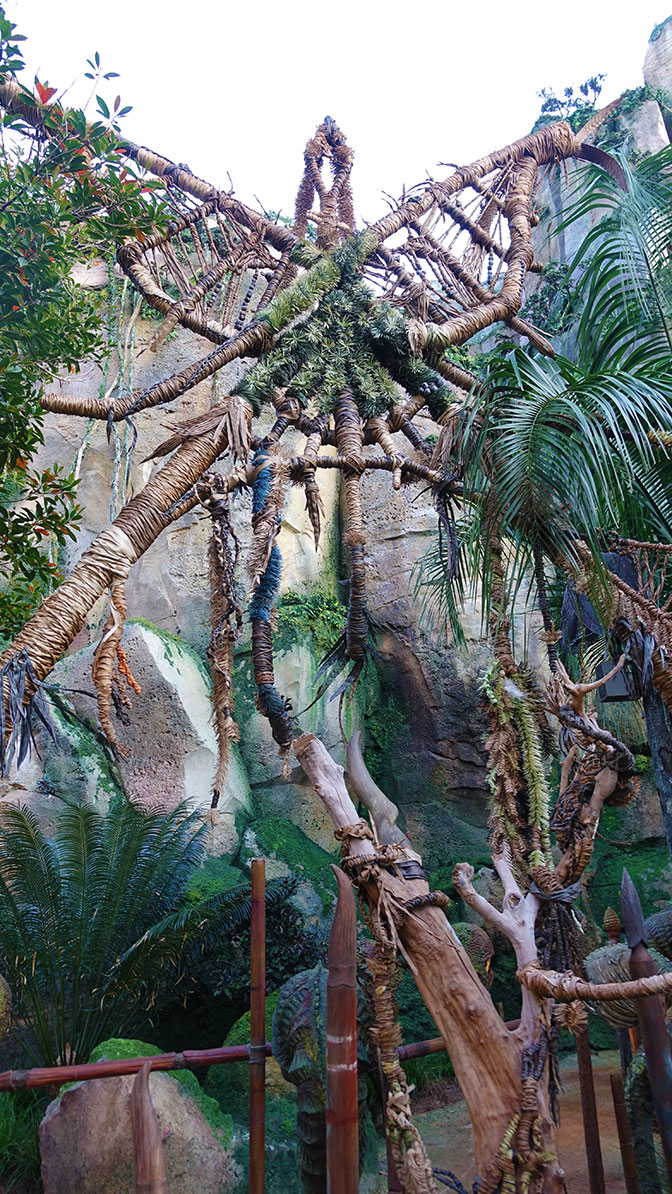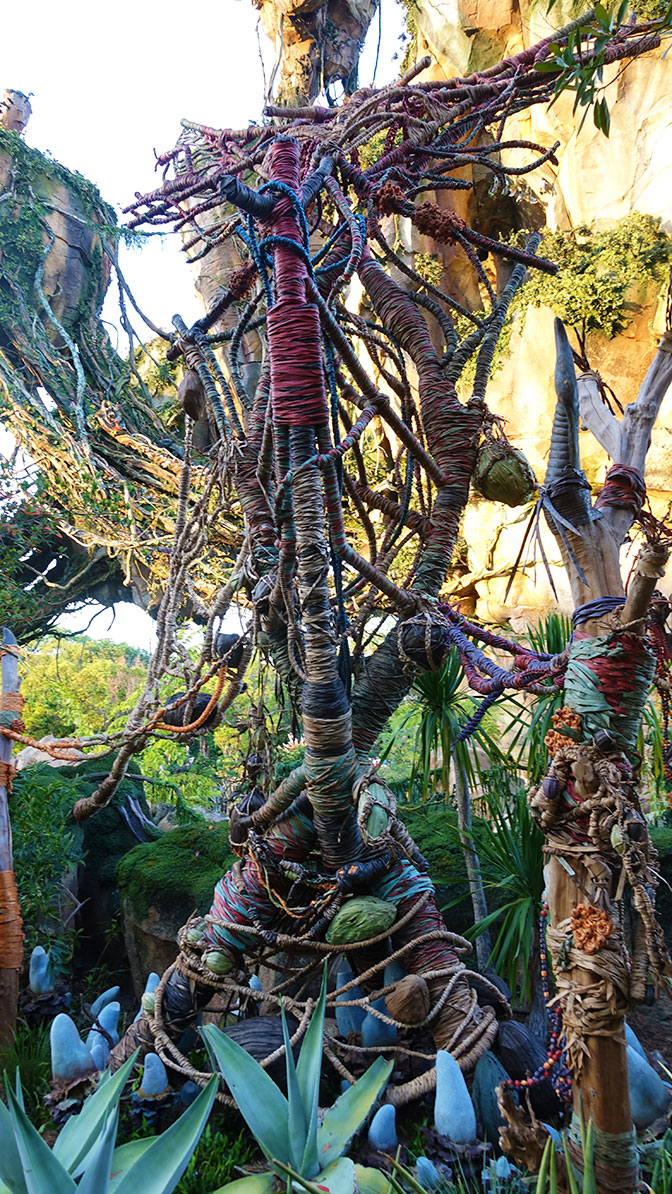 A look back at the Hallelujah Mountains.  See, I recently re-watched the 2009 movie.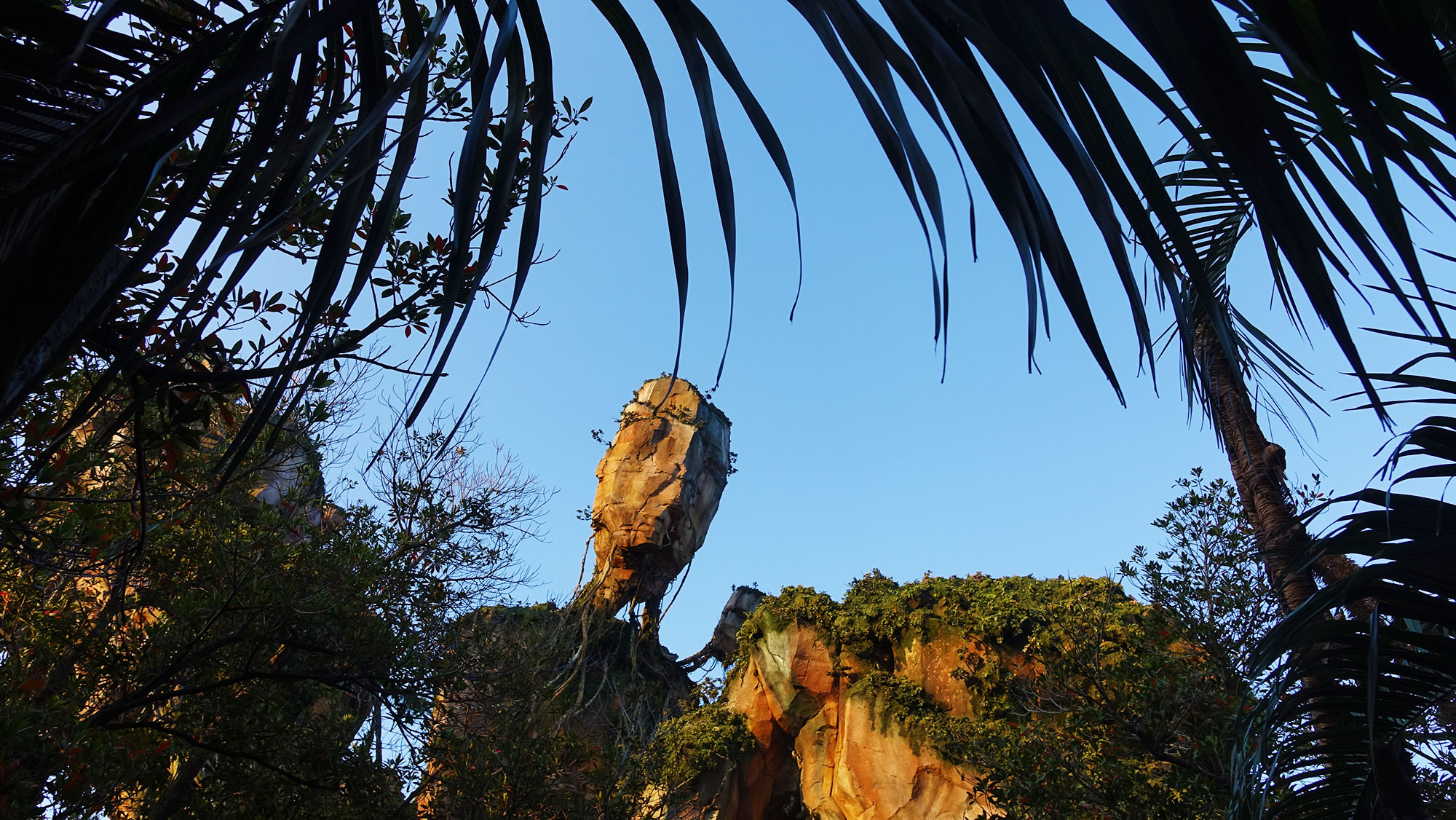 Again after walking through some forest, you'll enter caves with my special artwork.   PLEASE!  Do not allow your children to contribute their artwork to the walls!  Otherwise, Disney will need to start searching for crayons at security.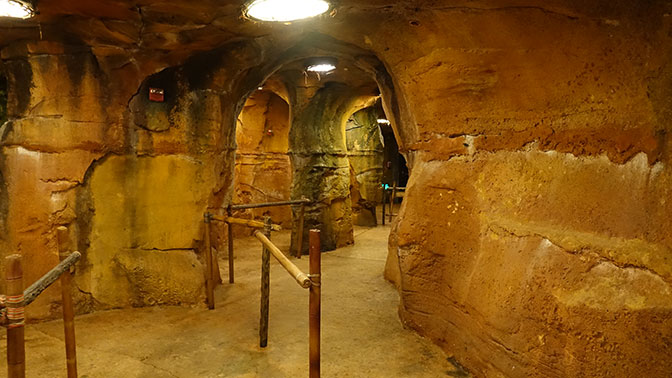 You pass through a tunnel into the more modern, industrial area.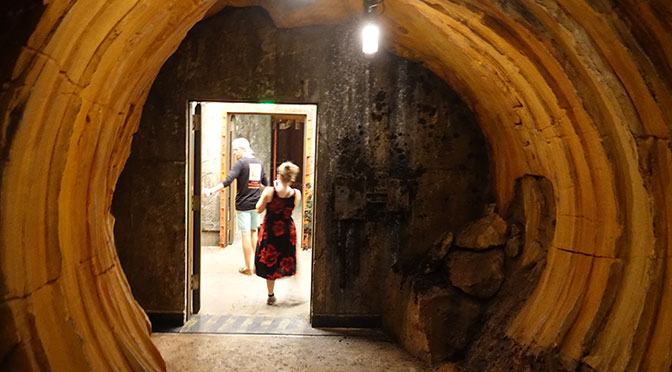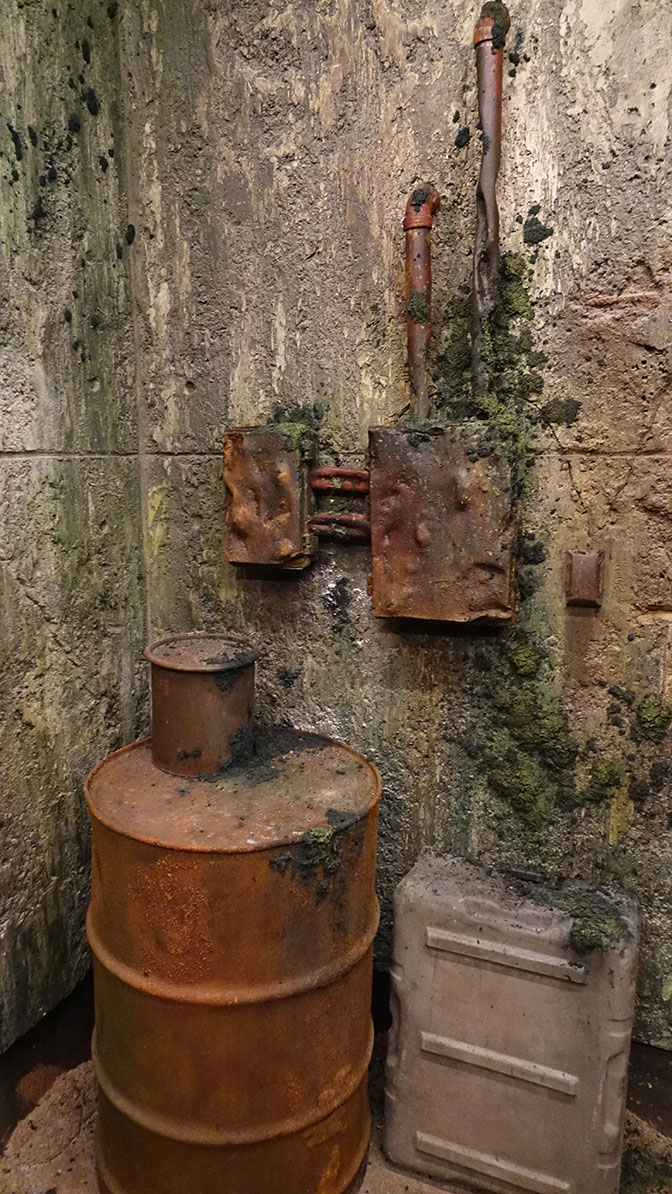 I LOVE that the water fountains in Pandora have bottle refillers.  I wish Disney would do this for all their water fountains, but I guess some dude will be hot and use  it to wash his hair or something dumb like that.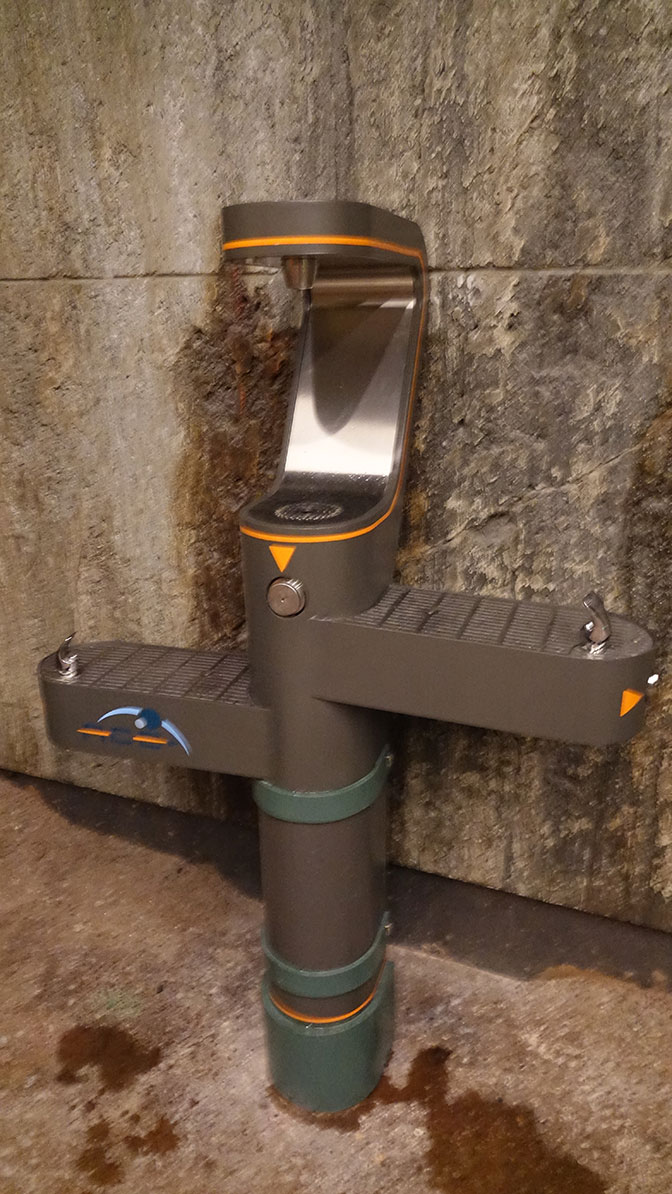 This area is part of the unique design of the regular queue for Flight of Passage.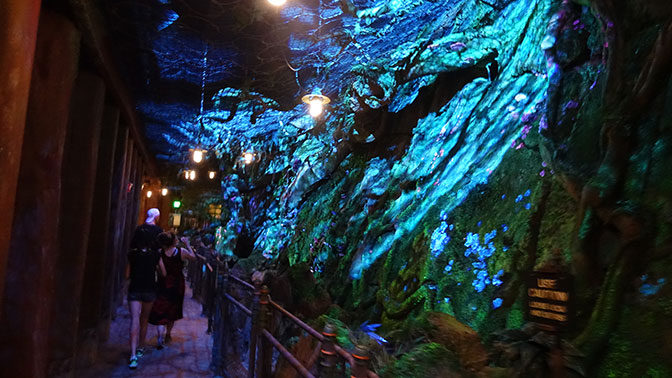 It offers some of the "bioluminescent" plants within the caves as part of a test.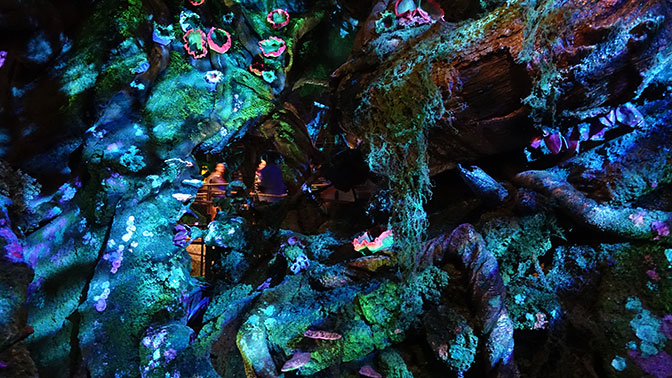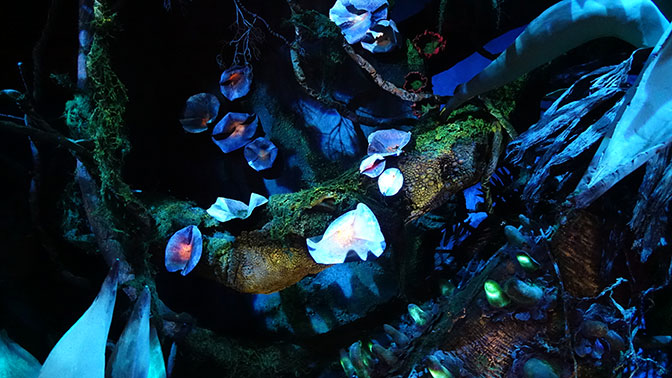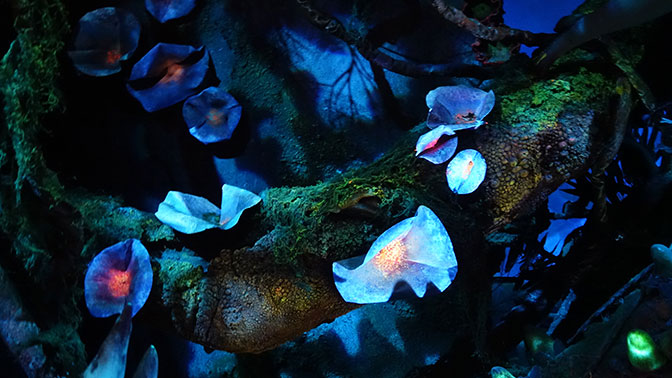 You then enter the scientific experiment area.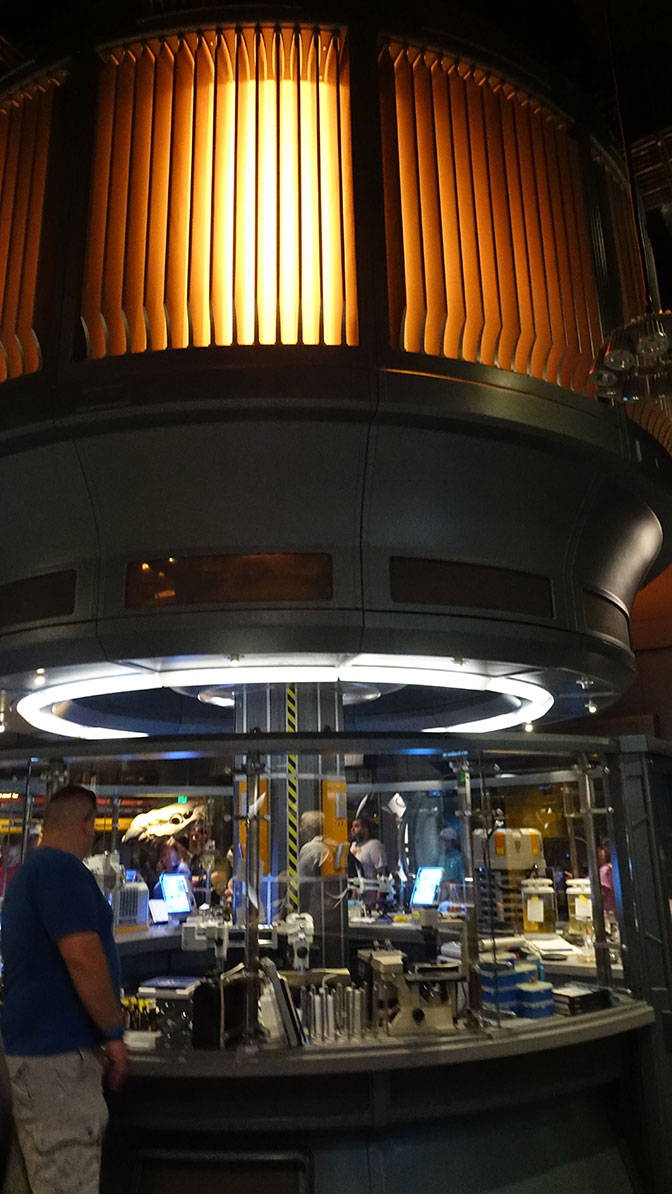 This part gave me horrible flashbacks to high school biology and chemistry.  Accckkkk!  My friend once set the Chem lab on fire back accident, but we extinguished it quickly.  It was the highlight of the year.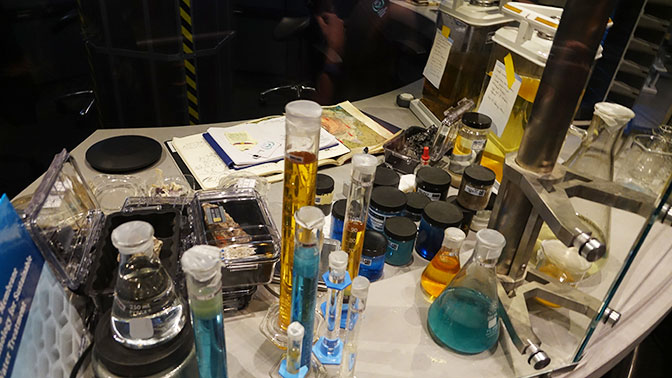 The experiment surrounds using "Unobtanium" (sounds like a Stan Lee word) to create potable water for humans on Pandora.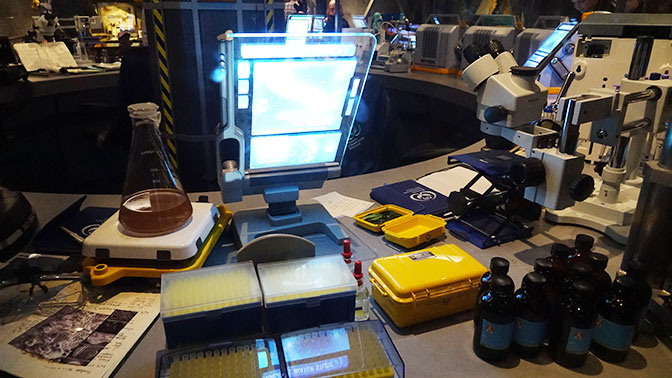 Shouting contest.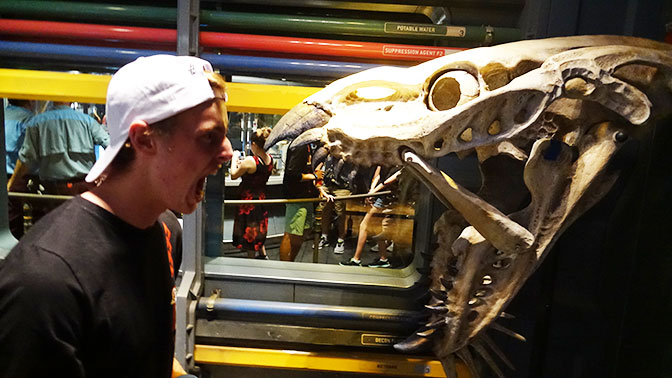 You're then introduced to the concept of linking with your Avatar.  The theory is that you gain full control of another being.  We know that isn't really possible, because we have children.
I asked about the blue Na'vi adoption program, but they said I can only take home an $80 model of me or a $19.95 baby plushie.  I left feeling crushed that I only have control for like 4 or 5 minutes.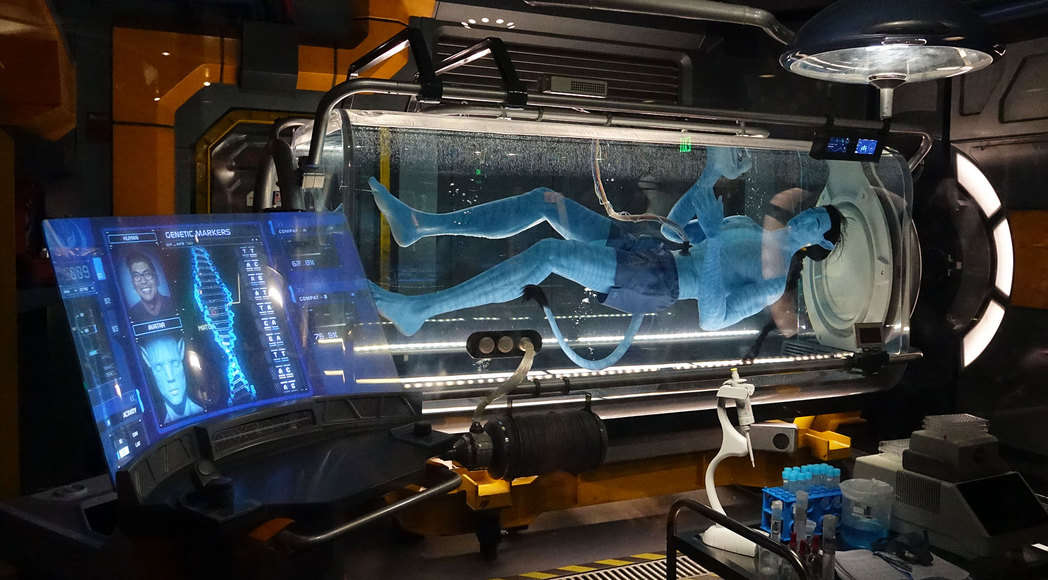 Scientisty area.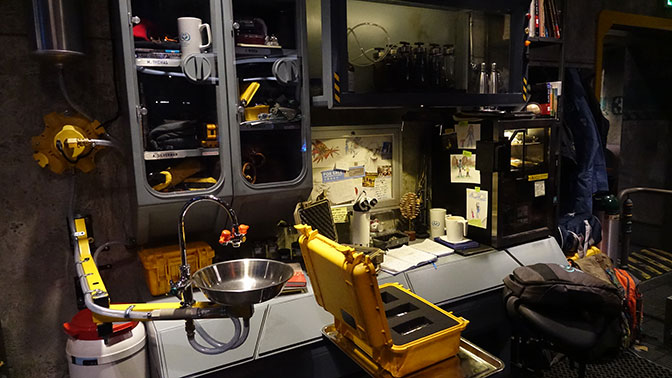 Note boards with kids artwork.  Did the scientists get to bring the kids to Pandora???  It's 4.4 light years away, would they be uncontrollable teens by then, same age or younger?  I knew I should have read Einstein before writing this post.  I think it's the people back home that get old as dirt while you're away or something.  Odds are your family will age at least 7 days before you return home too!
I saw a label like this in the movie.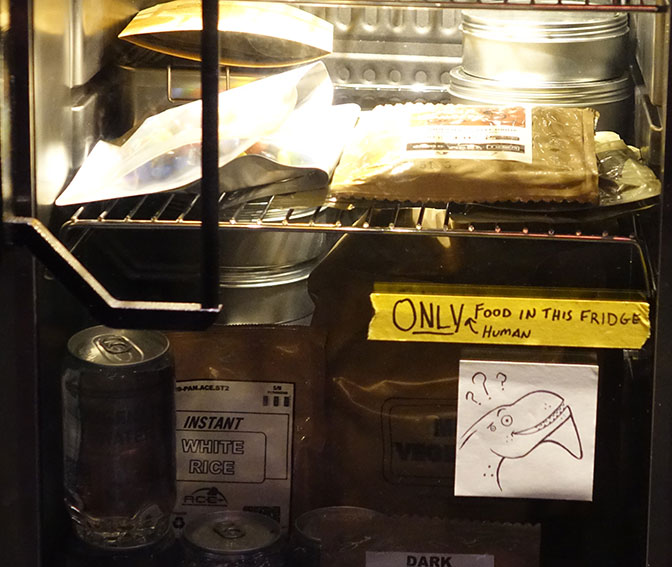 Looks cool.  I think I saw a small version in a science museum once.  Still using the color….blue!  It's "techie" remember.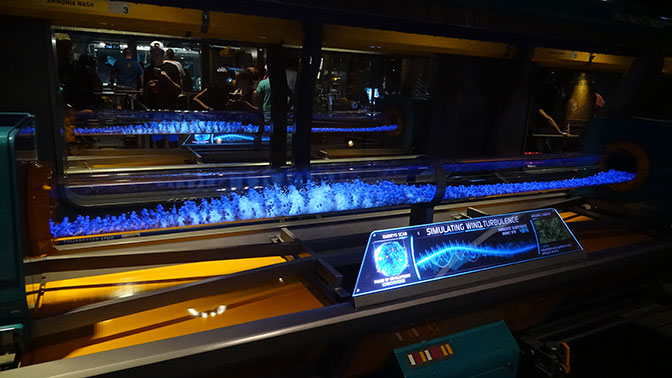 You then reach the merge area with an enormous Ikran.  It's funny because they look all angry and violent on the ground, but when they are flying, they look like a goose crossed with a dragon fly.
Looks like thunderstorms.  It's amazing how the climate exactly matches Florida in the summer.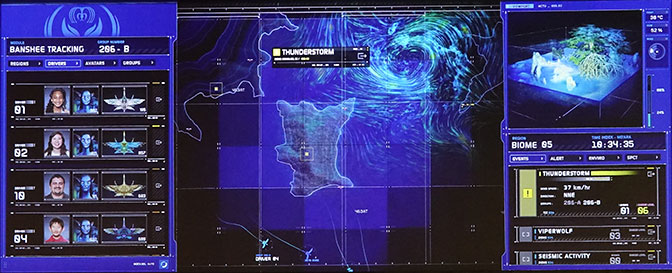 Sorting area.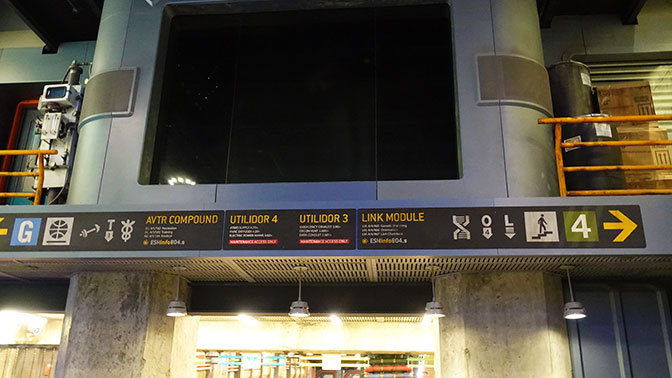 These Na'vi people are really tall.  It will be interesting to see the selfies with them when they are out walking around the World of Avatar.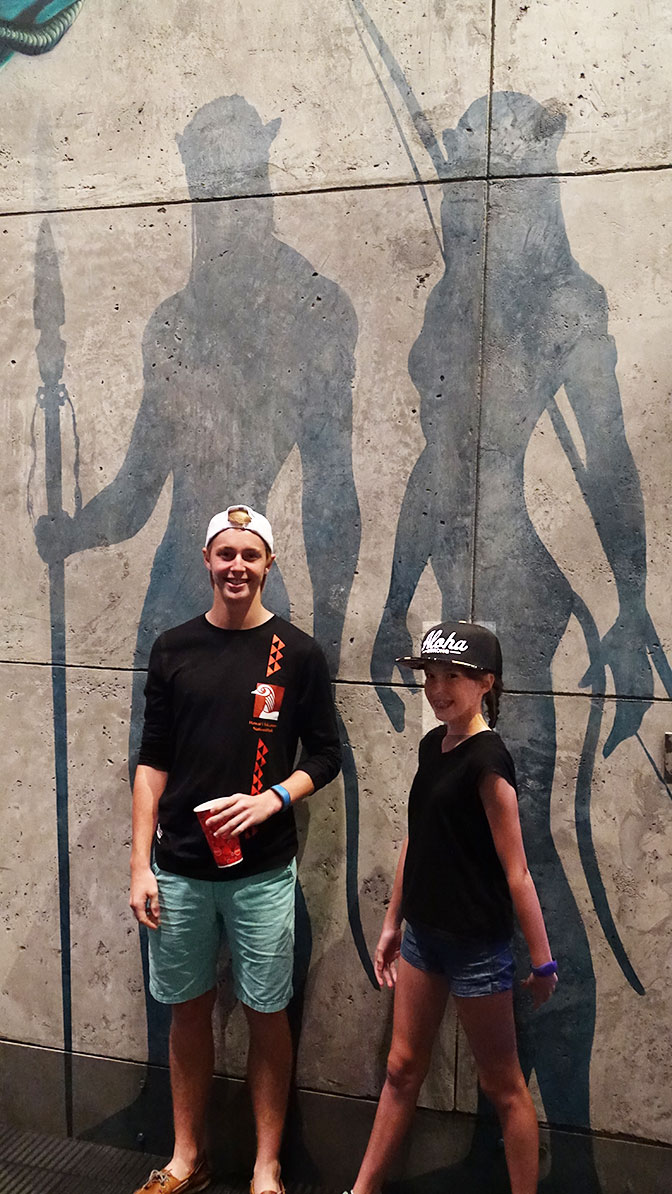 Here's a full queue walk through video for the stand by queue.  It takes 18 minutes, so you might want to view when you are eating a scone and drinking Starbucks.
The actual ride takes about 4.5 to 5 minutes.  It's very well done and is a great deal of fun.  It takes about 10 minutes just to walk through the regular queue with no waiting.  The queue is hooooge.  I'm thinking you'll want to try to rope drop this attraction AND Fastpass+ it to ride it twice.  You could ride the Na'vi River Journey boat ride when the wait is under 60 minutes this summer and will drop way off in the fall.  Be sure to grab a meal at Satu'li Canteen and visit after dark to see all the glowing plants and the ground all lit up.
Any questions?