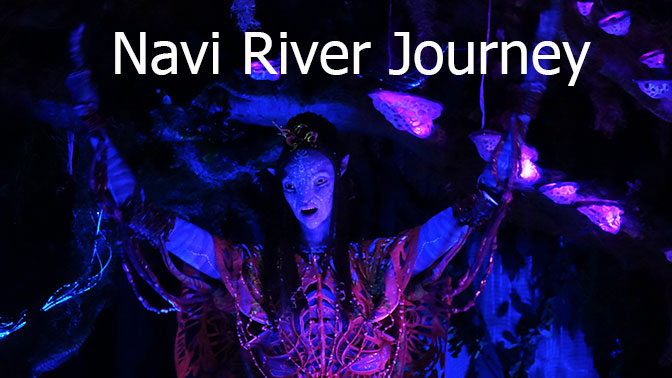 The Na'vi River Journey is one of the two new attractions coming to Pandora – the World of Avatar in Disney's Animal Kingdom.  It's a tranquil, yet short, boat ride through the Pandoran bioluminescent forest.  Here's our review, photos, full ride video and some thoughts on the ride.
First let's cover the basics.  The ride has no height limit, but does offer Fastpass+.  It does not offer a Single Rider option.  Riders must transfer from ECV / Wheelchair into the boat.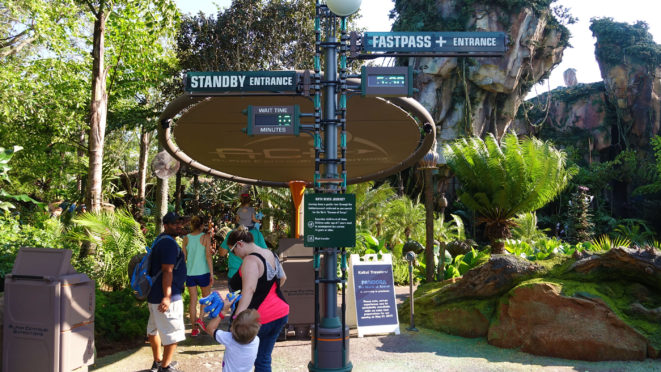 The queue lines for the new rides in Pandora are enormous!  It looks like they are well prepared for guests who are willing to spend 2 or more hours waiting in line.  I guess they don't subscribe to Character Locator huh?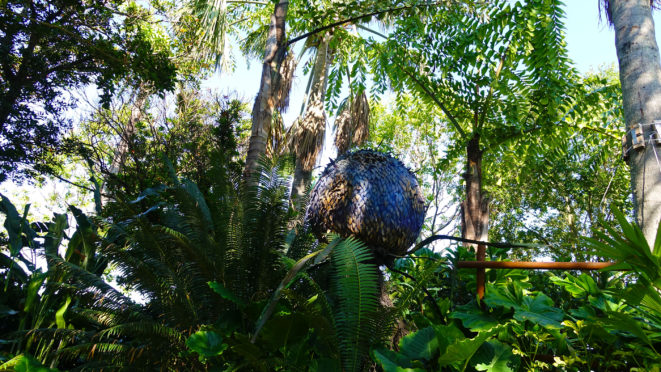 The area is filled with a combination of earth plants, bushes and trees along with those that are only found on Pandora.  We were told we are 4.4 light years from Earth, but it only seemed to take about 30 minutes to travel there from my home.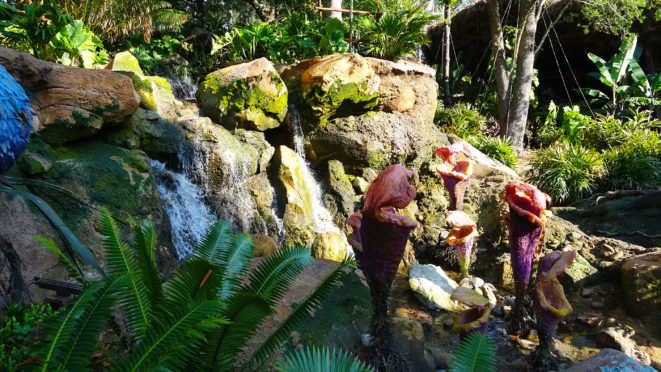 My son enjoyed the beauty of the outer queue line.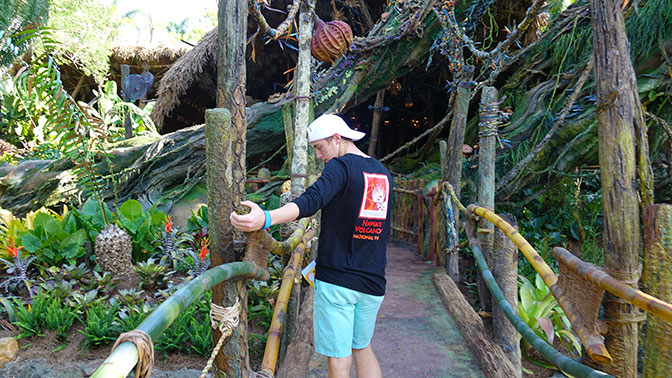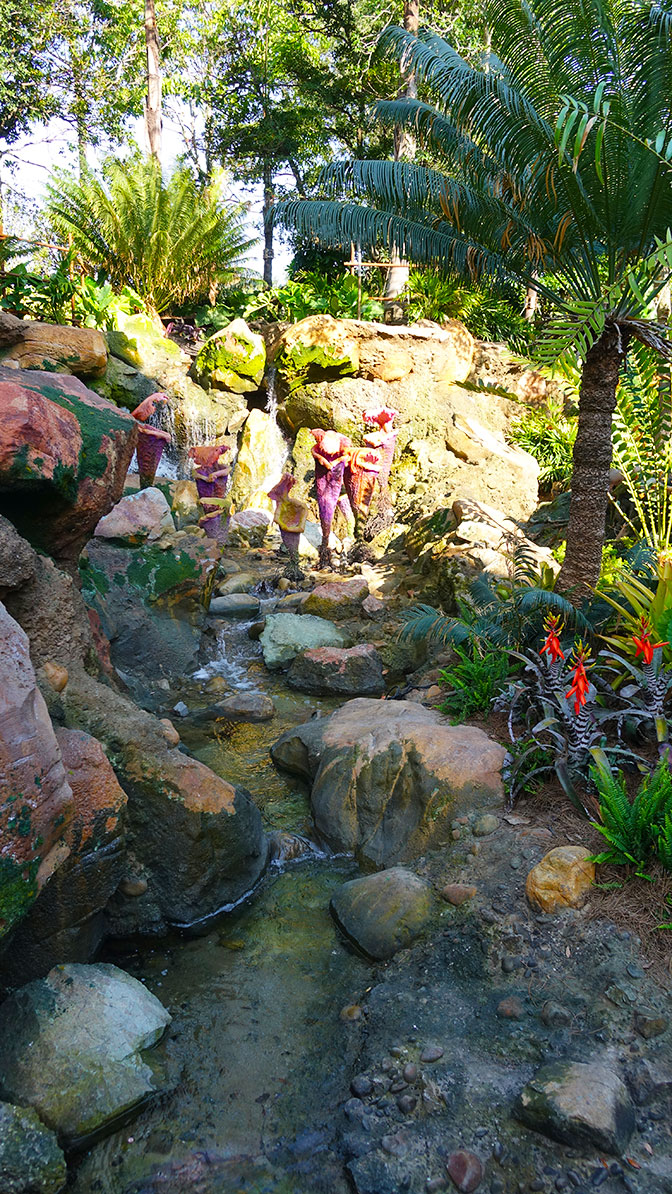 After passing through the outer portion, you'll enter the main zig zag part of the covered queue line.  There are a number of fans in the area, but no air conditioning.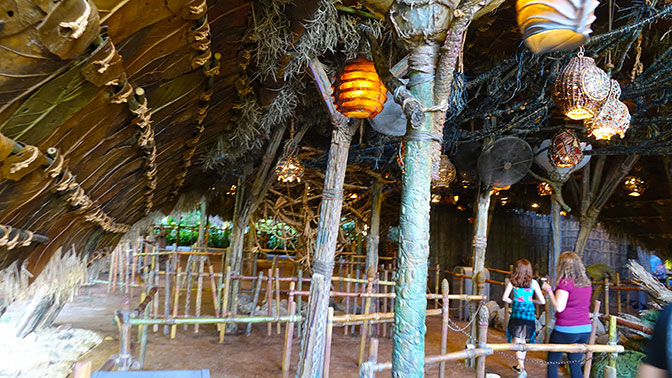 Disney applied an insane amount of detail to the new land of Pandora and the detail runs throughout the queue.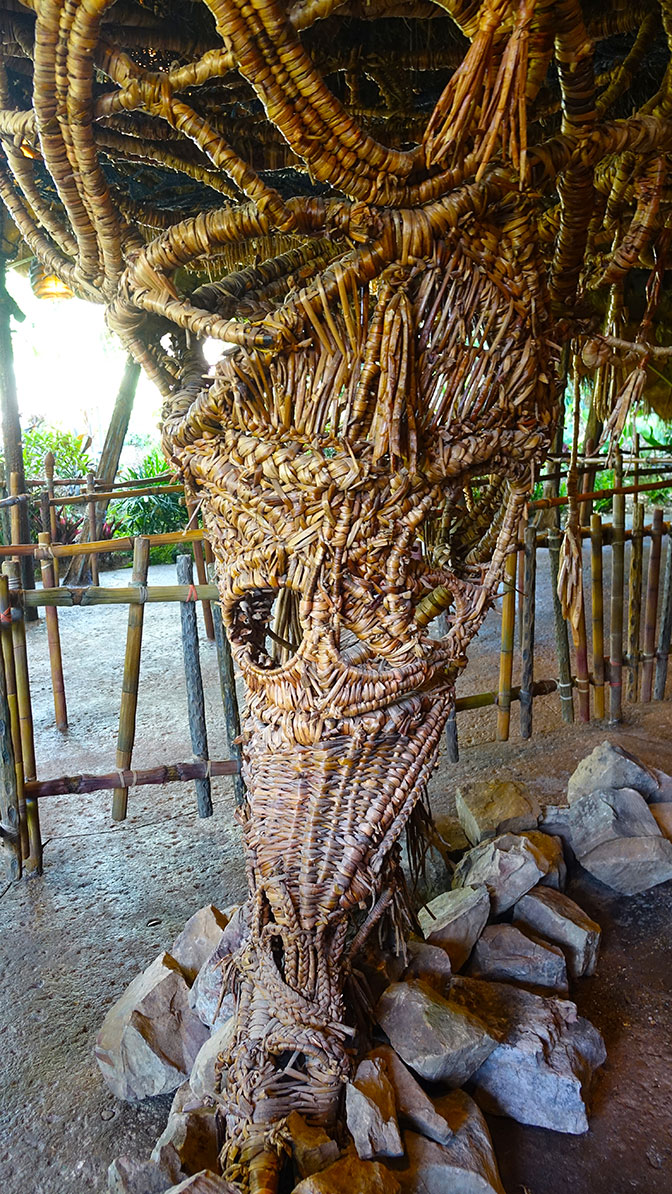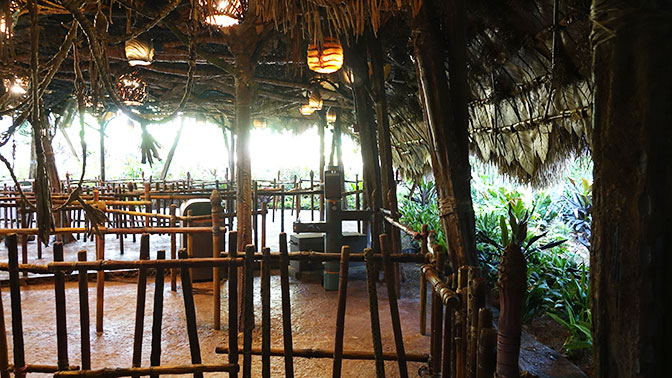 After passing through the outdoor queue, the ride is only a short distance away.  It will be difficult to judge the actual waits for the ride until it actually opened, but all the preview guests seemed much more excited about Flight of Passage.
Here's our video of the full queue area:
You board a small boat that seats up to 8 guests with up to 4 in each row.  My 3 kids and I sat on the front row with now issues.  The boats are small compared to other Disney water rides, but I loved the thatch appeal of them.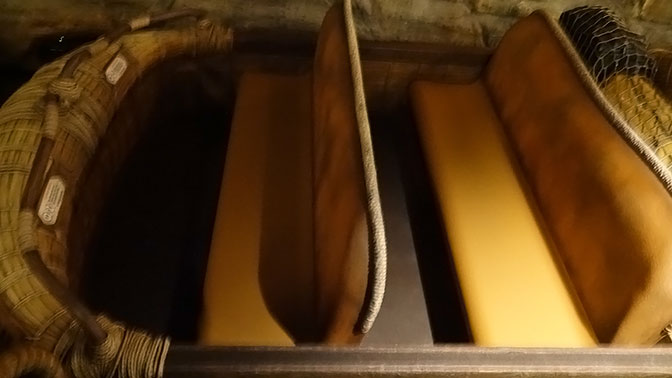 There's only ONE animatronic in the entire ride, which was a real let down for my kids.  We are used to things like Pirates of the Caribbean with lots of movement and action.  Most of the action took place on video screens and you may or may not actually see some of the scenes.   Most of it felt very distant as well.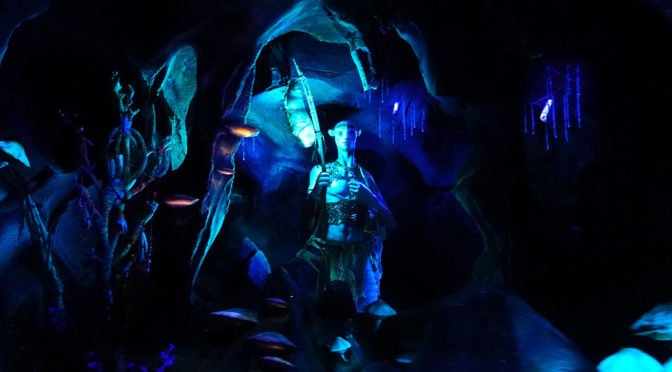 On the plus side, the photos and videos cannot capture how incredibly beautiful the ride is.  There's so many vibrant colors set against the stark black darkness.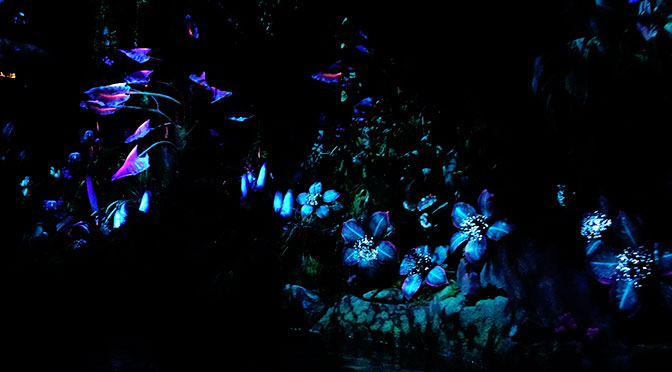 I would have liked to have seen some sort of physical animals, but they are all projected.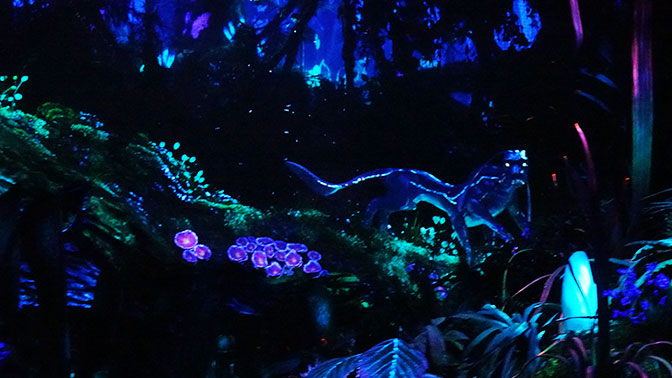 It does make you feel like you're traveling through a rainforest on a foreign planet.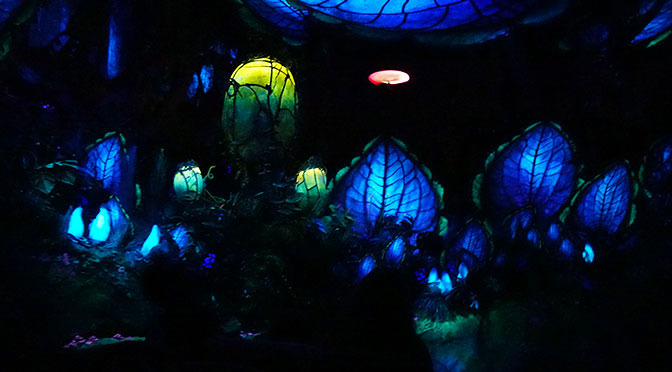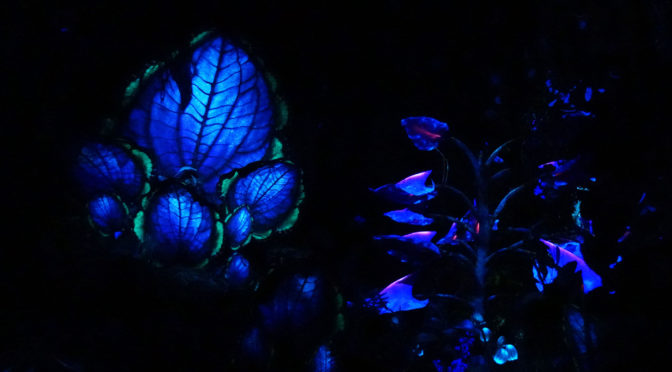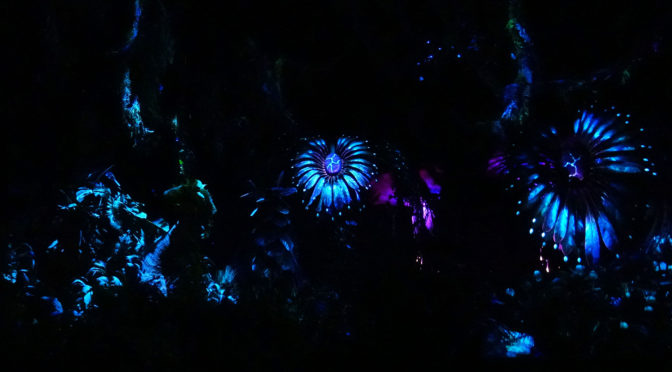 This was my favorite photo that I took.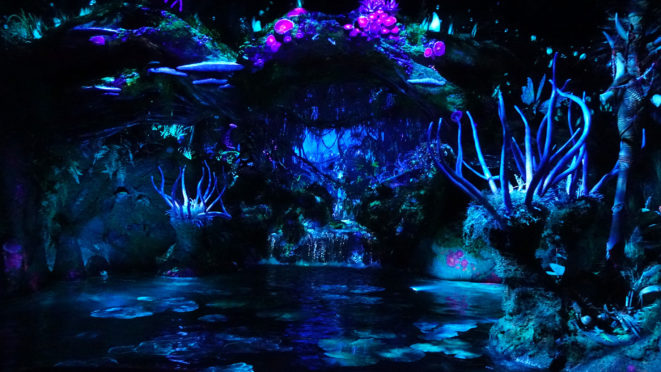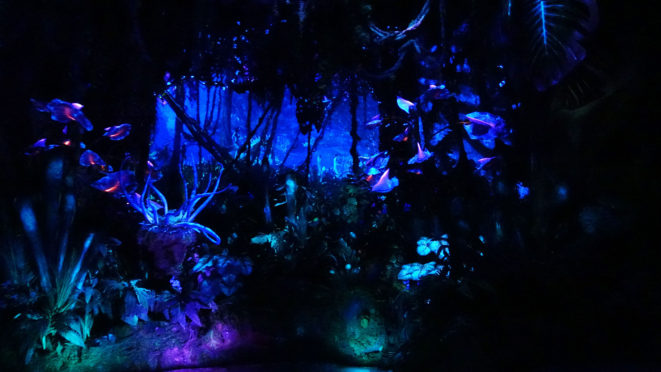 As you're nearing the end of the ride you come in contact, briefly, with the Shaman of Songs who is a large animatronic with very detailed movements.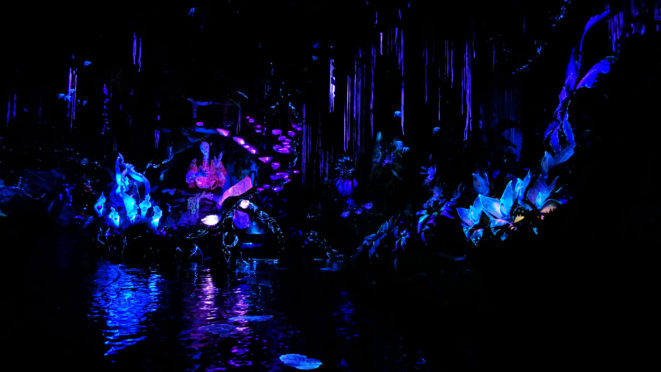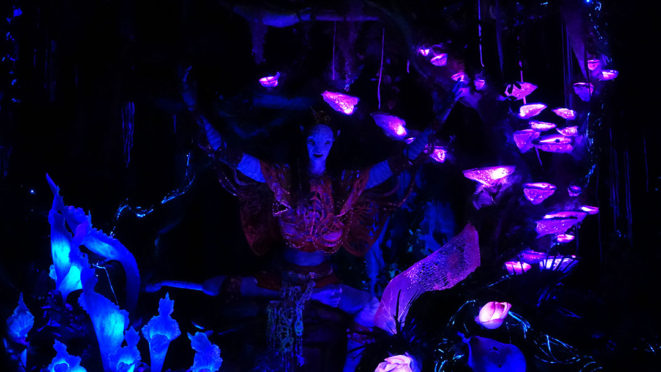 After seeing the Shaman, you'll turn the curve and see a bit more of the details before getting
The ride is only 5.5 minutes long.  It is very attractive, but short.  It doesn't really tell a cohesive story, but is literally just a "river journey."  You'll enjoy the casual boat ride as it does not offer any type of falls or water effects, so it's highly unlikely that you'll get wet, but you won't leave with a feeling of attachment like you do with many other water attractions.  If the line is less than 30 minutes, I'd do it.  If it's going to take longer than that, you may wish to just focus on the superior Flight of Passage attraction.
I would not use Fastpass+ for this, but would chose to ride at park opening instead.  Flight of Passage is the higher demand Fastpass.
Here's a FULL HD ride through video for you to decide what you think.  Below is a wrap up video that my kids and I produced that tells about our feelings immediately after riding.
Our thoughts right after riding: