Come along and join me as we dine with the stars at Minnie's Silver Screen Dine at Hollywood and Vine. See if you want to add this restaurant to your dining choices for a future trip!
Hollywood and Vine is a table-service restaurant located in Echo Lake at Disney's Hollywood Studios.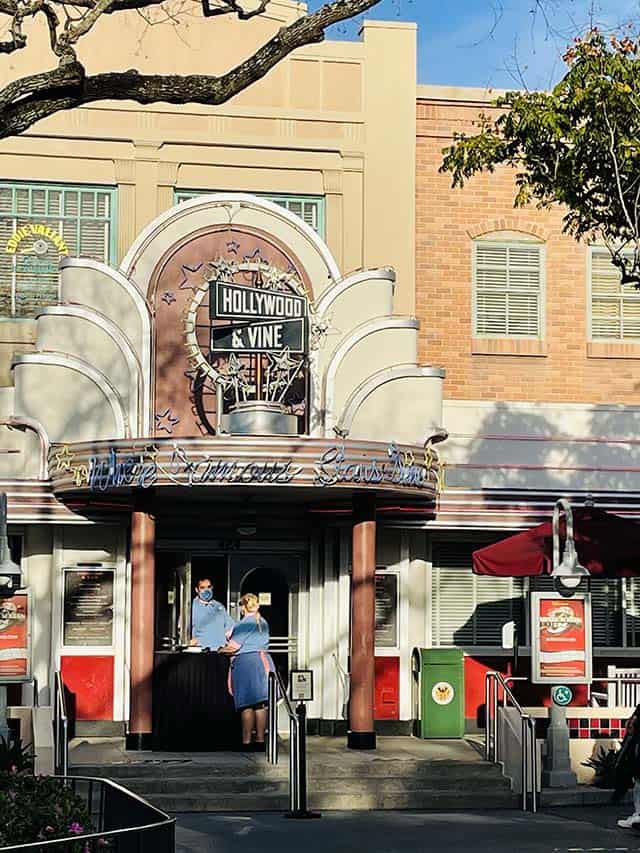 Minnie's Seasonal Dining
Hollywood and Vine currently offers five different themed dining experiences for guests throughout the year.
The five events are:
Silver Screen Dine
January 5 – March 1
Join Minnie Mouse for a fabulous dinner party celebrating the glitz and glamour of Hollywood!
Springtime Dine
March 2 – May 30
Shake off winter's chill with a divine dinner party that marks the bright and beautiful delights of spring!
Summertime Dine
May 31
Head to Hollywood & Vine for a beach-inspired bash celebrating the sizzle of summer!
Halloween Dine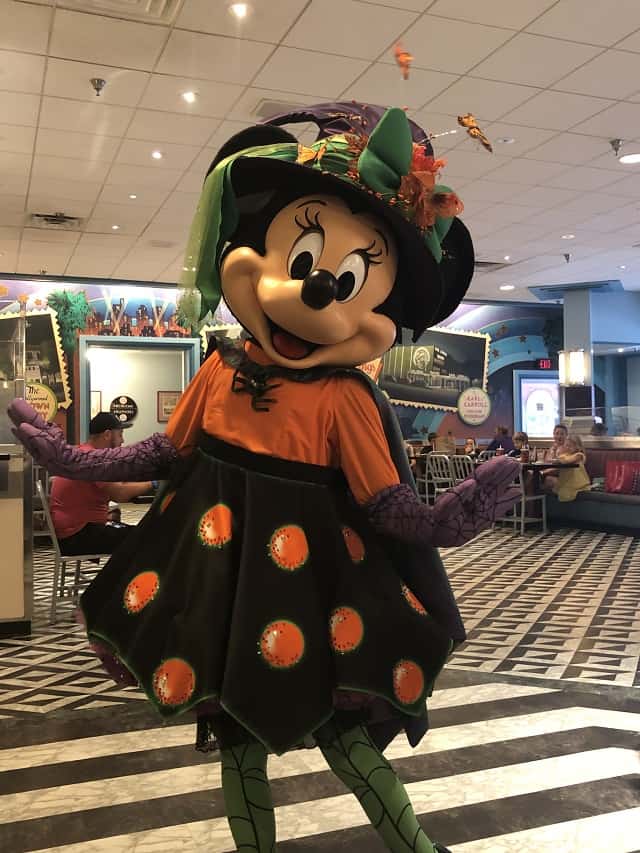 Check back for 2021 dates
Visit Minnie's favorite happy haunt for a spooktacular Halloween feast that's frightfully delightful.
Minnie's Holiday Dine
Check back for 2021 dates
Deck the halls at a dazzling dinner party filled with holiday cheer and the joy of the season!
A few of our writers have already reviewed other seasonal dining events that have been offered. To read about the Halloween Dine, take a look at Marisol's review here. Reviews for Minnie's Holiday Dine can be found here and here.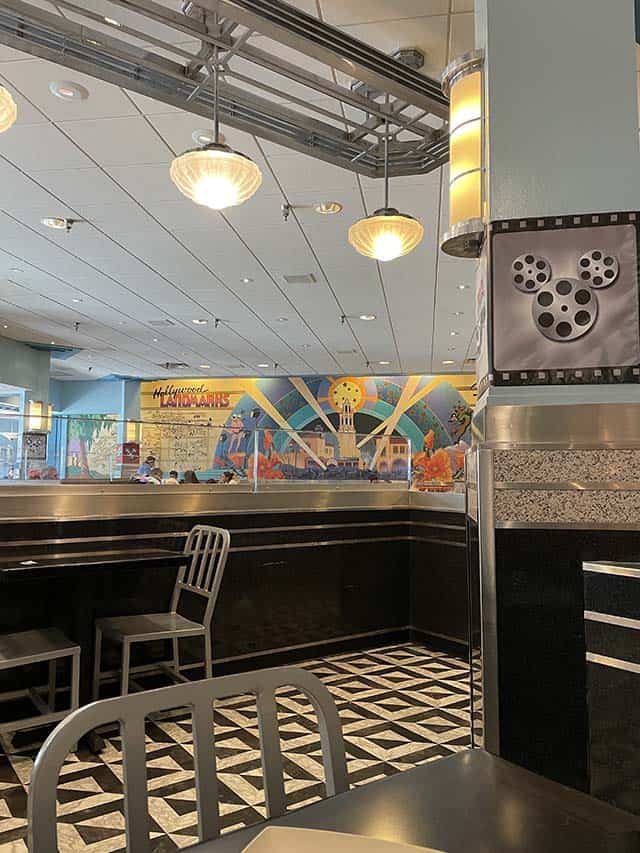 Food and drinks are brought to your table family-style. The servers will bring you everything and do all of the work. Just sit back, relax and enjoy your meal!
DON'T FORGET! CHARACTER LOCATOR HAS MENUS TO ALL OPEN RESTAURANTS AT WALT DISNEY WORLD TOO!
Hollywood and Vine offers lunch and dinner. The menu items available are listed on Character Locator HERE. Allergy-friendly menus are available as well for those who need them along with a variety of beer, wine and cocktail selections.
Minnie's seasonal dinner pricing is $55 per adult, plus tax and gratuity and $36 per child, plus tax and gratuity.
Menu
Appetizer
Farmhouse Tossed Salad Bowl – Mixed Greens, Tomatoes, Cucumbers, Red Onion, Cornbread Croutons, Homemade Smokehouse Ranch Dressing
Entrees
Garlic and Cracked Black Pepper Prime Rib of Beef -Sour Cream-Chive Whipped Potatoes, Fried Brussels Sprouts, and Pearl Onions with Red Wine Jus
Seared Fresh Salmon with Grain Mustard Beurre Blanc -Olive Oil Crushed Fingerling Potatoes, Garlic Lemon Broccolini
Pork Osso Bucco -Boursin Cheese Hominy Grits, Caramelized Apples, Lemon Gremolata, Pork Reduction Gravy
Macaroni and Cheese with Shrimp -Cavatapi Pasta, Four Cheese Sauce, Shrimp, Crispy Bacon, Buttered Panko Crust with Fennel and Arugula
Carved Herb Roasted Turkey Breast -Garlic Redskin Mashed Potatoes, Cornbread Stuffing, Sautéed Green Beans, Turkey Gravy, and Cranberry Orange Relish
Dessert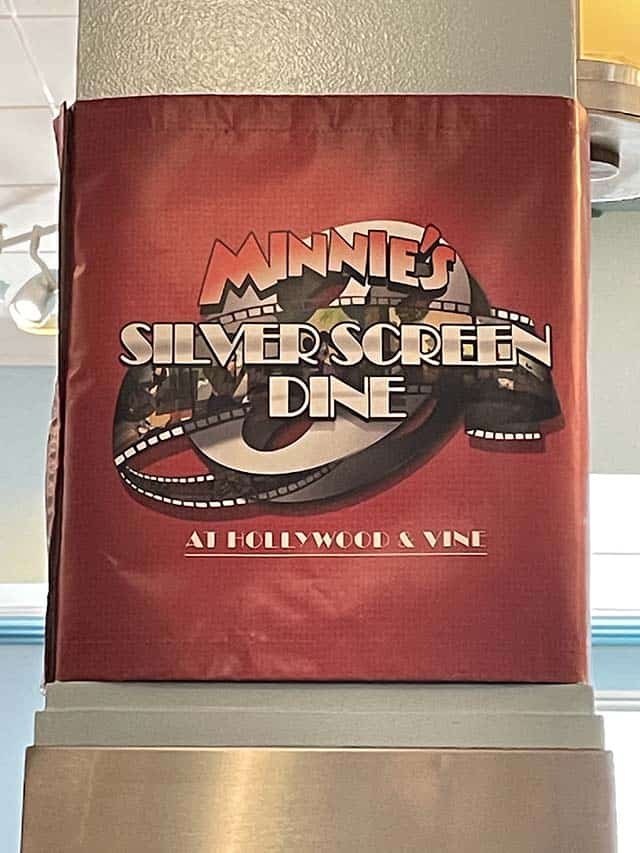 Apple Blueberry Pie -Baked Apples, Blueberries, Caramel, and Streusel
Vanilla Crème Brûlée -Rich Custard with Caramelized Sugar
Chocolate S'mores Pie– Dark Chocolate Mousse with Toasted Marshmallow Fluff and Graham Cracker Streusel
Banana Cream Pie– Bananas, Cream and Caramel Sauce
Kids Menu
Seared Salmon
Roasted Beef
Roasted Turkey
Macaroni and Cheese
Choose two sides:
Sauteed Green Beans
Fresh Fruit
Olive Oil Crushed Potatoes
Garlic Lemon Broccolini
Whipped Potato
Macaroni and Cheese
These desserts are available and each child can choose one:
fresh fruit
apple pie
lemon sorbet
ice cream sundae
Silver Screen Dine
We arrived to the entrance and checked in via mobile check-in. Our wait time was not too long at all.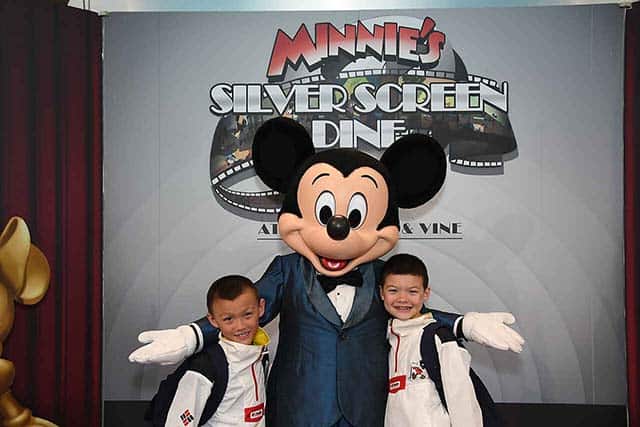 This photo opportunity is not offered at this time because of concerns with social distancing. If you visit, you are given a chance to take a selfie in front of the backdrop shown above.
After we were seated, we were given a QR menu and the server took our drink selections.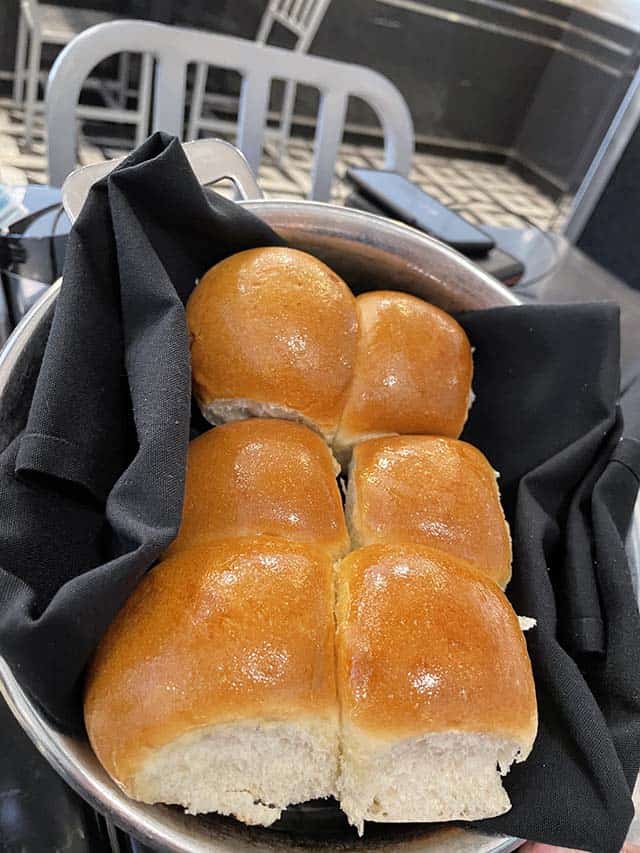 Some rolls were brought to our table to share. They were warm, buttery and crisp. My kids ate almost all of them! Kids just love rolls, bread and biscuits!
Next, came the Farmhouse Tossed Salad Bowl.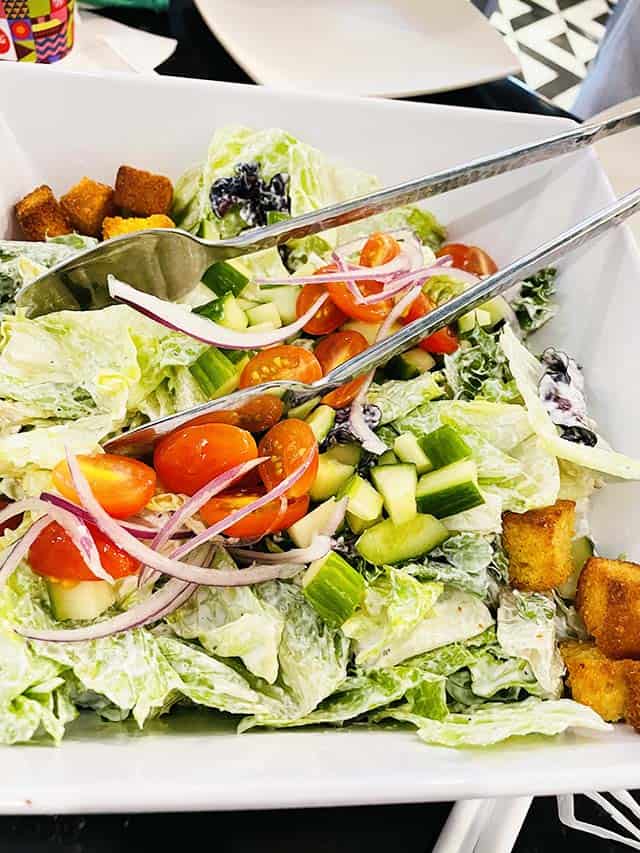 It seemed like a typical house salad to me. To be honest, I only ate the tomatoes and croutons. There was nothing wrong with the salad at all. I am just not a salad person.
For our main entree, my husband chose the Prime Rib of Beef, which as you can see from having no picture, he must have enjoyed! It looked delicious and I think it compares to the Prime Rib at The Crystal Palace.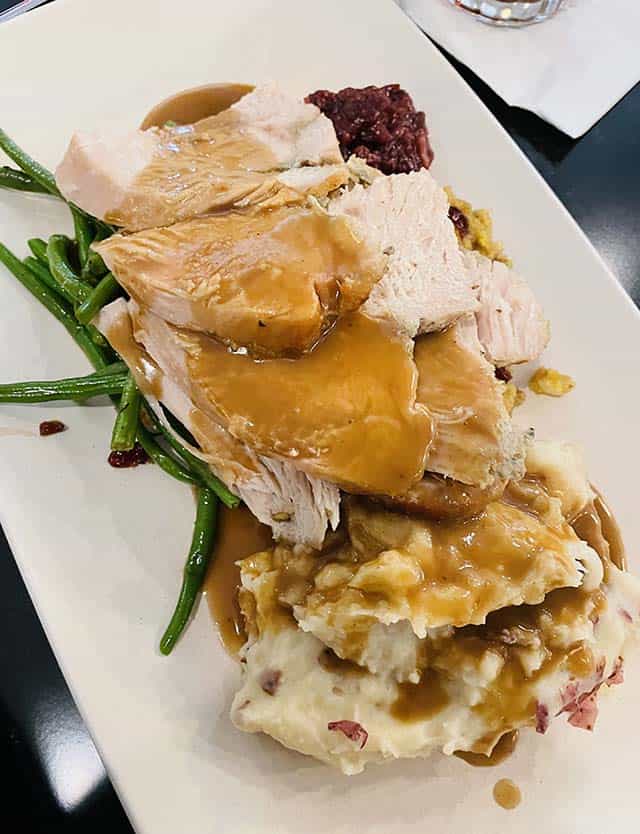 I chose the Carved Herb Roasted Turkey Breast. The turkey was juicy and tender and the garlic red skinned mashed potatoes were creamy and warm. It was a very good "Thanksgiving Day" meal. The stuffing was tasteful and delicious, and I thought the cranberries were a nice addition to the meal.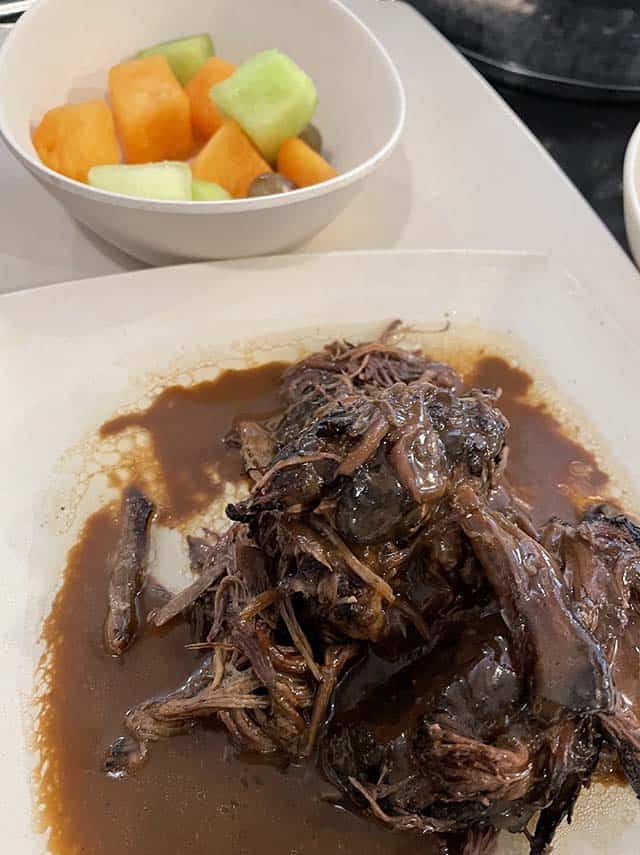 Both of my boys chose the Kids Roasted Beef. My sons enjoyed the roasted beef and described their meals as being, "very yummy." I had a taste, and it was warm and tender. It reminded me of my Mom's roast beef she used to make.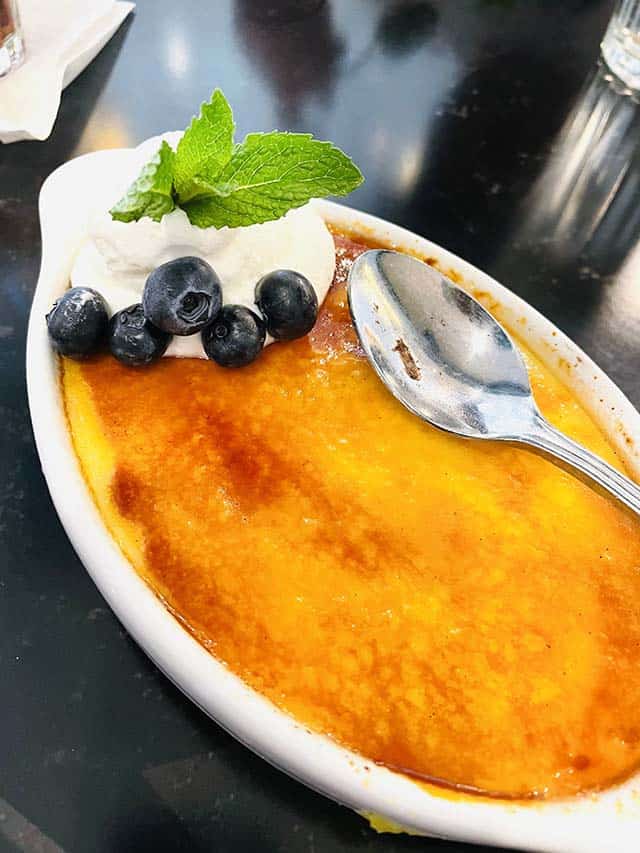 My dessert was the Vanilla Crème Brûlée. It was every bit as delightful as Marisol described in her review! I loved the rich custard, the cool whipped cream and sweet blueberries. Yum, yum! This dessert never disappoints me.
Characters
The characters at Hollywood and Vine make the dining experience! We were able to see Mickey, Minnie, Goofy and Pluto.
All of the characters are dressed to the nines and ready for their Hollywood close up!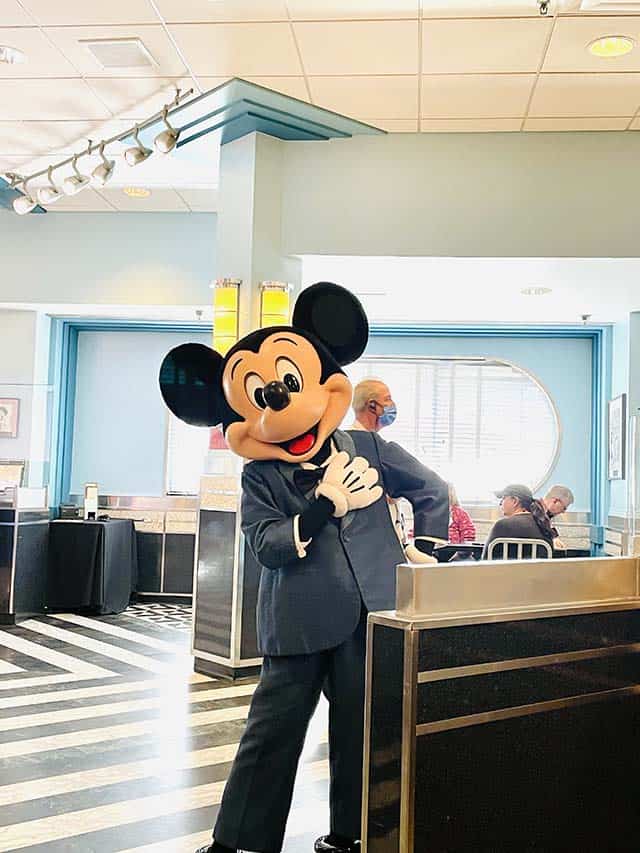 Mickey is all dressed up in a blue suit and black bow tie. Doesn't he look like he was made for the big screen?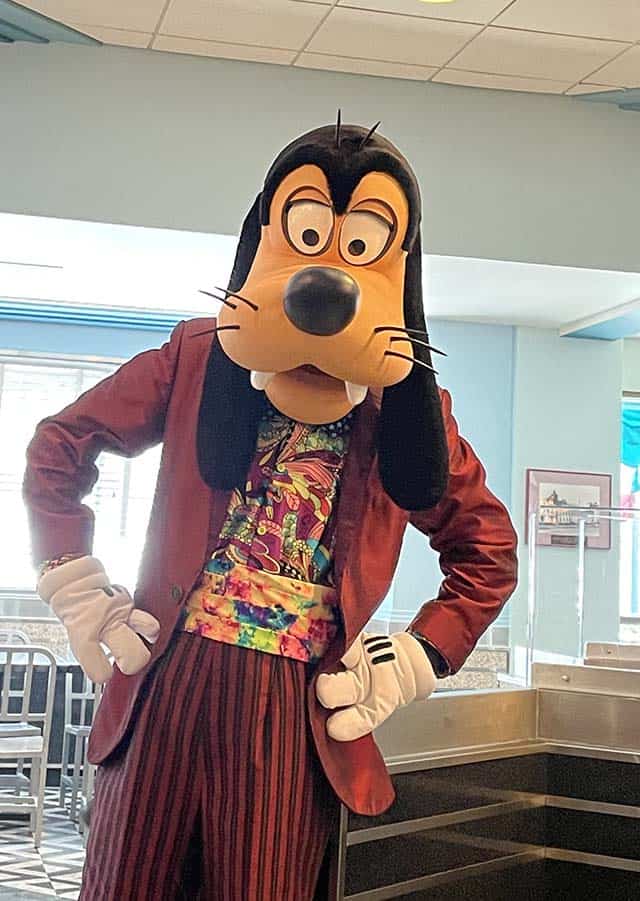 Goofy wears a flashy red suit with a bright shirt and cummerbund. I love how Goofy's outfit makes him stand out from the rest of the characters!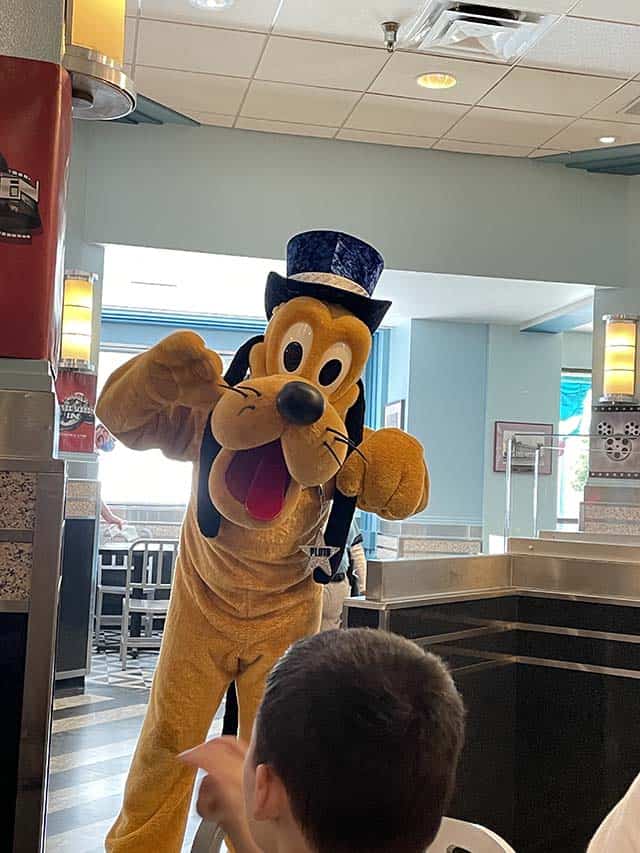 We cannot forget Pluto! He's a star, too. Pluto wears a blue top hat and silver star.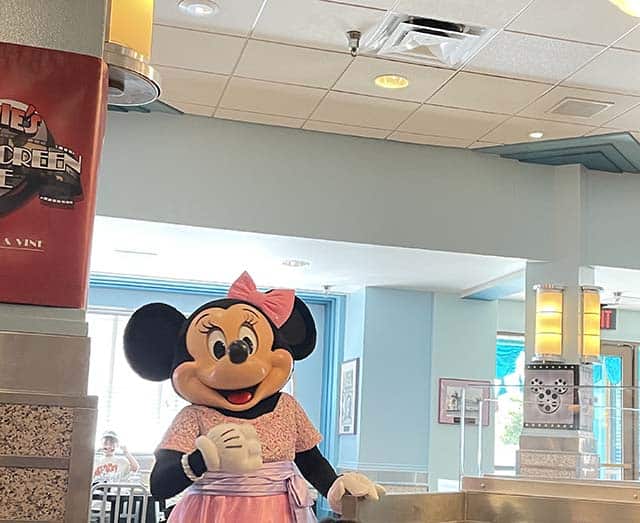 Minnie is beautifully dressed in pink from head to toe! She wars a pink dress and pink bow tie with a purple sash around her waist. She is looking very pretty and ready for the camera!
Each character will stop and pose for pictures. Have your camera ready because sometimes they are very quick! If you miss them the first time, do not fret because they will come by again.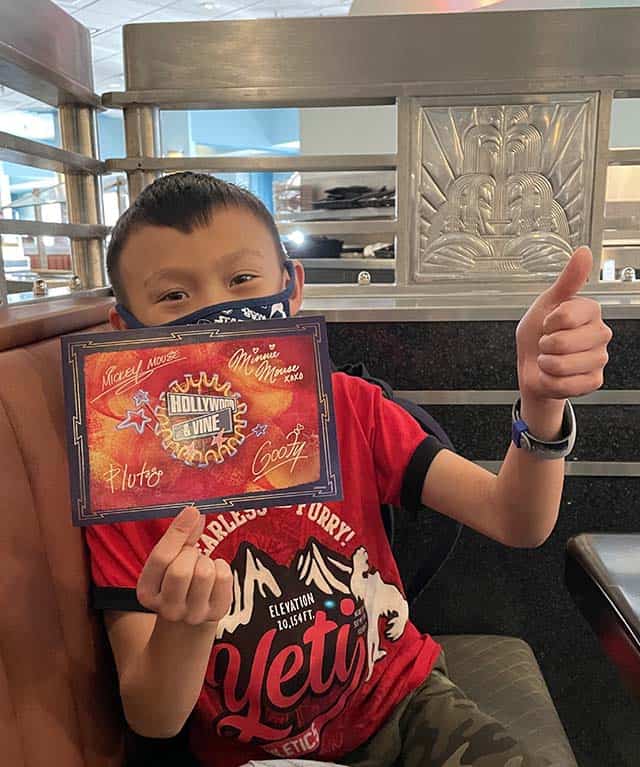 At the end of our meal, we were given cards with autographs from the characters. My son gave this meal a big thumbs up!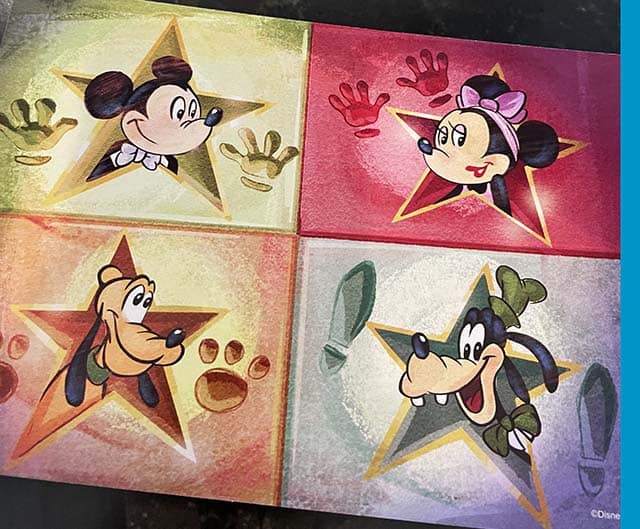 Final Thoughts
My sons enjoyed Hollywood and Vine, but they both said they missed being able to hug the characters and receive actual autographs. I love that Disney has come up with a way to still have character meals and give us some entertainment from a safe distance, but I also miss how it used to be.
Will you be adding Hollywood and Vine to your list? How was your dining experience? Tell us about it in the comments below or on our Facebook page!
Maggie Baltz