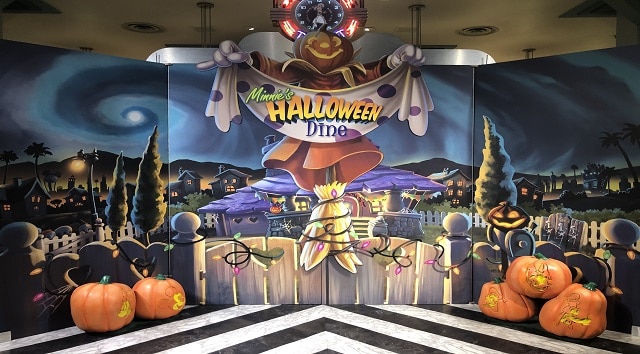 Join me as for a spooktacular review on Hollywood Studio's newest character dining during the Halloween season!
Character Dining Experience
Last month Disney announced that a fan favorite seasonal character dining was coming soon. You can read about it here.
I (Marisol) was personally excited because I knew that my husband and I would be visiting Hollywood Studios opening weekend of the dining experience.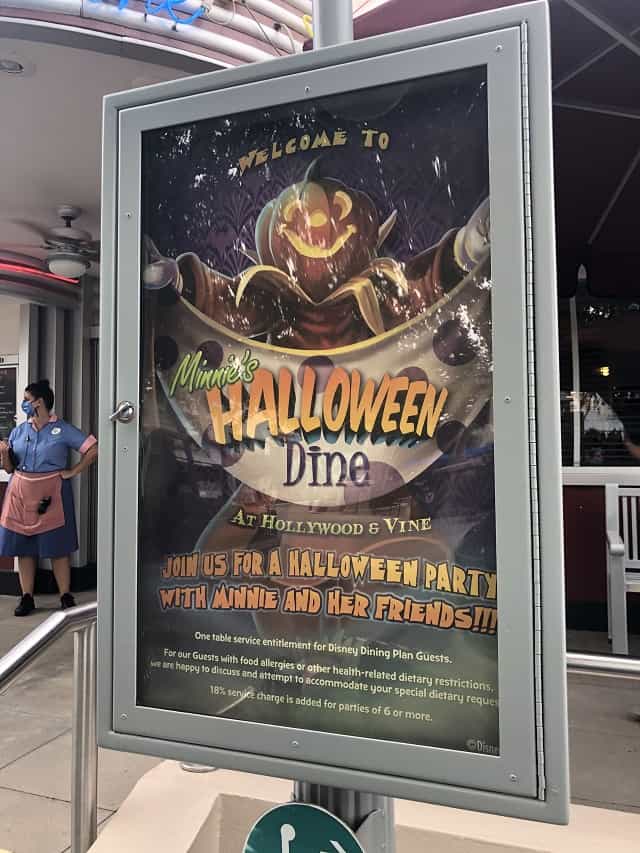 Coming from California I woke up at 3 am on the morning of September 11 to secure a reservation, and am I ever so happy that I did so!
Checking Into Dinner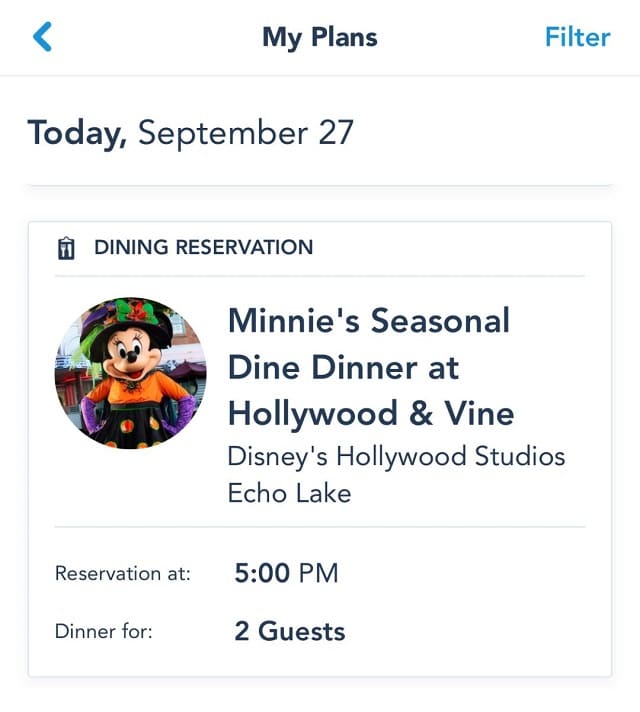 Our reservation was for dinner on Sunday, September 25th at 5 pm.
After riding Toy Story Mania, I began to log into My Experience account where you are now able to check into your reservation virtually as you arrive to the restaurant.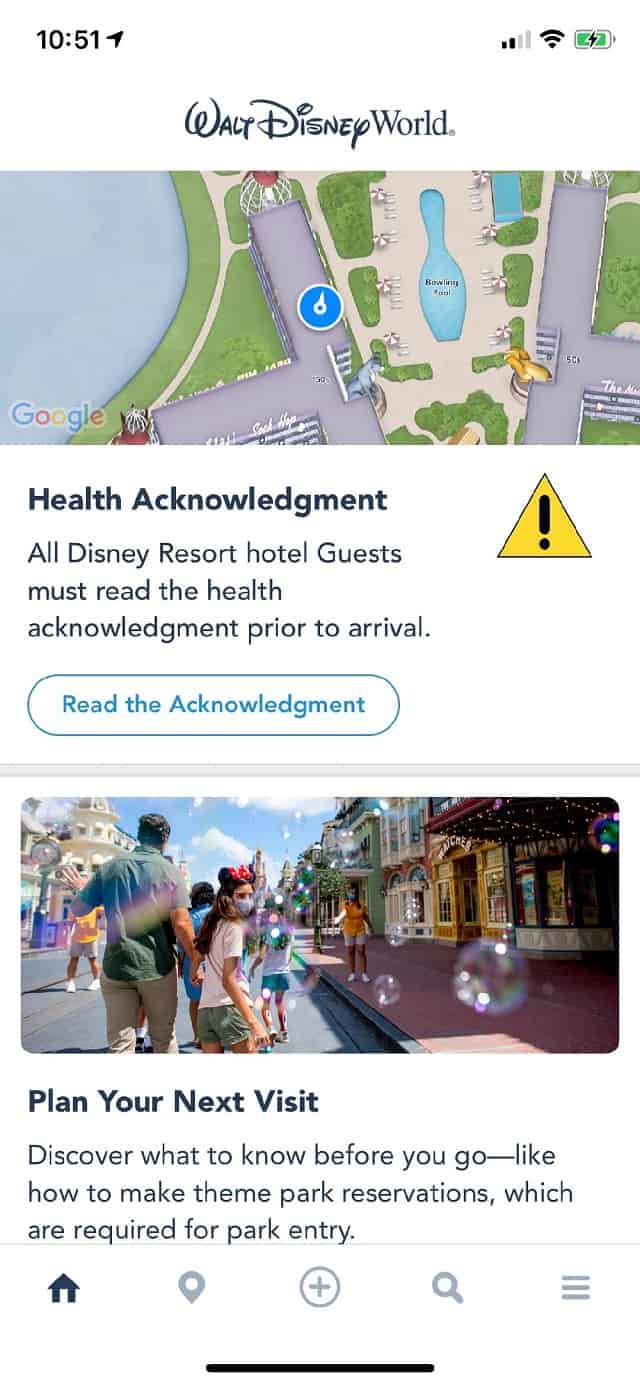 I began check in 20 minutes before your reservation time as indicated on the screen. I was able to check in at 4:40 pm.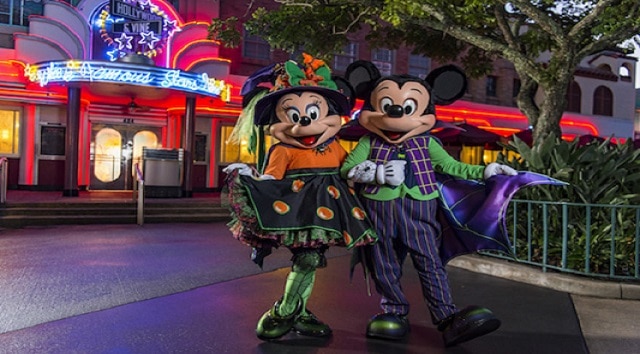 Guests click through a series of questions about celebrations and dietary restrictions when checking into the dining reservation.
The next screen informs you that you will receive a text message when your table is ready.

Our table was not ready until 5:20pm.
Let the Festivities Begin!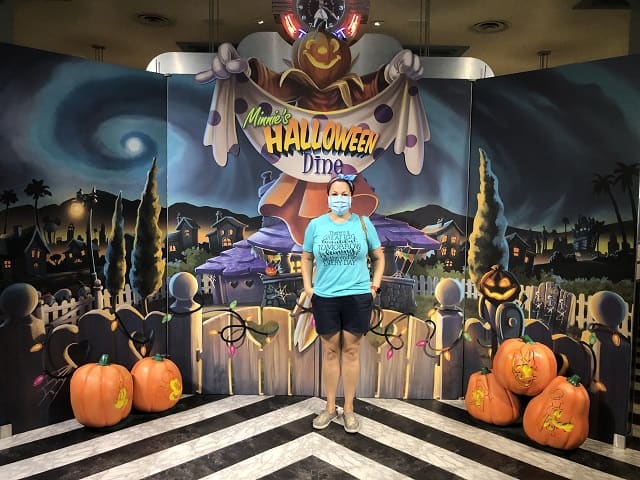 Upon arrival guests are immediately greeted with a boo-tiful photo op.
In the past, it served as a character meet and greet with a photo opportunity.
It now serves as an empty photo drop where you can take your own pictures.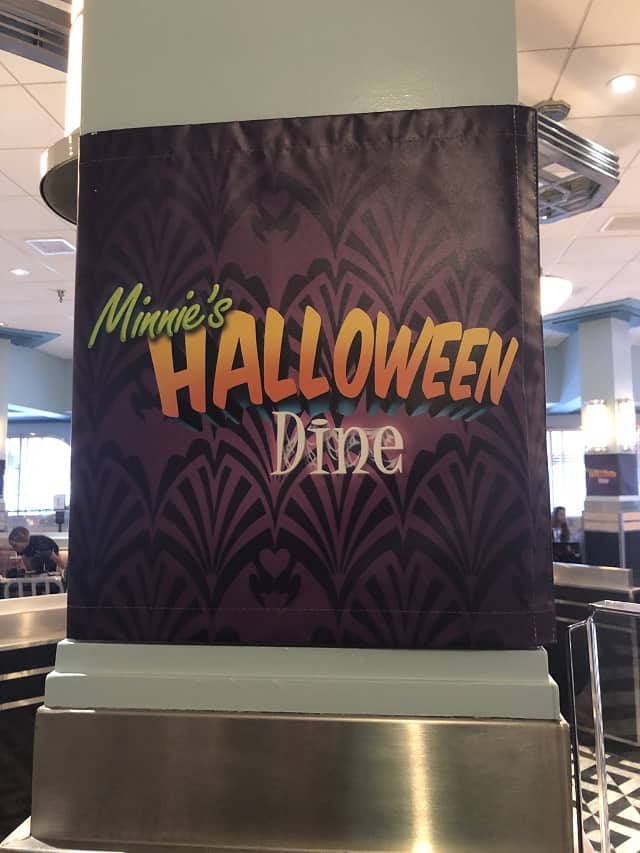 This is the first time we have ever eaten at Hollywood & Vine so I did not know what to expect at all!
We were informed at our table that we could remove our facial coverings as long as we were seated at our seats.
If the restroom was needed or a Guest needed to get up for any reason we were required to place them back on.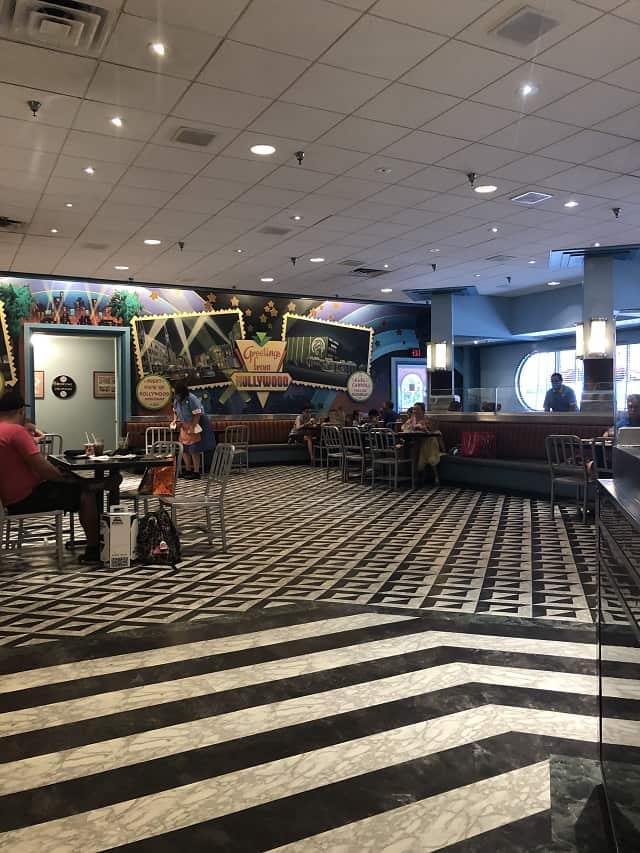 Placing the Order
When guests are first seated at their table they are informed that they will use their phones to scan the QR code that is on a paper on the table.
You will find the menu after scanning in the code.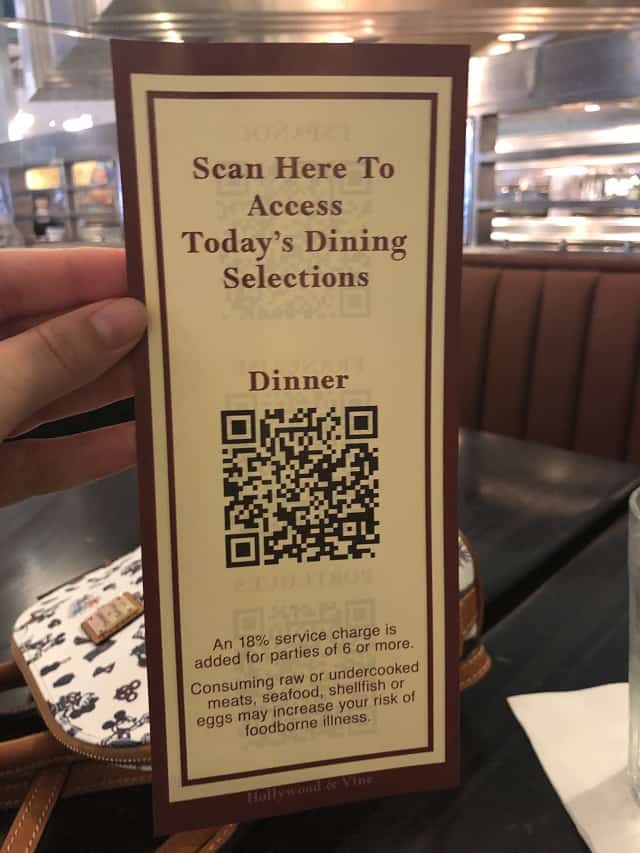 For drinks my husband ordered a Long Island Ice Tea.
I ordered the Magical Star Cocktail: X-Fusion organic Mango and Passion Fruit Liqueur, Parrot Bay Coconut Rum, Pineapple Juice, and a souvenir multicolored Glow Cube.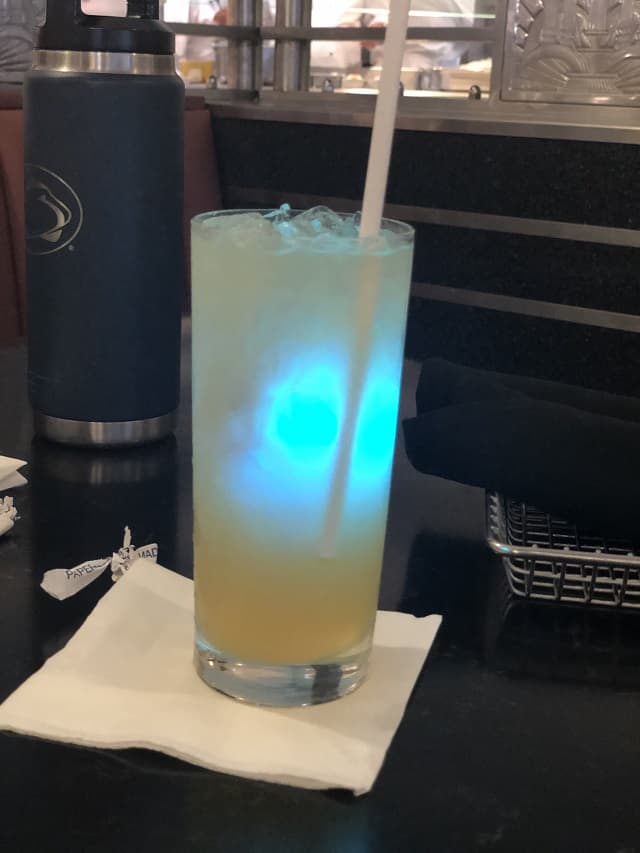 Before the food arrived to the table, a basket of four dinner rolls was brought to the table. They were very crunchy.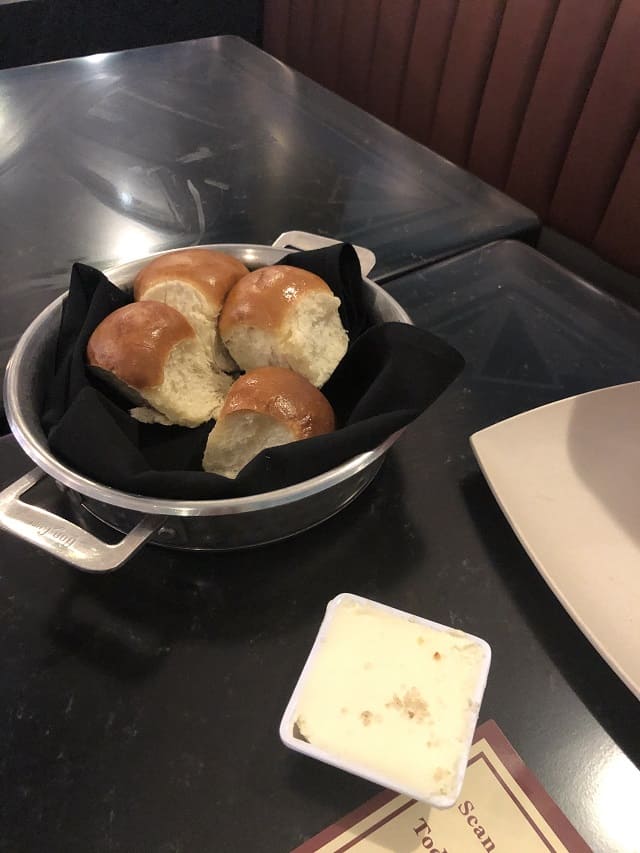 The menu lists two different types of salads:
Farmhouse Tossed Salad Bowl which incorporated Mixed Greens, Tomatoes, Cucumbers, Red Onion, Cornbread Croutons, Homemade Smokehouse Ranch Dressing.
Plant-Based Chopped Salad which was made up of Mixed Greens, Tomatoes, Cucumbers, Red Onion, Focaccia Croutons, Plant-based Ranch Dressing.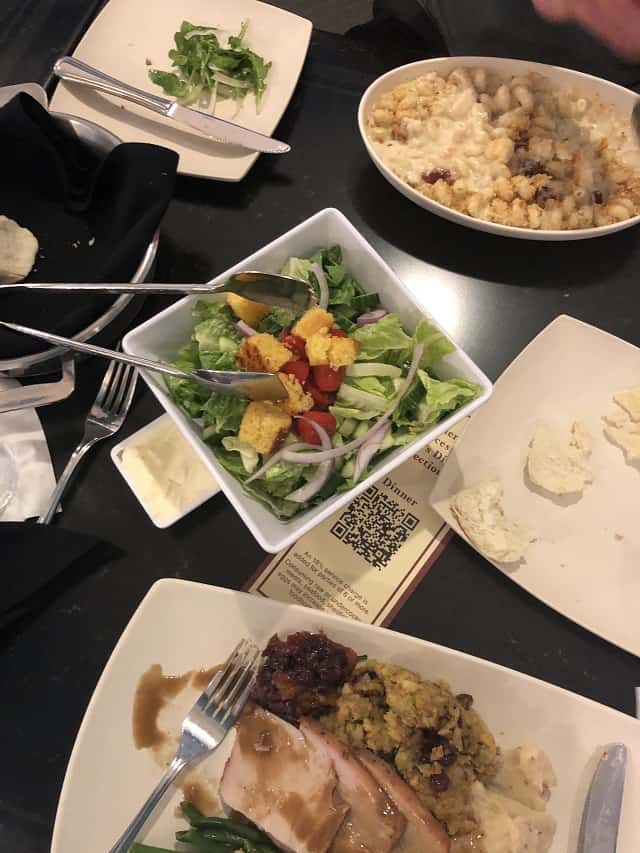 We were never asked the preference of salad and instead were brought the Farmhouse Tossed Salad Bowl.
Our waitress apologized that it took so long for them to bring it out as the cook had taken a lot longer assembling the salad.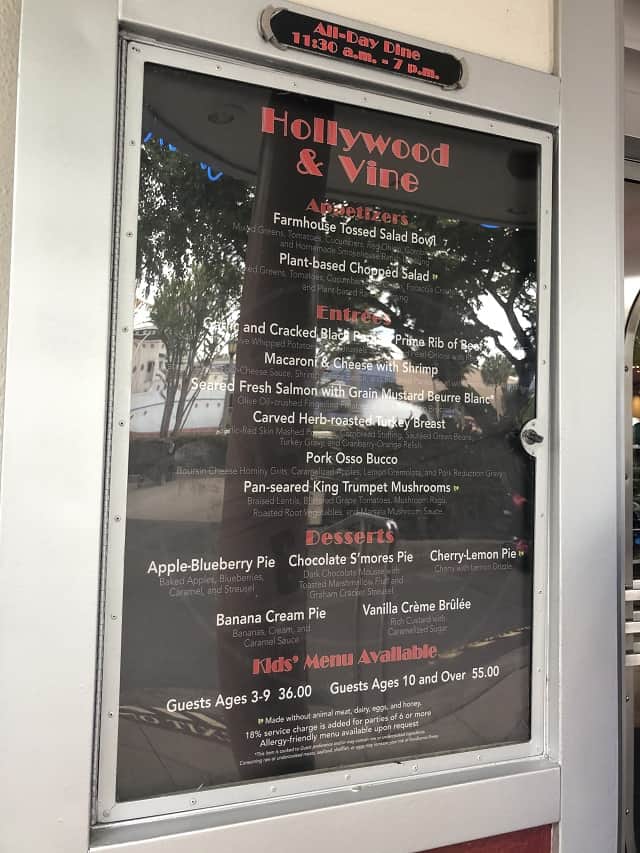 We did not mind whatsoever as the salad arrived about two minutes after our entrees had arrived.
Dinner is Served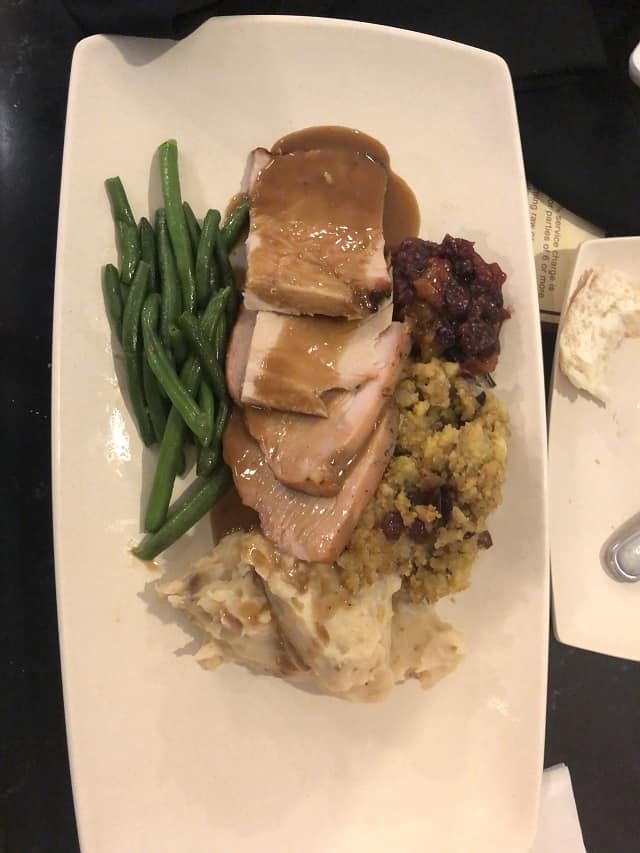 I personally ordered the Carved Herb Roasted Turkey Breast: Garlic Redskin Mashed Potatoes, Cornbread Stuffing, Sautéed Green Beans, Turkey Gravy, and Cranberry Orange Relish
It was a yummy "Thanksgiving meal." In fact, it brought many great memories back of getting together with family for a delicious home cooked meal.
The mashed potatoes were creamy but not buttery. The cornbread stuffing including cranberries which gave it a great zestful taste.
I, however, did not care much for the cranberry orange relish as it was to tangy for my taste.
My husband decided to order the Macaroni and Cheese with Shrimp: Cavatapi Pasta, Four Cheese Sauce, Shrimp, Crispy Bacon, Buttered Panko Crust with Fennel and Arugula
My husband was surprised at the amount of shrimp that was included in his dish.
Normally, when a dish includes the word "shrimp" it does not contain this many shrimp. There were approximately 12 shrimp.
He believes that the sauce was a bit rich for the shrimp, but it is macaroni and cheese so it is supposed to be rich.
Overall, he enjoyed his meal as he finished the entire entrée.
Dessert Time!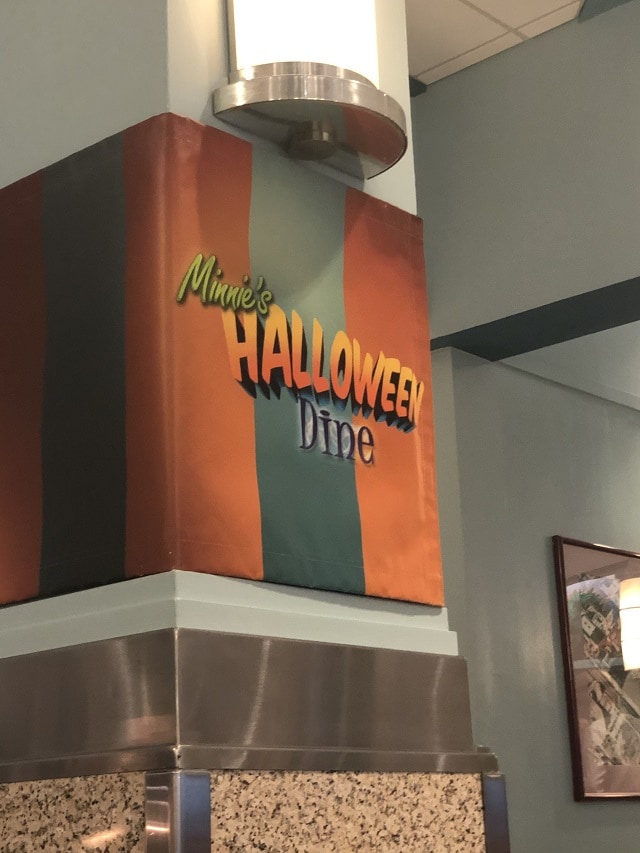 Don't worry! I will talk about the characters very soon! First, let's talk dessert!
My husband commented on how much I was able to eat during our trip as I do not eat as much when we are home!
How could I not?
It's nice to enjoy an hot meal as an adult when you have no children around! Walking over 16,000 steps in a day also works up quite the appetite!
For dessert, I decided to order the Vanilla Crème Brûlée. My husband, who was very full from his dinner, asked for his Banana Cream Pie to go.
My dessert was rich in custard, and I especially loved the whip cream, blueberries, and the raspberry. It was delightful.
Please do not judge the looks of my husband's dessert as it went through quite the traumatic experience of making it back to the resort via the Skyliner!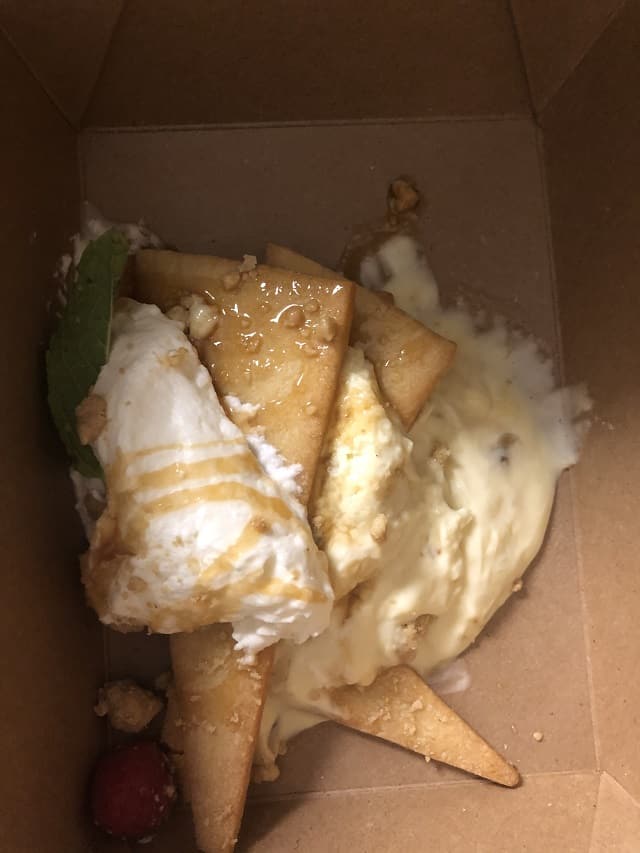 I wish I had taken a picture of it when it was first delivered in the to go container!
My husband described his dessert as a sweet sugar cookie as the crust with banana pudding and whipped cream. According to my husband, he would not call it a pie especially when you think of a diner style restaurant.
Frightfully Fun Characters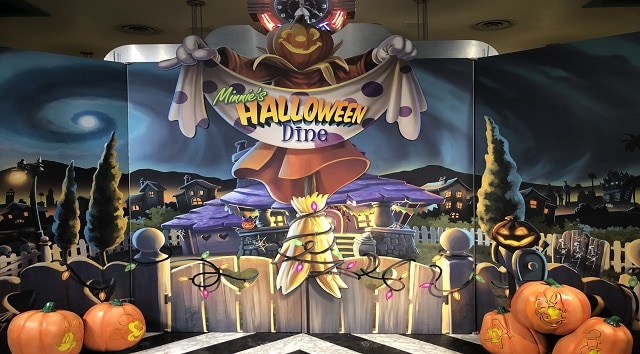 Now for the fun part!
Due to the safety guidelines and protocols, social distancing is being enforced as seen through Character Dining experiences such as at Topolino's Terrace and Garden Grill.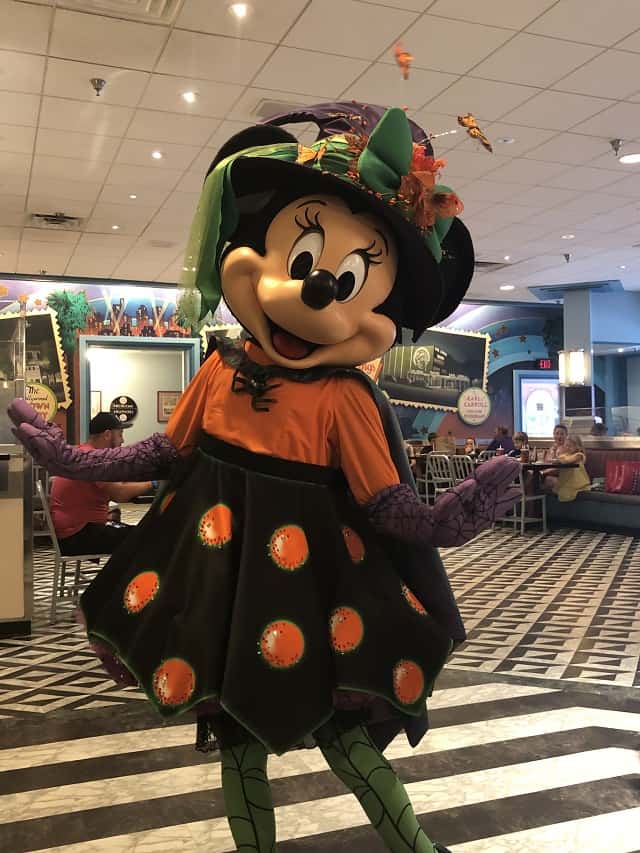 I was a bit hesitant to as what the atmosphere around the room would feel like, but I can surely reassure you that the hesitation went away suddenly once Minnie first came out.
It actually reminded me a bit of the character dining experience at Storybook Dining when Snow White, Dopey and Grumpy are dancing around the room clapping and dancing.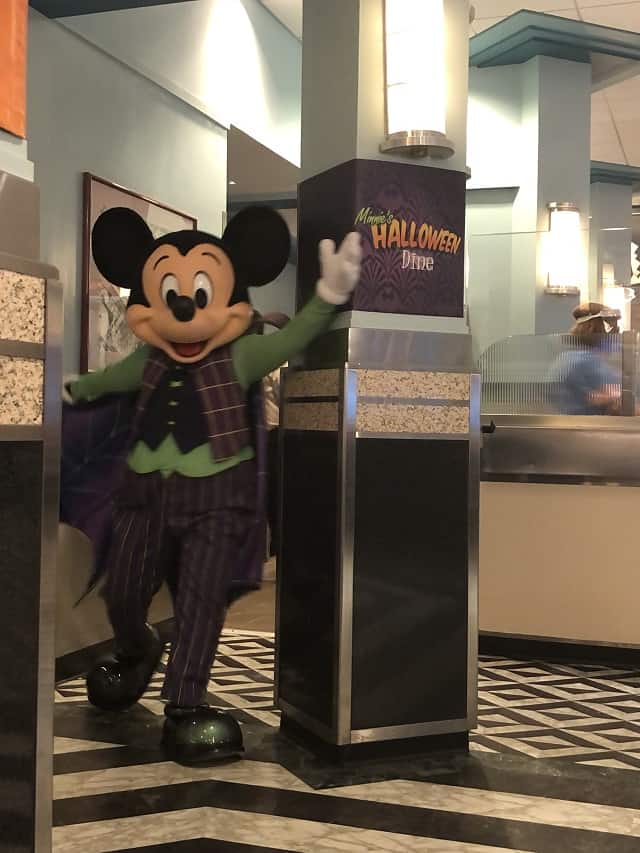 Each of the characters made their way around to each table interacting from a socially distanced space.
I felt it was no different as before.
The only difference is that we were not included in the pictures with the characters and there were no autographs.
My husband made the comment that he enjoyed seeing the characters in this new way.
He felt that they were able to be more free with the space around them.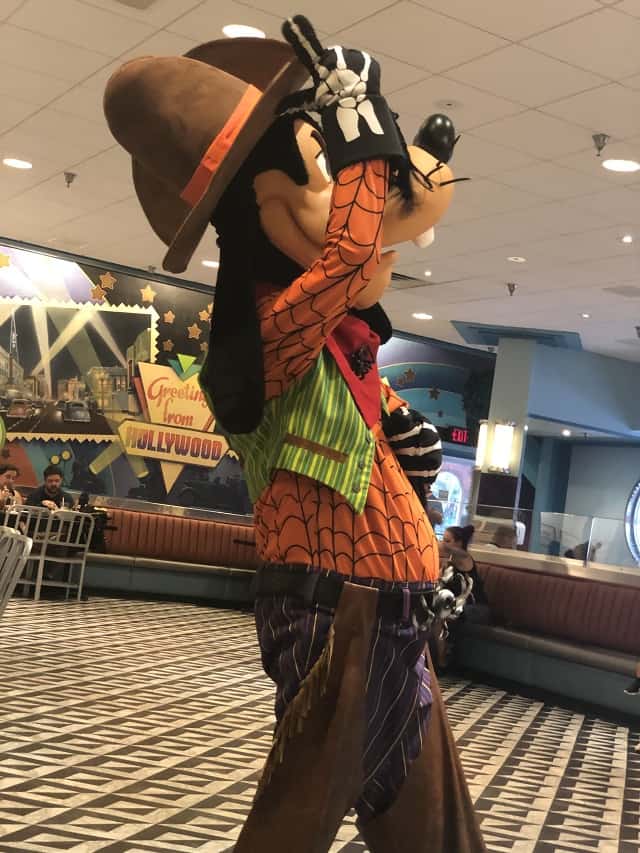 Goofy was by far my favorite. He was quite the charmer and quite the professional model as he posed for me in many different ways! I loved his cowboy get up!
Pluto was more on the simpler side as he donned a vampire collar and his name tag reads "Pluto."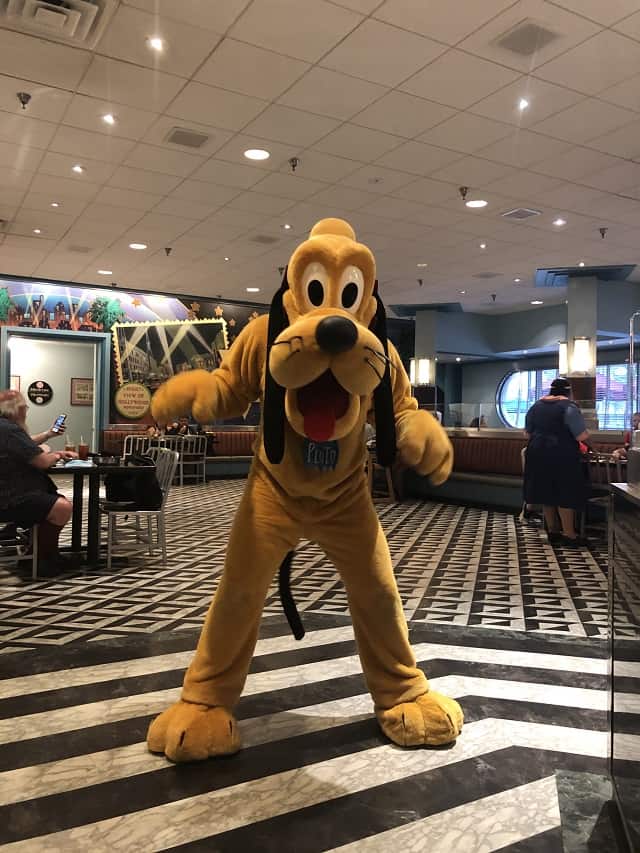 Vampire Mickey was also another great outfit as he really worked his cape and twirled around the open space while visiting families.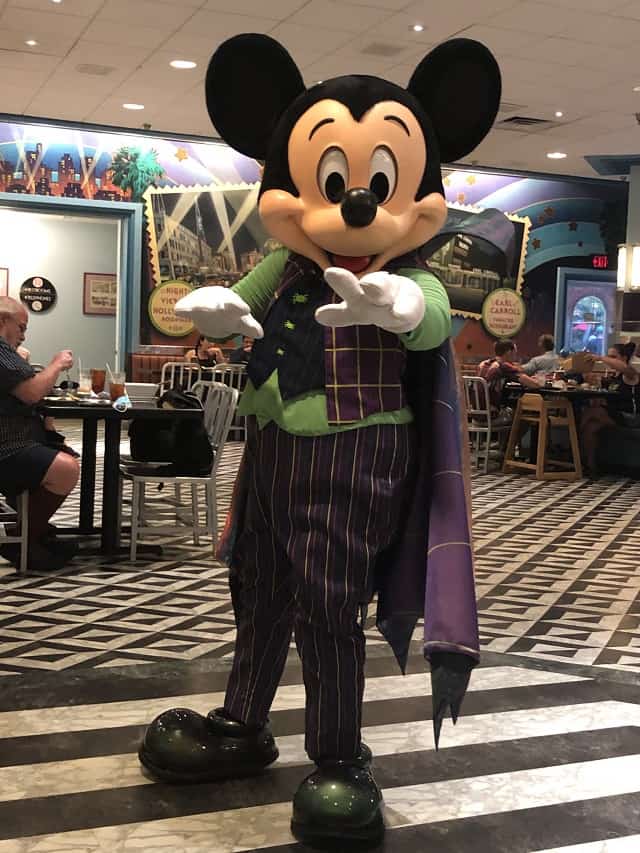 After all the characters have presented themselves, they disperse in different parts of the restaurant and over the loud speaker the narrator asks the guests to repeat a short Halloween poem.
Music then begins to play and the characters begin to dance around the area where they are positioned in.
You can view the video here:
Overall Thoughts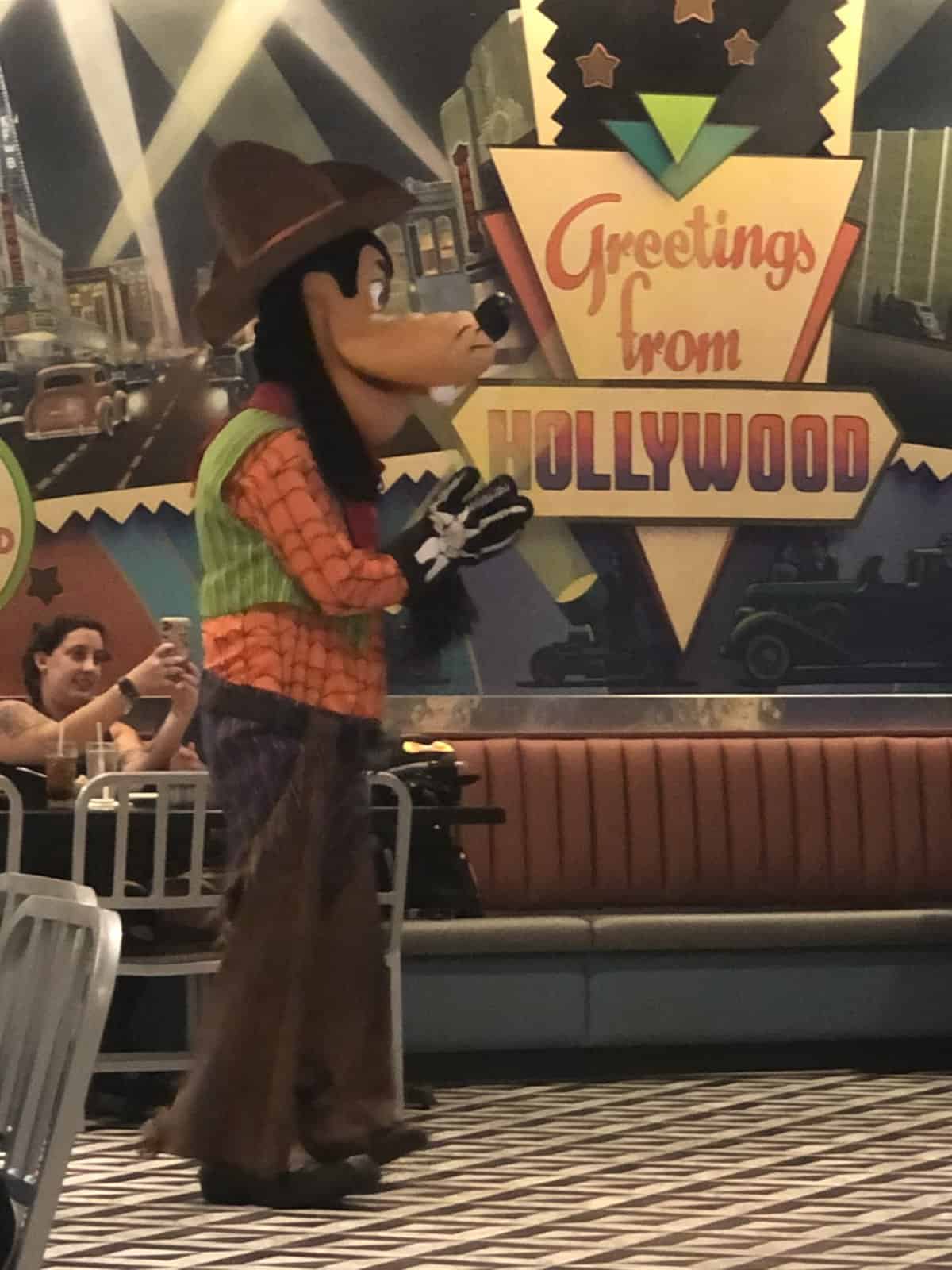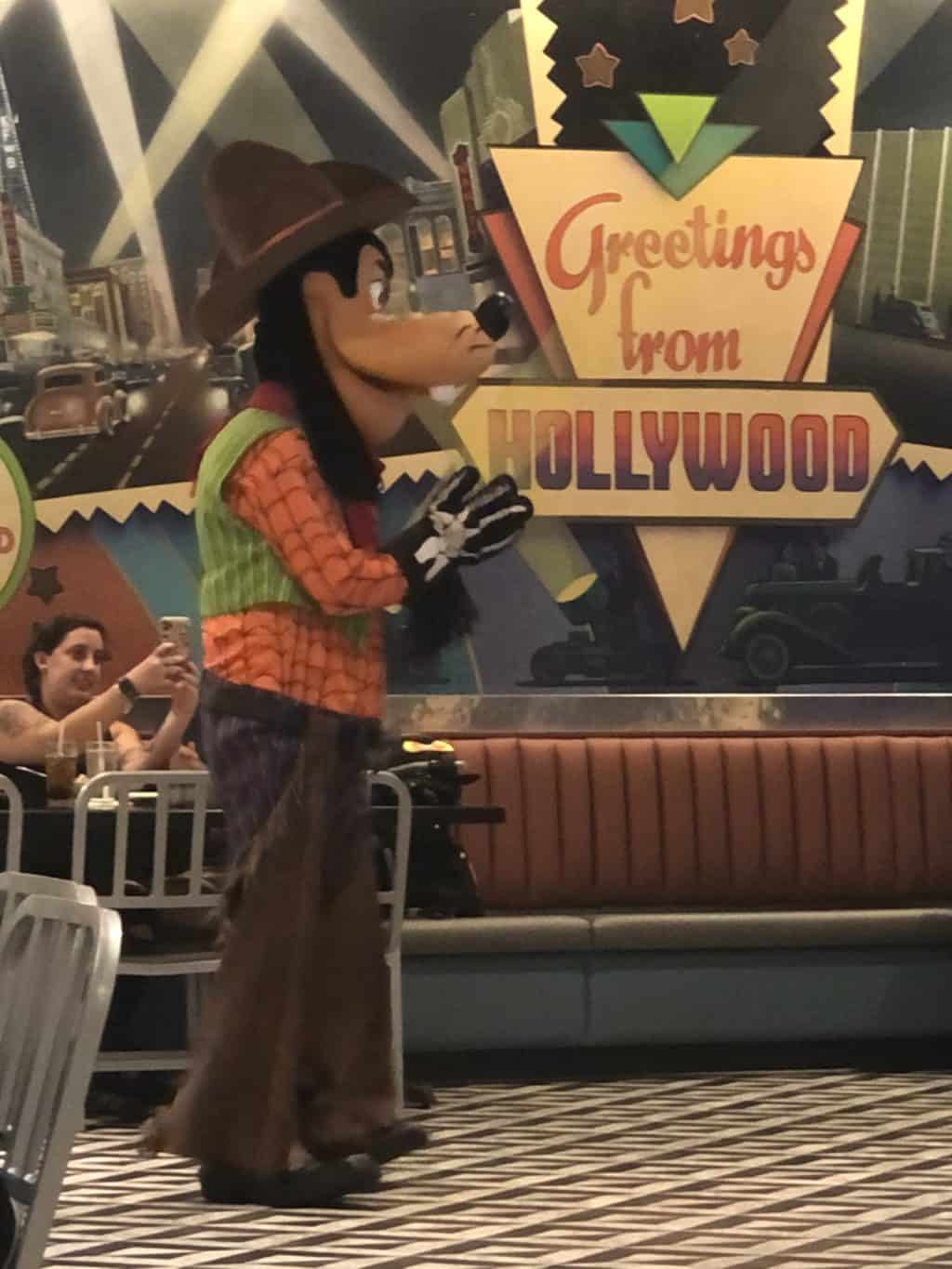 I am really happy that we were able to visit this wonderful character dining experience.
It was the cherry on top for our first trip back to Walt Disney World since our last trip before the pandemic.
Our total for the meal came to a total of $137.00 before tip. This was for both of our meals and for two alcoholic beverages.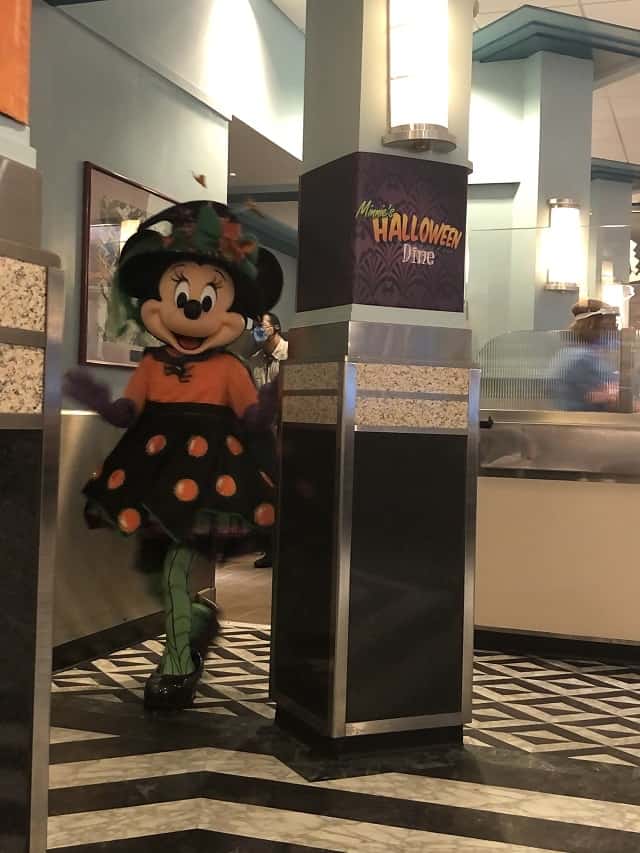 I won't lie when I say that it is nicer to pay for two people rather than if we had our two children with us!
Would we eat here again? Oh yes!
I already informed my husband of the Minnie Seasonal Dining during the Christmas season and I'm planning to make a reservation this time, as the kids will be joining us!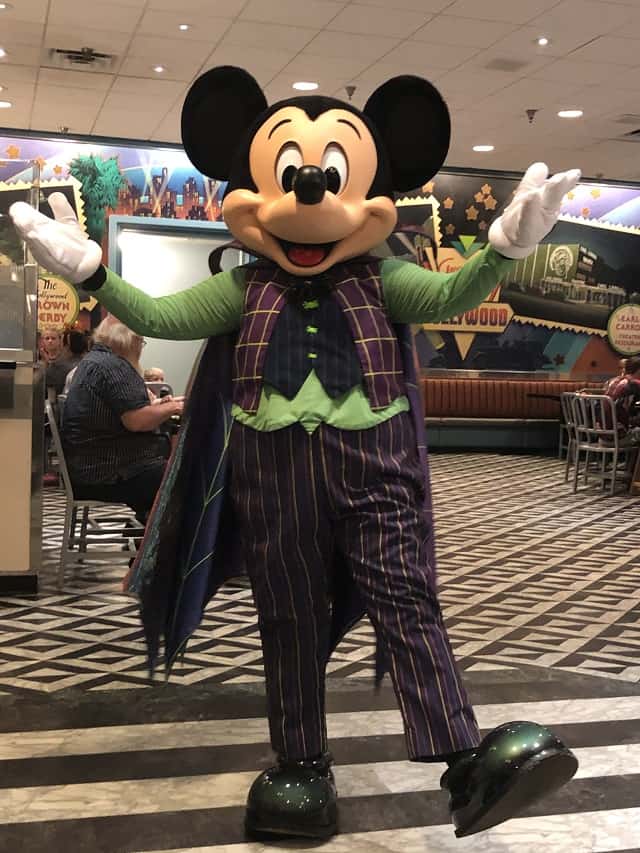 What a wonderful way to begin the Halloween season! It definitely put us in a ghost-astical mood!
Guests Ages 3-9 $36.00 and Guests Ages 10 and Over $55.00.
Will you be dining at Hollywood and Vine during the Halloween Season? Let us know in the comments on Facebook and in our Facebook group.
-Marisol White