Breakfast at Topolino's Terrace inside Disney's Riviera Resort is one of the few character meals available at Disney World right now. Read all about our modified dining experience along with photos and tips to help you decide whether Topolino's Terrace is something you would like to try on a future visit.
We grabbed a Topolino's Terrace breakfast reservation as soon as they became available. Hearing how nice both the Riviera Resort and the Topolino's Terrace breakfast were, we couldn't wait to try it!
Topolino's Terrace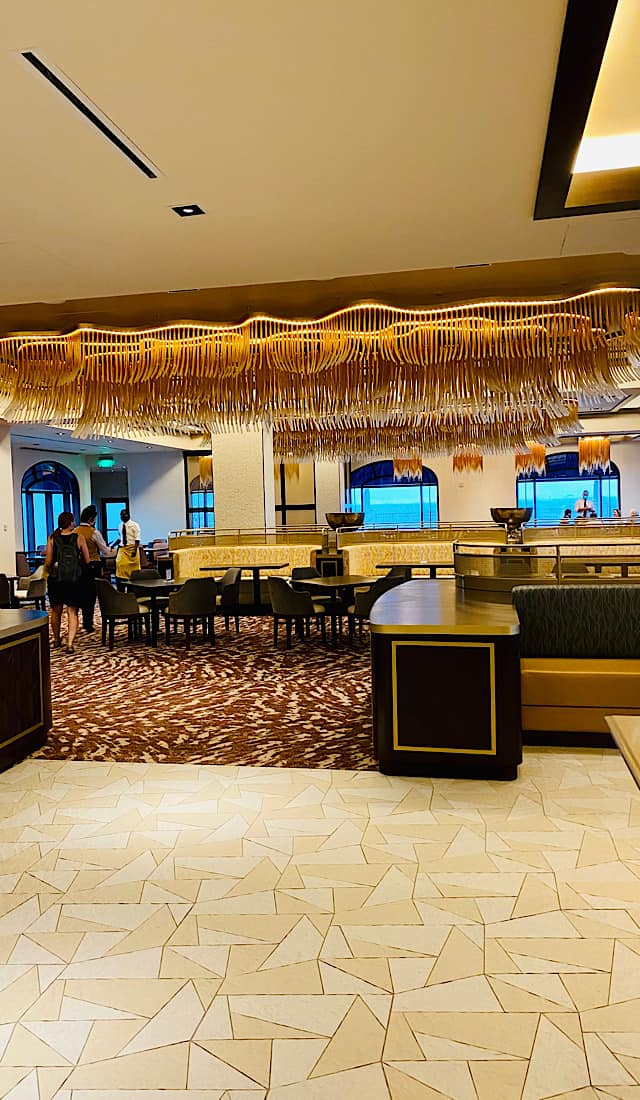 Topolino's Terrace is at Disney's newest resort, Riviera Resort, which had its grand opening in December 2019. Check out the the complete Resort Guide here.
Topolino is the Italian name for Mickey Mouse which makes it the perfect name for this charming restaurant. Check out our Topolino's dinner review here.
Topolino's Terrace offers breakfast and dinner, but characters are available only at breakfast. Also, it's a gorgeous rooftop restaurant that gives guests breathtaking views of the Rivera Resort.
For more information on the Riviera before restrictions were in place, read a fellow writer's article here.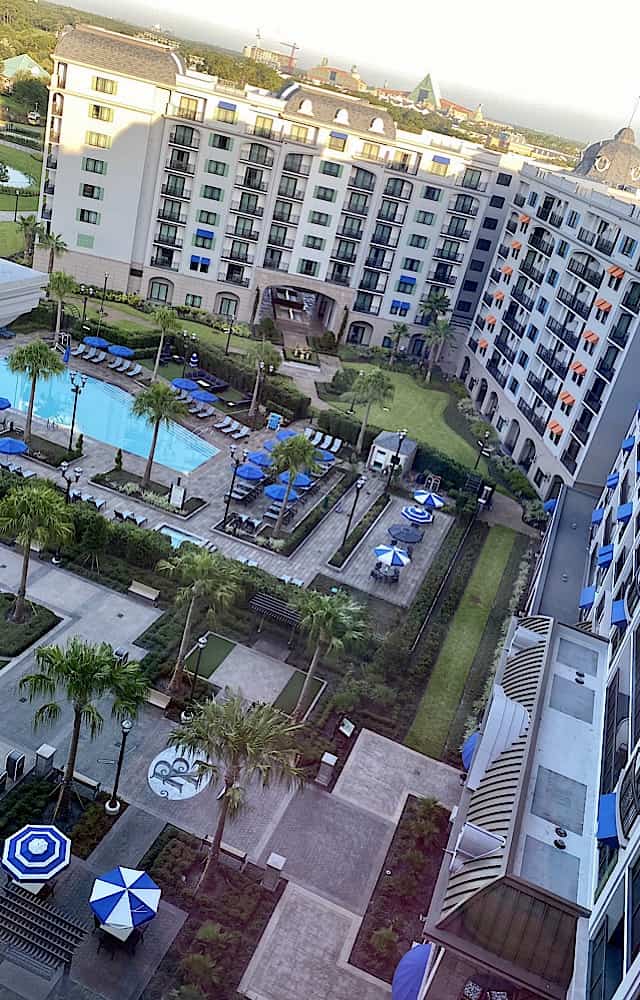 Please remember, advance reservations are strongly recommended. As soon as your window opens for dining reservations, Topolino's Terrace should be at the top of your list. Even with the modified character experiences, this meal continues to be in high demand.
With tables only partially used to promote social distancing, there are also less tables available than before. As a result, they utilize about 50% of the tables.
Transportation To and From Disney's Riviera Resort
Although we were staying at a Disney resort, Disney does not provide resort-to-resort transportation. During opening week of Disney World, we were fortunate enough to dine at Topolino's Terrace twice.
Both trips we used an Uber from our resort to the Riviera. On the first trip, the security guard just asked if we were checking in or dining. When we stated we were dining, he waved us in.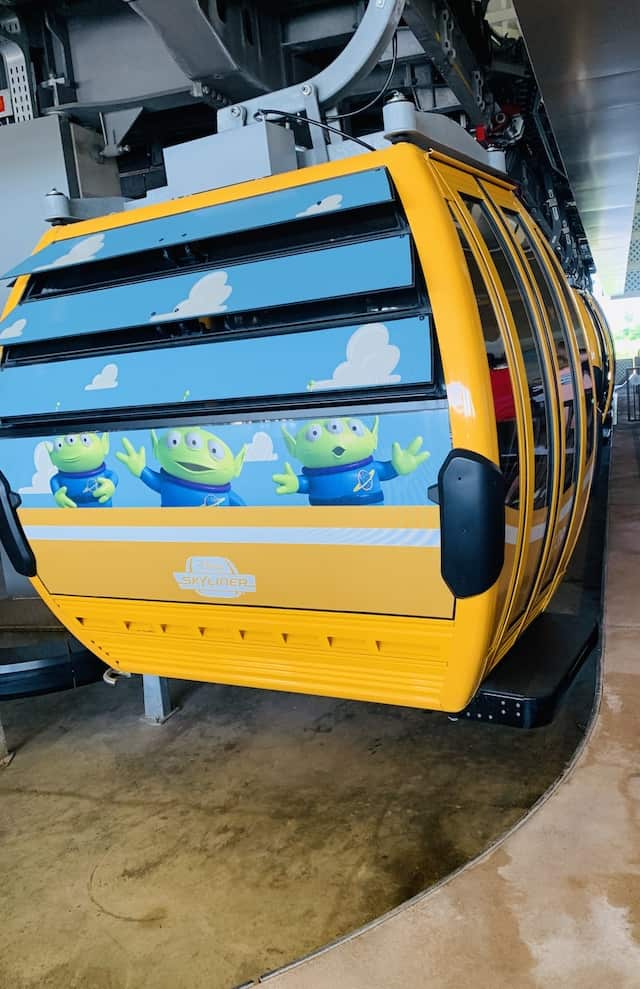 On our second visit we were required to give our name on the dining reservation, and the security guard checked our name off. Part of our group arrived by car and had to call me to verify they were with us. In the future, when arriving in multiple groups, I suggest leaving names of those coming at the security station.
The second breakfast was opening day for Hollywood Studios and EPCOT so we were able to ride the Skyliner from the Riviera to Hollywood Studios. This may have been why they were extra strict at the security checkpoint.
Check-In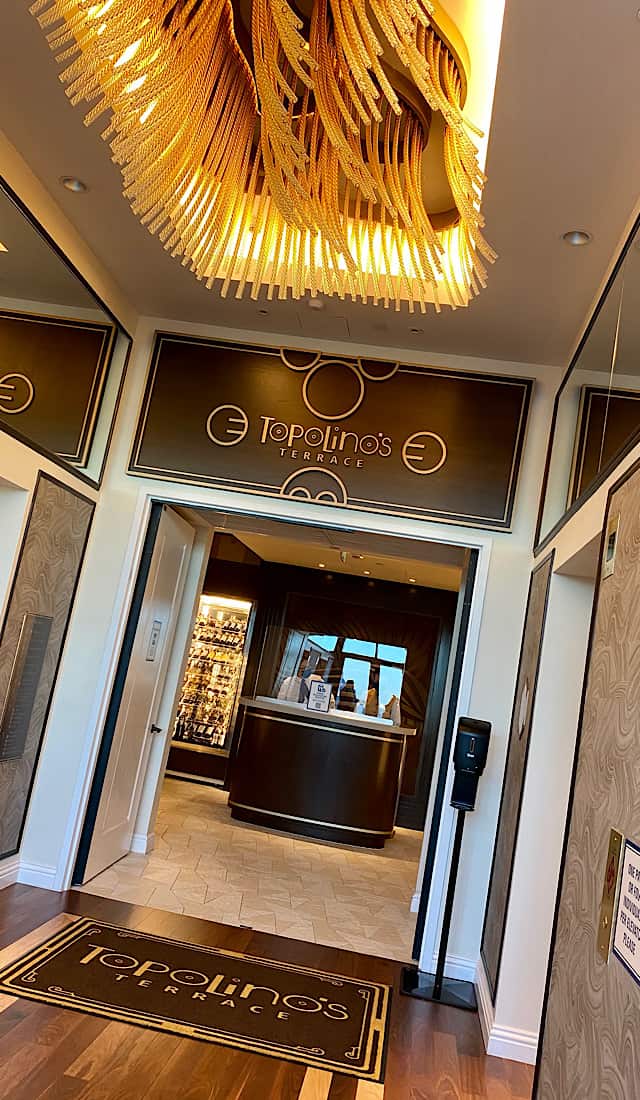 As with other Disney restaurants, Topolino's used a QR code for check-in at arrival. However, the system was inconsistent and worked about half the time when we attempted to use it. Disney restaurants ask that your entire party arrive before checking in. There's also an option to check in on MDE.
Pirate tip: At Check-in, request an aisle table for best access to characters coming by!
With social distancing, our group had a difficult time finding reservations for parties greater than 6 people. Since we had 8 guests, we booked 2 parties of 4. They seated us close to one another, but there was a table blocked off between us. As a result, it was difficult to interact with one another.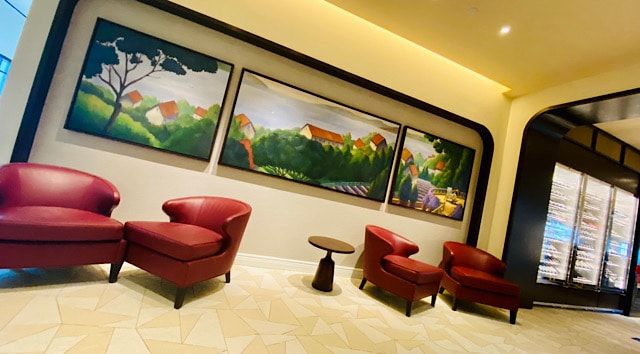 Cost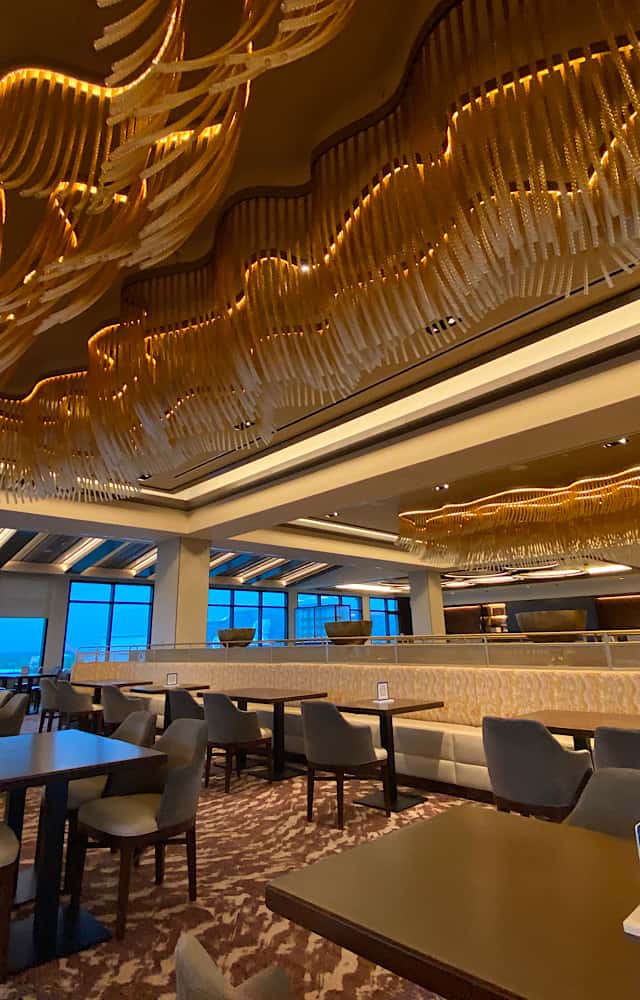 With the modified menu, meals cost $42 per adult. Children's (age 3-9) entrees cost $27 per child. The dining plan has currently been suspended, so budget accordingly for this meal.
These adorable plush characters that match their Topolino's outfits are available for sale exclusively at the Riviera Resort. We were able to purchase them at the restaurant on the way out which was extremely convenient.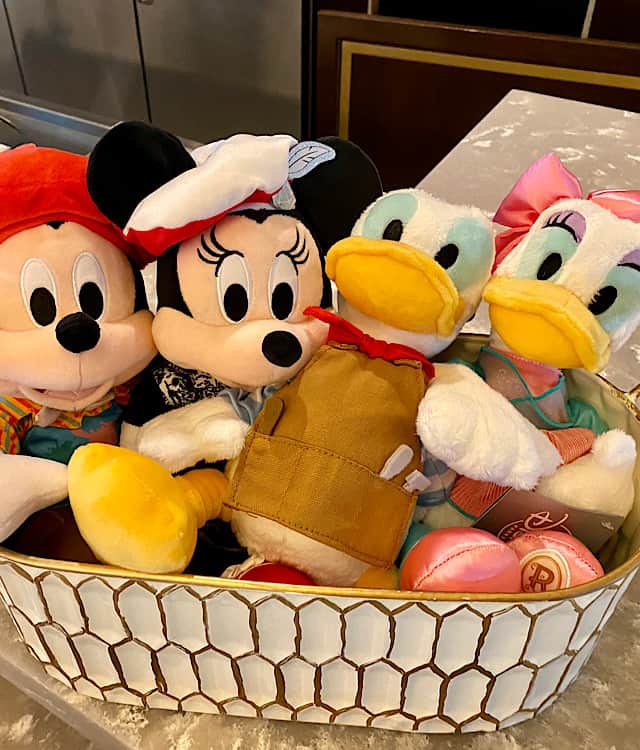 Non-alcoholic non-specialty beverages are included. We enjoyed a delicious pot of coffee at our table.
The following breakfast cocktails without alcohol are available for an additional cost: Pomegranate Dip Cooler, Double Espresso, Macchiato, Caffè Latte, Cappuccino, and Cafè Mocha.
Topolino's also offers a Riviera Resort Blend French Press for one ($6) or two ($9). I recommend trying the complimentary coffee before purchasing the French Press. It was so delicious and is served with heavy cream.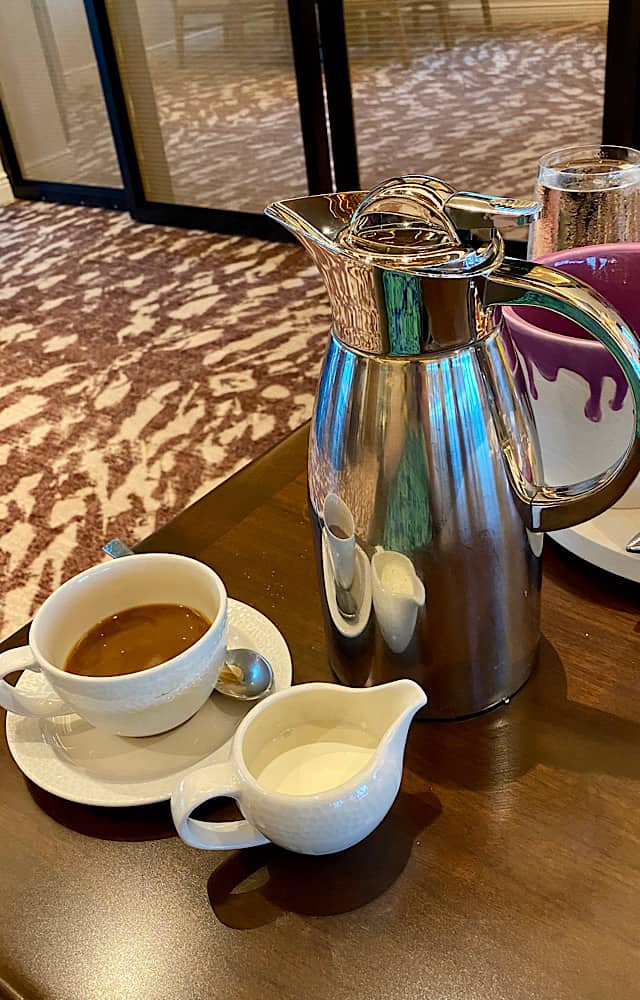 Atmosphere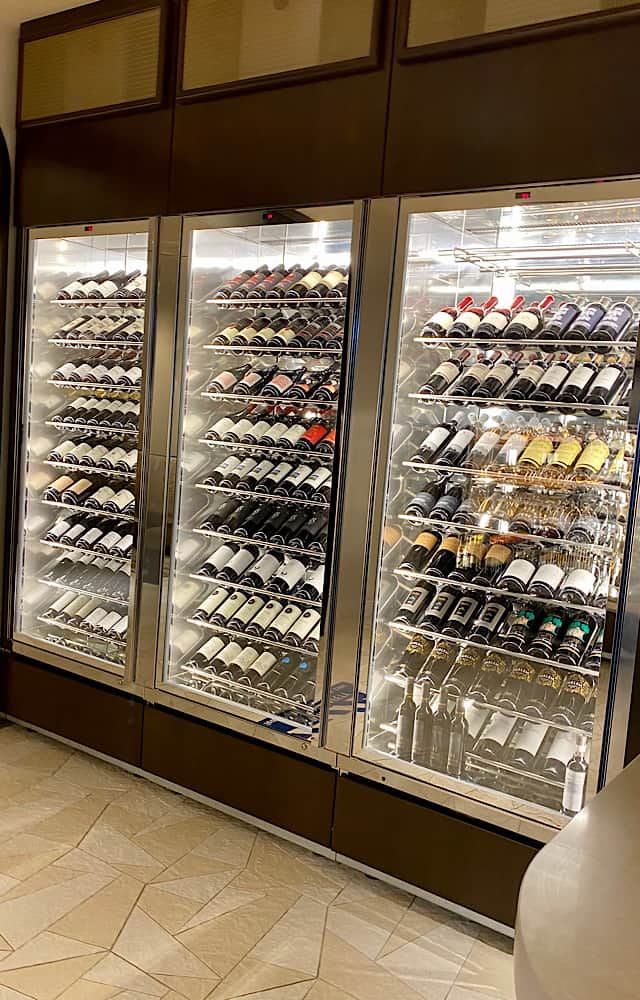 At the check-in area, colorful display cases filled with wine on one side and oils, pasta, and other Italian cooking items are for sale.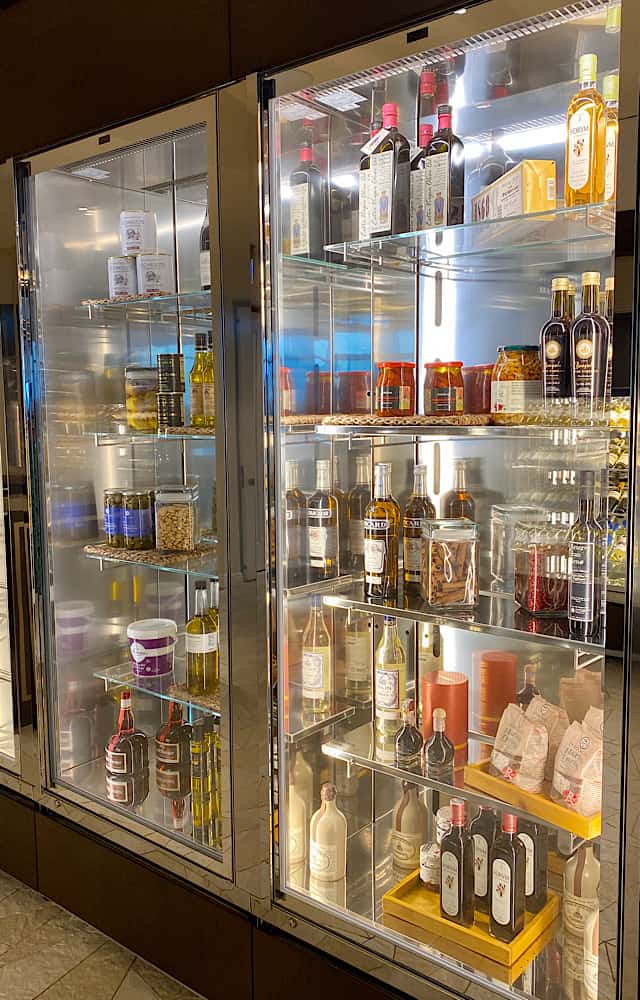 In addition to the amazing views, the Topolino's Terrace dining room has an upscale European vibe. Check out the photos of the amazing light fixtures! Even though the details were high-end, it also felt cozy and inviting.
Service was top-notch on both visits! We were asked several times if there's anything else we needed. Also, our server provided excellent entrée suggestions.
Food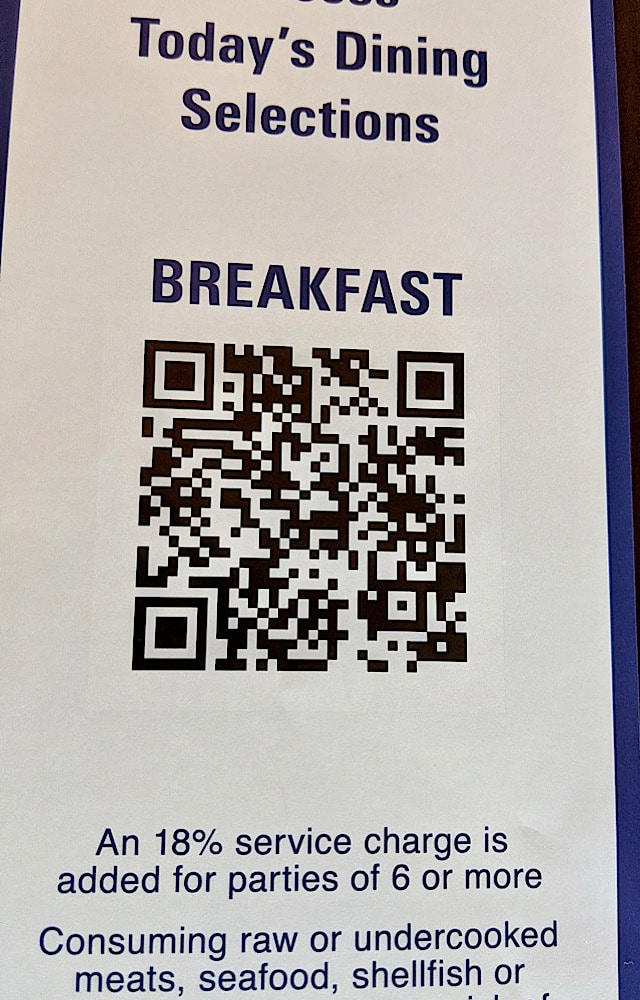 Access to menus using QR codes was provided at each table. These QR codes can also be accessed using your phone's camera, and link directly to menus on disneyworld.com.
First, our servers brought us a painter's bucket of scrumptious pastries! These were far superior to the standard Disney pastries! The presentation was adorable, and they were served with freshly made strawberry puree and soft butter.
My favorite was the maple filled pastry. Also, the croissants were amazing, very flaky and soft. The tiny chocolate-chip muffins were also tasty.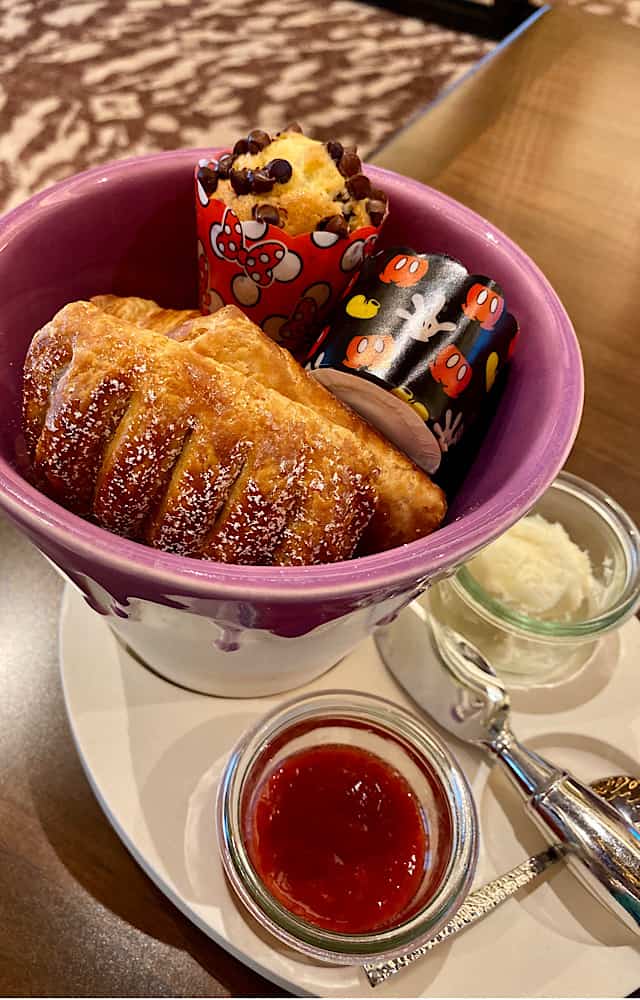 Recently, we reported that Topolino's Terrace offers a limited menu and some prices have changed.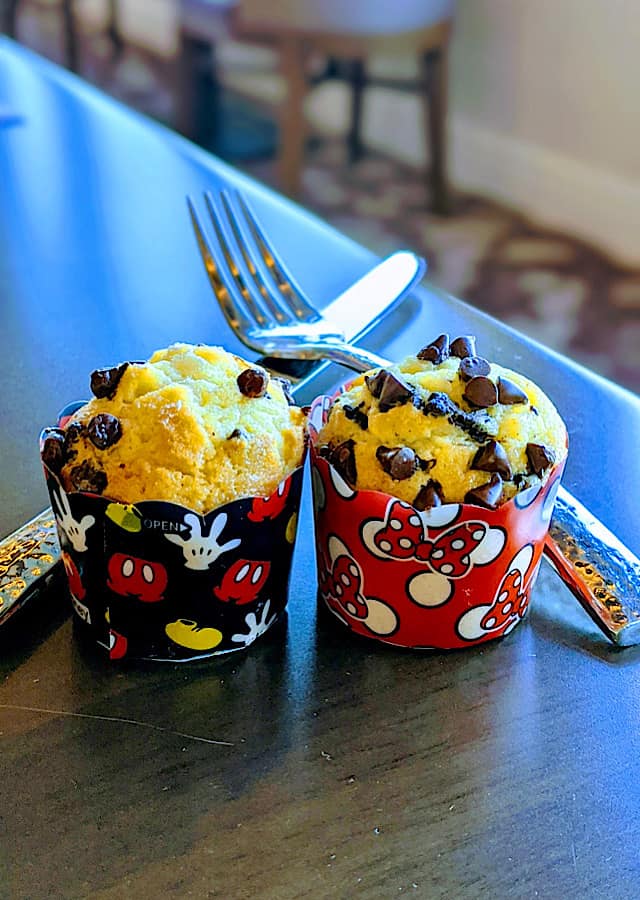 Quiche Gruyere – House-made Pancetta, Roasted Potatoes, Field Greens, Lemon Vinaigrette
I added a side of bacon to the dish, and wasn't charged extra for it. The quiche was fluffy and very flavorful. Then, the salad had a light dressing that complemented the the dish nicely.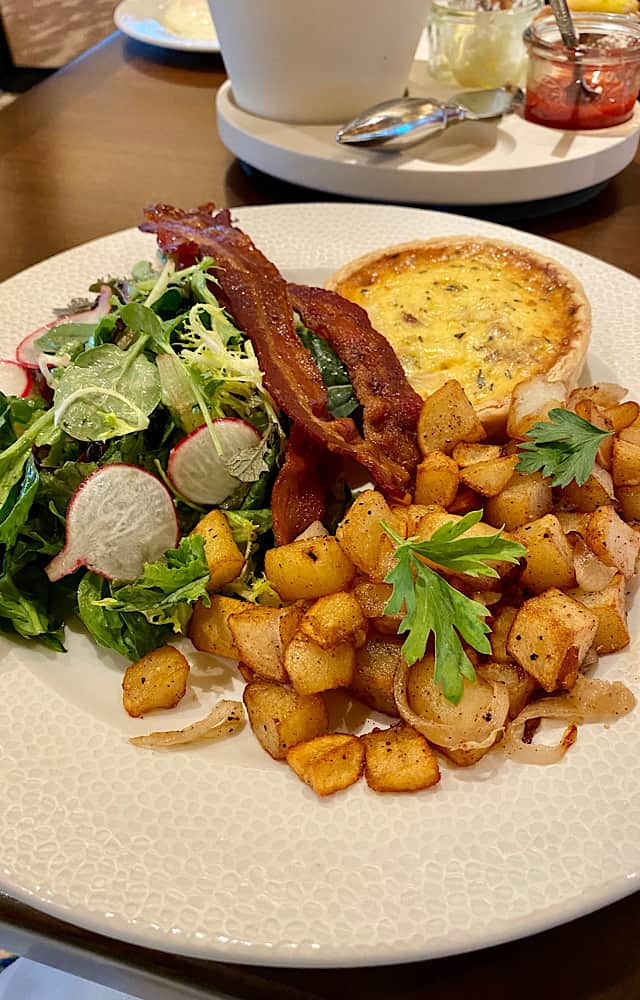 Wild Mushroom Scramble – Spinach, Plant-based Eggs, Plant-based Sausage, Tomatoes
Smoked Salmon – Everything Bagel, Tomato, Red Onion, Cream Cheese, Capers
Two Eggs-Any Style – Roasted Potatoes served with choice of Smoked Bacon, Ham, Sausage, or Plant-based Sausage
This is the safest dish for those that prefer a more traditional breakfast.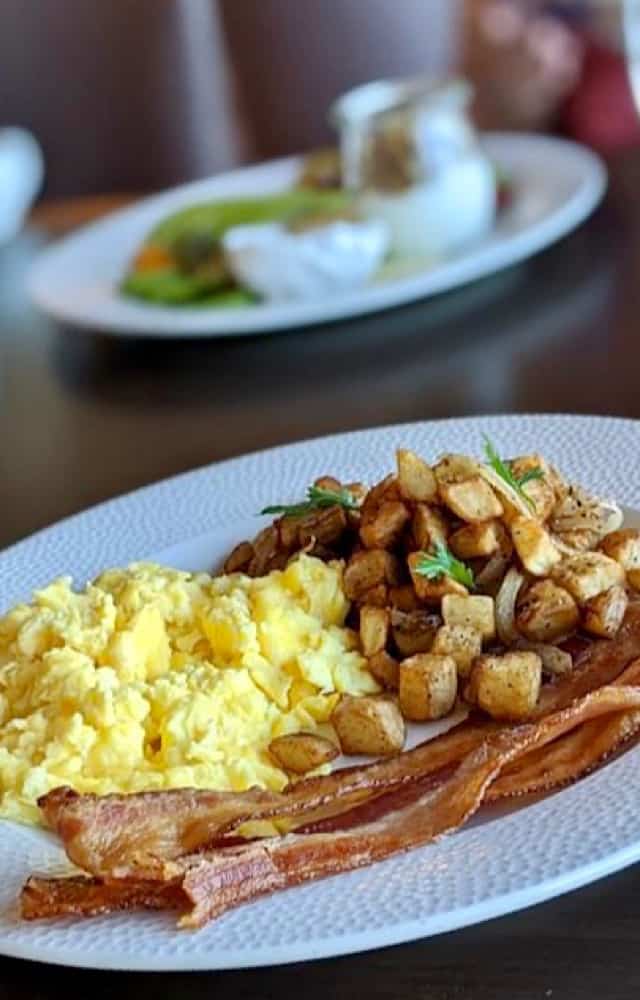 Sour Cream Waffle – Roasted Apple, Chantilly, Orange-Maple Syrup, and served with choice of Smoked Bacon, Ham, Sausage, or Plant-based Sausage
I'm not usually a huge waffle fan, but these were absolutely amazing! The waffles were bursting with so much flavor I didn't even use syrup. The whipped cream was made fresh!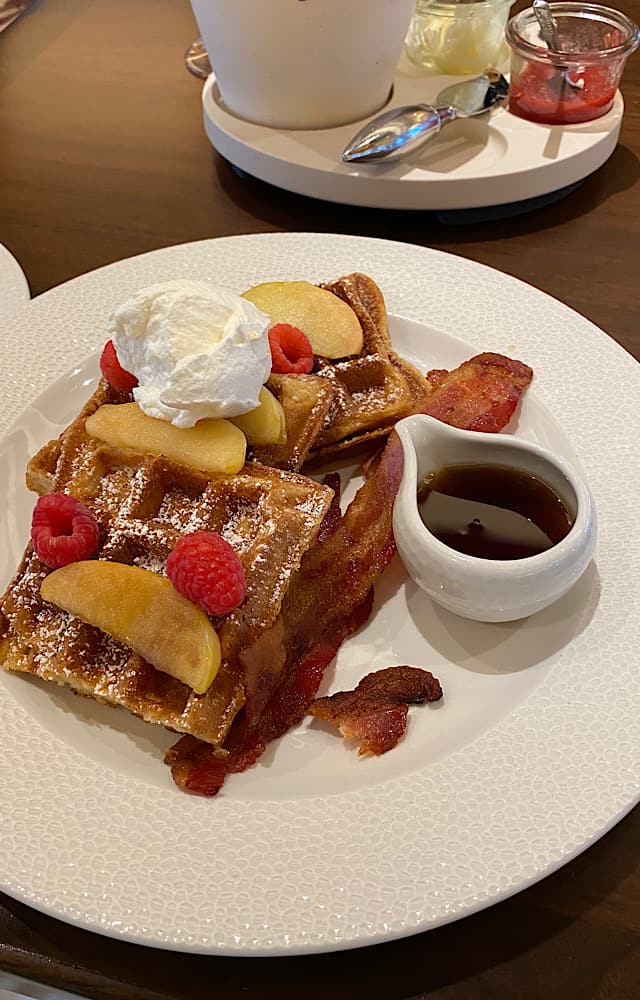 Fruit Plate – Seasonal Fruits, Honey Yogurt, Seed Granola, Toasted Sunflower Butter
The yogurt was vanilla flavored and the topping were fresh, giving the yogurt just the right crunch. The dish presentation was beautiful and we enjoyed nibbling on fresh fruit. It also included peanut butter for dipping.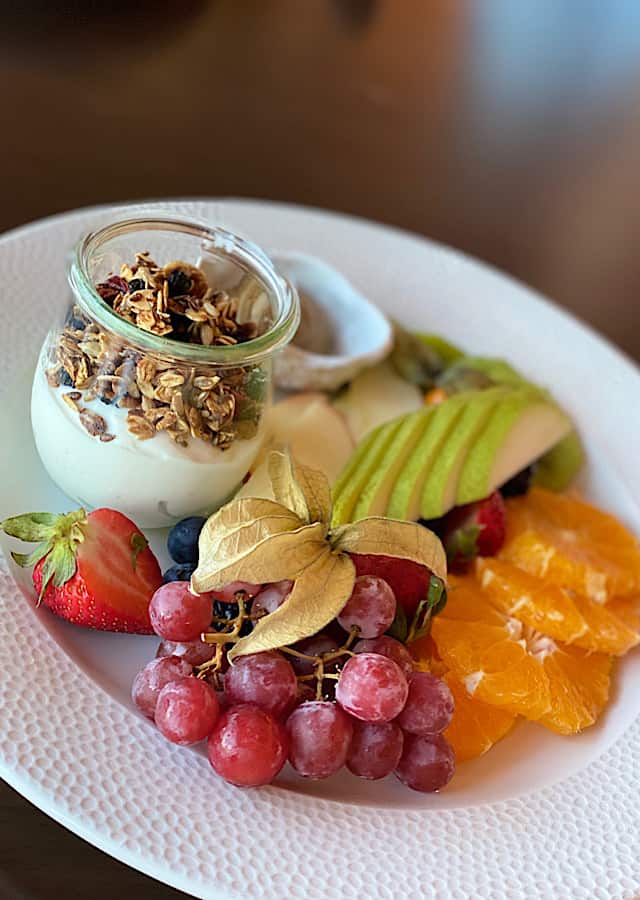 Spiced Sausage Hash – Poached Hen Eggs, English Muffin, Potatoes, Pearl Onions, Choron Sauce, Fines Herbes
Wood-fired Butchers Steak – Polenta, Pomodoraccio Tomatoes, Roasted Onions, Wild Mushroom Conserva, Watercress
Children's Menu
Check out kids breakfast choices below: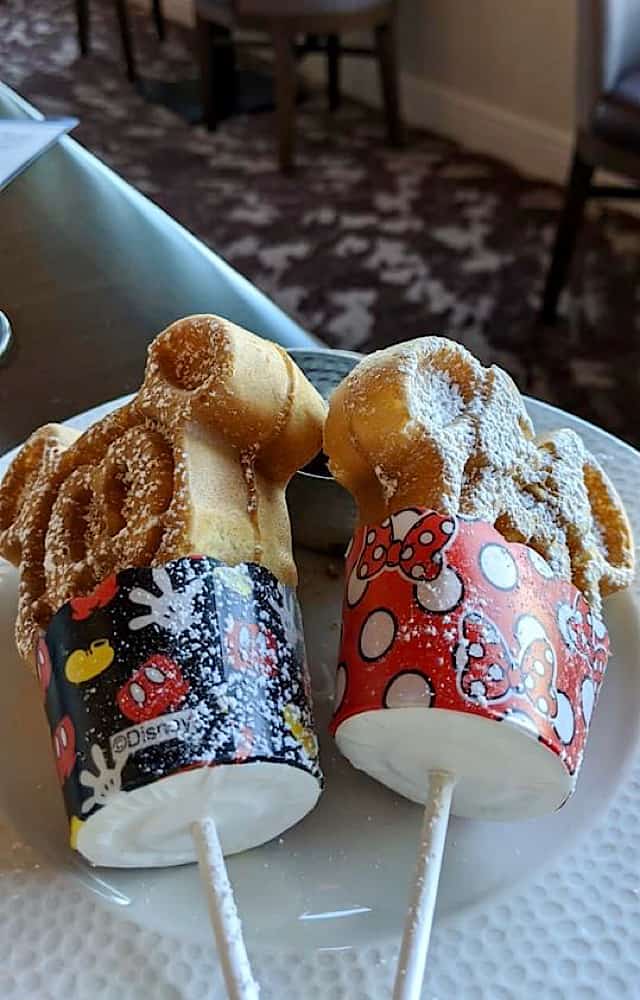 Scrambled Egg
Mickey Waffle Dippers
Fruit and Yogurt
Choose 2 options: roasted potatoes, fruit cup, sausage, and bacon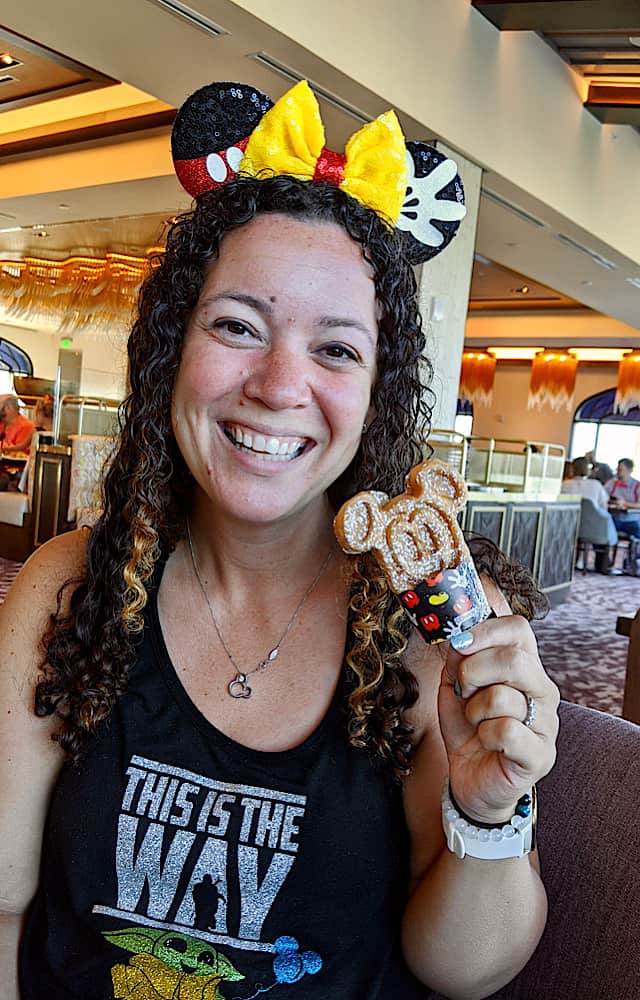 This is the first time we've seen Minnie waffles! Jamie, a fellow KtP writer, was so excited to have her Mickey waffle "fix"!
Although the menu is limited, servers welcomed changes to breakfast items. Additionally, we were encouraged to try different dishes. On our first visit, I added the side of bacon to the quiche. Monica, a fellow writer, added a side of eggs to her sour cream waffles.
During our second visit, I ordered the waffles and the fruit plate. Jamie received the kids Minnie and Mickey mini-waffle in addition to her main dish. The servers were the most accommodating anywhere at Disney! There is no upcharge for changing or ordering extra items!
Characters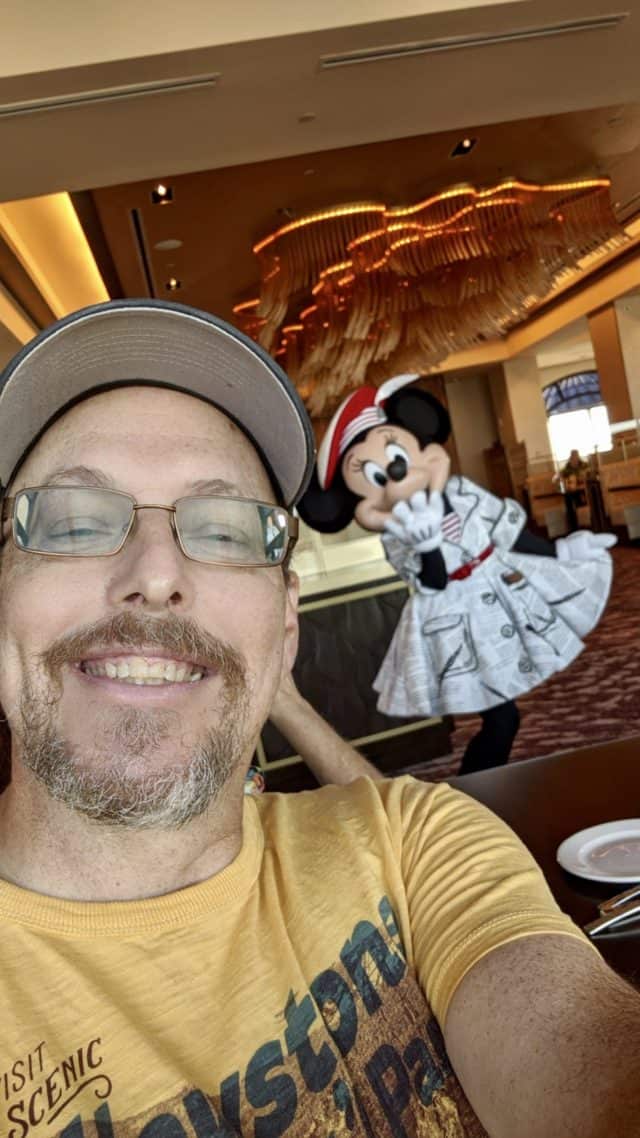 Guests can have a character dining experience with Mickey Mouse, Minnie Mouse, Donald Duck and Daisy Duck. They're all dressed in adorable artsy outfits that are exclusively at Topolino's Terrace breakfast.
Our first character that came to visit was Minnie. Minnie is dressed from head to toe in her writer ensemble. She moved quickly so having an aisle seat was so helpful. The attention to detail was so awesome! She has a little journal in her pocket, and quill and ink in her hat.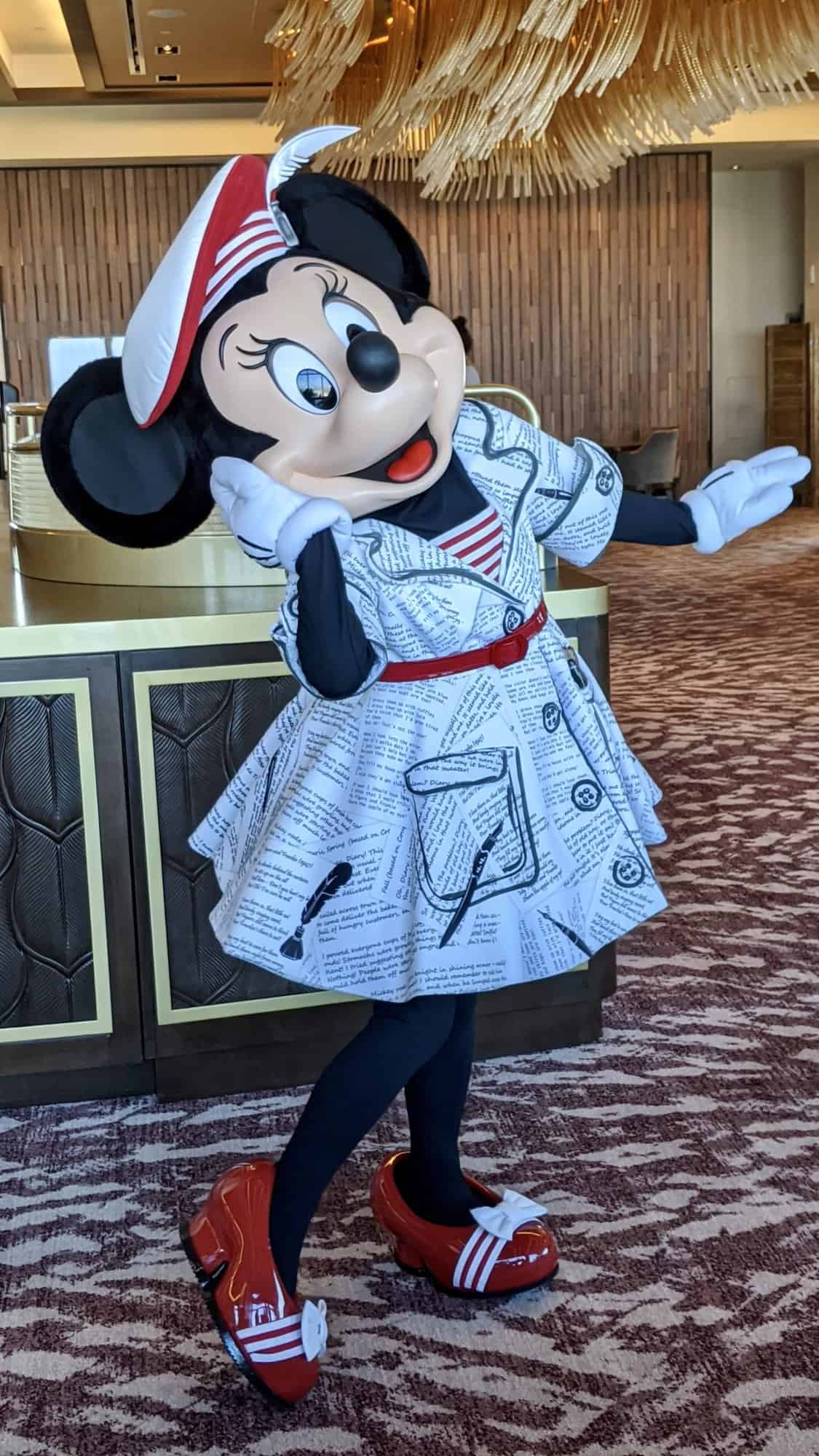 Soon Daisy came dancing by in her ballerina outfit. She loves to blow kisses and pose for the camera! She also shook her cute little tail feathers!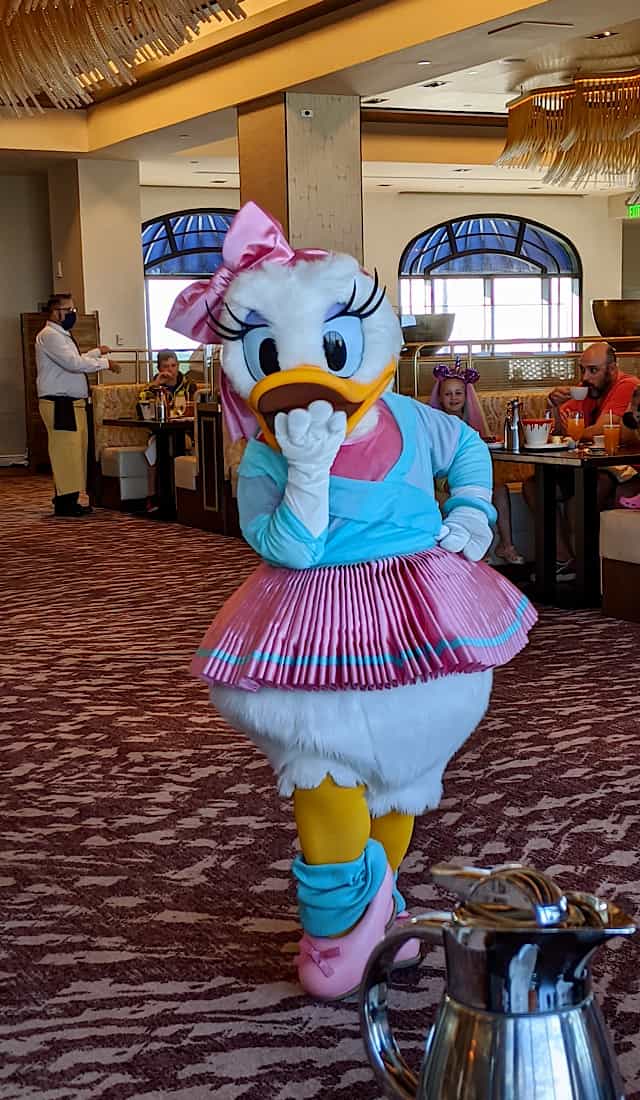 After Daisy, sculptor Donald came waltzing by. I'm not sure how Donald pulled it off, but his feisty personality came out as he mingled with guests.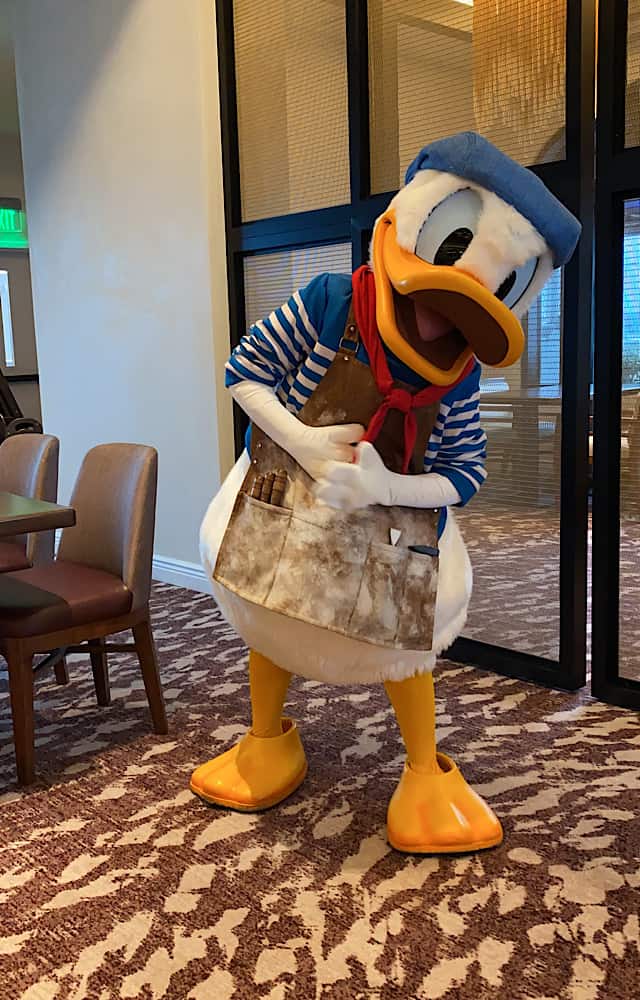 Last, but certainly not least, was Painter Mickey. Each character had their own song and was announced before making their rounds. I'm still humming Mickey's song! Check out his pants! He's been busy painting.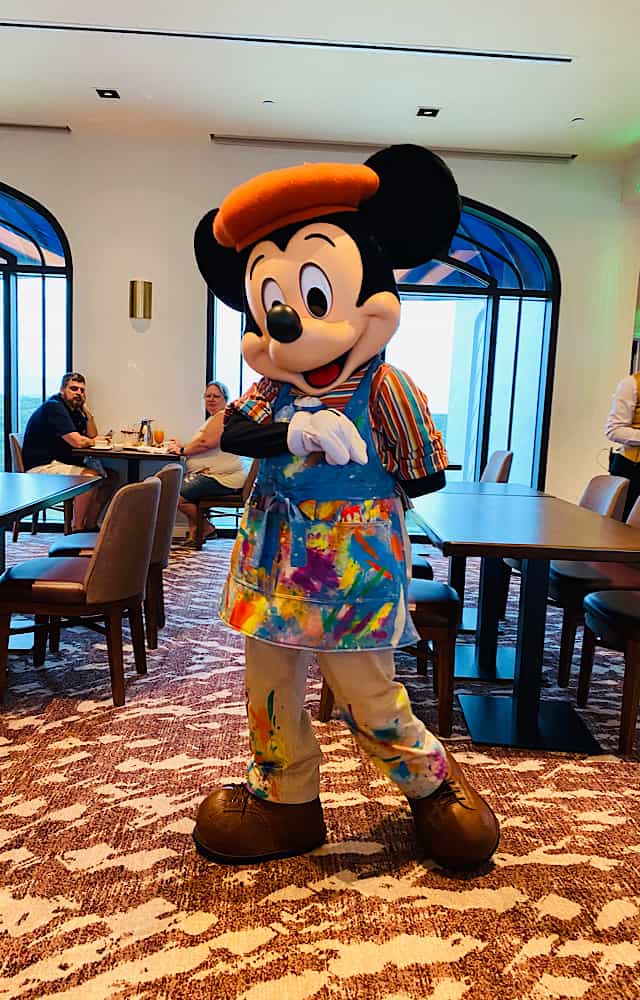 Each character comes by individually at first. Then, characters dance by, and end up in each corner of the dining room. We spent 45 minutes at breakfast, and saw 3 rounds of characters. Also, characters make rounds from each side of the dining area, so we encountered each character 6 times!
Guests remain seated as characters come by. There are no up-close character posed photos, hugs, etc. Disney describes Topolino's Terrace breakfast as a "modified character experience."
Photo Tips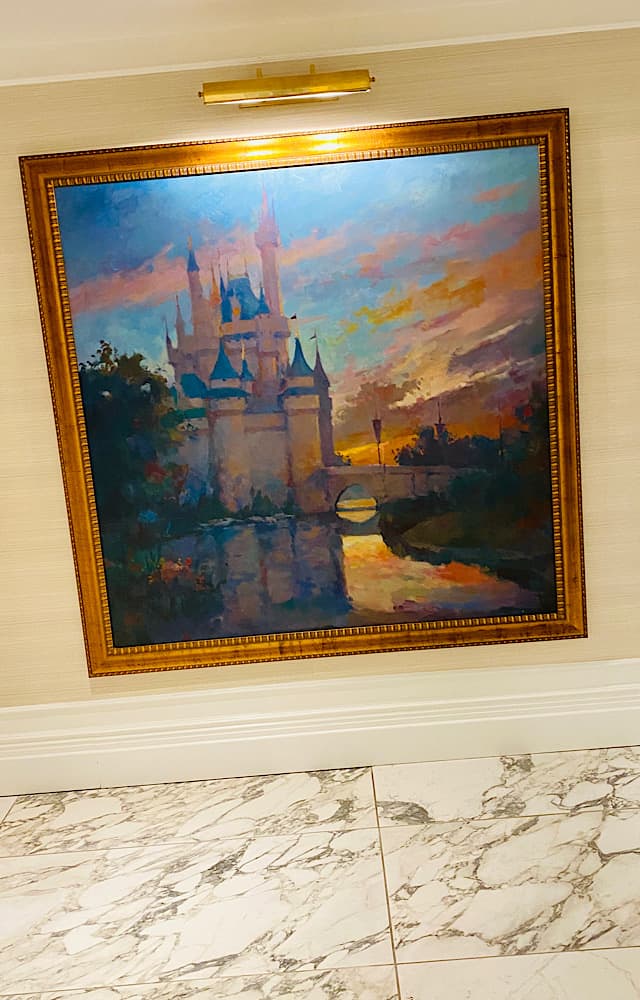 When you arrive at check-in, ask for an aisle table at Topolino's Terrace. Characters only come down the aisles. If you're seated near the windows, you'll be further away for photo opportunities.
Characters come by quickly the first time, then stop and pose more on the next round. Be ready to take character selfies.
Pirate Tip: Corner tables are the best seats in the house! Don't expect it, but ask nicely to be seated at one.
Use the live photo option on your photos to make it easier to capture the best image of moving characters. Also, taking a video of characters on some phones (my iphone works for this) allows you to also take still shots without shutter lag.
Final Thoughts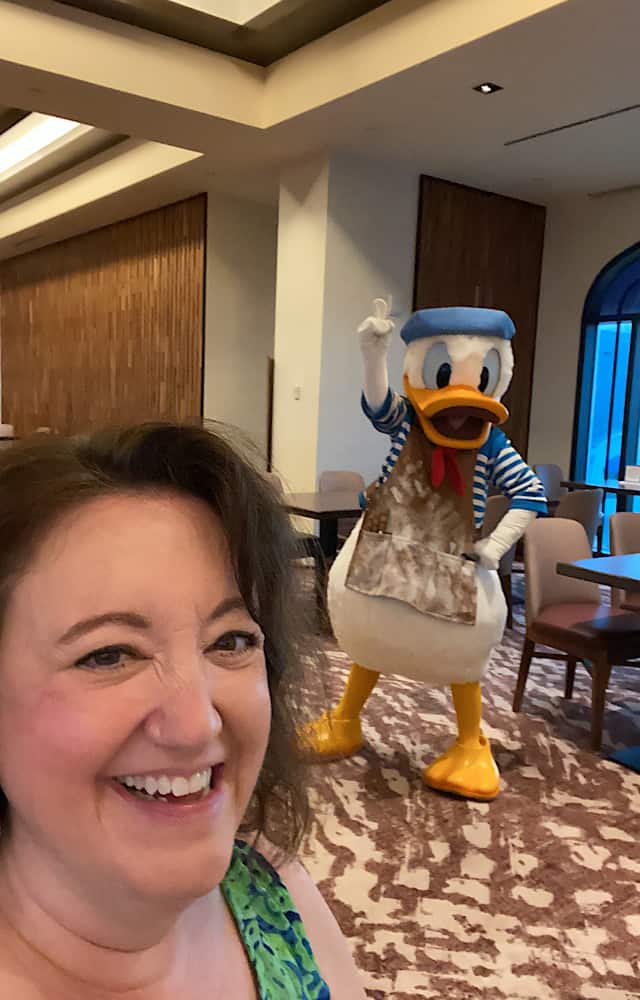 During our second visit, Donald was "running late" so we didn't get to see him. Our server offered to prepare a place for us to wait for him to arrive near the bar. We declined, however, because we were eager to head to opening day at Hollywood Studios!
At the end of the meal, our server presented our checks quickly but emphasized that we were free to stay as long as we wished. He asked again if there's anything else he could get us.
Then, we were given a surprise souvenir autograph card! Check it out below…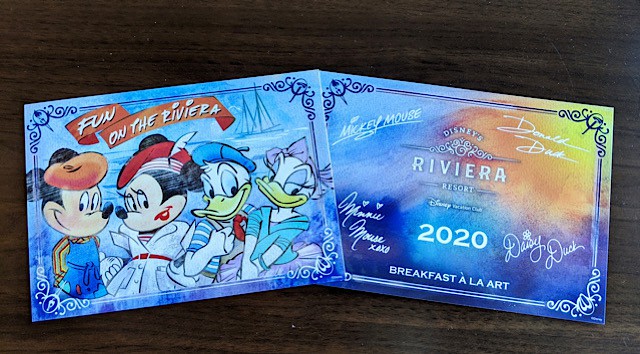 Everyone in our group gave a glowing recommendation to this charming and whimsical character meal. Although you can't meet characters, each one gave such personal attention to guests while making rounds, no one felt like we missed anything!
We compared this meal to the hustle-and-bustle of Chef Mickey's. Each of us prefer this calm, relaxing way to encounter characters as well as superb dishes. If you get the chance, I hope you'll give Topolino's a try. Even with modified characters, this was my hands-down favorite character meal!
Have you dined at Topolino's Terrace for either breakfast or dinner? Is the modified character experience worth the price? Please share your thoughts in the comments below, on Facebook, or in with our crew on Facebook.
Are you planning a vacation? Reach out to our trusted travel agency sponsor Authorized Disney Vacation Planner
Mouse Class Travel
!