Disney's Riviera Resort is a modern masterpiece drawing inspiration from Europe and the Mediterranean. I checked off a major bucket list item when I stayed at this beautiful resort! Learn everything you need to know about Riviera Resort and read my thoughts on the hotel.
Disney's Riviera Resort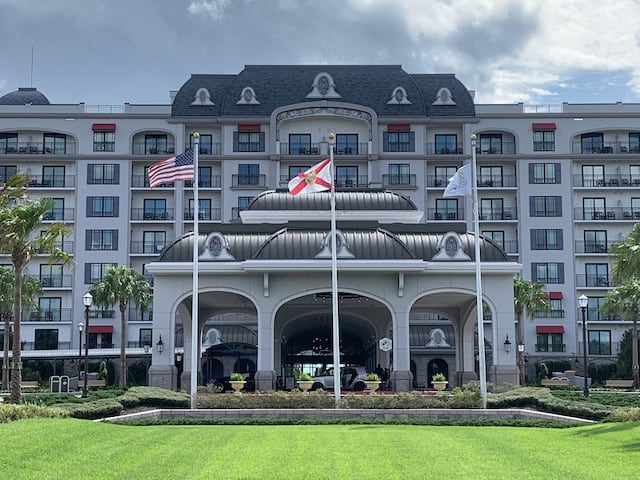 Disney opened Riviera Resort in December of 2019 as the newest deluxe resort and Disney Vacation Club accommodation. When I first saw photos of the resort grounds and rooms, I knew I had to stay there!
The elegance and architectural detail immediately drew me in. The ambiance from the outside fountain areas and gardens as well as the marble details and beautiful chandeliers inside made me feel like I was visiting the actual French Riviera.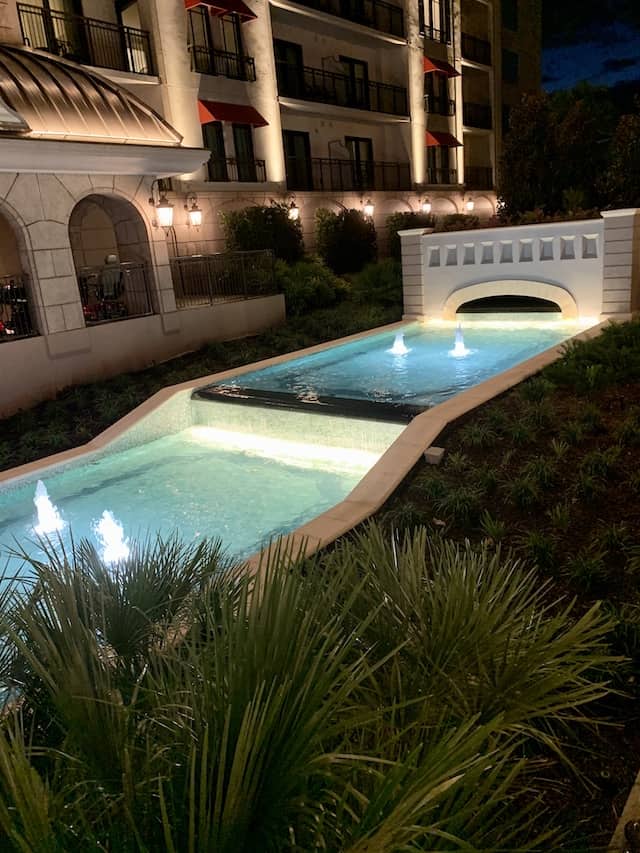 My family of 8 (my husband, 4 children, and parents) stayed in a 2 bedroom villa at Disney's Riviera Resort. I tried to experience as much of the resort as I could to give you an accurate report of the hotel and all its amenities.
Let's dive in!
Getting to Riviera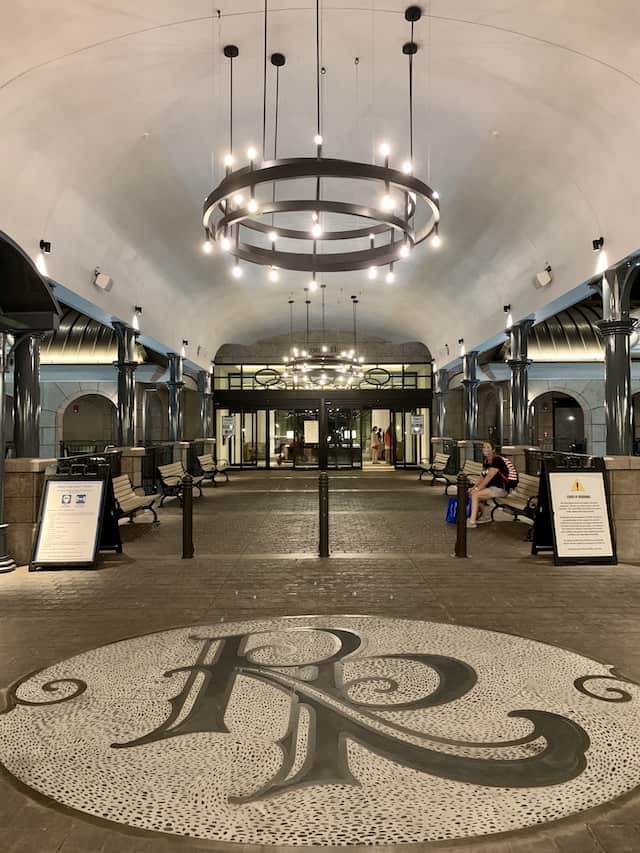 Riviera utilizes bus transportation as well as the fairly new (September 2019) and very convenient Skyliner gondolas.
I used both modes of transportation during our stay, and I much preferred the Skyliner. On our Magic Kingdom day, we waited about 30 minutes for a bus to arrive. We had gotten down to the bus stop before 8 am and figured we would get on one pretty quickly.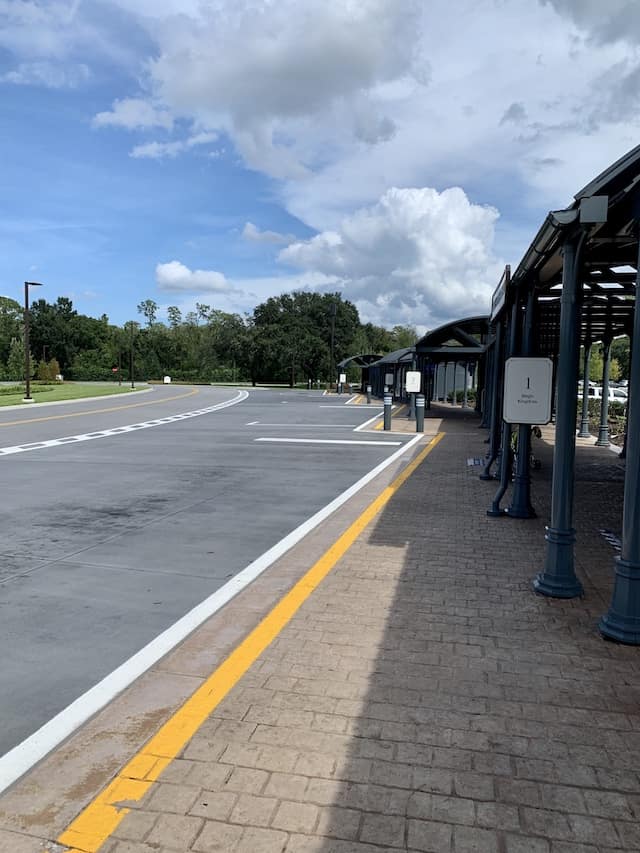 We didn't get on the bus until 8:15 am and by the time we got to Magic Kingdom it had already opened for the day. Getting back to the resort from Magic Kingdom was fine.
On our Animal Kingdom day, we had no problem getting there quickly. We arrived at the bus stop at the same time as our Magic Kingdom day (about 7:45 am) and got to the park by 8:15.
Taking the Skyliner to/from Epcot and Hollywood Studios was a game changer. Not only do the lines at the stations move quickly, but it is such a short trip. The gondolas produce a nice breeze inside when it's moving so it doesn't get too stuffy.
The Skyliner station at Riviera has also the beautiful Peter Pan and Tangled mosaic murals and bubbling fountains. It is a must see!
As far as getting to Hollywood Studios early enough, I do not recommend taking the Skyliner from Riviera.
Instead, follow the walking path to Caribbean Beach Resort and get on the Skyliner there.
It's about a 15 minute walk, and since it's the main hub for the Skyliner you won't have to get off and switch lines. This will put you a step ahead of everyone who comes from other resorts and has to switch lines at Caribbean Beach.
We did exactly this on our Hollywood Studios day. After eating breakfast at Topolino's Terrace (pirate tip: get the 7:30 am reservation so you have plenty of time), we arrived Caribbean Beach at about 8:30 am. We were held for a few minutes but made it to the park by 9:00 am.
They are not letting Guests park in the parking lots until much later, and busses are not running as early. Taking the Skyliner (or walking to the park) is a major perk of staying at a resort near Hollywood Studios.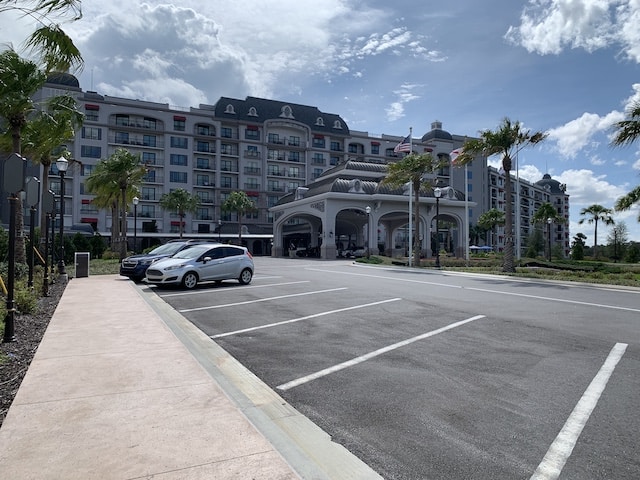 Disney's Magical Express will also pick up and drop off at Riviera. There is also a parking lot past the bus stop if you are taking personal transportation to Disney.
Dining Options at Riviera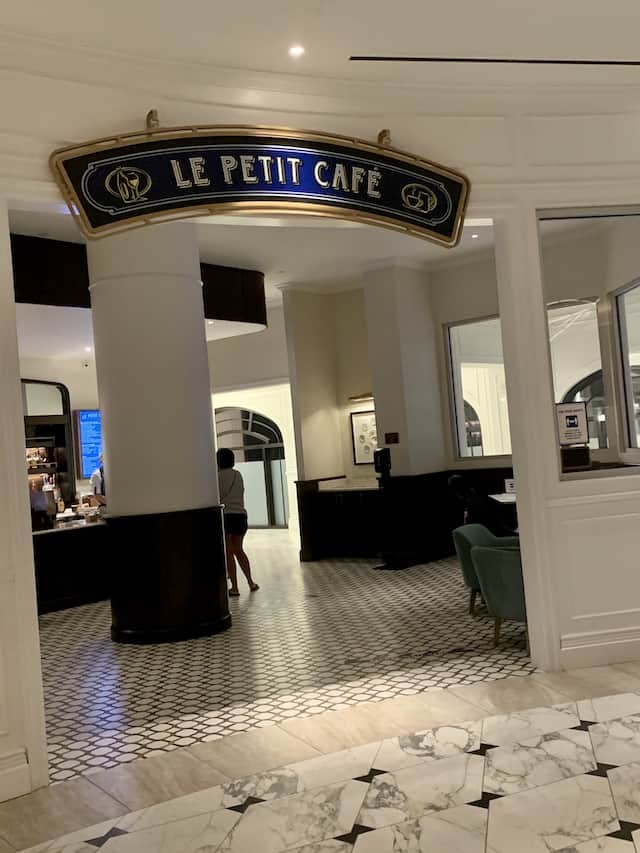 Riviera Resort is home to one table service restaurant (connected to an outdoor lounge), one quick-service restaurant, a bar, and a cafe.
Topolino's Terrace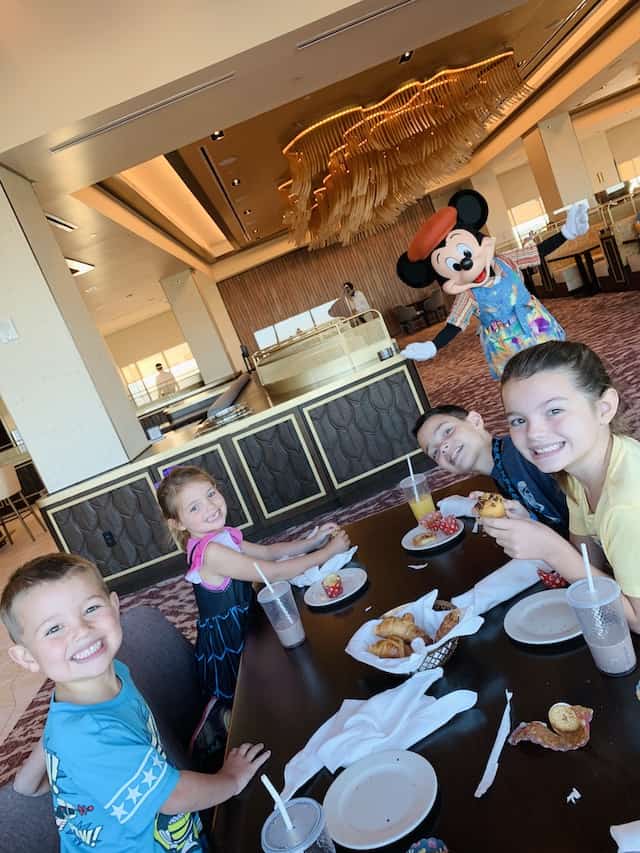 This restaurant has quickly become my favorite in all of Disney World. Not only is breakfast great, but dinner is equally amazing! Characters only meet at breakfast.
Speaking of characters, I love seeing Mickey, Minnie, Donald, and Daisy in these unique outfits! It is currently one of the only character dining experiences in all of Disney.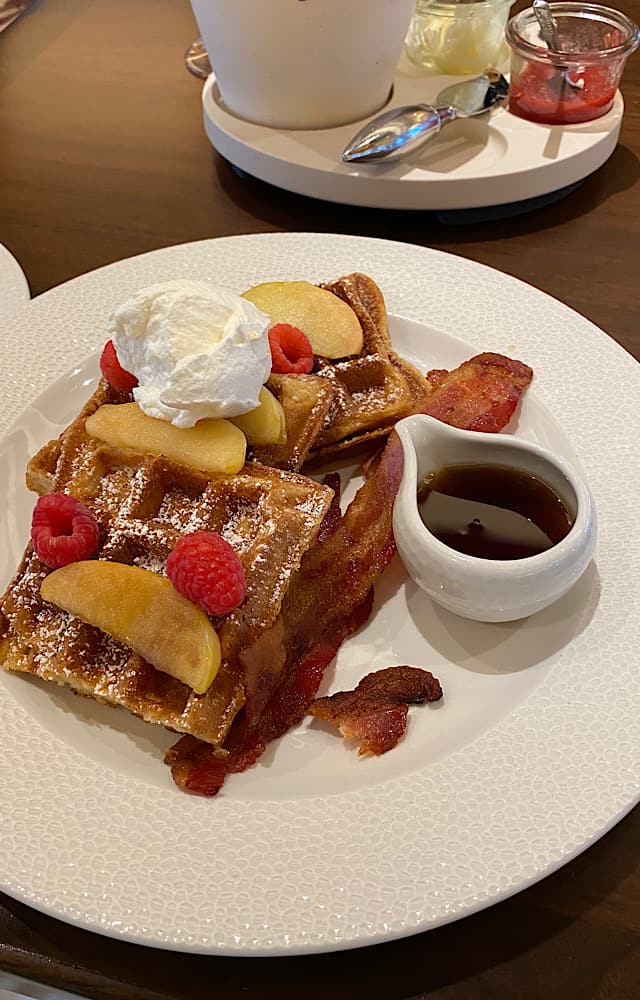 The food is also delicious. The sour cream waffles are so soft, and the homemade whipped topping is so light and fluffy. Our server on this past experience was very accommodating to my children's picky appetites. He brought out fruit and endless chocolate chip muffins!
For full breakfast reviews of Topolino's Terrace head HERE and HERE.
Primo Piatto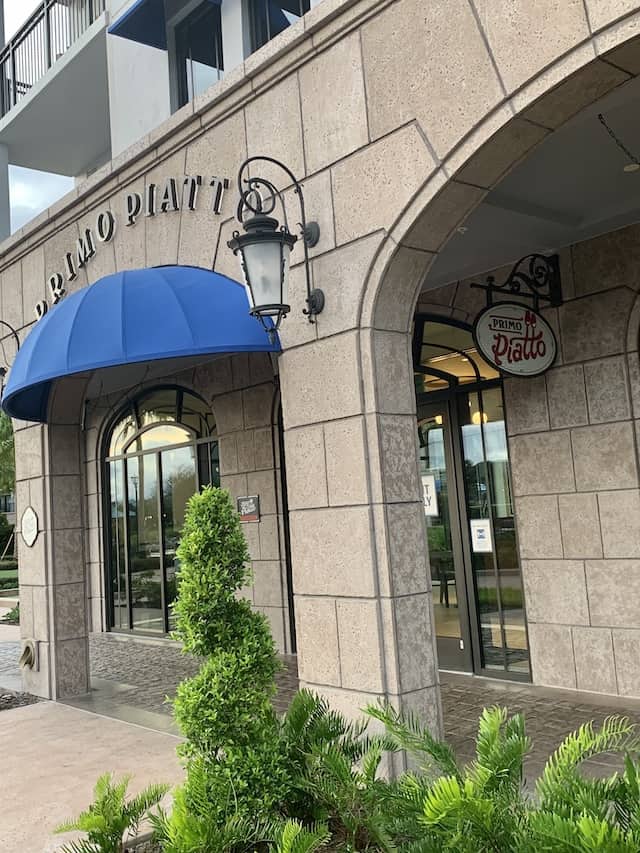 Primo Piatto is the quick-service dining option at Riviera. Currently, there is a modified menu so the offerings are not as abundant as usual. It was convenient for us to mobile order our breakfast and have someone run down to grab the food and bring it back up to the room.
I was very excited to try the lemon blueberry pancakes, and they did not disappoint! This flavor combination is one of my favorites, and they were perfection.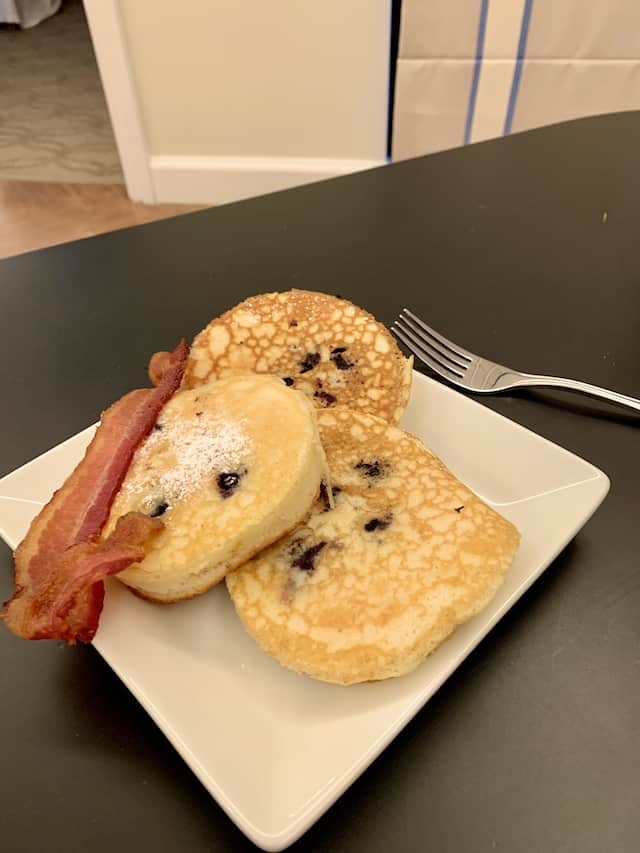 For a look at the menu before the pandemic, read my article HERE. You can also read Rebecca's review of Primo Piatto HERE.
Bar Riva and La Petit Cafe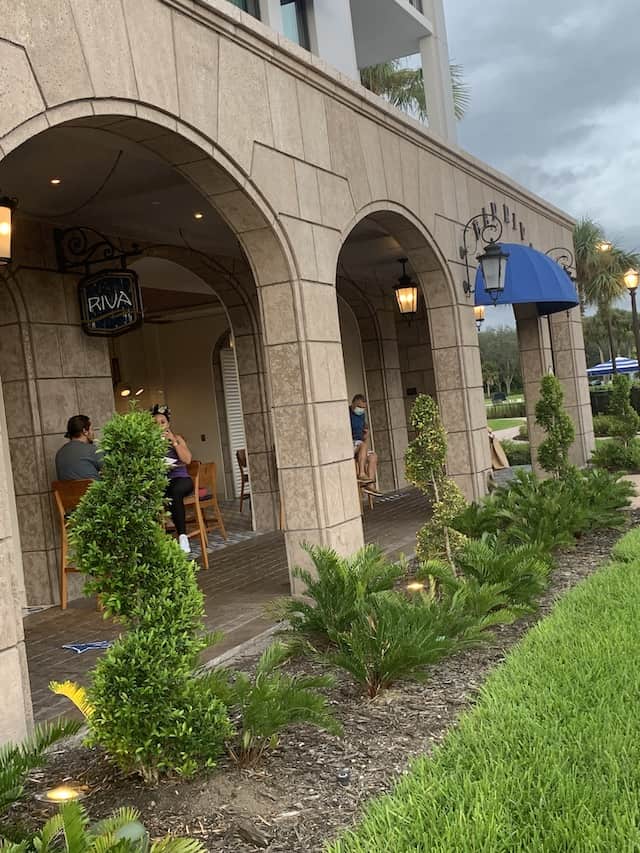 Bar Riva is the outdoor pool bar that is directly across from the feature pool and right next to Primo Piatto. They serve a variety of drinks and food options. I recommend the grilled chicken sandwich and the wings! The butter herb rub was so unique and not like typical bar food.
The food in general at Riviera is top notch. You won't find food court fare here!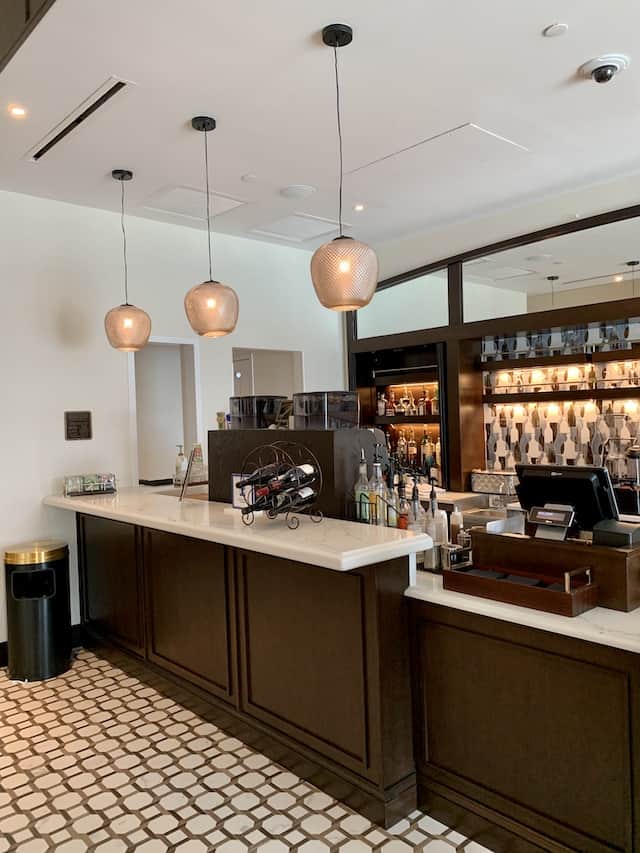 La Petit Cafe is a small cafe in the main lobby of the hotel. It serves coffee, pastries, and little desserts like brownies and cupcakes. I enjoyed the lemon cheesecake, and it was a nice treat after a day in the park.
Next door to the cafe is a lounge area. There are tables and chairs set up, which allow you to enjoy your morning coffee or sneak away from a quiet drink late at night.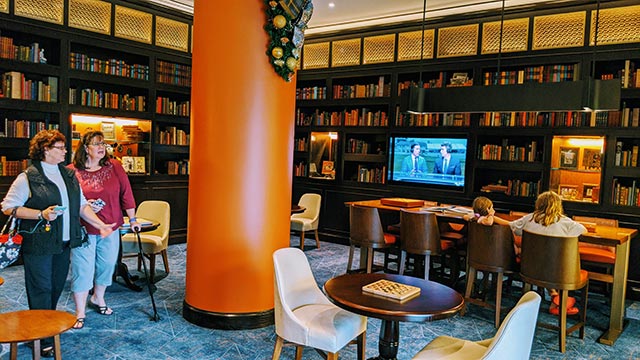 There are so many beautiful tributes to Walt Disney throughout the resort, but I noticed them most in the lounge.
Room Accommodations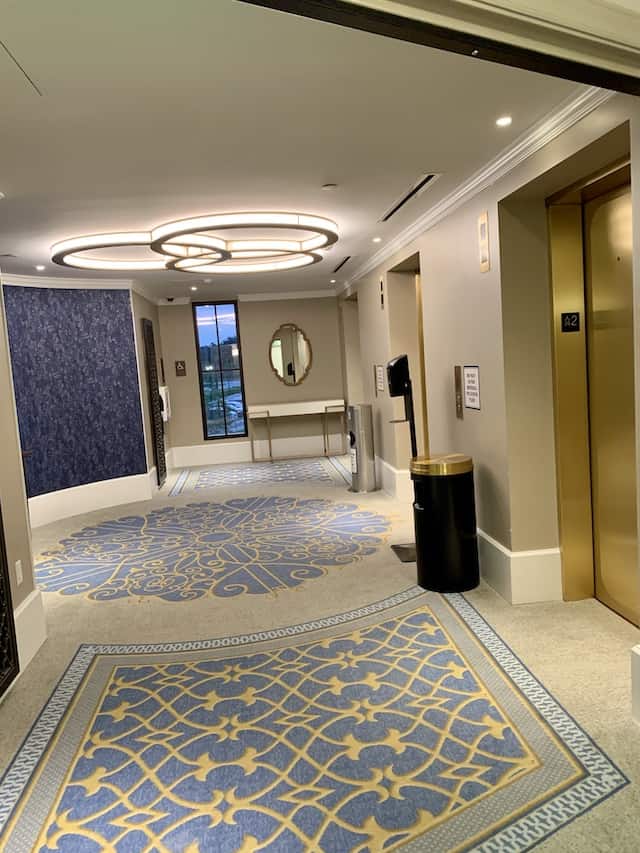 Riviera Resort is not a spread out resort with several buildings. It is a tower hotel, and all of the rooms are accessed from inside.
Tower studios, Deluxe studios, 1 bedroom villas, 2 bedroom villas, and grand 3 bedroom villas are all available at the hotel.
Additionally, Riviera Resort is home to the only tower studios in all of Disney World! They sleep up to 2 guests and provide efficiency as well as luxury. There is a microwave, small refrigerator, and a pull-down queen size bed in the tower studios.
2 Bedroom Villa Photo Tour
During our stay, our family of 8 stayed in a 2 bedroom villa. We have also stayed in the 2 bedroom villas at Old Key West and Beach Club. The room at Riviera was by far our favorite because of the extra space and layout.
Let's take a closer look.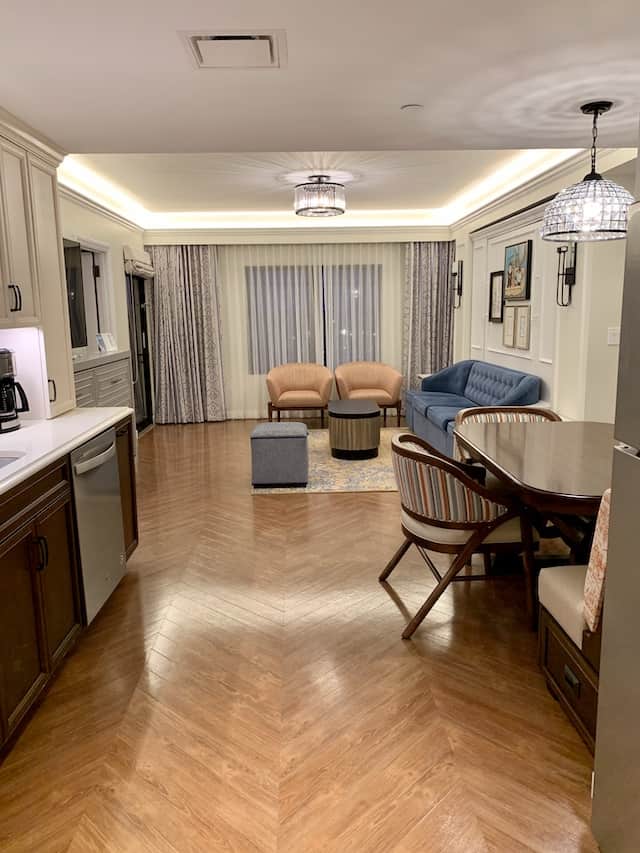 Upon entering the villa, you immediately see the kitchen, dining space, and living area. To your left is the master suite and laundry closet. To your right is the other bedroom.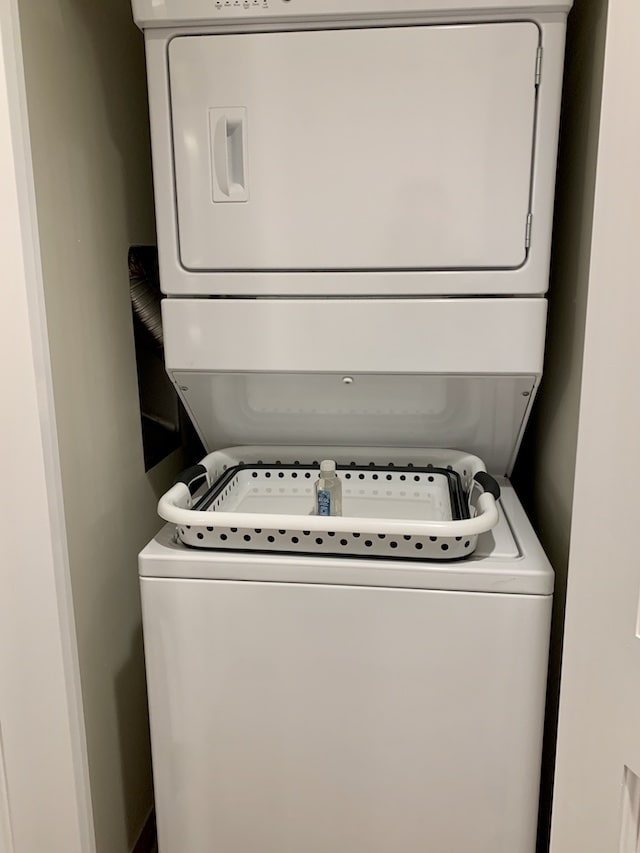 Let's start with the left side of the villa. In the hallway you will find the tiny laundry closet with stackable washer and dryer. I'm not sure if the design of the dryer was just horrible or we had a bad unit, but it was very hard to shut the dryer door.
There is also a small closet area that has extra pillows and blankets along with the vacuum cleaner, ironing board, and safe.
From the hallway, you can access the beginning of the master suite. Yes, the beginning. I was shocked at how large and spacious the bathrooms were. The first part is the sink, toilet, and stand up shower.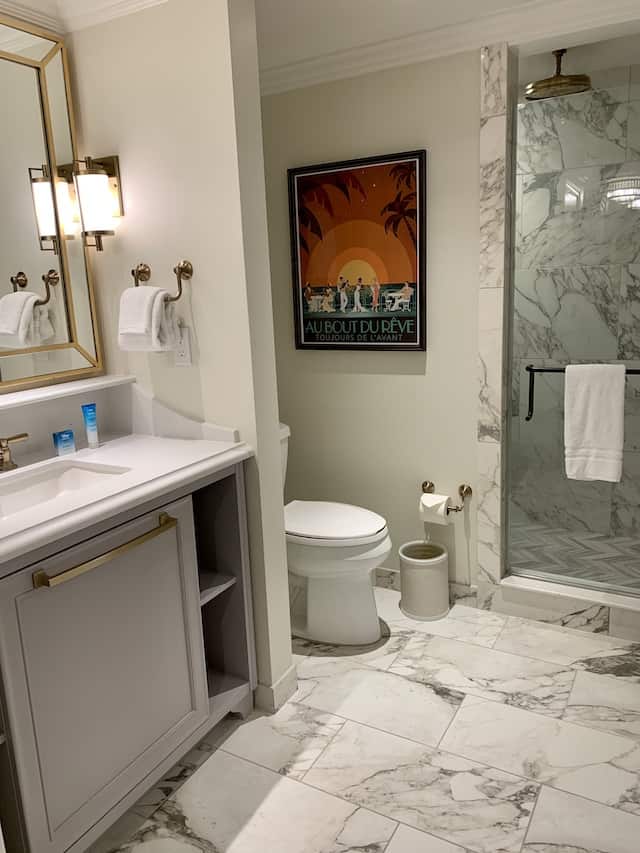 The shower is very spacious. There is a regular shower head and then an overhead one. Additionally, the large dispensers of shampoo, conditioner, and body wash along with the bench seating provide a roomy shower experience.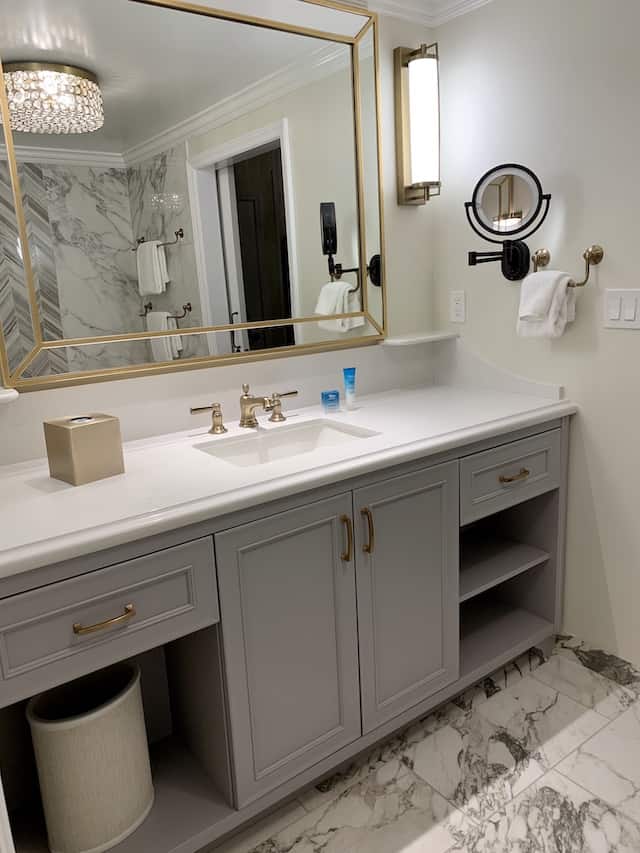 From that room, you step into another room with the giant whirlpool tub and vanity area.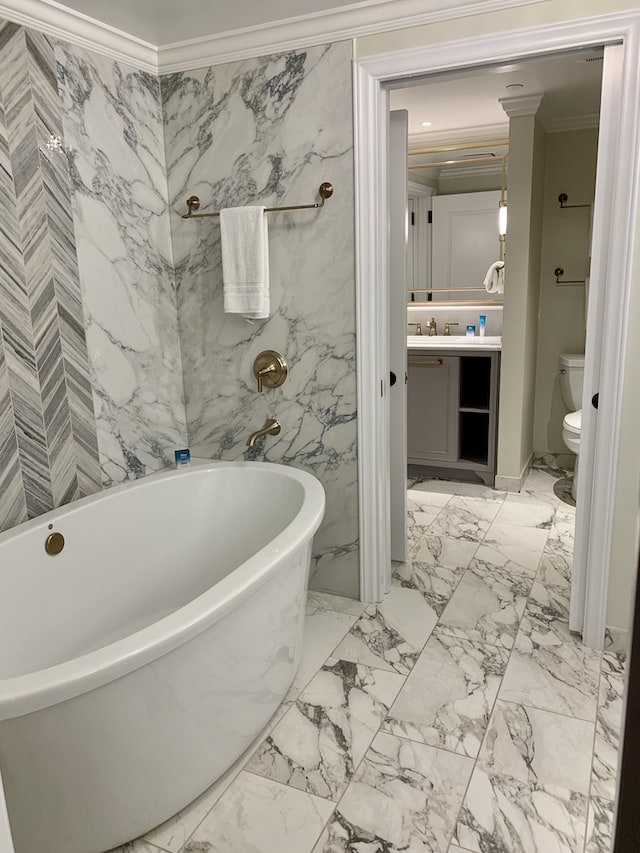 My kids really enjoyed the tub – it was easy to convince them to leave the pool when I told them they could swim in the tub upstairs!
Next up is the master suite.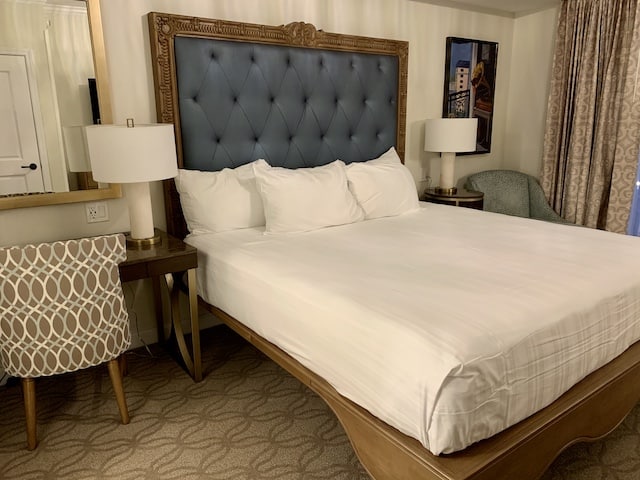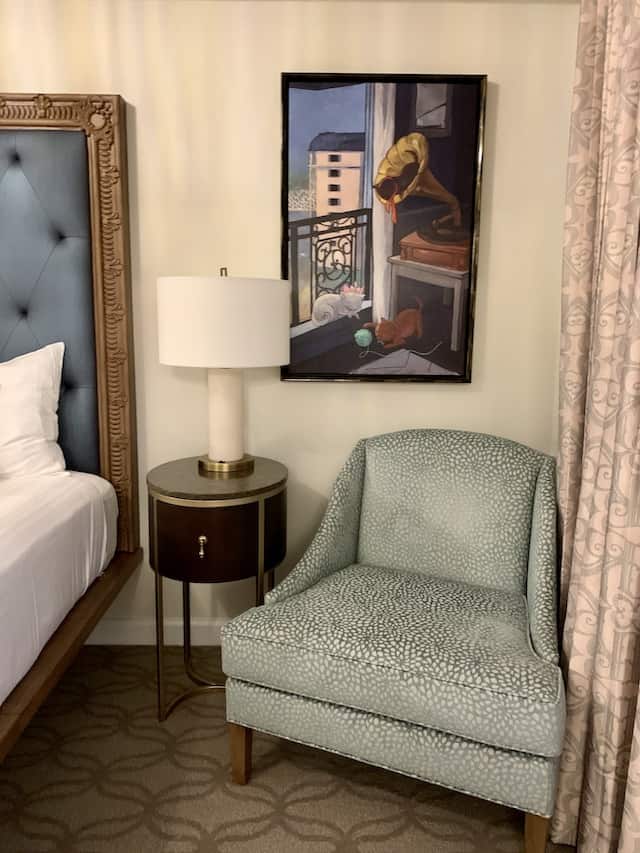 Finally, the master suite boasts a king size bed, dresser with large flat screen television above it, desk area, and closet area.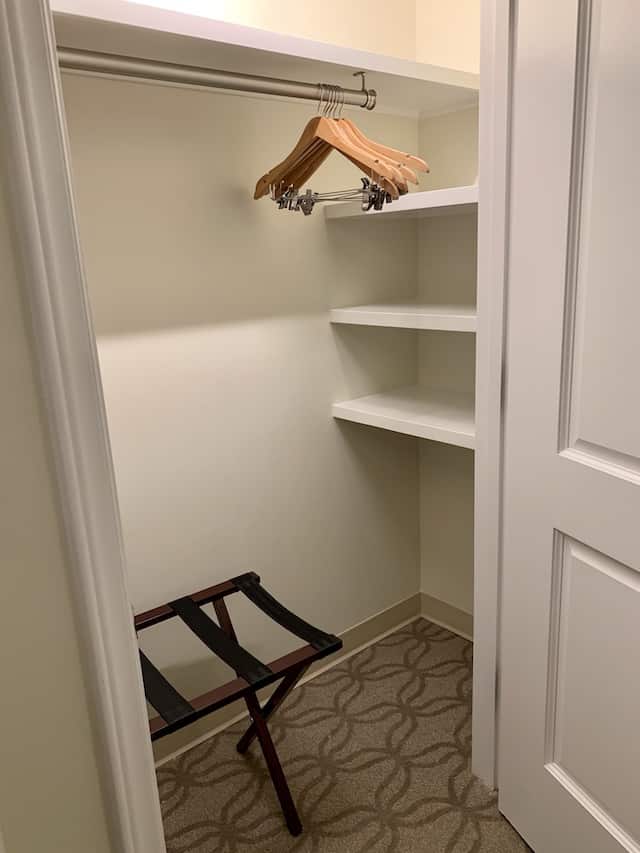 Now, we are in the back of the villa as we step into the living area.
From there, you can walk out onto the balcony to enjoy resting after a long day in the parks.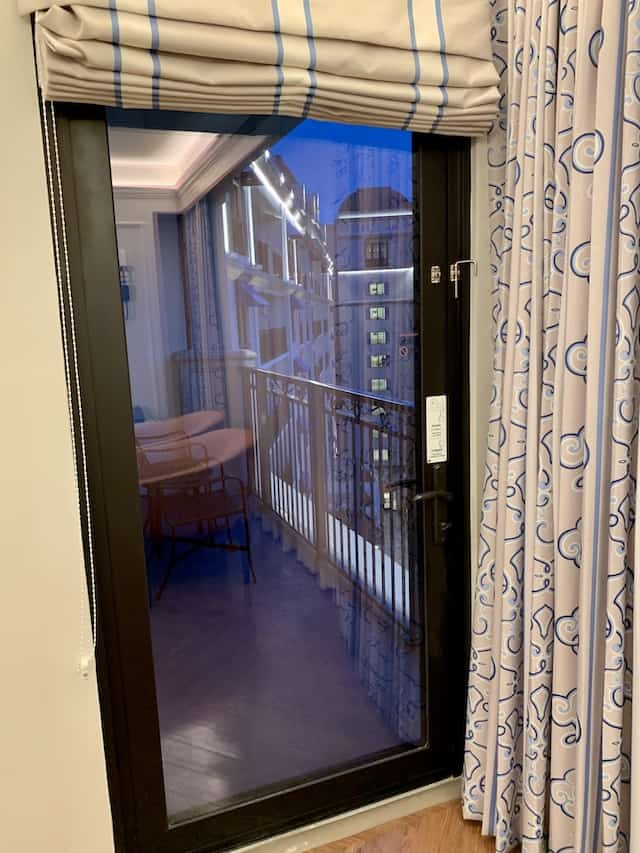 There are two seats and a couch along with a storage ottoman, end tables, and coffee table.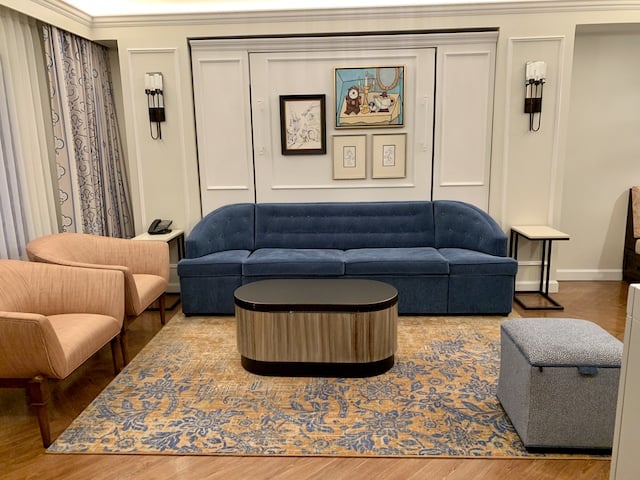 The couch has a pull-down bed. Just look at the cute Peter Pan scene!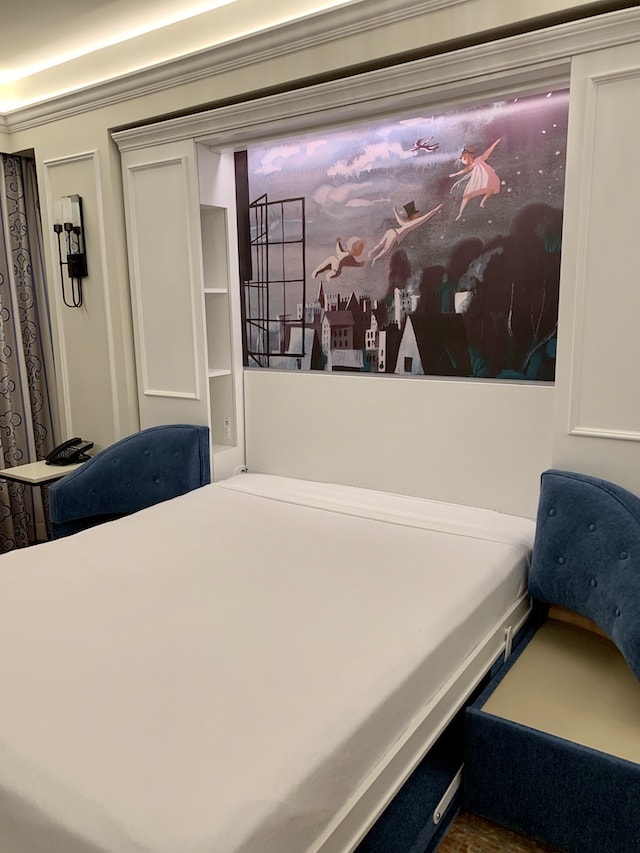 Across from the couch is another flat screen television and pull down bed.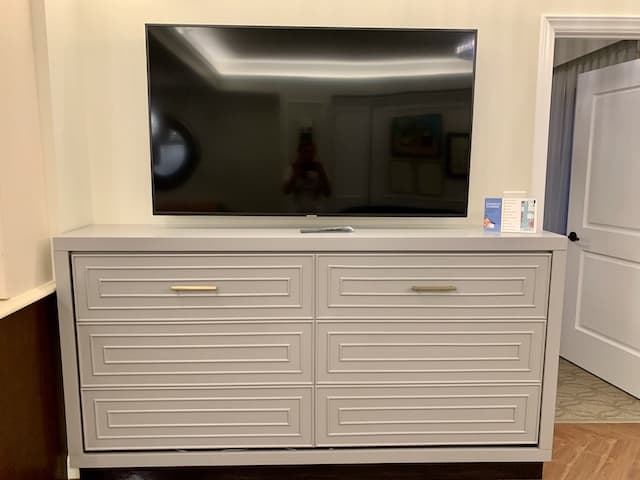 You may remember one of these fell with a Guest on it shortly after opening, but I am happy to report all of my children slept on it with no issues.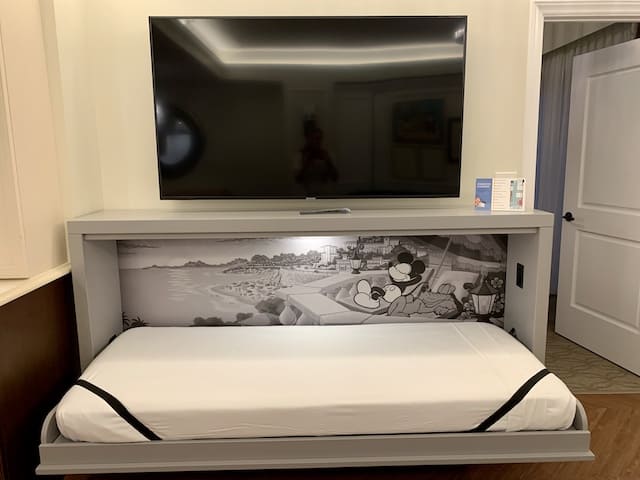 Next to the living area is the dining and kitchen. If I have one complaint about the the villa, it would be the dining area.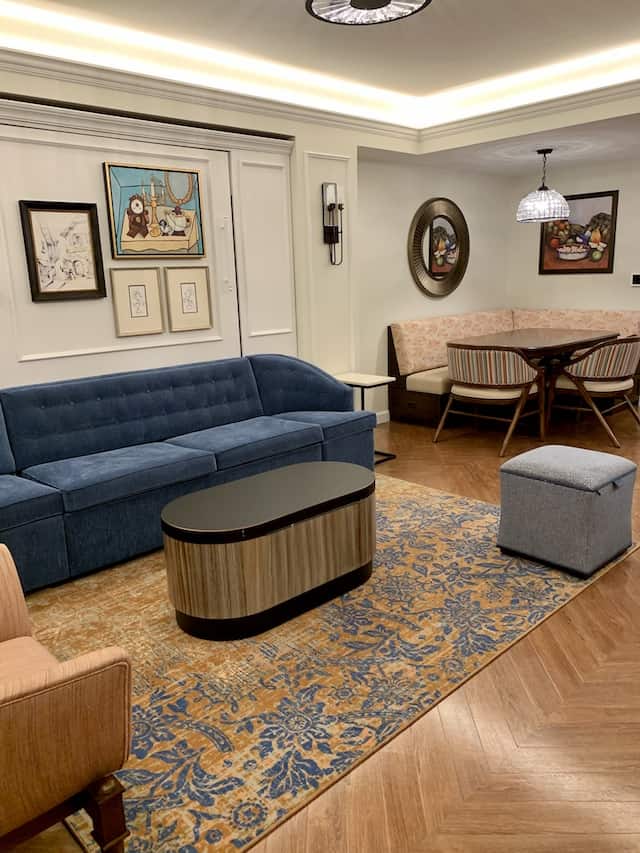 An actual table and chairs would have been more spacious for all 8 of us. The table has a couple chairs and bench seating, which I am not a fan of.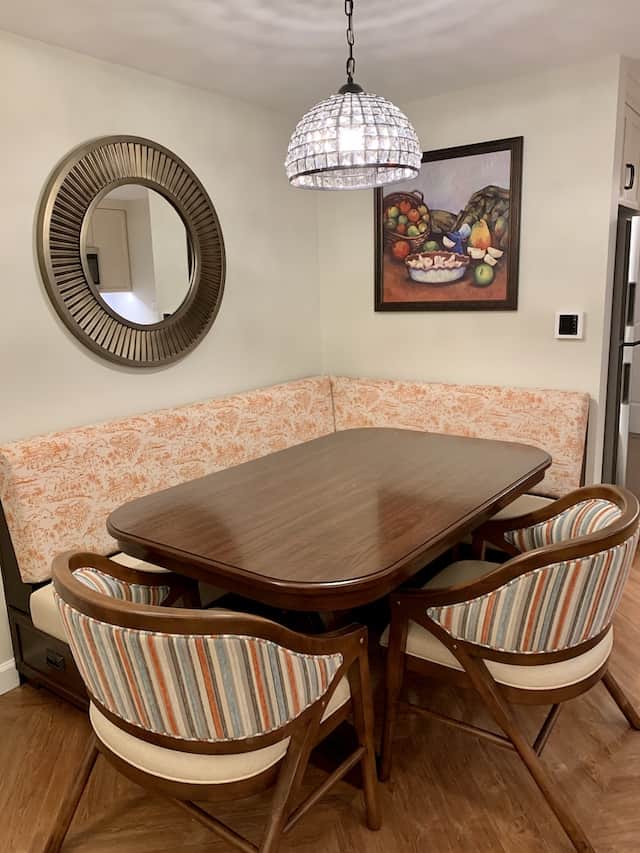 I really liked that the kitchen area was kind of like a galley kitchen. It did not eat up walking space in the main area.
The refrigerator is right next to the dining table while everything else is on the other side.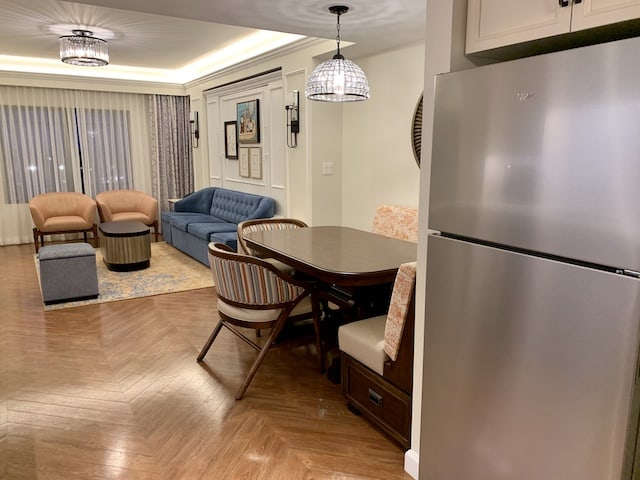 The kitchen has everything you need to make your stay feel more like home.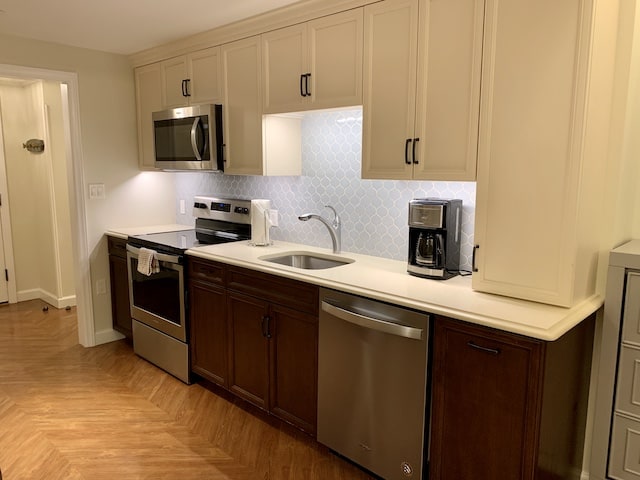 From kitchen gadgets and cookware to dishes and utensils, one of the perks of staying in a villa is having access to a full kitchen.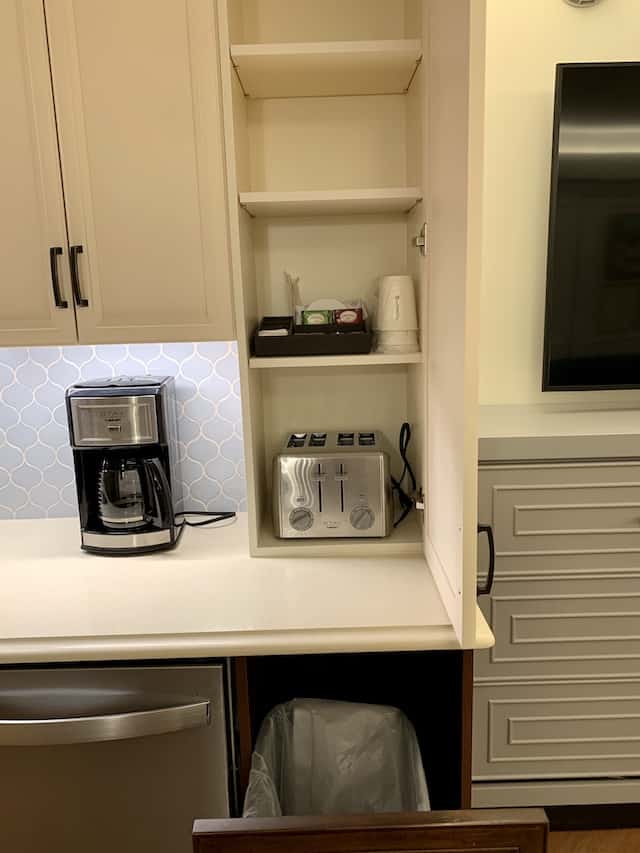 We brought leftovers back to the hotel and were able to buy 2 liters instead of the individual bottles because of the large refrigerator space and glassware.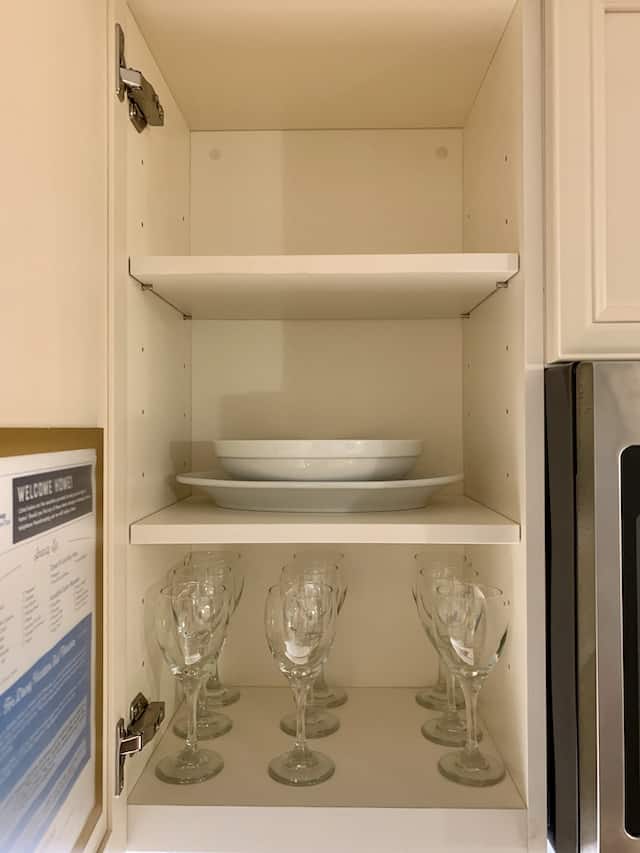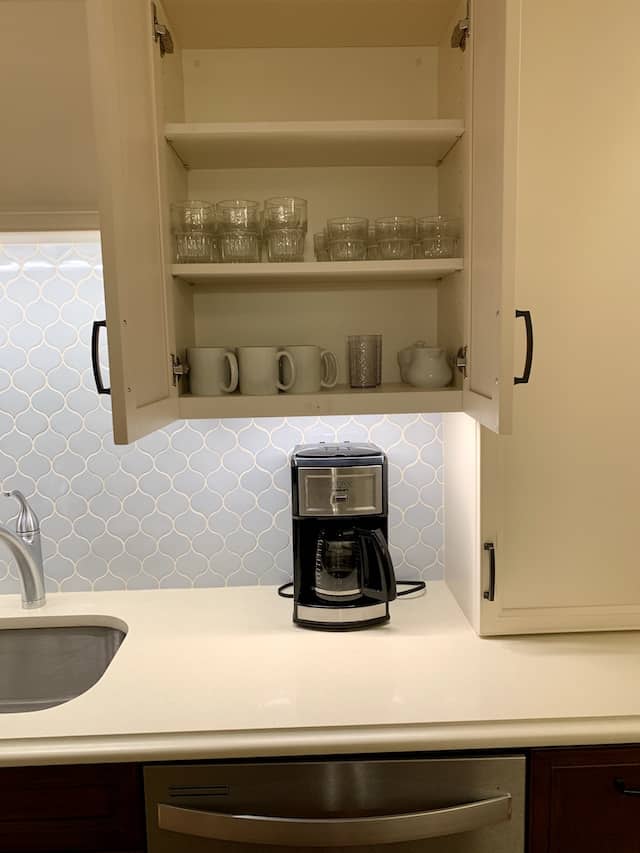 Like I said above, having someone run down to the grab the food from Primo Piatto while the rest of us got ready helped our mornings go more smoothly.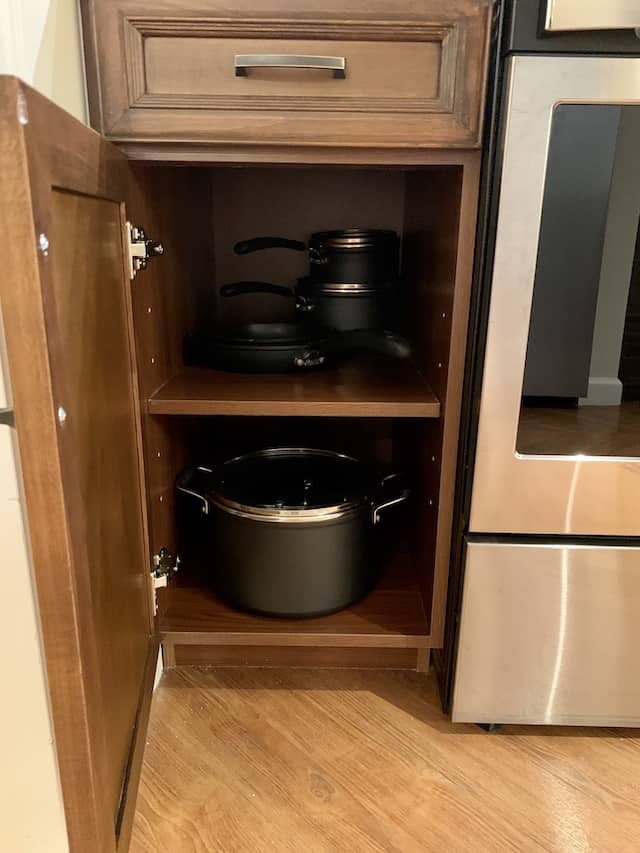 Moving on to the right side of the villa is the second bedroom. In the hallway there is a large closet area that we used for luggage.
It was nice to have the space just for the suitcases!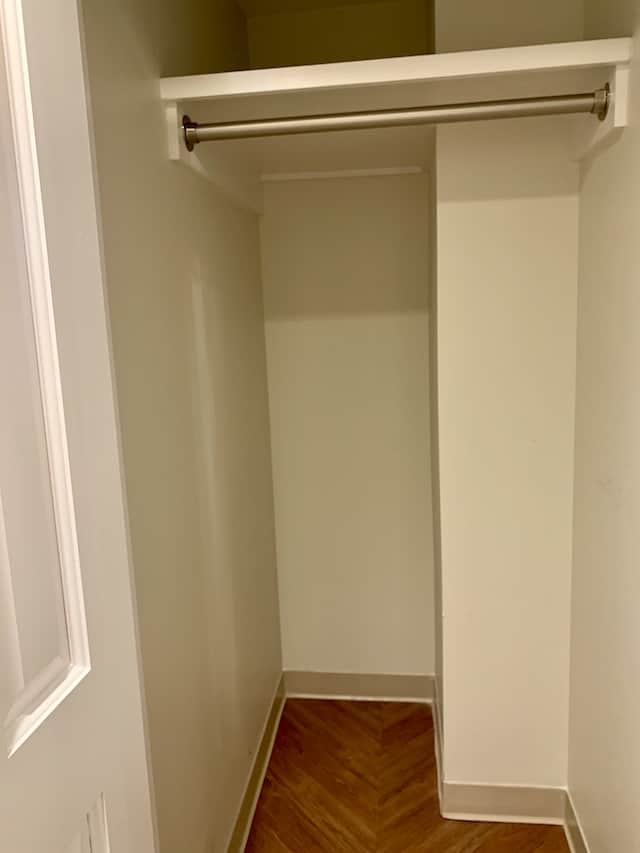 In the second bedroom you will find two queen size beds, a dresser with television above it, and a few seats.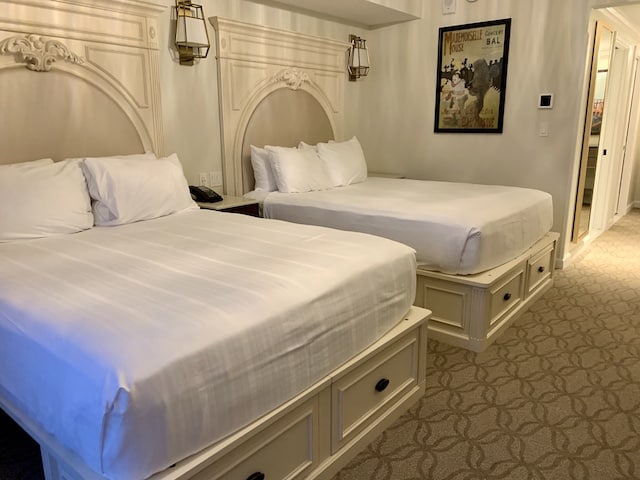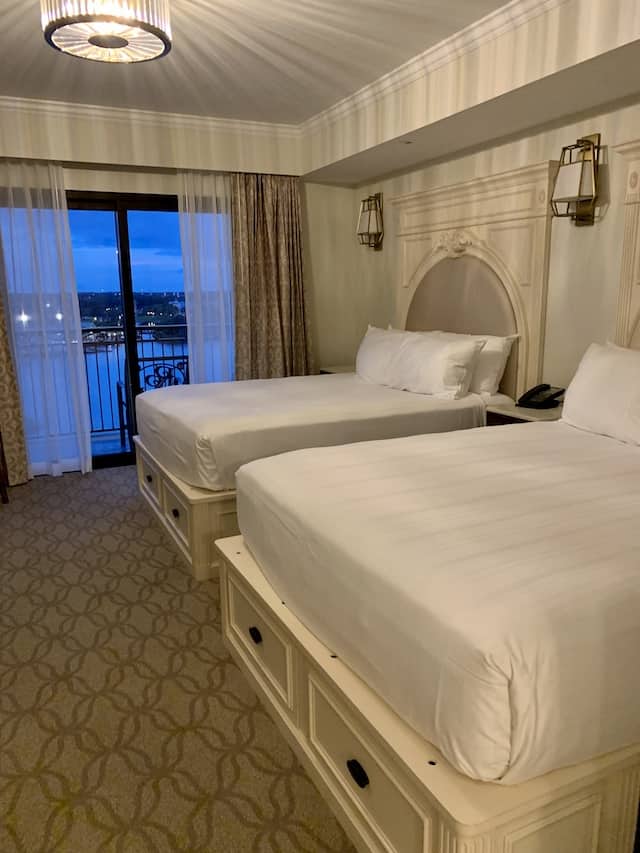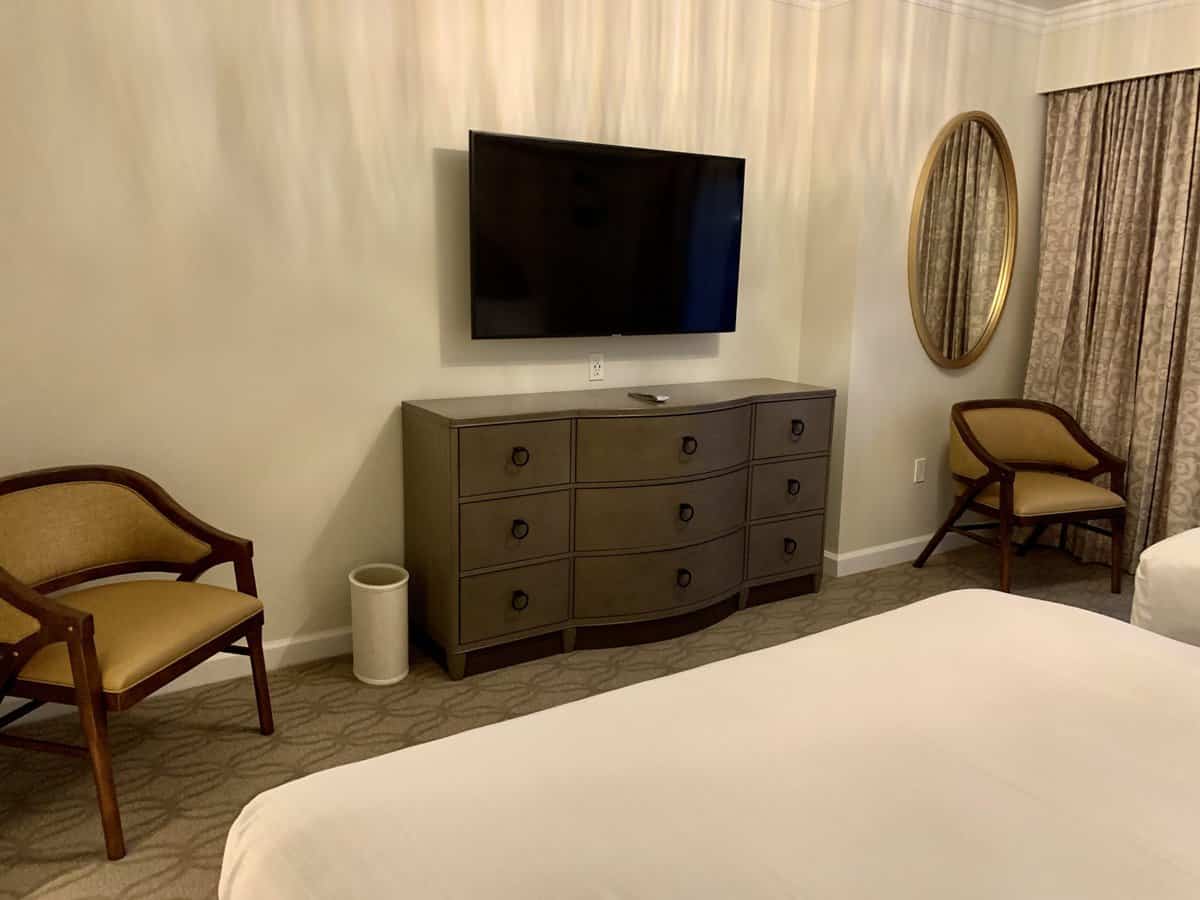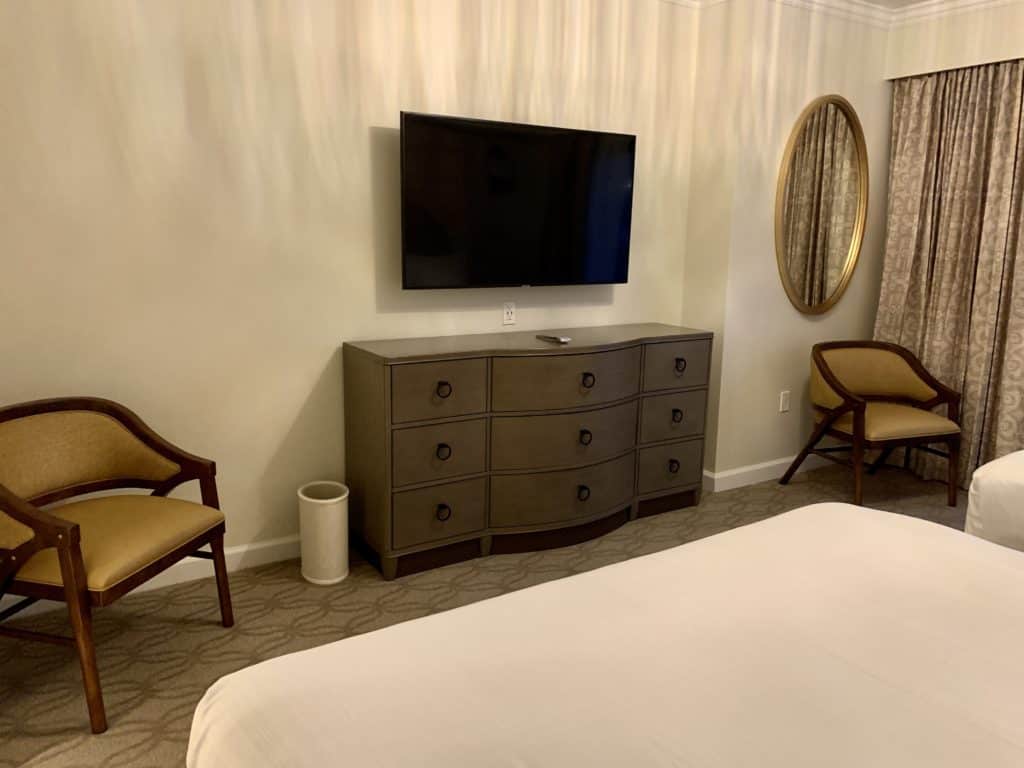 There is also a small nook with a table where you can set purses, bags, or Magic Bands.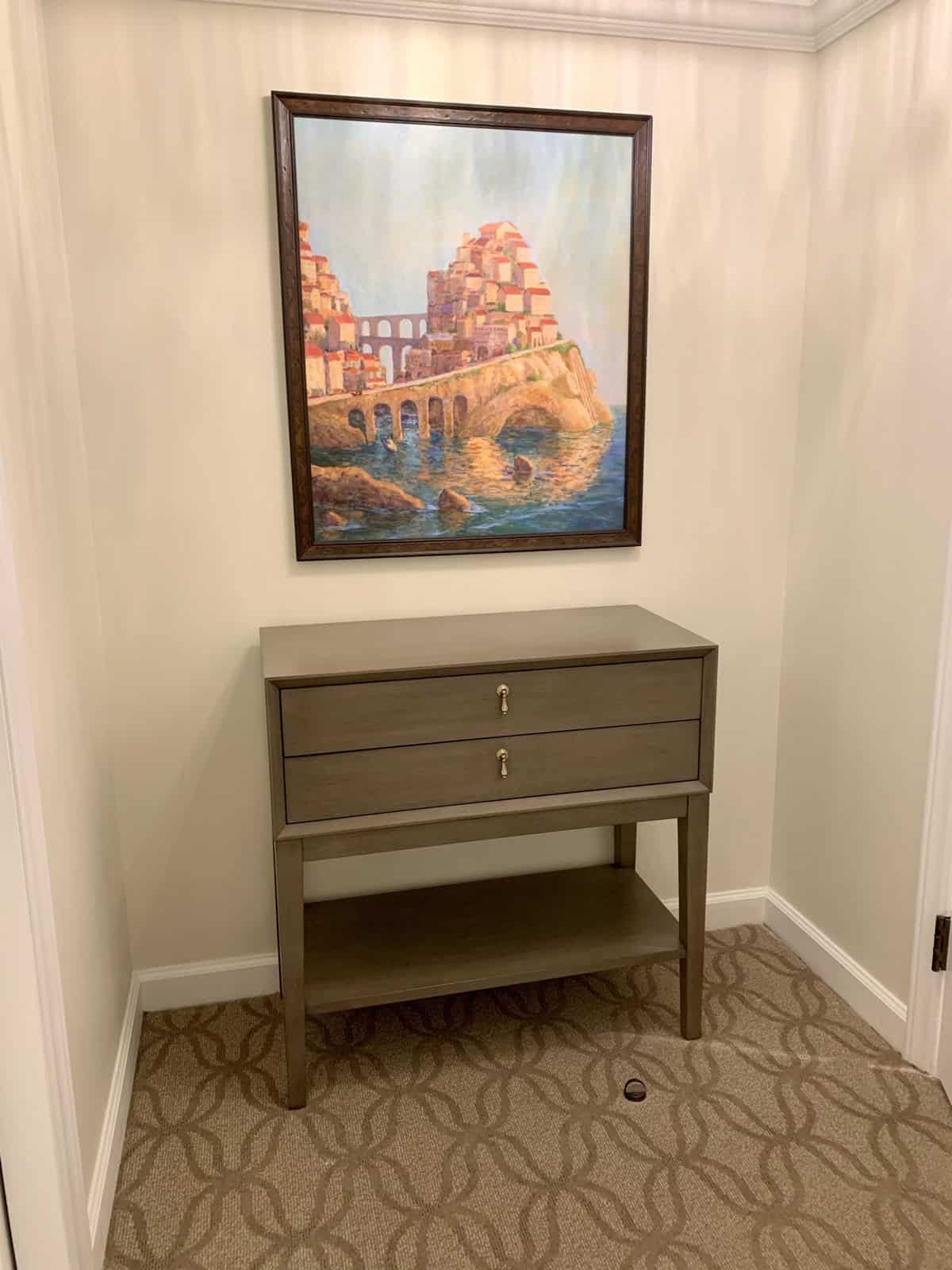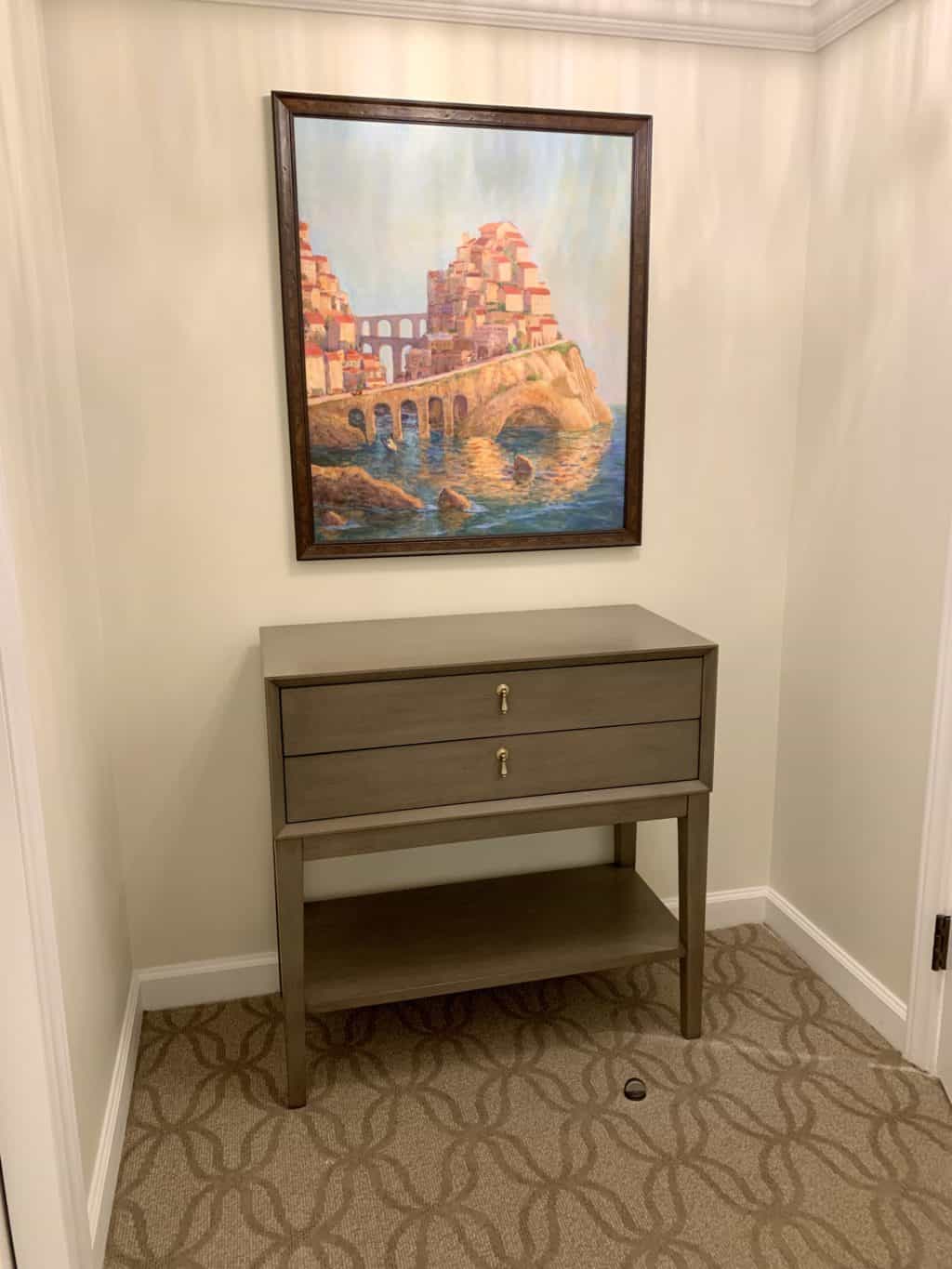 The bathroom is kind of set up the same way as the master. There is a tub/shower combo and sink in one "room" and then a stand up shower and toilet in the second "room."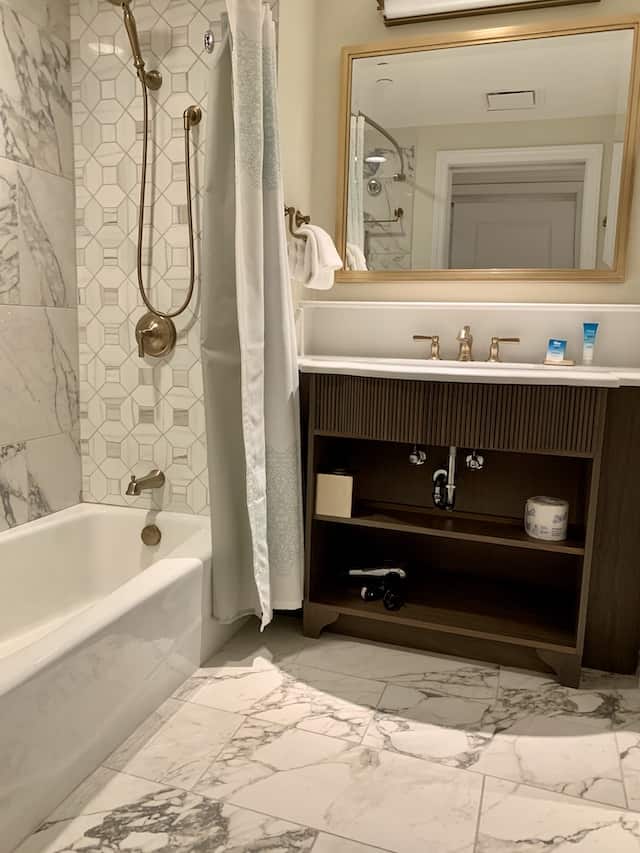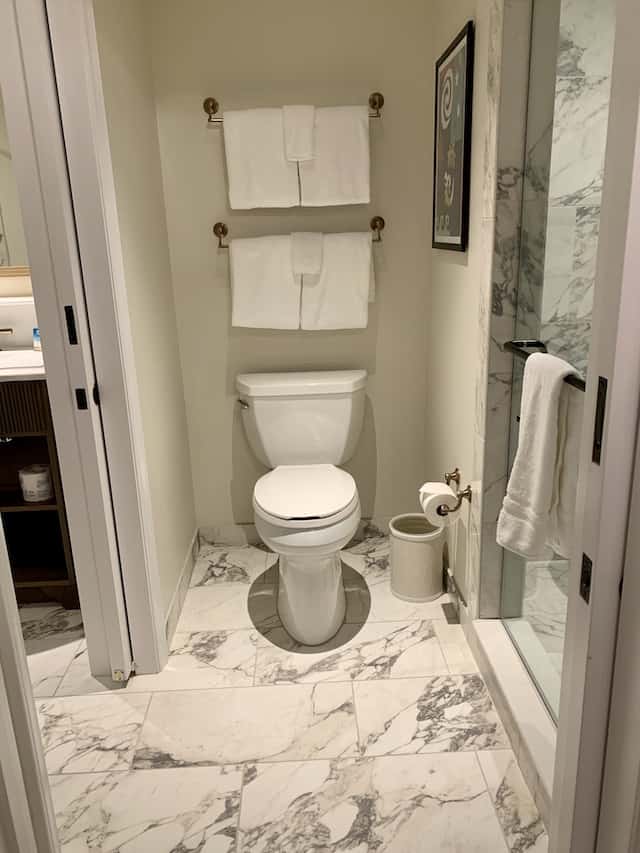 Overall, we really enjoyed the room. It was spacious enough for all of us, and we felt every inch of space was well thought out.
We loved the elegant features like the marble bathrooms mixed with the artistic touches throughout the villa like the artwork and color choices.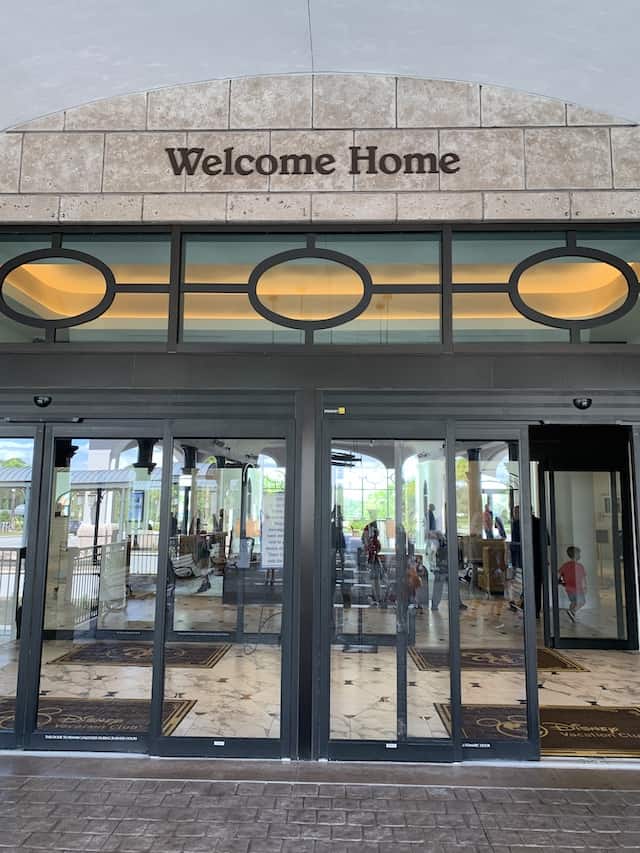 If you are interested in staying here, I highly recommend renting DVC points. We saved thousands of dollars off the rack rate by renting, which allowed us to stay here without sacrificing other parts of the trip like food and souvenirs.
For more information about renting points, check out my article highlighting many of the pros and cons of renting DVC points!
Recreation and Amenities
Pools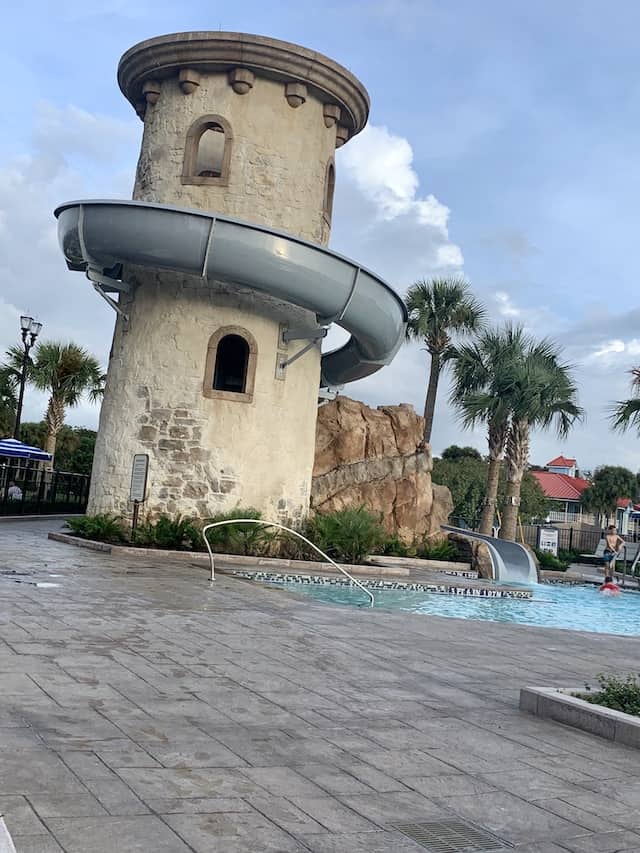 There are two pools at Riviera Resort. First, the feature pool is zero entry and has a slide plus a toddler splash area.
I personally think this is one of the best toddler splash areas in Disney! It is separate from the main pool area and gated so it is very safe for young kids. The small slide and other features can entertain toddlers for hours.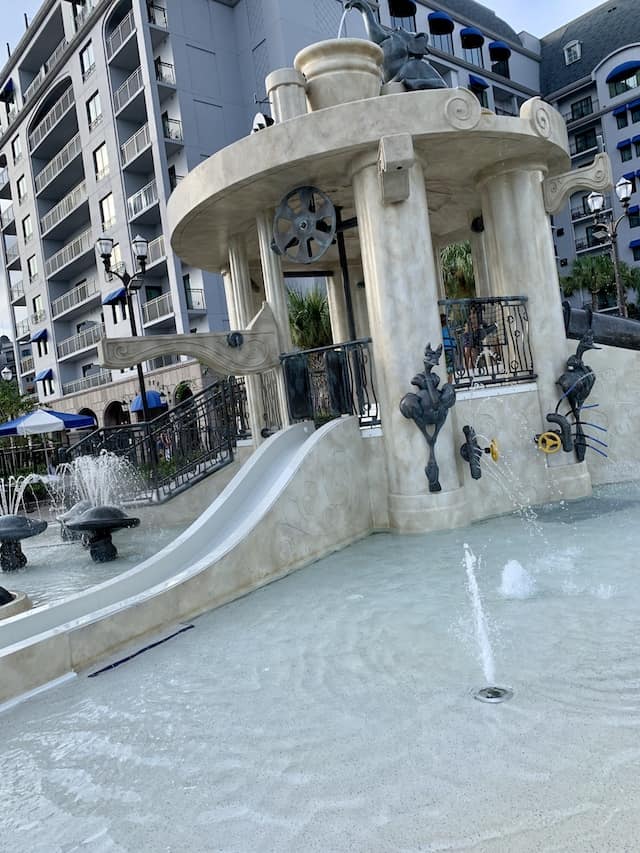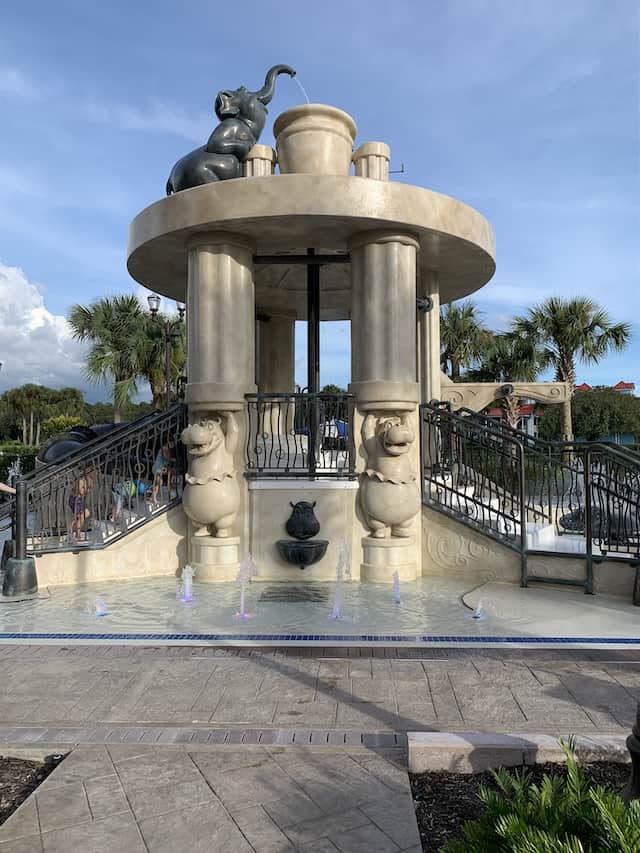 Also in the feature pool area are many lounge chairs, table and chair set ups, and lounge couches. They are all cushioned, which we appreciated. It was nice to grab food and drinks and take it to eat in the pool area while the kids swam.
The pool area is small enough that you can keep an eye on your kids from almost anywhere but large enough to be spaced out from other Guests.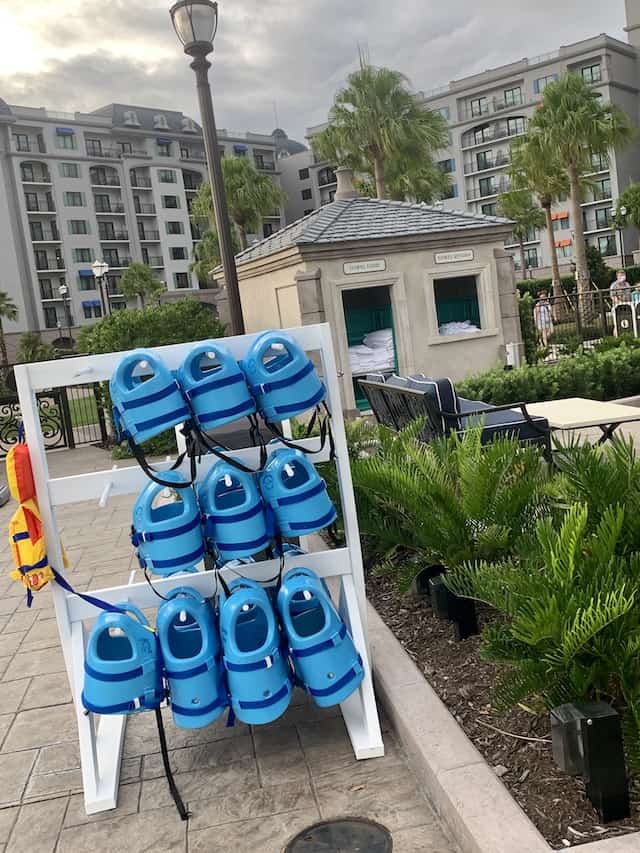 You will also find towels, lifejackets, hot tub, and even a gelato stand!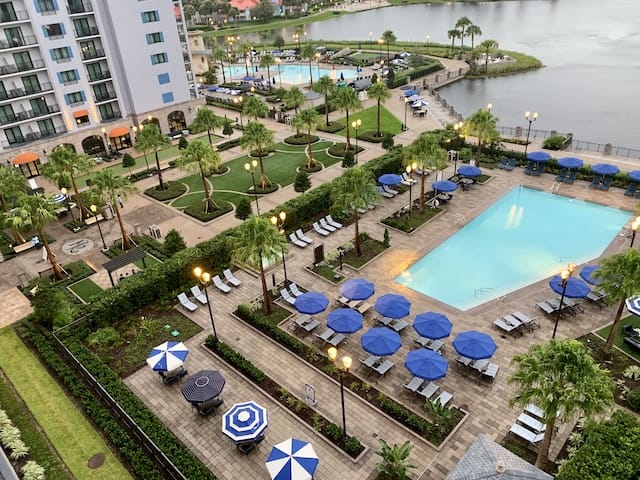 There is also a quiet pool called Beau Soleil Pool if you prefer a more serene swim experience. It is a short walk away from the feature pool, but feels more secluded because of the surrounding landscape.
Shopping
There is only one shopping area in the hotel. La Boutique is located in the main lobby area right next to La Petit Cafe. You will find a food section with things like frozen pizzas, lunchables, and drinks.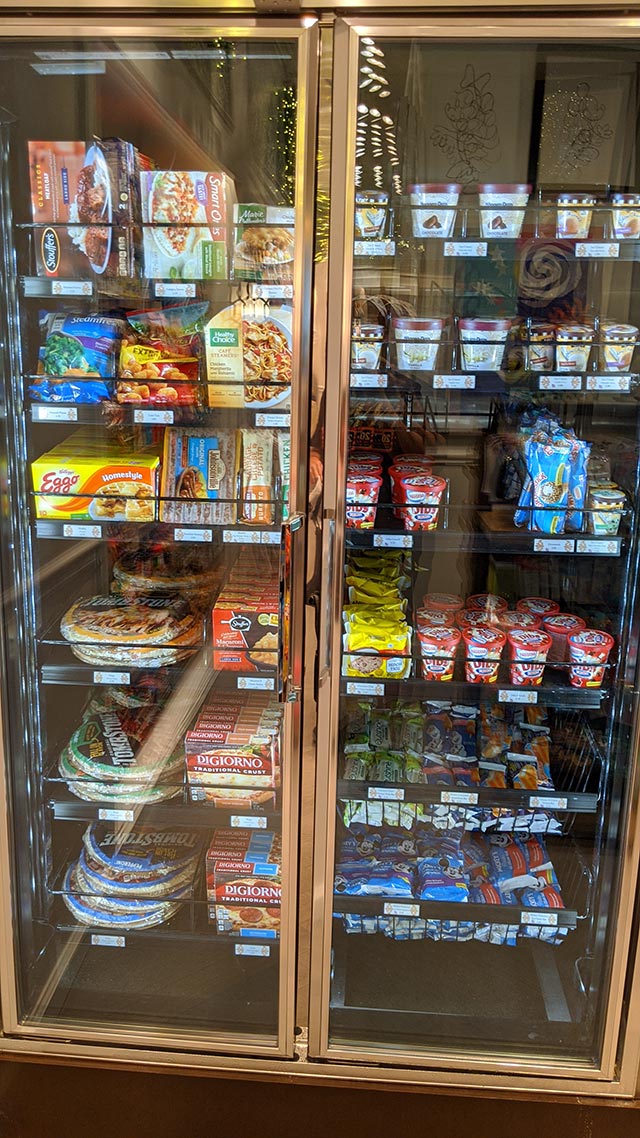 There is a small merchandise section with resort-specific items and a few general Disney pieces.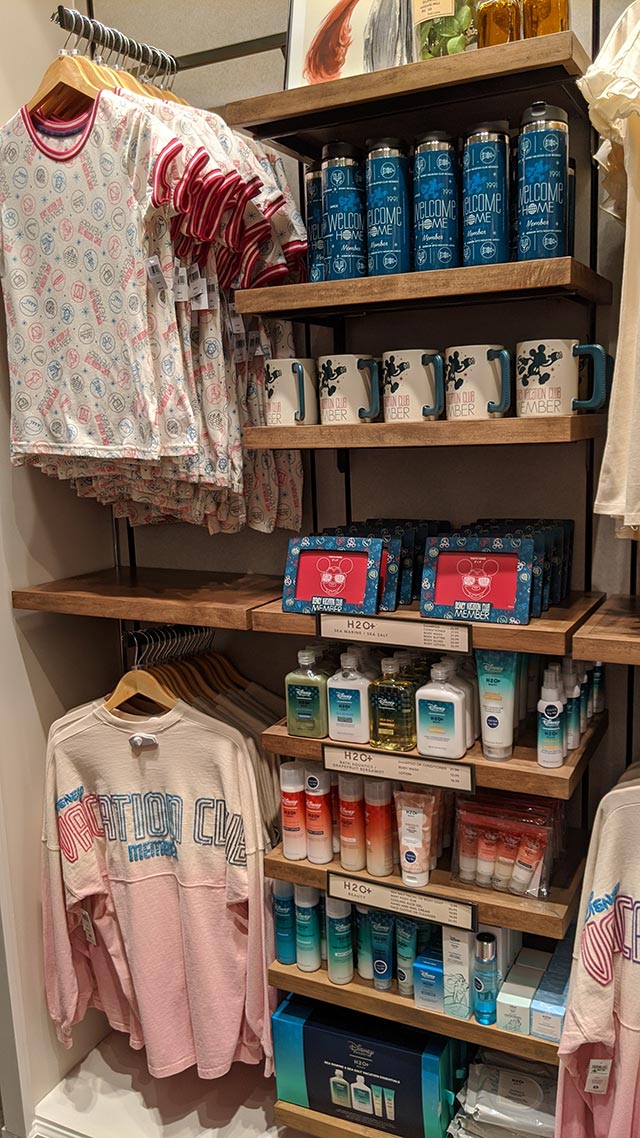 Overall, it is pretty tiny and doesn't have the best selection of gifts.
Athletique Fitness Center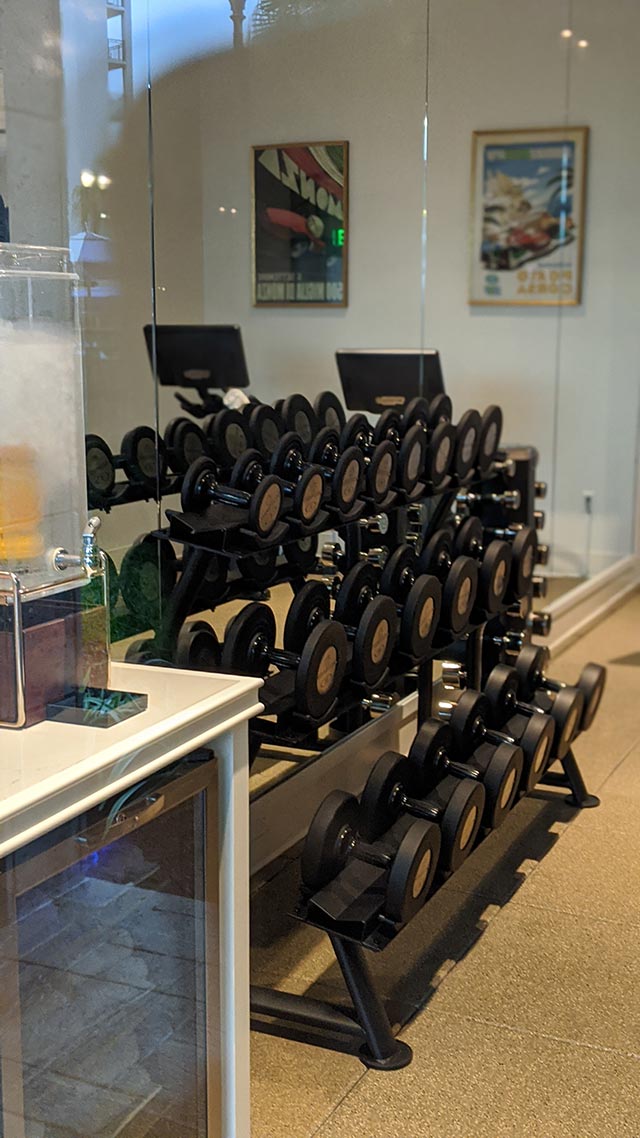 Fitness centers across Walt Disney World resorts are currently closed so I was not able to peek inside. I imagine they have your standard fitness machines like treadmills, ellipticals, and weights.
If you want to exercise during your stay, you can run along the path that follows the serene lake. There are lounge areas set up along the lake as well for you to enjoy an early sunrise or night cap. You can watch the gondolas go by and enjoy the beauty of the lake. It really is a stunning resort.
Final Thoughts of Disney's Riviera Resort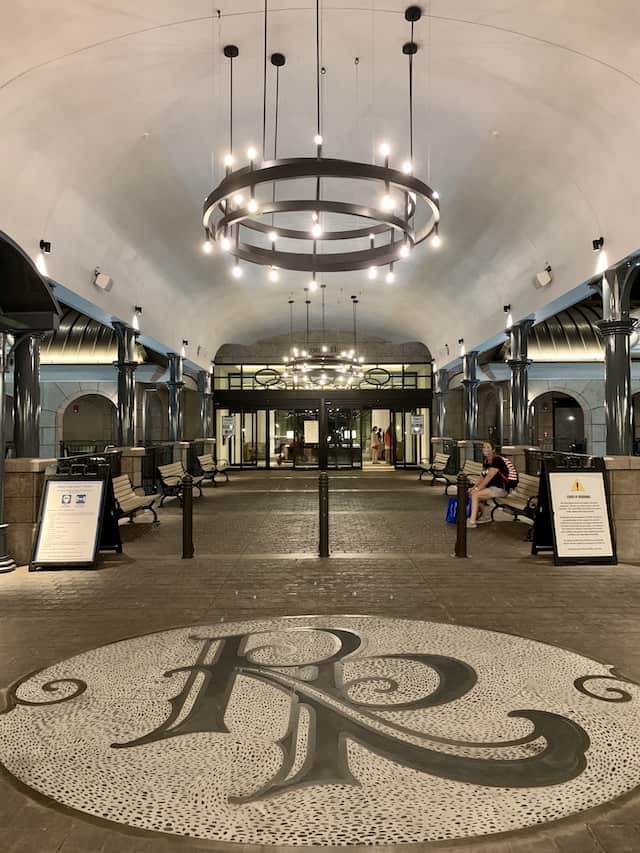 My family absolutely loved our recent stay at Riviera. The resort itself is stunning and sophisticated, and the villa is the best we have stayed in at Disney.
The proximity to Epcot and Hollywood Studios and being able to use the Skyliner is the biggest perk to staying here. Not to mention the deluxe accommodations make it an easy choice. I think the food in general is the best you will find in any of the Disney resorts.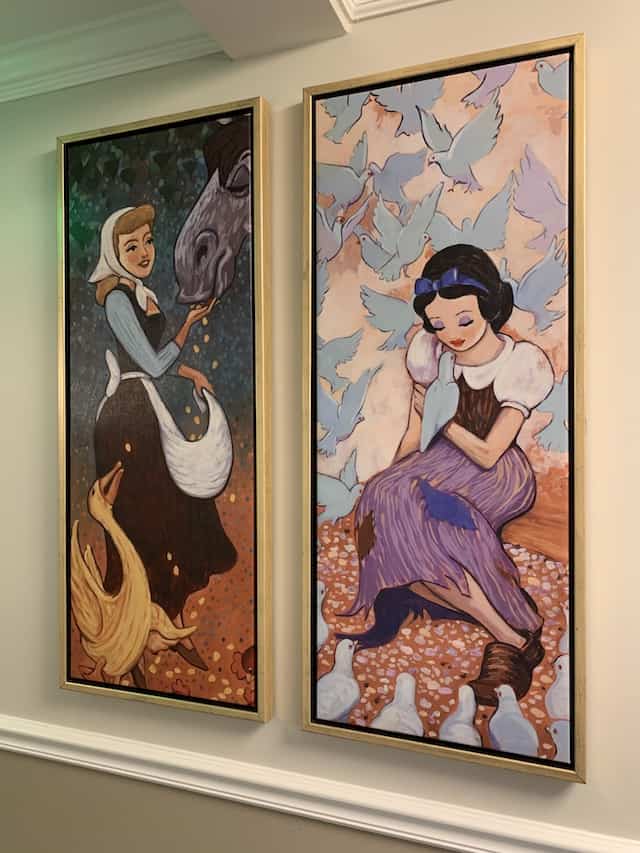 The fact that the resort is not spread out makes it easy to get around the resort efficiently.
The biggest disadvantages would be lack of shopping options and seating arrangement in the dining area of the villa. Compared to the perks though, there is no doubt in my mind that Riviera is one of the best resorts. If you were to ask me where I would want to stay over and over, it would be here!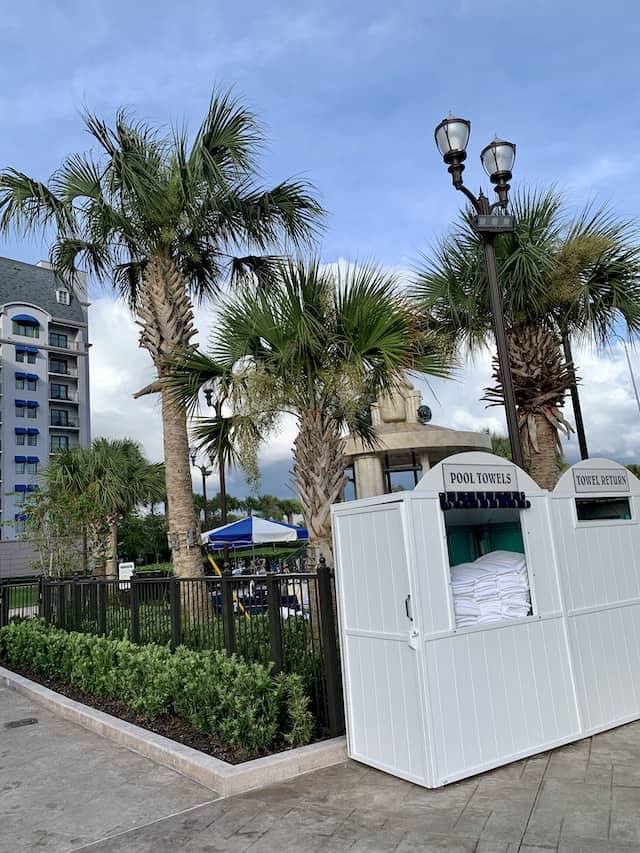 Kenny the Pirate was invited on an exclusive walking tour when the resort opened last winter, and he shared beautiful photos of the grounds during Christmas. To see those, head HERE.
Have you ever stayed at Disney's Riviera Resort? Do you have future plans here? Share your thoughts with us on Facebook!