We all know Topolino's Terrace has one of the most fun character meals for breakfast! But, did you know dinner is equally amazing? Read my honest thoughts after enjoying a fine meal there recently.
Topolino's Terrace
Topolino's Terrace – Flavors of the Riviera is the premier table-service restaurant at Disney's Riviera Resort. If you have never stayed or visited Riviera Resort, you must make plans to see it during a future trip! My family stayed there in a 2 bedroom villa, and it was one of the best experiences we have had staying on Disney World property. You can check out my full guide to staying at this resort HERE.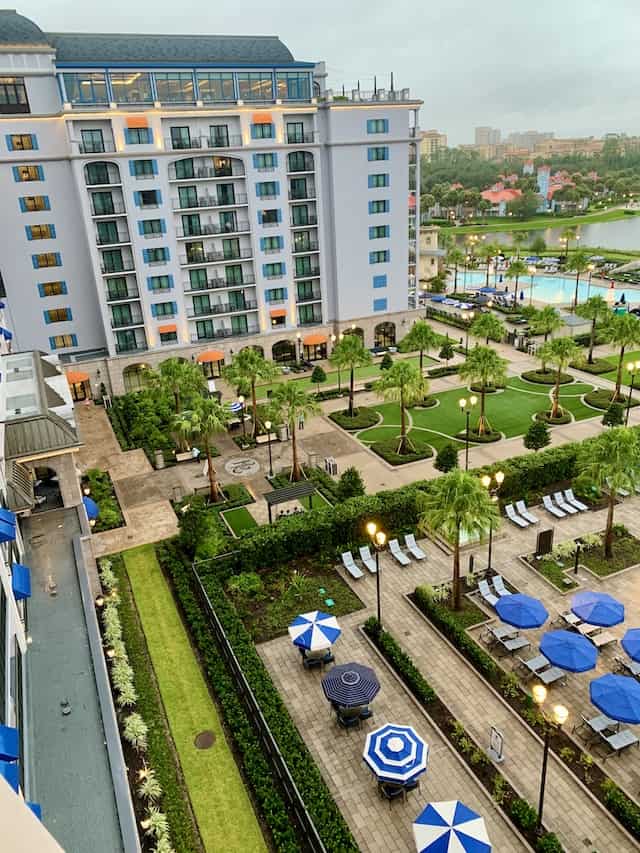 Topolino's is the rooftop restaurant inspired by the cliffside restaurants of France and Italy. The restaurant provides stunning views of the resort and nearby areas. You can enjoy a cocktail at the outdoor lounge connected to the restaurant.
Pirate tip: I was also told if you eat at Topolino's for breakfast you can bring your receipt back in the evening and have access to the lounge.
And this is the stunning view you have from the rooftop: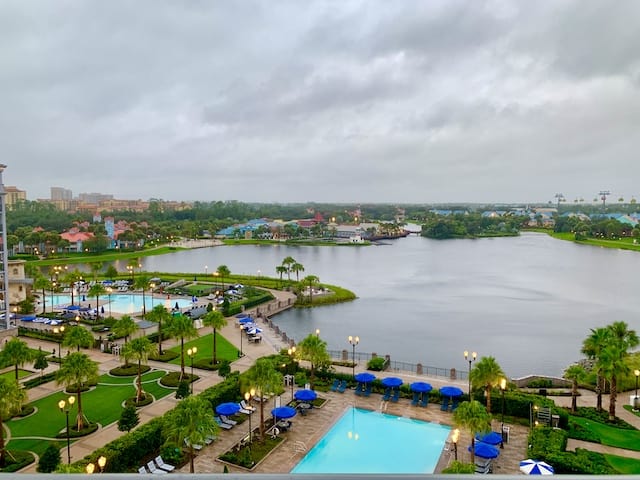 Theming and Atmosphere
The atmosphere at Topolino's is like none other. The hotel as a whole is just exquisite, and the restaurant continues with that. Once you step off the elevator, the host stand and an impressive wine cabinet greet you.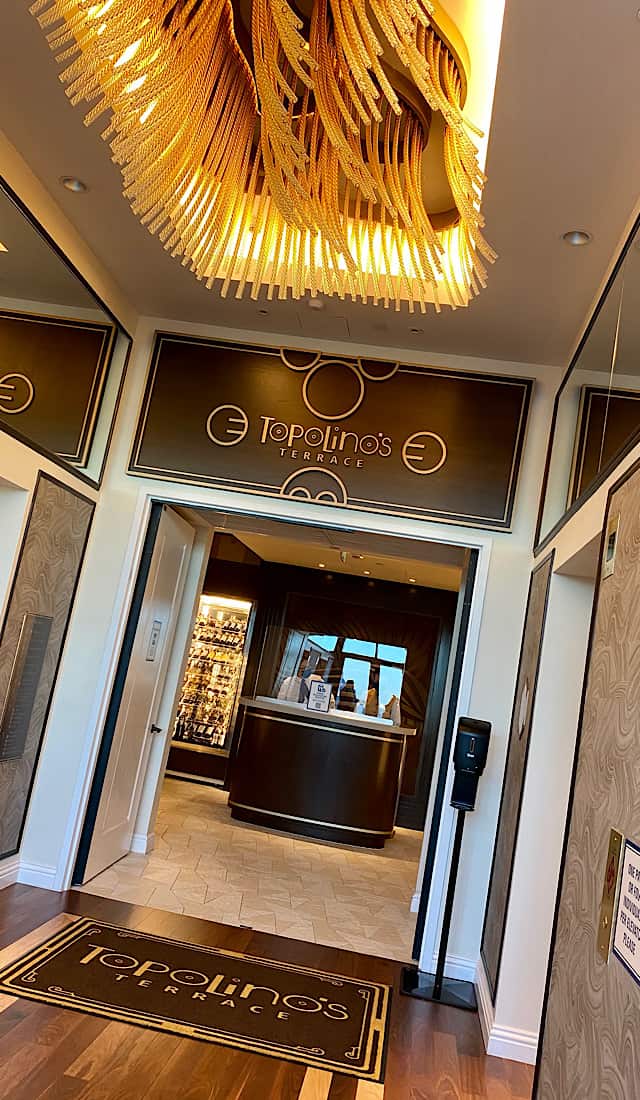 As you walk into the restaurant itself, the beautiful chandelier is there to greet you. It is the centerpiece of the room, and its grandeur will take your breath away.
Dining at Topolino's for dinner is an experience in itself. The kitchen is open and features a wood-burning grill. There is a bar area if you just want to pop in for drinks.
Since physical distancing is implemented, the tables are even more spread out than usual. It is pretty average size for a table-service restaurant, but the dim lights and spread out tables make it very intimate.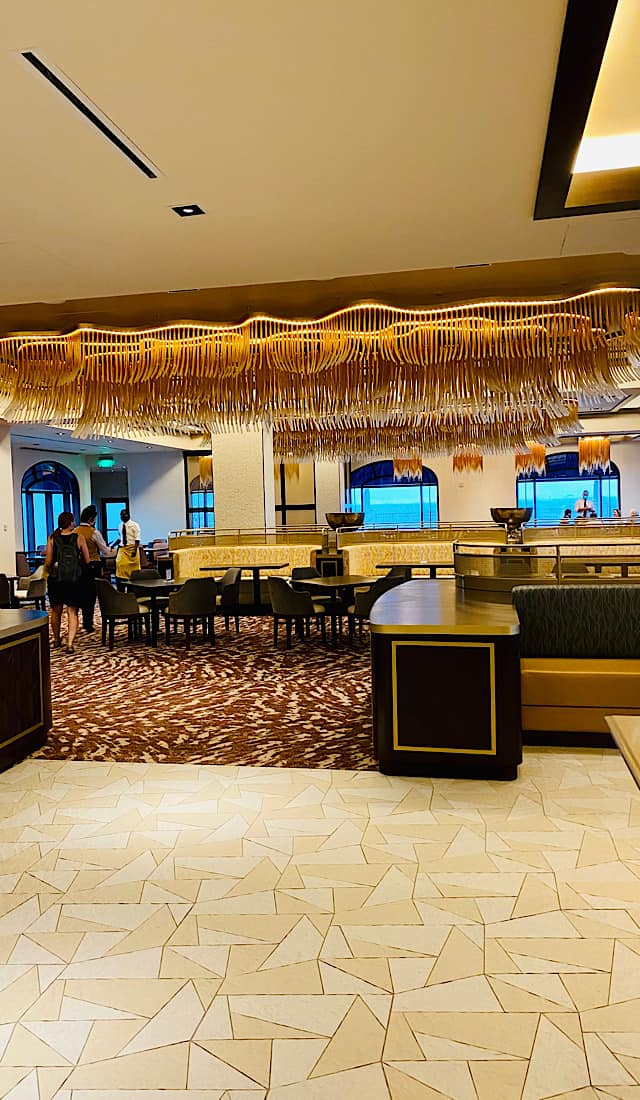 A note about the dress code: minimum dress code requirements are requested at this meal. Dressier attire is welcomed, but at minimum:
Men must wear khakis, slacks, or dress shorts and collared shirts. Jeans may be worn if in good condition. Sports jackets are not required. Women must wear capri pants, skirts, dresses, or dress shorts. Jeans may be worn if in good condition.
The atmosphere is much more laid back at breakfast, so park attire would be more appropriate then. I don't think you would be asked to leave, but I suggest dining here on a non-park day or going back to your hotel and changing before going to dinner at Topolino's.
The Menu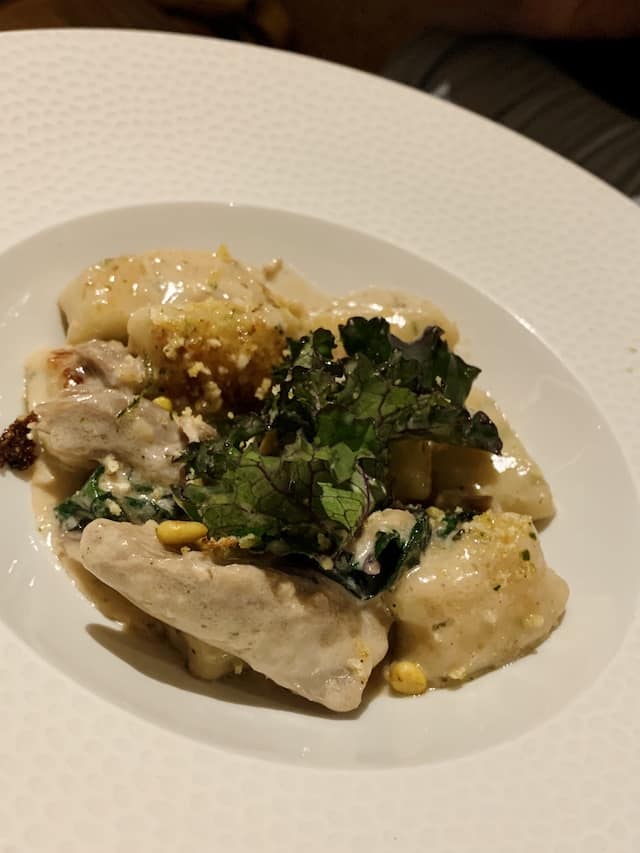 Topolino's Terrace offers breakfast and dinner. Of course, breakfast features a character meal with Mickey, Minnie, Donald, and Daisy. They are in unique outfits to match the artistic culture of the French Riviera. You can read our breakfast review HERE.
Dinner is completely different though. There are no characters, and it does not have the same upbeat and bright atmosphere. The food matches the intimate atmosphere I described above.
Let's take a look at the menu:
Antipasto – Olives Marinees, Gnocchi, Ricotta
Starters – Root Bisque, Romaine Insalata, Beets Barigoule, Escargot en Coquille
Hand-crafted pastas – Herb Fettuccine, Rigatoni
Seafood and Meats – Classic Sole Meuniere, Tomahawk Veal Chop, Filet Mignon, King Salmon Mii-Cuit, Braised Lamb Shank, Tarbais Bean Cassoulet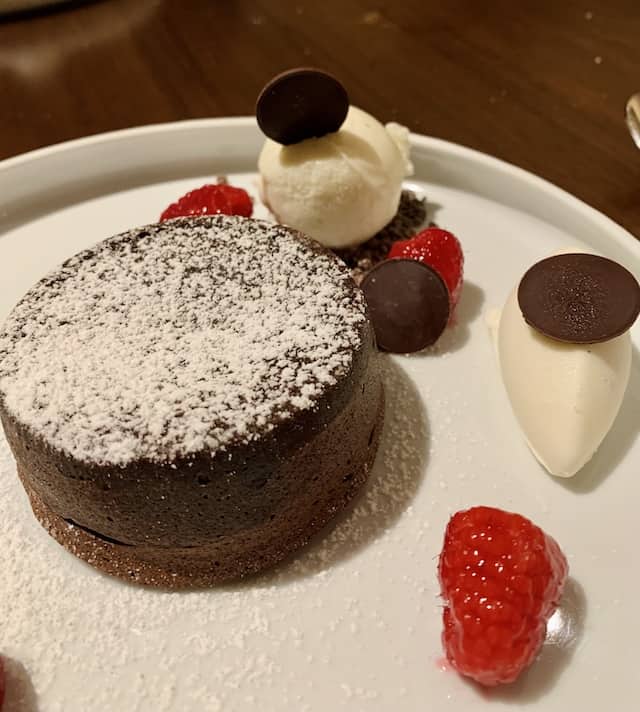 Desserts – Warm Valrhona Chocolate Cake, Fruits of the Forest, Pistachio Mousse
Here is the kids menu:
Appetizers – Soup of the Day, Petite Romaine Salad
Entrees – Rigatoni with Tomato Sauce, Grilled Chicken Breast, Petit Beef Filet
Sides – Roasted Carrots, Fruit Salad, Mashed Potatoes, Gelato
The drink menu and full menu descriptions can be found on Character Locator!
Dinner Review
When the server (who was very kind and personable) arrived at the table, he gave me the run-down of the menu and answered all of my questions. He was extremely knowledgable in regards to the food that is served at the restaurant.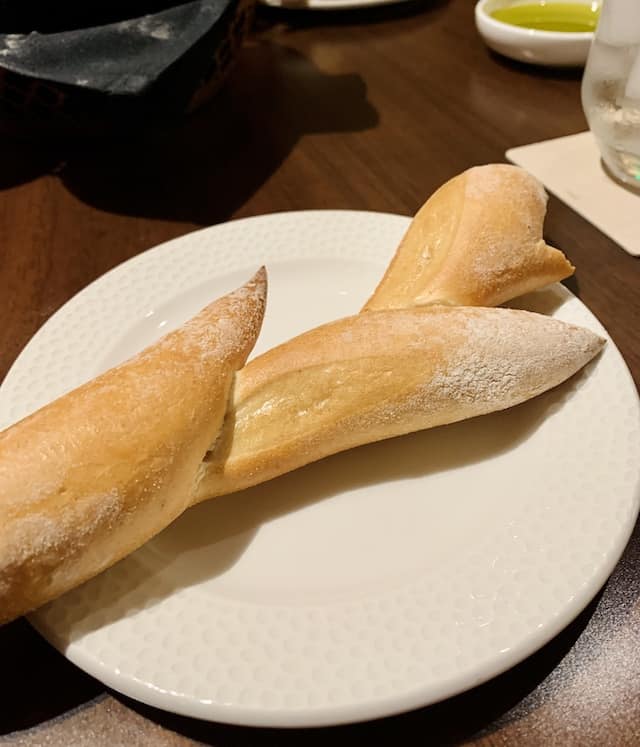 All meals start with a small complimentary bread service that comes with bread and olive oil. The bread is crunchy and fairly plain tasting. This was my least favorite part of the entire meal.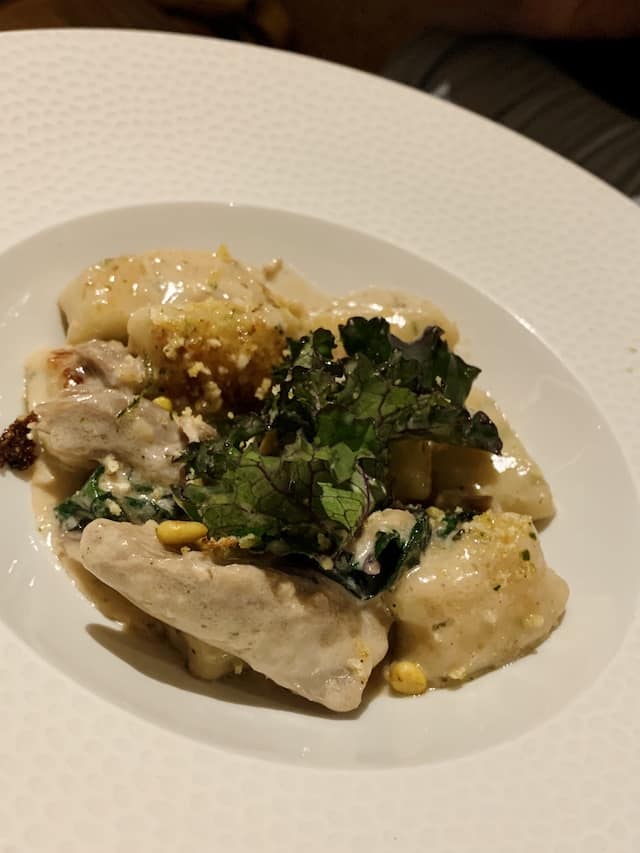 I tried the duck gnocchi, and it tasted amazing. The gnocchi was so soft, and the sauce was so creamy. I was a bit hesitant to try duck, but you couldn't even tell it was duck because of the other flavors. And because the gnocchi was like eating a delicious pillow.
I have had steak all across Walt Disney World property, but the steak at Topolino's Terrace ranks among the best. The kitchen cooked the steak perfectly, and the potatoes tasted great. The charred torpedo onion was a nice touch.
Here is what the adult filet looks like: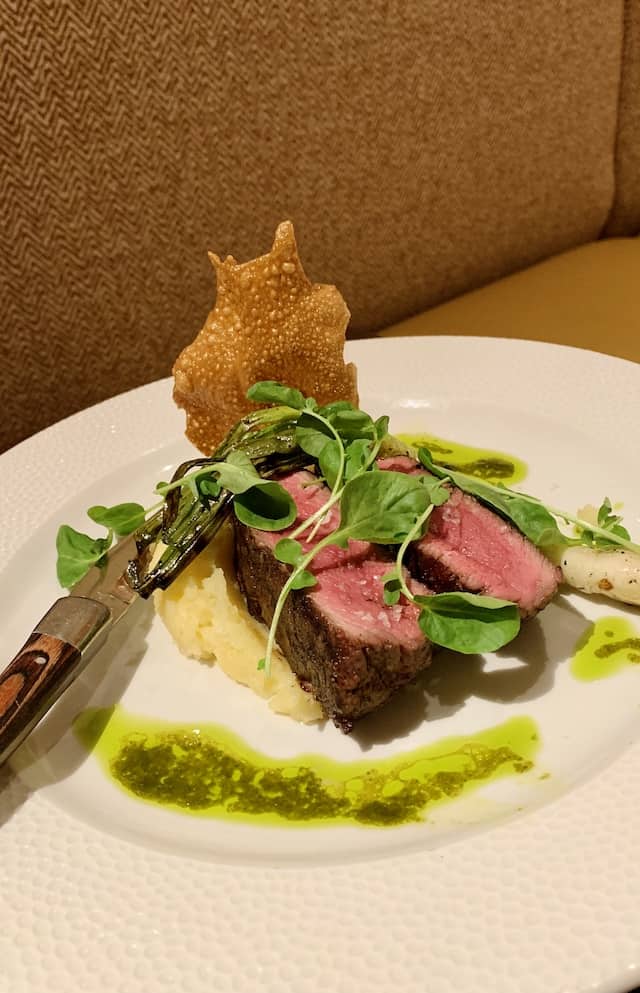 And the child version: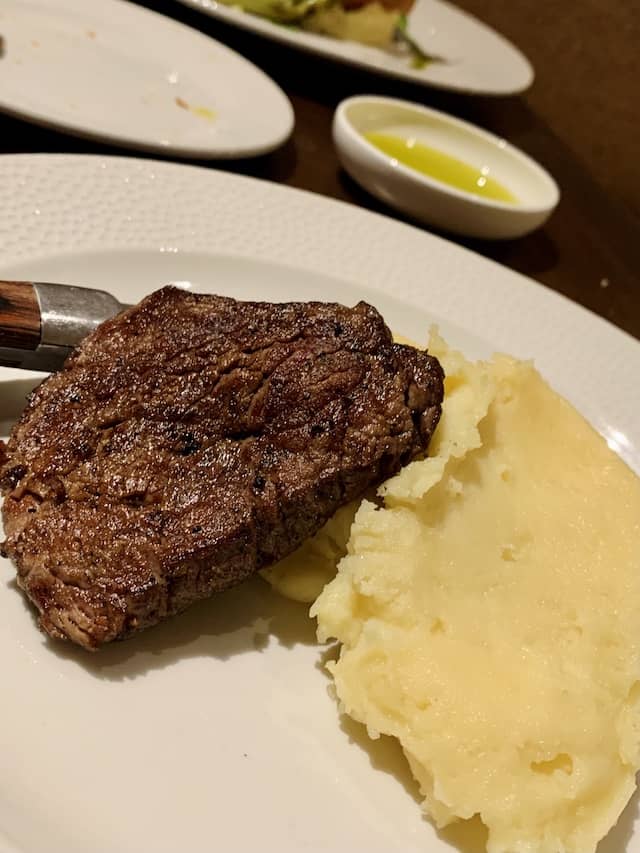 The warm chocolate cake is one of the best desserts I've had on property. The cake was soft and spongey, and there was a warm caramel sauce in the center. The ice cream was delicious, and the raspberries were coated in extra raspberry drizzle. It's certainly not a super adventurous dessert, but it tasted great.
Final Thoughts
While the menu is pared down quite a bit post reopening, this restaurant is still a great choice for many. I particularly enjoyed the gnocchi and chocolate cake.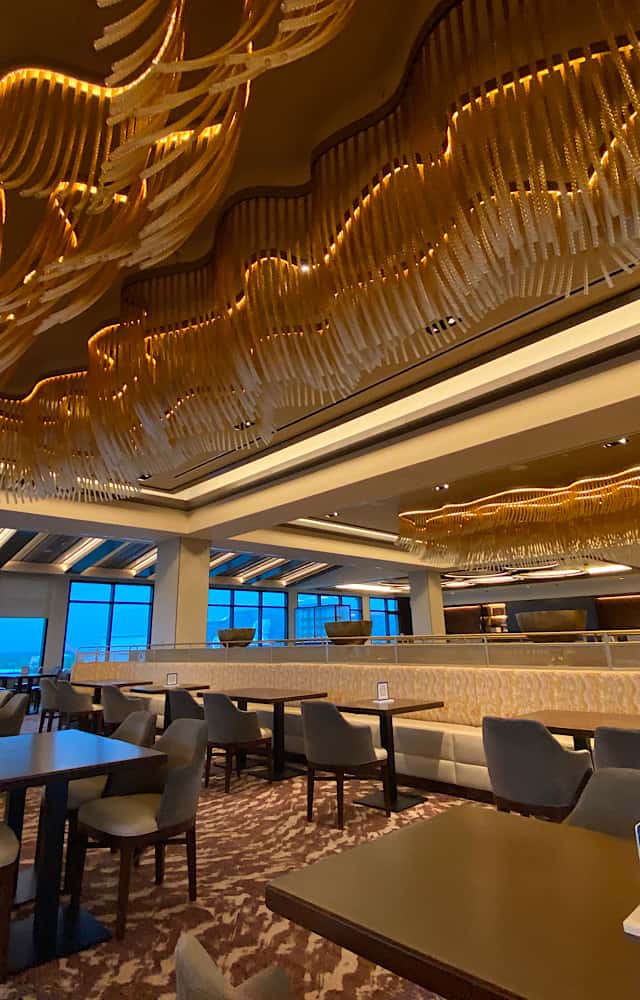 The atmosphere makes Topolino's Terrace a nice change of pace from other restaurants at the theme parks and around the resorts. As soon as you step off the elevator, you forget that you are at Disney World.
It was a nice end to the day, however I definitely prefer breakfast at Topolino's Terrace. I really enjoy the characters in their unique attire, and I still dream about those sour cream waffles. Each meal is a winner, and you really can't go wrong with either one!
Have you ever had dinner at Topolino's Terrace? Share your thoughts and experiences with us on Facebook! Also be sure to share this post with your friends!
Are you planning a vacation? Reach out to our trusted travel agency sponsor Authorized Disney Vacation Planner
Mouse Class Travel
!