Disney's Riviera Resort opened to guests back in December of 2019. During our February vacation, we decided to visit the new resort. There are many great food locations at this hotel, but one you may walk right by (but shouldn't) is Bar Riva.
Transportation to Resort
On the day we decided to visit the hotel, we took a bus from our resort to Hollywood Studios, where we transferred to the Skyliner. With all the initial issues that occurred with the Skyliner, we decided to postpone riding it in the fall until they got the kinks figured out.
Arriving to Disney's Riviera
Our flight over to Riviera was so cool! We had to get off at the Caribbean Beach station and switch to the Riviera line.
When we got to the station, the Riviera line was down, but it was only about 5 minutes until they got it going again.
We entered the hotel via the Skyliner tunnel. I was so excited to finally see the Peter Pan and Tangled mosaics in person and get pictures. They were absolutely stunning!
Exploring the Resort
We decided to walk around the outside grounds first. It was clear to me that this resort would be the perfect place to stay when you don't want to spend all your time in the parks.
There were so many activities for families to enjoy together including a bocce ball court and a giant life-sized chess board. There were also bench swings to sit out on when you wanted to just kick back and relax.
Bar Riva
Bar Riva is a small restaurant located outside by the resort's main pool area.
Checking-in
Despite it's small size, we didn't have an issue finding a table when we arrived in the late afternoon. You seat yourself and then a server comes to your table to take your drink order.
Ambiance
I loved the decor of this restaurant. Very laid back and costal themed. They used a lot of blue tones and murals of the Riviera coastline in their decorations.
The floor is blue and white tile so no need to worry about running in from the pool and dripping on a carpet.
Cocktails
Our server was friendly and came to our table as soon as we sat down to take our drink order.
My Dad ordered the Italian Sangria Blanco (made with La Fiera Moscato, Caravella Limoncello, Apple Juicåe and fruit for $13).
We all thought the white sangria was really tasty. It was light and refreshing, just what you would want on a hot summer day or sitting by the pool.
My mom loves red wines, so she decided to try the Italian Sangria Rosso (made with Ruffino Chianti, Tuaca, Orange Juice and fruit for $13).
She really enjoyed her drink too, but my dad and I thought it was too bitter for our taste. I am not really a big red wine fan to begin with, but this wasn't sweet enough for a sangria in my opinion.
Instead, I went with the Mediterranean Wave, which was a frozen drink made with Ciroc Vodka, Italicus Rosolio di Bergamotto, Pineapple, Agave and Bols Blue Curaçao for $15.
I was a bit skeptical of how it would taste, but i decided to give it a try since it was so pretty looking on the menu.
Some drinks you get can remind you of those expectation vs. reality memes, but this one looked even better than the picture on the menu.
The blue curaçao was swirled throughout the drink.
I have tried a lot of different cocktails around Disney World. This one, by far, was the BEST drink I have ever tasted on property.
It had the most amazing flavor and was so refreshing. I was extremely sad when it was gone. I most definitely will return to Bar Riva, just for the drink alone!
Food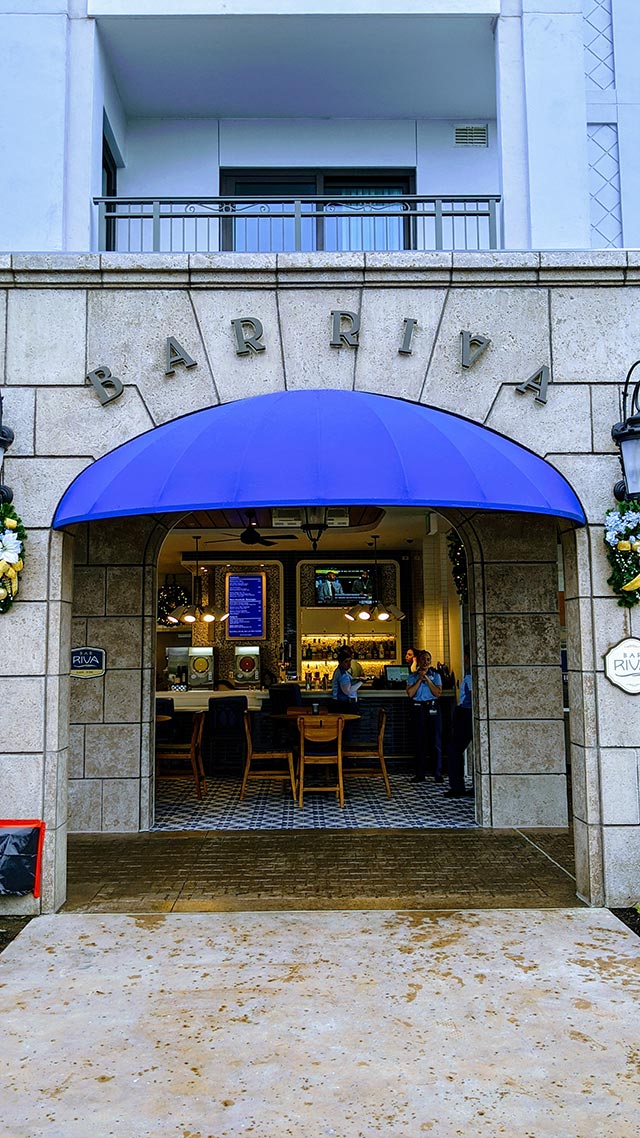 When it came time to order food, we decided to split the Monte Cristo sandwich because we had a dinner reservation at Cape May Cafe later that evening.
I will admit that our main reason for visiting Bar Riva was because I had heard they had a Monte Cristo sandwich on their menu that was really close to the one in Disneyland. The Monte Cristo was so good at Cafe Orleans in Disneyland and have always been sad that they didn't have one in Walt Disney World.
I am pleased to say that the version at Bar Riva did not disappoint! The sandwich was almost identical in taste to the one served in Disneyland.
The only difference was that the preserves were strawberry flavored instead of blackberry and they were already added to the sandwich. Unlike the one at Disneyland, the Monte Cristo at Bar Riva is premade, so you cannot make alterations.
I am so glad we decided to share it, because it was HUGE! The sandwich comes with 4 big pieces stuffed with ham, gruyere cheese and strawberry preserves on a brioche bun that is deep fried and dusted with powdered sugar.
There is a heaping pile of Romano and Herb French fries on the side and you also get an extra cup of strawberry preserves for dipping. If you don't want the fries you could also choose between soup, a salad, or fruit.
The Monte Cristo sandwich was amazing! I would still give a slight edge to the one at Disneyland, but this was as close to that sandwich that I have ever found. It was perfectly crispy on the outside and the balance between sweet and savory was perfect. The ingredients did not overpower each other and the strawberry sauce was the perfect pairing.
Personally, I really enjoyed the fries. Some in our group thought they were a little limp and could be a little hotter, but the flavor of the herbs and Romano cheese was so good, that it didn't bother me.
The Monte Cristo sandwich cost just $13.99, which I thought was a great deal for the amount of food you get. This would be a very filling entree or a great snack to share among the family.
We absolutely loved Bar Riva and can't speak highly enough of the Monte Cristo sandwich and cocktails. If you find yourself visiting Disney's Royal Riviera Resort, I highly suggest making a stop in to check it out!
Have you tried the food over at Bar Riva yet? Let us know what you think on facebook.
-Christina