LATEST VIDEOS
Subscribe to my Youtube!
LIVE - Just Mousing Around
Just Mousing Around - LIVE
LIVE - Just Mousing Around
During a trip to Disney before the parks closed, my family and I were able to try Disney's newest character meal at Topolino's Terrace at Disney's Riviera Resort. Read on for my complete review to see if you would like to try it out for yourself on your next visit.
Riviera Resort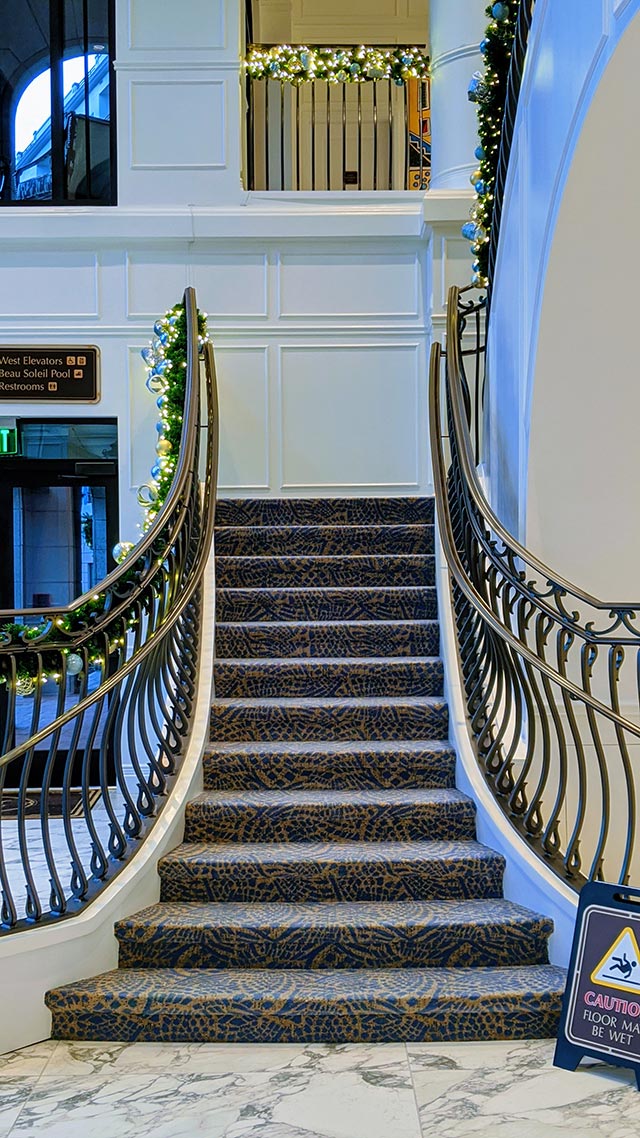 Topolino's Terrace is at Disney's beautiful Disney's Riviera Resort, which just had its grand opening in December 2019. You can see the amazing photos of Kenny's walking tour of the resort here.
We also know from the wave of Disney news we have received lately, this is the only resort that will offer a modified character dining experience once the parks reopen! We also know that they will offer a limited menu and some prices have changed.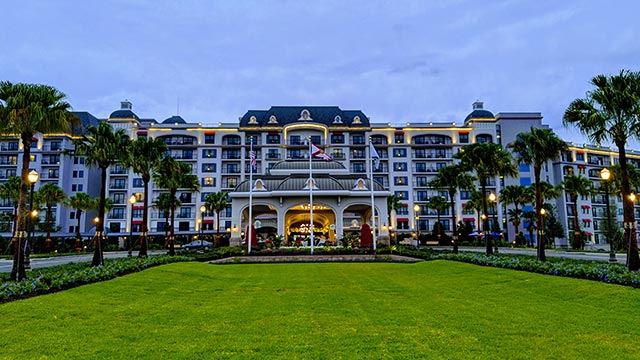 The resort is truly one of the most beautiful resorts in my opinion. You feel as if you have stepped into the European Riviera.
I was impressed with the grand feeling of the resort and its beautiful architecture and the gorgeous artwork.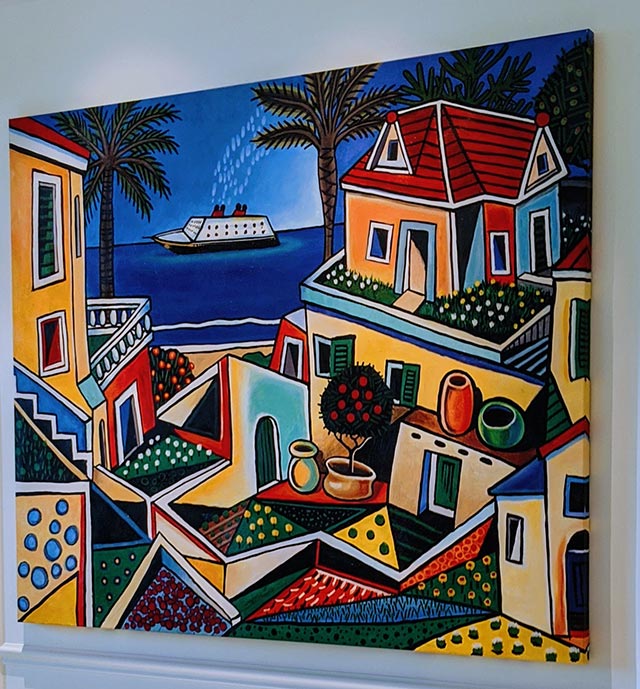 If you are an art lover, you will appreciate all of the detail in the design of the resort and the many different paintings placed in all areas of the resort that give nods to some very famous artists.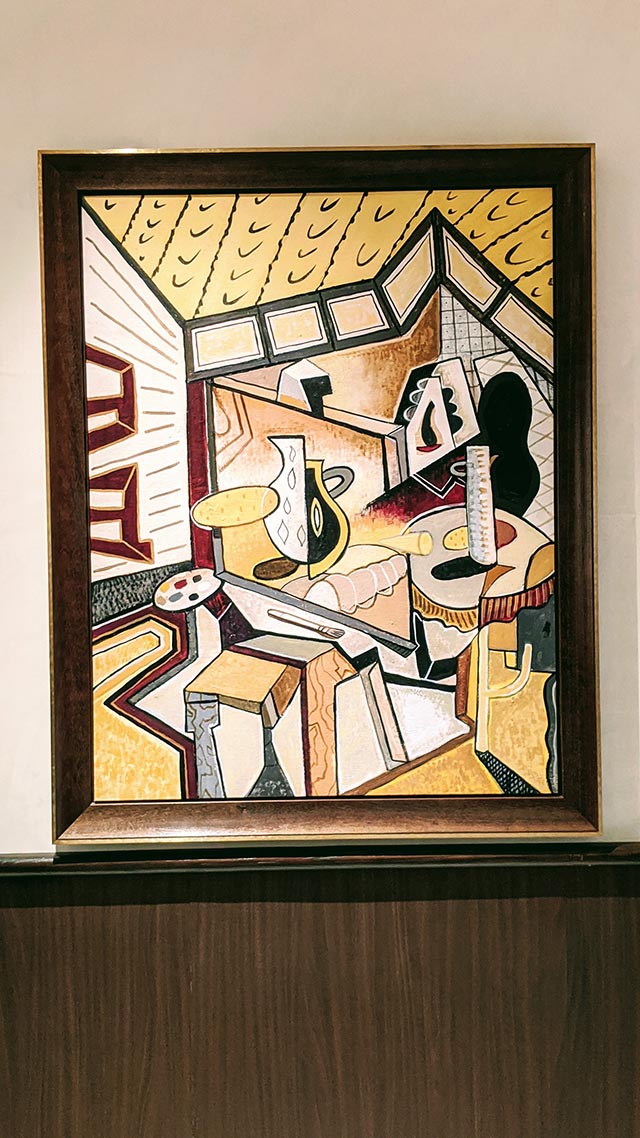 Topolino's Terrace offers breakfast and dinner. It is a rooftop restaurant and offers breathtaking views of the resort.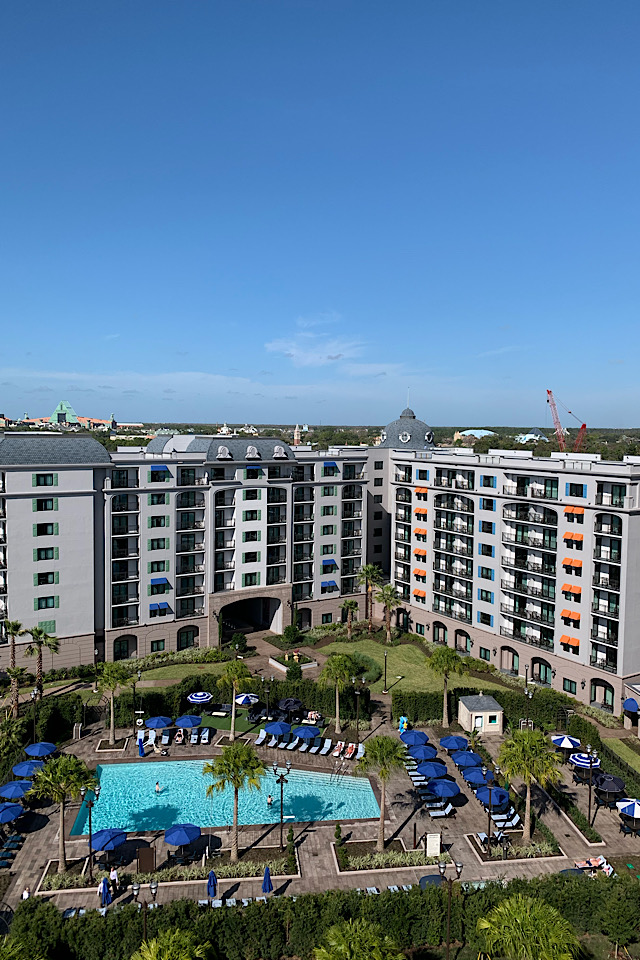 If you choose to have breakfast, guests can have a character dining experience with Mickey Mouse, Minnie Mouse, Donald Duck and Daisy Duck, all dressed in outfits that can only be found at Topolino's Terrace.
NOte: a Modified Character Dining experience is available with the reopening of the resort
As we know, character interactions at Disney World have come to a halt due to COVID-19. However, this is the one restaurant that will still have some character meets. You won't be able to hug and get autographs, but they will still greet you!
We will have a full review of the modified character experience soon! In the meantime, this review may help you decide if you want to try it for yourself!
Check-In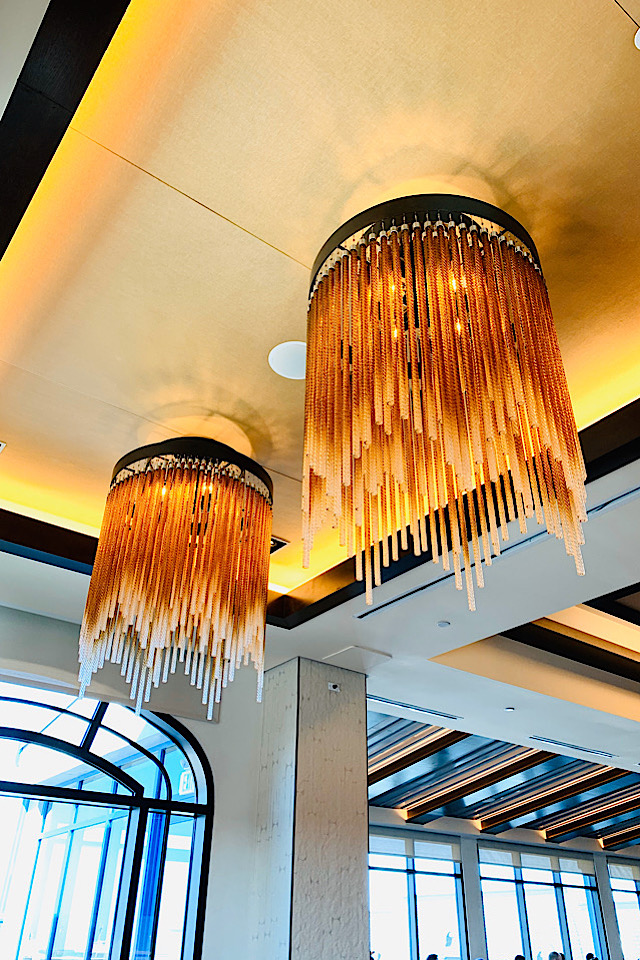 Since this was our last day before leaving, this meal was our only thing we had planned to do. We decided to have breakfast and enjoy the resort and go on Disney's Skyliner. We had a later reservation at 9:50 a.m. and checked in around 9:30 a.m.
We had a very little wait and we were taken to our table. The interior of the restaurant is beautiful. It reminded me of the dining rooms you find on some of the Disney Cruise Line ships. It was very open and decorative.
Our Experience
After we were seated, we were all given menus (a QR code to scan on your smart phone will temporarily be available to view menus for many restaurants), and the hostess informed us that we would be visited by Artist Mickey, Sculptor Donald, Writer Minnie, and Dancer Daisy.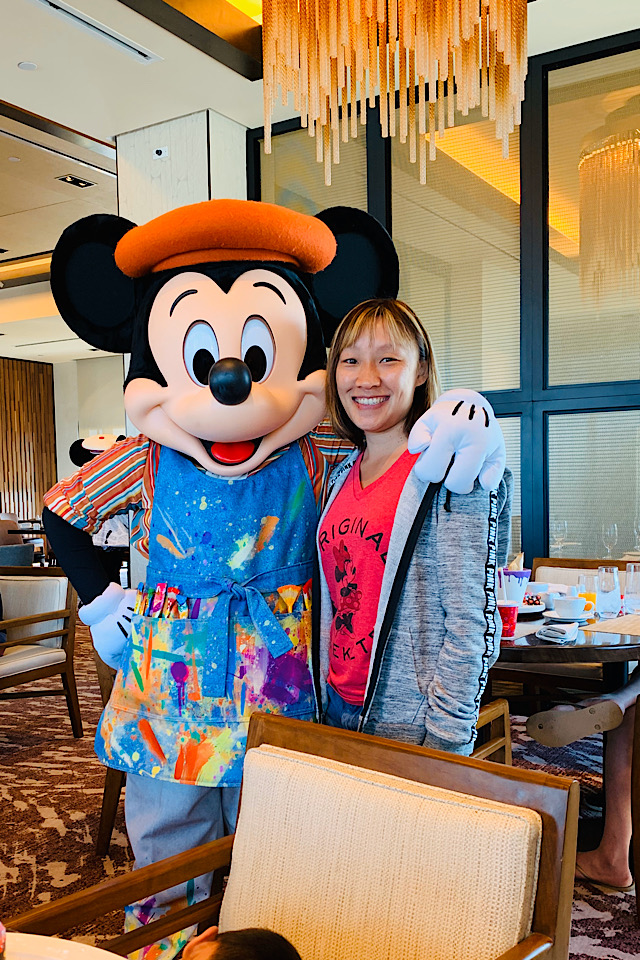 Breakfast began with a bucket of shared pastries. If this was the only thing we received, I would have been just as happy. It was that good!
It included a variety of breakfast pastries, including Danish croissants, blueberry scones, chocolate chip muffins, and baguettes which were accompanied by various jams and spreads. My boys, who love eating bread and rolls every chance that they can get, loved it.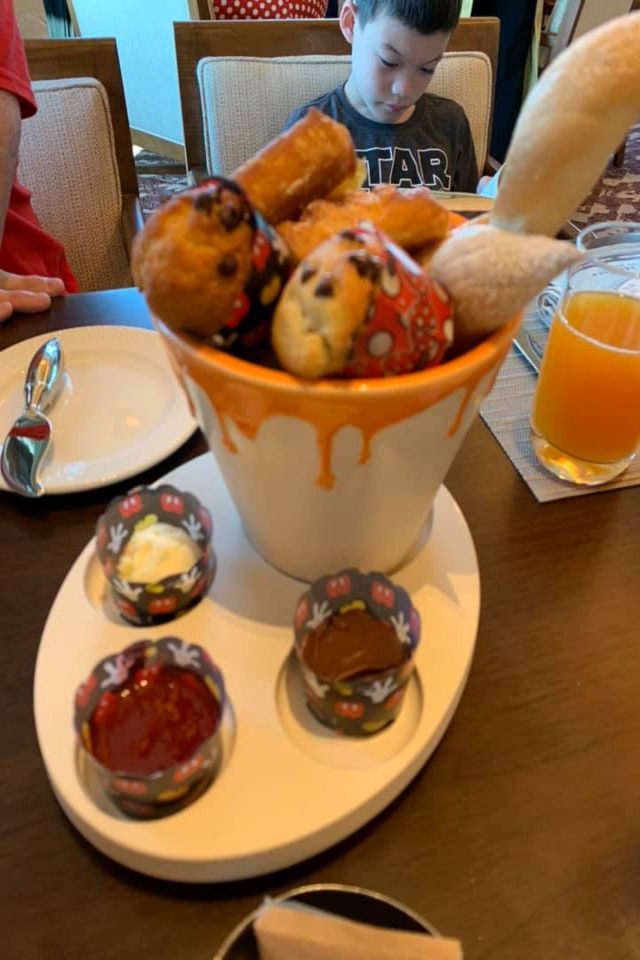 Menu
Breakfast entrees included the following entrees:
Quiche Gruyere with house-made pancetta
Sour Cream Waffle
Smoked Salmon
Two Eggs Any-Style
Wild Mushroom Scramble
Fruit Plate
I had the Quiche Gruyere entree, and nearly four months later, I can still taste it! It was light, tasteful, and made me want more. My husband had the sour cream waffle. We both enjoyed our meals, but the thing we really enjoyed the most was the shared pastry bucket.
To see the modified menu, click HERE.
Children's Menu
Topolino's Terrace also offers a children's menu which includes:
Scrambled Egg
Plant-based Scrambled Eggs
Fruit and Yogurt
Mickey Waffle Dippers
My youngest son decided to choose the Mickey Waffle Dippers and why not? It is probably the most fun thing on the menu. Take a look at these dippers!
My other son enjoyed the fruit and yogurt entree and ate everything right up.
Characters
Remember, characters are now meeting a bit differently than before. Hopefully, as the experience begins to shift back to the way things used to be (which may be several months before that happens), we will get to hug and interact with our favorite furry friends again!
Our first character that came to visit was Minnie. Minnie is dressed from head to toe in her writer ensemble. Soon Daisy came by and showed off her dancer outfit. They were later followed by sculptor Donald and artist Mickey.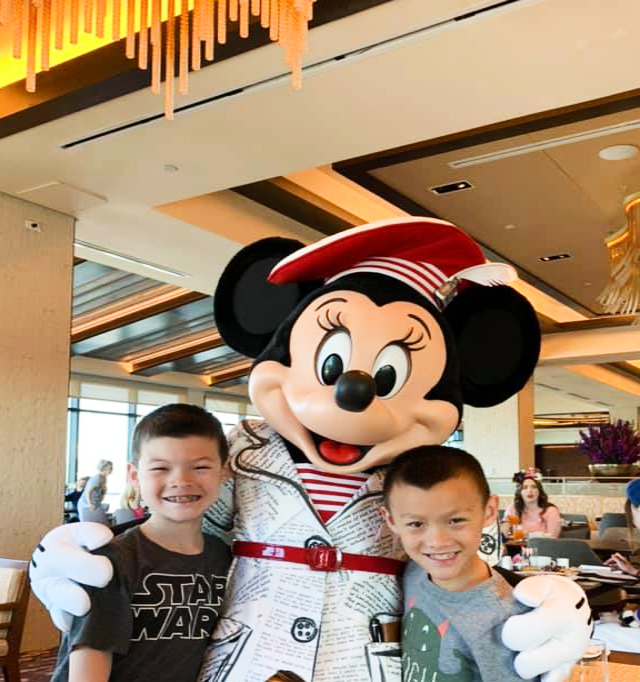 I made sure to have my picture taken with writer Minnie and artist Mickey which are two things I love and appreciate, writing (mostly for KtP of course) and the arts!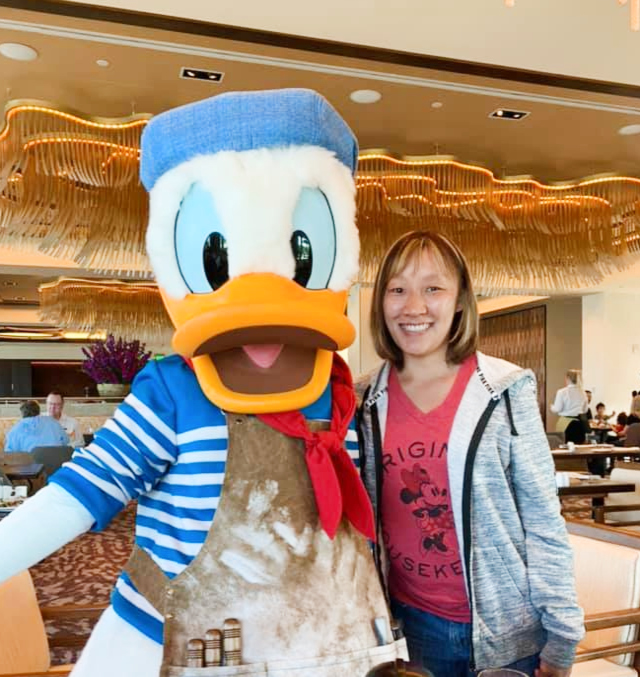 We enjoyed all of the character interactions and the restaurant was not busy at all, probably because we were one of the later reservations.
A lot of the characters actually came by our table more than once. Minnie even stopped to read a book with my son.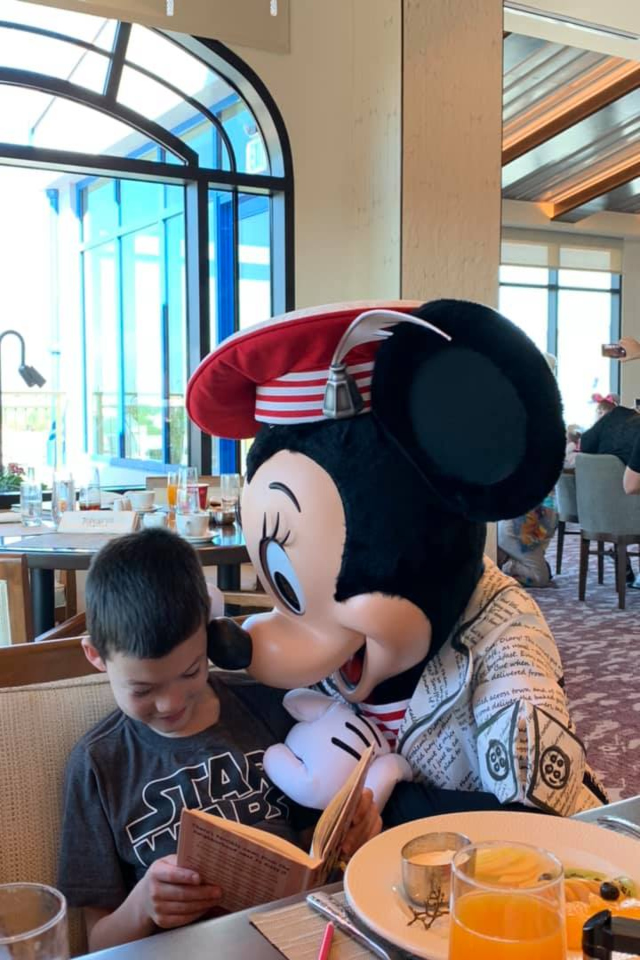 Cost
Meals range from $35 to $59.99 per adult. Per Disney's website, meals for children ages 3-9 years old are quoted as being $27.00 per child.
Remember, the dining plan has currently been suspended, so you will be paying for this meal out of pocket!
Alcoholic and non-alcoholic beverages are also available.
Reservations
Reservations are always highly recommended. In light of the upcoming reopening of the parks, guests who have Disney Resort hotel reservations for arrivals June 22 through July 10, 2020 can make dining reservations for select Walt Disney World Resort hotels and available Disney Spring dining locations now.
Final Thoughts
Topolino's Terrace is a new favorite character breakfast of mine. Like I said before, I will go back just for that delicious bread selection you receive before your entree.
I also loved the characters and it was unique to see them dressed up as characters of the arts.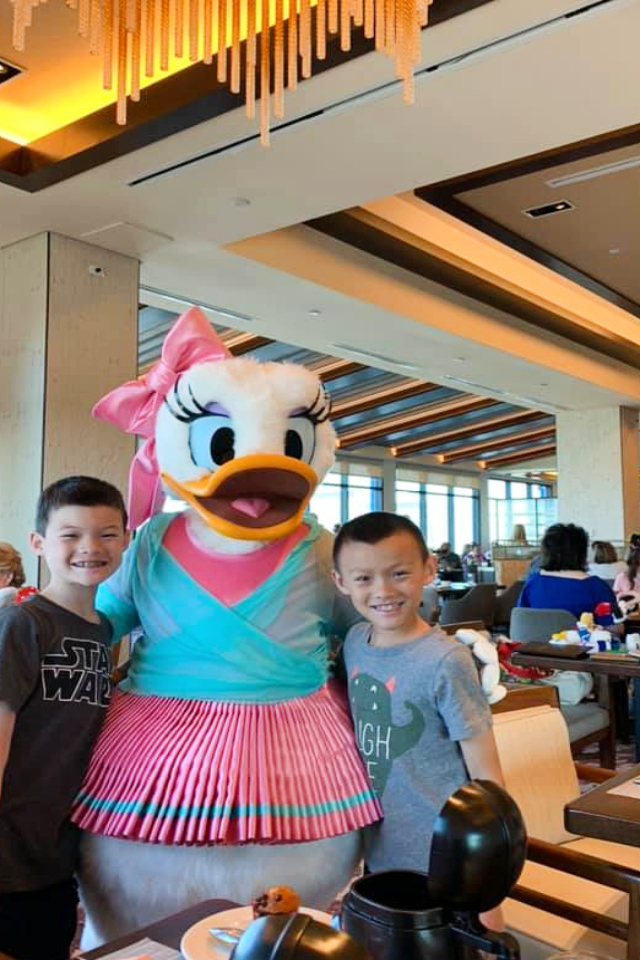 Guests can also purchase plush characters of Minnie Mouse, Mickey Mouse, Donald Duck and Daisy Duck at Topolino's Terrace or in the gift shop in Disney's Riviera Resort.
I could not resist buying writer Minnie. Isn't she cute?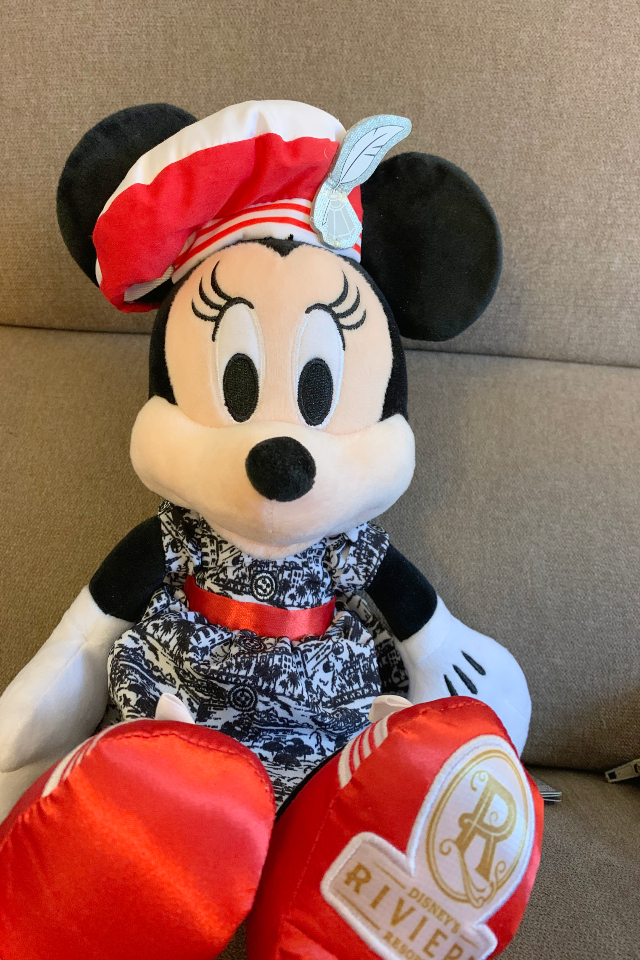 I would definitely try Topolino's Terrace again, and I hope to one day try their dinner menu. I think it's a great location, a wonderful chance to see some unique characters, and have some delicious food.
Have you been to Topolino's Terrace for either breakfast or dinner? Will this be one of the character meals you will be trying on your next trip? Tell us about it in the comments below, on Facebook, or in our crew on Facebook.
Maggie Baltz
Are you planning a vacation? Reach out to our trusted travel agency sponsor Authorized Disney Vacation Planner
Mouse Class Travel
!