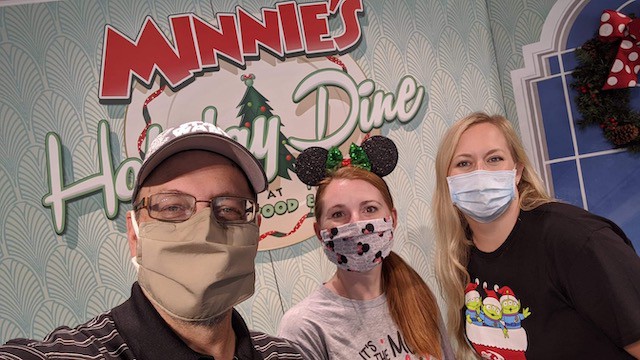 Holiday food, Minnie and her friends in their seasonal best, and the official start of the Christmas season at Hollywood Studios…what could be better?! We dined at Hollywood and Vine for opening day of Minnie's Holiday Dine. Come check out our full review!
What is Minnie's Holiday Dine?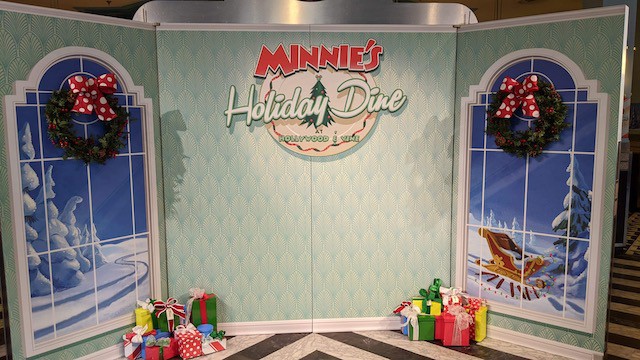 Minnie's Holiday Dine is one of five seasonal dining experiences at Hollywood and Vine. The restaurant is located in Disney's Hollywood Studios next to Echo Lake.
The five dining experiences are:
Halloween Dine September 25 – November 5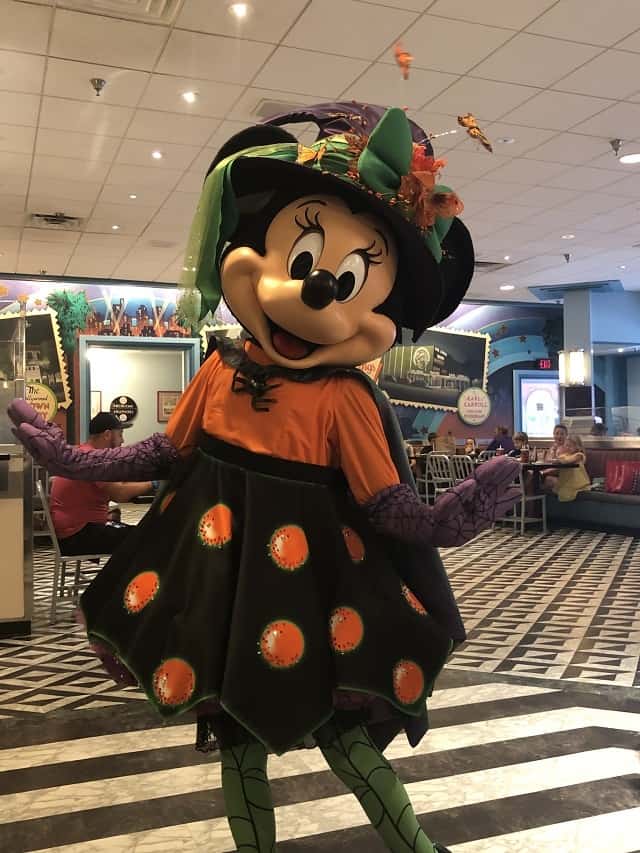 Visit Minnie's favorite happy haunt for a spooktacular Halloween feast that's frightfully delightful.
Minnie's Holiday Dine November 6 – January 4
Deck the halls at a dazzling dinner party filled with holiday cheer and the joy of the season!
Silver Screen Dine January 5 – March
Join Minnie Mouse for a fabulous dinner party celebrating the glitz and glamour of Hollywood!
Springtime Dine March – June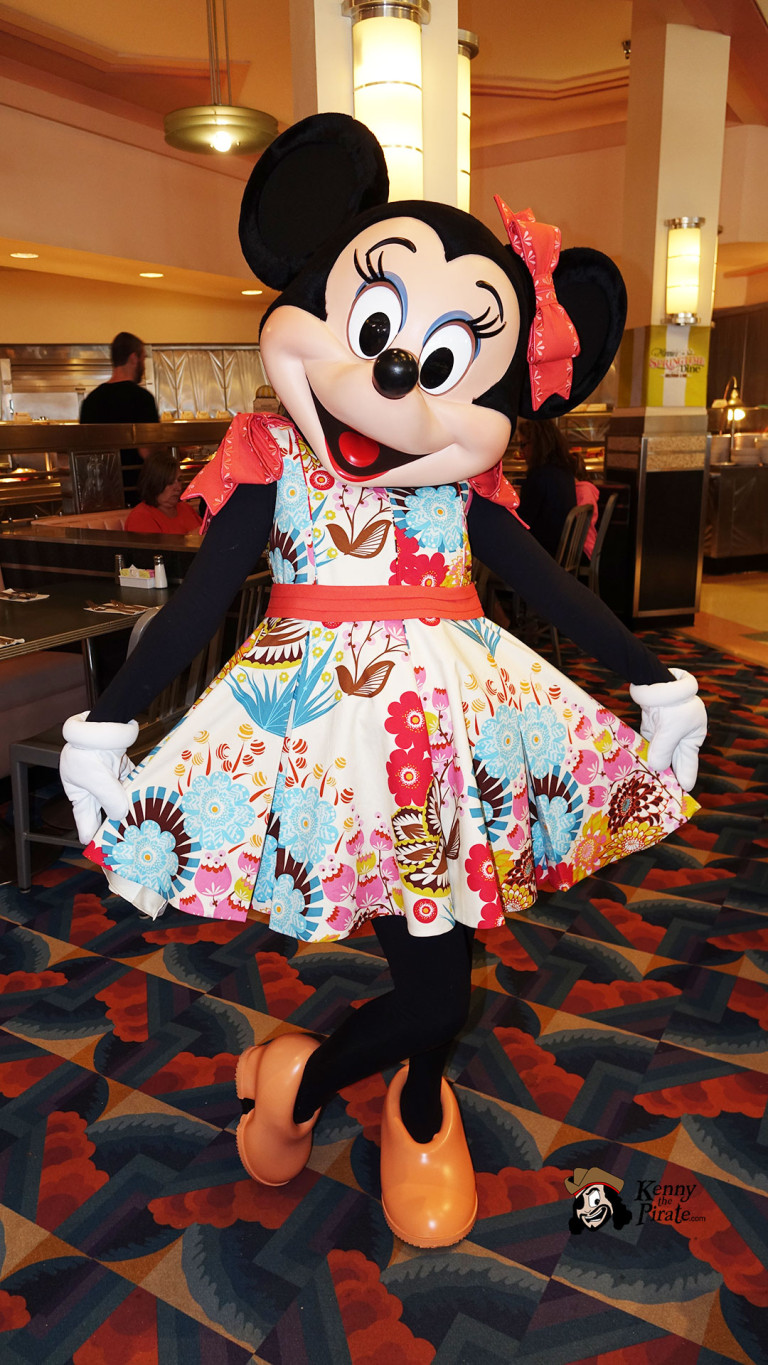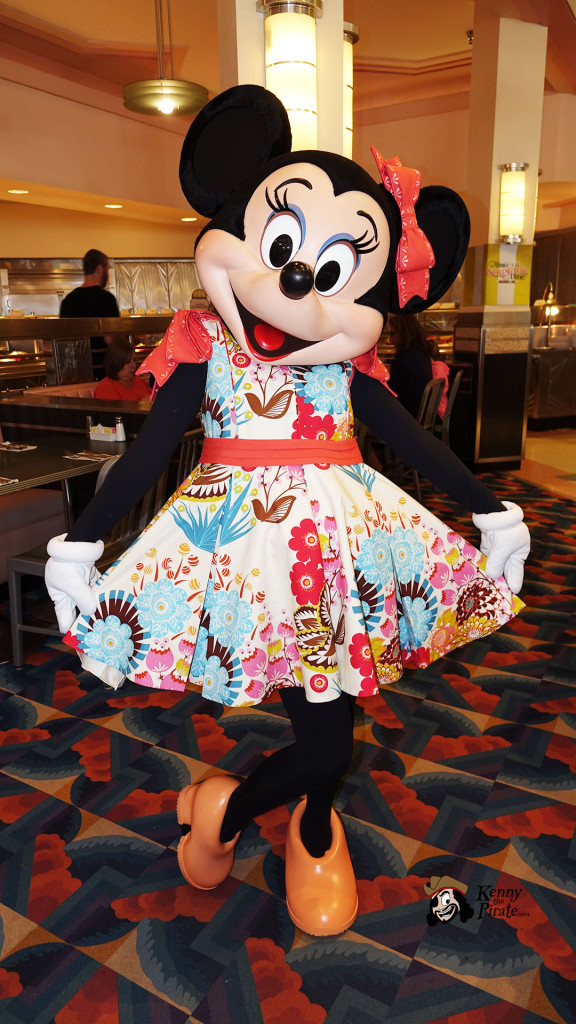 Shake off winter's chill with a divine dinner party that marks the bright and beautiful delights of spring!
Summertime Dine June – September
Head to Hollywood & Vine for a beach-inspired bash celebrating the sizzle of summer!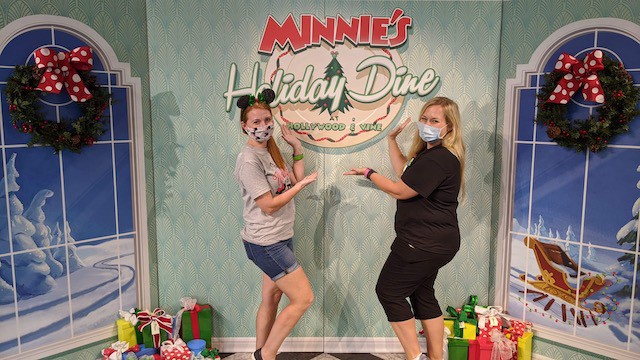 Each dining experience offers themed character outfits, decor, and food! With the switch from Halloween to Christmas, the restaurant shifted from the Halloween Dine (full review HERE) to the Holiday Dine.
Kenny, myself (Monica), and my friend Heidi enjoyed lunch on the opening day of the Holiday Dine. Here's what we experienced.
Minnie Decked the Halls!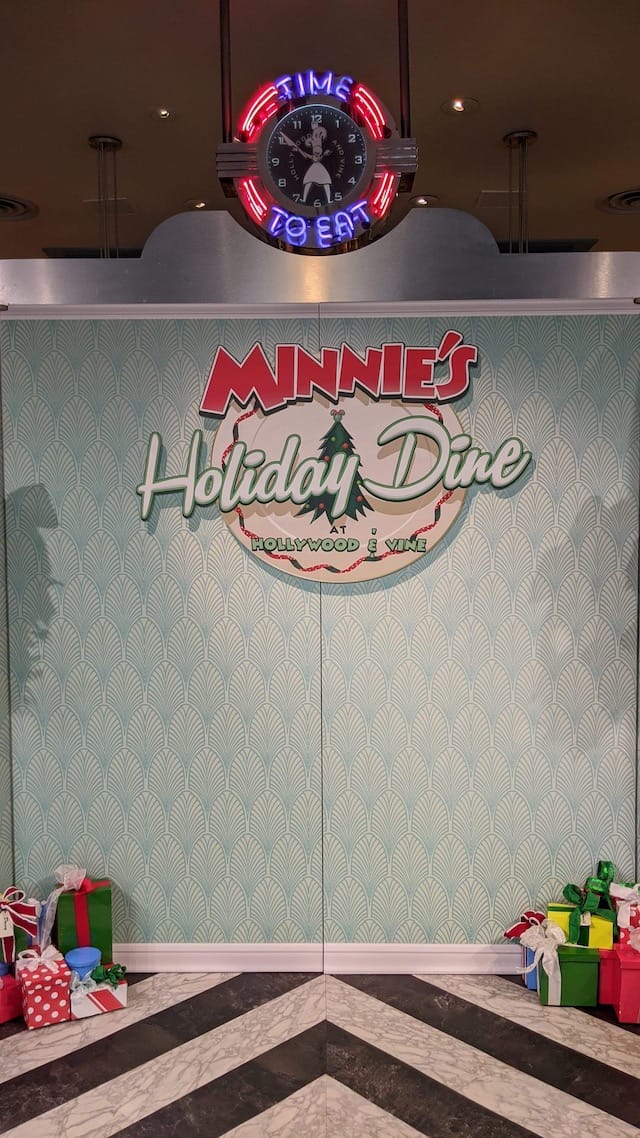 When you first walk into Hollywood & Vine, you will notice the giant backdrop. The display features wreaths, presents, and a sign that read "Minnie's Holiday Dine". It makes for the perfect photo opportunity before or after your meal. However, there are no characters present to pose with you.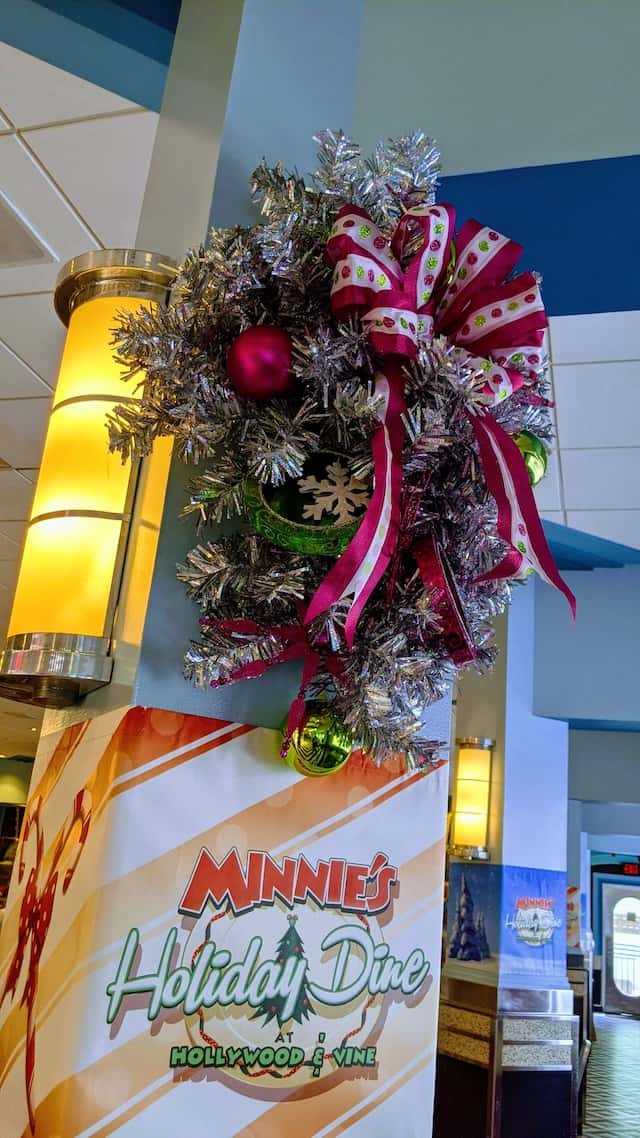 Throughout the restaurant you will find the columns are wrapped with signs that say "Minnie's Holiday Dine". Some remind me of wrapping paper with the candy cane striped background. The other is a blue Christmas tree scene. Some of the columns also have a wreath on them as well.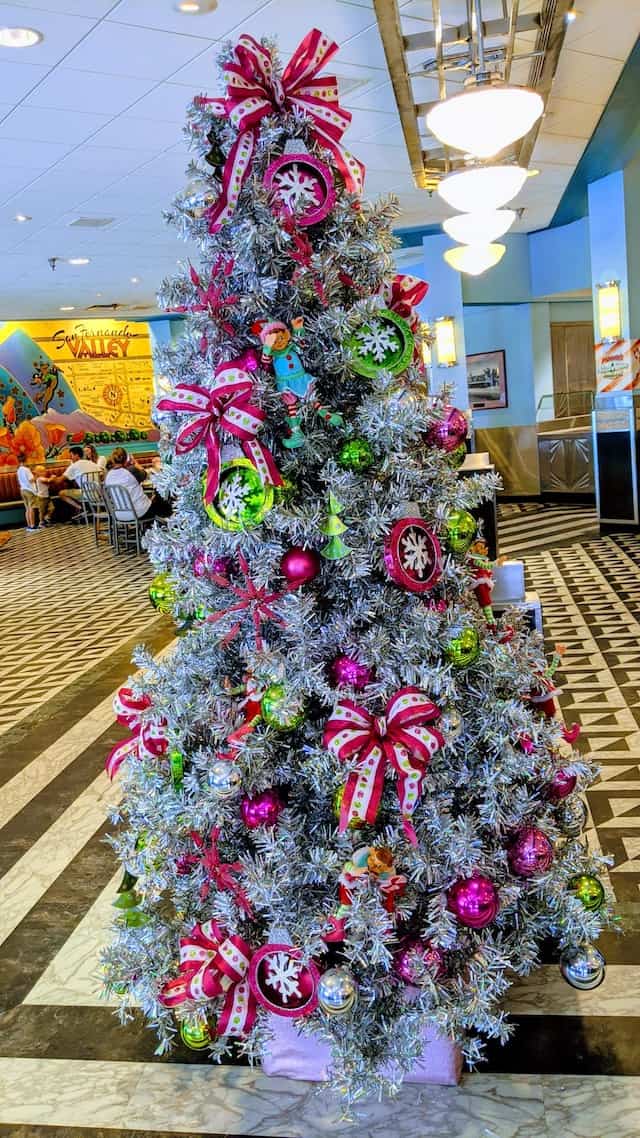 There are also a few smaller trees by the front of the restaurant. The silver tinsel trees reminded me of a vintage Christmas, which I thought was great. We noticed this a lot throughout the park in general. The decorations definitely remind you of holidays from long ago!
Festive Characters
The characters outfits are just as festive as the decor!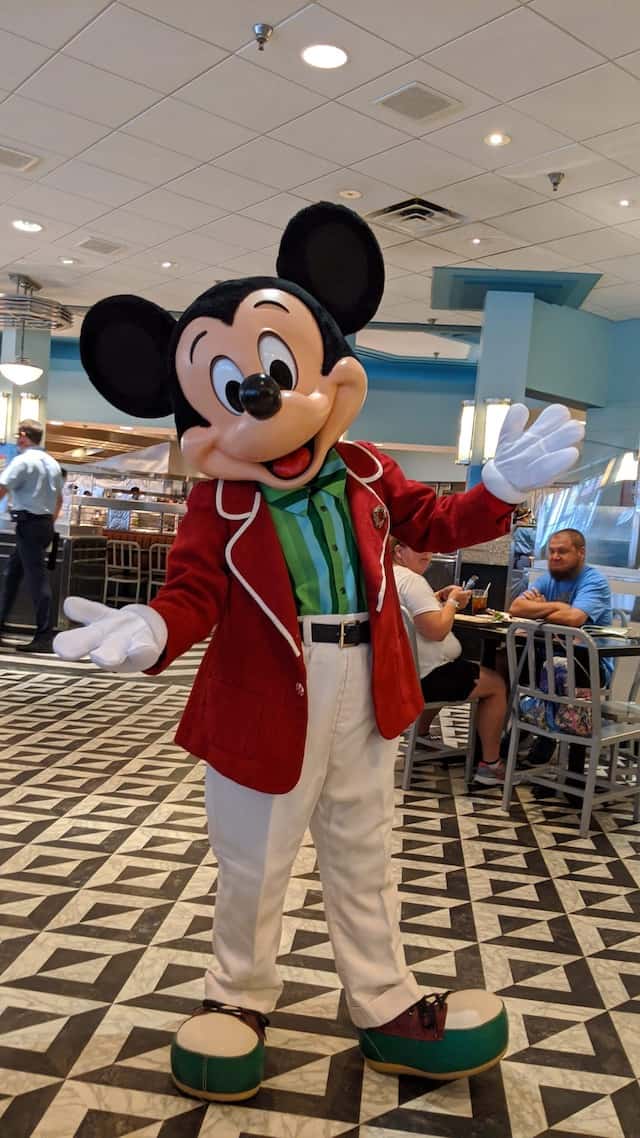 Mickey is dressed in a green and blue striped shirt, a red sports coat, and white pants. Look how dapper he looks!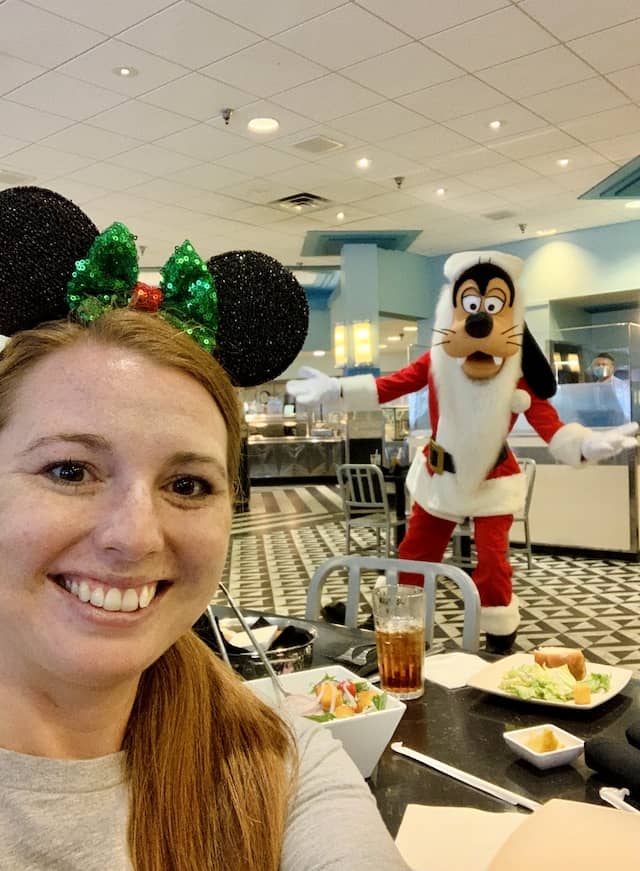 Goofy is representing some serious Santa vibes in this suit! The long white beard completes the look.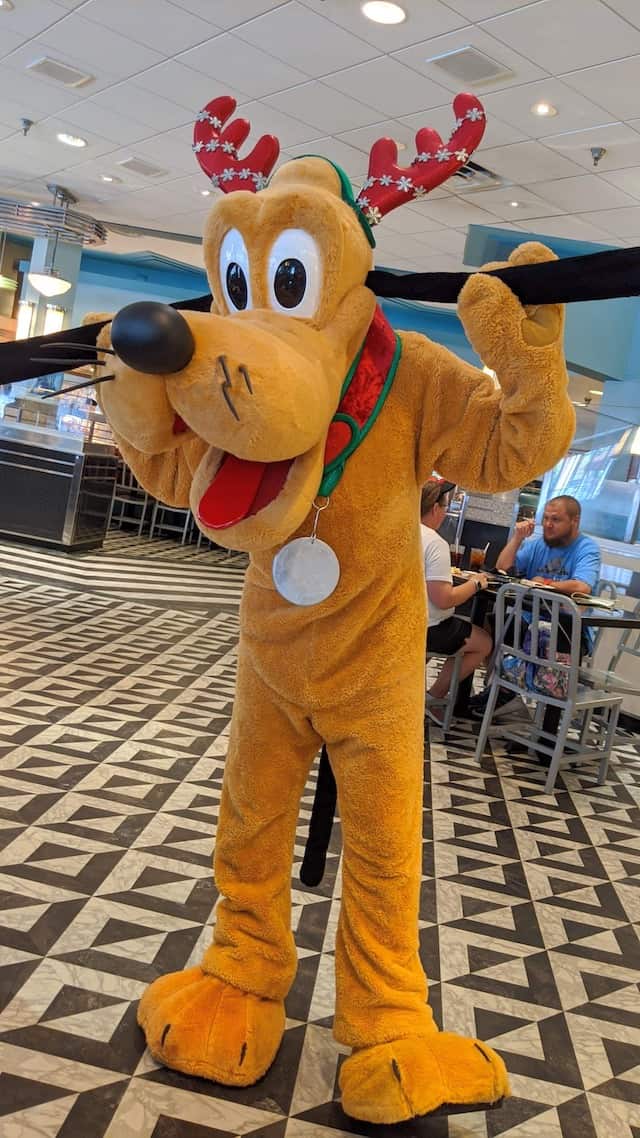 Pluto looks like he could be one of Santa Goofy's reindeer with those red antlers and collar. He was the least festive because that's all he had on.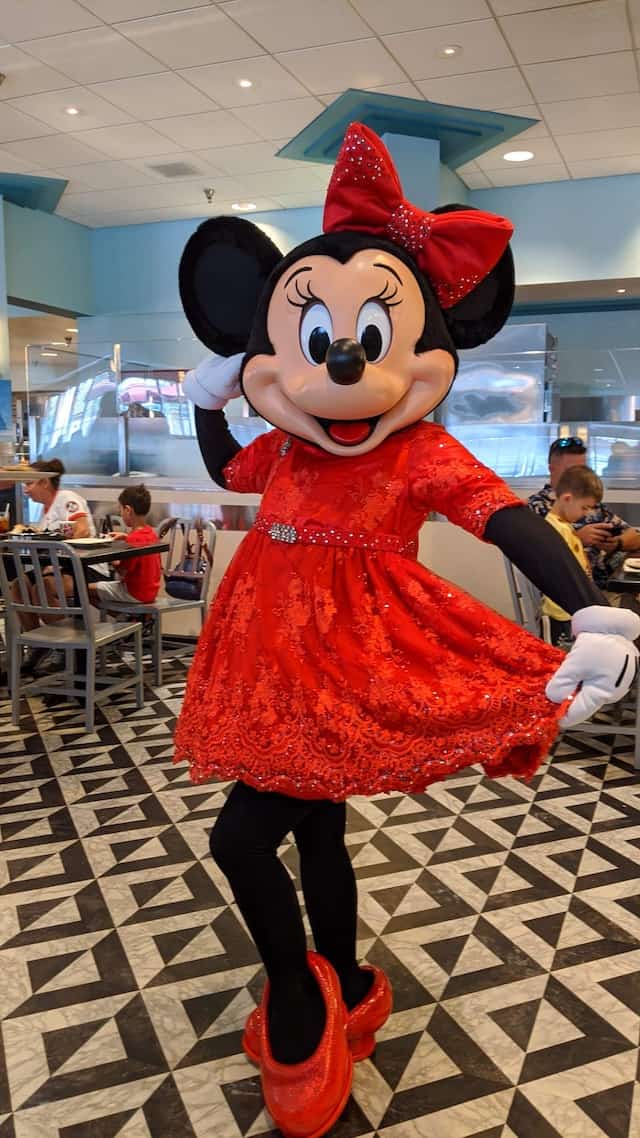 Finally, Minnie looks absolutely stunning in her red sparkle dress! She has a matching bow, belt, and heels to complete the look.
All of the characters come out to the tables individually. They do a wonderful job interacting with each table from a distance. I noticed they paid special attention to tables with children (as they should), but they also made sure to pose for a selfie with me. Have those cameras ready!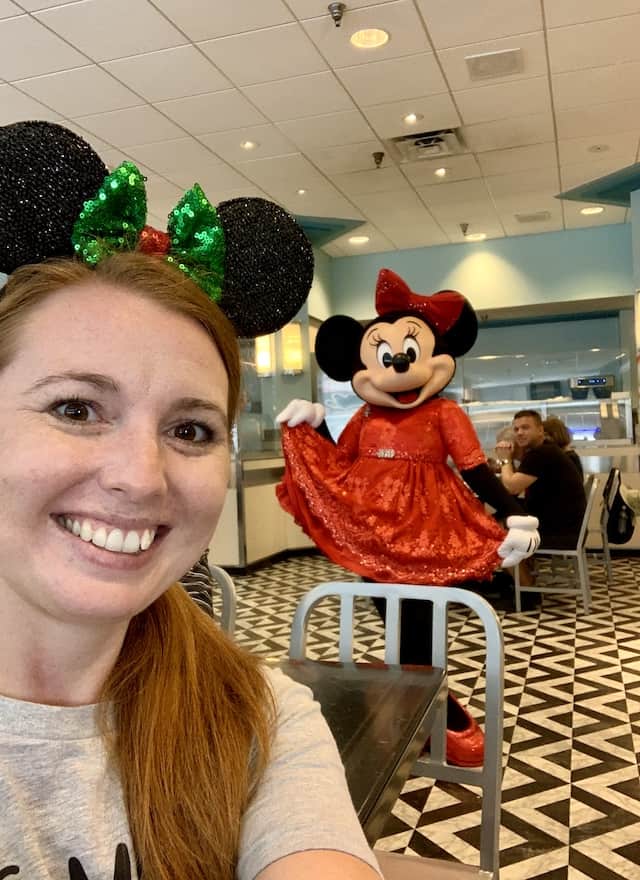 Pirate tip: I like to take videos of each set. If you have an iPhone you can use the screenshot button (the white button on the bottom of the screen) to take screenshots without disrupting the video.
Because of physical distancing, the characters will not greet you at you table, sign autographs, or give hugs. Trust me when I say I am so saddened by this, but I understand the reasons why.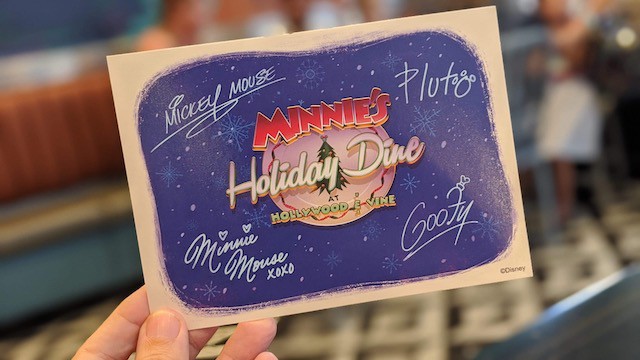 You will get an autograph card, and you can still grab some great photos so I feel the character meals are still worth the price you pay.
Holiday Food at it's Finest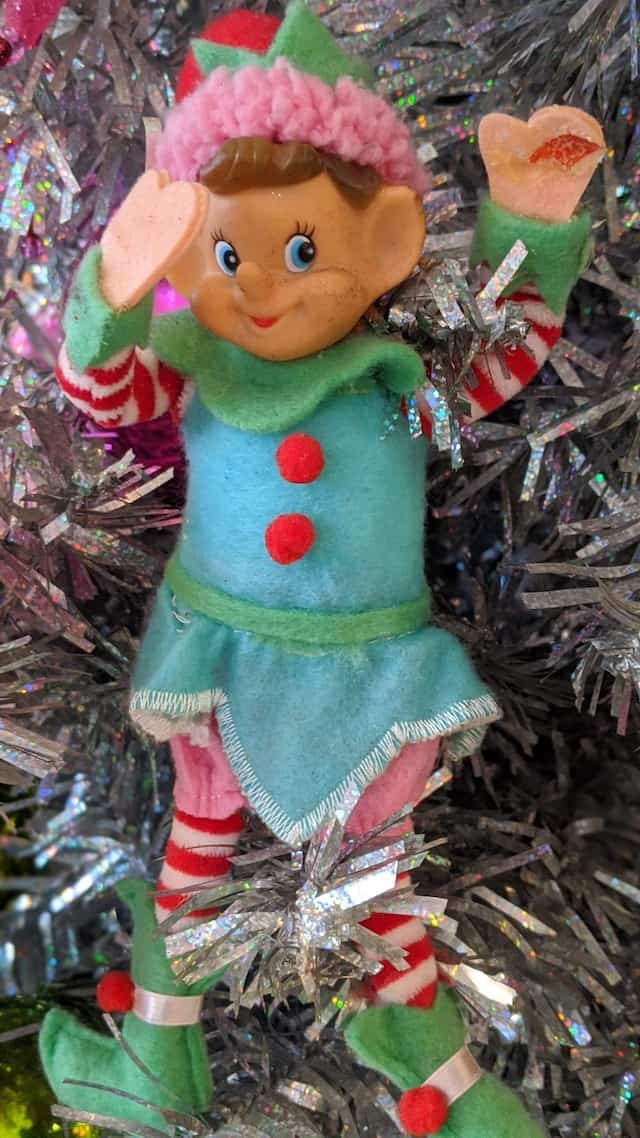 Lunch and dinner are served daily at Hollywood and Vine. As a reminder, the Disney Junior Play n Dine is still not available. The restaurant is open from 11:30 am to 7:00 pm daily.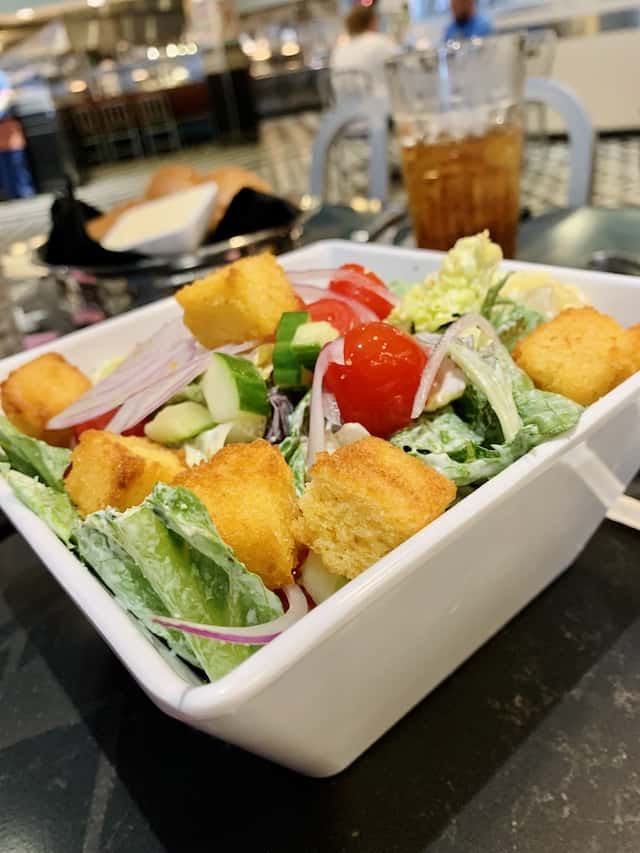 For appetizers, you can choose from a Farmhouse Tossed Salad Bowl or a Plant-Based Chopped Salad. The Farmhouse Salad includes Mixed Greens, Tomatoes, Cucumbers, Red Onion, Cornbread Croutons, and Homemade Smokehouse Ranch Dressing.
The Plant-based Salad includes Mixed Greens, Tomatoes, Cucumbers, Red Onion, Focaccia Croutons, and Plant-based Ranch Dressing. It will come out family style.
Entree options include the following: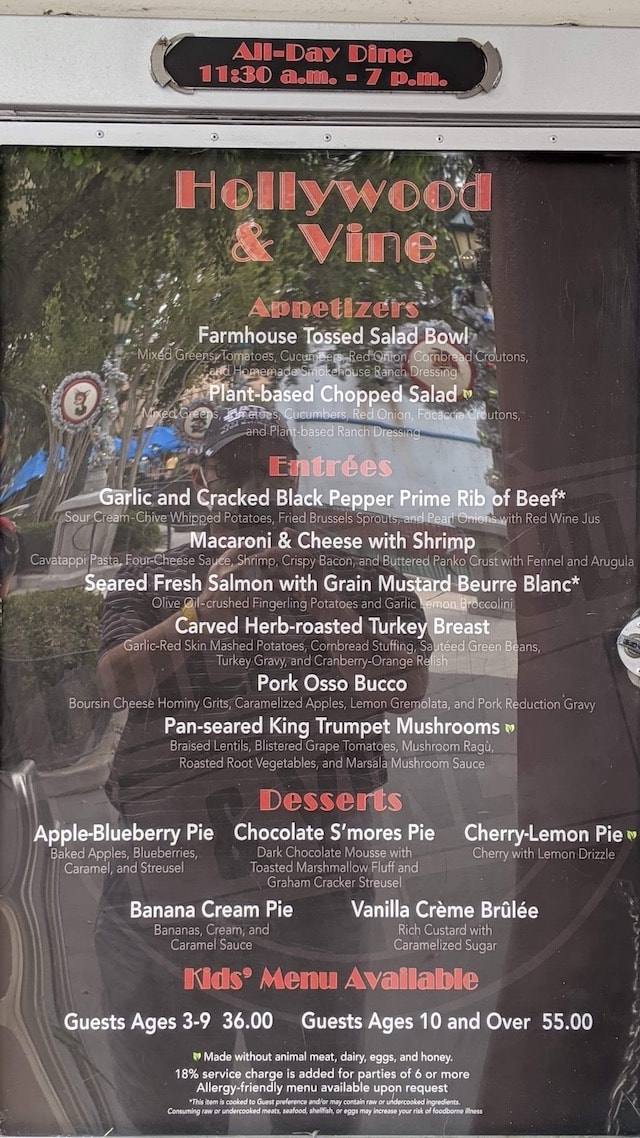 Garlic and Cracked Black Pepper Prime Rib of Beef – includes Sour Cream-chive Whipped Potatoes, Fried Brussels Sprouts, and Pearl Onions with Red Wine Jus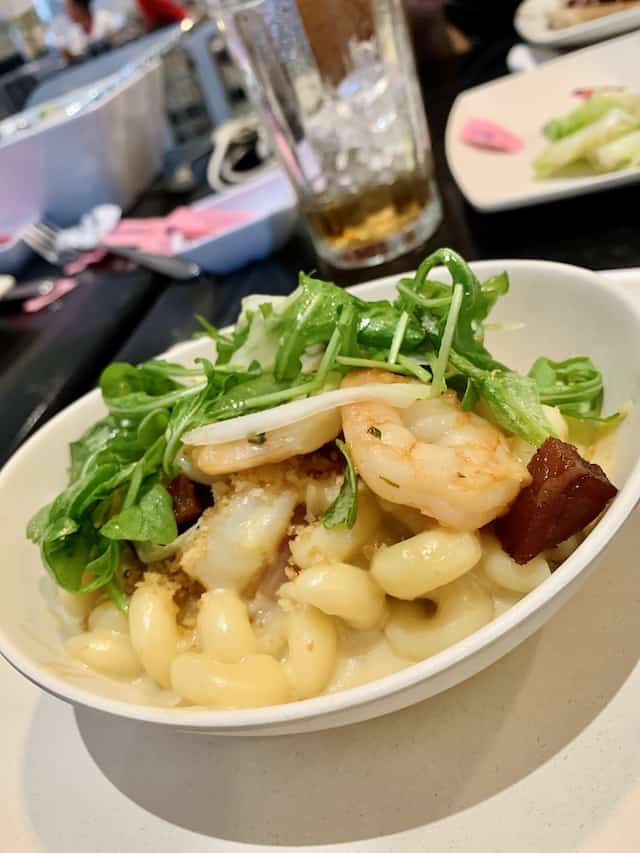 Macaroni & Cheese with Shrimp – includes Cavatappi Pasta, Four-Cheese Sauce, Shrimp, Crispy Bacon, and Buttered Panko Crust with Fennel and Arugula.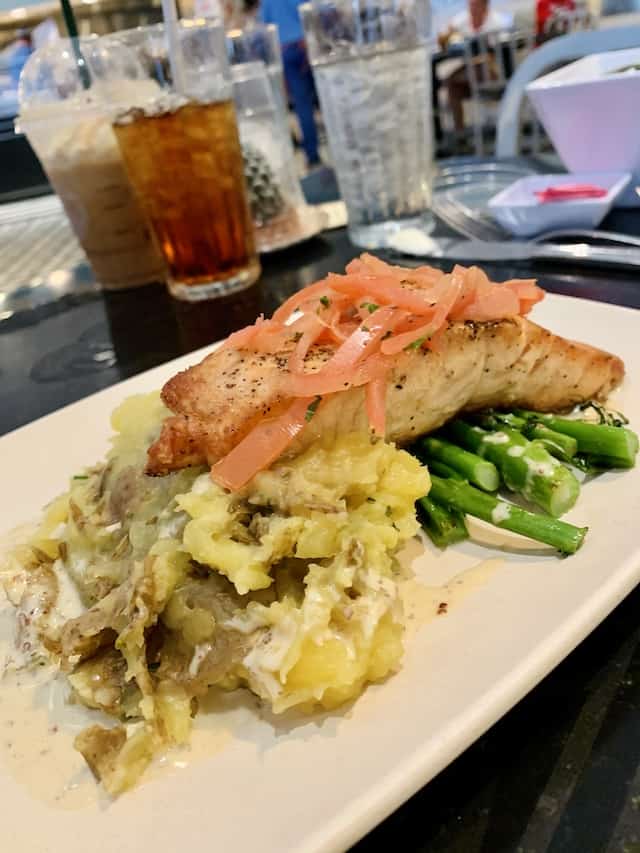 Seared Fresh Salmon with Grain Mustard Beurre Blanc – includes Olive Oil-crushed Fingerling Potatoes and Garlic Lemon Broccolini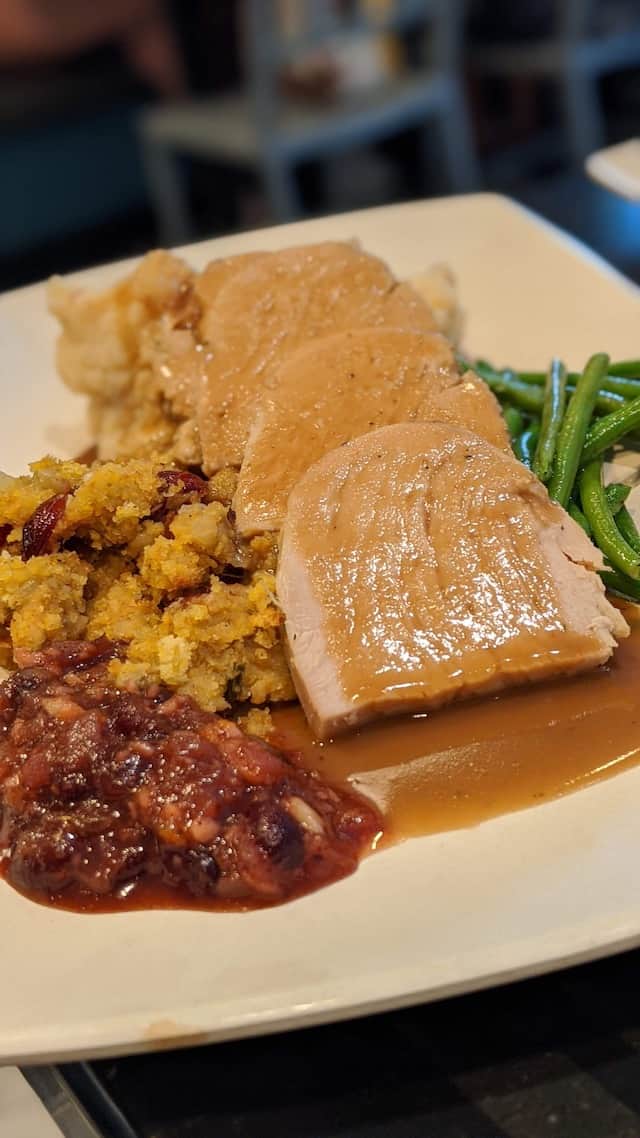 Carved Herb-roasted Turkey Breast – includes Garlic-Red Skin Mashed Potatoes, Cornbread Stuffing, Sautéed Green Beans, Turkey Gravy, and Cranberry-Orange Relish
Pork Osso Bucco – includes Boursin Cheese Hominy Grits, Carmelized Apples, Lemon Gremolata, and Pork Reduction Gravy
Pan-seared King Trumpet Mushrooms (plant based) – includes Braised Lentils, Blistered Grape Tomatoes, Mushroom Ragu, Roasted Root Vegetables, and Marsala Mushroom Sauce
Desserts include: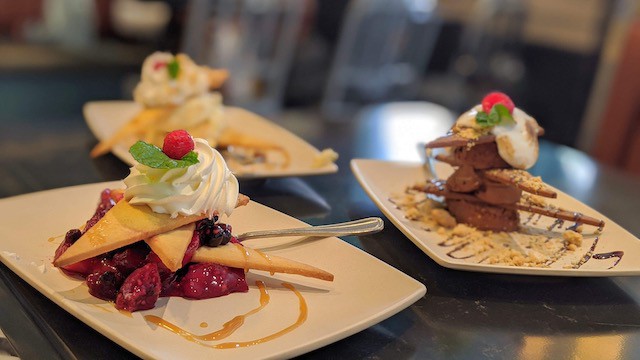 Apple-Blueberry Pie – Baked Apples, Blueberries, Caramel, and Streusel
Chocolate S'mores Pie – Dark Chocolate Mousse with Toasted Marshmallow Fluff and Graham Cracker Streusel
Cherry-Lemon Pie (plant based) – Cherry with Lemon Drizzle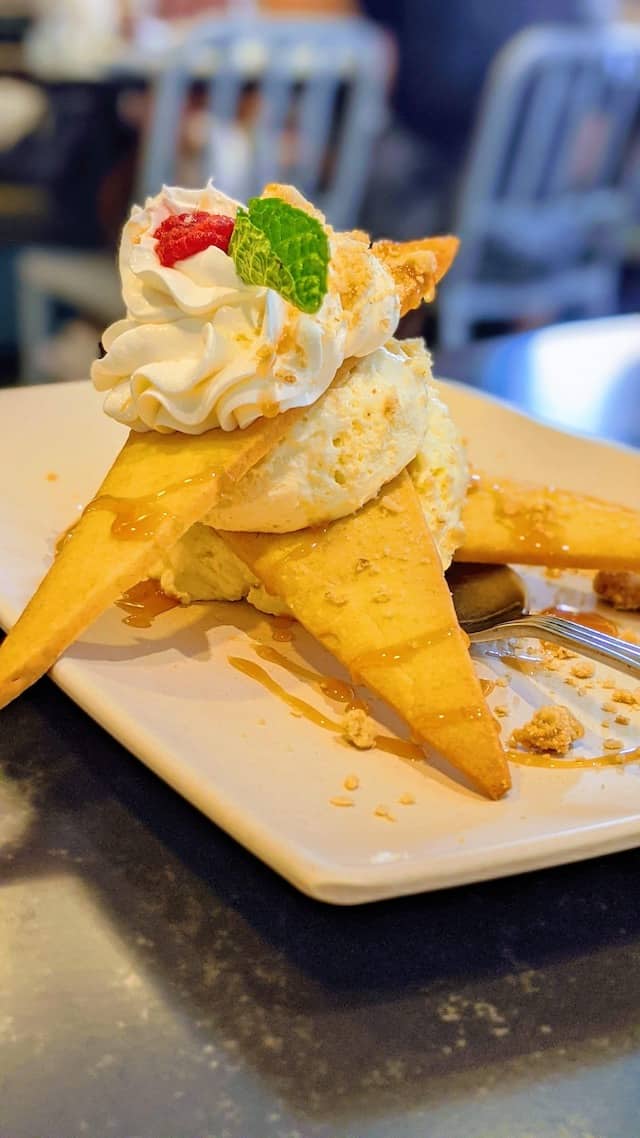 Banana Cream Pie – Bananas, Cream, and Caramel Sauce
Vanilla Creme Brûlée – Rich Custard with Carmelized Sugar
Guests between the ages of 3-9 cost $36, and Guests over the age of 10 cost $55.
Our Review of the Food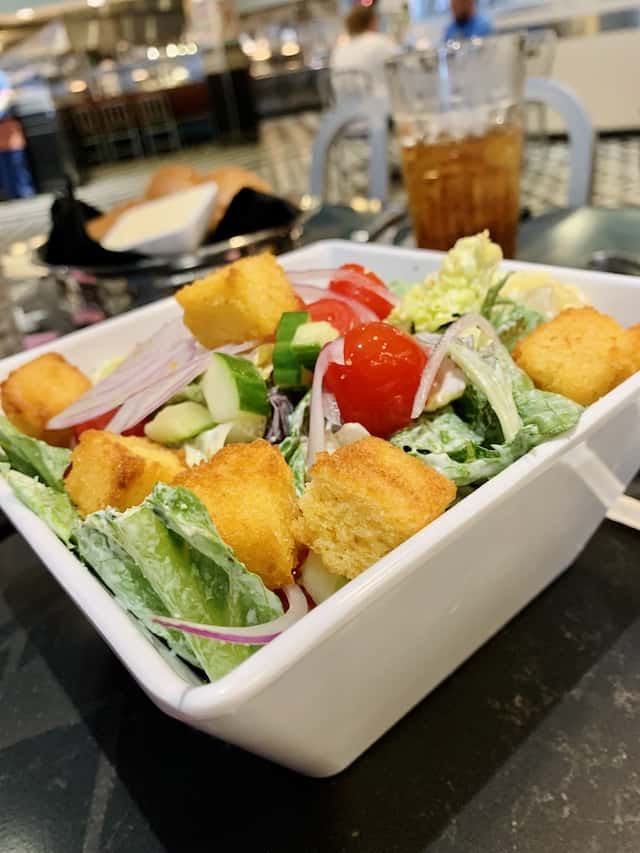 Our table started off with the Farmhouse Salad for the appetizer. It was a typical salad, but the Smokehouse Ranch gave it a different flavor than typical house salads. The greens were crispy, and the cornbread croutons tasted like they were made from scratch.
We all agreed that offering another choice of an appetizer would be more appealing. The salad was fine, but it would have been nice to have the option to choose.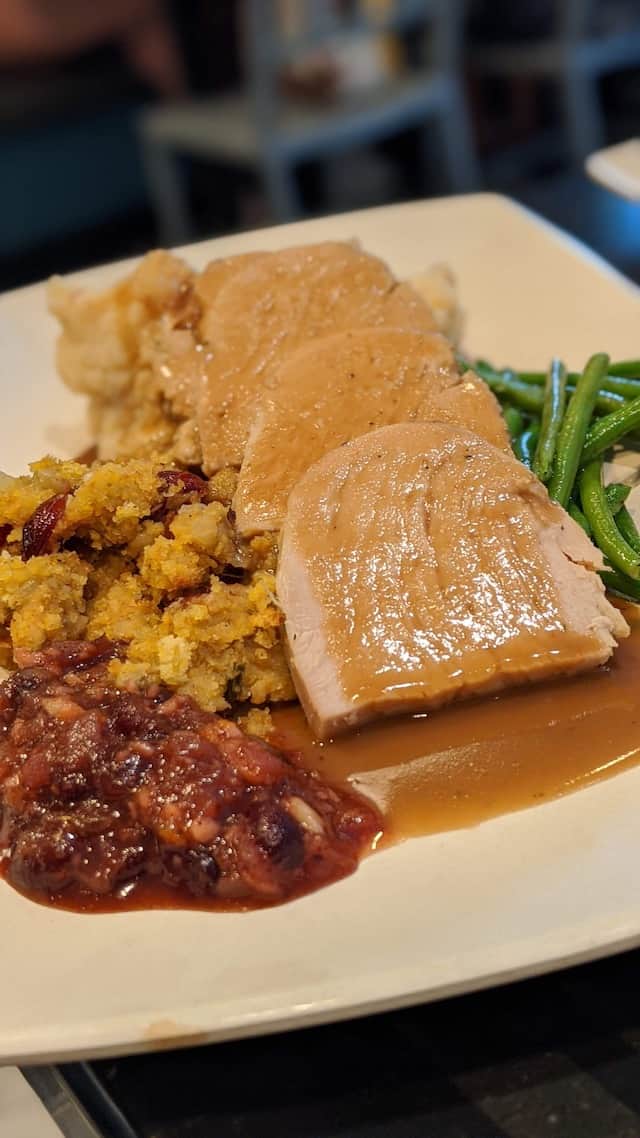 Kenny and I both ordered the Carved Turkey Breast. Neither of us are very adventurous eaters so we went with a relatively safe option! This entree was basically a Thanksgiving dinner. Everything from the turkey and gravy to the relish and stuffing made this a true turkey dinner.
The turkey was tender and the gravy had a nice flavor. The green beans were crisp, and the potatoes were your standard potatoes. We did not care for the cranberry-orange relish.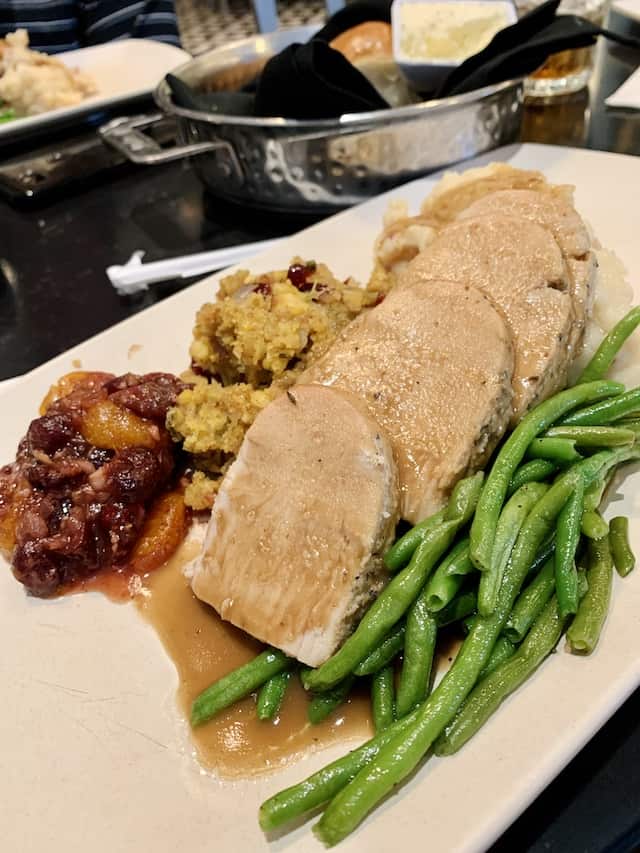 Heidi really enjoyed the Seared Fresh Salmon. It was perfectly cooked, flaked, and juicy. The mustard seed sauce was mild, creamy, and not overbearing. She especially loved the potatoes. They were extra buttery and some of the best she's ever had on Disney World property.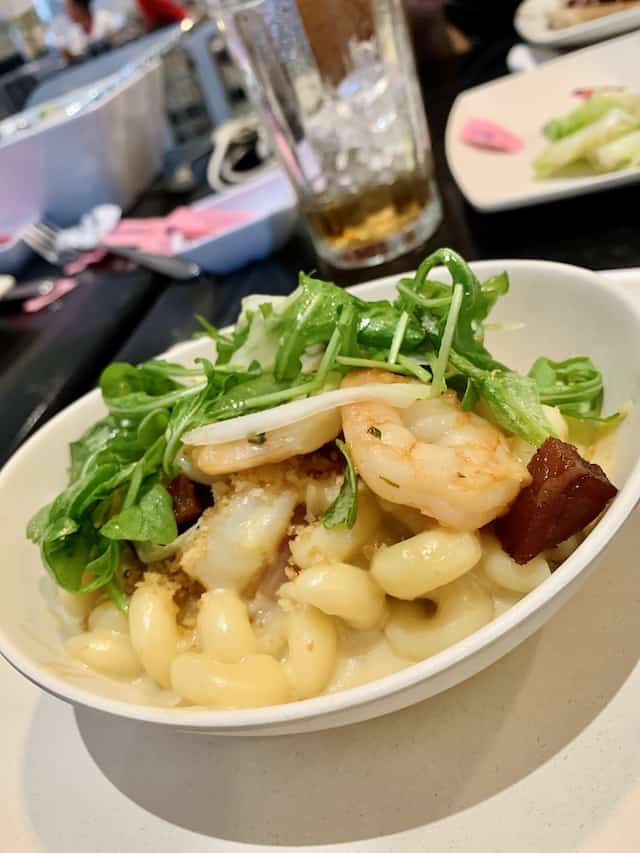 Additionally, we opted to pay the $8 and receive a side of the Macaroni & Cheese with Shrimp. We did not like it at all – the fennel and arugula did not impress us. Heidi and I did not like the taste at all. We also tried to pay the extra money to try the Prime Rib, but they could not accommodate that request.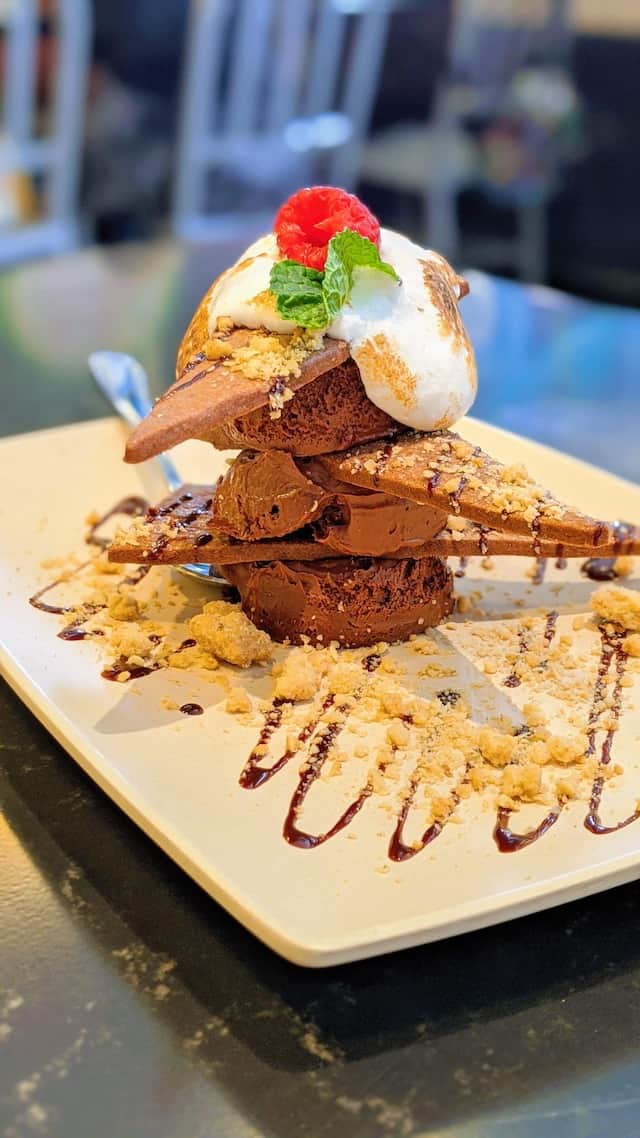 Heidi and I tried the Apple-Blueberry Pie, Chocolate S'mores Pie, and Banana Cream Pie for dessert. We felt they could have done better with the desserts. These were all essentially the same dessert with different flavors. They all had the same crust base, which we really didn't care for to begin with.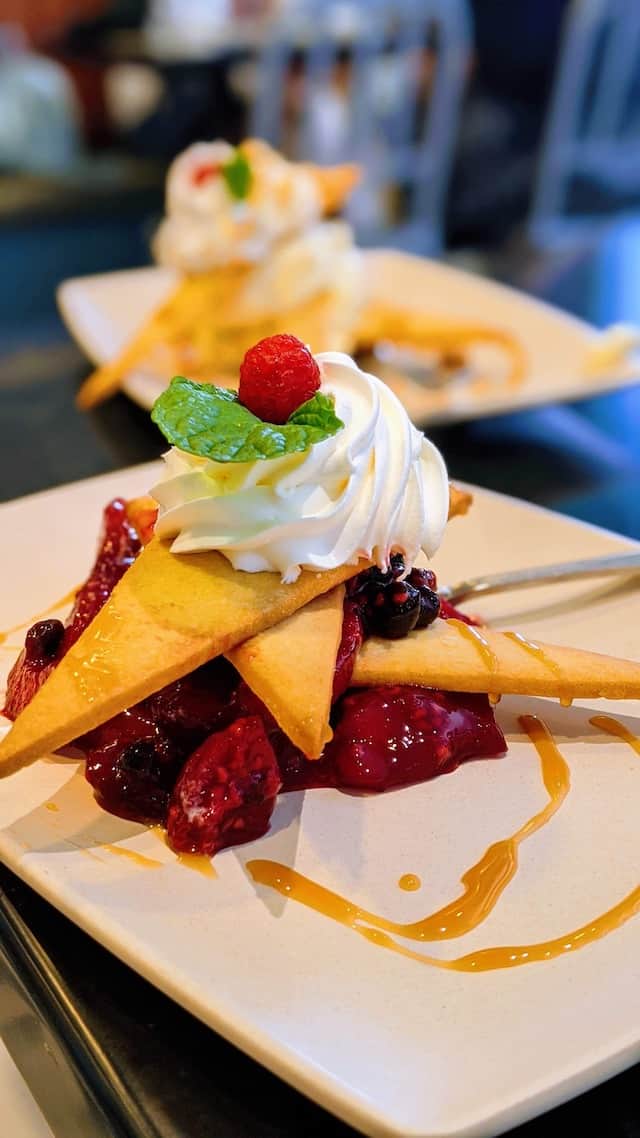 We felt they really could have spruced up the dessert menu by adding seasonal favorites like pumpkin pie or something with gingerbread. We enjoyed the Chocolate Chestnut Pinecone and Red Velvet Whoopie Pie at Trolley Car Cafe more.
Final Thoughts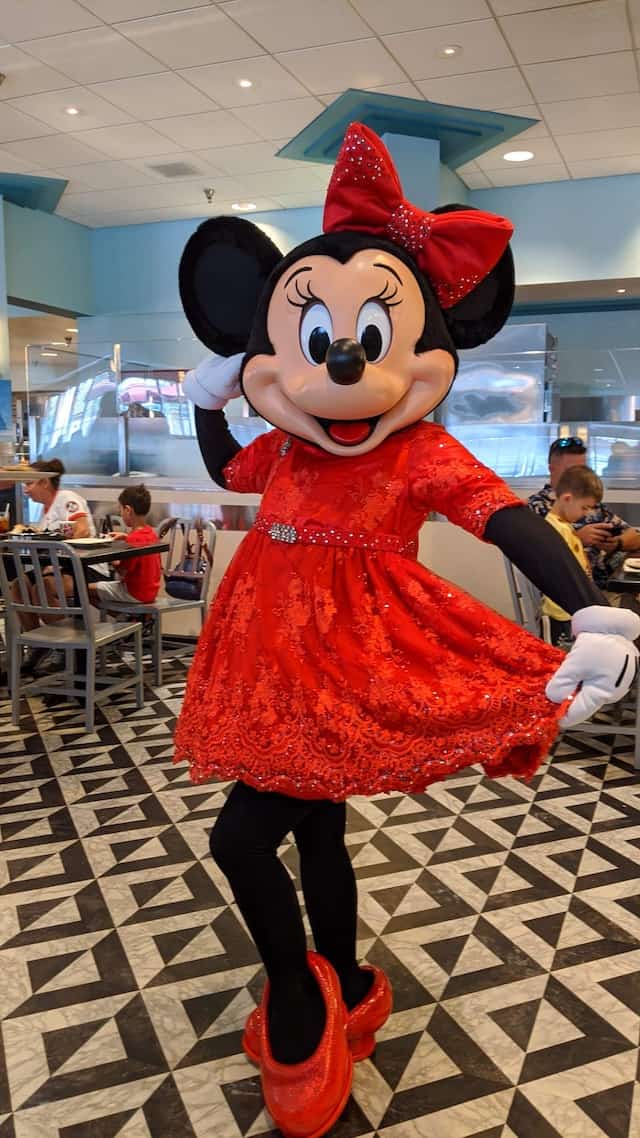 Overall, we loved the characters and holiday theming at this meal. The entrees were delicious, but we felt the appetizers and desserts were lacking. We still felt this meal was delightful, and the entrees made up for what the appetizers and desserts were lacking.
Mickey, Minnie, Goofy, and Pluto were a hit as always. We enjoyed watching them come out to the table several times during our meal. I appreciate the fact that they don't only come out once or twice. We saw them each three or four times! It's a different interaction each time, which is really special considering there are no character greets right now.
Are you dining at Hollywood & Vine this holiday season? Please ask questions on the Facebook page, and we would be happy to answer them!