Something is missing from The Crystal Palace since Walt Disney World's reopening, and it's not Eeyore's tail. In fact, you will not find Eeyore or any of his Hundred Acre Wood pals around the restaurant right now, but is it still worth eating here? Read this review to help you decide.
The Crystal Palace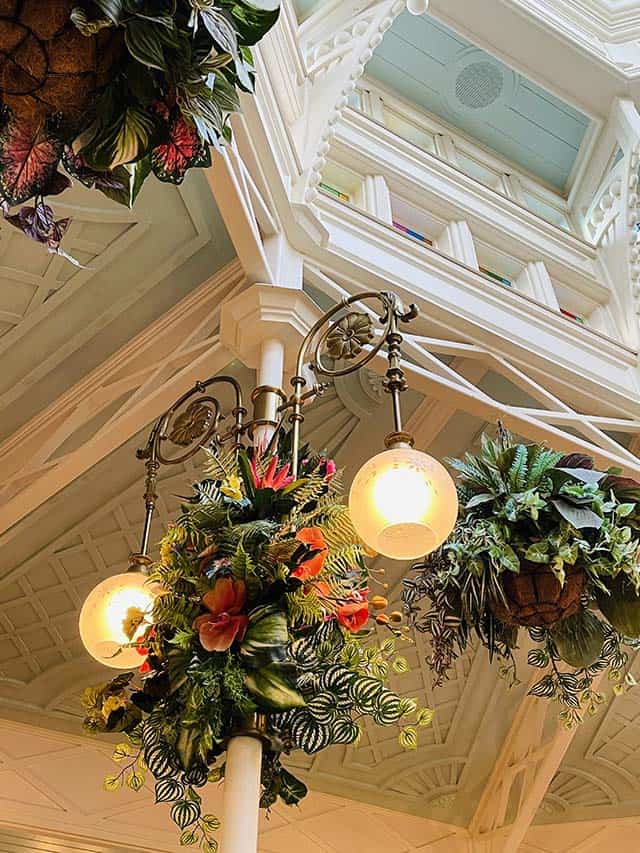 The Crystal Palace has been a popular dining choice for many guests in the Magic Kingdom. For a look at how the restaurant was before Disney World's reopening, take a look at my review here.
I (Maggie), have always loved visiting The Crystal Palace. The food and service have always been superior. The atmosphere is lovely and I just adore meeting Winnie the Pooh and all of his friends.
Reopening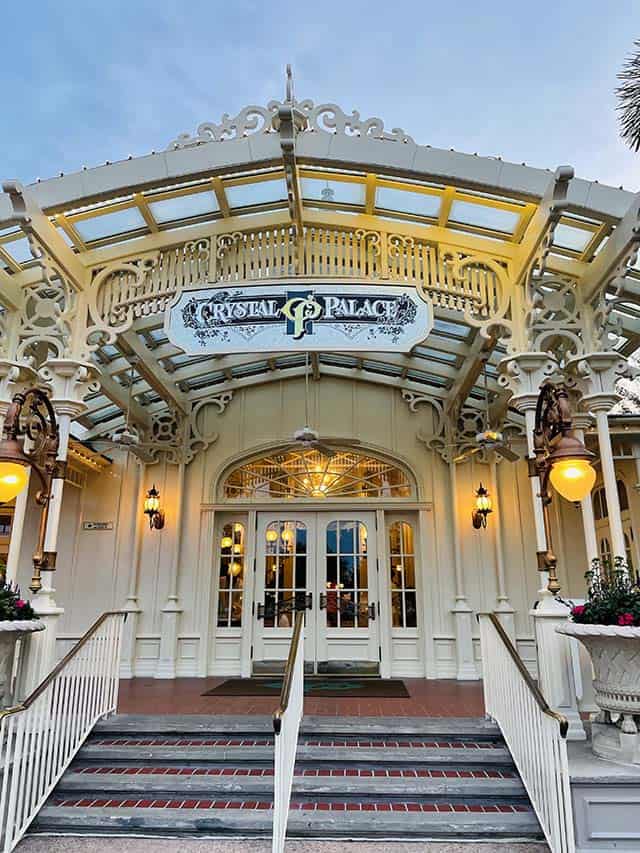 The Crystal Palace reopened to guests at the Magic Kingdom in December 2020 with an updated menu that includes new items.
The Crystal Palace now gives guests a family-style meal instead of a buffet.
While the reopening of this dining choice might have been welcomed by many guests, including myself, some might be disappointed to know that Winnie the Pooh, Piglet, Eeyore, (and Tigger too!) are taking a break.
Many character meals that were offered around the theme parks remain unavailable. Character meals that we are still missing include the following:
1900 Park Fare
Akershus Royal Banquet Hall
Cape May Cafe
'Ohana
Storybook Dining at Artist Point
Tusker House Restaurant (we're excited to see this modified character dining experience return sometime later this summer)
This leaves guests with few character dining experiences to choose from, but there are still really good character meals available. Chef Mickey's, Garden Grill, and Topolino's Terrace are all great character meals that are available now.
Another character dining experience that is available is Hollywood and Vine over at Hollywood Studios. You can check out Marisol's review of her Halloween dinner here and Monica's review of the holiday dinner here. Take a look at this review of the Silver Screen meal here!
Atmosphere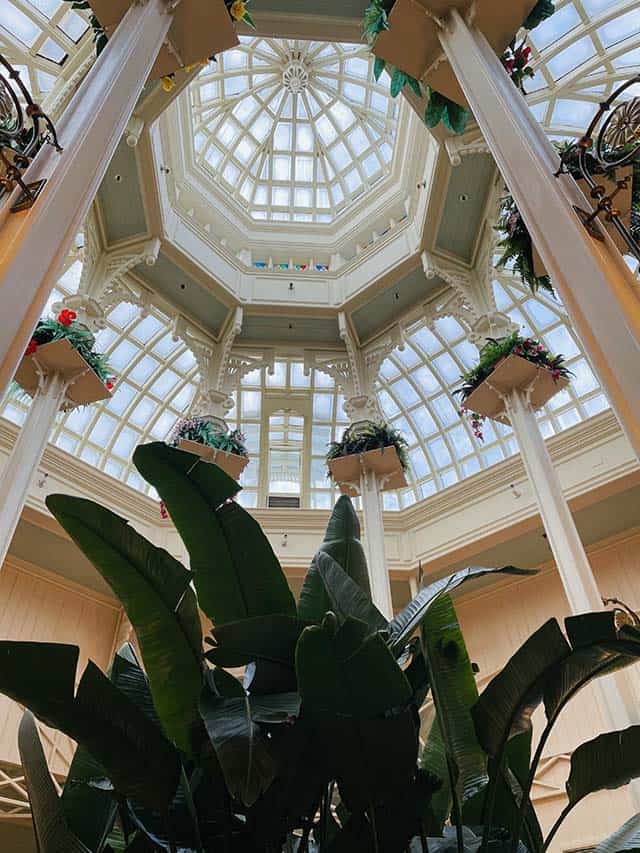 The atmosphere of The Crystal Palace has not changed much at all, with the exception of the characters not being there.
Guests are still welcomed to a beautiful, open space that was inspired by the Victorian greenhouses of the 1800s. I love how open and bright it always is.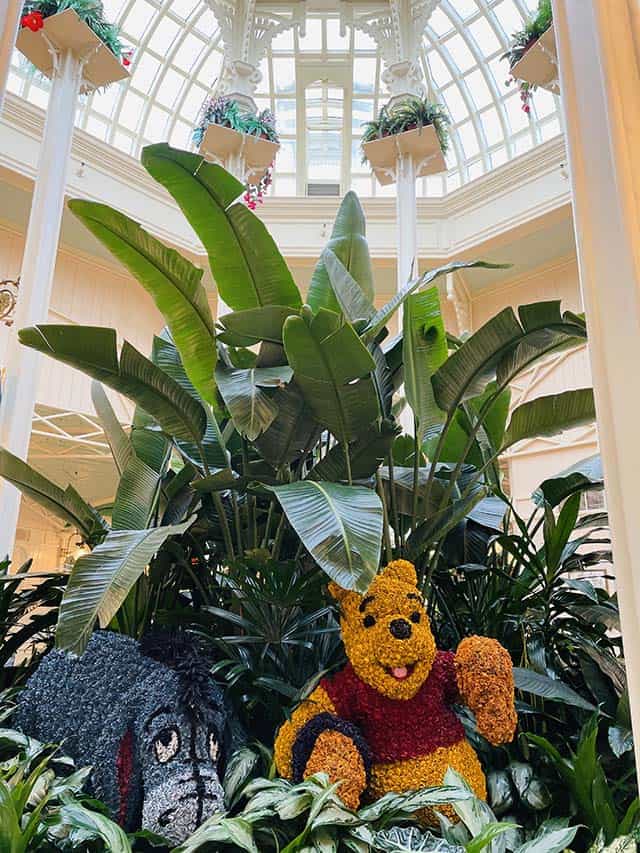 The topiaries of Winnie the Pooh and his friends are still there, so our friends are not completely gone. We can still see Winnie the Pooh, Eeyore, Piglet and Tigger. Even in plant form, they are still pretty cute.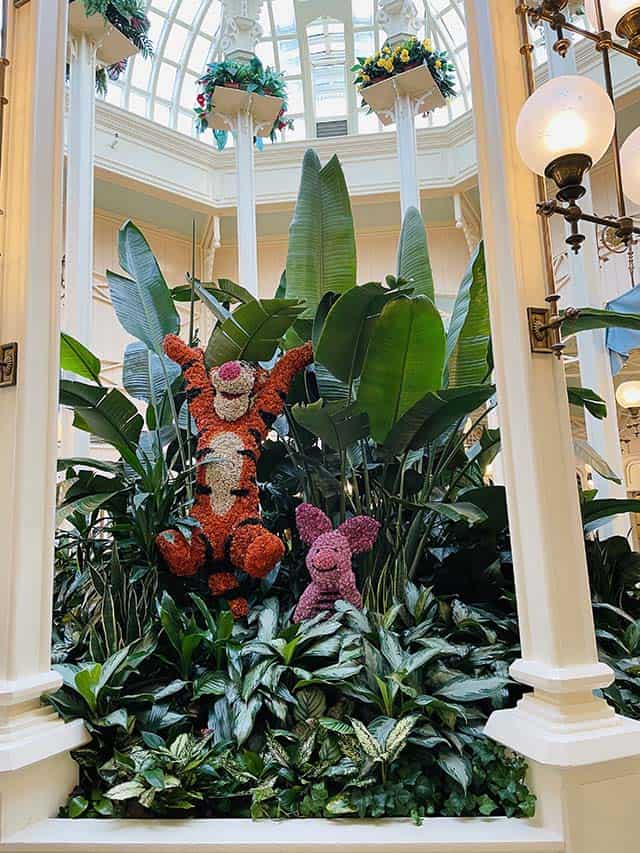 After checking in, we were seated almost immediately. You will notice that the buffet is not available to guests.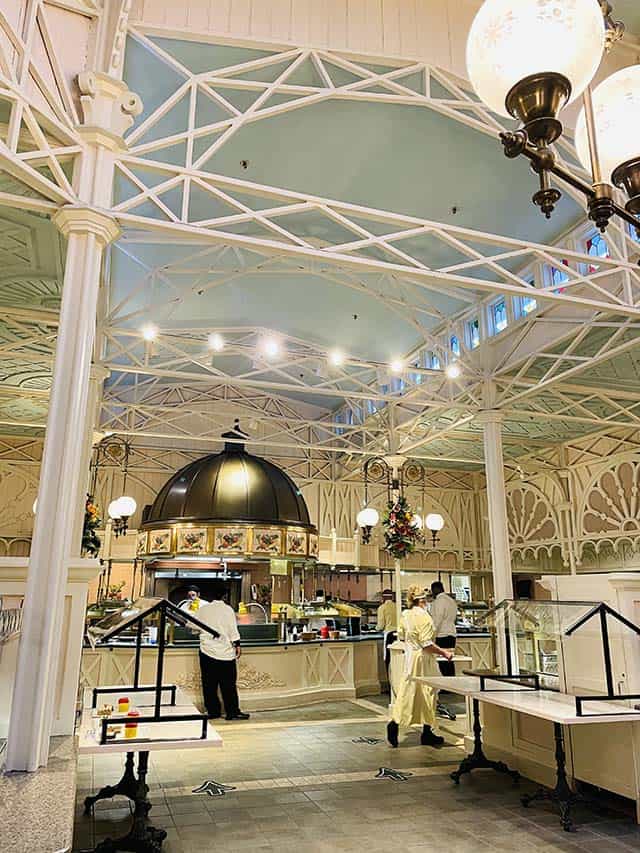 I was happy to see this familiar sign welcoming us to Winnie the Pooh's "Friendship Day Celebrashun." Our friends might not be there to hug, but they are still making us feel welcomed!
We were seated at our table and given QR code menus and told we could take our masks off while at the table. Note this experience was before the policy was updated for facial coverings. Like all of the other establishments, if you get up and use the restroom or anything else, they ask that you have your mask on.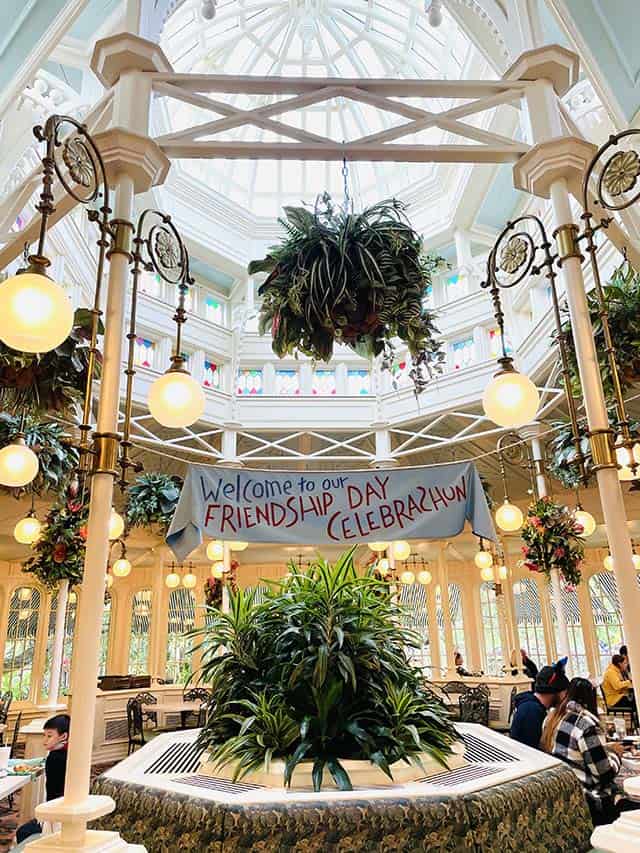 If you are thinking of dining at The Crystal Palace, you might be wondering whether or not it's worth it without the character dining. Will you be missing Winnie the Pooh or will the end of the meal leave you thinking, 'Winnie the who?!' because the food is so delicious?
Before our meal, our server went over the menu, and let us know that we did not need to do anything. She was going to do all of the work and bring the food to us instead of us going to get the food ourselves.
This is something you will become used to hearing for any family style meal, so just sit back, relax and enjoy not having to get up and go to a buffet!
As a parent, I actually prefer this. Not having to worry about taking the kids to the buffet or worrying about being at the buffet while a character is visiting the table makes me feel like I can just sit down and enjoy my meal.
"I'm so rumbly in my tumbly."
Let's take a look at some of the food that you can have to settle that rumbly in your tumbly!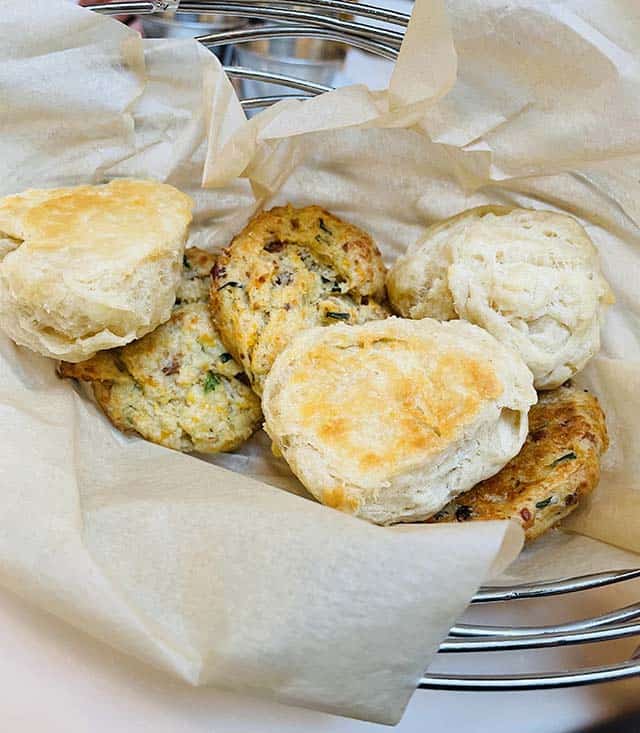 We began our meal with the Homestyle Buttermilk and Cheddar Bacon Biscuits. I thought they were crispy, buttery and warm. They came served with Honey Butter, Caramelized Onion Butter and Hot Pepper Jelly. I thought they all complimented the biscuits pretty nicely.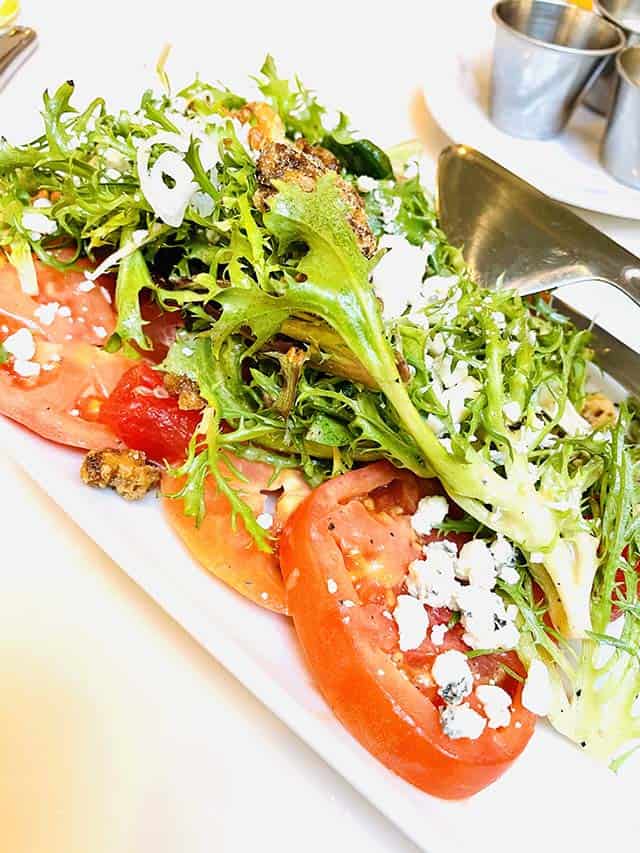 Next, we received a seasonal salad, which included Tomato and Watermelon, Crisp Greens, Blue cheese, Candied Walnuts and Hot Pepper Jelly Vinaigrette.
I am not usually a fan of salads, but I thought this was pretty good. If I do eat salads, it's usually tomato salad and since this is what the salad consisted mostly of, I enjoyed it. Some might be put off by the vinaigrette, but I really did not notice that taste much at all.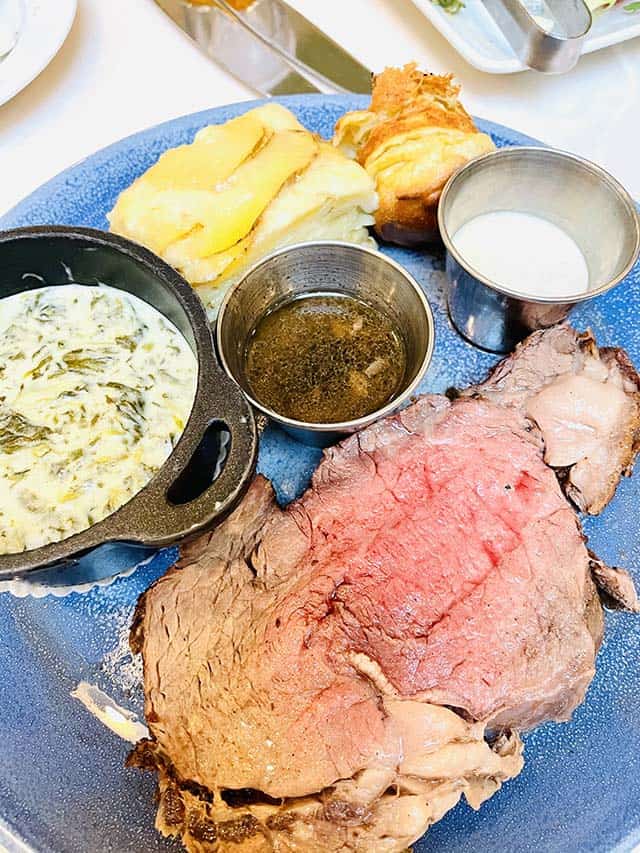 For our main course, I chose the Fire-roasted Prime Rib of Beef, which was served with Asiago Potatoes au Gratin, Creamed Spinach and Horseradish Cream.
Mine was cooked just at the right temperature (I like mine medium-rare) and the potatoes au Gratin were creamy and melted in my mouth. If it was a buffet, I would have definitely gone up for more! If you do want more of something, all you need to do is ask, but I needed to save room for dessert.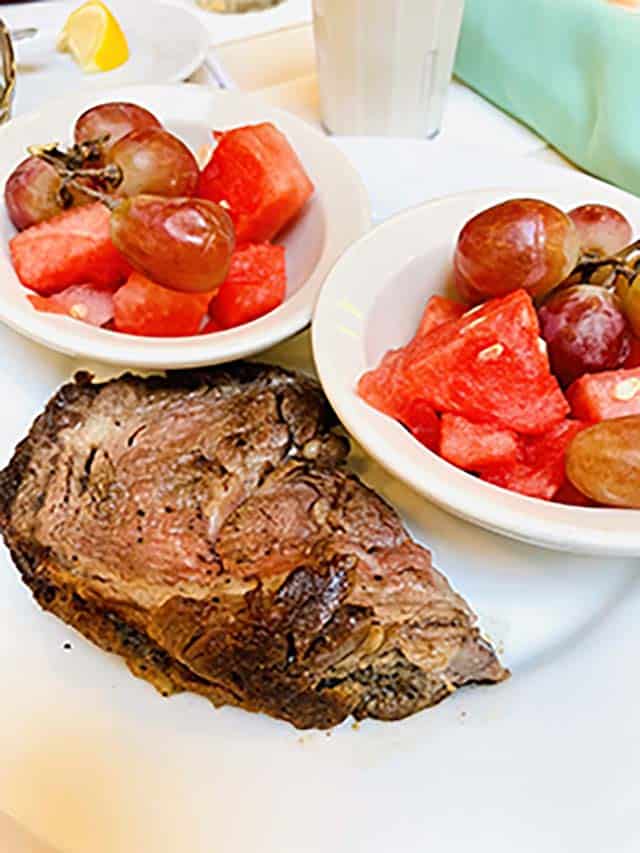 My boys both chose the prime rib for their meal selection. They do not eat most of the sides that are available, so they had fruit as choices for both of their sides.
They both gobbled it right up. The only difference between this and the adult version was the size.
Dessert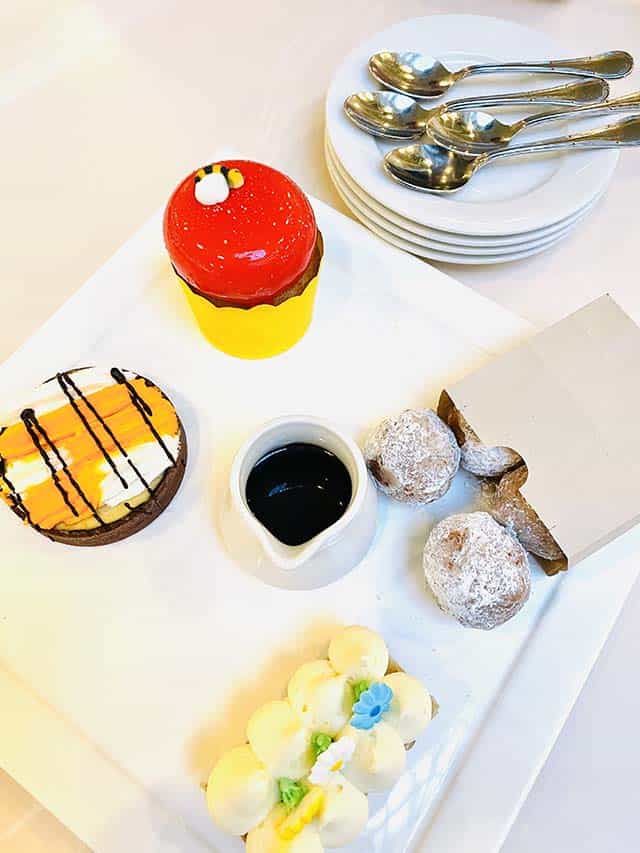 The dessert was probably one of the cutest dessert selections I have seen during this trip!
It was a family-style dessert platter that included Seasonal Fritters with Powdered Sugar and Chocolate Dipping Sauce, Banana Cream Pie, Hummingbird Cake, and a Honey of a Cupcake.
I love the little honey bee on the Winnie the Pooh colored cupcake and the tiger striped banana cream pie. The Hummingbird Cake reminds me of our friend, Rabbit.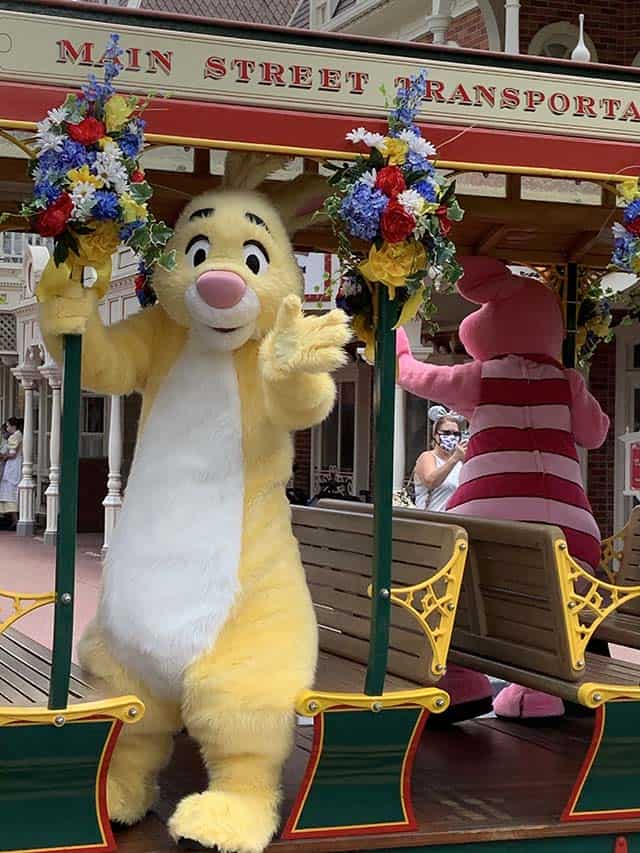 The seasonal fritters (or doughnut holes dipped in chocolate) were gone in no time. I enjoyed the Hummingbird Cake and frosting. It was light and flavorful. It reminded me a little bit of the Hummingbird Cake I had at Chef Art's Homecomin', but the portion was much, much smaller.
I am not much of a banana fan, but I tried the cream pie and thought it was flavorful and good. If you love bananas, then you would definitely enjoy it. For me, just a couple of bites and the fact that it was cute and reminded me of Winnie the Pooh was enough.
Think… think… think…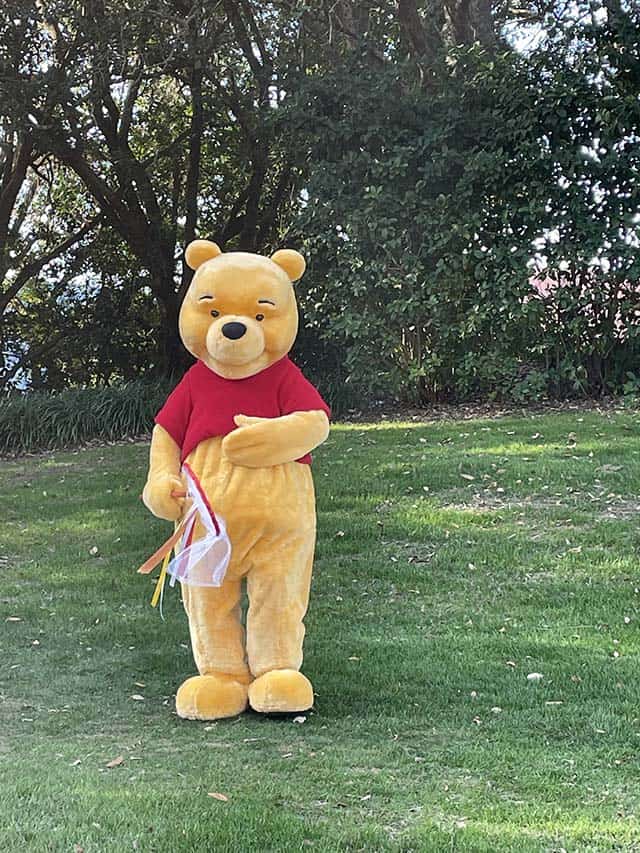 I knew after making this reservation that our normal experience of The Crystal Palace would definitely not be the same. Meeting Winnie the Pooh and all of his friends has always been a highlight of our trips. We have had great character interaction with all of the characters and have made many happy memories.
Just last year (was it really only last year?), my son had so much fun bouncing with Tigger and giving him hugs.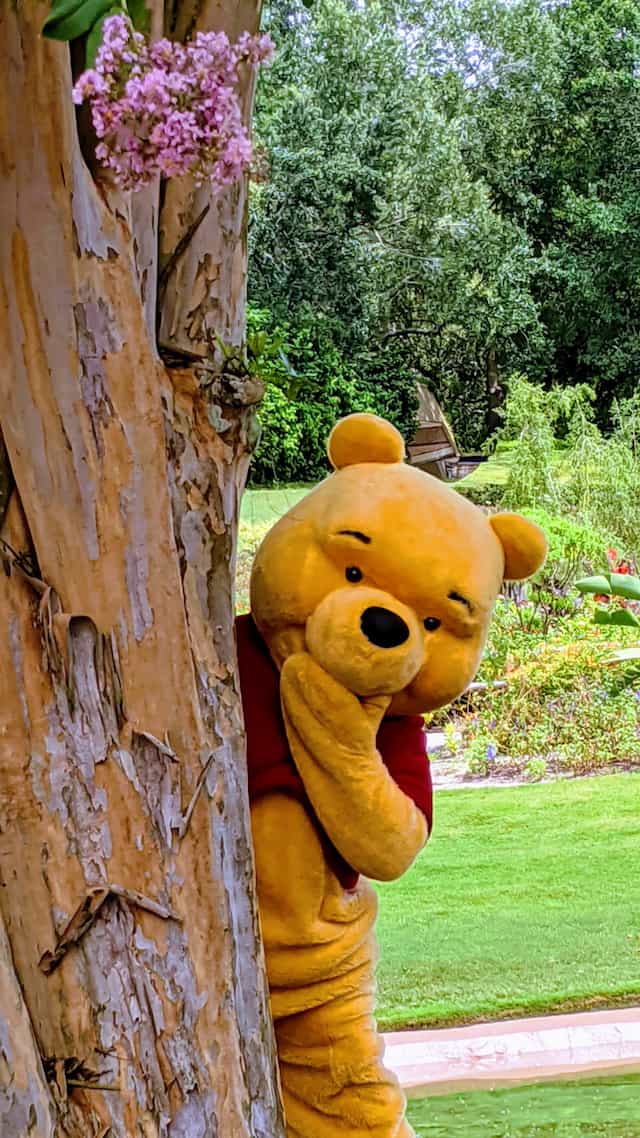 So, with all of that in mind, was this dining experience just as enjoyable? I can tell you that after eating those delicious potatoes au gratin, I really was thinking, 'Winnie the who?'… just give me more potatoes, please!
However, I asked both of my boys, who are ages 8 and 9 if they preferred this dining experience over the usual character dining experience. They both said that they missed the characters and they missed being able to hug and meet them.
Is it still worth it?
I think if you were visiting The Crystal Palace and did not know any difference and had not experienced the character dining before, it would be a very enjoyable dining experience.
The food is still delicious. Our service was outstanding and the atmosphere was bright, cheery and we all felt safe.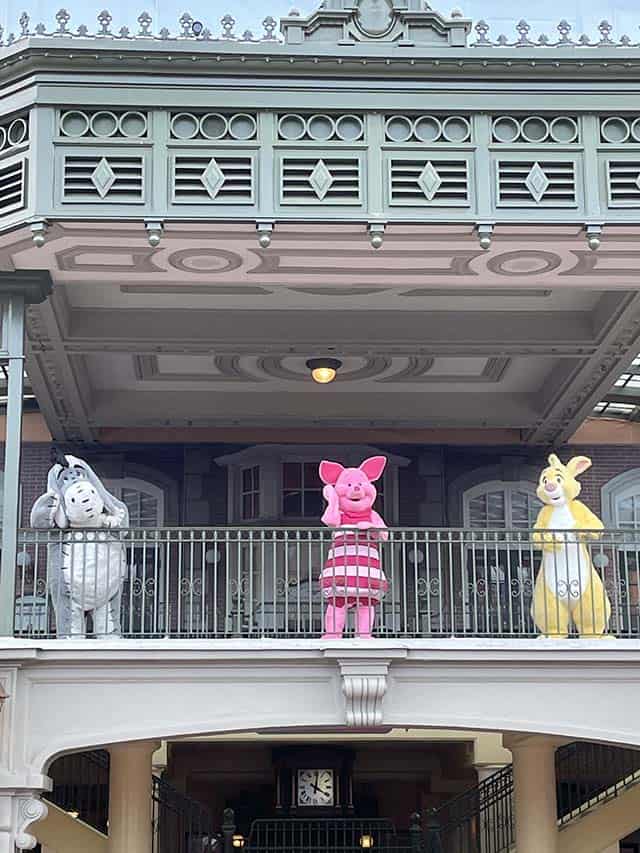 For those guests who have visited before, it's important to go in with an open mind and know that the experience is going to be different. If seeing the characters are important to you and your family, it might be better for you to try and see them at one of the character pop-ups or you can catch Winnie the Pooh over in Epcot chasing butterflies.
One quote from Winnie the Pooh is, "What could be more important than a little something to eat?" The Crystal Palace gives you exactly that, and I think if you are looking for a good meal and some time to take a break in the park, it would be a great choice.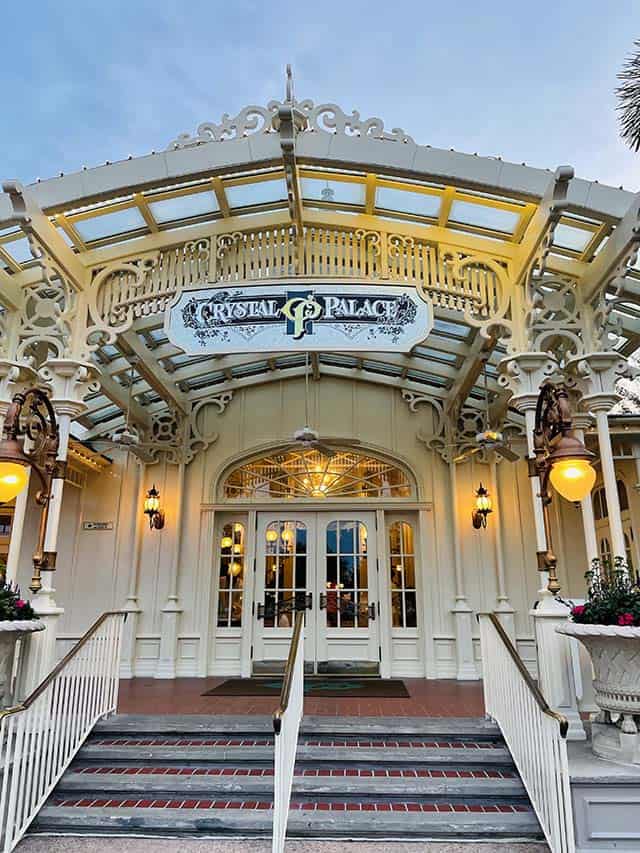 Is it really worth it without the characters there? For me, I was happy with it and seeing them in the parks was nice for me. For children, however, I think the meal is more worth it when the characters are there.
Until then, we remain hopeful that our friends from the Hundred Acre Wood are back from their break real soon!
Have you visited The Crystal Palace since Walt Disney World's reopening? How was your dining experience? Did you miss the characters or not at all? Tell us your thoughts in the comments below or on our Facebook page!
Maggie Baltz