Are you a fan of Winnie the Pooh and Piglet too? If so, you definitely want to consider dining at The Crystal Palace in the Magic Kingdom.
The Crystal Palace is one of my favorite spots to eat at. I love Winnie the Pooh and here you can meet Winnie the Pooh, Piglet, Tigger, and my personal favorite, Eeyore.
It is also strikingly beautiful. Located at the end of Main Street on the way to Adventureland, it is modeled after Victorian greenhouses in the 1800s, so you feel as if you are in a greenhouse. The restaurant is bright and has tropical palms and beautiful topiaries, as shown here.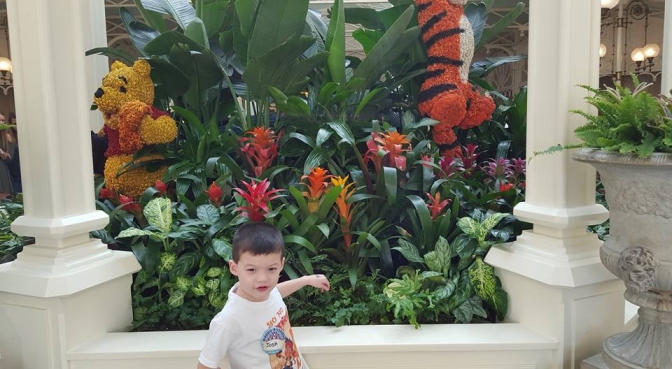 Guests can have breakfast, lunch, or dinner at this buffet. Each meal takes one table-service dining credit, or you can pay out of pocket. It's approximately $55 for adults and $32 for children ages 3-9. Children under 3 eat free!
My family has been here for breakfast and lunch, and we love both! Breakfast at Walt Disney World is not complete without infamous Mickey waffles, along with other breakfast favorites such as omelets, bacon, and assorted pastries. Crystal Palace has all these and so much more.
Food items available during lunch include salads, roasted carved meats, soup, shrimp, and vegetables.
Everything we have eaten has been absolutely delicious. The food is always prepared well and always warm.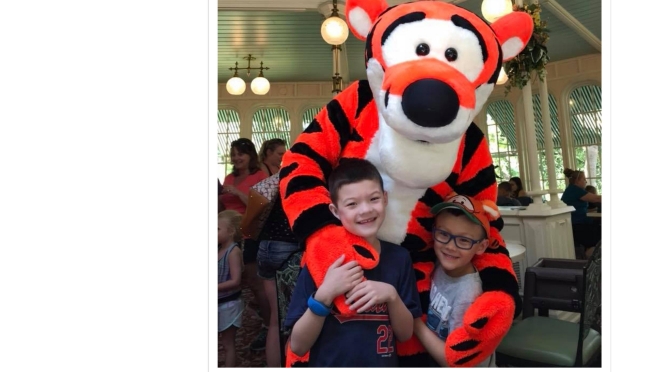 Another perk of eating here is the character interactions. While you are dining, your favorite friends stop by for photo opportunities, autographs, and plenty of warm hugs. As you can see, my boys loved meeting Tigger!
For a complete menu check out Character Locator! Also, be sure to check out tips for interacting with your favorite pals from the Hundred Acre Wood for the total Disney experience.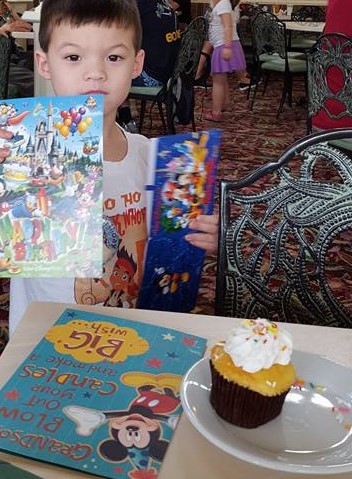 One of my favorite memories from the Crystal Palace was when my son celebrated his fifth birthday. We told them ahead of time we were celebrating and after the meal, he was given a card signed by all of the characters and a celebratory cupcake with a candle in it.
I am not sure if they still do this, but it is always worth mentioning a celebration if you are dining anywhere in the parks. You never know what magical touch will come your way!
Like most restaurants in the parks, dining reservations are highly recommended, so make sure you make reservations at least 180 days in advance.
The Crystal Palace is definitely one of my favorite restaurants and I have been here more than once and will visit again on a future trip. I just love the atmosphere, food, and characters.
Have you dined at the Crystal Palace? Please share your favorite dining experience with me here or feel free to ask me any questions.
Maggie Baltz