Flame Tree Barbecue is quite easily one of the most popular places to grab a quick bite to eat. Read on for my review and see if you agree!
Disney's Animal Kingdom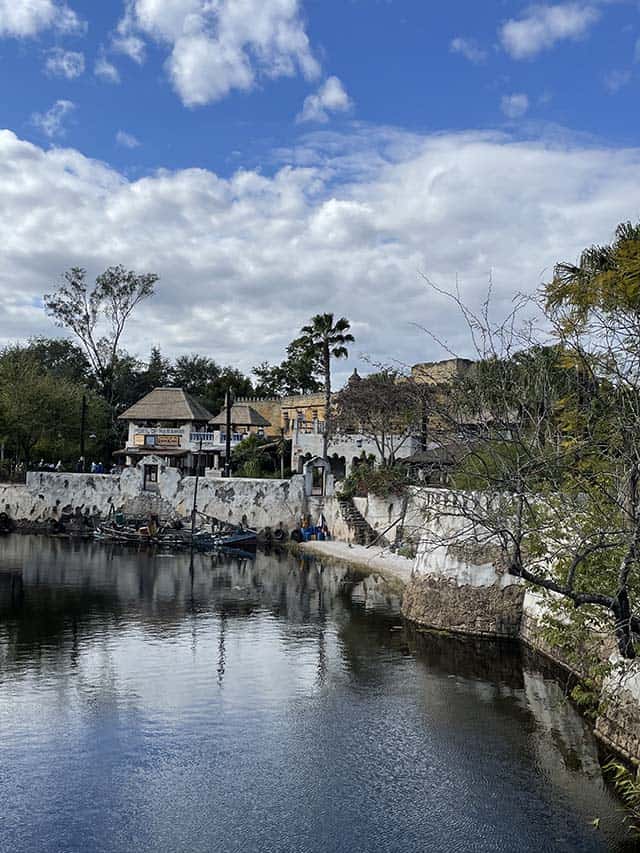 A few of my favorite places to eat are at Disney's Animal Kingdom! I love the variety of different food choices offered. This park has some great table service restaurants, like Yak & Yeti™ Restaurant and several awesome quick service locations as well, such as Yak & Yeti™ Local Food Cafes, Satu'li Canteen and Tamu Tamu Refreshments.
Flame Tree Barbecue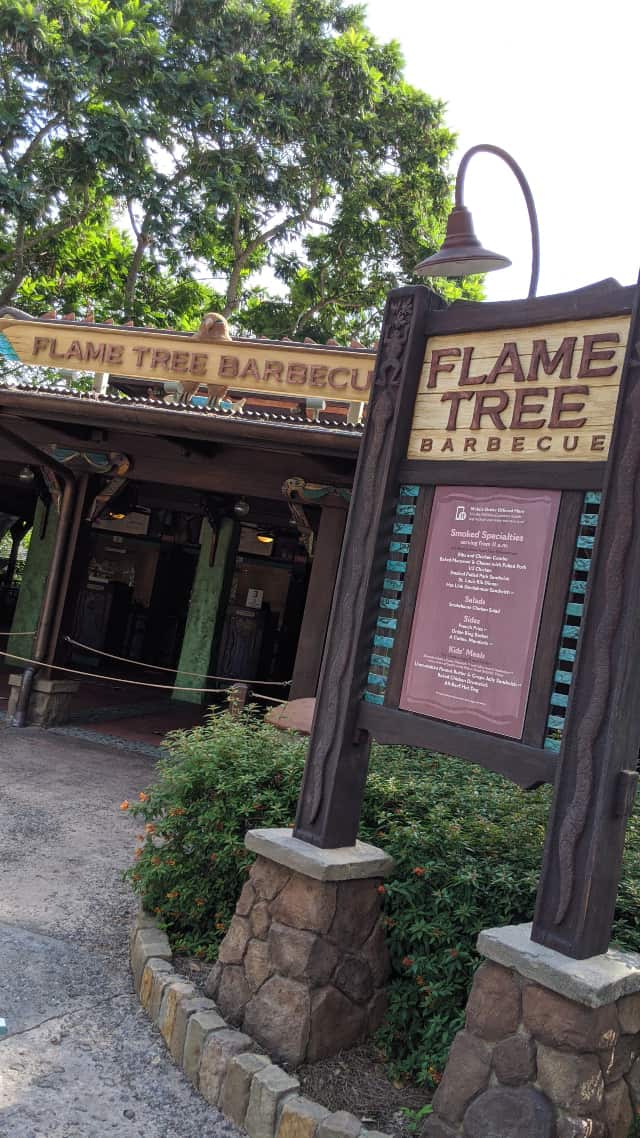 Flame Tree Barbecue is a quick service dining location that is located in Discovery Island. I was able to stop by for lunch for the very first time, and I was not disappointed.
There is no indoor seating available at this location, just outdoor. However, because of this, it has some really amazing views of the park! This location serves a variety of chicken and smoked meat dishes, so if you love barbecue, you will definitely enjoy the menu here.
The Menu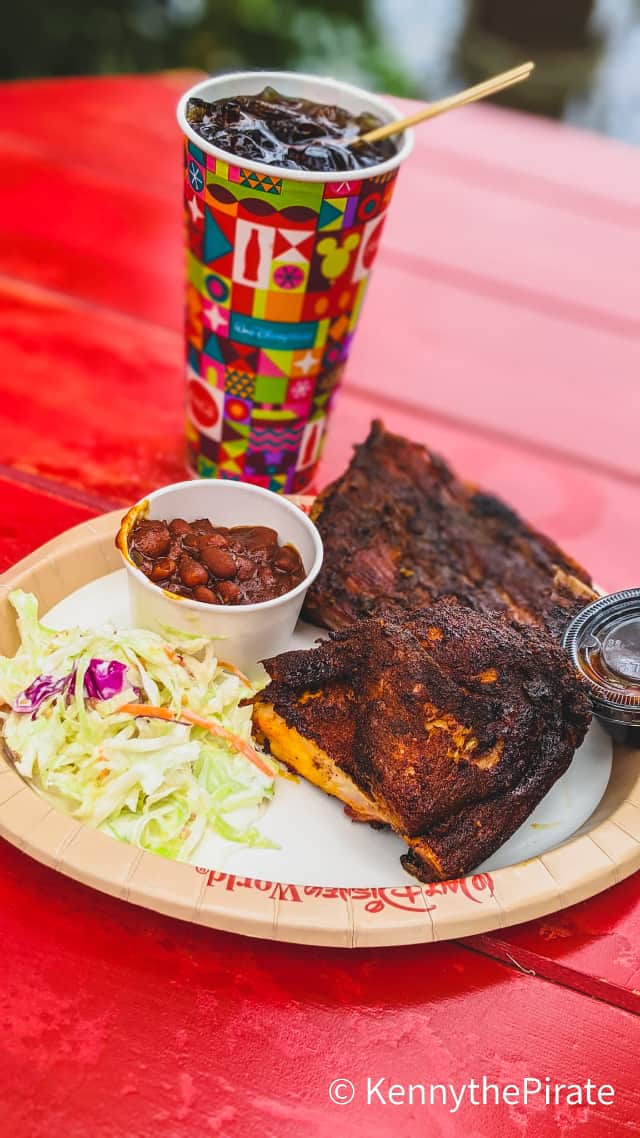 Here is a look at what is on the menu as of February 2021 for lunch and dinner. Don't forget that the menu of this location and all other restaurants that are open can also be found on Character Locator! Kenny is always updating it with the latest information.
CHECK CHARACTER LOCATOR FOR MENUS, PARK MAPS, CROWD CALENDARS AND MORE!
Entrees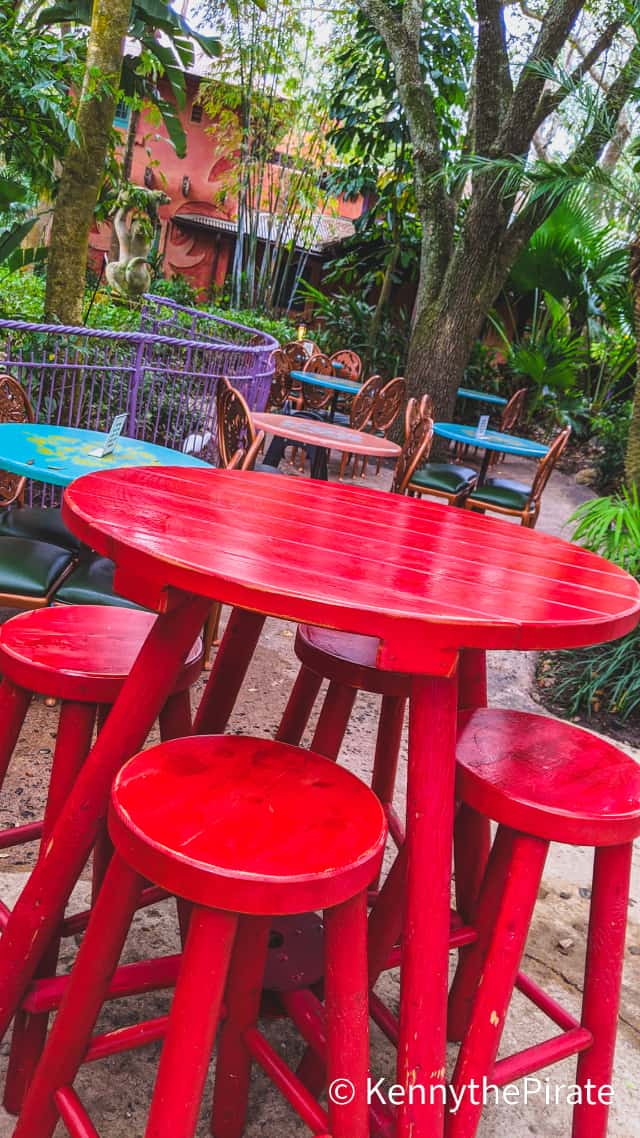 St. Louis Rib Dinner served with beans and coleslaw – $16.29
1/2 chicken – Marinated Slow-smoked Chicken served with Signature Baked Beans and Coleslaw – $13.29
Smoked Pulled Pork Sandwich – Smoked Pulled Pork Sandwich topped with Coleslaw and served with Signature Baked Beans – $10.99
Ribs and Chicken Combo – Ribs and Chicken served with Signature Baked Beans and Coleslaw – $15.49
Baked Macaroni and Cheese with Pulled Pork – Baked Macaroni and Cheese topped with Smoked Pulled Pork, Onion Rings and Coleslaw -$11.99
Smokehouse Chicken Salad – Pulled Chicken on top of Mixed Greens Salad tossed with Smoked Cheddar, Diced Granny Smith Apples, Dried Cranberries, Cornbread Croutons, Crispy Onions, and Barbecue-Ranch Dressing – $10.99
Available sides
French Fries – $4.49
A Cuties® Mandarin – $1.99
Onion Ring Basket – $4.49
Kids' Disney Check Meals
Uncrustables – includes a Cuties® Mandarin, GoGo squeeZ® Applesauce and choice of Small Lowfat Milk or Small Dasani® Water. Meets Disney Nutrition Guidelines for Complete Meals without substitutions – $6.19
Kids' Meals
Baked Chicken Drumstick – includes a Cuties® Mandarin, GoGo squeeZ® Applesauce and choice of Small Lowfat Milk or Small Dasani® Water – $7.19
All Beef Hot Dog – includes a Cuties® Mandarin, GoGo squeeZ® Applesauce and choice of Small Lowfat Milk or Small Dasani® Water – $6.99
You can also find plenty of allergy-friendly choices at this location along with an assortment of different non-alcoholic and alcoholic beverages.
Our experience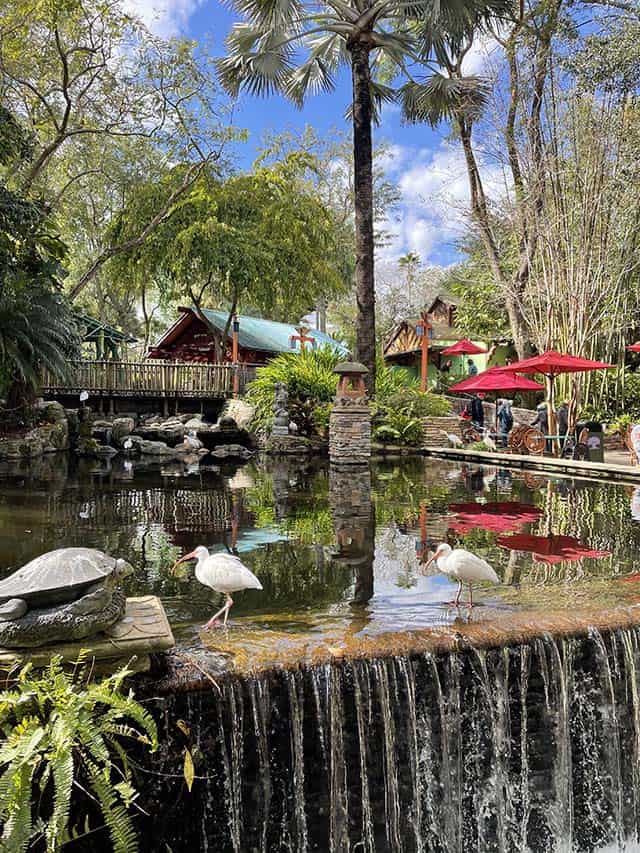 Mobile Ordering
We placed our orders via mobile ordering and found a table outside. I cannot stress enough how important it is to place your orders in ahead of time so that you do not have to wait outside the restaurant forever or get stuck in a huge line.
I normally will place an order in while I'm heading to the restaurant. That way, by the time you get there your order is ready and you can walk right in!
Since this was my first time visiting, I was very surprised by how beautiful the seating area is in this location.
You can see from the picture above how beautiful of a setting it is! I love the lush greens and waterfall. There is something very calming about it. It's the perfect place to sit down, eat and just take in all of the scenery around you.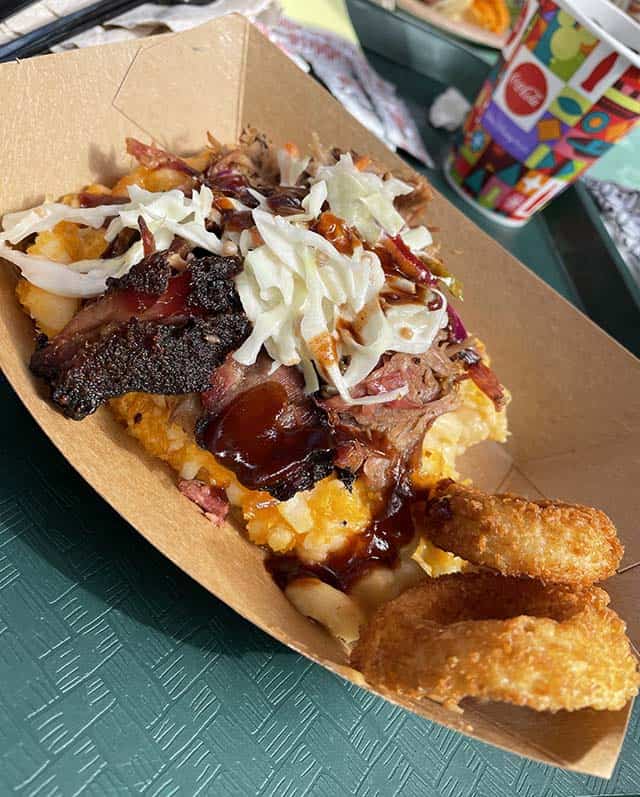 For lunch, I had the Baked Macaroni and Cheese with Pulled Pork. Just typing this makes my mouth water all over again. It was so good. The Pulled Pork was savory and smoked just right and the macaroni and cheese was warm, cheesy and delicious. It also came with a side of onion rings that my husband enjoyed.
My children both had hot dogs and were pretty satisfied with their oranges and applesauce for the sides.
Beautiful scenery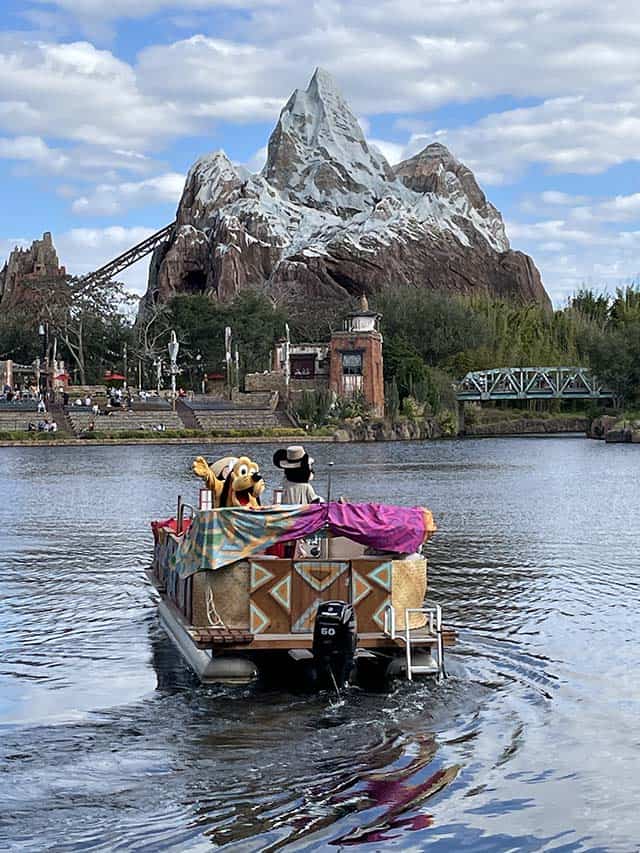 One of the best surprises about this location was all of the beautiful scenery and views of the park! I love this picture I have of Pluto and Mickey in front of Expedition Everest. When I was taking this picture, I was just happy to see one of the character cavalcades go by. Afterwards, I realized how cool of a picture it was!
While sitting outside, listen for the change in music and run! This is how you know a cavalcade is coming your way. Luckily, you don't need to run too far here or if you sit in front of the water, you won't have to run at all. Just make sure you put your mask on before leaving your table!
Overall, I loved eating at Flame Tree Barbecue. The food is good. The scenery is beautiful and I loved the seating area. It would probably not be the best place to eat during the hot summer months since the seating is all outside. However, during the cooler months, it is actually quite pleasant.
One word of warning. See those white birds here in the picture? Watch out! They are often pretty aggressive and have no problem coming up to your table, flying onto your table (which actually happened to me) or approaching you. If you have a fear of birds or prefer to not be quite that close to nature, do keep that in mind.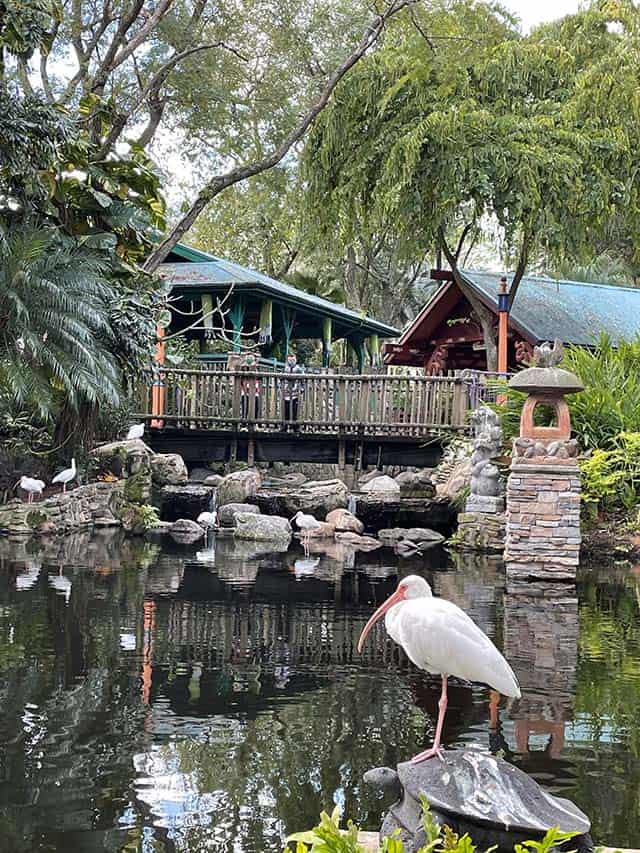 My boys had a fun time watching the animals and checking out all of the beautiful scenery. It was a nice break from the park for a little bit, and the wildlife is a nice distraction for the kids.
Should you add Flame Tree to your list?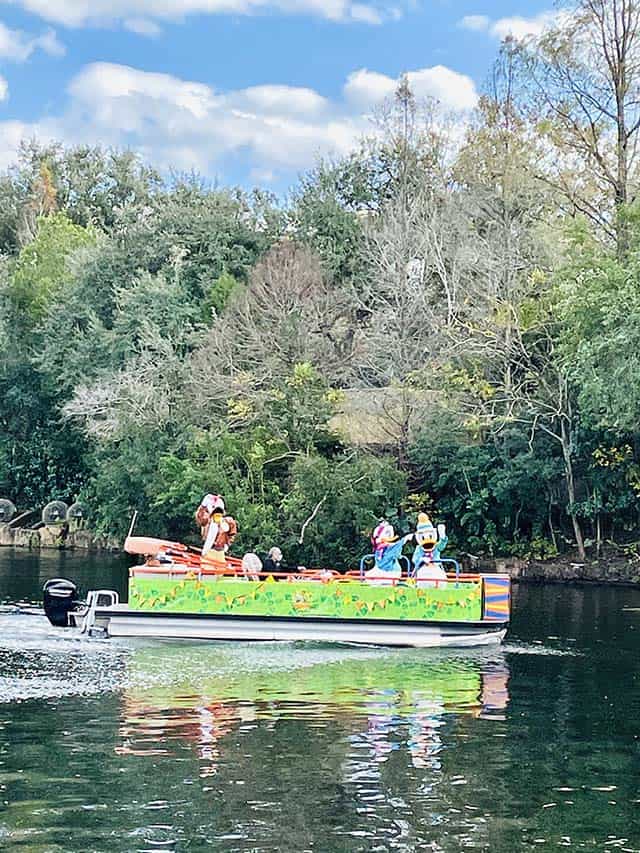 If you enjoy barbecue, then you will definitely want to add this location to your list. Animal Kingdom has a lot of great quick service locations with quality menu items. This location will not disappoint.
Menu items are fairly large in portion, especially if you get the ribs and chicken or rib dinner. My Macaroni and Cheese with Pulled Pork was a perfect size for me. It wasn't overwhelmingly huge and it was not too small either.
If you are not the biggest barbecue fan, then you might be better off trying another option.
Will you be adding Flame Tree Barbecue to your list on your next visit to Animal Kingdom? What was your experience? Tell us about it in the comments below or on our Facebook page. Keep the conversation going by sharing them with us in our crew too!
Maggie Baltz