I must admit that when planning our Walt Disney World Trips in the past I would often prioritize Magic Kingdom, Hollywood Studios, and even Epcot over Animal Kingdom. This was of course before the addition of Pandora to the Animal Kingdom. Come join me in exploring the world of Pandora with a delightful quick service dining option nestled right in the heart of this breathtaking land: Satu'li Canteen.
World of Avatar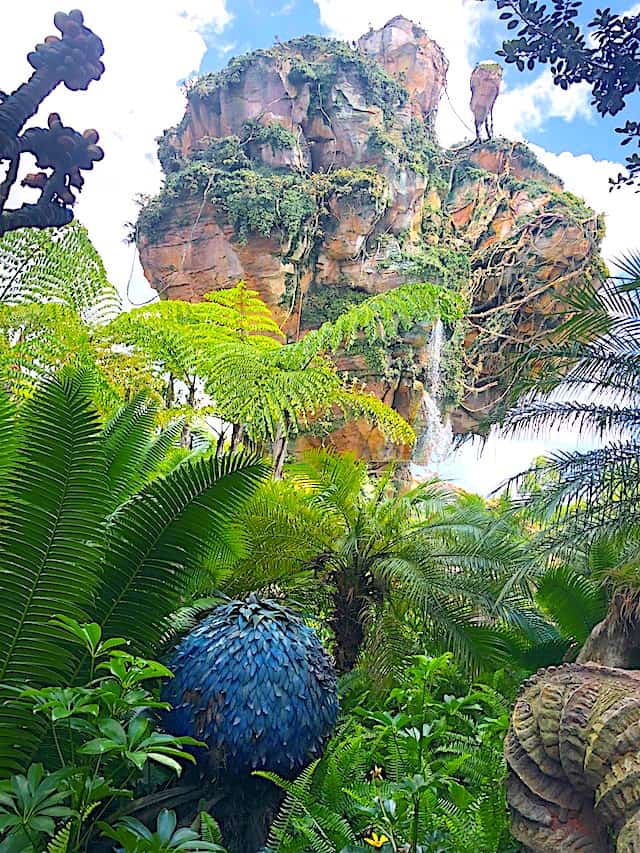 I absolutely love the theming that is beautifully carried out through the land of Pandora.
As you begin traveling from Africa you can see the subtle changes to the lampposts, the pavement, and even the sounds that you hear as you enter into this enchanting land.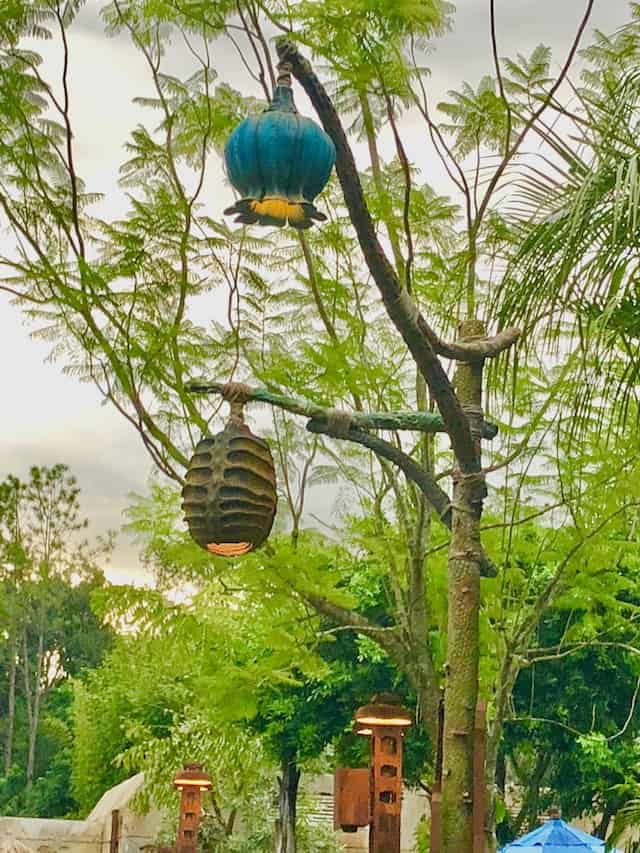 The first time that we visited this area of Animal Kingdom we had not yet watched the movie Avatar.
Even without watching this movie, we were captivated by the beauty of this land and we loved riding on the back of our own banshee in what has become my favorite ride at Walt Disney World, The Flight of Passage.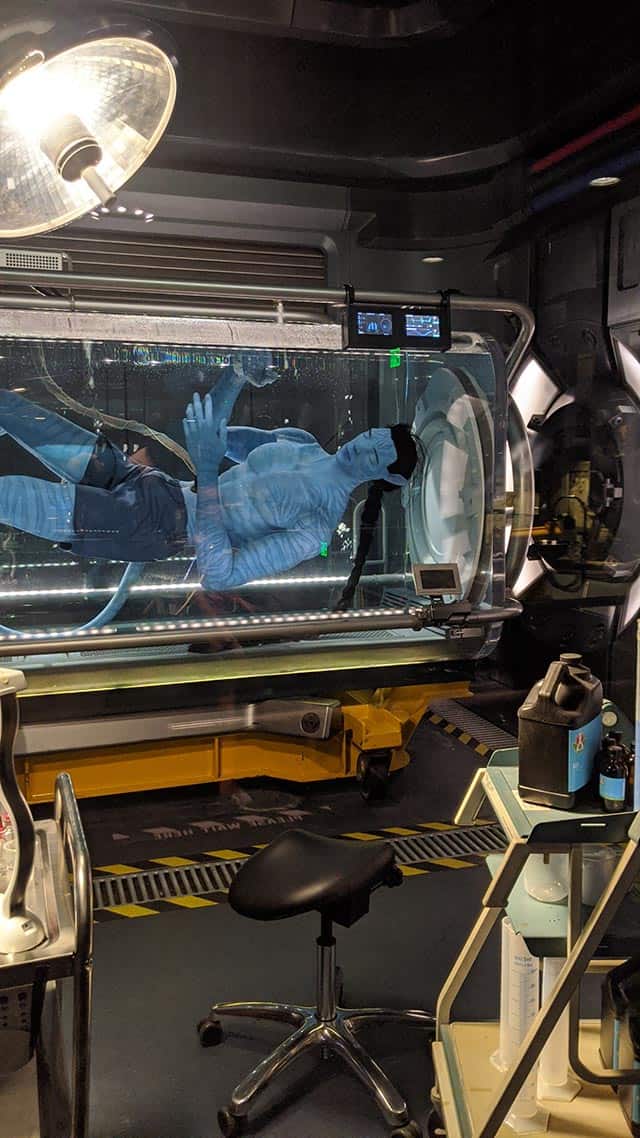 I love that this attraction immerses you in a land that feels so real as it engages all of your senses.
After our first visit to Pandora, we watched the movie Avatar at home and started planning our next trip to Disney's Animal Kingdom.
Satu'li Canteen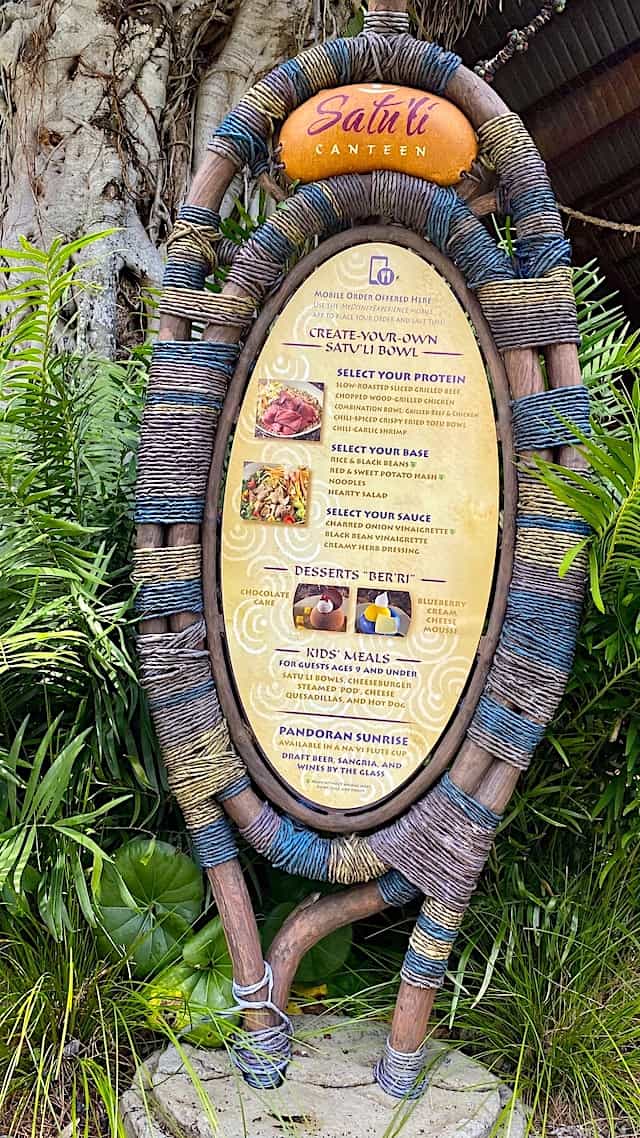 Satu'li Canteen is located near the Flight of Passage ride.
Offering both lunch and dinner, this quick service restaurant offers "healthful dishes and familiar flavors from another world- wholesome grains, fresh vegetables, and hearty proteins."
The setting is that of a Quonset-hut that offers dining while Guests enjoy the Na'vi art and cultural items.
This location offers Combination Bowls that allows each Guest to create their own personal entree by choosing a protein, base, and sauce. I was able to choose my protein from either grilled beef & chicken, slow-roasted sliced grilled beef, chopped wood grilled chicken, chili-garlic shrimp, chili-spiced crispy fried tofu.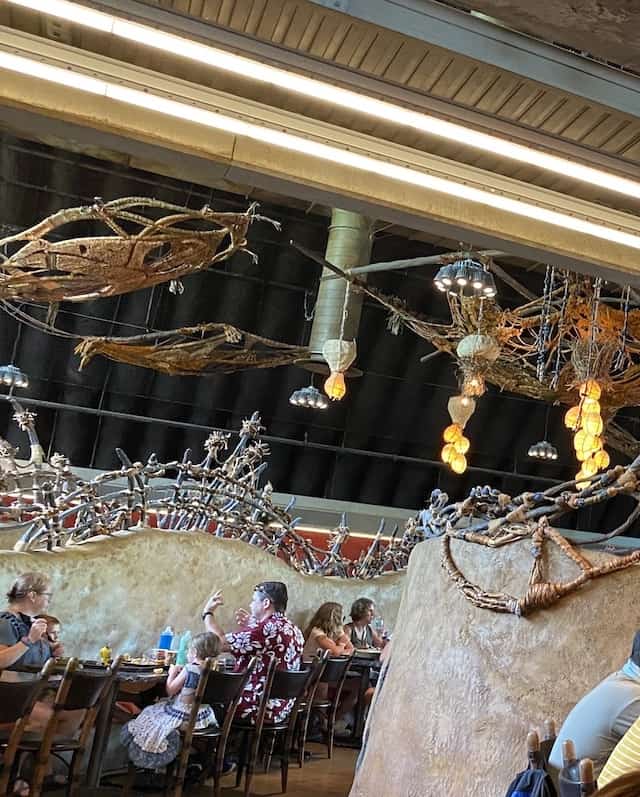 The next step was to choose my base. The choices for the base were rice and black beans, red and sweet potato hash, noodles, or a hearty salad.
The final step was to select my sauce. The choices included black bean vinaigrette, creamy herb dressing, or charred green onion vinaigrette.
Combination bowls are a great way to customize your meal.
Review of My Entree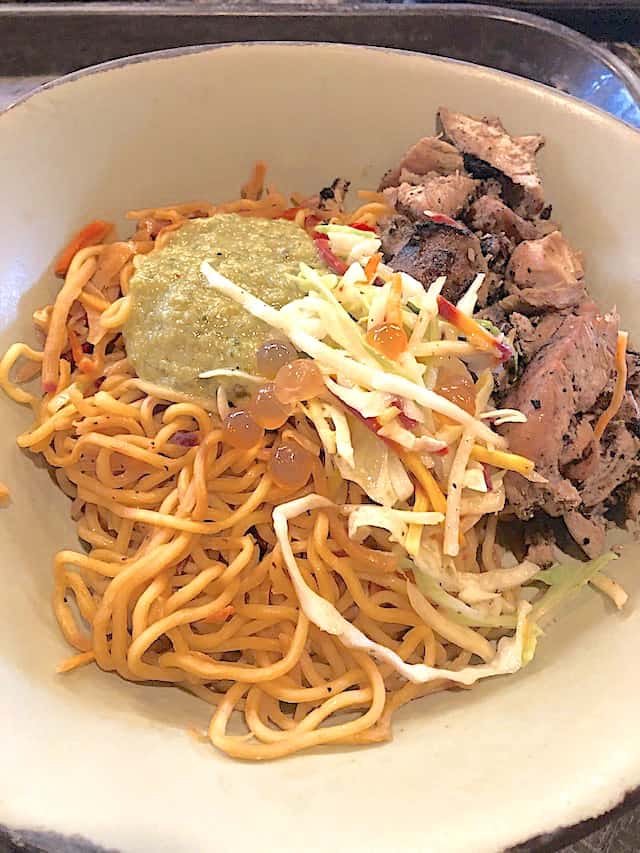 I chose the wood-grilled chicken as my protein, the noodles for my base, and the black bean vinaigrette.
It was topped with a crunchy vegetable slaw and boba balls. This was my first time experiencing the boba balls and found the sweetness coupled with the savory of the meat to be a bit amiss.
I chose to remove these from my dish and found every bite of this combination bowl to be more delicious than the bite before.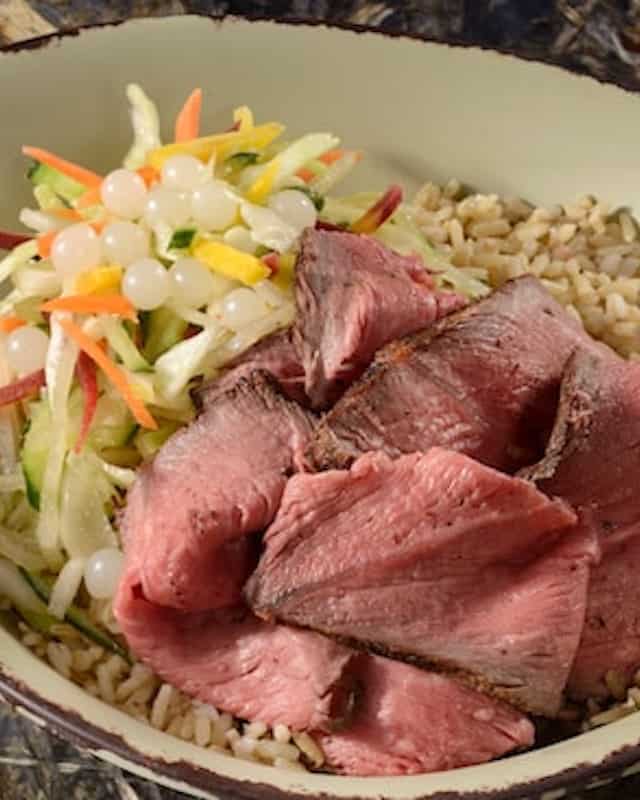 The grilled chicken was absolute perfection marinated in olive oil and garlic. I found the noodles to be perfectly cooked, and the vegetable slaw coupled with the black bean vinaigrette added the right amount of savory to complete each bite.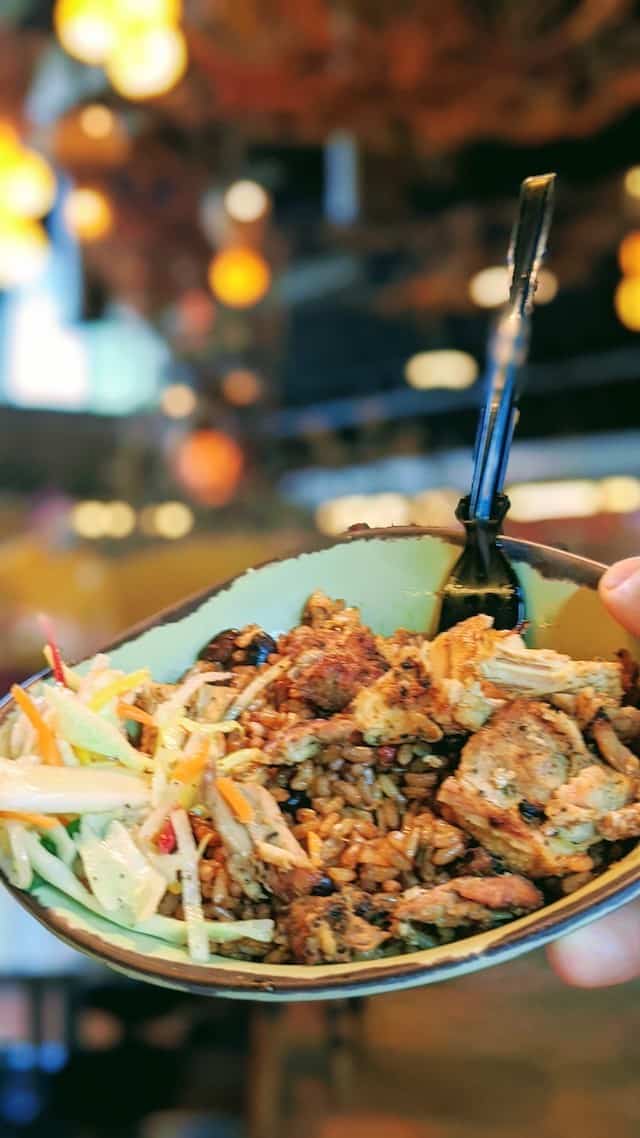 I was so amazed at how delicious and filling this meal was. The combination bowl was $16.99 and worth every penny in my opinion.
I can't wait to take my family to this quick service dining location during our next trip to Disney's Animal Kingdom. I enjoyed that this was quality food but didn't take away from valuable time in the Park.
Kid's Meals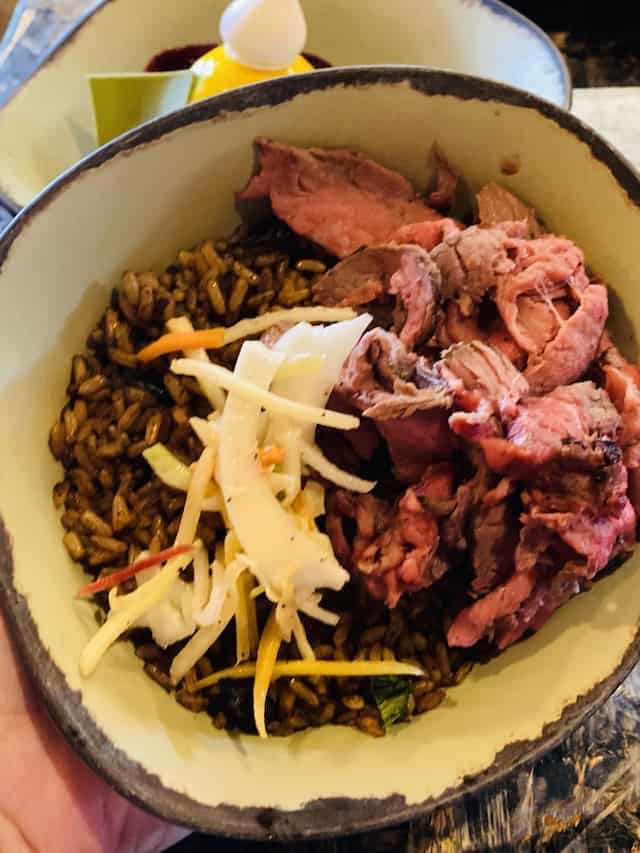 They also offered these combination bowls for the Kid's Meals as well. A few of the writers for the KennythePirate writing crew chose the kid's meals to save room for the Satu'li Canteen signature desserts.
Even the kid's meals were very large in size and were quite filling.
Allergy Friendly Meals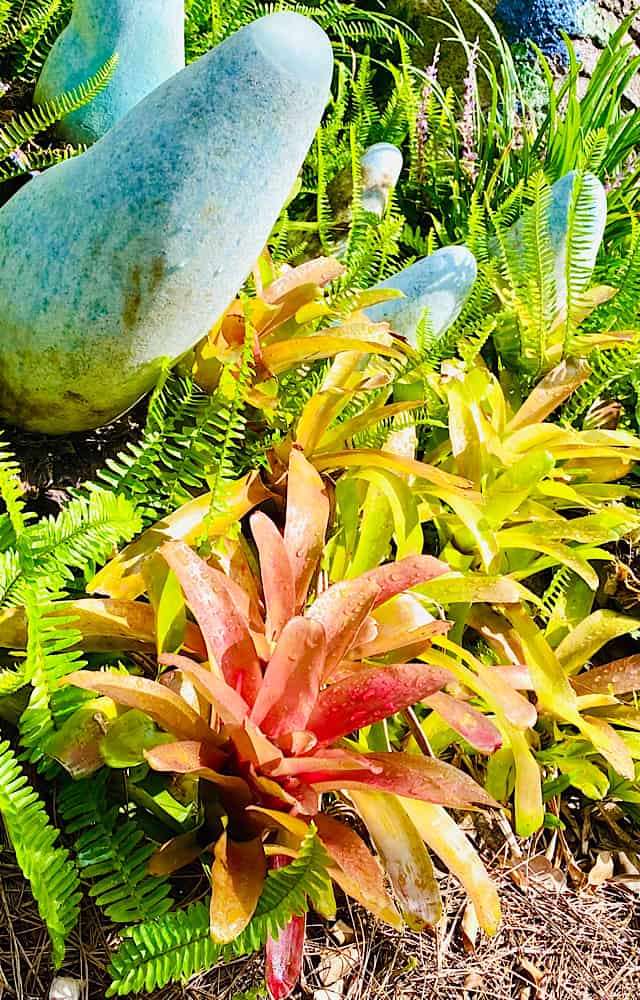 My mom has a gluten allergy, and I am always impressed with the many allergy friendly options that the Disney Parks offer. The Satu'li Canteen offers all of their combination bowls as both gluten/wheat allergy-friendly.
They also have plant based meals that includes a chili-spiced crispy fried tofu combination bowl. Guests with egg, milk, and fish/shellfish allergies will also find many great offerings at this location.
Signature Desserts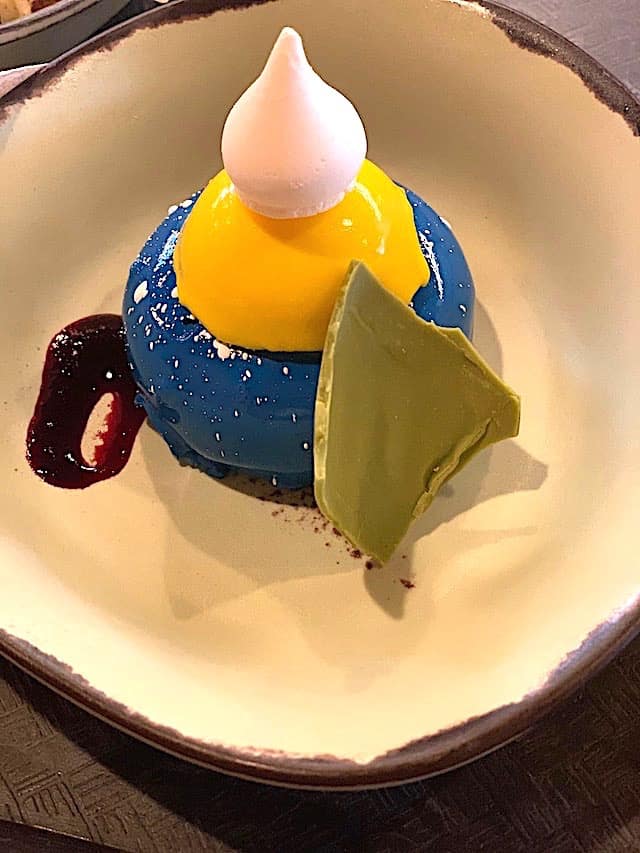 Satu'li Canteen offers two signature desserts that are absolutely gorgeous and they are each $5.29.
Pictured above is the Blueberry Cream Cheese Mousse. This dessert is a filled with passion fruit curd and we all gasped when it arrived to our table.
Unfortunately the general consensus from our writing crew was that it was not as delicious as it was beautiful. The beautiful exterior was a bit of a different consistency paired with the passion fruit curd inside.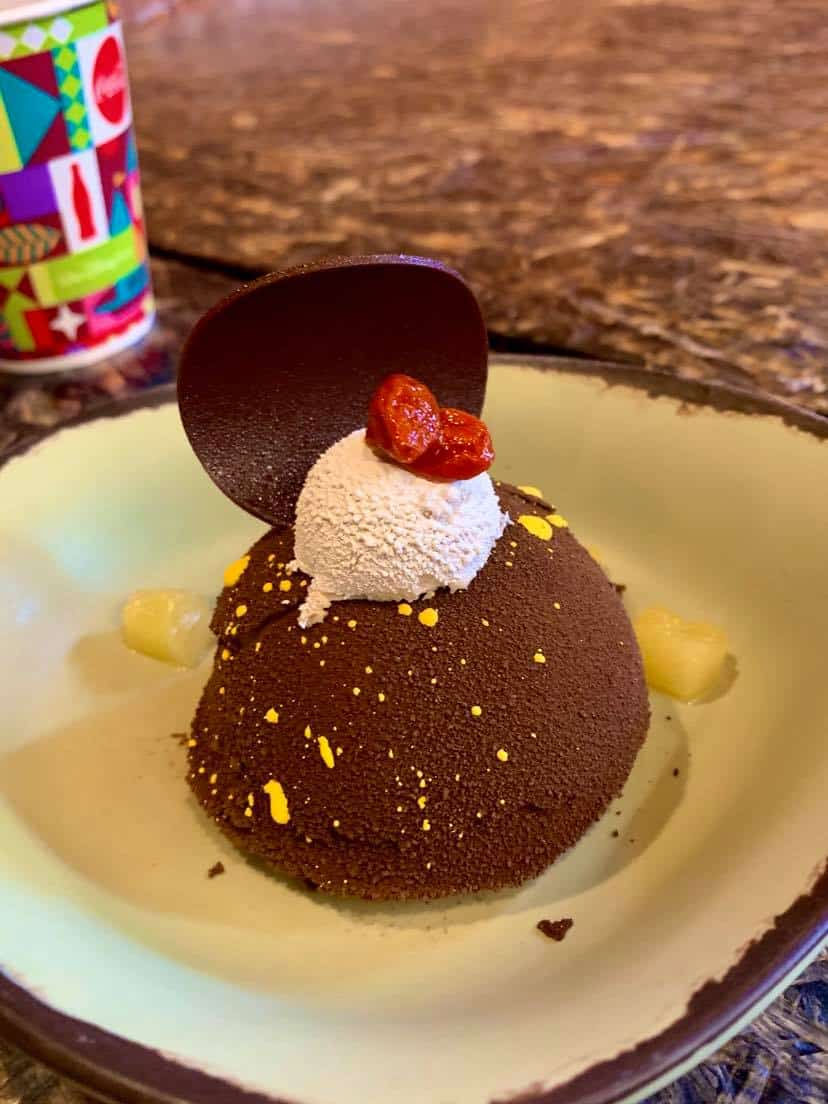 Also featured was the Chocolate Cake. This cake has a crunchy cookie layer and is topped with a banana cream topping.
Our writing crew enjoyed this dessert more than the Blueberry Cream Cheese Mousse, but we found it a bit too rich as it was made with dark chocolate.
I think during my next visit to the Satu'li Canteen I will definitely get the Combination Bowl again, but I think I would enjoy a classic Mickey Mouse ice cream bar in the Park rather than one of the signature desserts.
Safety Protocols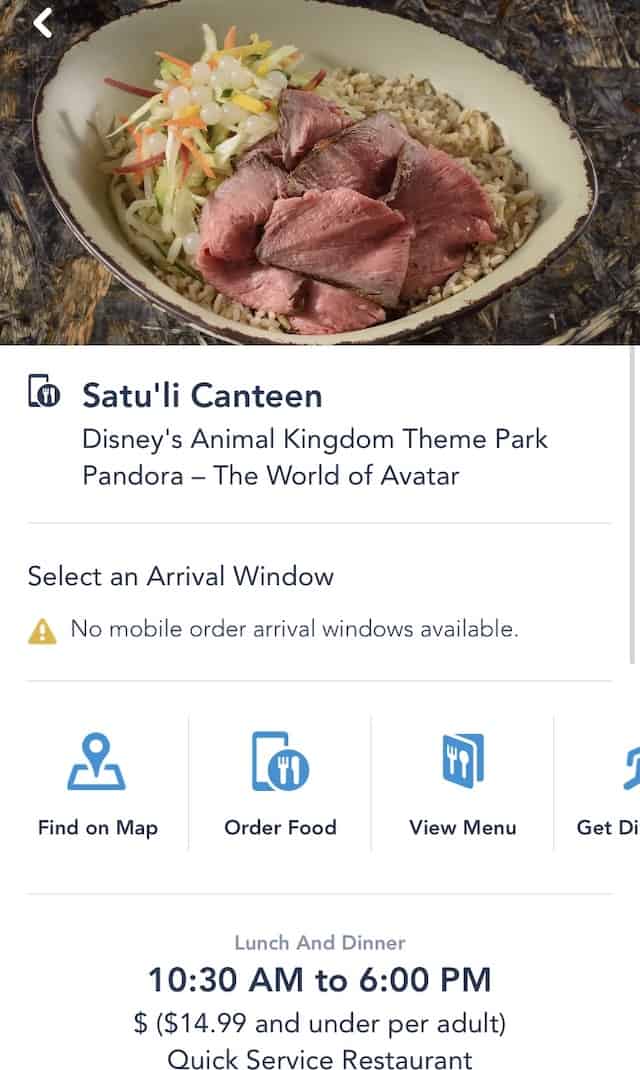 The new safety protocols extend throughout the Park and the dining areas as well.
At Satu'li Canteen Guests may place their order using the Mobile Food Order link on the My Disney Experience App. It was very easy for me to choose each selection to make my Combination Bowl by using the app.
After my order was placed, I waited outside of the Canteen until I received a push notification that my order was ready. This was a great way to monitor the number of Guests inside of the Canteen.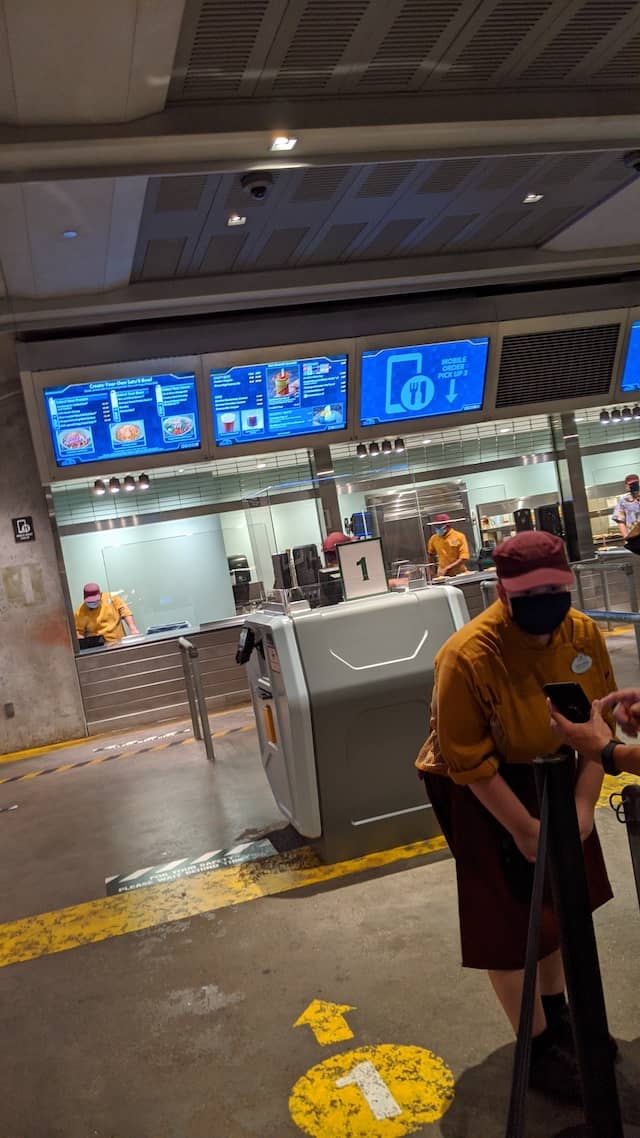 Once I received this notification, I showed it to a Cast Member at the entrance and I was allowed into the Canteen. The notification directed me to the line that I should join.
I easily picked up my Combination Bowl and I then walked through the dining area to the refreshment station. At the refreshment stand a Cast Member handed me my beverage and I was able to join my dining party.
I felt that every step had been taken to ensure safety for both Guests and Cast Members even while dining. Guests may take off their masks while seated, but masks must be worn to roam throughout the dining room.
Guests must complete their food order with the Mobile Food Order option on the my disney experience app.
Have you visited Satu'li Canteen? What was your favorite item on the menu? Do you hope to visit it on your next Disney Trip? Share your thoughts with us on our Facebook Page.