Today I'm dreaming of one of my favorite restaurants at Disney World, Yak and Yeti. I love the decor, the service, and the food. Probably the best part is the fact that one does not even need a reservation! I enjoy just walking up when I'm hungry for some delicious, flavorful dishes!
No reservation you say? Well, eating well isn't hard when you have a Landry's card! Sign up at the Landry's Select Club website for $25 which you can use for your meal at Disney World.
You also get a birthday bonus of $25. The servers helpfully point out that you can select any month for your birthday month, so choose the month your family travels to Disney. There are mixed reports as to whether the two bonuses can be stacked, but give it a shot.
So, once you have signed up on the Landry's site, you simply approach the host stand at Yak and Yeti (or Rainforest Cafe, or T-Rex) and show your card. Parties of 6 or fewer will be seated within about 15 minutes!
Reservations can also be secured through the Disney website just like any other Disney restaurant.
Now that you're in, what should you order?
My personal favorite is the Chicken Tikka Masala. I make this dish at home, but they do it pretty well here too. My husband prefers the Dim Sum Basket appetizer because we love Char Sui Bao. We even had the Disney Catered Events staff add both to our menu for our anniversary party in the Tamu Tamu courtyard.
I've also tried the Honey Chicken and asked them to make it spicy. I don't know if I was just starving after the half marathon, but it was one of my favorite meals at Disney World. I feel you can't really go wrong at Yak and Yeti.
For dessert, you've gotta try the Fried Wontons. I usually don't have room for dessert, but I finally tried these out back in October and they were spectacular!
One other thing I love about Yak and Yeti is their non-alcoholic beverage offerings! As a non-drinker, I love when restaurants have plenty of festive options for me to choose from. Yak and Yeti boasts several "mocktails" as well as frozen lemonade and a frozen strawberry slush for kids and adults to enjoy!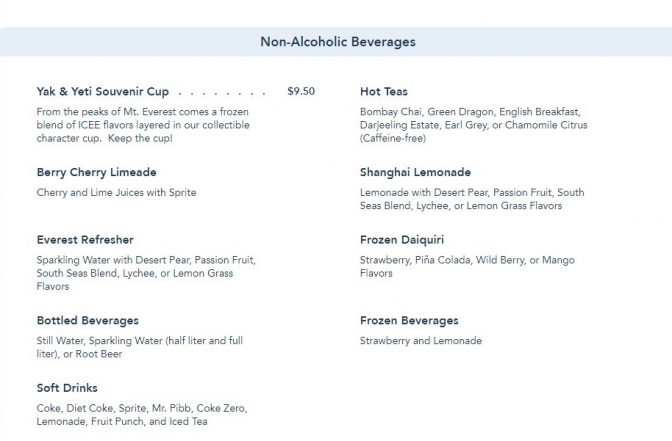 There are plenty of reasons to choose the Yak and Yeti restaurant on your day at Animal Kingdom! What is your go-to restaurant at Animal Kingdom? Let us know in the comments!
-Rebecca W Davis