Looking for a great place to have breakfast at Disney's Animal Kingdom? Try Yak and Yeti Local Food Cafes! Read on for my complete review of Yak and Yeti and see if you want to try it for your next trip.
Disney's Animal Kingdom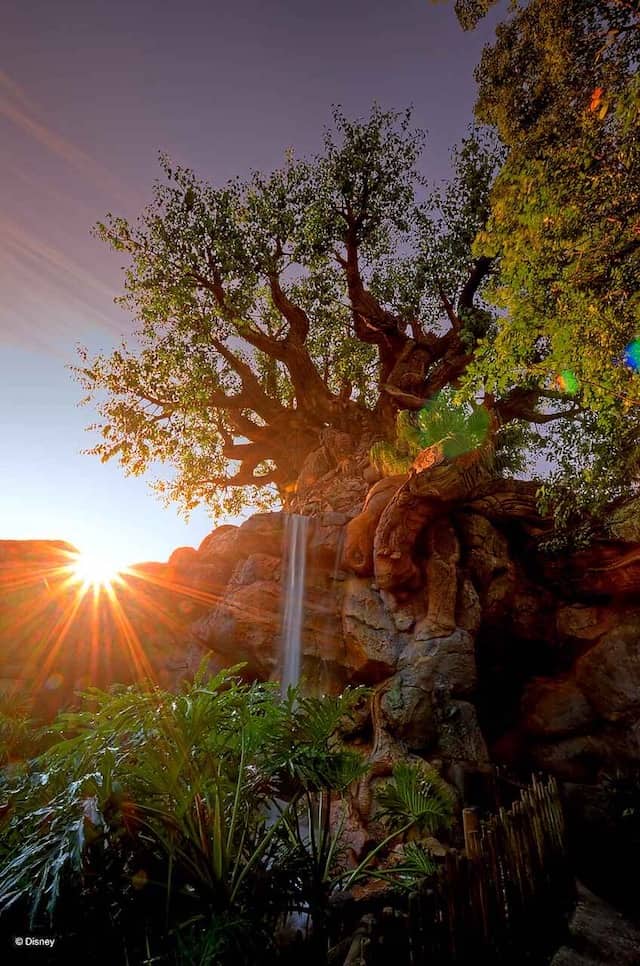 Disney's Animal Kingdom is one of my favorite parks to visit at Walt Disney World. To see what it's like to visit the park since it's reopening, you can read all about my recent experience.
Even with all of the safety protocols and limited offerings, I was still able to enjoy my day! Because of the lower crowds and the fact that I was not on my phone all day, I was finally able to just relax and enjoy the park.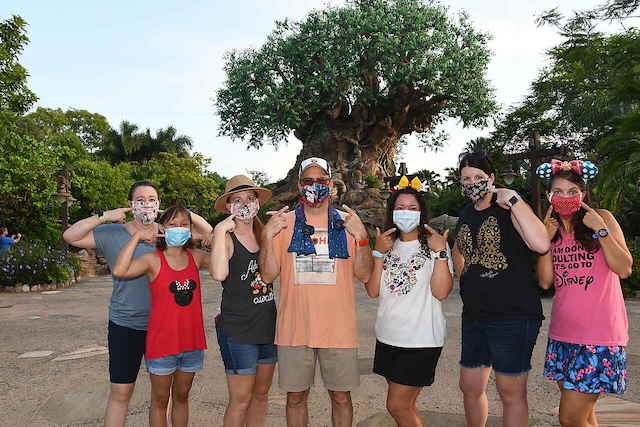 One of the best things about Disney's Animal Kingdom, is the number of excellent quick-service locations.
Table service meals are very enjoyable and one of my favorite things to do at Walt Disney World. However, they can get expensive!
My last trip to Animal Kingdom, we decided to just eat at the quick service locations in the park.
Quick Service Locations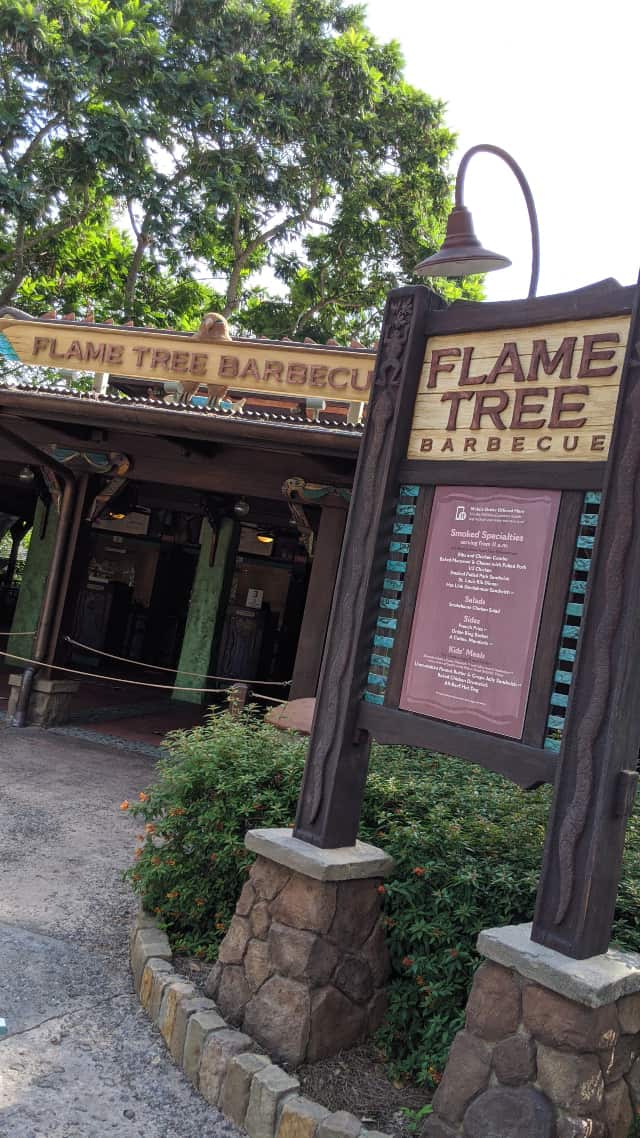 Eating at quick service locations is a nice change! You do not feel like you are wasting a lot of park time. They are less expensive and they are very quick!
You will find many quick service locations that have a great selection of food and are also quite satisfying. Some of my favorite places to eat are Flame Tree Barbecue, Satu'li Canteen, and Yak & Yeti™ Local Food Cafes.
Yak & Yeti™ Restaurant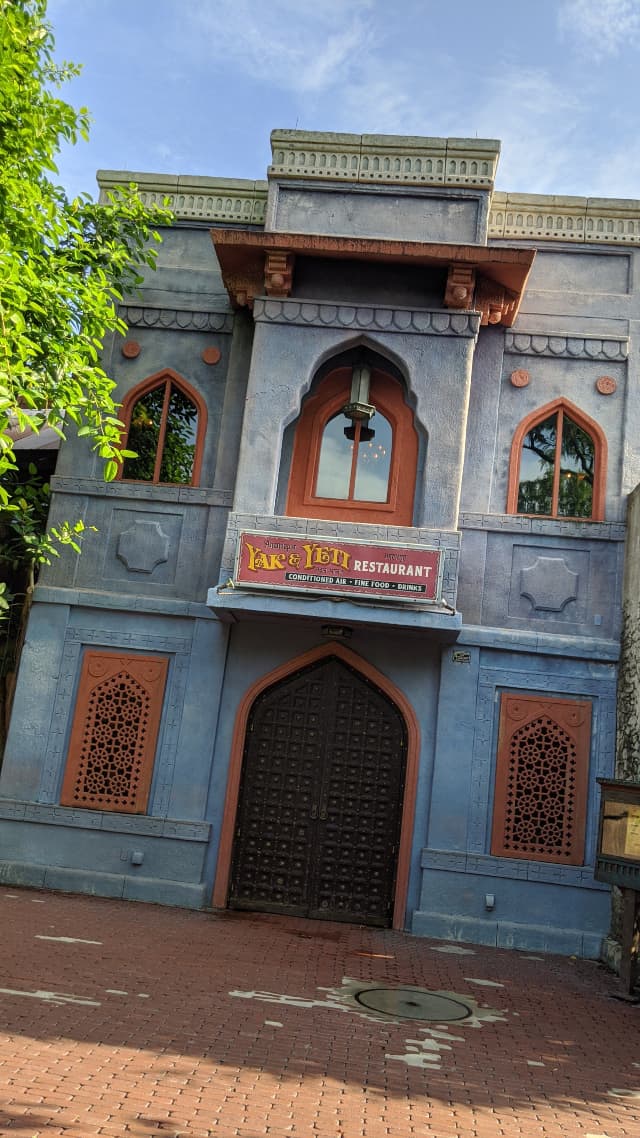 I have always loved eating at Yak & Yeti™ Restaurant. It is definitely one of my favorite places to eat when we visit Disney's Animal Kingdom. We have always had excellent service and food. For a great review of Yak & Yeti™ Restaurant, read Rebecca's review here.
Since I had eaten at Yak & Yeti™ Restaurant before, I knew that eating at the quick service location would be a great choice too!
Yak & Yeti™ Local Food Cafes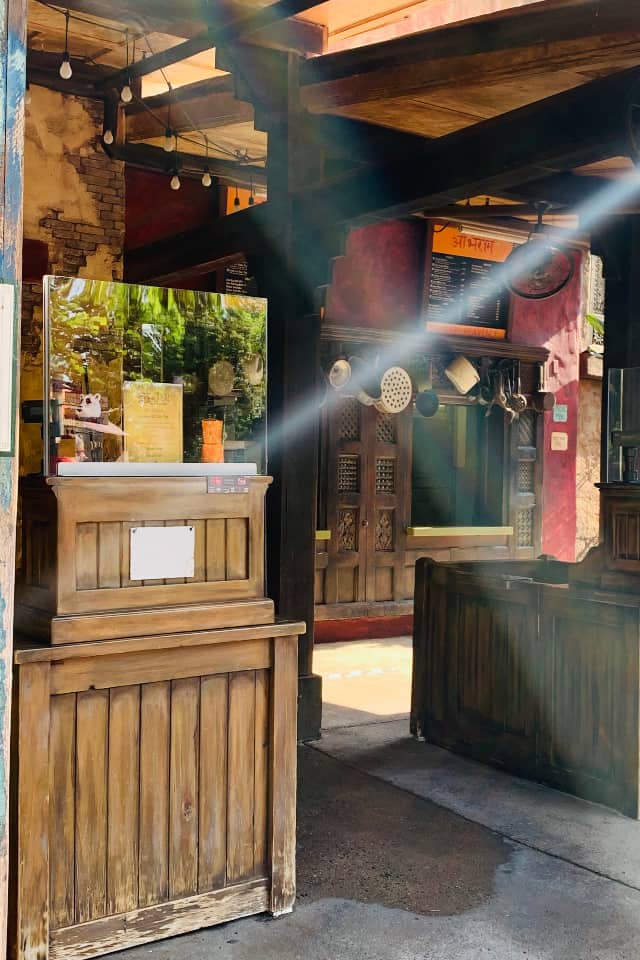 We decided to stop at Yak & Yeti™ Local Food Cafes for breakfast. This locations serves breakfast, lunch and dinner. It is a short walk from Kali River Rapids and right next to Yak & Yeti Restaurant.
The same type of food that is offered at Yak & Yeti is also found here, along with the addition of some yummy breakfast bowls and other food.
Yak & Yeti™ Local Food Cafes offers Asian style cuisine. However, for breakfast you will find typical breakfast food. Breakfast bowls, bacon and eggs, and English muffins are all offered on the menu.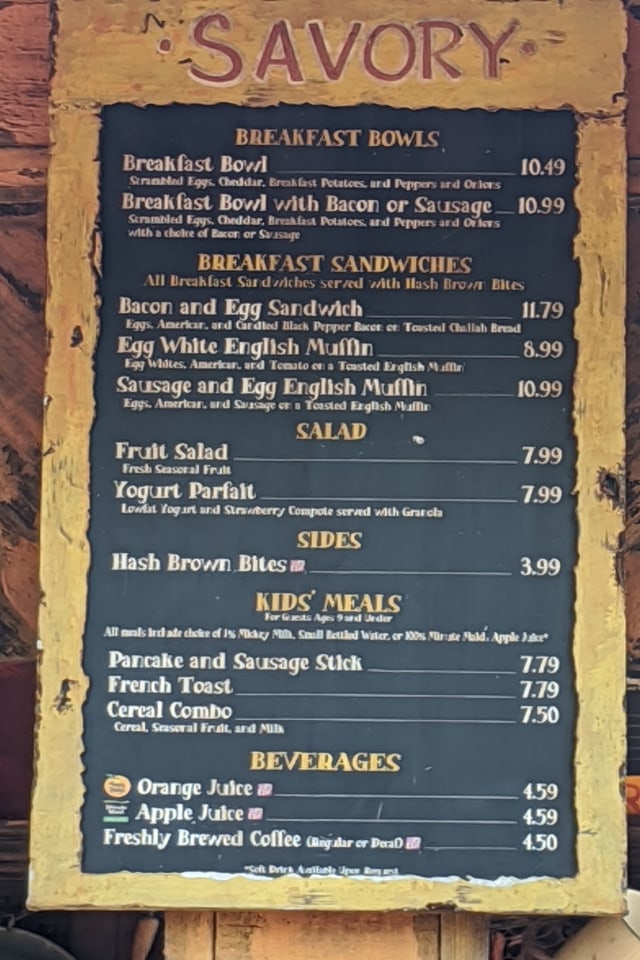 One thing to note about this location is that Mobile Ordering is not available. However, this did not impact our visit in any way. We were the only guests here at the time and all of us walked up and ordered right away.
Breakfast
I had the Breakfast Bowl with Sausage. It comes with scrambled eggs, cheddar cheese, breakfast potatoes, pepper and onions with choice of bacon or sausage.
I typically do not eat eggs of any kind, but I thought I would give it a try. Since it was mixed up with so many other delicious items, I found it to be quite tasty!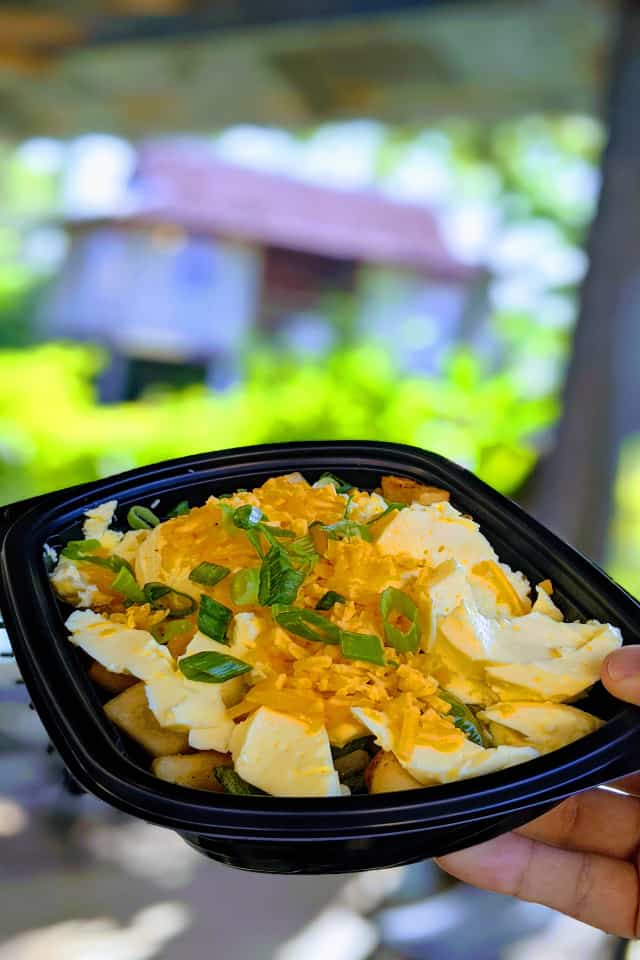 The eggs were light and fluffy and everything else that was included really made the bowl very flavorful. The cheddar cheese was melted just right and the sausage gave it an extra kick of spicy flavor, but was not too overwhelming.
It was not a huge portion of food and I found it to be very satisfying. It was just what I needed to start off the day in the park!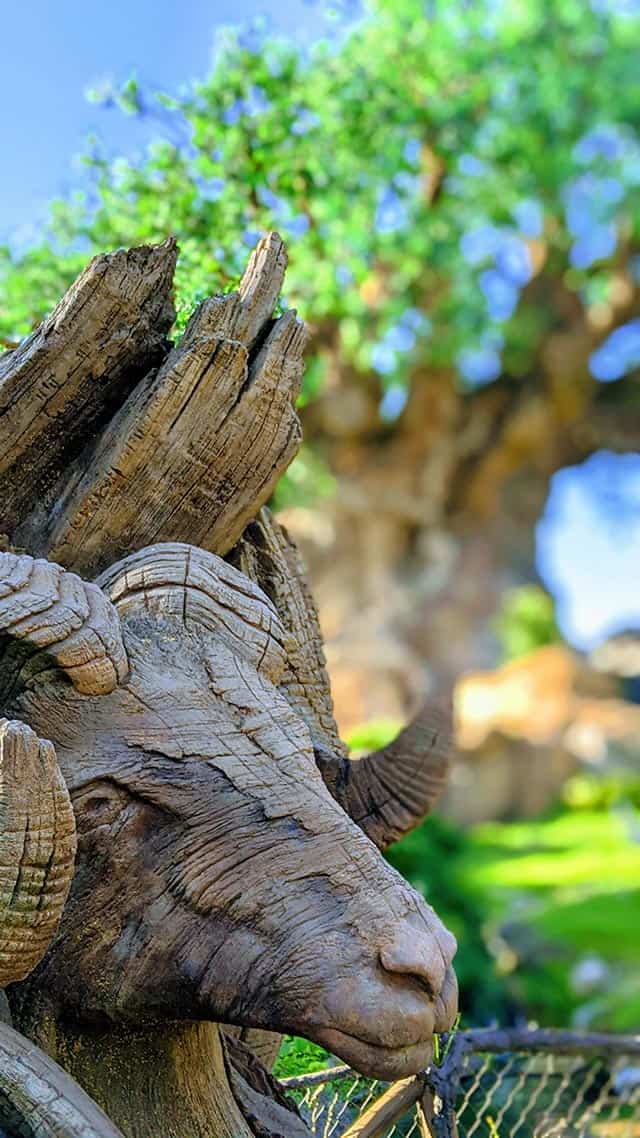 Entree item prices range from $8.99 to $12.00. You may also choose a variety of side items if you prefer something lighter, such as fruit salad, hash brown bites or yogurt.
I found the breakfast menu to be just right for what you might be looking for if you want something quick and tasty. The breakfast bowls are amazing and the menu had enough selection to please everyone.
Lunch and Dinner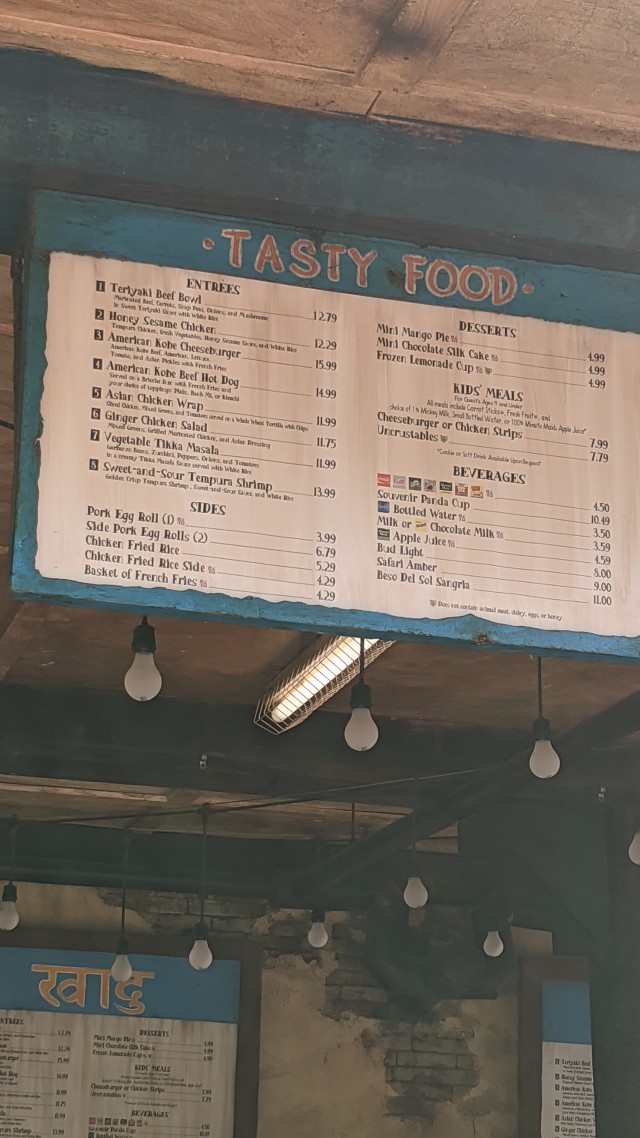 A lunch and dinner menu is also available. If you are an adventurous eater, you will want to try the Teriyaki Beef Bowl, Vegetable Tikka Masala or possibly the Honey Chicken.
I would recommend the Vegetable Tikka Masala, that comes with garbanzo beans, zucchini, peppers, onions and tomatoes in a creamy Tikka Masala Sauce served with White Rice. Tikka Masala is one of my favorite dishes that I have tried at Yak & Yeti™ Restaurant and also Sanaa at Disney's Animal Kingdom Lodge.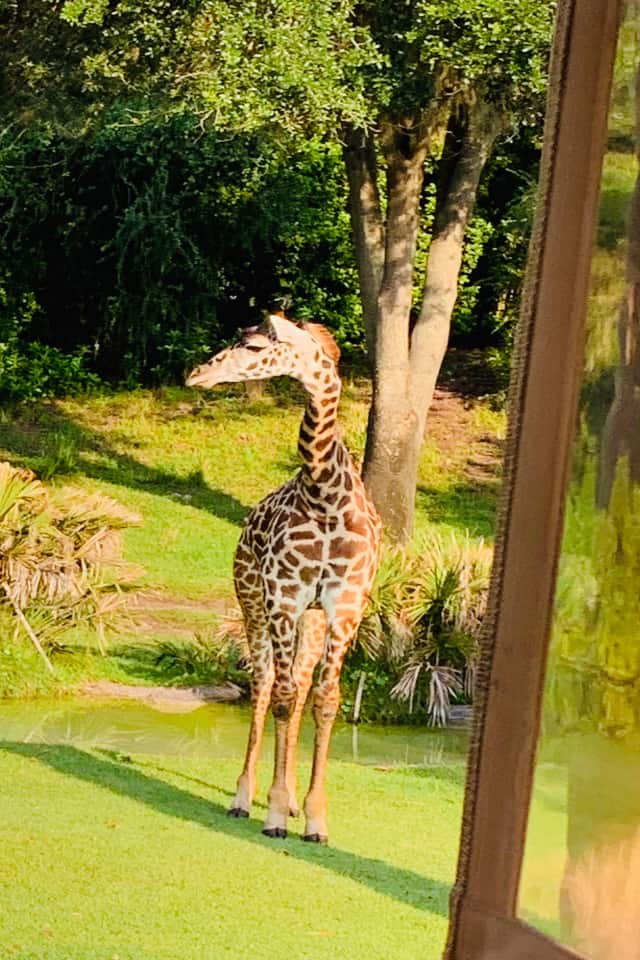 The dish has just the right amount of flavor and spice, and the rice is always fluffy and just enough. I think it is an outstanding dish!
If you are not quite that adventurous, there are also other items on the menu to try. They make it sound a little fancy in the menu descriptions as being an "American Kobe Cheeseburger" and "American Kobe Beef Hot Dog", but I think it's safe to say it's nothing more than your typical cheeseburger or hot dog. Go ahead and eat those if the other items on the menu sound too scary!
Kids' Meals are also available for breakfast, lunch and dinner. This is always something I look for when visiting a dining location at Walt Disney World.
Character Locator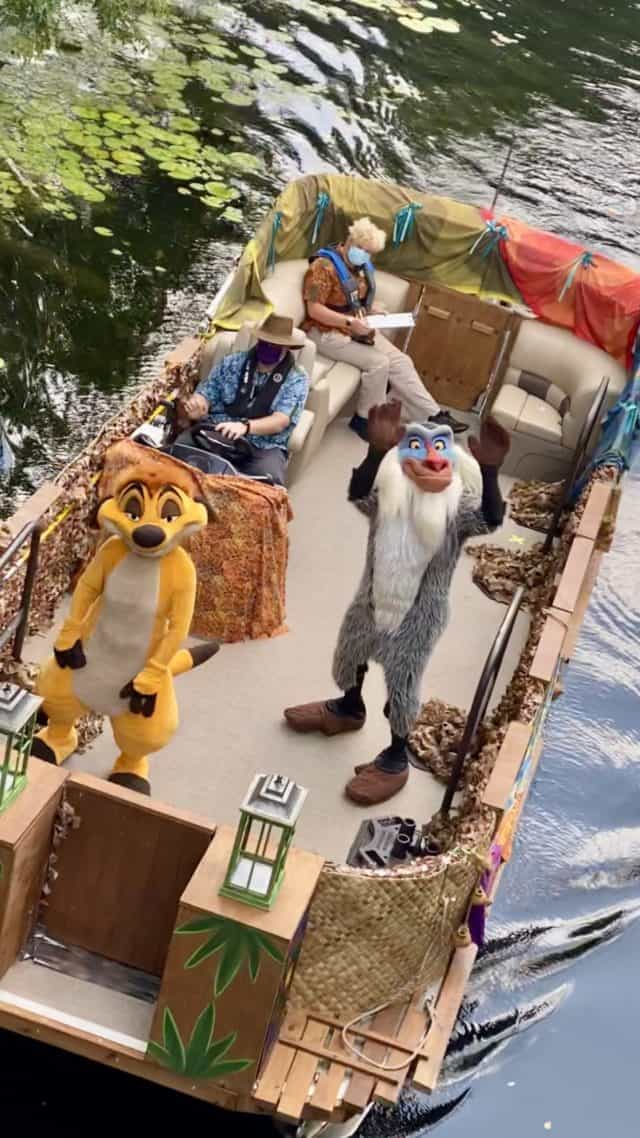 Don't forget about Character Locator when visiting the parks! Did you know that it also contains menus of all of the dining locations in the parks? Kenny is constantly updating Character Locator to include all of the information you might be interested in since the reopening of the parks.
Things such as character cavalcades, updated maps, show times and much more are included! I cannot imagine going to Walt Disney World without it.
Have you visited Yak & Yeti™ Local Food Cafes before? What is your favorite thing to eat on the menu? Tell us about your experience in the comments below or on our Facebook page! You can also share them with us in our crew too.
Maggie Baltz