Disney's Animal Kingdom Lodge's Sanaa restaurant is extraordinary! Check out our Sanaa dinner review and photo tour of this first-rate restaurant!
Getting to Sanaa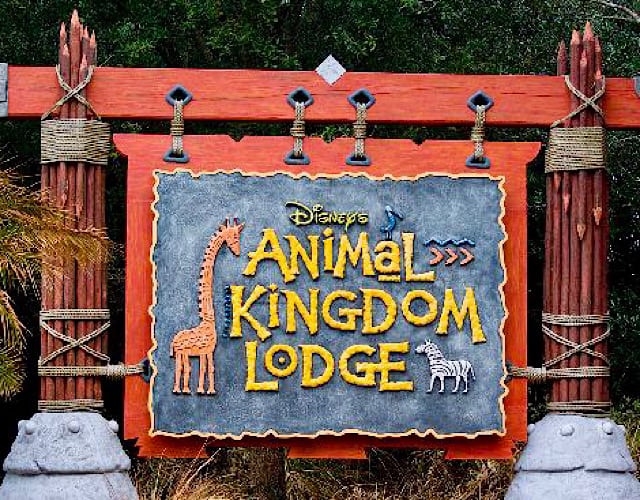 We (Susan and Monica) had never visited Disney's Animal Kingdom Lodge and had a little extra time on our trip to explore. We both heard glowing Sanaa reviews and wanted to check it out for ourselves.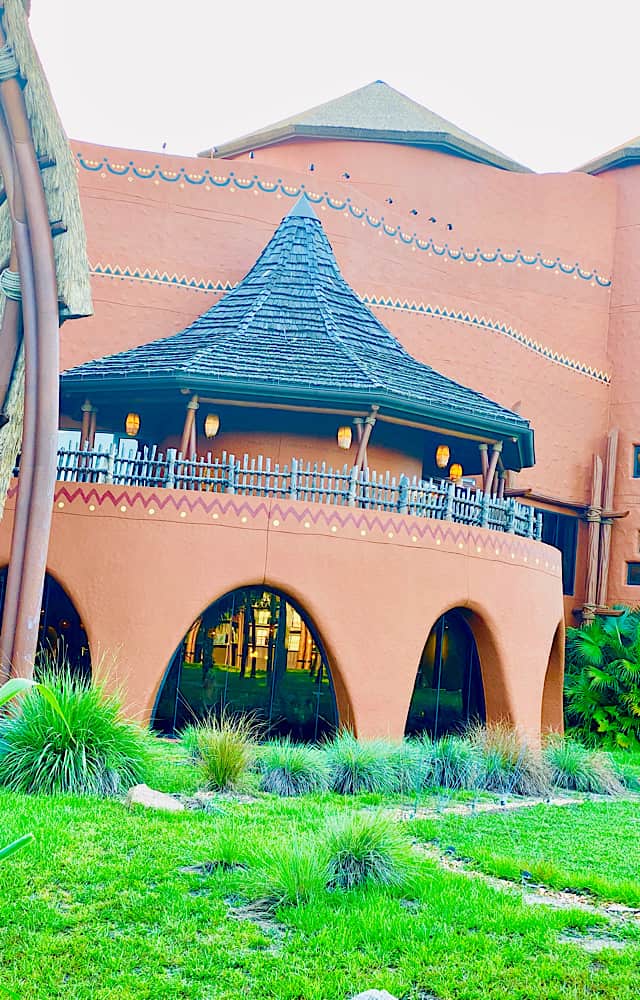 Upon arriving, the security guard asked us if we were dining or checking in at the resort but didn't check our name off a list.
Immediately, we noticed the extensive theming of Animal Kingdom Resorts. We no longer felt like we were at Disney World but rather an African safari.
It was so amazing!
Guests staying at Jambo House will need to take Animal Kingdom Lodge's internal shuttle to access Sanaa. Sanaa began serving delicious breakfast dishes in November 2019.
First Impressions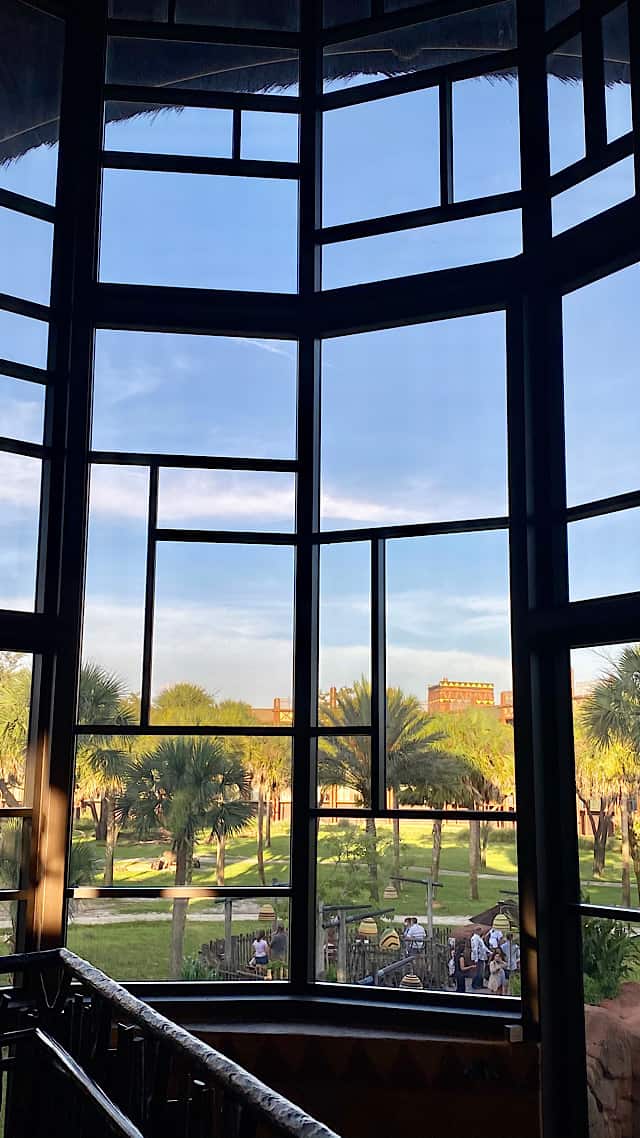 Once our Uber driver dropped us off, we entered the lobby and were taken aback by the splendor of the African decor. Animal Kingdom's Kidani Village is set up to be enjoyed and savored.
When we entered the lobby, we were awe-struck at the intricate details. We just stopped and took in all the colorful African elements. My favorite is the chandeliers that resemble fire.
Seeing this fabulous lobby built excitement for our Sanaa dinner!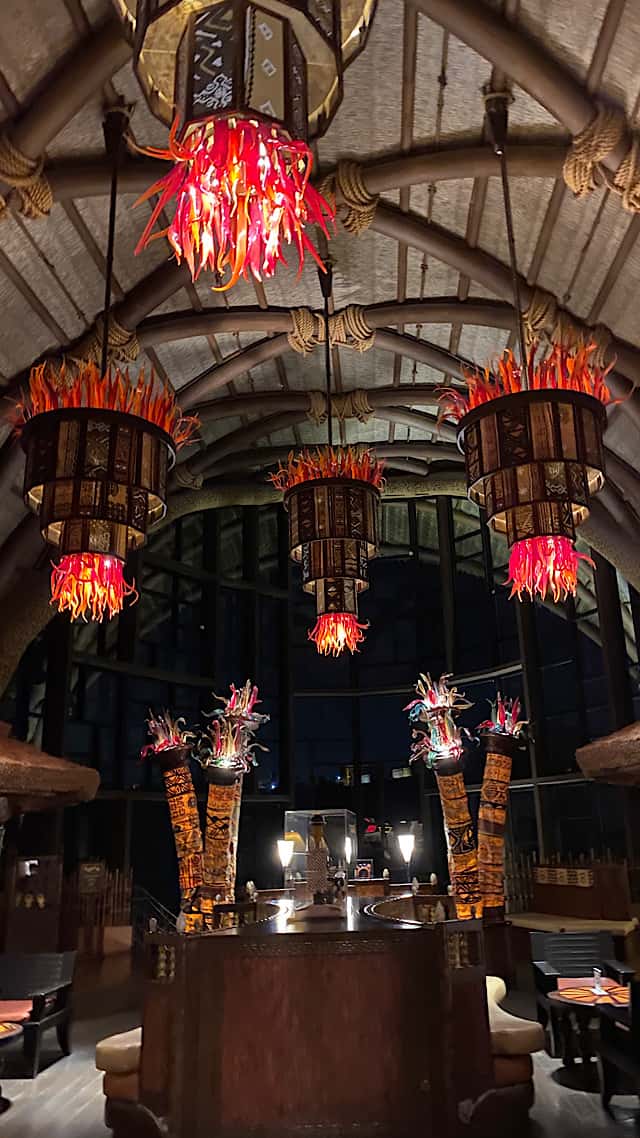 Even if this wasn't attached to Disney World, it would be an amazing vacation on its own. I can just imagine sitting on a balcony, watching animals roam while I enjoy my morning coffee.
Staying here is now my bucket list! A fellow writer, Maggie, stayed at Animal Kingdom Lodge. Read her detailed review here.
Checking In at Sanaa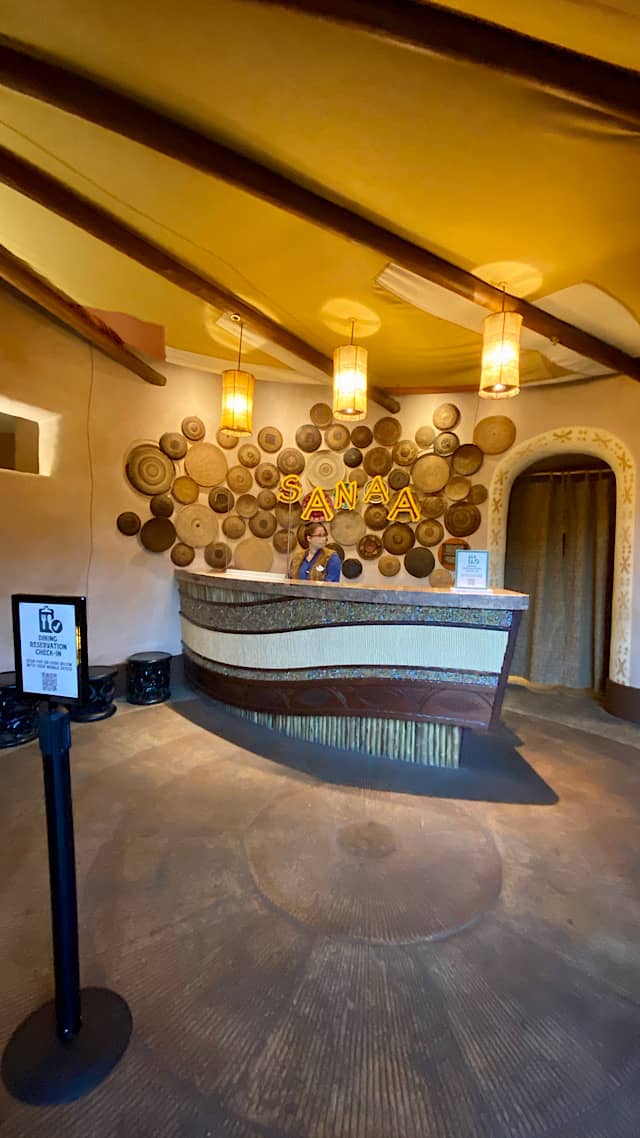 We checked into Sanaa and requested a window table where we could view the savanna. The hostess explained that this will add 30-40 minutes to our wait, but we happily agreed.
Even though only the DVC portion of Animal Kingdom Resorts were open on our visit, we were surprised just how busy Sanaa was. Be on the lookout for a hidden Mickey in the wall art behind the check-in podium.
Waiting For Our Table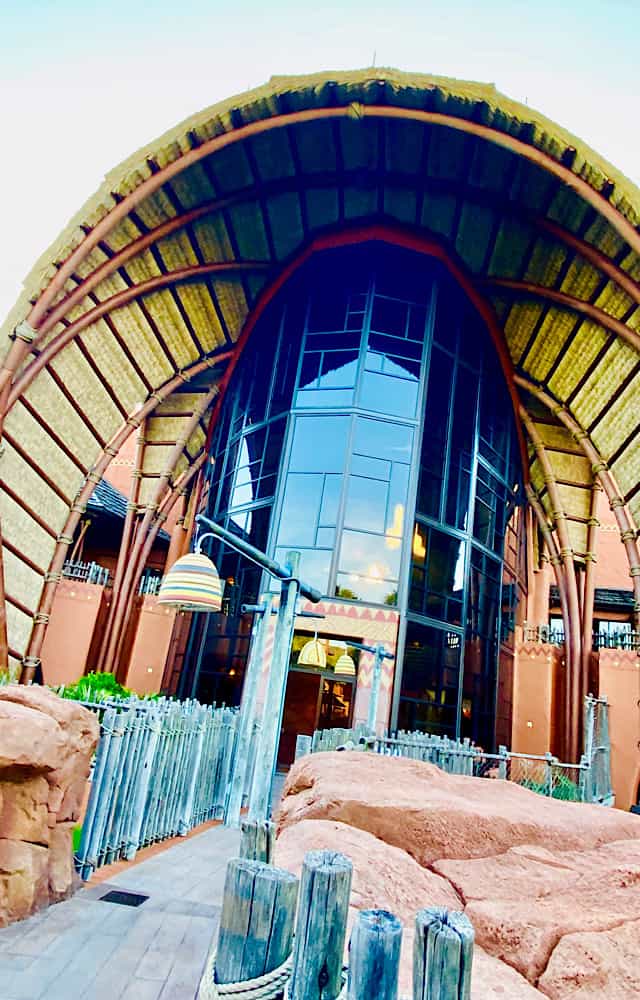 Sanaa provided ample seating areas while we waited for a table with a savanna view.
Seats were adequately social distanced.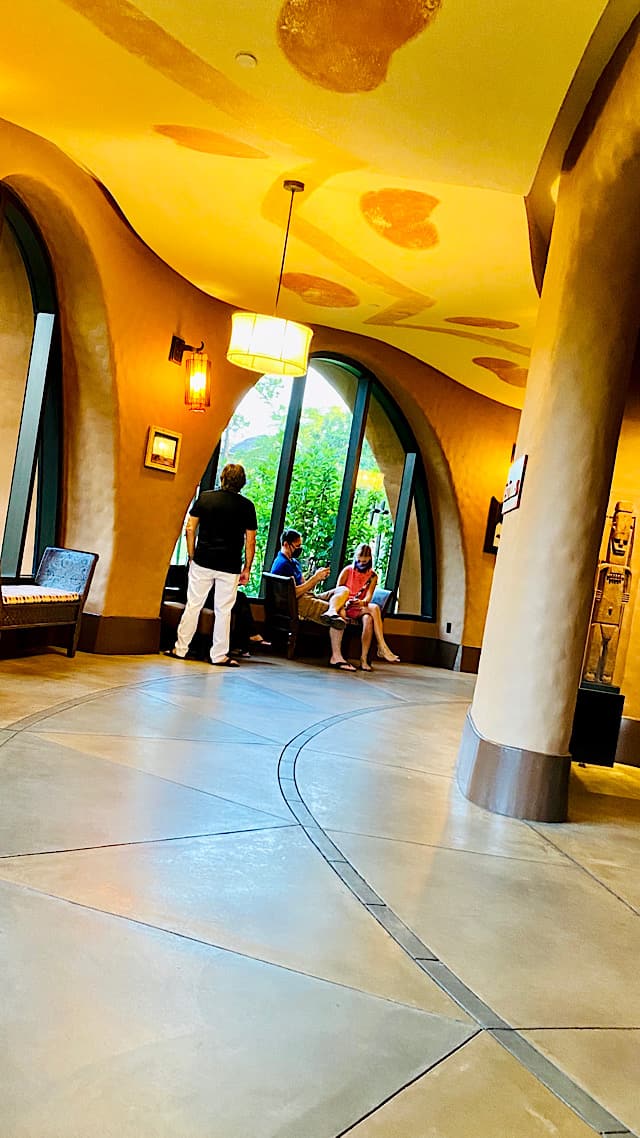 The hostess took our phone number and said they would text us when our table was ready.
We took this opportunity to visit the outside viewing savanna area.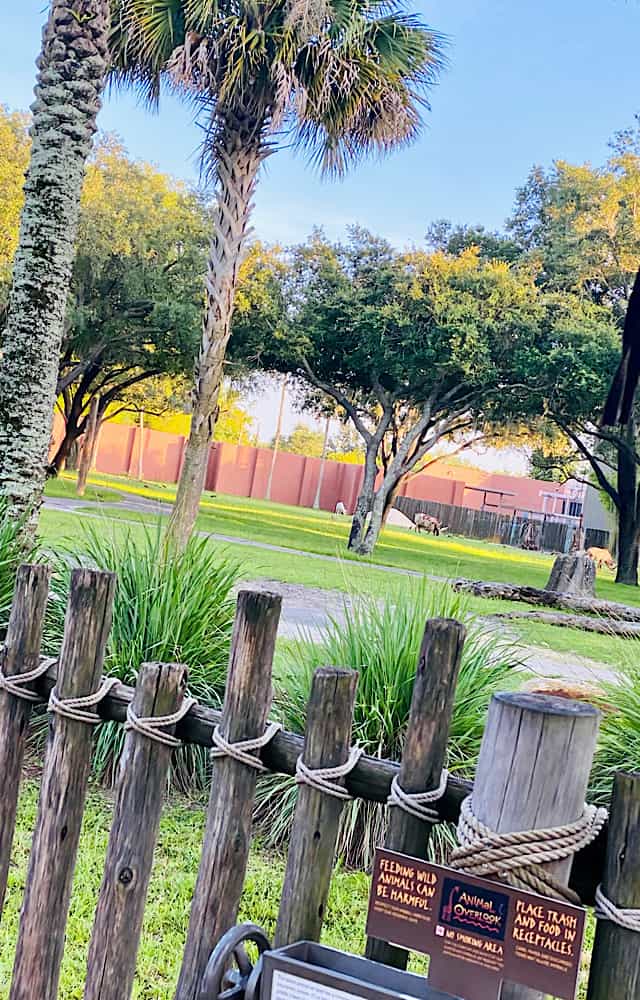 There were gorgeous African animals roaming and eating. I was blown away by both the beauty of the natural surroundings as well as the animals.
I secretly wish to be an animal caregiver at Animal Kingdom so this was truly thrilling.
Our Table at Sanaa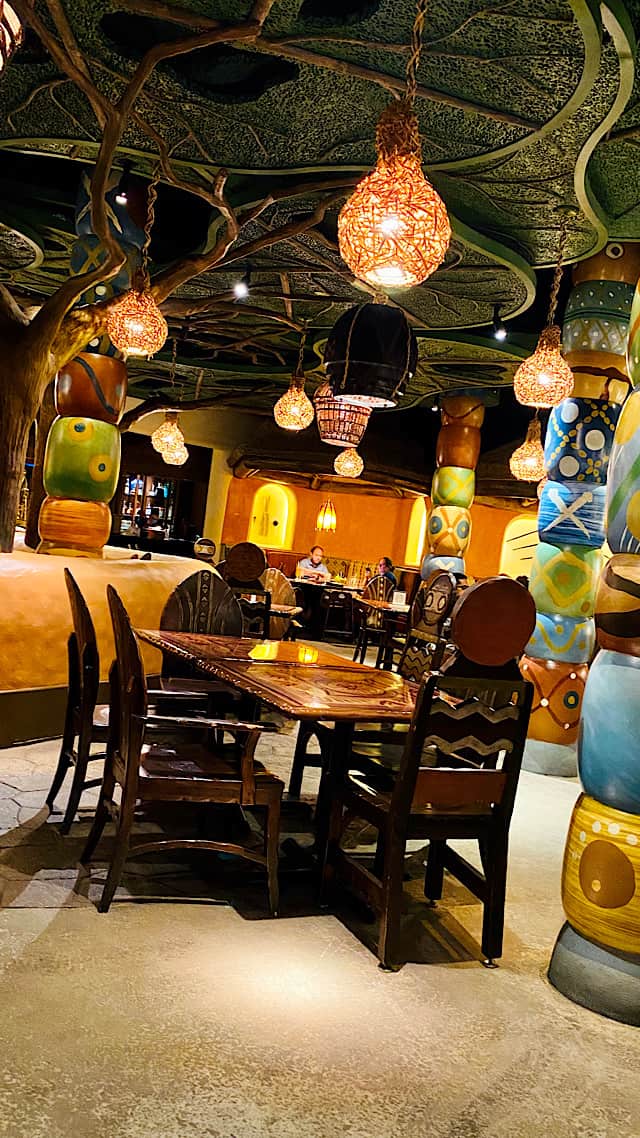 After about 30 minutes, we were called to our table.
The solid wooden table and chairs added to the African vibe. Oh my goodness, talk about a table with a view! We encountered giraffes eating dinner while we dined!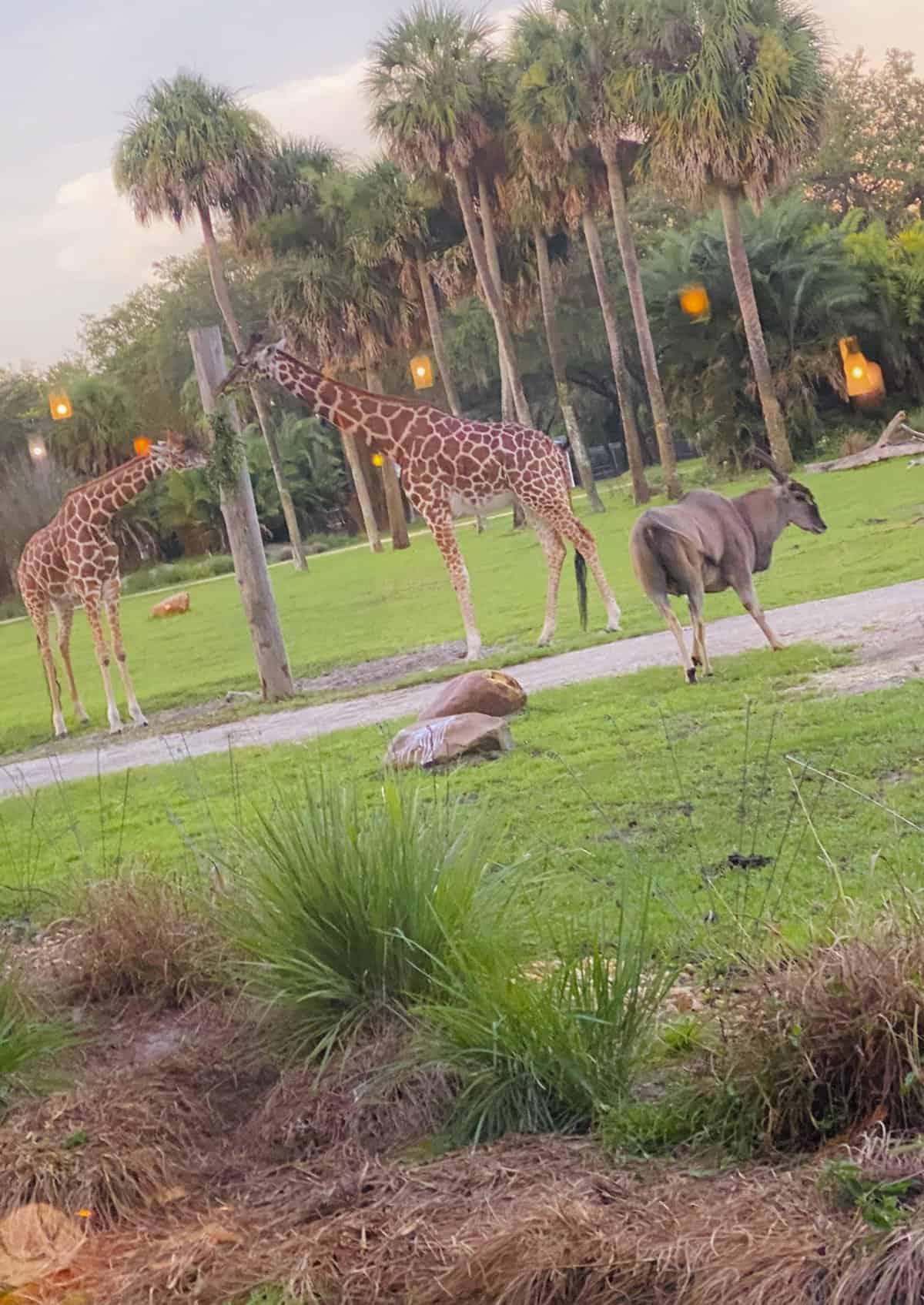 Disney provided various feeding areas so we were able to view many exotic animals eating also. We really had a million dollar view, especially with the sunset over the savanna.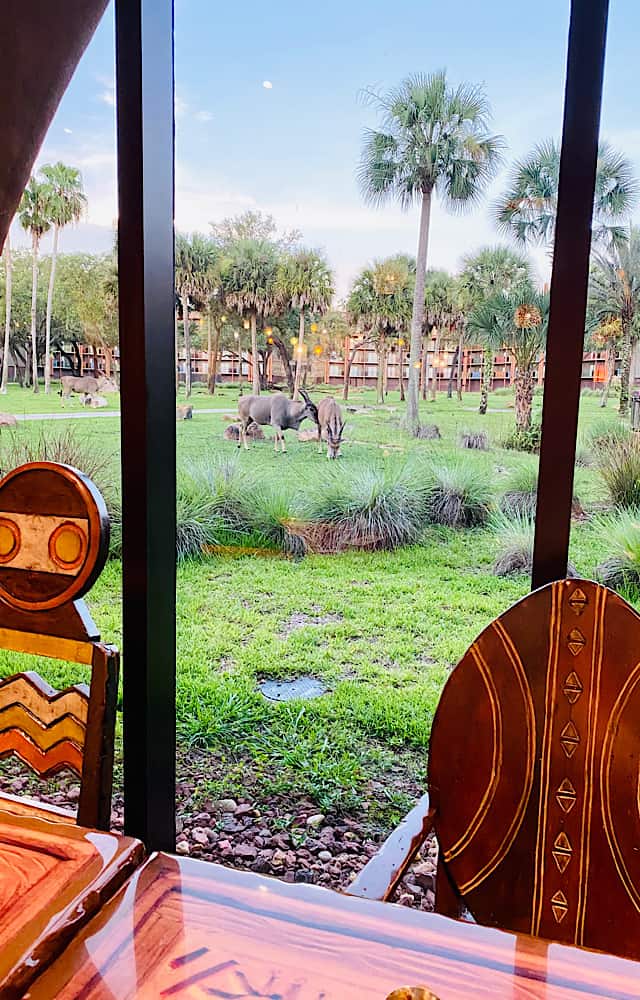 I highly recommend waiting for a window seat.
Pirate tip: For best viewing, make your reservation about 30 minutes before sunset.
The perfect animal feeding time is right before it gets dark.
Atmosphere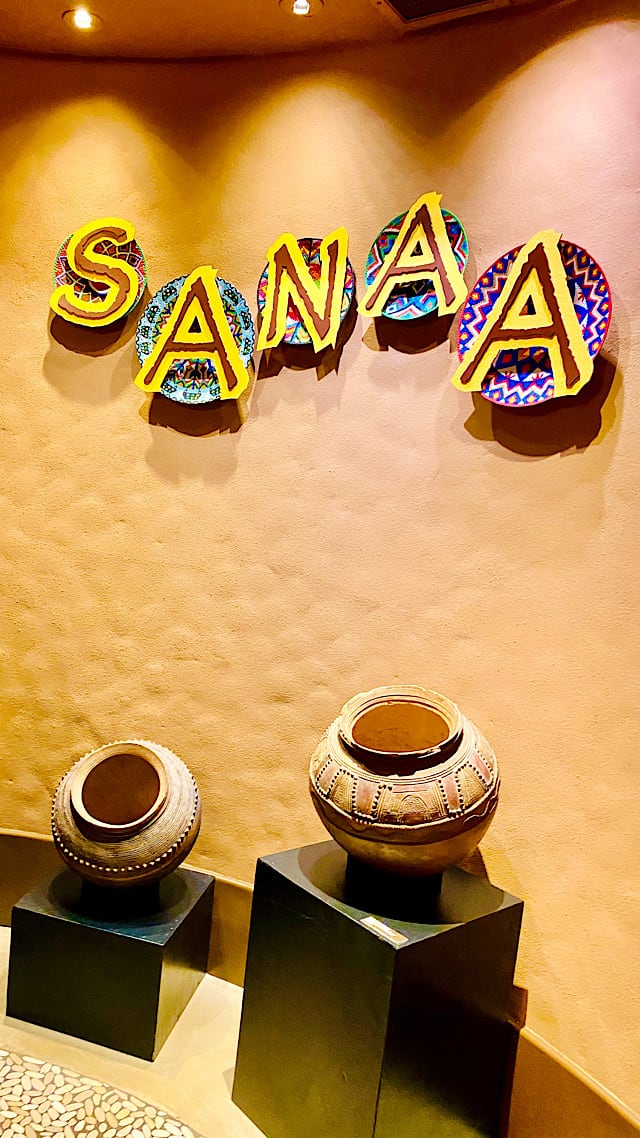 Sanaa means "work of art" in Swahili, and it truly lives up to that name. This charming exotic restaurant blends African and Indian cuisine using authentic cooking methods such as slow-roasting and tandoori oven cooking.
The restaurant gives Guests the feeling of being in a traditional spice market, decorated with handcrafted baskets, under the covering branches of an acacia tree.
If you're unable to score a Sanaa dinner reservation, or prefer to dine from your balcony, check out the how you can easily order food to go here.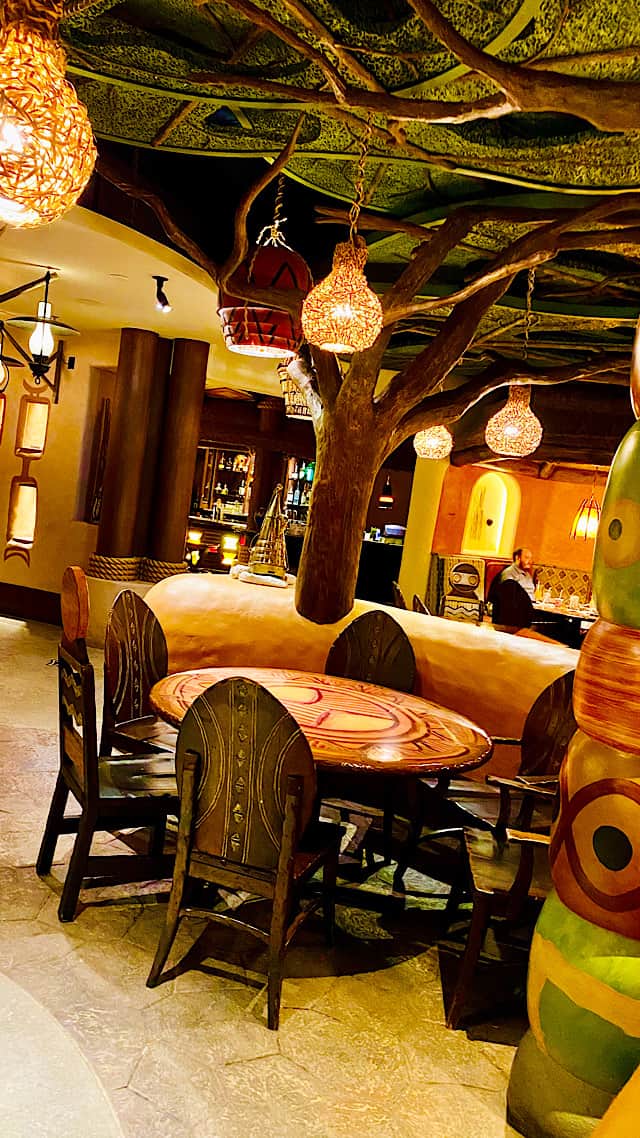 Gazelles, zebras, giraffes, kudu, ostriches, cranes and more animals can be viewed from the savanna while guests dine.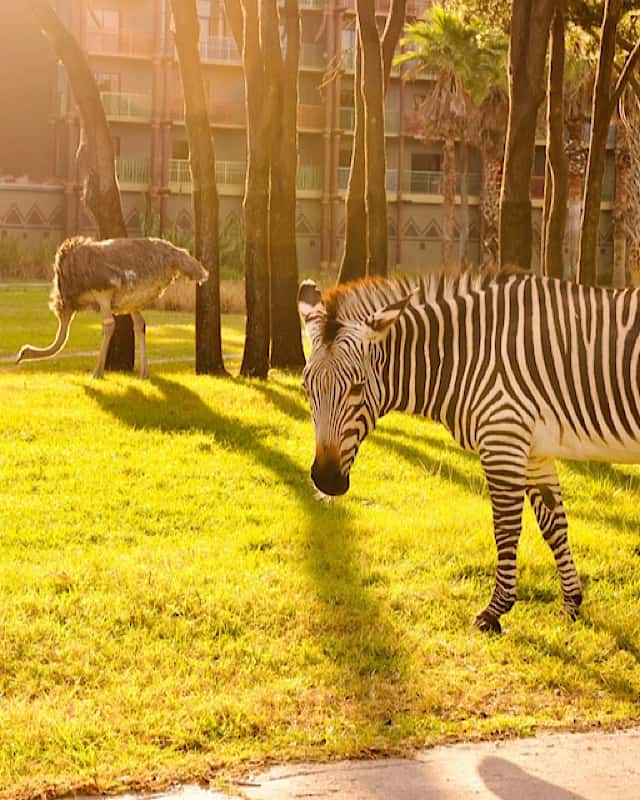 Disney's Animal Kingdom Lodge is home to over 30 species of animals and birds that reside on the 4 savannas. From your table or the safari viewing areas, guests enjoy spectacular views of African wildlife on the lush Sunset Savanna outside.
Indian-Style Bread Service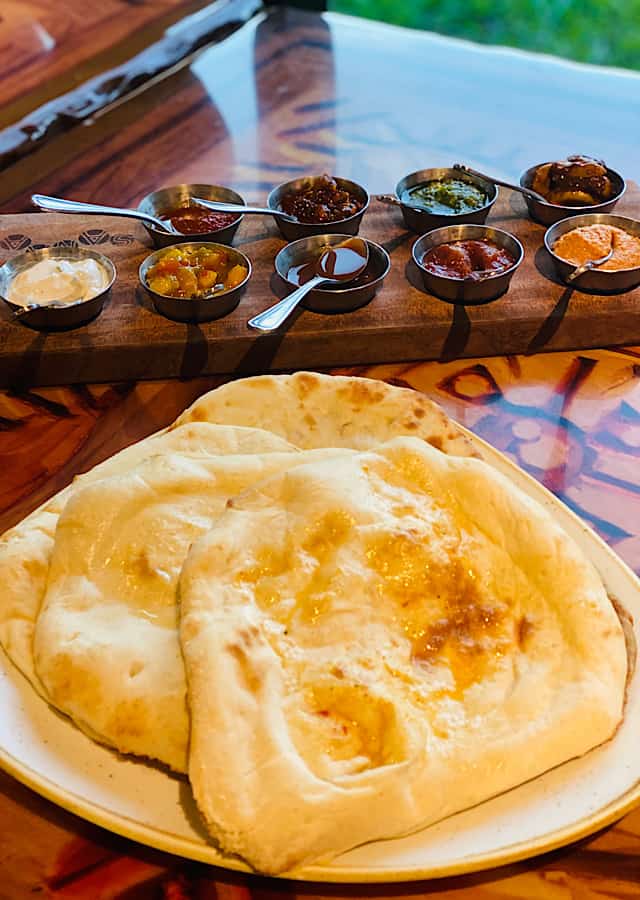 We started our meal with Indian-style bread service with 9 dipping sauces, from sweet mango chutney to spicy red chile sambal. The bread and accompaniments were freshly made in house. This could be a meal in itself. This appetizer costs $18, and is enough for the entire table to share.
Sanaa's menu states guests are given a choice of Naan bread, but we were actually given several varieties. This bread was so light and fluffy! It was perfectly prepared. There is just no substitute for freshly made bread, including Naan.
Our server explained that each dipping sauce ranged from mild to spicy. There is a slight sweetness to most of the accompaniments also. I found the more spicy the sauce, the less sweet it tasted. I preferred the more spicy dips while Monica preferred the more mild accompaniments.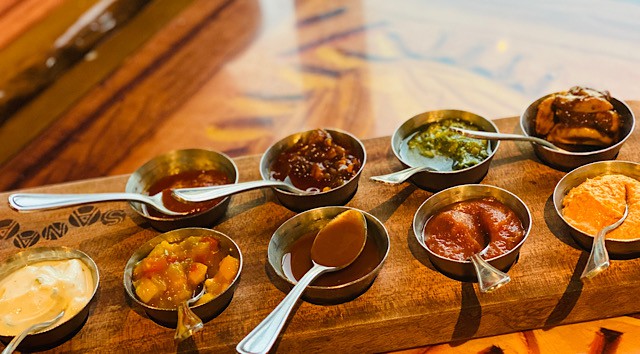 The nine dipping sauces included:
Cucumber Raita
Roasted Red Pepper Hummus
Mango Chutney
Tomato-Date Jam
Tamarind Chutney
Coriander Chutney
Garlic Pickle
Red chili Sambal
Spicy Jalapeño Pickle
Other Appetizers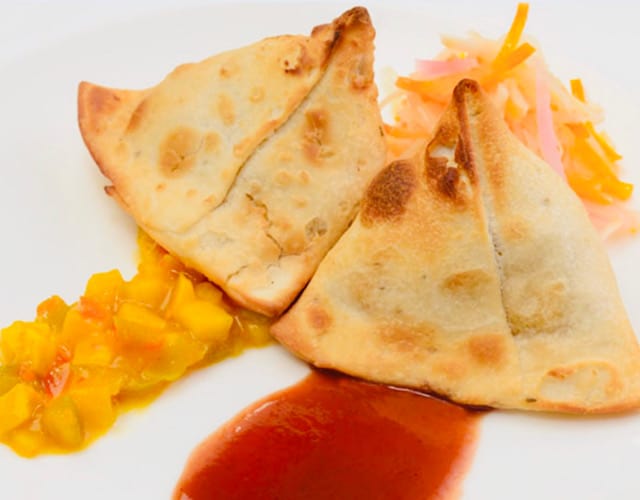 For your first visit, I strongly recommend trying the bread service. If that doesn't sound appealing to you, or you're just wanting to try something different, Sanaa offers a variety of enticing appetizers. Each of the following appetizers are $9 each.
Samosas – This plant-based dish gives guests potato and pea saosas with tamarind and mango chutney.
Salad Sampler – This plant-based salad trio bursts with a variety of fresh flavors. The salads with this selection include: berbere black-eyed peas, watermelon and pickled fennel, and tunisian beet chermoula. The watermelon was my favorite of the bunch!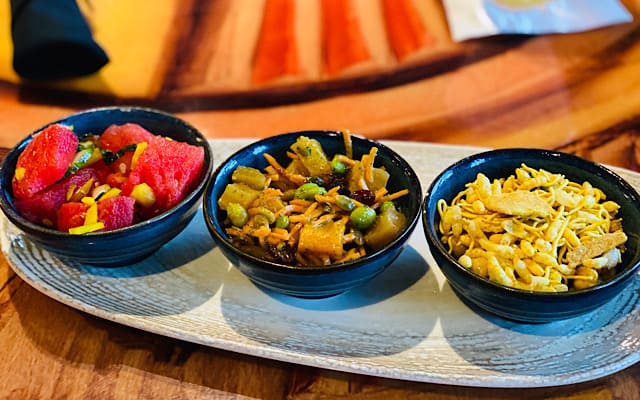 Seasonal Soup – This varies seasonally, and per Disney's menu includes chef's accompaniments.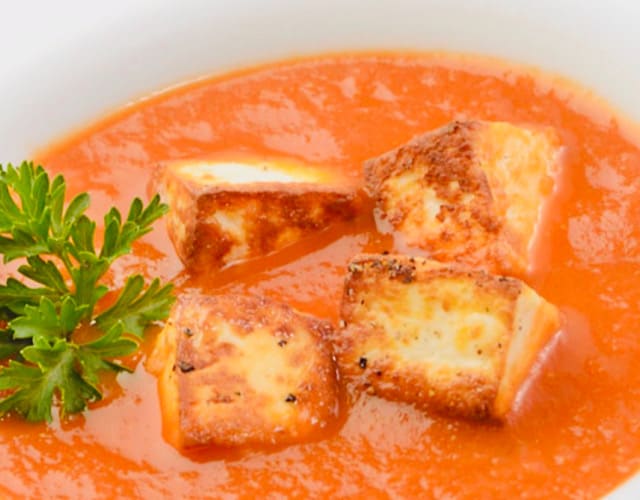 Entree Choices
For entrées, guests select from tender meats and seafood slow-cooked in sauces, such as butter chicken. Sanaa also provides guests with a variety of vegetarian dishes.
Potjie Inspired ($28)- Guests choose from one of the following: Goan seafood curry, Butter chicken, or Braised beef. Choose one plant based item: Chickpea wit, Aloo Masala, or Cilantro-coconut vegetables. Served with scented Basmati rice.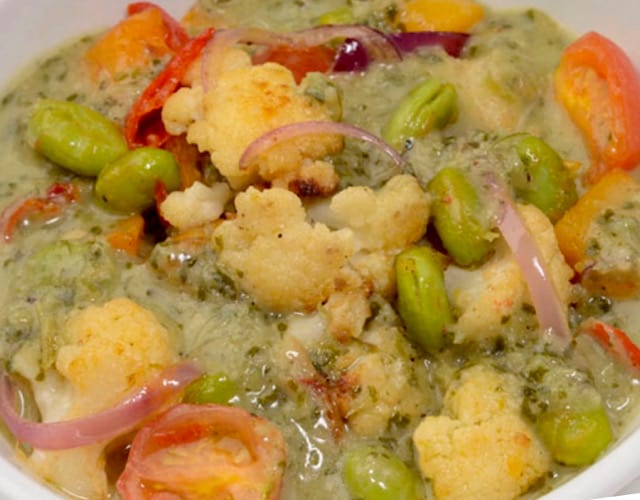 Grilled New York Strip ($34) – Roasted potatoes vinaigrette, Harvest Vegetables, and Bain's butter. For those looking for a less adventurous dinner, this would make an excellent choice.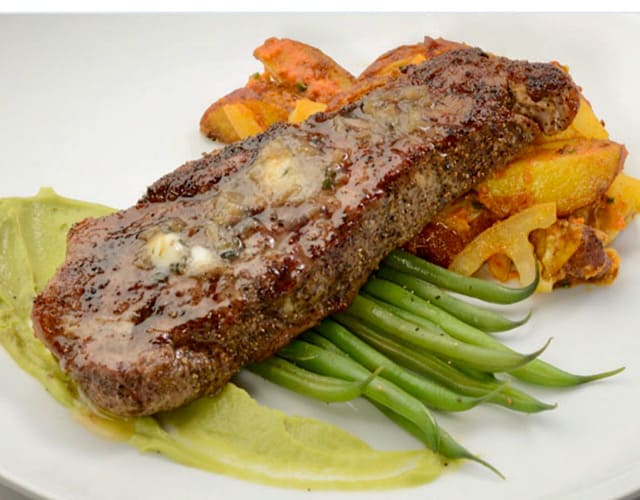 African-inspired Biryani ($19; with chicken or shrimp $26) – Fragrant rice with seasonal vegetables influenced from the Cape of Good Hope. The white sauce is yogurt based and very mild tasting.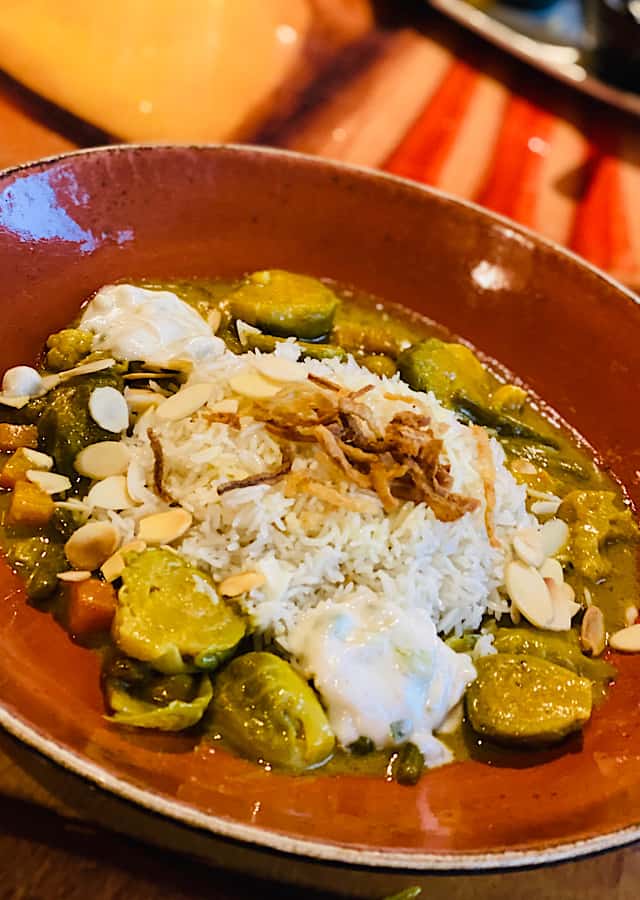 Today's Sustainable Fish (Market Price) – Prepared with Geelrys rice, Sukama wiki, and citrus butter. Salmon was the fish when we dined. It was an enormous piece of salmon seasoned and cooked to perfection.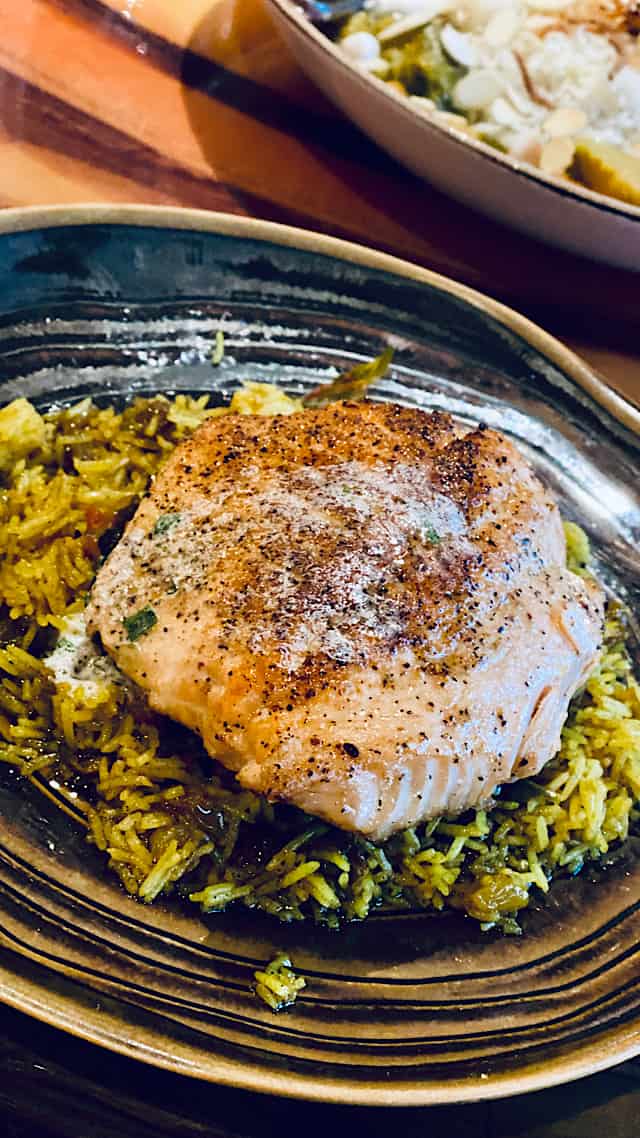 Guests can also pair meals with South African wines and Kenya beers. Sanaa also offers fresh non-alcoholic choices such as tropical juice and berry smoothies.
Note: Although I loved everything I tried on the Sanaa menu, just about everything contains a spicy element. for guests that prefer a more bland dish, ask for yours without sauce.
Our Entree Choices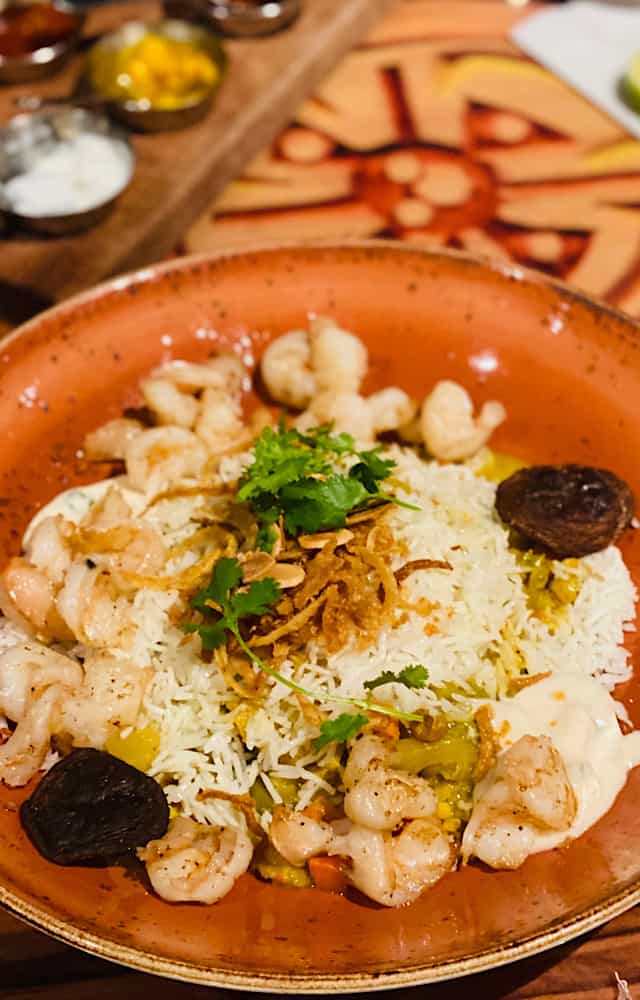 I'm always up for any kind of adventure, and this was no exception! Once I saw the menu, I knew I just had to try something exotic. The African-inspired Biryani intrigued me, and came highly recommended from our server. When she delivered the dish, it looked rather bland.
But, oh how looks were deceiving! The very first bite burst with tantalizing spices and exotic flavors that woke up every taste bud! The combination of the fragrant rice and seasoned vegetables (hiding under the rice) made this meal my VERY FAVORITE I've ever had at Disney, or anywhere else! I learned I really love Indian food!!
Thinking I needed a protein, I added shrimp to this delightful meal. The server described them as grilled, but they seemed more like unflavored boiled shrimp.
To be honest, they just got in the way of the amazing plant-based ingredients.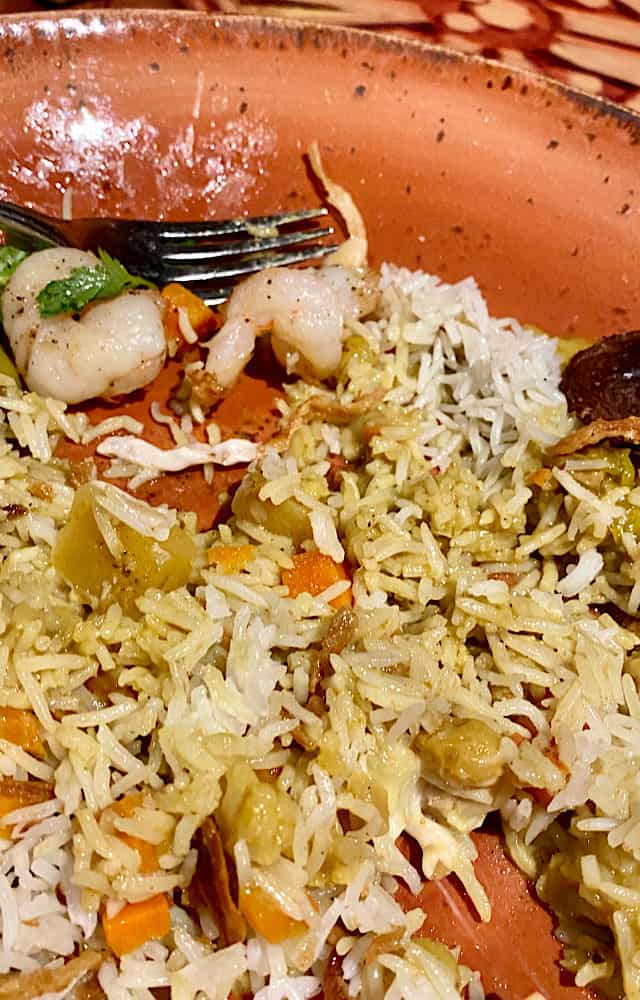 Our server provided Monica, my table mate and fellow KtP writer, with butter chicken and plain green beans since she does not like any type of spicy food. Just about everything on the regular menu contained a range of spicy flavors.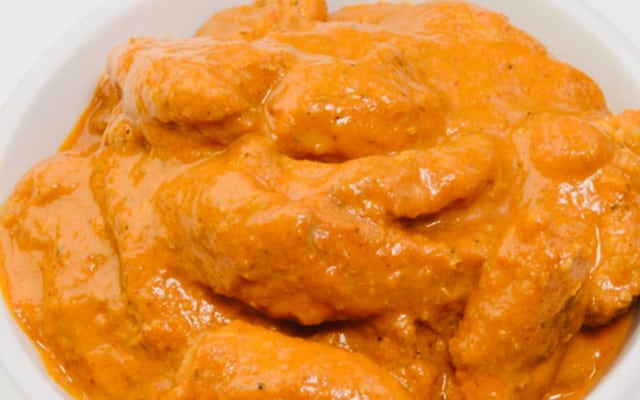 The kids meals offer traditional dishes such as a cheeseburger and cheese pizza.
Dessert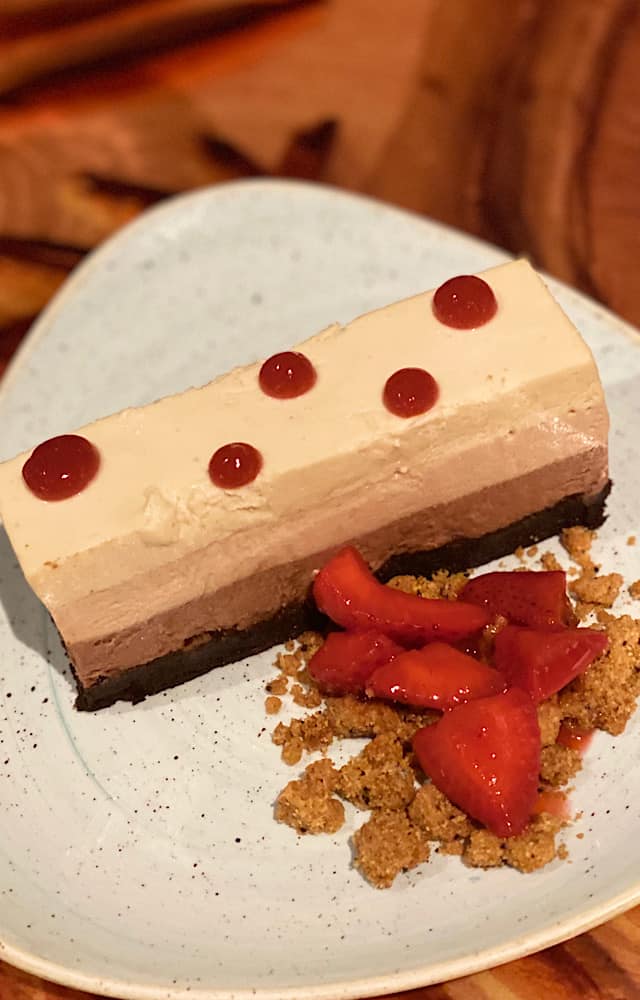 Sanaa offers 3 desserts. As I glanced at the menu (via QR code), I wasn't sure if I should try something. Dinner was so delicious that it would be difficult for dessert to live up my expectations now. Dessert choices include the following:
Serradura ($7) – Butterscotch pudding, almond coffee streusel, pineapple, mango, and breton shortbread.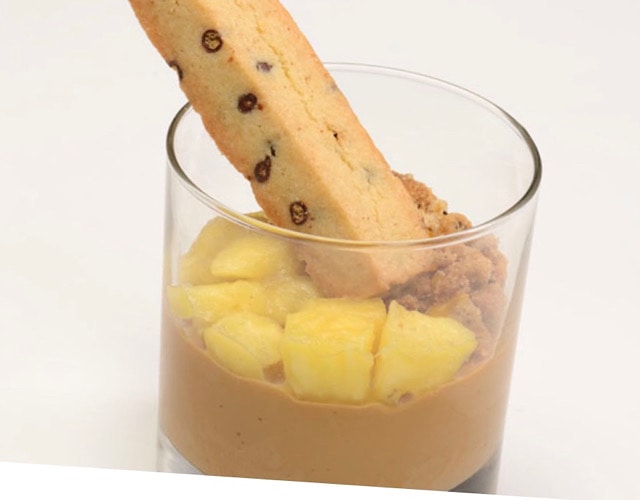 Kheer ($8) – This dish is plant based. Coconut-rice pudding with cashew streusel and saffron-poached fruit.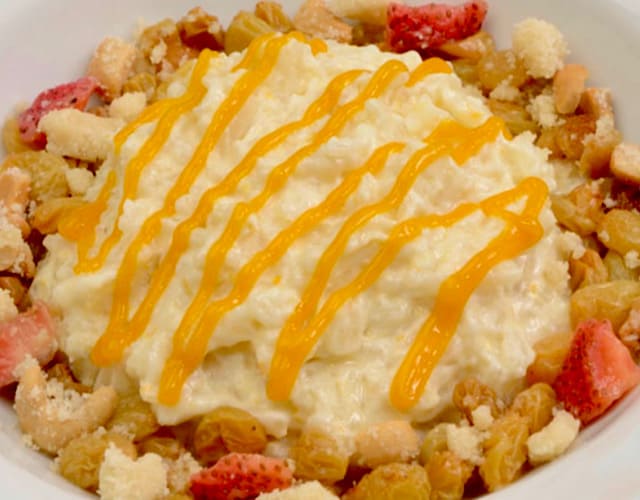 African Triple Chocolate Mousse ($8) – Nyangbo dark chocolate from Ghana, Tanariva milk chocolate from Madagascar, Orelys blond chocolate, chocolate almond biscuit, and strawberries.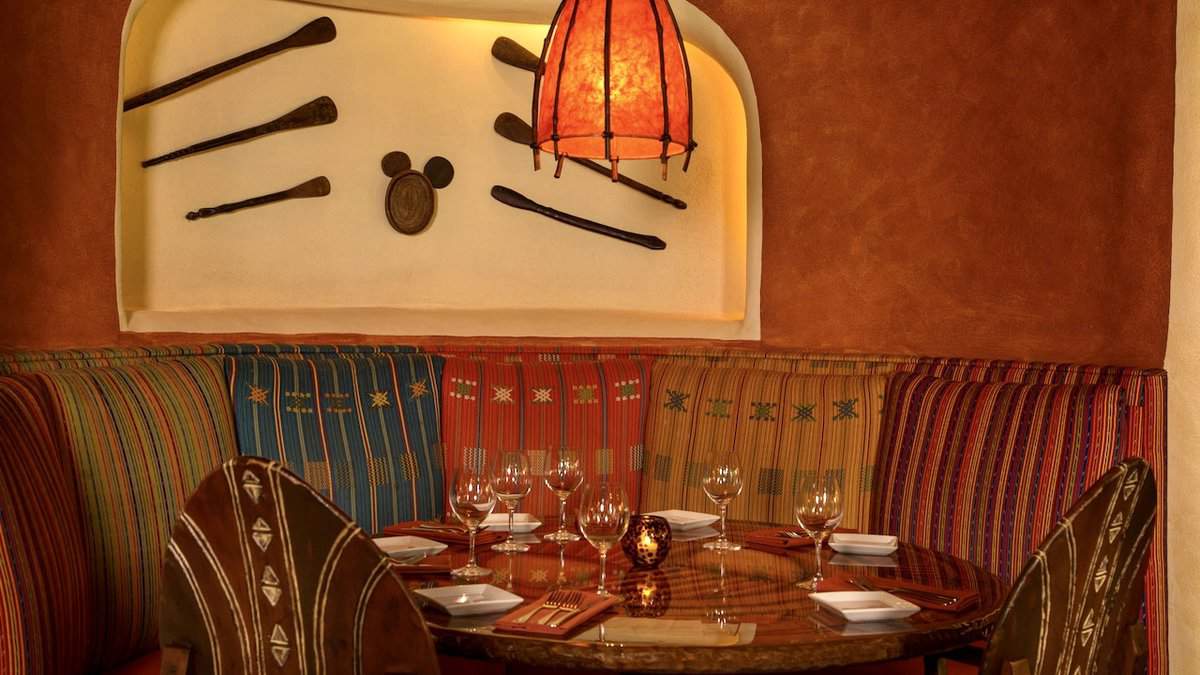 I settled on the African Triple Chocolate Mousse which complemented dinner very well. Typing all the various sources of chocolate made me love this unique dessert even more! The mouse was light and airy, no flavor overpowered the dessert.
I don't remember the almond biscuit, but I see it crumbled in the picture. There were a few strawberry added, but the winner here is the layers of various chocolate mousse.
Sanaa Lounge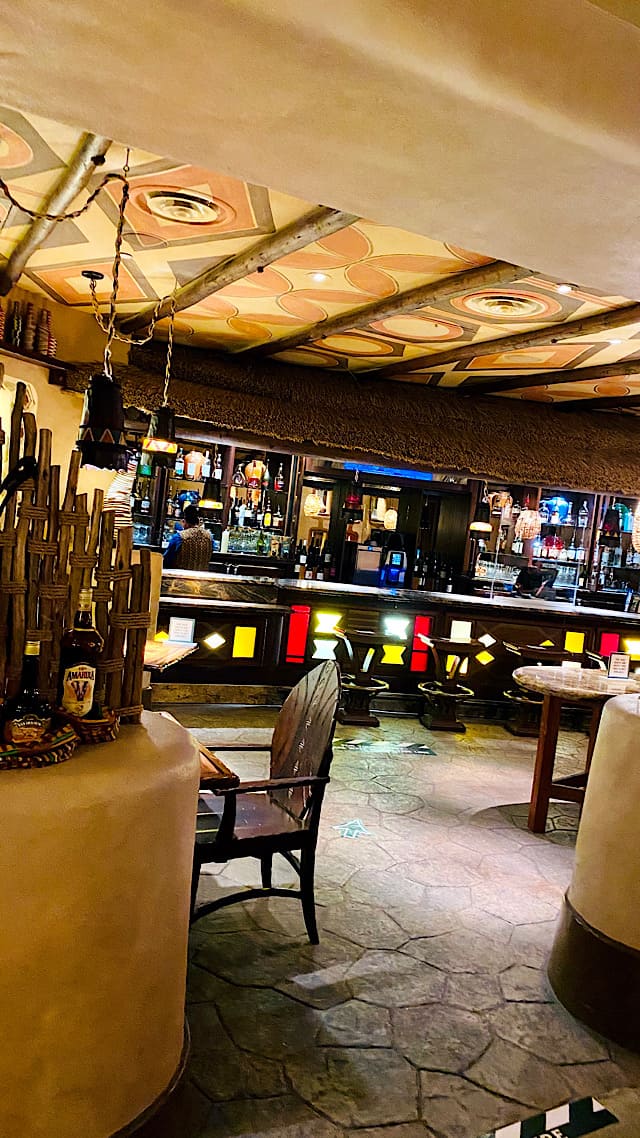 The cozy Sanaa Lounge offers limited appetizers and salads, plus African wines, beers and signature cocktails. Seating at Sanaa Lounge is first-come, first-served.
Dine with Animal Specialists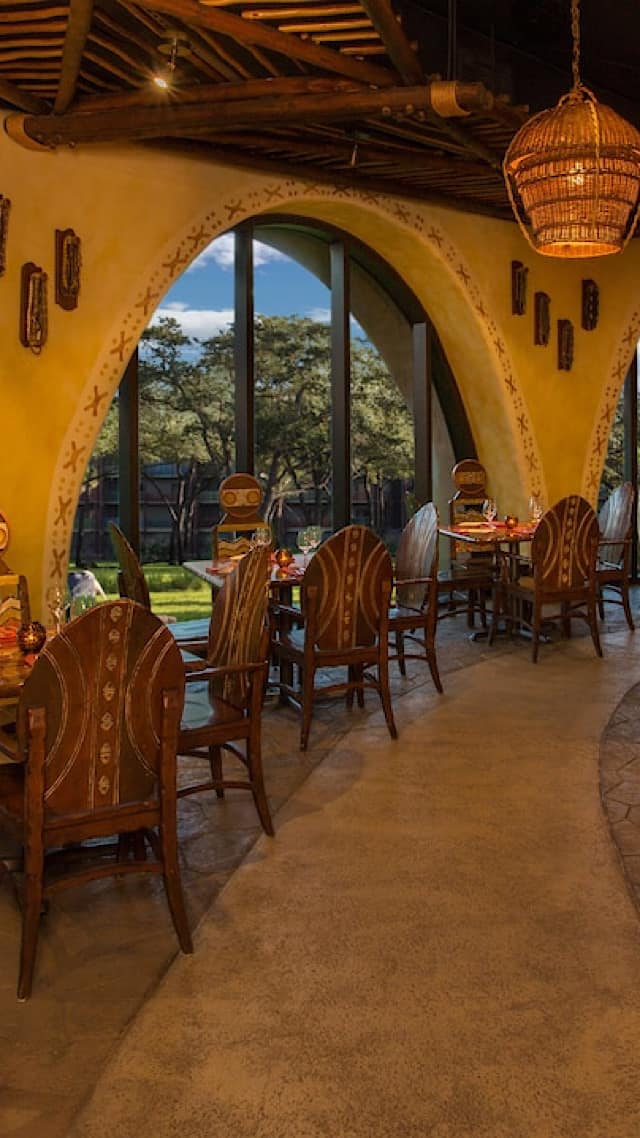 In the past, guests can sign up to dine with an Animal Specialist by phone for deliciously insightful, 4-course lunch at Sanaa.
Per Disney's website, this special lunch is currently unavailable.
Final Thoughts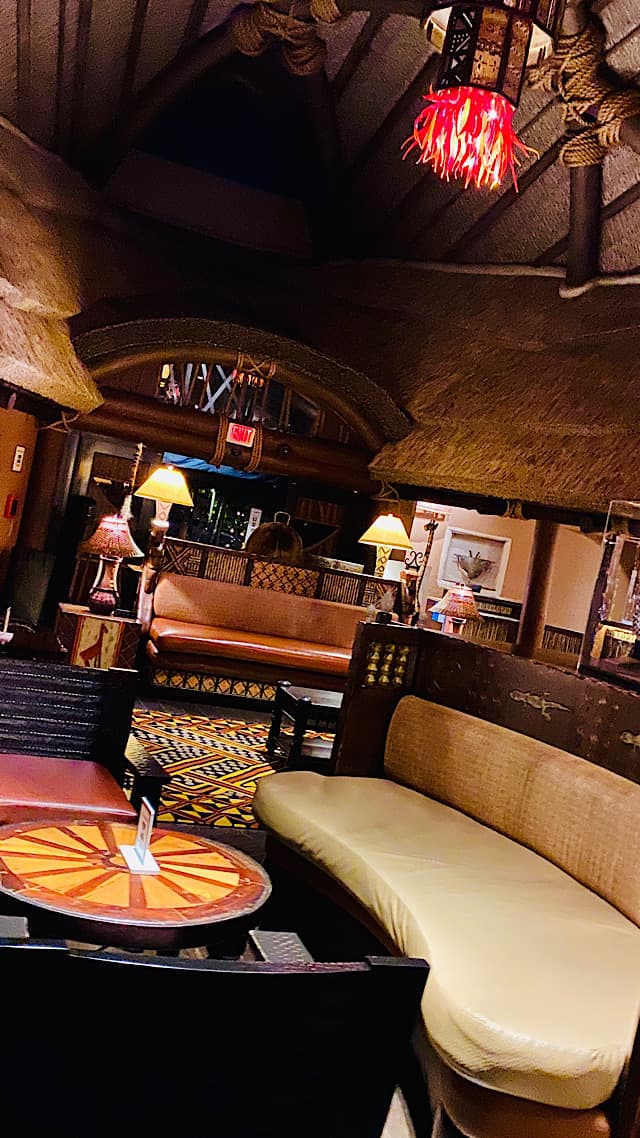 Writing this review brings invokes wonderful memories of this unique restaurant. Everything from Animal Kingdom Lodge's African inspired theming and safari animals to the restaurants food and atmosphere is delightful!!
I cannot recommend this restaurant highly enough. There truly is something for everyone here! Just remember to alert your server if you prefer NO spice in your dish. The service was impeccable also.
Have you dined at Sanaa? If not, would you try it? Please share your thoughts on our Kenny the Pirate Facebook Page, or join the KtP Crew.