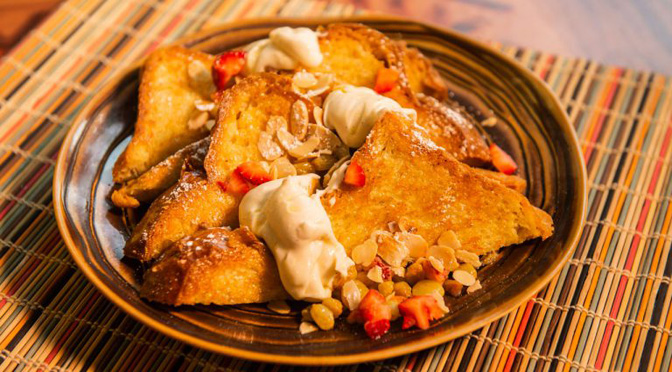 Sanaa now features a delicious breakfast menu, along with its lunch and dinner offerings! I've got the menu choices and some mouth-watering photos of this hearty African breakfast!
Sanaa is one of the most popular restaurants at the Walt Disney World Resort, known for its incredible bread service, African-inspired cuisine and, of course, its incredible views of the lush Sunset Savannah.
It is here that you can sit back and enjoy a delectable meal while taking in the spectacular views of African wildlife right outside the windows of the restaurant. With animals including gazelle, zebras, kudu, giraffes, ostriches, cranes, and more, they're sure to make your meal a memorable experience.
Recently, chefs at Disney's Animal Kingdom Lodge created the Sanaa Kuamsha breakfast, which is served from 7 to 10 AM.
Highlighting a variety of different flavors inspired by authentic African cuisine, this new dining experience transforms Sanaa into a casual quick-service restaurant featuring grab-and-go options as well as a few familiar dishes with a unique twist that you can only find at Disney's Animal Kingdom Lodge.
When you approach the counter, you'll be greeted with a variety of grab-and-go items including yogurt parfaits, fruit plates, banana bread with house-made African chocolate-hazelnut spread, and more.
And if you're looking for a heartier, sit-down dining experience, you can browse a full menu of entrees that can be ordered at the counter and brought directly to your table!
On the entrée menu, you'll find several familiar dishes complemented with unique African flavors.
These dishes include:
Eggs Benedict – with two brown poached eggs, farmer's ham, spice route hollandaise, arugula, and berries
Shahi Tukra French Toast – with saffron-scented sultan raisins, whipped chai cream, and almonds
Methi Paratha Wrap – scrambled eggs, potatoes masala, gouda, chermoula, and papaya achar.
And for a plant-based option, you can try the Enriching Grains and Fruit dish with mixed grains, seasonal fruit, South African rusk, and coconut milk yogurt.
The Boere Breakfast, pictured above, is another incredible plate with two cage-free eggs, African home fries, house-made boerewors sausage, bacon, and a coconut drop biscuit.
For the kids, they can enjoy the Kid's Explorer Platter with one cage-free egg served any style, African home fries, bacon, and a coconut drop biscuit. Or they can chow down on some classic Mickey waffles and bacon! I love that there are kid-friendly options!
Sanaa is located in Kidani Village at Disney's Animal Kingdom Lodge and is open daily for breakfast, lunch, and dinner. The Sanaa Kuamsha Breakfast is offered 7 to 10 AM and reservations are not required.
If you're dining for the lunch or dinner period, reservations are highly encouraged.
The full menu will be available shortly on Character Locator!
Have you ever eaten lunch or dinner at Sanaa? Are you excited to try anything on the new breakfast menu?
-Monica S.