There are so many restaurants around Walt Disney World to choose from, and we know that Epcot has a plethora of choices that can be difficult to narrow down. Check out this review of Chefs de France restaurant in Epcot's France Pavilion. It's the perfect fine dining experience for your next vacation.
We recently shared with you that Chefs de France will be reopening on October 8th after a long period of closure due to the Covid-19 pandemic and park closures.
Reopening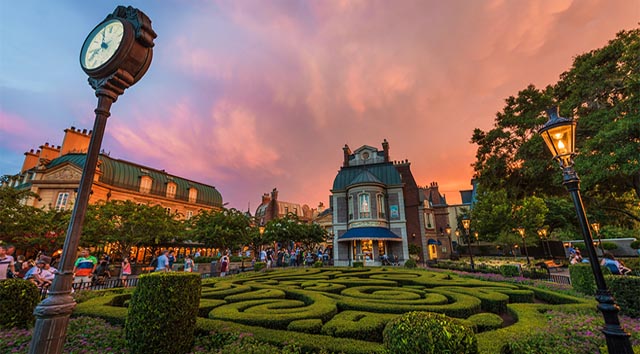 The delay in reopening may have also had a lot to do with the long-time Executive Chef, Bruno Vrignon's, retirement announcement.
I am happy to see that this amazing restaurant will be reopening again soon! Chefs de France is a dining location that we put on our vacation meal list quite frequently.
The quality of food is always good and we have always had very attentive waiters every time.
Changes
We have recently learned that, upon reopening, Chefs de France will be offering a prix fixe menu. The menu also looks slightly scaled back, which is hopefully just a temporary change.
Atmosphere
Chefs de France is absolutely beautiful inside. Everything about the decor exudes the feeling of being in an up-scale Parisian Bistro.
While this is definitely a fine dining location, you don't have to worry about bringing your kids.
I love that the staff at Chefs de France makes everyone feel welcome.
There is no stereotypical stuffiness at all. I have never been made to feel as though I didn't belong here. Even when we might not be as dressed-up as we would normally get for a fancy dinner, we were always treated as 5 star guests.
In normal years, Chefs de France is part of the Candlelight Processional dining package plan.
We often booked this reservation so that we didn't have to scramble for a good seat at the processional and because the restaurant ambiance at Christmas is spectacular!
Chefs de France does a beautiful job with their Christmas decor. Even though the Candlelight Processional is not happening this year, hopefully they will still put up their festive decorations around the restaurant.
Seating
The only complaint I have with Chefs de France is how crowded it can get. For its size, they pack way too many tables into the dining rooms.
Often times, tables are pushed right on top of each other, and it can be difficult not hitting the person behind you when trying to get up and use the facilities.
With new social distancing policies in place and restaurants being forced to space guests out, this may be a welcome change for this particular restaurant.
It will be quite interesting to see how these changes are implemented once the restaurant opens!
Food
The reason we keep coming back to Chefs de France time and time again is that the food is always top-notch! My review of the food is from before the shutdown and retirement of the head chef occurred.
Since then, the menu has been scaled back and a new prix fixe menu has been added. Hopefully these will just be initial temporary changes!
Starters
Bread
Upon being seated at our table, we were greeted by our server and provided with a small French baguette for the table.
This bread is the best bread service in all of Disney in my opinion.
It has an amazing crusty exterior, yet warm, soft and fluffy interior. The bread is served with cold, individually wrapped, butter pats that start to melt as soon as they hit the warm center of the bread.
Bisque de Homard (Lobster Bisque)
With the scaled-backed menu, the lobster bisque did not make the cut! This makes me so sad and I hope it's just a temporary cut.
You can still get this same delicious soup at Les Halles until it returns to the menu at Chefs de France.
This is by far the best Lobster Bisque in all of Disney (believe me, I think I have tried almost all of them!).
It is a bit pricy but worth the cost. This soup is the richest and creamiest soup I have ever tasted! The bowl looks a little deceiving. You get a ton of soup in this thing because it is so deep!
Most lobster bisques require a magnifying glass to find the lobster pieces in the soup, but not at Chefs de France!
I have always had huge chunks of fresh sweet lobster meat throughout my soup!
French Onion Soup
The French Onion Soup has luckily stuck around! I love a good French Onion Soup and have not had the chance to try it at Chefs de France yet since I always go for the Lobster Bisque.
I will be putting this on my list to try next time for sure!
Entrees
Filet Mignon
I love a good steak! It used to be that you could find a dozen different restaurants around the Walt Disney Resort that served amazing steak entrees.
Now I find that list starting to dwindle quite rapidly over the years. Chefs de France is the place I go when I want that perfectly cooked and ultra flavorful steak every time!
The menu at Chefs de France tends to change from time to time, but there is always some varation of the Filet de boeuf grillé entree on the list. For quite some time now, it has been served with green peppercorn sauce, potato au gratin and green beans.
I really enjoy this variation of the filet and I think many guests do too, which could be the reason it has stuck around so long. For me, there is nothing better than a good steak served with green beans and potatoes.
You get a generous portion of beef that is thick and juicy. I always order my steaks done medium, and Chefs de France always cooks it perfectly.
Sides
Personally, I prefer mashed potatoes with my steak instead of potatoes au gratin. All I had to do was simply ask my server to sub the au gratin for mashed and he took care of it.
The mashed potatoes were such a great substitution! They were creamy and smooth as silk.
The green beans were cooked to a perfect tender-crisp, (unlike the ones our writer team found over at Pop Century, which have become the butt of a lot of jokes).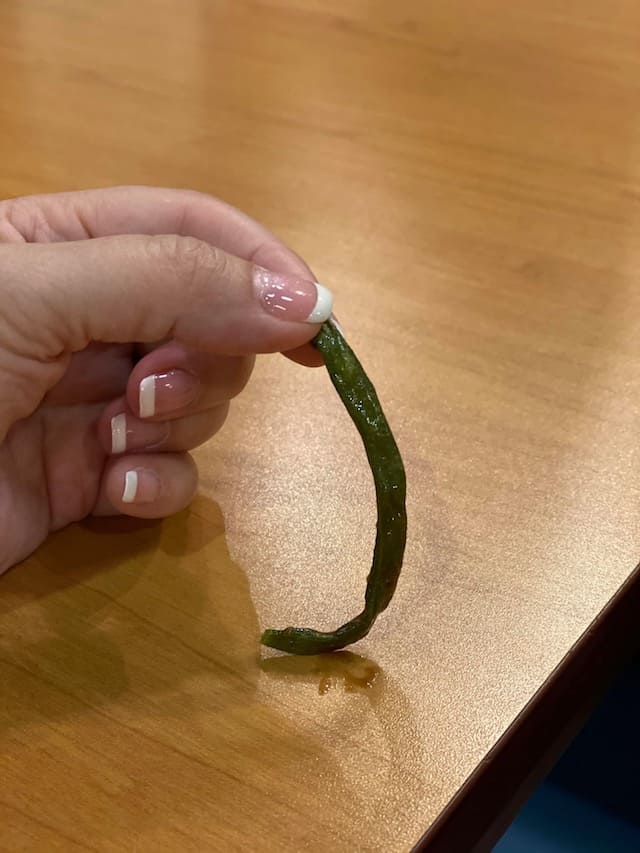 I love the haricots verts so much more than regular green beans because they are thinner. I don't enjoy crunching down on tough or mushy green beans with my steak.
Sauce
As much as I love the flavor of the meat alone, I need to have sauce with my steak. The green peppercorn sauce is the perfect accompaniment to fit the bill! I was a little leery my first time ordering this steak because I thought the sauce would be green.
It is not! It's a deep rich burgundy color, much like a red-wine type sauce. It is rich in taste and brings out the flavor of the beef so well.
If you are unsure if you will like the green peppercorn sauce, you can ask your server to put it on the side. As a bonus, the sauce boat they give you on the side holds more sauce than you would normally get on your plate if you end up liking it!
Desserts
If you have any room left for dessert at this point, kudos to you! Most times, we don't usually make it that far or we will try to split something around the table.
During the Candlelight processional package, each person got their own dessert so we just passed them around to get tastes of the different flavors. I can say with confidence that none of them are bad choices!
Tarte au Chocolat (Chocolate Tart)
The chocolate tart was super tasty and perfect for all my fellow chocoholics out there! It was served with Valrhona Chocolates (French premium chocolate company), Chocolate Sauce, and Vanilla Ice Cream.
When I had this tart, it was originally served with homemade mint ice cream, which provided a nice counterbalance to the sweet chocolate. My guess is that enough guests asked to substitute it for vanilla, that they just changed the menu offering completely.
Assiette de sorbets du jour (Assorted Sorbets of the Day)
Speaking of the sorbets, these are the most amazing sorbets you will find on Disney property! They are made in-house and are as fresh as can be.
Regular processed sorbet flavors can taste artificial, but the ones at Chefs de France taste exactly like fresh fruit because they are made with real ingredients.
This has been my go-to dessert for a while now. The sorbet is just enough to get your sweet fix without being too filling.
I like that they provide a trio of flavors to sample so you don't have to pick a favorite!
The flavors of sorbet change from day to day, so you'll have to ask your server for the list of flavors on offer when you visit.
When I was last at Chefs de France the flavors were strawberry, raspberry and mango. I absolutely loved the strawberry and raspberry flavors. They taste as if the berries were picked them fresh that morning.
The mango wasn't as good, but then again, I don't really like mango flavors. They tend to be a little bit bitter for my taste. That was the issue with this sorbet. It had a weird bitter aftertaste.
On top of the sorbets was a small, fresh-baked madeleine and the whole dessert was covered with fresh berries and sauce. It was so delicious and refreshing!
This is most definitely my favorite dessert at Chefs de France!
Meringue aux fruits rouges (Meringue basket with fresh berries)
This dessert was a neat combination of flavors. The base of the basket is a light and crispy meringue, that is then filled with vanilla cream and fresh berries.
On the side is a big scoop of strawberry sorbet and raspberry sauce is drizzled on the plate.
This was not my favorite dish because the cream was a very thick pastry cream. It wasn't fluffy and lacked a bit of flavor.
The rest of the dessert was quite tasty, especially the sorbet. Considering the cream was a large part of the dessert, I wouldn't order it again.
There are a ton of reasons to visit Chefs de France on your next visit to Disney World! If you are looking for that perfect fine dining cuisine and atmosphere, be sure to book a reservation!
What do you think of Chefs de France? Have you tried this restaurant or plan to on you next vacation? Let us know on Facebook!
-Christina