If you're planning a trip to Walt Disney World, you may be researching places to stay that will work for your family. This can be an overwhelming process as there are so many options! If you're looking for a value resort, you may enjoy Disney's Pop Century. Here is everything you need to know about this fantastic resort!
Walt Disney World has three tiers of resorts: deluxe, moderate, and value. Each tier has its benefits, but those benefits come with a price.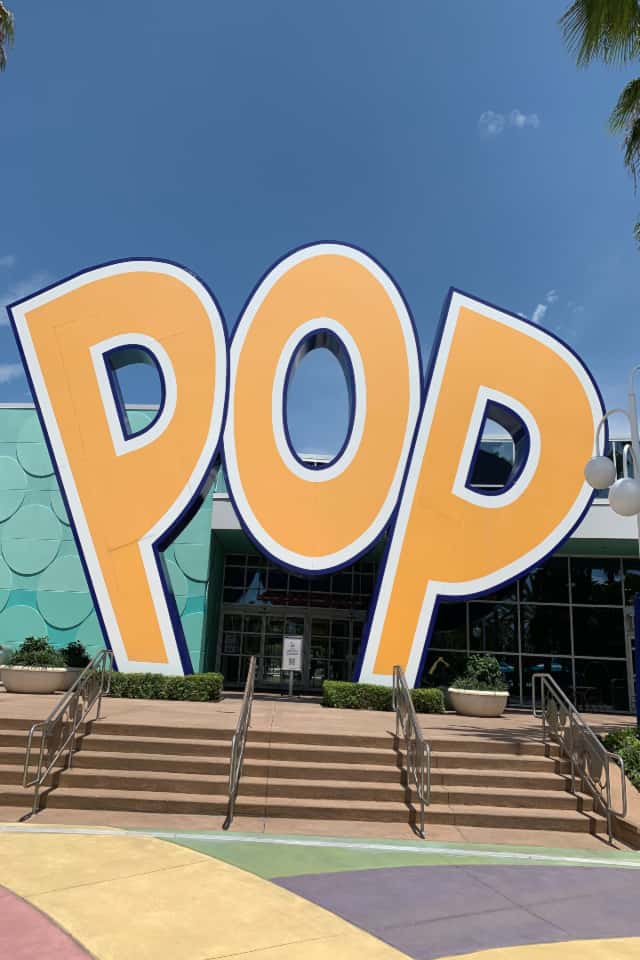 Many families (like mine!) choose a value resort in order to save money on their vacation, and Disney's Pop Century is a great choice!
Theming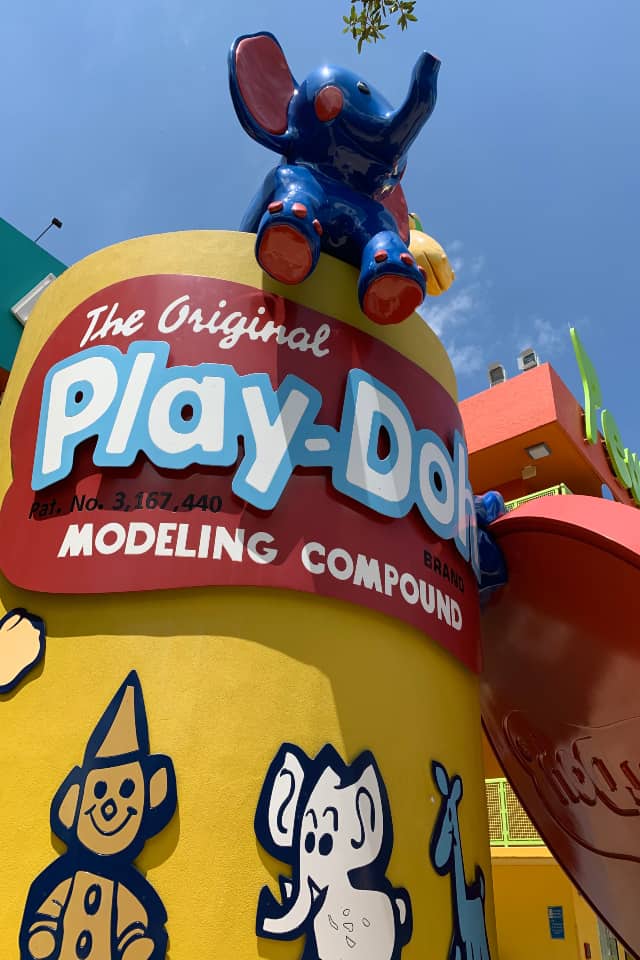 One of the perks of the value resorts is the theming is very fun! Many Guests love the kid friendly decorations and theme of these resorts, and Pop Century is definitely a fun one!
Pop Century's theme is pop culture from the 1950's to the 1990's. There are classic Disney characters scattered throughout the resort along with the theme of popular items from that particular decade.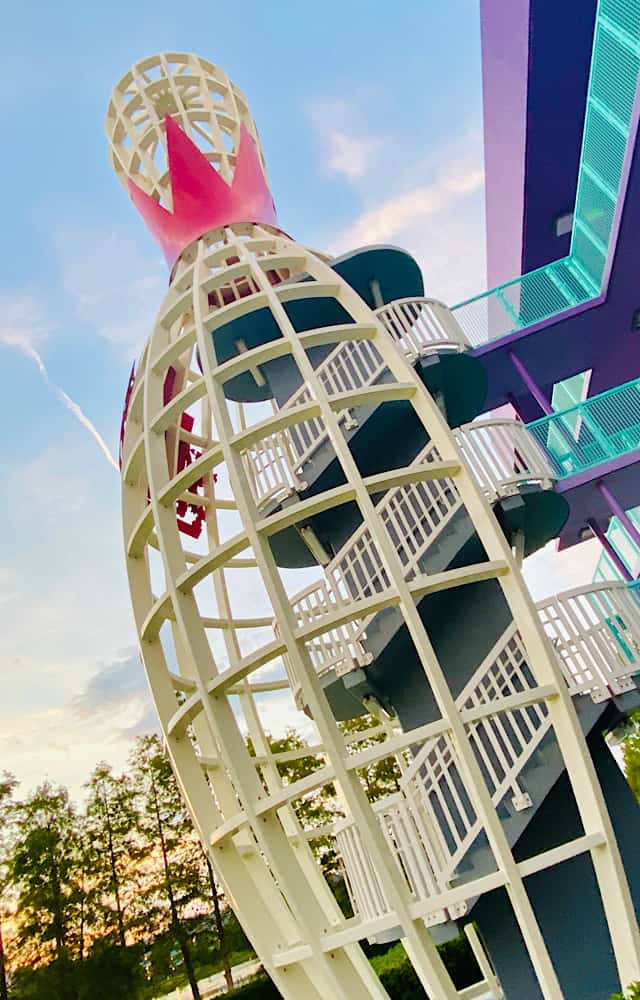 In the 50's section, you'll see bowling pins, a juke box, a giant Lady and the Tramp, and the Bowling Pool.
The 60's section you'll reminisce with yo-yos, Play-doh, and Baloo and Mowgli from the Jungle Book. You'll also find the Hippy Dippy pool, which is the main resort pool.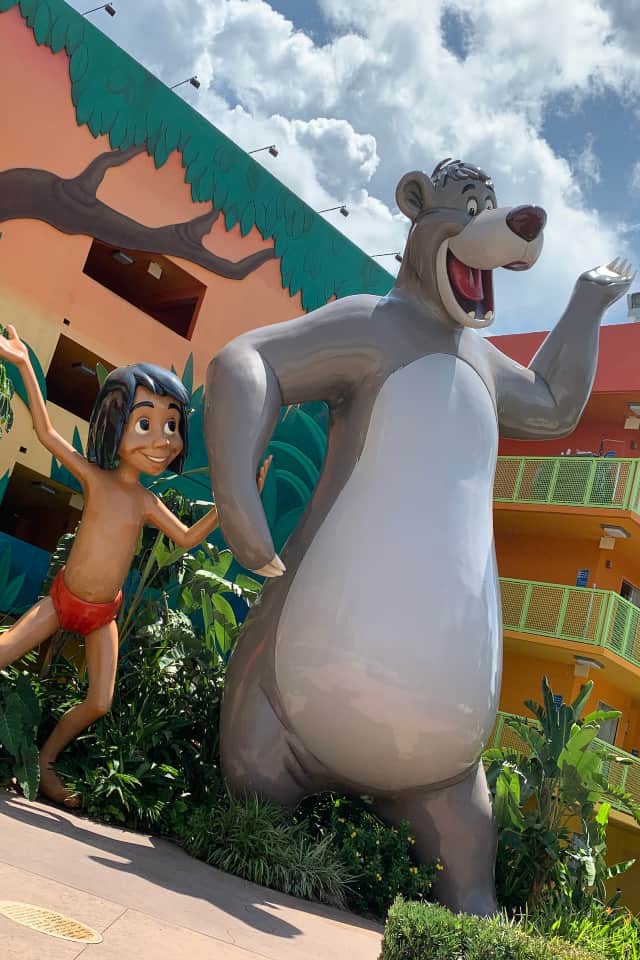 The 70's section is probably my favorite, with the giant Mickey Mouse phone!
There is also a big wheel which will make any child's eyes light up!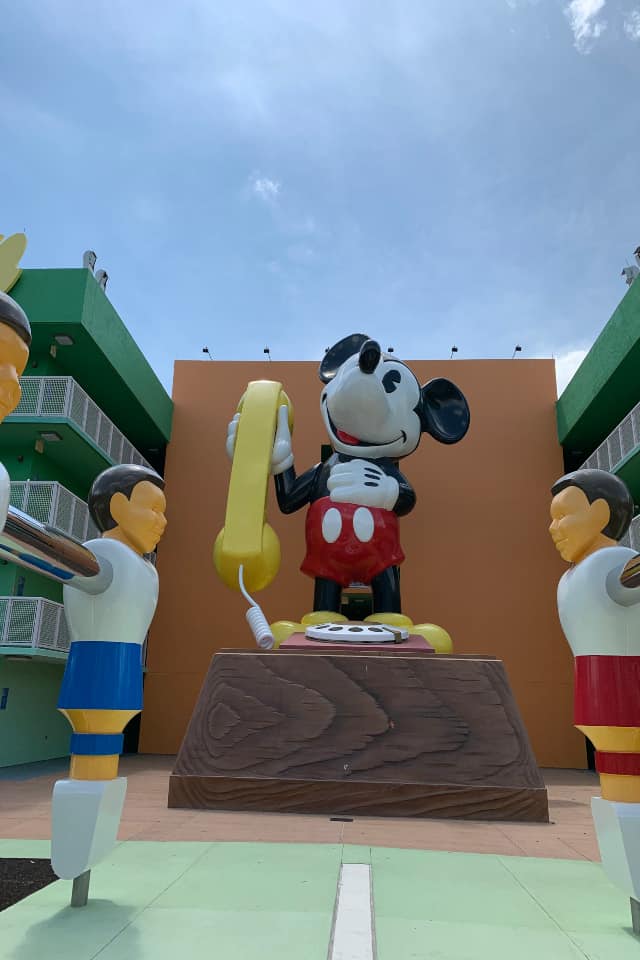 In the 80's you can jam with a giant Walkman, take a walk down memory lane with Rubix cubes, and even spot a giant Roger Rabbit!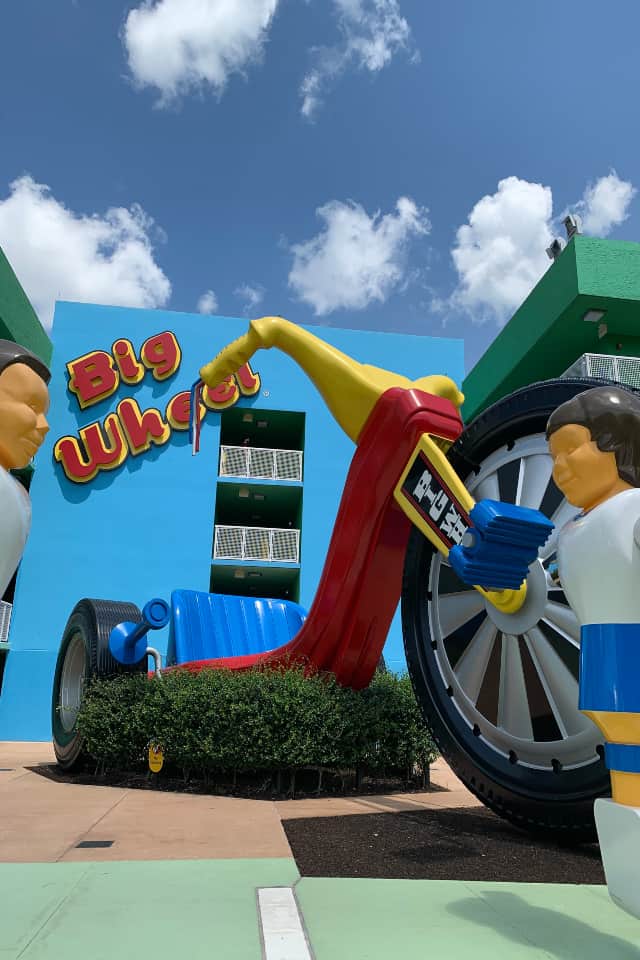 90's area features the computer pool, and is themed with computers, cell phones, and 90's phrases like "you go girl' and "da bomb."
Location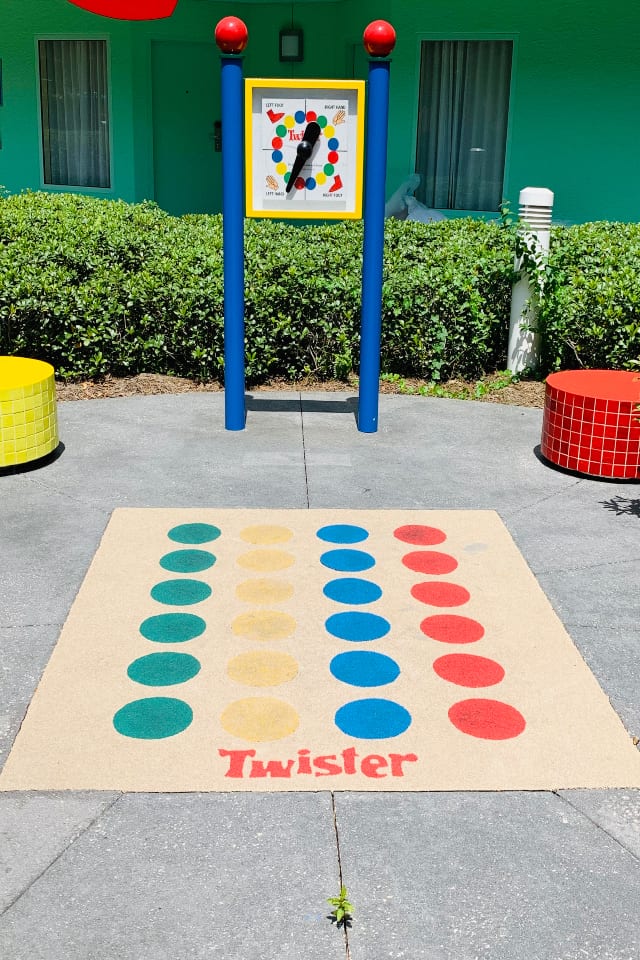 Pop century is located in the ESPN Wide World of Sports area. Hollywood Studios is the closest theme park to this resort, and Disney's Art of Animation is just over a bridge.
Guests love the ability to walk over to Art of Animation to check out the fun theming there too!
Rooms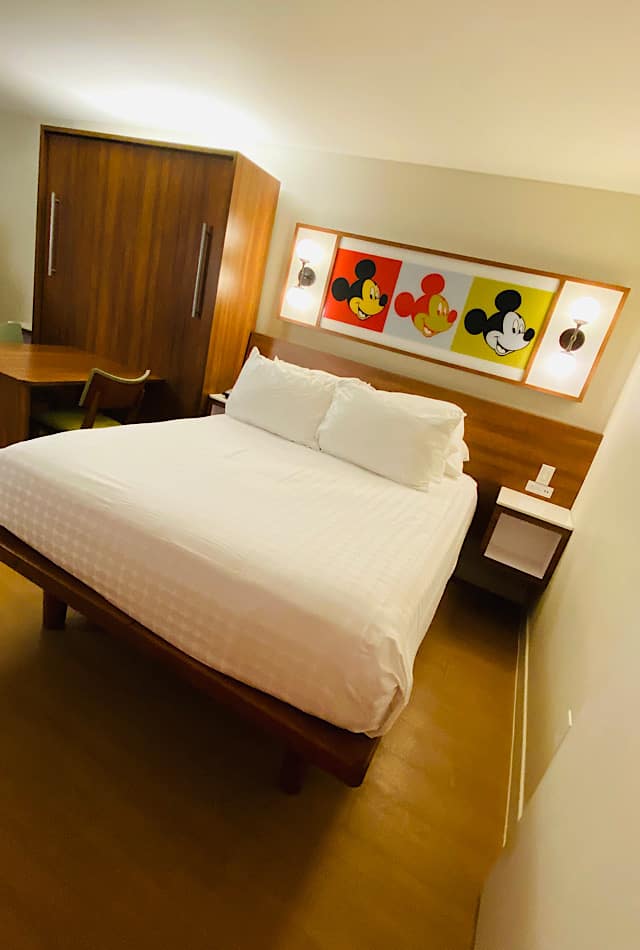 One of the main draws to many staying at Pop Century is that all of the rooms have recently been refurbished. The refurbished rooms have a new modern feel with many comfortable amenities.
We stayed in a preferred room in the 60's section. Our room was comfortable for 4 adults, although we had to get creative about storing suitcases for extra space.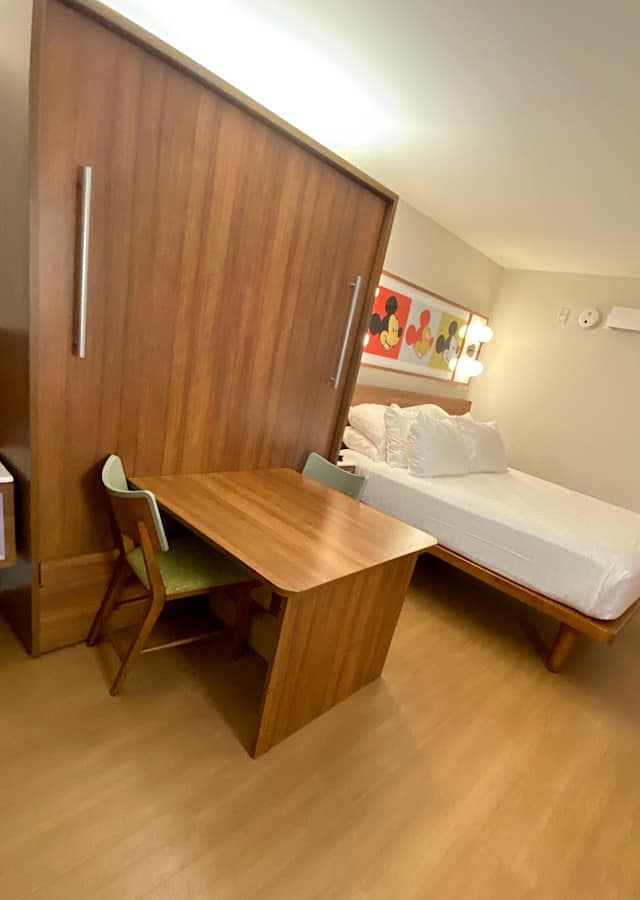 The room has a queen size bed and a pull down bed that is also queen sized. When not in use as a bed, the pull down bed can convert into a table! Both beds were quite comfortable!
The bathroom area contains two separate rooms. There is one room with a toilet and a shower.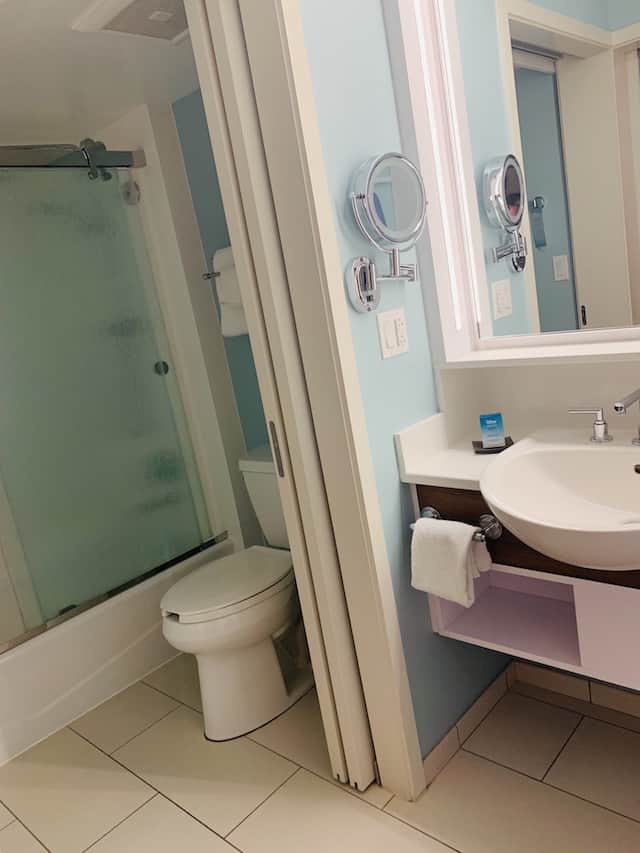 The shower is stocked with Disney's shampoo, conditioner and soap. There was plastic and a sticker over these items when we arrived that indicated the area had been cleaned.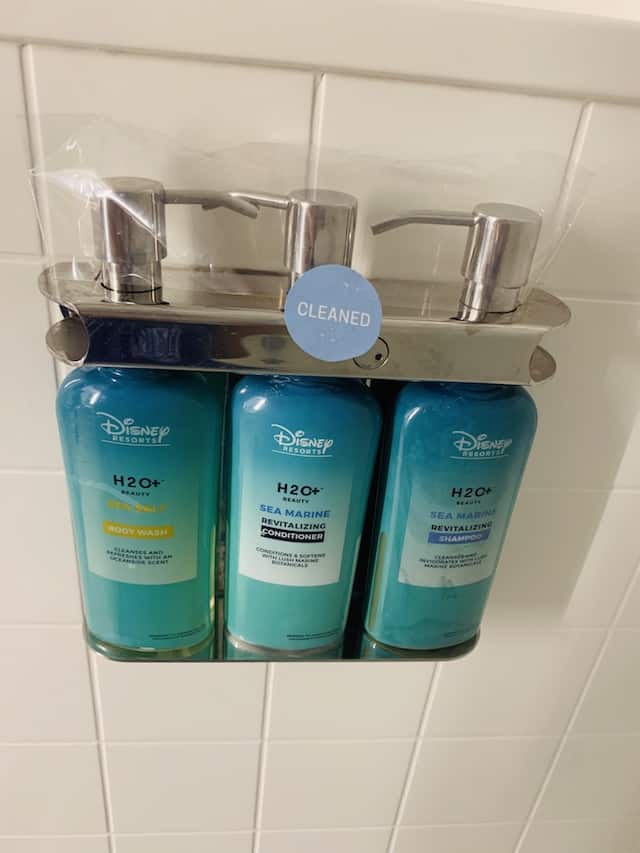 The shower contains two different shower heads, although our team had a lot of difficulty figuring out which we liked better!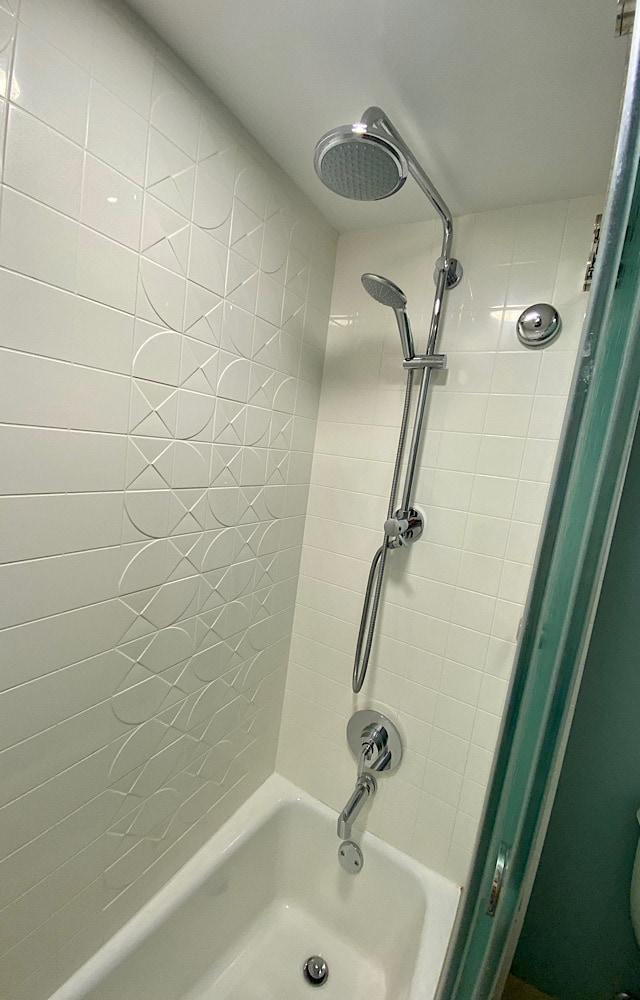 There is a door closing off the area from the rest of the bathroom, which contains a sink and a closet.
There is a full size mirror on the bathroom door, a makeup mirror, and a large mirror over the sink area.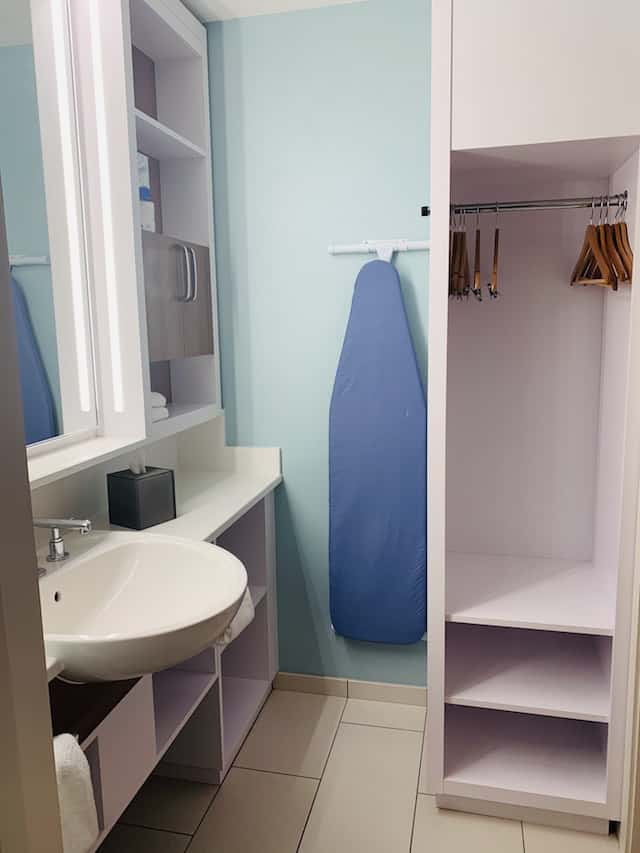 The bathroom is stocked with towels, a hair dryer, an iron, and an ironing board.
The closet contains a few hangers if you'd like to hang up any clothes.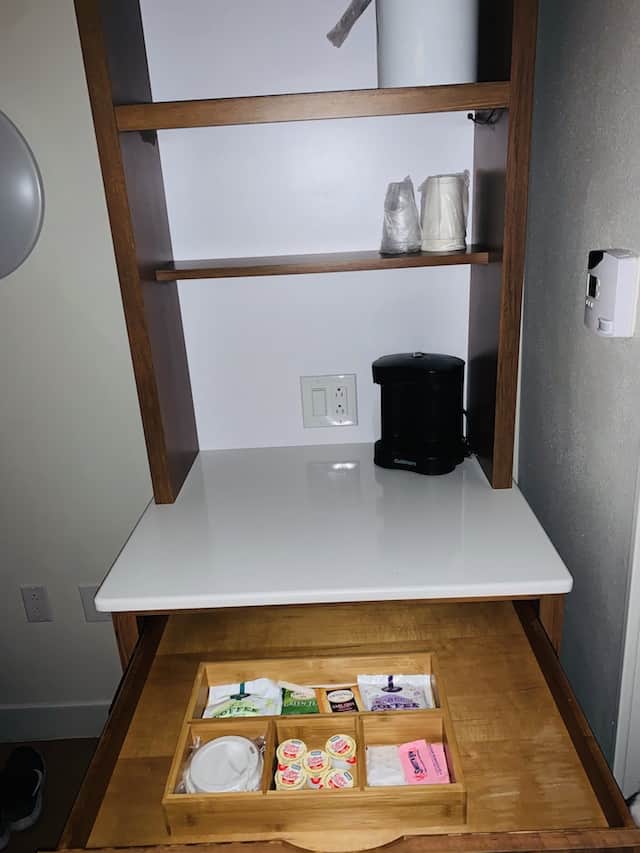 In the bedroom, there was a large flat screen tv, a dresser containing three drawers, and a safe.
There was a small "kitchen area" containing a mini fridge, a coffee maker, and some supplies for making your own coffee.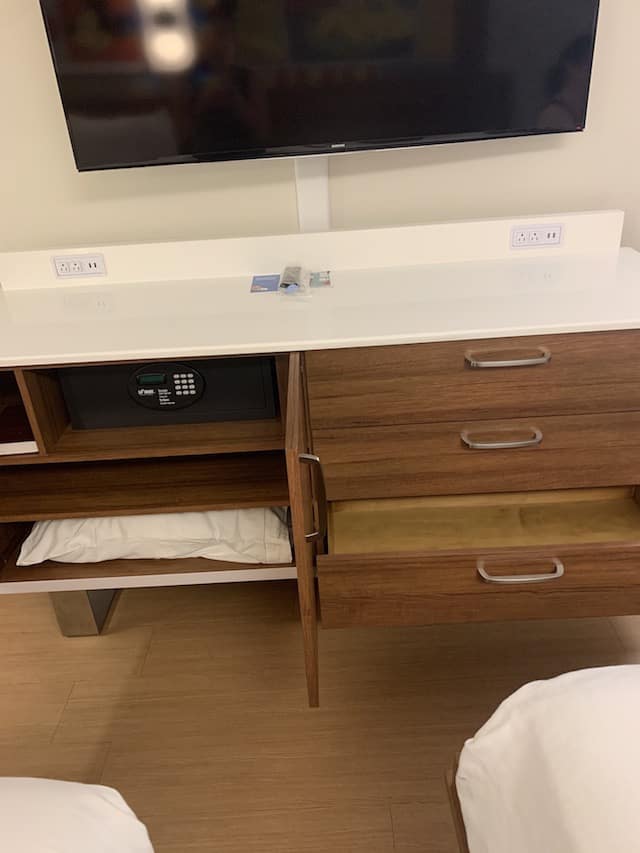 There were several trash cans in the room, but no trash can liners were provided.
Pirate tip: Bring plastic grocery sacks or small trash bags for your cans!
Classic Hall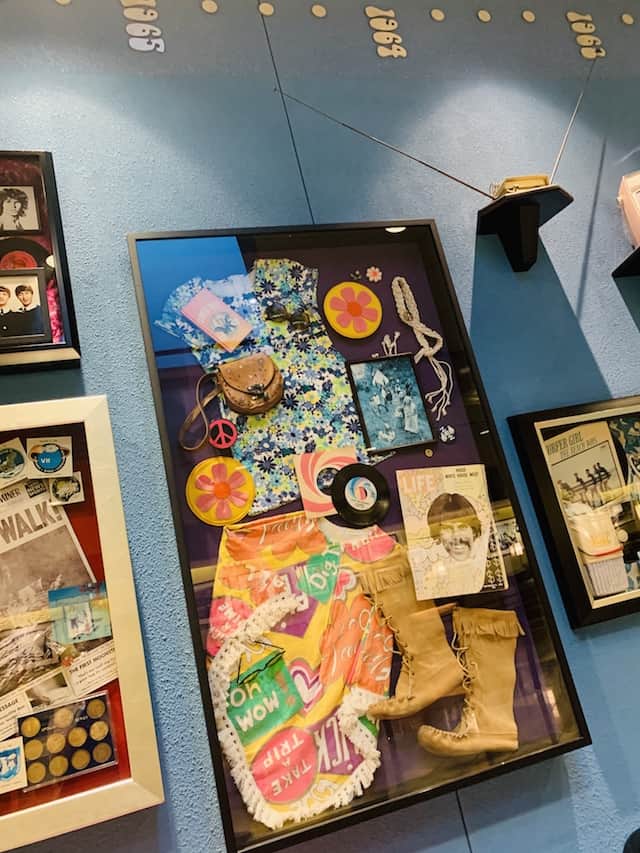 Classic Hall is the main Resort building. It features the resort store, Everything Pop! dining hall, the check in area, and an arcade.
The area is decorated with memorabilia from the different decades the resort features. We had so much fun reminiscing with the different items!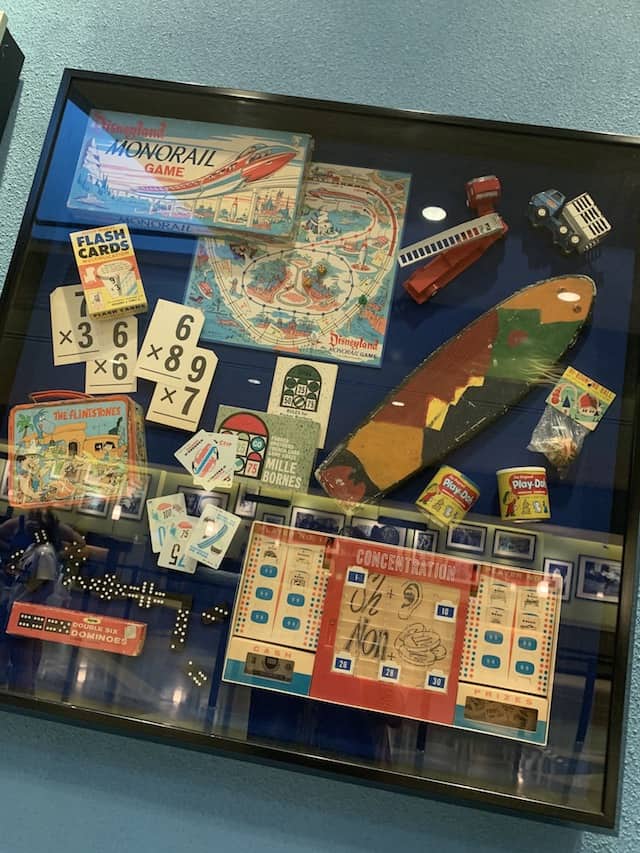 There is also a business center if you need to access a printer or computer.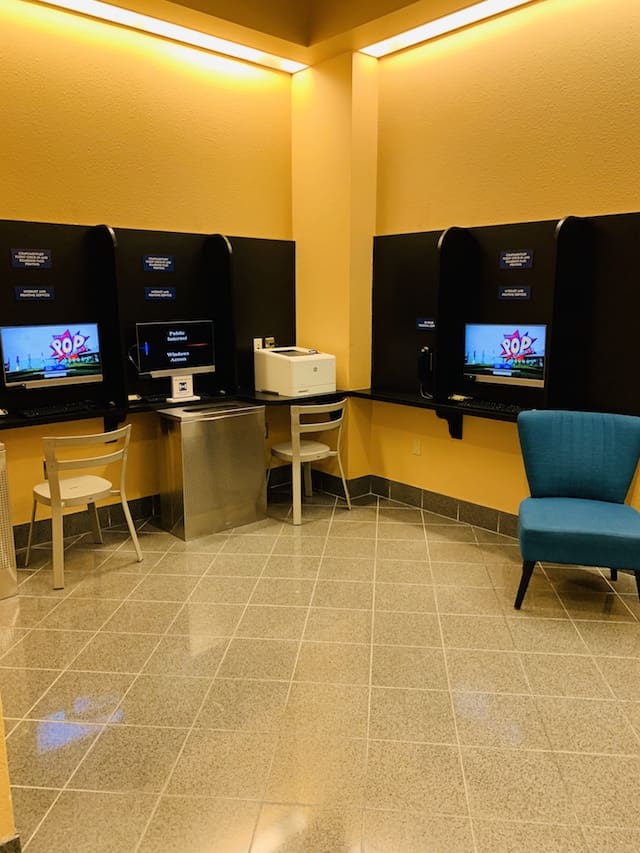 Additionally, you will find a kids play area featuring a small tv playing movies.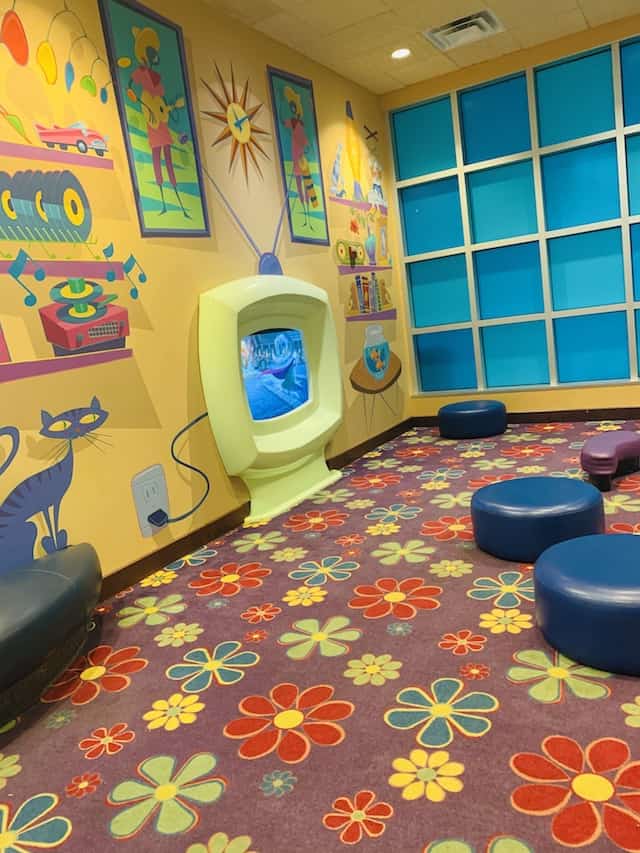 Dining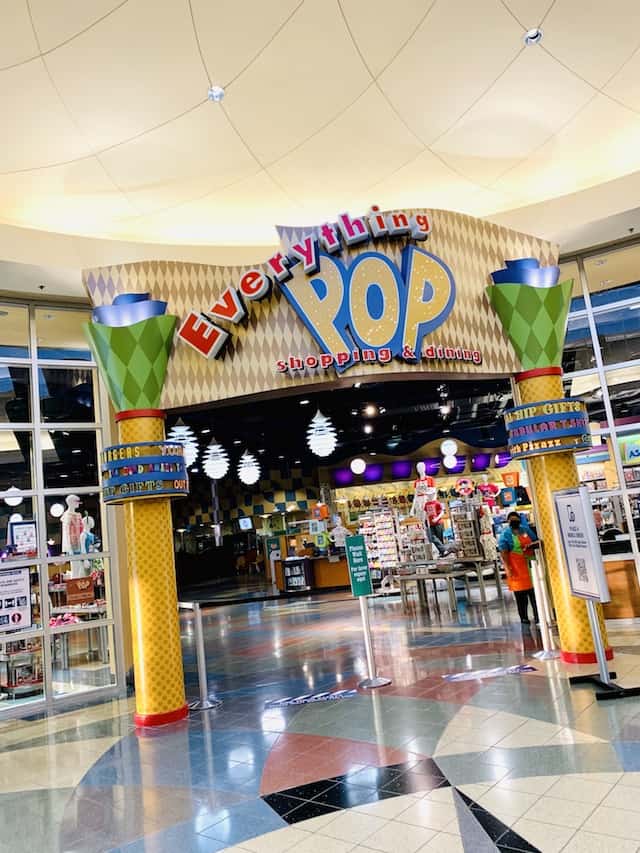 Pop's only dining option is a quick service restaurant called Everything Pop! The dining area is located just past the gift shop, meaning you'll have to walk through the gift shop in order to get to the restaurant.
Everything Pop offers typical quick service meals, such as burgers, fries, pizza, and chicken nuggets. They are open for breakfast, lunch, and dinner.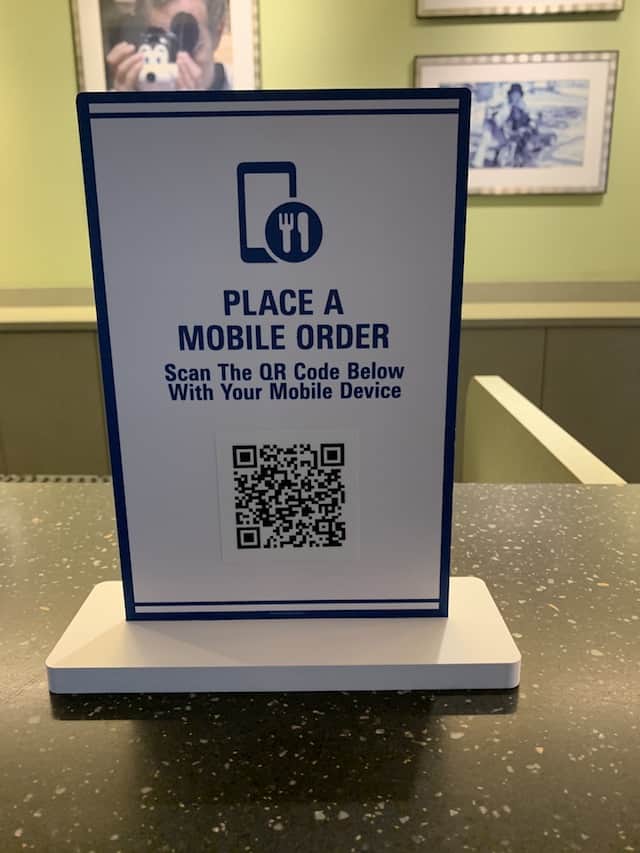 When we visited, mobile ordering was encouraged, but you could order inside if you wanted to.
When you go to pick up your food from the counter, it comes in a bag! Double check to make sure you're getting the correct bag!
If we wanted to just get ice water or just to shop in the gift shop, we had to line up at the Cast Member, and share what we needed to go in for.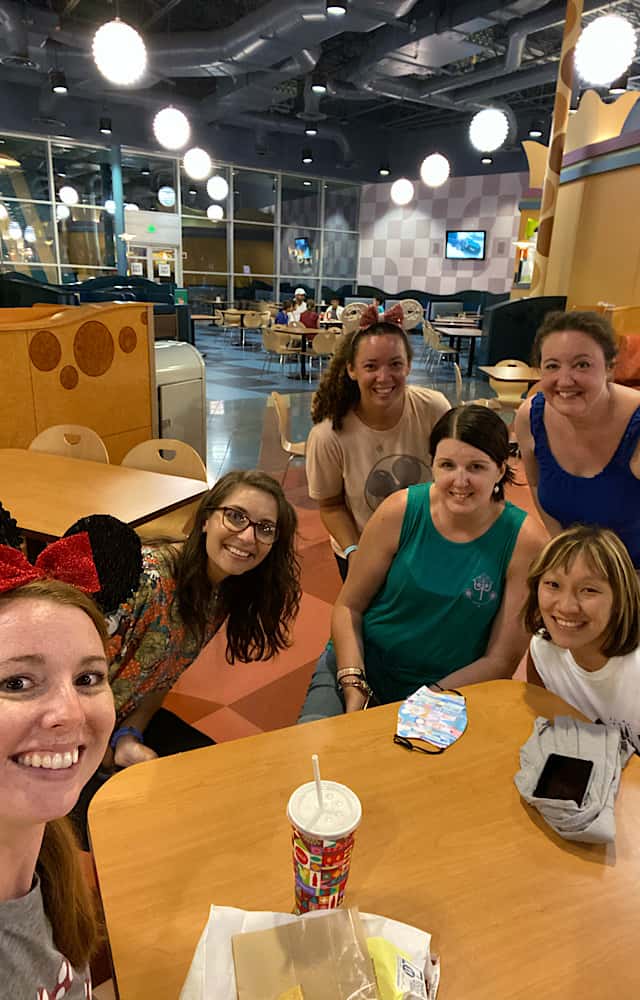 The food at Pop was unfortunately not very good. We were surprised by this, as some of us had stayed their previously and had good experiences, or had heard that the food was delicious.
We ate there a few different times during our stay, and each time, our experience was less than positive.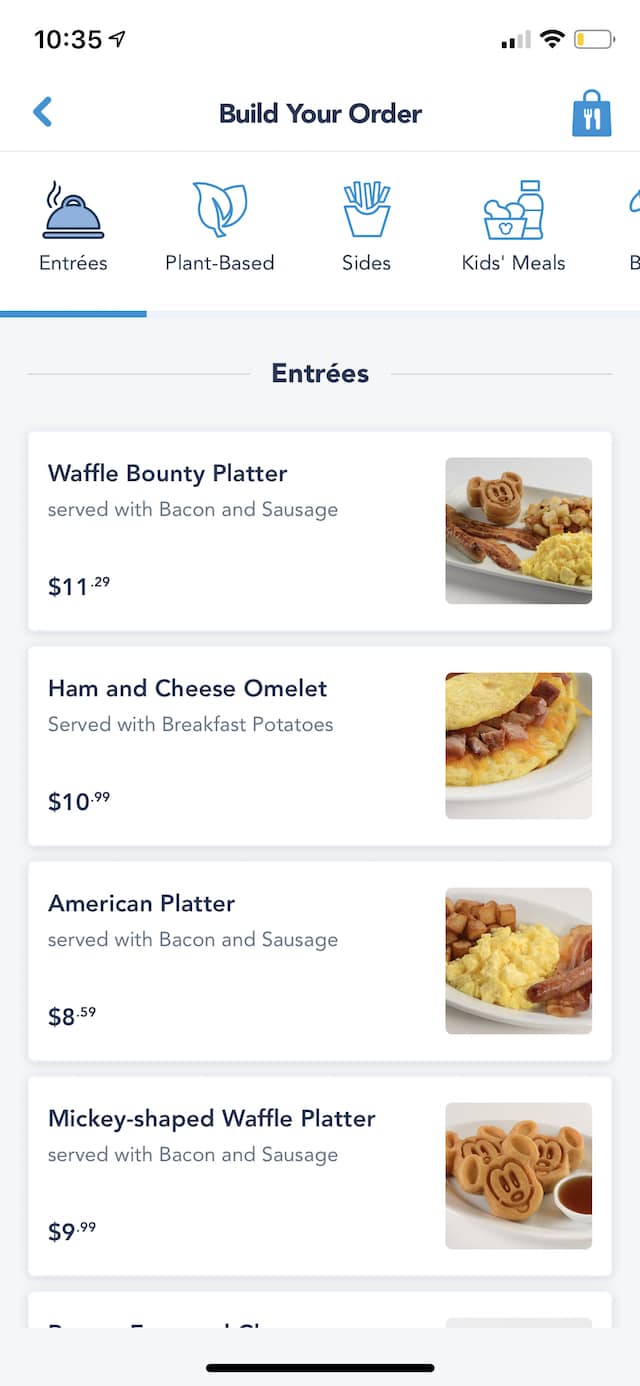 KtP writer Jess ordered a cupcake as a late night snack. She picked it up and went back to her room only to find a turkey sandwich. What a surprise!
When eating dinner, all six of us found our meals to be inedible. I ordered a burger, which was incredibly hard and tasted as though it had been made several hours earlier. It was also cold.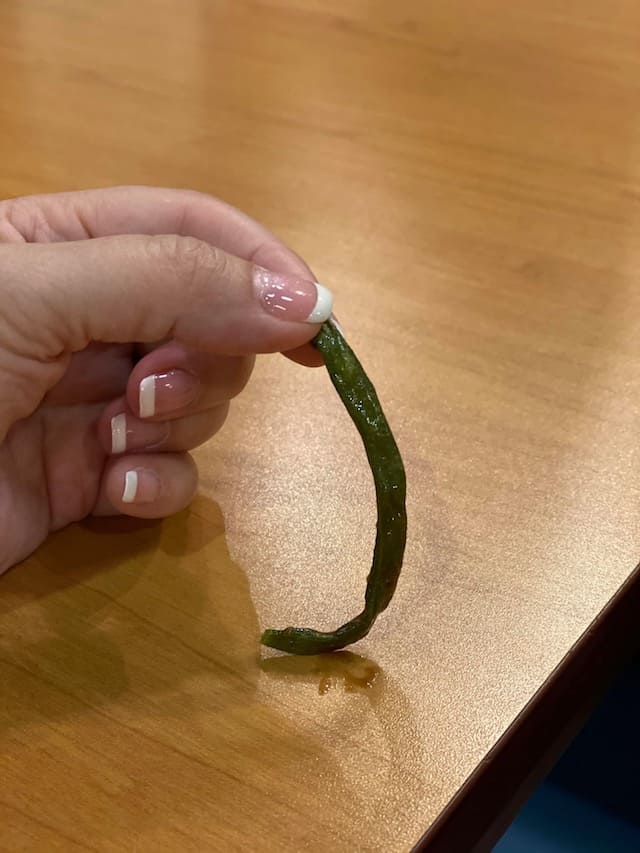 Susan ordered the pot roast, which looked as bad as it tasted. The meal was cold, flavorless, and old. It came with green beans, which were limp and wilted.
We also made the mistake of trying breakfast at Everything Pop, thinking that breakfast couldn't be nearly as bad as dinner. We were wrong.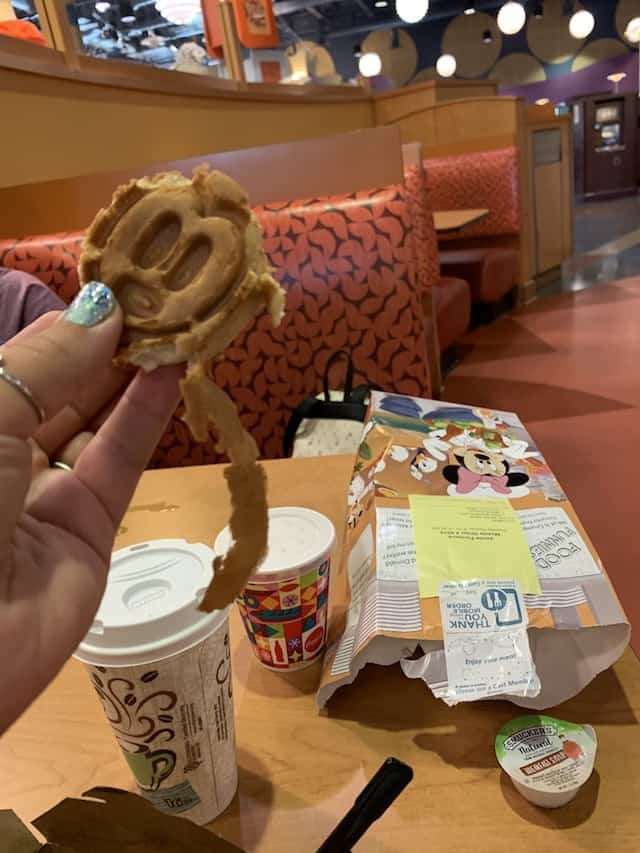 The Mickey waffles, a staple at Disney World, were dry, tough, and crumbly. One bite into them and the whole waffle began unraveling.
They were also thrown in a cardboard to go container, and mixed in with the soggy potatoes. KtP writer Maggie opened her waffle box to find her Mickey with a potato in his ear!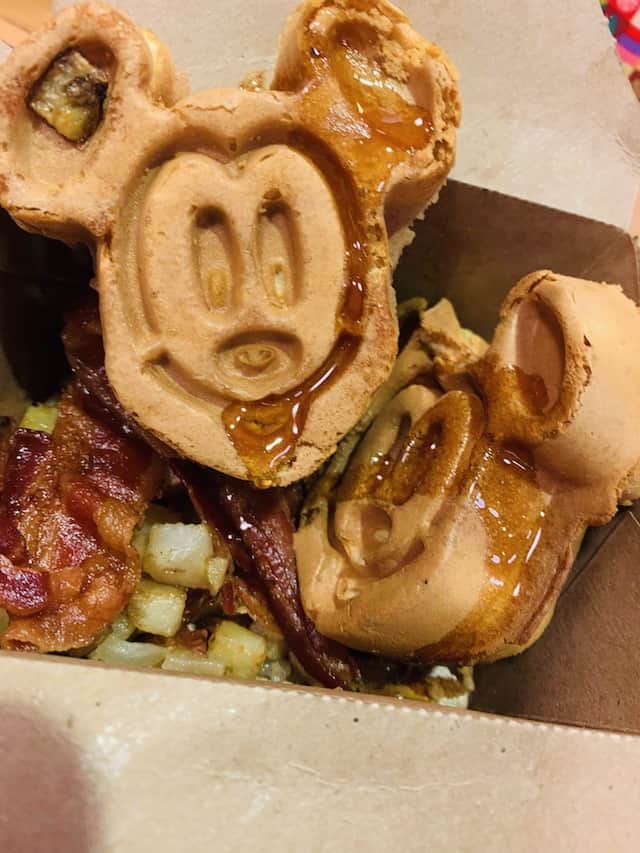 Since Walt Disney World's focus is on health and safety, the self serve drink area is unavailable. There are now Cast Members staffing the area, and you have to line up and order your drinks. The Cast Member will hand you a drink in a paper cup, and if you have a refillable mug, you can then pour it in your mug.
The set up, while necessary, is extremely inefficient. The line moves very slowly and gets long quickly. More staff members are needed to fill drink requests during busy times. For now, plan on waiting at least 5-10 minutes in order to get your drinks during meal times.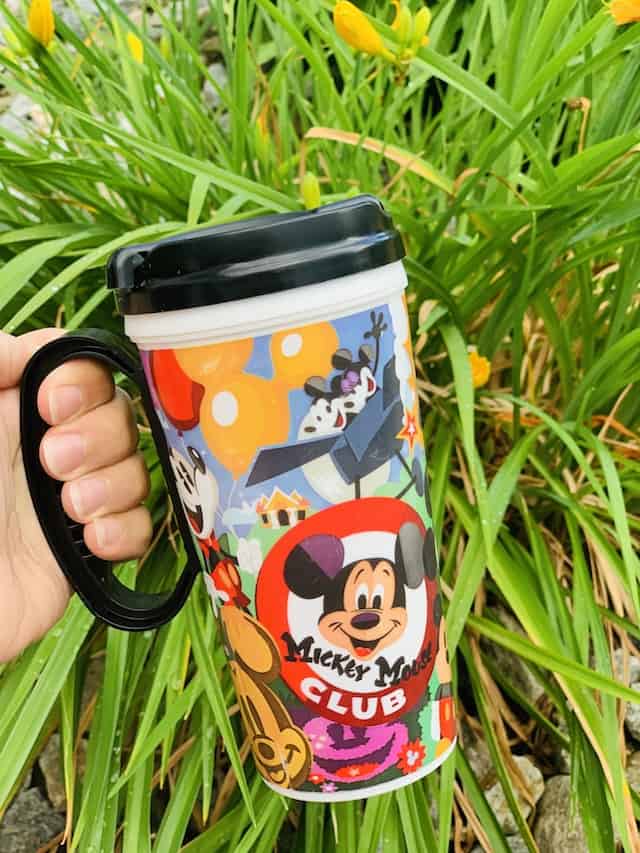 We aren't sure if we caught Everything Pop! on an off week, but our dining experience was by far the biggest disappointment with our stay there. If you are planning to give Pop a try, I would try Everything Pop!, but just know that you may need to plan to eat somewhere else.
Shopping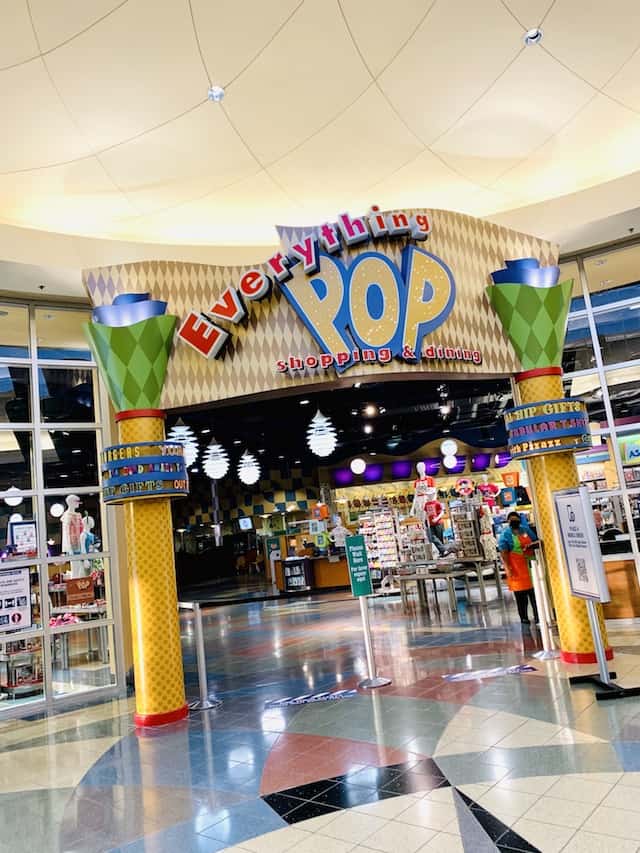 Located inside Classic Hall is the resort gift shop, which is the resort's only merchandise location. We found this store to be well stocked with everything you may need or want.
Forget something important? The gift shop carries several travel staples, such as medicines, sunscreens, and even travel essentials like suitcases if you bought too many souvenirs.
There is also a large variety of souvenirs! They had clothes, toys, kitchenware, candy, snacks, and several Skyliner themed souvenirs for purchase.
Recreation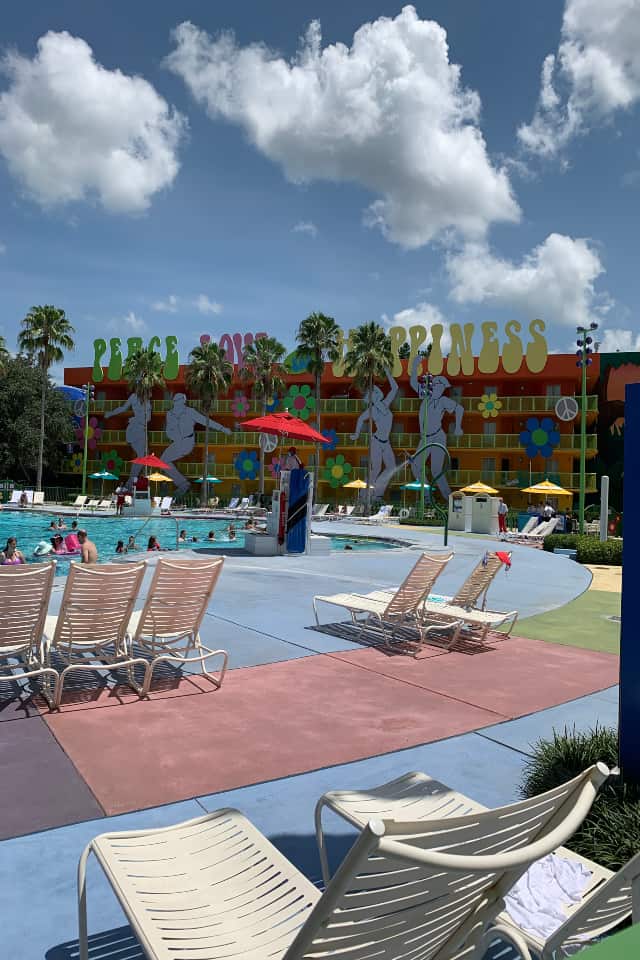 Pop Century features three different pools, so no matter where your room is, there is sure to be one somewhat close by! Lifeguards, complimentary towels and life vests are provided at all of the pools.
The main pool is in the 60's section, and is called the Hippy Dippy Pool. There are flower shaped jets to fit the theming This pool is massive, and we also found it to be extremely crowded.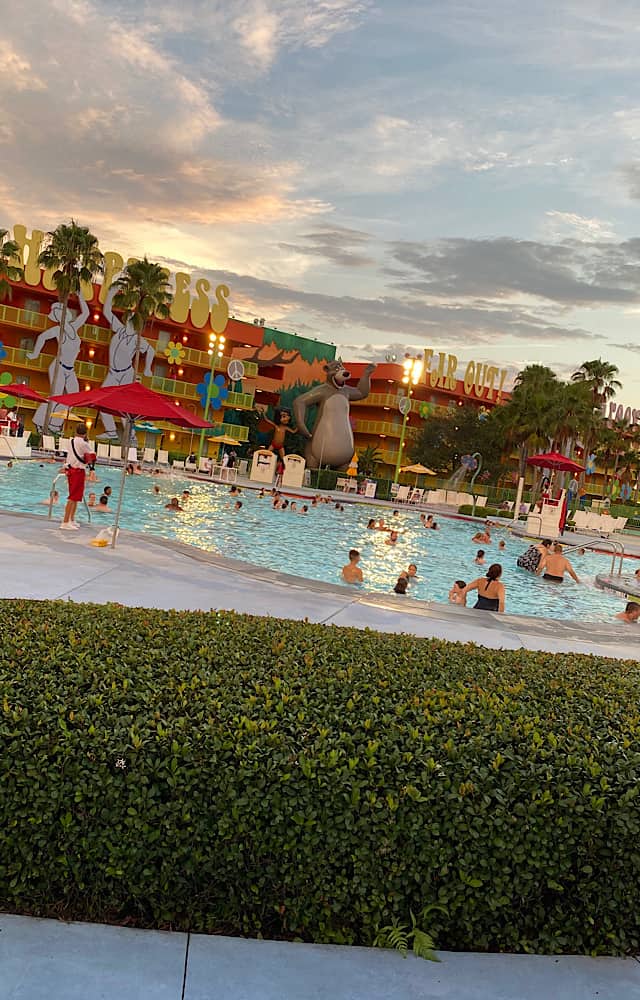 There is a small kids pool located in this area as well.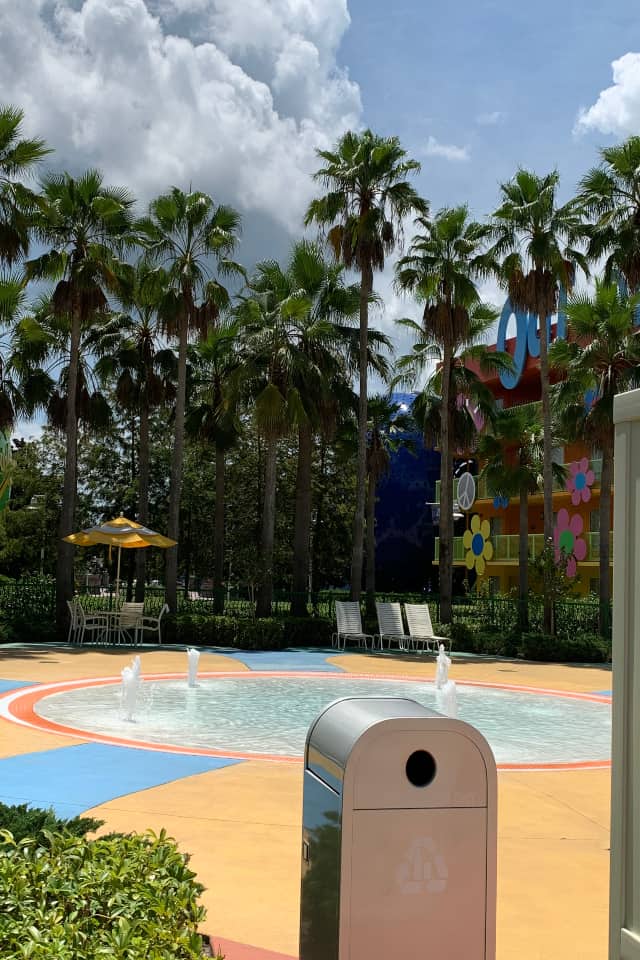 The Bowling Pool is located in the 50's section, and is shaped like a large bowling pin. This pool was very quiet and we had a lot of fun swimming here!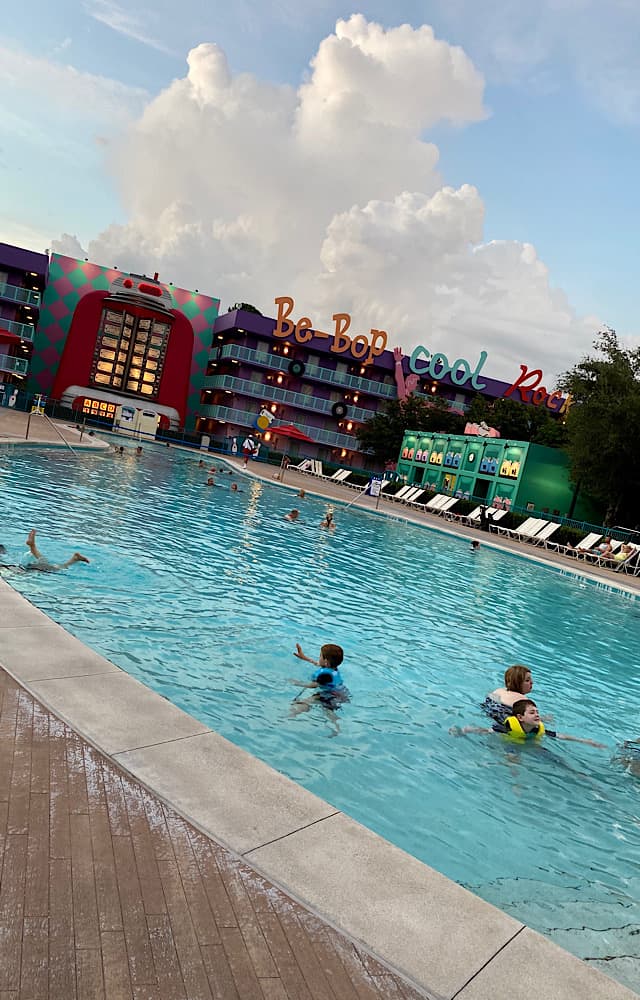 The 90's section has the Computer Pool. The computer shaped pool even has a giant floppy disk and keyboard!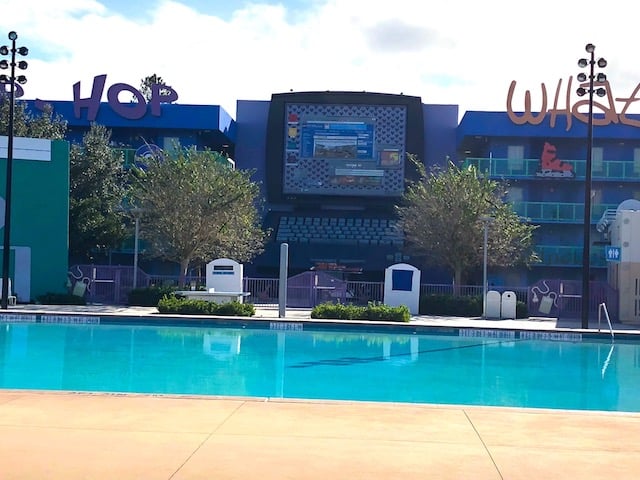 Each of the three pools also had a laundry facility adjacent to the area, if you need to do some laundry on vacation!
Pop also shows "Movies Under the Stars" on select evenings (and weather permitting!). These movies will vary but anyone can come and enjoy a movie on a large blow up screen.
There is one playground at the Resort, and it is located in the 70's section.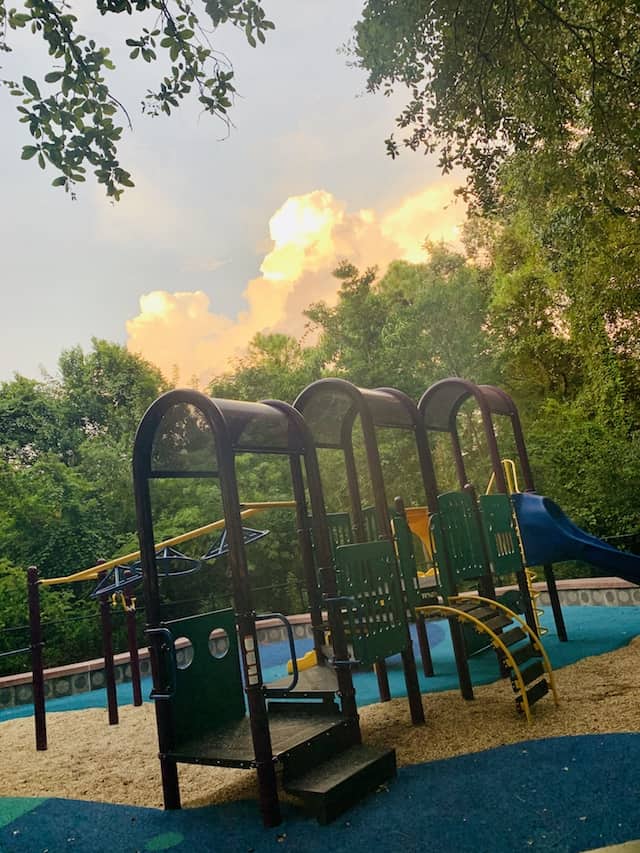 Inside Classic Hall, you'll find Fast Forward arcade, featuring both old and new video games!
Transportation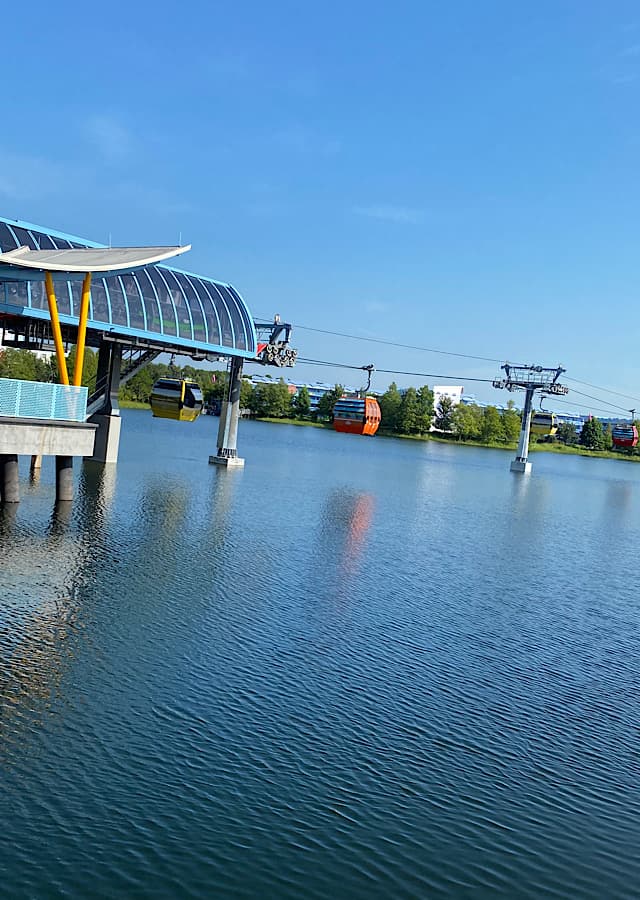 There are several transportation options at Pop Century. One of the biggest perks of staying there is the ability to use Disney Skyliner to travel to Hollywood Studios and Epcot.
The Skyliner is located towards the back of the resort, between Pop and Art of Animation.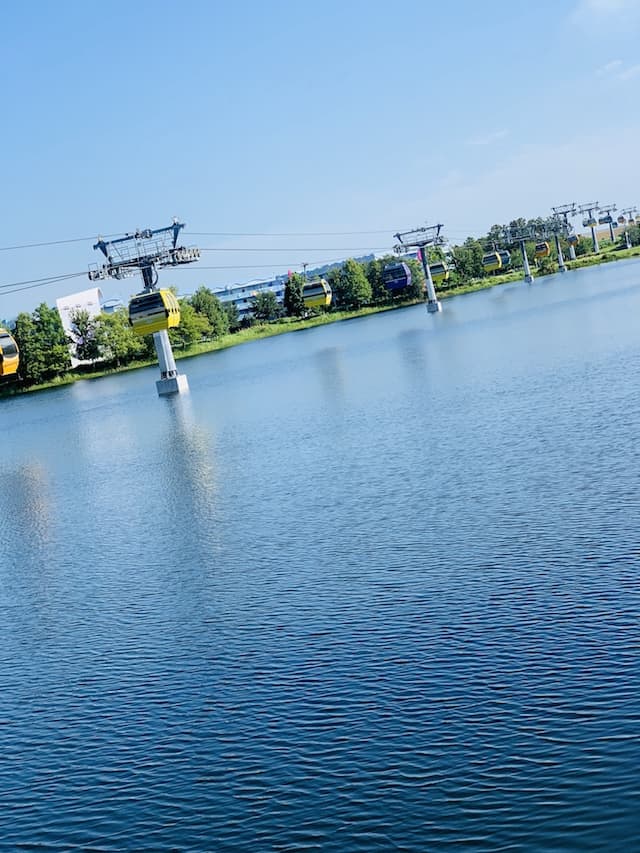 The convenient use of the Skyliner is a huge perk for staying at Pop Century. The Skyliner is a quick and relaxing way to travel to theme parks, with the ability to see some outstanding views!
Pop Century also offers bus transportation to Disney's Animal Kingdom, Magic Kingdom, and Disney Springs. The resort has its own dedicated bus, so you do not need to worry about sharing a bus with another resort, like the All Star Resorts do!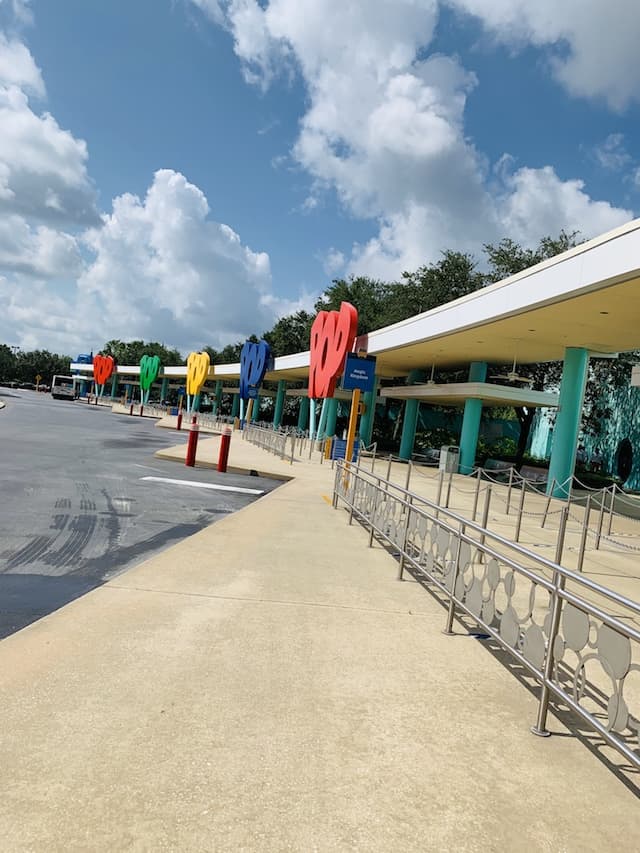 The bus stop at Pop is uncovered, so your waits can get very hot (or wet, depending on the weather!). The bus stops at the theme parks were quite far away from the entrances, so be aware that there will be quite a walk at the end of your theme park visits.
Because of the ability to use the Skyliner, there is no bus service to Epcot or Hollywood Studios.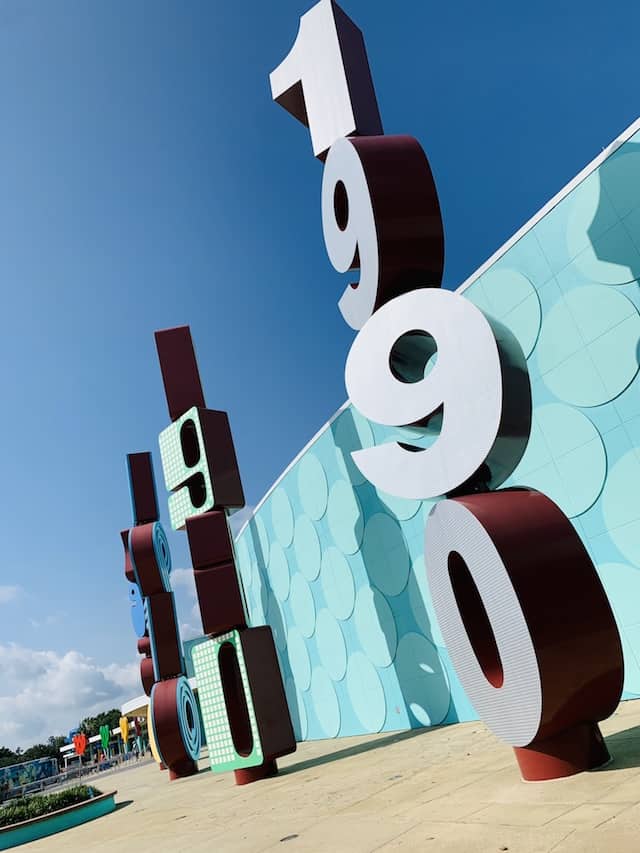 If using the Skyliner doesn't appeal to you, be warned that you may have a difficult time traveling to Hollywood Studios and Epcot. You might want to consider a different resort if the Skyliner is a deal breaker for you.
Overall Thoughts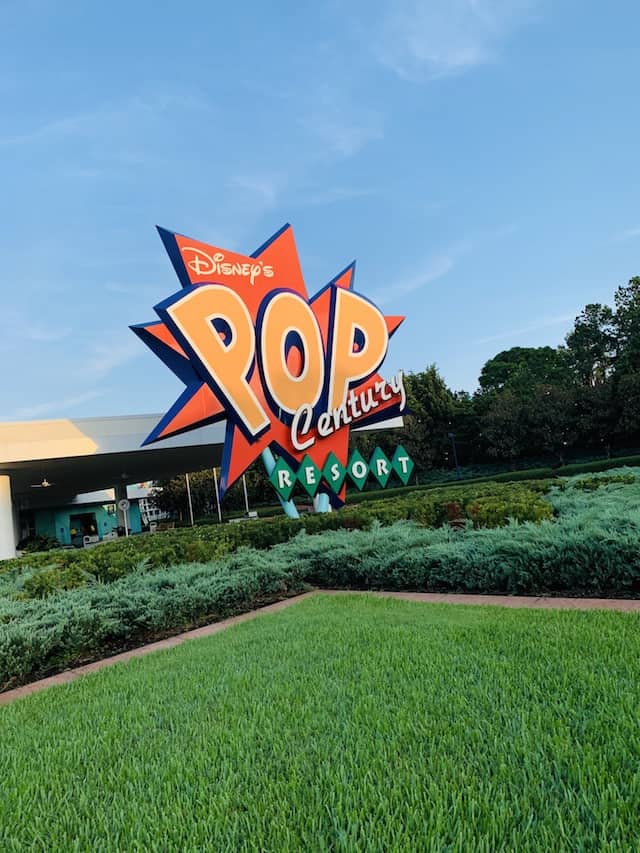 Pop Century is a value resort, offering a fantastic option for Walt Disney World Guests who are looking for an affordable hotel. The biggest perk Pop has to offer is likely the convenient use of the Skyliner to travel to Hollywood Studios and Epcot.
I would certainly recommend Pop Century to anyone staying in Walt Disney World. Pop has exciting theming, great transportation, and great pools. However, I would highly recommend not relying on Pop's food court as your main source of meals.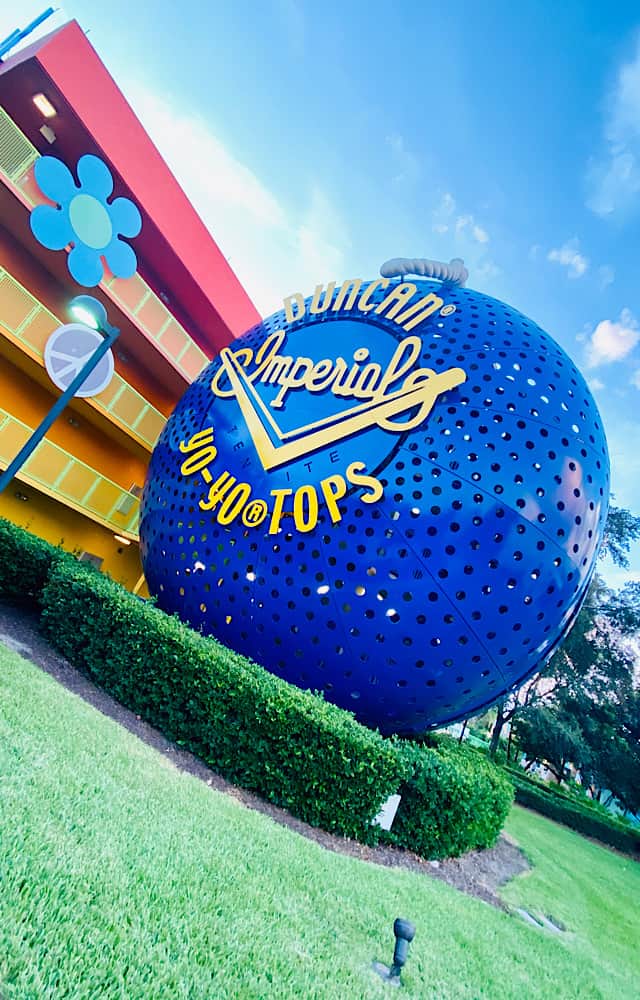 Have you ever stayed at Disney's Pop Century Resort? Are you planning to stay there for an upcoming visit? Let us know on Kenny the Pirate's Facebook Page, or join our crew and continue the discussion!