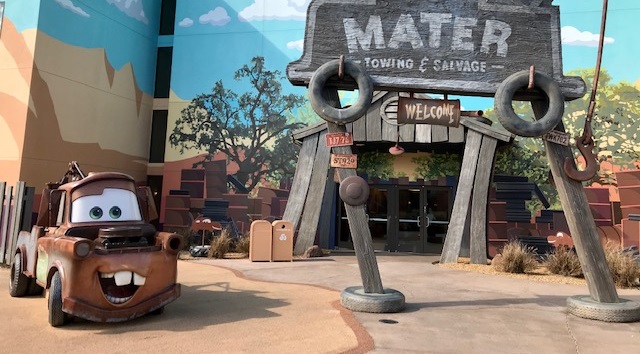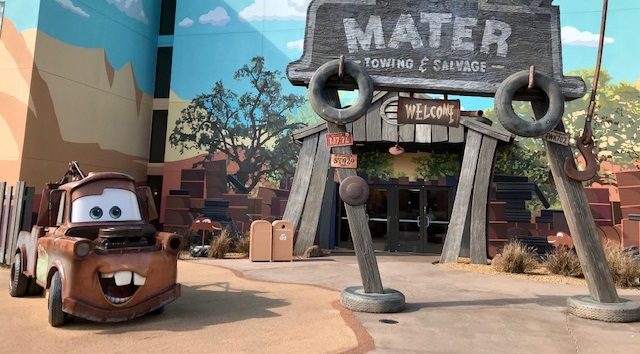 If you are looking for a value resort hotel room that will accommodate more than a family of 4, Art of Animation's family suites may be right for you.
Many people associate Art of Animation with its standard Little Mermaid rooms that are relatively small and sleep just four. They do not always realize that Art of Animation offers 3 buildings worth of family suites that sleep larger groups of up to 6 guests over the age of 2. It may also matter to you that the family suites have interior entrances along hallways, unlike most motel-style value and moderate rooms.
I chose Art of Animation for a family trip that I'd be taking with my husband, 2 small children, and my mother-in-law. For a multi-generational trip, we thought it would be best to have two sleeping areas and 2 bathrooms. Art of Animation fit the bill.
The resort itself is really fun, especially if you are traveling with children or someone who loves Disney animation. This was a bucket list resort for me because I love, love, love Disney animation myself and knew my kids would love it, too.
We arrived super early on arrival day aboard the Magical Express. Typically, if we arrive prior to check-in, we head to Disney Springs or to the parks, but this time we enjoyed wandering the resort while we waited for our room.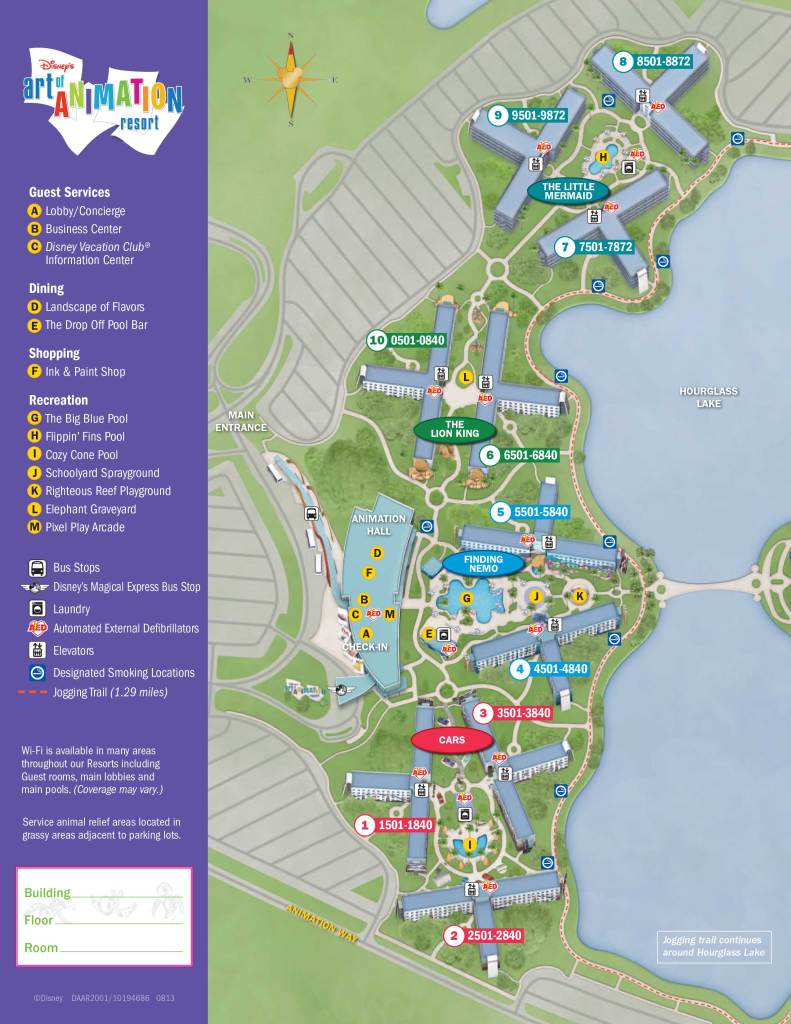 The Lobby
The lobby is decorated with Disney animation, and if you stay, you must not miss catching a glimpse of the unique chandelier that hangs there. If you need a bit of a rest, there is a TV area where families can watch Mickey cartoons while they wait for check in.
There are also easels set up for kids to practice their drawing skills, and character drawing classes are offered periodically as well. An arcade is off of the lobby, and my husband enjoyed hanging out there for a bit.
Around the Resort
Once we dropped our bags at the front desk, we had a great time walking the resort and looking at all of the thematic sculptures from Lion King, Little Mermaid, Cars, and Finding Nemo. The Elephant Graveyard in the Lion King area is really neat.
My kids were particularly fond of the Cars area. It was like it's own little immersive world. They liked taking pictures with Lightning McQueen, Luigi, Mater, and other Cars characters.
If you have a Cars fan, this area might yield happy memories beyond the parks. I had never particularly been into the films, but I loved seeing my kids enjoy this area so much that Cars grew on me quite a lot that day.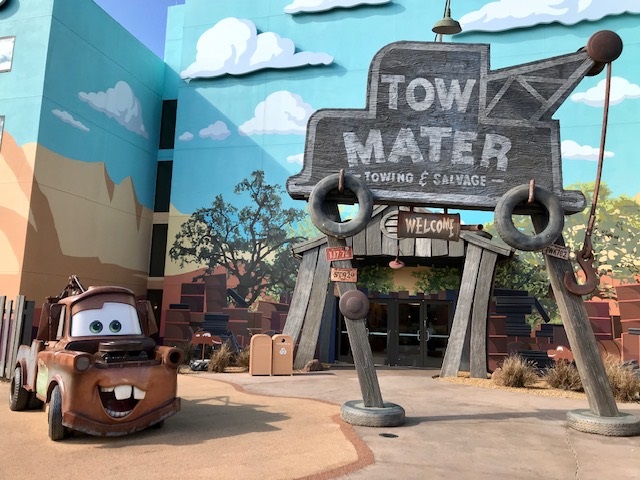 After a long visit with our Radiator Springs pals, we headed over to the Nemo-themed Righteous Reef play area. The kids liked it, but I was not as thrilled with it. It is visually beautiful, but it is circular and difficult to keep an eye on little kids while they play.
It is also primarily hard surfaces, sprinkled with sculptural corals that are super tempting for climbing when they are meant to be decorative, so laying some ground rules for play is important.
I was pretty tired and didn't consider this until I was plucking a preschooler off of a wall he had scaled using barnacles as footholds. If you have older kids, it won't be as problematic, but keeping an eye on two or more under 4 is a challenge here.
Pools at Art of Animation
There are three great pools to enjoy at Art of Animation. The Big Blue Pool is Disney's largest pool. It is Nemo-themed, and if you go underwater, you can hear characters from the movie. There is a splash pad nearby that kids really enjoy.
There are also multiple poolside activities throughout the day like trivia. This is a cool pool, even without slides.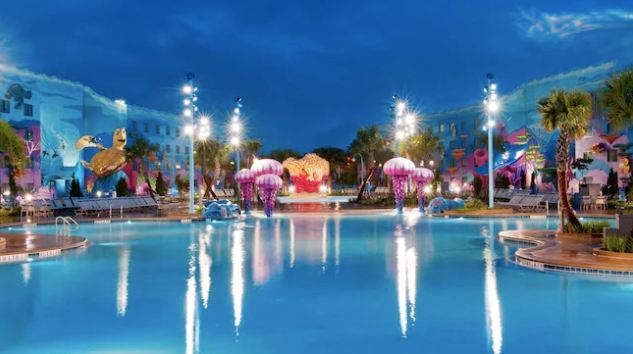 The Cozy Cone pool over in the Cars area is fun because guests can lounge in a Cozy Cone cabana, which was first come, first served when we visited.
There is a little Mermaid pool as well called the Flippin' Finns pool, but we did not check that one out this time. It is funny that no matter how long you stay at a Disney Resort, there is probably something more to see the next time you visit.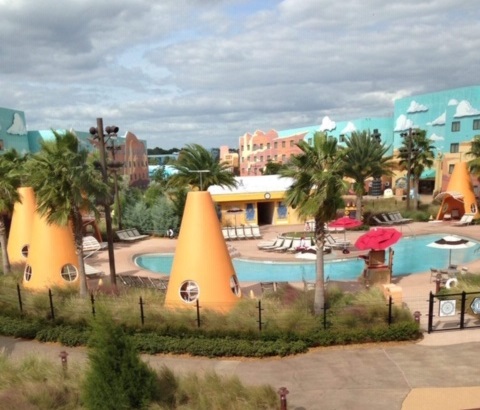 Food Choices
We ate both breakfast and lunch at Landscape of Flavors, the hotel's quick-service restaurant. There are a variety of options for everyone. My children really enjoyed it and ventured to try some new things. Any time a place has the "try new things" effect on to little ones, I consider it a win! It is fun to hear a toddler say, "I will try the sustainable fish."
It also boasts some really delicious pizza. I would venture to say it is my favorite QS pizza on property. Overall, I wouldn't make a special trip to eat there unless I were staying at Pop and could walk over. Still, it is good and had something for everyone. I definitely did not mind leaving the parks and grabbing food there.
The Suite
Once our room was ready, we headed to settle in. We were in a Nemo suite, but the resort also has Lion King and Cars suites as well as standard Little Mermaid rooms. The Nemo Suites are super convenient to the amenities and the buses as well as the Bridge to Pop Century and the new Skyliner. The Skyliner was under construction when we visited.
Check out this blast from the past: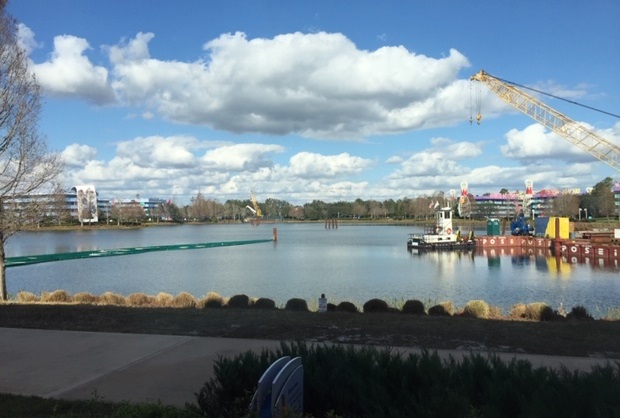 We were happy to find that the Nemo Suites are fantastic on the inside. If you or a member of your travel party loves the films, like my entire family does, you will love them. There are lots of fun surprises to discover.
I hear that the Cars and Lion King rooms do a fantastic job with theming as well. The Nemo Suites are coral reef fun with plenty of touches from the film.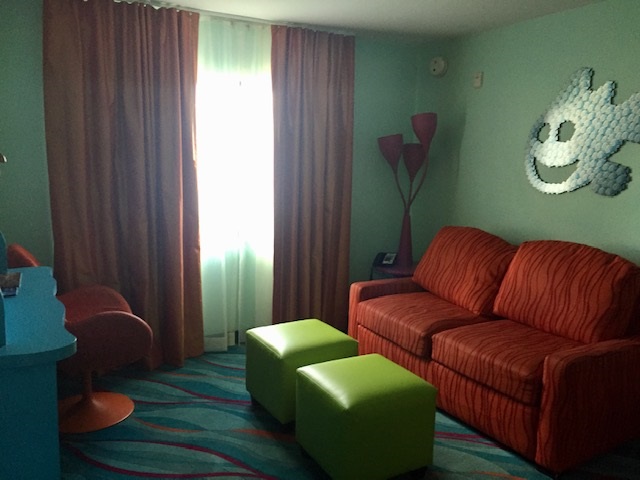 The layout works really well for a family. The main living room has a TV on a dresser, a pull out sofa bed, a kitchenette with a mini fridge, and a microwave.
We really liked the kitchenette because it allowed us to utilize leftovers from some of our larger meals. It also lets us make some oatmeal in the room for a quick breakfast. We used grocery delivery for this trip to have fruits, bottled water, and sandwich fixings on hand.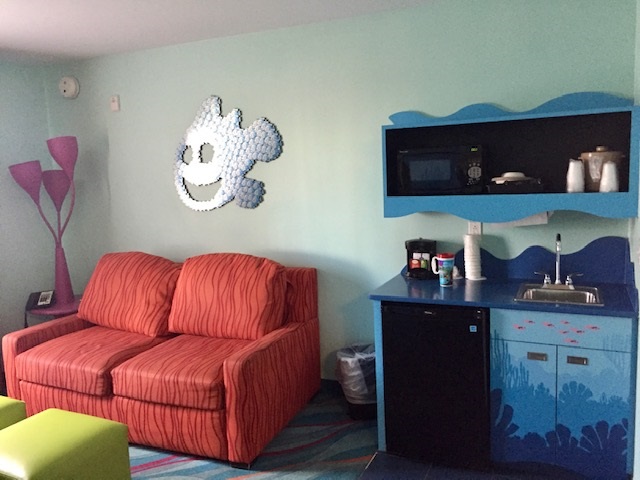 There is also a table that converts to a bed. It is nice to be able to sit at a table if you want to eat in the room, and it is fun for the kids to be able to sit and color during their downtime.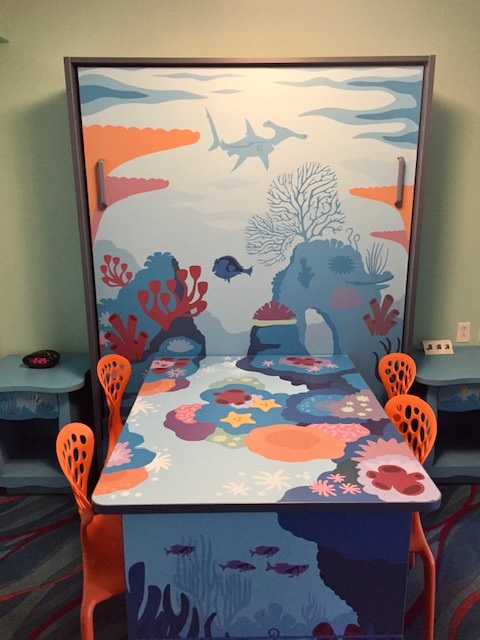 One of our favorite surprises came from the table bed! It has such a cute headboard. You can imagine the cute Daddy-n-me photo op we had with this as the backdrop.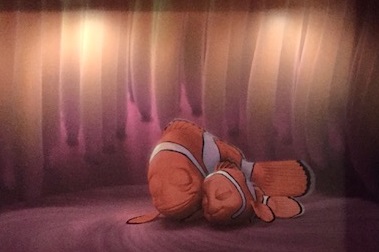 The suites have 2 bathrooms. One is off the living room, and the other is off the bedroom. I do not have to tell you why this was awesome. It certainly made getting ready for the parks and getting ready for bed MUCH easier. My kids were also into the shower curtain.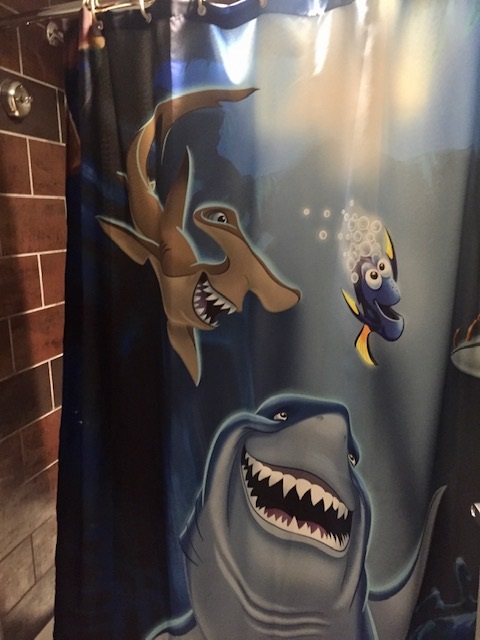 The bedroom was roomy enough to add a Pack n Play with no problem. We felt like the suites were really roomy overall, and the kids loved having room to play when we weren't at the parks.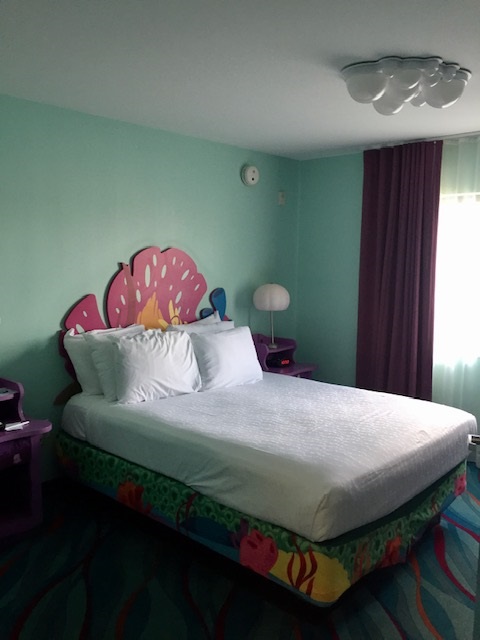 We really enjoyed our room and the resort itself. I was glad we splurged on a Nemo room even though they are slightly pricier than the Cars and Lion King Suites. I debated whether it would be worth it, and it was.
The only thing we did not enjoy was the transportation situation that existed at the time. The bus stop got very crowded and often had substantial lines to board to get to the parks. We are used to Port Orleans French Quarter, which is pretty calm most of the time, so a chaotic bus situation was a bit of a shock to us.
Now, as I said, we stayed here prior to the opening of the Skyliner. So, to be fair, I am confident that the Skyliner has improved the situation by providing some relief for the buses.
Honestly, I might want to do a family suite in the future even if it were just my family of four traveling because 2 bathrooms is game changing. We also appreciated that the suites have a kitchenette. I can see it being great for families with older kids who want privacy.
Have you been to Art of Animation or do you have plans to go? Let us know your thoughts on Facebook by clicking this link or using the Facebook button.
Are you planning a vacation? Reach out to our trusted travel agency sponsor Authorized Disney Vacation Planner
Mouse Class Travel
!