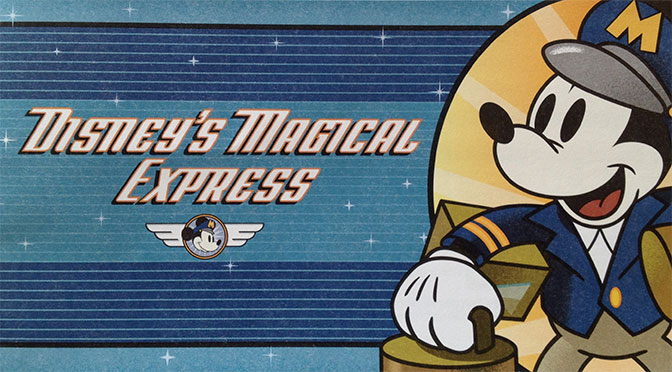 One of the perks of staying onsite at Walt Disney World is having the option to take the Magical Express from Orlando International Airport to your Resort.  Here is what you need to know to determine whether the service is right for you and your travel party.
What is the Magical Express?
The Magical Express is a Walt Disney World Resort transportation service. It is a motorcoach that shuttles guests between MCO and Walt Disney World Resort Hotels.
How much does it cost?
Magical Express is complementary to those guests staying at a Walt Disney Resort Hotel who fly into Orlando's airport and wish to travel to their Resort from the airport.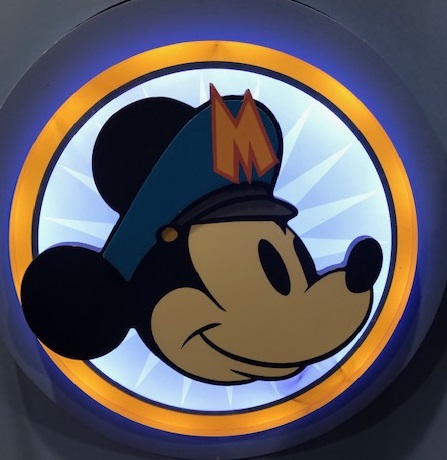 How do I reserve a seat?
Reservations ARE required. To ensure you have a seat on the Magical Express, you will need to call Walt Disney World and request to speak with a cast member about linking a flight to the Magical Express.  Guests in Canada and the US can call (407) 939-1936. .
You will need to have your flight information including flight numbers and arrival and departure times.  If you request Magical Express far enough in advance, at least 2-3 weeks before departure and you are a domestic traveler, you will receive an envelope in the mail with a letter that includes a map directing you from the terminal to the Magical Express and yellow tags for any checked luggage you wish to have delivered to the Resort. You will need this letter or your magic band to board.  If you call and make your request but there is not enough time to receive a letter, you will not receive a map or luggage tags, but it is possible to get by without either of those things.

What about my checked luggage?
You will receive one yellow luggage tag per guest in your Magical Express envelope.  Place these labels on your checked bags following the instructions accompanying them. If you check bags, and you are scheduled to arrive at MCO between 5 am and 10 PM, the Magical Express Staff will collect your bags for you and send them to your resort hotel.
NOTE: Your check bags will travel separately from you and will arrive at your resort hotel room up to three hours after you do, so be sure to pack any essentials you want to have with you like Magic Bands or a change of clothes in a carry on and keep it with you.
If you would prefer to get your check luggage yourself so that it arrives at the resort with you, simply do not put the yellow tags on them, collect your bags from baggage claim, and take them to magical express with you. The driver will store them under the bus during your transfer to your resort hotel.
If you are arriving before 5 am or after 10 PM, which is outside of operation hours for the baggage service, you will need to go by baggage claim and collect your bags before you head to the Magical Express.  Magical Express will store them under the bus during your ride to the hotel, and you can take them straight to your room with you or check them at the front desk if you are arriving before your room is ready.
What if you do not reserve Magical Express in time to get luggage tags?  Ask for a baggage claim number at bag check and give them to one of the CMs at Magical Express.  They will be able to help you.
IMPORTANT: Do not pack your magic bands in a checked bag. Have them with you.  If you do not have magic bands, bring along the letter your receive from Magical Express.  If you do not have either of those items, bring your government-issued ID to present at check-in.
What times can I use Magical Express?
Upon Arrival
Magical Express runs 24 hours a day.  Upon arrival at the airport, you can go straight to the service, or you can stop and use the restroom and grab your checked bags if you do not want to utilize the bag delivery service.  Either way, a bus will be waiting for you as long as you have prearranged a reservation.
Upon Departure
Departure works differently.  Your departure time is NOT flexible.  The day before your departure, you will be issued a departure time that is 3-4 hours prior to your scheduled flight. You will need to bring the departure letter you receive along with you to the designated Magical Express area when it is time to leave.  I will reiterate this later, but you cannot miss your departure time.  If you do, you will have to find another way to MCO.
How do I get to Magical Express?
Once you deplane, Magical express is relatively easy to find.  Orlando International Airport has plenty of signage directing Walt Disney World Guests to the correct place.  BUT if you are a planner and like to visualize where you are going, you can check out the map included in your Magical Express mailer OR you can use this MAP provided by Walt Disney World: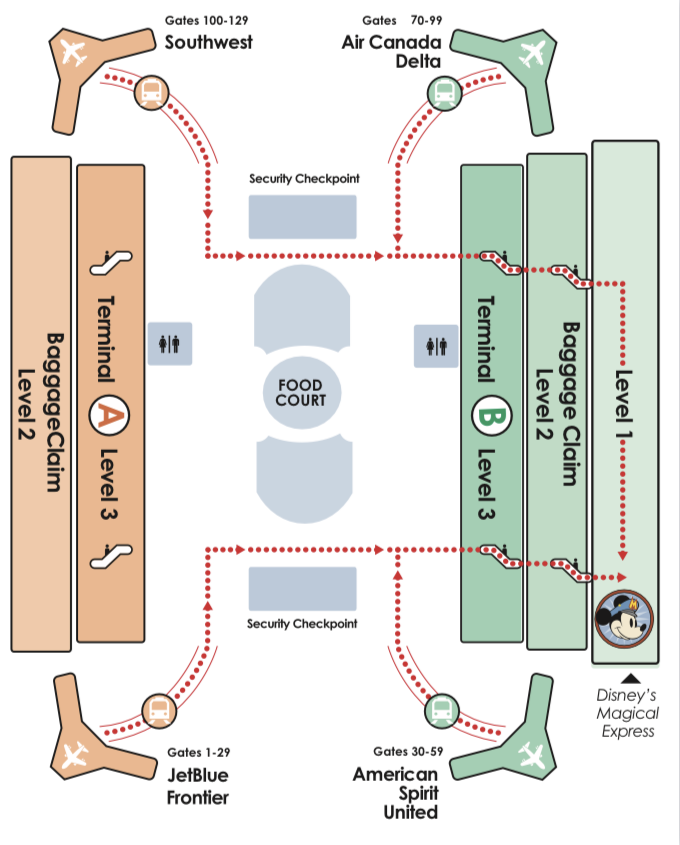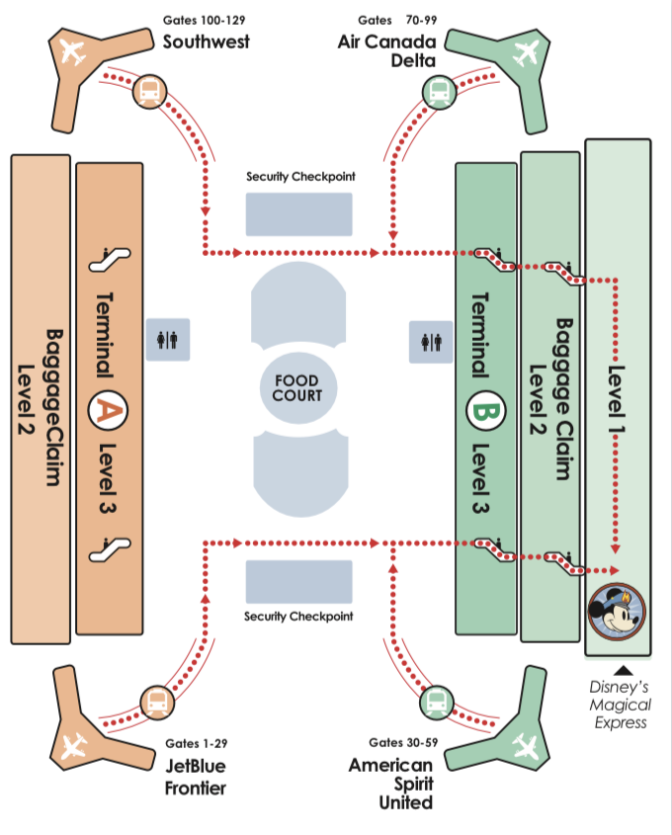 Essentially, domestic travelers will need to take the train from the gate to the main terminal. The train will drop you off on level 3 of Building B (international travelers will need to move from building A to building B).  You will need to go to level 1 for ground transportation and then make your way to the Magical Express following the signs. You will pass a cleverly placed Starbucks and a restroom along the way.  Once you arrive at the very end of the ground transportation area, you will see Cast Members ready to scan your Magic Band!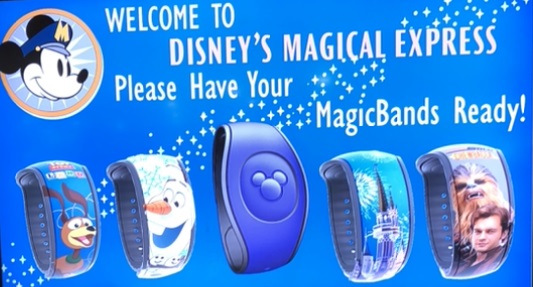 What happens next?
Once you have checked in, you will be directed to make your way down one of several cordoned-off aisles to wait to board your motorcoach.  Next, Cast Members will send you to load!  You may have to wait quite a few minutes for the bus to fill up. Once yours is loaded, you will be ready to go! Typically, buses make stops at 4-5 resorts. So far, I have not been able to identify a consistent pattern to which Resort is dropped off first.  Either way, prepare to wait through at least a few stops as you wait to reach your resort hotel.
If you arrive after check-in time and have used online check-in, you can head straight to your room.  You can also stop by the front desk if you need to finish the check-in process.  If you arrive prior to check-in, you can check your carry on luggage or any checked bags you brought along with you on the Magical Express and head straight to Disney Springs, the theme parks, or even a dining reservation (although I do not recommend making ADRs too close to your anticipated arrival time because so many things can disrupt your time frame).
If you are using the Magical Express service to deliver your bags to the room, they will arrive within about 3 hours of your arrival.  If you go to the parks, you may have your bags waiting for you when you return.  Again, be SURE that you do not check anything you will need upon arriving in your bags.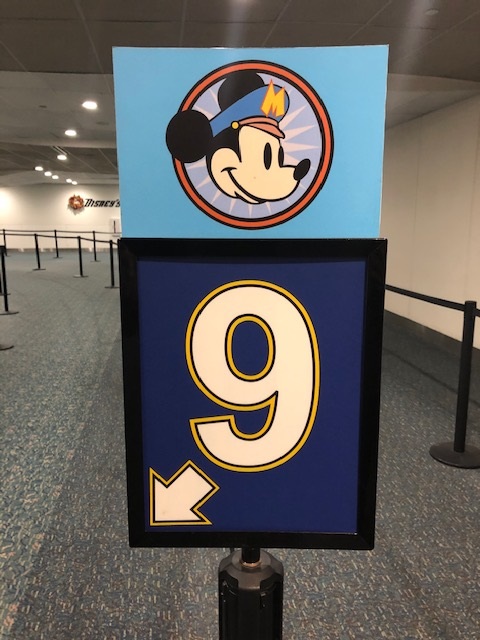 What is the Magic Express motorcoach like?
Magical express has 2 rows of seating on each side of the aisle.  If you are traveling with little ones, you may want to prepare them for who is sitting with whom ahead of time.  Each seat is equipped with seat belts so you can buckle in. There is also a restroom on board at the back of the bus, so you do not have to worry about little ones who need to get to a potty.  Finally, there are TV screens throughout the bus that air a loop including Walt Disney World Information, trivia, and classic Mickey Mouse cartoons.  My kids love watching the cartoons, and honestly, I do too because now and then I see one I remember watching as a kid!
Will Magical Express drop me off at the parks or at Disney Springs?
No.  Magical Express does not go to the parks or to Disney Springs.  It will only take you to your Resort.  You can go to the parks or Disney Springs after you reach your Resort by transferring to some other means of transportation.  BUT if you want to go straight to the parks, you will have to plan another means of travel AND you will have to figure out something to do with your luggage.
How long does it take to get the Resort?
Upon Arrival
This just depends on luck of the draw.  From the time you arrive at the Magical Express check-in, it can take up to 90 minutes (or more if you get really unlucky) to arrive at your Resort.  You may have to wait while your motorbus fills up. You might have to wait through multiple stops on the way to your Resort depending on whether your particular  Resort is closer to the start or end of the drop off order. I have had it take as little as 50 minutes, but more often I am on the 90-minute trips.
Because of this, I would strongly advise against making hard reservations to do anything with a tight time frame within 4 hours of your arrival at the airport.  For one thing, you may experience flight delays.  I had a 45-minute delay on my most recent trip and was very glad my only plan was to sleep.  For another thing, you may end up last on the drop off order.  Also, you have to factor in travel time from your Resort to wherever your reservation is.  Because of this, I would highly recommend having loose plans for your arrival day with visits to a quick-service restaurant you have been wanting to try or somewhere easy to grab a last-minute ADR once you are at your hotel.  If you do have big plans, I would highly encourage you to consider using a Minnie Van or some other transportation service to get to your destination.
I once booked a 7:30 reservation at California Grill with a 4:50 arrival time at the MCO.  We BARELY made it using Magical Express, and we would not have made it had we been staying anywhere but the Contemporary. We had just enough time to drop our carry on items in the room and head back to the restaurant.
After that experience, I plan things like going to the parks and see what Character Locator helps me do until my first FastPasses that I have made during a time frame within the "safe bet" window begin. I might also plan a pool day or a "see what's going on in Disney Springs" day.
Upon Departure
The ride from the resort to Orlando International Airport typically doesn't take as long because the motorcoach doesn't wait around very long at each stop.  That is why it is very important that you arrive at least 10-15 minutes PRIOR to your scheduled Magical Express pickup time.  Your Magical Express motorcoach will be scheduled to pick you up 3-4 hours in advance of your scheduled flight! You might have some time to enjoy the airport, but security lines at MCO can be fierce.
If you do not want to leave that early, you can elect to get to the airport using a Minnie Van or some other transportation service.  On a recent trip, we used Magical Express to get to our Resort, but our scheduled departure for using Magical Express was 3:05 AM, meaning we'd need to arrive around 2:50 AM to catch our bus. We went with Lyft instead so we could get a little more rest.
Will Magical Express take care of my checked bags on the way back to the airport?
No. Magical Express will not check your bags for you. You CAN bring your bags on Magical Express, but if you do, you will need to check them yourself at the airport.
However, some resort guests, traveling with participating airlines are eligible for the "Resort-Airline Check-in" service, which allows them to check their bags and print their boarding passes right there at the Resort.  The service currently includes Alaska Airlines, American Airlines, Domestic Flights on Delta Airlines, JetBlue Airways, Southwest Airlines, and United Airlines.  Be SURE to check with Disney because the list might changes.  The service only operates from 5 AM to noon, and you MUST check all bags within 3 hours of your scheduled departure.
Will Magical Express accommodate my service dog or pet?
Yes-Magical Express does accommodate service dogs. It also allows pets that fit in a pet carrier in a seat if you have a reservation for your pet at one of Disney's four dog-friendly Resorts provided that you follow the rules for transporting your animal.  For more information, check with Disney.
So, is Magical Express for me?
Maybe so!  If you are staying at a participating Resort, it is an EXCELLENT benefit.  If you do not have any time-sensitive plans, and you want to go straight to your resort, it is a fun way to get to Disney.  If you have time-sensitive plans, you'd be better off finding a different way to arrive.  If you do not mind leaving 3-4 hours before your scheduled departure, then it is an easy way to get back to the airport!  If you have a super early flight, or you miss your pick up time, you will need an alternate form of transportation.
I personally use Magical Express most of the time when I am flying into MCO.  I have had excellent experiences, and while it is a longer process than grabbing a Lyft or an Uber, it is nice to have something included in the price of the Resort. My littlest travelers tend to love it on the way from the airport, and it softens the disappointment of leaving to be able to watch some Disney cartoons on the way back.  Overall, I hope it is a service that remains available to onsite guests.
Do you love the Magical Express?