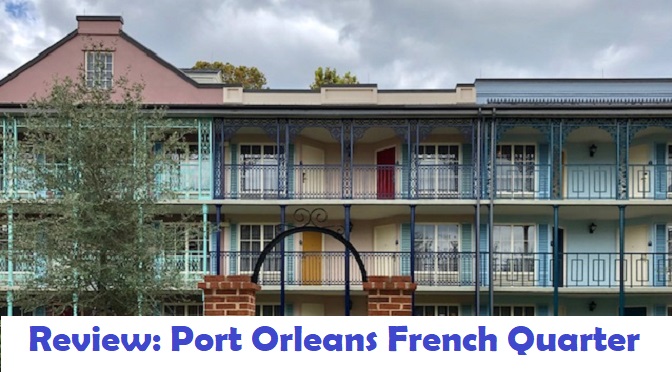 If you are looking for a lovely moderate resort, Port Orleans French Quarter is the way to go.  The recently refurbished hotel is a good balance of value and quality.
I have stayed at many Walt Disney World Resorts, and while I love the Deluxe Resorts, there is something about the peaceful, quiet nature of Port Orleans French Quarter that just can't be rivaled. If I cannot splurge for a Deluxe room, this is my go-to Resort. It is by far my favorite value/moderate…and I like it better than some deluxe options. My travel party loves the pool, the restaurant, and the smaller size of the resort.
I was excited to check out the refurbished rooms on my most recent trip.  My travel party and I booked a standard view room using the fall AP discount. We didn't have a perfect experience initially, but the trouble was mitigated quickly. When we arrived, we noticed a message saying our room wasn't ready, but at the check-in desk, the Cast Member we spoke with said that she did not know why we had received that message and that we were ready to head to the room. Up we went, ready to drop off our bags and hit the parks.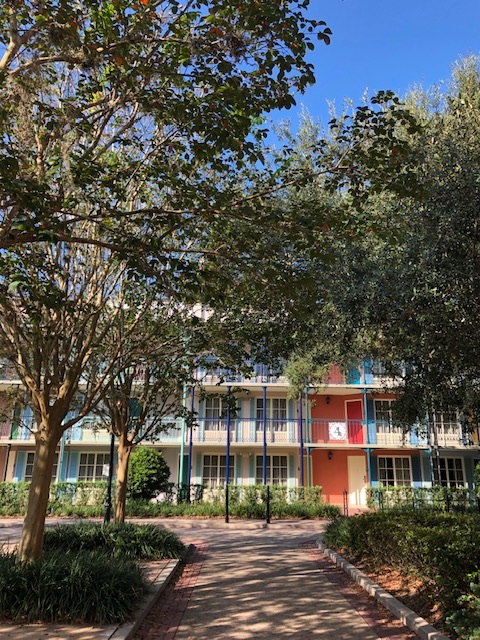 Upon arriving at our room, we realized that sending us must have been an error because we found the room was in the midst of being cleaned.  The beds were partially stripped, the towels were heaped on a bench, and there was still trash here and there.  I called the front desk from the room phone and politely explained the situation and asked if we should return to the lobby and wait for the room to be cleaned.  The Cast Member I was speaking to put me on hold for no more than 2-3 minutes. When she returned, she apologized and let us know that we'd been upgraded to a corner room with a river view.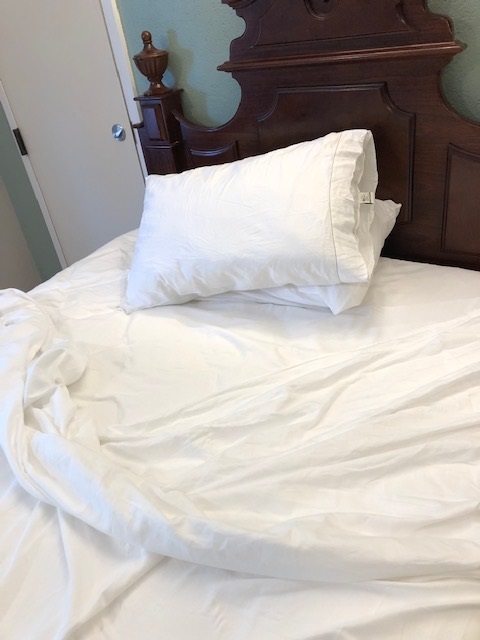 Better yet, we didn't even need to change floors because the room was right down the hall.  All I needed to do was close the door behind us and head to the new room.  Our Magic Bands already worked by the time we arrived.  Magic Express got our bags to the correct room with no problem.  We were still able to make our first FastPass easily.  It worked out beautifully. If you find yourself in a similar situation at any Disney Resort, I recommend simply pushing the "guest services" button on your room phone and letting them take care of you.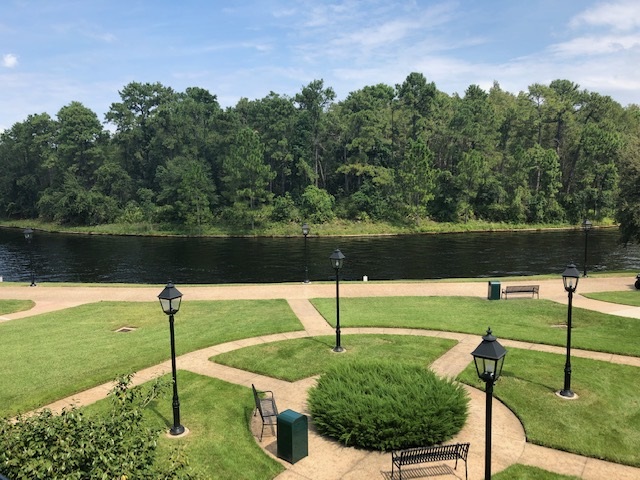 I will say, I have never bothered with reserving rooms with anything more than a standard view at Disney, but we really enjoyed the corner room.  It has an extra window, which is nice if you like a lot of light.  Plus, it was very quiet since we were on the top floor and on a corner.  The view of the river was lovely and peaceful. We enjoyed the view each time we made our way to and from the room. If I were one to spend more time in the resorts when I visit, I might consider booking a nicer view.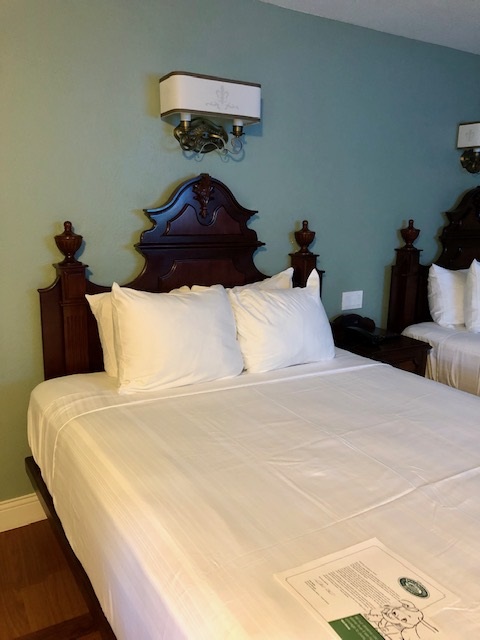 I am a fan of the refurbishments for the most part.  The worn, patterned hotel carpet has been replaced with wood, which just feels cleaner. There are still 2 queen beds, but they now sport solid white linens instead of themed bedding.  I actually do miss the old bed runners, because the rooms are a little bit plain without them, but I suppose they aren't very functional. The walls have green paint instead of the former yellow wallpaper with a border. The bulky televisions have been replaced with flat screens, which is a nice upgrade. Aesthetically, they are not my favorite bedrooms, but they are comfortable.
The bathrooms are simple with white and cream detailing, and they definitely feel like an upgrade.  Like other values and moderates, the sink area is still separate from the tub/shower area. My group was glad to see the resort elected to install shower/tub combinations instead of stand-up showers because tubs are easier with little travelers. The shower now has the shampoo, conditioner, and soap dispensers guests have seen popping up around Disney.  I will miss taking home a few of the little shampoos, but I do applaud Disney for taking steps towards reducing plastic waste.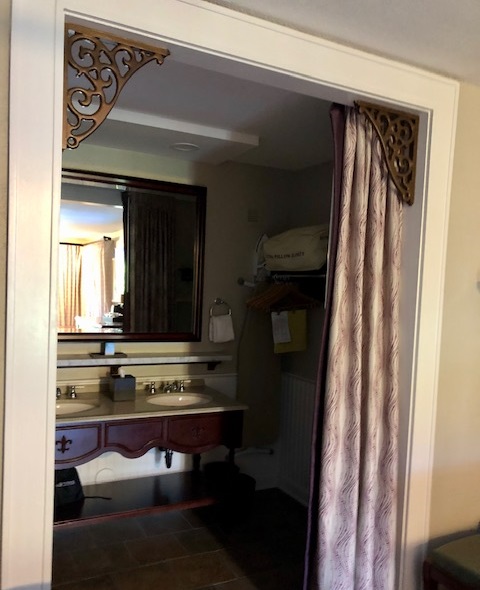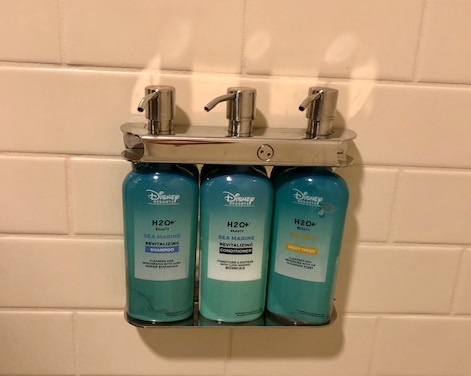 Something that may not matter to you, but made a big difference to me, is that the resort no longer has the wall-mounted hair dryers.  A reasonably powerful dryer was available in a bag under the vanity.  Travelers with long, absorbent hair and limited luggage space can leave their bulky heat tools at home without a second thought!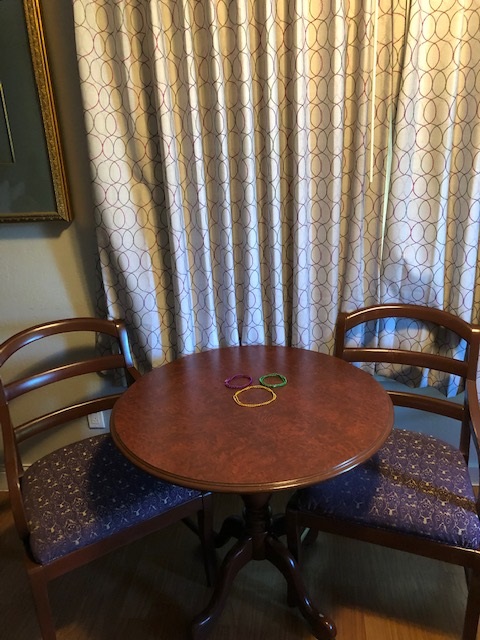 Mousekeeping left a little gift of hidden Mickey Mardi Gras beads, which was a cute touch. My little boy made a few improvements out of things he found near the coffee maker.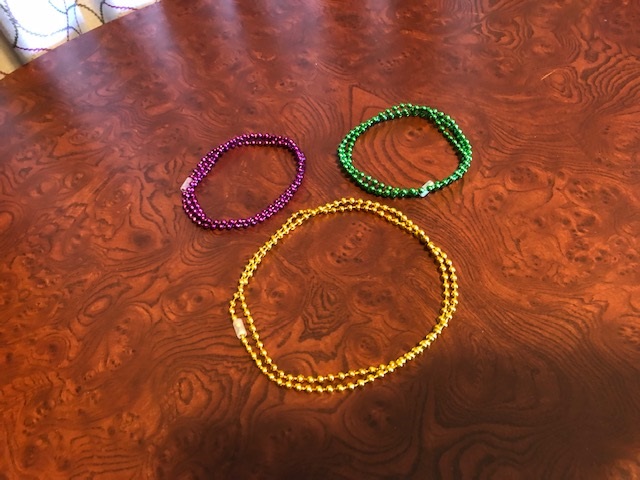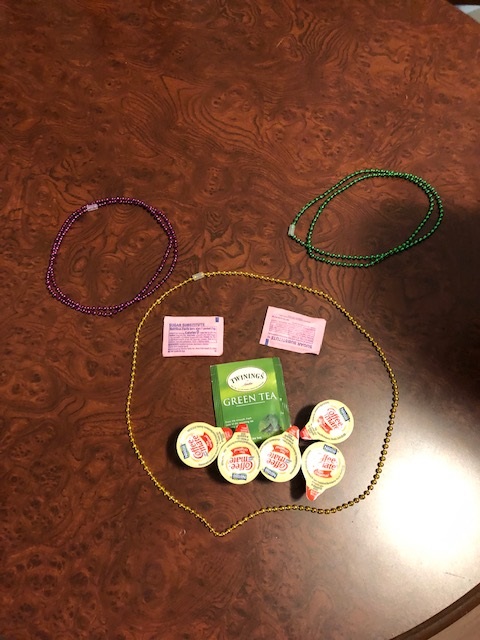 Overall, these rooms comfortably sleep four people with room for a pack n' play for a tiny traveler.  There is storage under the bed for suitcases so that they don't take up valuable space.  And while the rooms are a little plain looking compared to before, the flooring, bathrooms, and televisions are much improved.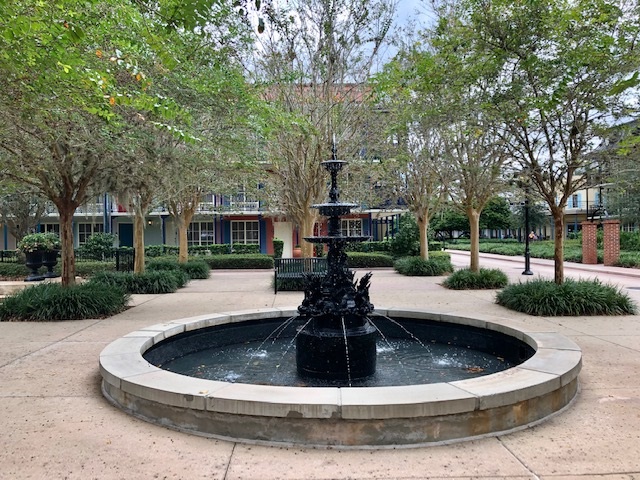 The Resort itself is tiny and easy to navigate.  While our room was not in a preferred building (we were in building 6, and building 4 is closest to the buses), it really didn't make that big of a difference.  At some of the Resorts, being in any but the closest buildings to the amenities can mean a HIKE, but Port Orleans French Quarter is tiny, so even the furthest building is more of a stroll than anything.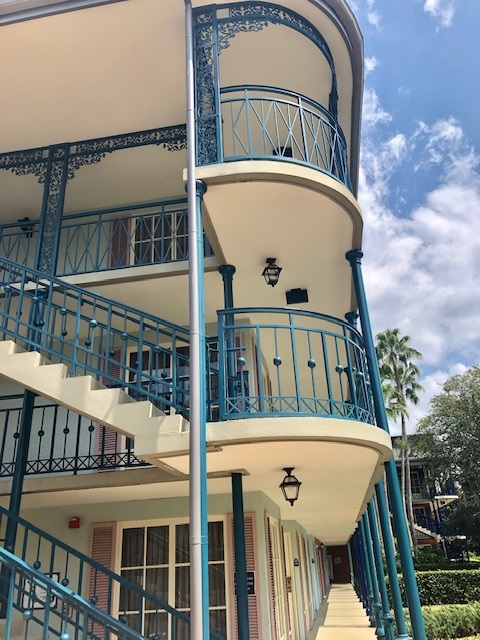 The grounds are beautiful.  I have been to the real French Quarter in New Orleans, and I have to say that the Disney version does a fantastic job of replicating all the best parts.  We loved all the green space and  trees.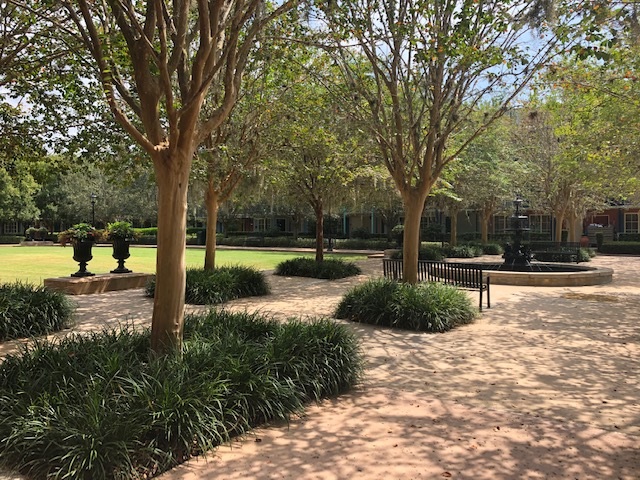 The Resort also has a phenomenally fun pool area.  It is one of my favorite Disney pools and is my second favorite moderate pool.  It is decorated with Alligators from Fantasia and features a sea dragon water slide.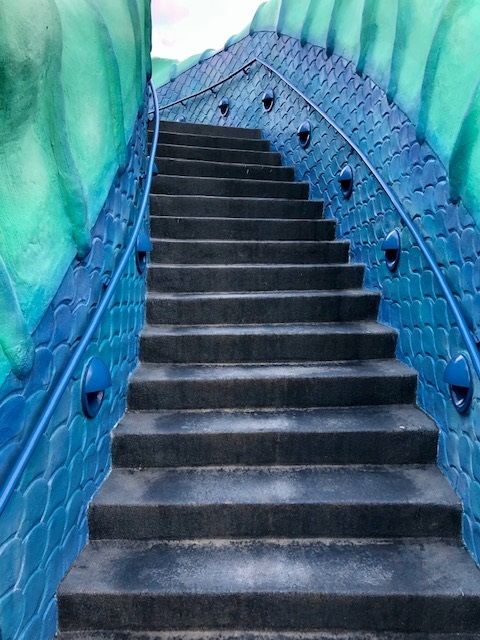 There is also a splash pad for little kids. It comes complete with a slide and plenty of water squirting surprises. My little traveler LOVED it.  We were so happy that we decided on an afternoon flight so we could enjoy the pool before checkout on the morning of our departure. Next time we stay here, we will plan more time for the pool.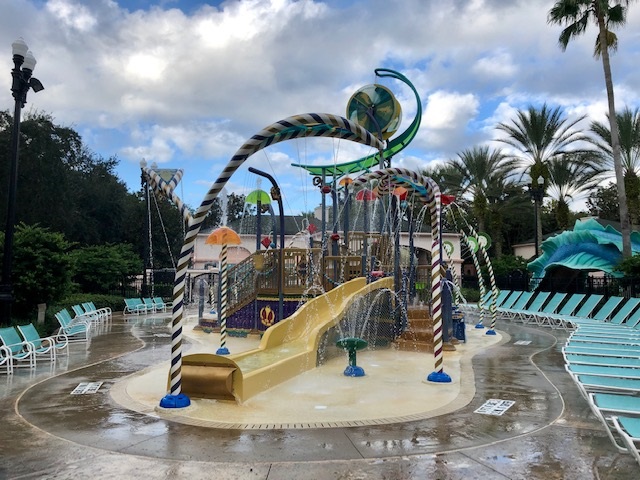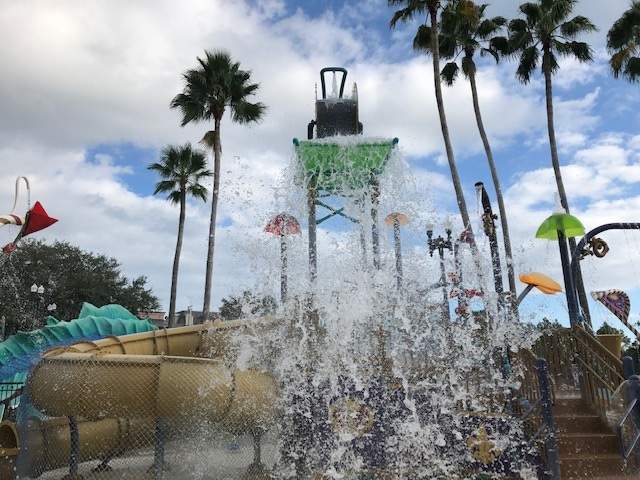 POFQ also has a pretty good quick-service restaurant called Sassagoula Floatworks and Food Factory.  It has both standard and unique options to please both picky and adventurous eaters.  For a review, click here.  While there is no table service restaurant, Boatwright's Dining Halls is a quick walk or internal shuttle ride away over at Port Orleans Riverside. POFQ is home to the ever-popular Mickey Beignets, and they have a new home in Scat Cat's Club Lounge.  Scat Cat's is the bar/lounge area.
The Resort also has a playground for little ones.  If you are traveling with preschoolers who are giving up napping, this might be something fun to do if you arrive before check-in or if you have some time between check-out and your journey on the Magical Express. It could also be a nice activity during a midday break if you tend to take a little time off from the parks while they are most crowded.
Transportation at Port Orleans French Quarter includes Resort buses and a boat that travels back and forth to Disney Springs.  A lot of people really dislike the bus system, but of all Resorts, POFQ seems to have the most consistency.  Since there are fewer crowds, the buses get less crowded.  It isn't a perfect system, but I think the MAIN reason I default to POFQ as my "bus" resort is that it is less imperfect than the buses at other resorts.  There is only one bus area, so you do not have to wait through multiple stops unless the bus ends up being shared with another resort.
We did notice that we ended up sharing a bus with Riverside after the Halloween Party one night, but that was it.  We only saw one morning where the bus could not accommodate everyone waiting.  It was a very strange evening on the way to the Halloween Party, and we waited 45 minutes for a bus. But, that was the only tough time we had.  The rest was right on schedule.  (Plus, with the savings we had from not staying Deluxe, we could have easily called an Uber/Lyft).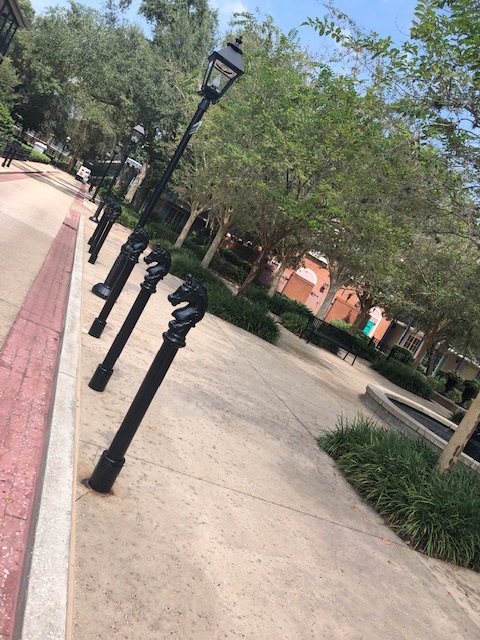 The most appealing part of all is that since Port Orleans French Quarter is tiny, it never feels crowded even when it is sold out.  The pool, restaurant, and other amenities are shared with many fewer people than at larger, sprawling resorts.  I am a crowd avoider, so really, this is perfect for me, and it makes me question why I do things to myself like book a spread-out Resort with a larger capacity.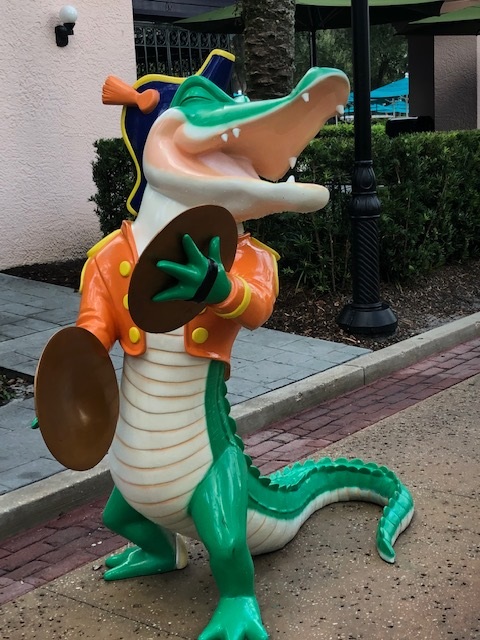 My travel party loves POFQ.  If you are looking for a moderate hotel with a great pool area and a tiny footprint, it may be the place for you.
Want More Port Orleans French Quarter?  Read Here!
What is your favorite Moderate Resort?

Are you planning a vacation? Reach out to our trusted travel agency sponsor Authorized Disney Vacation Planner
Mouse Class Travel
!