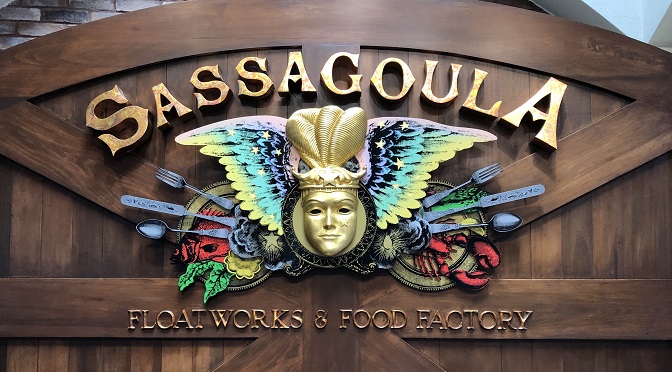 LATEST VIDEOS
Subscribe to my Youtube!
LIVE - Just Mousing Around
Just Mousing Around - LIVE
LIVE - Just Mousing Around
Our most recent trip to Walt Disney World took us to Disney's Port Orleans French Quarter, which boasts my favorite Disney Resort food court: Sassagoula Floatworks and Food Factory.  Here is a review of my dining experience.
This restaurant, like other Disney resort food courts, offers several food windows, and each window has its own menu. It participates in the dining plan and has a variety of quick-service and snack credit offerings.  It also has a freestyle drink station. You can purchase drinks here or use your refillable mug.  My travel party enjoys meals here at every time of day from breakfast to late night and the unique savory options as well as healthy alternatives.
[the_ad id='41524′]
Breakfast:
We HAD to try the Baguette French Toast. Disney does French toast well, and this was no exception. It was sweet and delightful, and the tart blueberry topping contrasted beautifully with the sweetness of the toast itself. It is served with breakfast meat, and we selected the ham, which paired nicely with the toast. This dish was big enough to split between myself and my husband.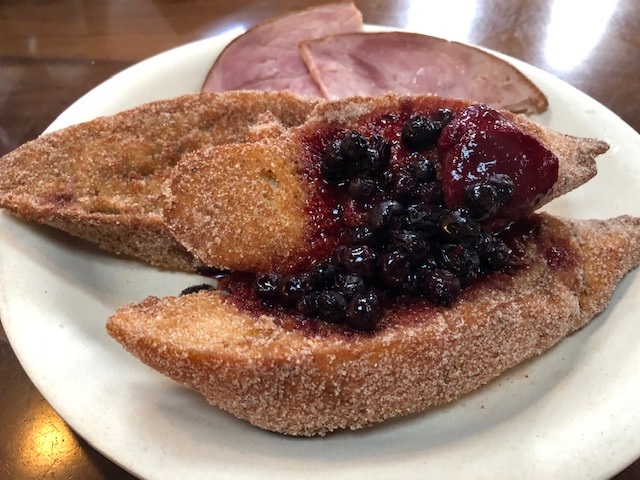 My littlest dining companion opted for classic Mickey Waffles, and he was not disappointed. We paid around $15 for the three of us to enjoy plenty of food, making us feel this meal was a great value.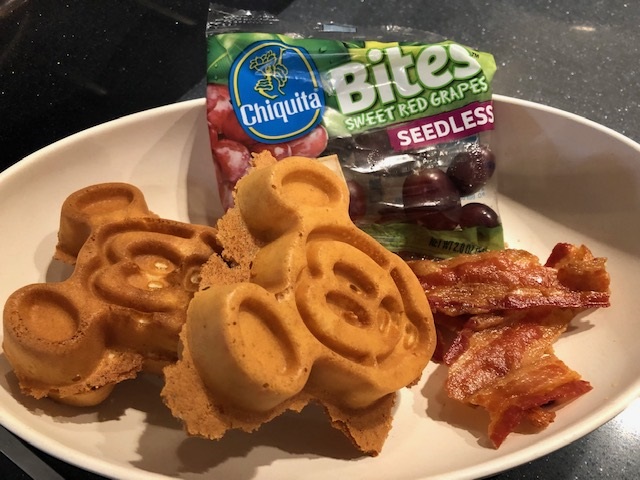 Lunch/Dinner:
While there are some differences in the lunch and dinner menus, including some specialty items that are offered on specific nights of the week such as ribs, there are plenty of options that are offered throughout the day.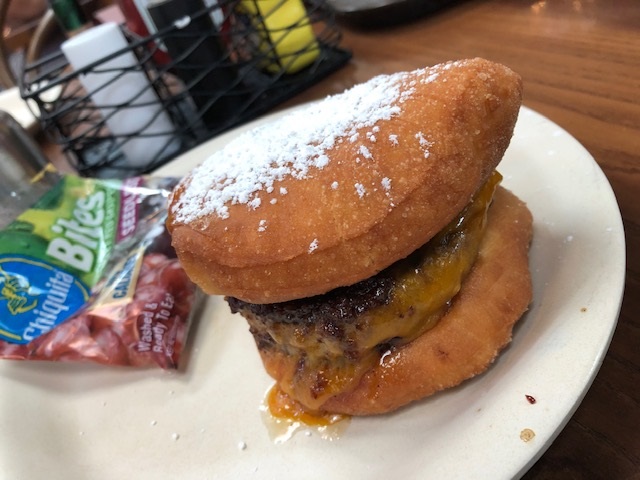 We tried the beignet burger, and while it is not something I will dream of the way I dream of  other Disney food items, it was pretty tasty. I would say this is one of the best counter service burgers in Disney World. It was large enough to share and can be ordered with its included sides or a la carte.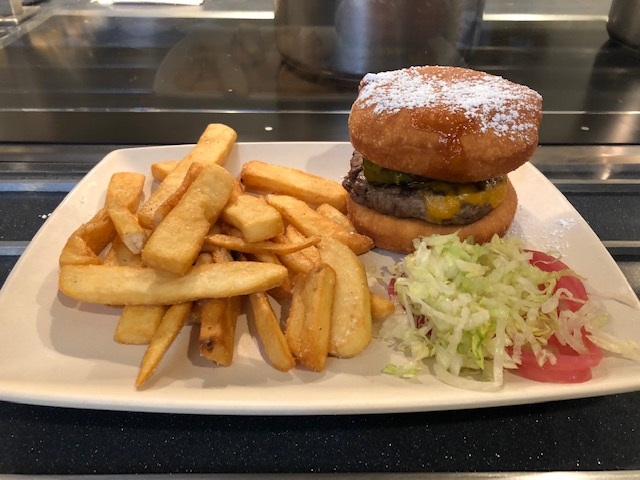 I also tried the Sassagoula power salad with chicken. This salad was delicious and light. It was just perfect for a lunch break on a hot day. The dressing is light and refreshing. The toppings are plentiful. It also is nice to be able to eat nutrient packed foods to balance all the poor nutritional decisions I make when I visit the parks.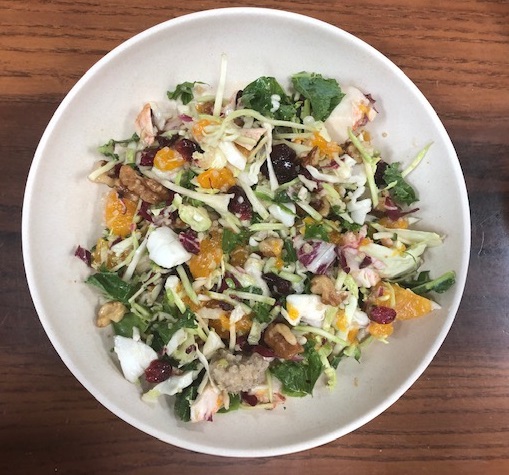 Dessert:
We love the famous Beignets. They are moving, and we will miss seeing them at the dessert counter (see more here). We also love the Beignet sundae. I am unsure whether it is following the beignets to their new location, but if you have a large party who is up for some indulgence, this is a fun option if you can find it. Caution: this thing is huge. We were a party of 3, and we could not finish it.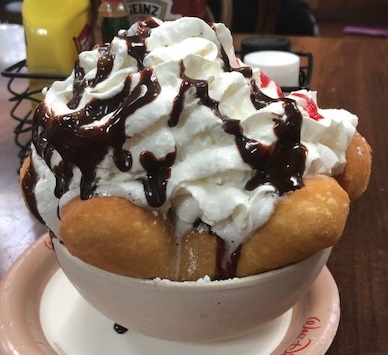 Kids:
There are plenty of options for kids, including many healthier Mickey Check Options. My littlest dining companion wanted to have mac and cheese. (And I must say, Disney makes a tasty mac and cheese). We like that they offer apples, grapes, and carrots as ways to sneak some nutrients in with the indulgence. Kids meals also come with a drink.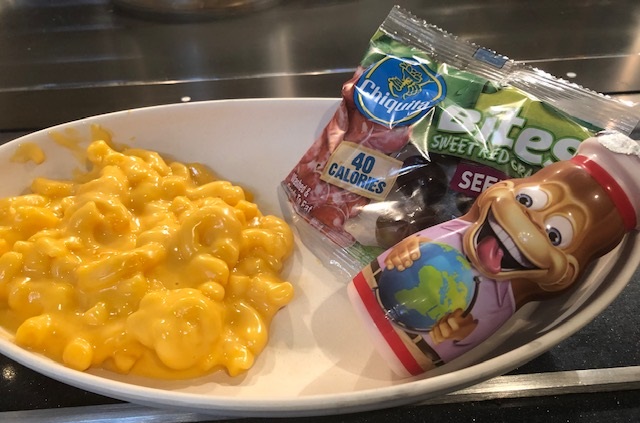 Another thing we like about Sassagoula Floatworks is that even when the resort is sold out, it does not feel overly crowded. Port Orleans French Quarter is a small resort, so fewer people share the amenities. It makes for a quick experience with plenty of seating. We also like how close it is to every building at the resort and how easy it is to stop in on the way to and from the buses. Finally, we have been met with outstanding service here. Once, a manager saw me struggling to navigate a stroller while balancing a tray, and he offered to carry it for me while I waited to check out and found a table. (He received cast complements on Twitter as a result). Another time, the cashier saw my little boy admiring the coins scattered about her register, and she gave him 3 so that he could take them and make wishes in the fountain. The kind gestures and great food make Sassagoula one of our favorite quick service places to eat.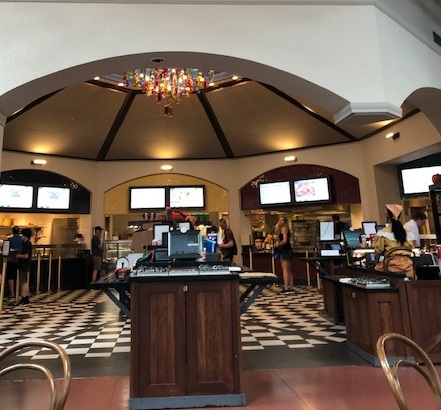 Have you tried Sassagoula Floatworks and Food Factory yet?  What other resort meals do you enjoy?
Are you planning a vacation? Reach out to our trusted travel agency sponsor Authorized Disney Vacation Planner
Mouse Class Travel
!