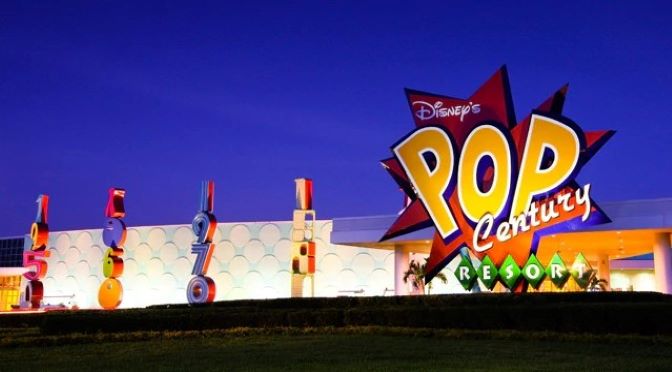 There is so much information out there about Walt Disney World that it can be very overwhelming, and easily turn into something extremely stressful. One of the toughest things is deciding where to stay. There are so many choices! I am going to tell you about some of the benefits of staying on-site and at our favorite "value" accommodation – Disney's Pop Century Resort. I am confident that you will love it, too.
BUDGET
For our family, budget is big factor in planning our visits. Honestly, it's the biggest factor. We usually go (and recommend) in September. Since it's off-season you will find better rates, lower crowds, and the weather doesn't feel like the surface of the sun (I'm looking at you July/August). We've stayed at all the Value Resorts and while all of them have their own merits, Pop Century is the one we return to. The theme of Pop Century is pop culture from the 1950's to the 1990's. They have classic Disney characters peppered in with the theme of popular items from whichever decade you are in. There's the Hippy Dippy pool in the 1960's section (which is the largest pool at Pop), a 1950's Bowling Pool, and in the 1990's area, a Computer Pool. Some of fun themes included in the 1950's are bowling pins, a jukebox, and a giant Lady and the Tramp. The 60's include Mowgli and Baloo, Yo-yo's, and Play-Doh. The 70's has a giant Mickey Mouse phone, and a Big Wheel while the 80's has Roger Rabbit, Rubix Cubes and a Walkman. I highly recommend setting some time aside just to explore the resort. We had a blast walking around, posing for silly pictures and even playing Twister! As Pop Century is located so close to Art of Animation we were able to walk over the bridge to explore that wonderful resort as well.
DINING
The dining at Pop Century has something for everyone. They have waffles, omelettes, fruit, bacon, platters, etc. for breakfast. Lunch and Dinner provides pizza, sandwiches, chicken tenders, salads, soups, pot roast and more. They even have the VERY popular Dole Whip, minus the lines that can sometimes get crazy at Aloha Isle in Magic Kingdom. The prices are very reasonable, especially for a theme park hotel. The portions are generous, so sharing is an option if you want to save money or dining credits. They have the food court set up in stations with menus, so you can choose which line to go into and "quick grab" options for when you are in a rush to get to the parks. They also have pizza delivery for those days when you can't take another step. Even to eat.
REFURBISHED ROOMS
The room at Pop is what really sold us. The newly renovated rooms were a huge upgrade to the resort that was built in 2003. The design is still fun and has that Disney touch, while looking sleeker and more modern. The standard rooms have either one King Bed or one Queen bed and one Queen-sized table bed (a Murphy bed). We choose the Queen size with the Murphy/table bed. Being able to push the bed up creates so much more space for a family of four. The beds are easily put up/down and my kids thought that it was super cool. They also include a hair dryer and mini-fridge which are HUGE helps for my family. The hair dryer is just your small, standard hotel fare but saves me from packing my normal one. The mini-fridge is a great size to store some waters, juices, and snacks.
EASY ACCESS TO PARKS
Another big factor for our family is convenience to the parks. Staying on-site saves us from paying that ever-increasing parking fee at the Walt Disney World Resort. Pop Century has its own dedicated bus stop that you do NOT have to share with another resort. The All-Star resorts share buses which could make the ride much longer as well. While having your own vehicle on-site is nice, we find it much easier to use the bus system that is provided by on-site hotels and is included with your stay. I'm exited to see what happens with transportation at Pop Century once the Skyliner is operational in just a few days time. Heights aren't for everyone, so the buses will still be an option.
As with all Value Resorts (and hotels, in general) this is a family friendly resort so there will be kids, noise, and potentially rude neighbors. We had one bad experience and customer service did address it and work with us to take care of the situation. Disney can't control the type of people in the room beside you, but I can tell you that they will go the extra mile to make your trip as magical as possible.
You know what works best for your budget and your family (or just you, if you're going solo), so I will close with this. If you are torn between staying on-site or off-property – factor in the cost for parking, driving distance, and the convenience of being one bus ride away from your bed at night. You may not want/need to stay at a value resort. I do think that Walt Disney World offers a hotel for everyone and you will find something more suited to you. No matter where you stay, have an amazing adventure!
What's your favorite on-site hotel?
Photo from Disneyworld.disney.go.com
Are you planning a vacation? Reach out to our trusted travel agency sponsor Authorized Disney Vacation Planner
Mouse Class Travel
!